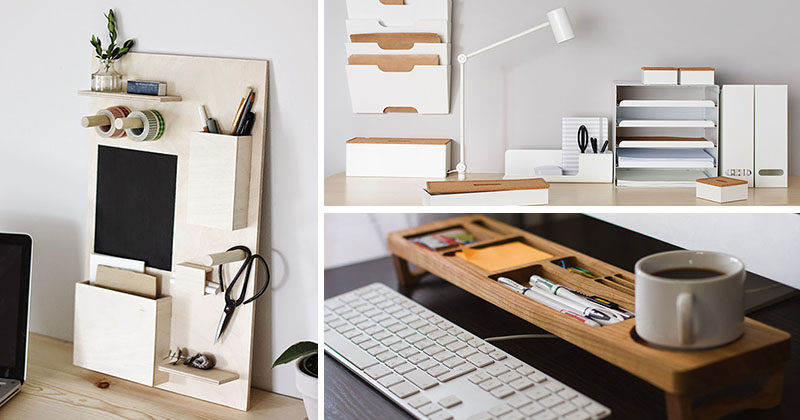 With all the time you spend at your desk working, planning, thinking, and scheduling you want to make sure that it's a place you enjoy sitting at. A chaotic, messy, cluttered desk simply won't do. Today we're sharing 6 easy ways you can organize your desk to make it more inviting and somewhere you like to spend time.
---
1. Use an Organizer
A small organizer that sits on your desk might be all you need to create an organized space. Each things has its own spot and can be returned there once its job is done. This is an easy way to keep clutter to a minimum and make it easy to find things when you want them.
---
---
---
---
---
2. Keep Your Cords Under Control
With all the technology you probably use at your desk it's easy to feel like the cords are taking over. Crisscrossing over each other, getting tangled in with papers, and knocking over pen holder make cords a complete nuisance and make working at your desk feel nearly impossible. Cord management helps you keep your sanity and keeps your desk looking clean and organized.
---
---
Roma cable management box from Ikea
---
3. Make Use of the Walls
If you have a small desk but a lot of things, using the wall above your desk can be an efficient way to store things and keep your desk clear. Things like pegboards, cork-boards, and wire mesh boards are all great ways to hang up things that would normally clutter your desk and they give you something nice to look at when you're even at your desk.
---
---
---
Inspiration from the home of Fleur of Studio 188. Photography by Elisha Jacobs of Interior Junkie.
---
4. Have A Separate Spot For Pens And Pencils
Even if you use a desk organizer make sure you have a designated place for your writing utensils. It can be in an upcycled can or a multi-functional planter/pen holder/book end but whatever you choose make sure it has lots of room and works with the rest of the things already on your desk.
---
DIY Succulent & Supply Holder Bookends from I Spy DIY – instructions here.
---
See more photos of this planter/pen holder, here. Eco Pot designed by Julia Kononenko.
---
5. Create A Cohesive Look Or Theme
Even if all of your things have their own spots your desk might look chaotic and messy if you have too many patterns, colors, or materials going on. Pick a couple of your favorite colors or materials and stick to them when creating or buying things for your desk space to make the area look put together and unified.
---
Kvissle Letter tray from Ikea
---
Format magazine holder from CB2
---
6. Keep Drawers As Clean As The Surface
Now that the surface of your desk looks great don't let clutter take over your drawers. Use drawer organizers to keep things in their proper place and prevent junk from piling up. Just because it's out of sight, doesn't mean it should be out of hand.
---
Summera drawer insert from Ikea
---