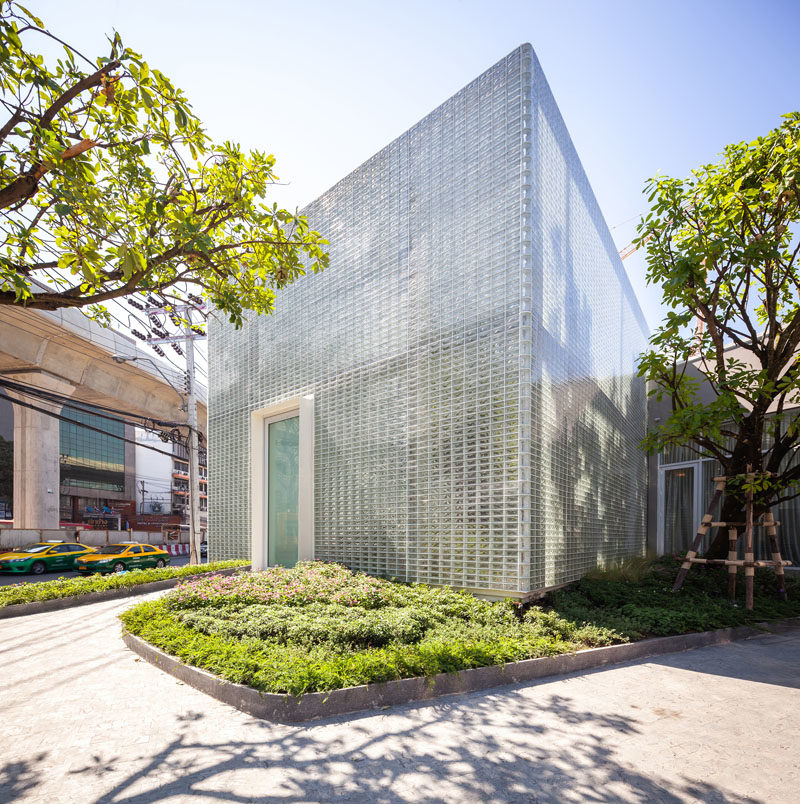 Photography by Spaceshift Studio
Archismith Architects has designed 'The Glass Fortress', a glass block building that serves as a condominium sales gallery in Bangkok, Thailand.
To keep in line with a large green space provided at the main condominium development, the sales gallery assigned some of the land along the street to become a pocket park in a bustling urban area.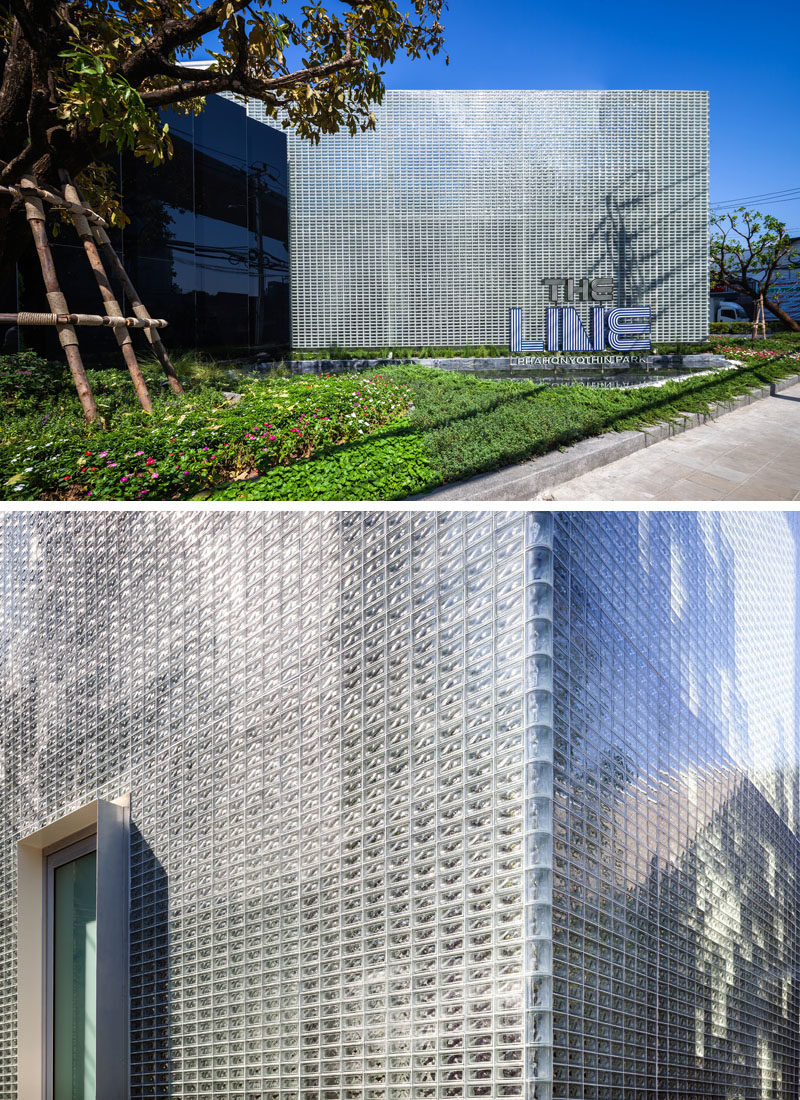 Photography by Spaceshift Studio
---
To make the building stand out, the 'box' building design features 20,000 glass blocks that are rectangular in shape, instead of the usual square-shaped type.

They also have extended edges or wings to cover most of the grouting reducing the width to 2 mm instead of 10 mm as usual. This special detail reduces the visual perception of joints, and therefore creates a continuous all glass effect to the walls.
---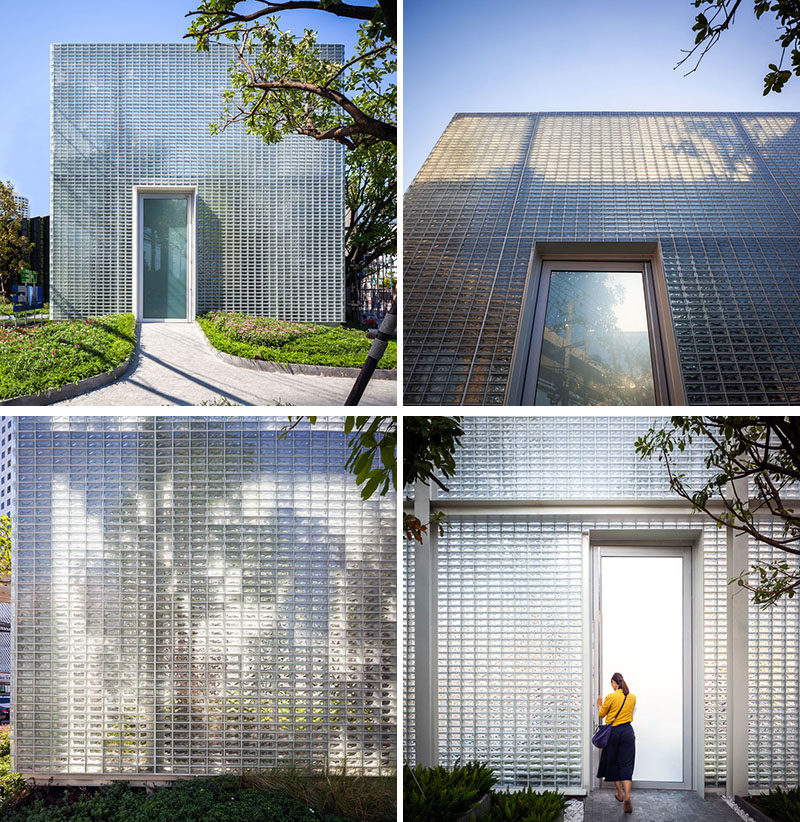 Photography by Spaceshift Studio
---
In an attempt to effectively cut down the noise pollution and to block off unpleasant views of the surroundings, the design team introduced 8-metre-tall walls that that hide an internal courtyard.

By doing this, the designers created a place for potential buyers to walk through and enjoy before entering the sales area. There's also a water misting system to help control the temperature inside the courtyard on sunny days.
---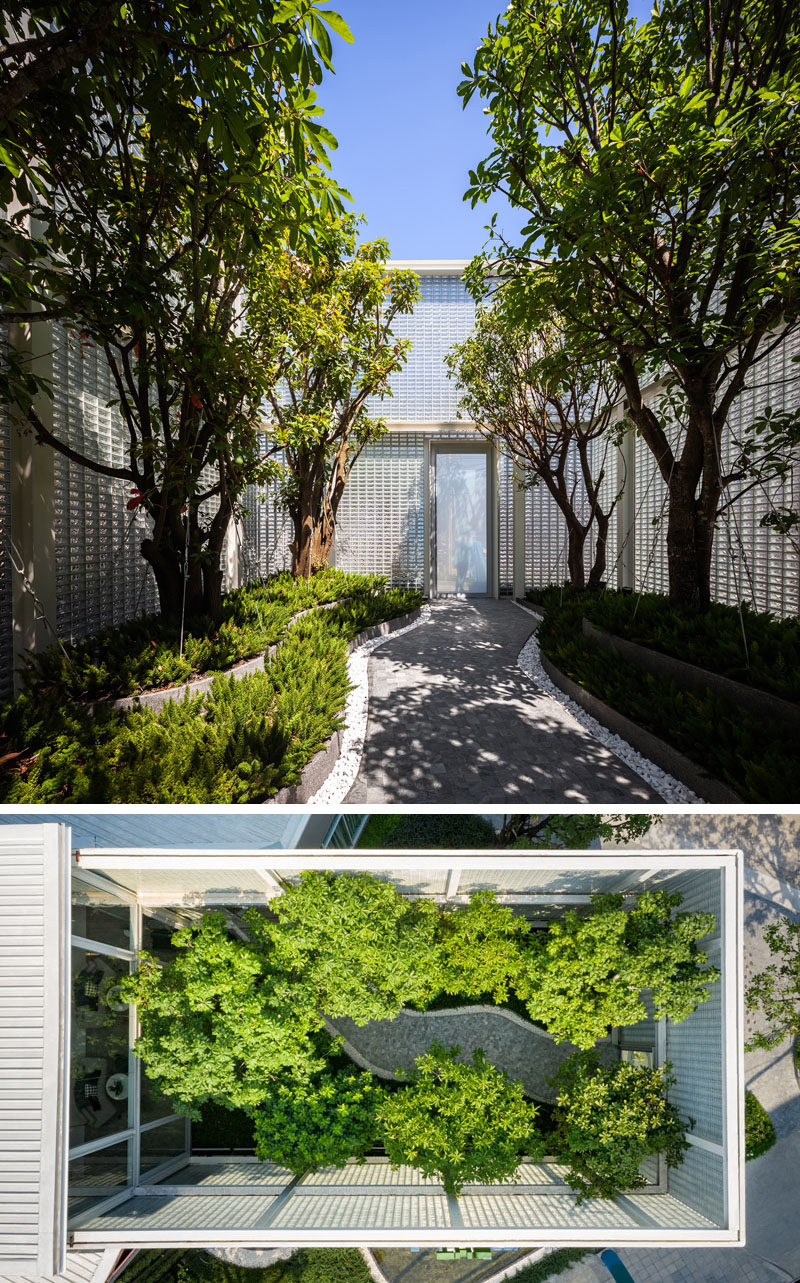 Photography by Spaceshift Studio (top photo) and Sky|Ground (bottom photo)
---
The path through the garden leads to a door that opens up to the sales area, that takes advantage of the landscaped courtyard views, by having couches positioned in front of large floor-to-ceiling windows.
---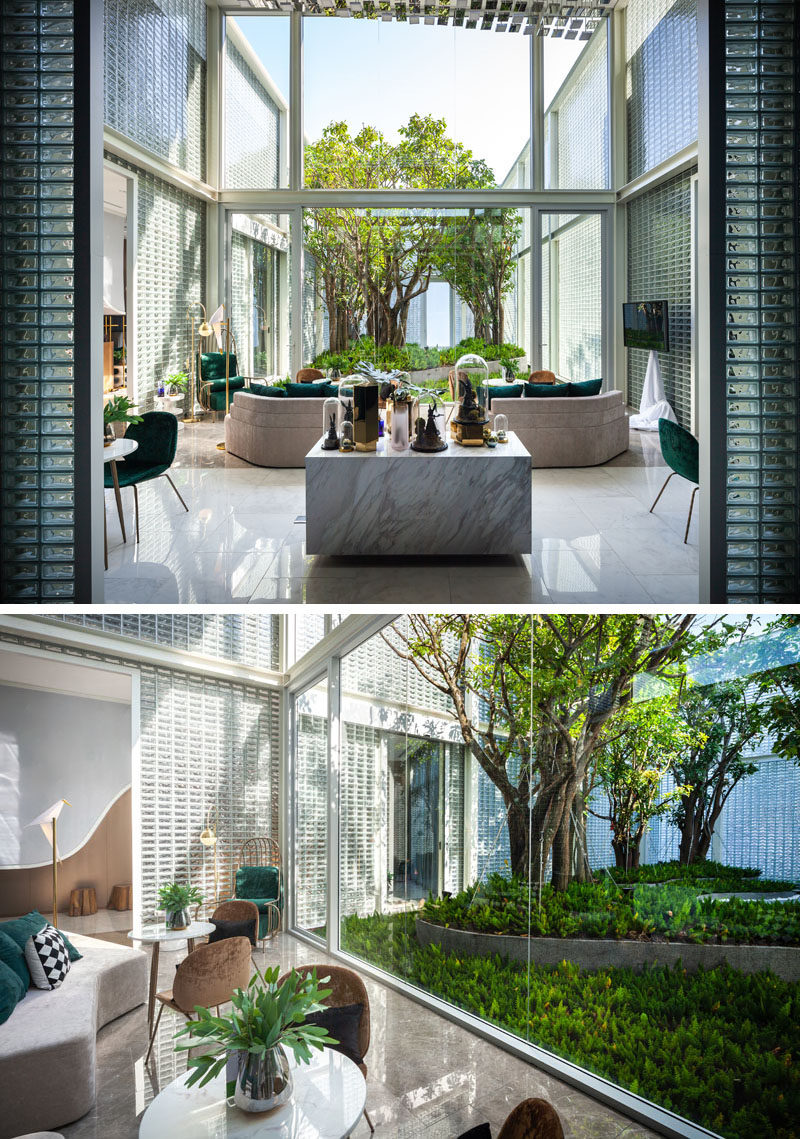 Photography by Spaceshift Studio
---
To reduce the uncomfortable feeling of being surrounded by massive solid walls, glass blocks were was chosen as the building material as natural light still can filter through it.
---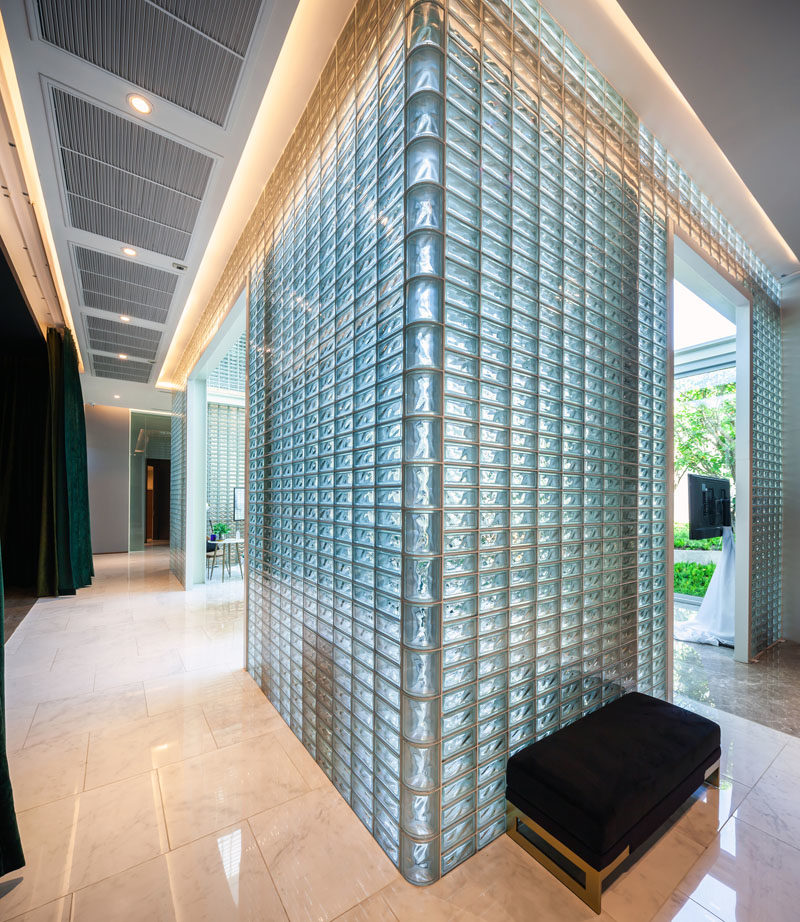 Photography by Spaceshift Studio
---
At night, lighting hidden on the interior frames of the building, gives the building a blue glow, drawing attention from those passing by.
---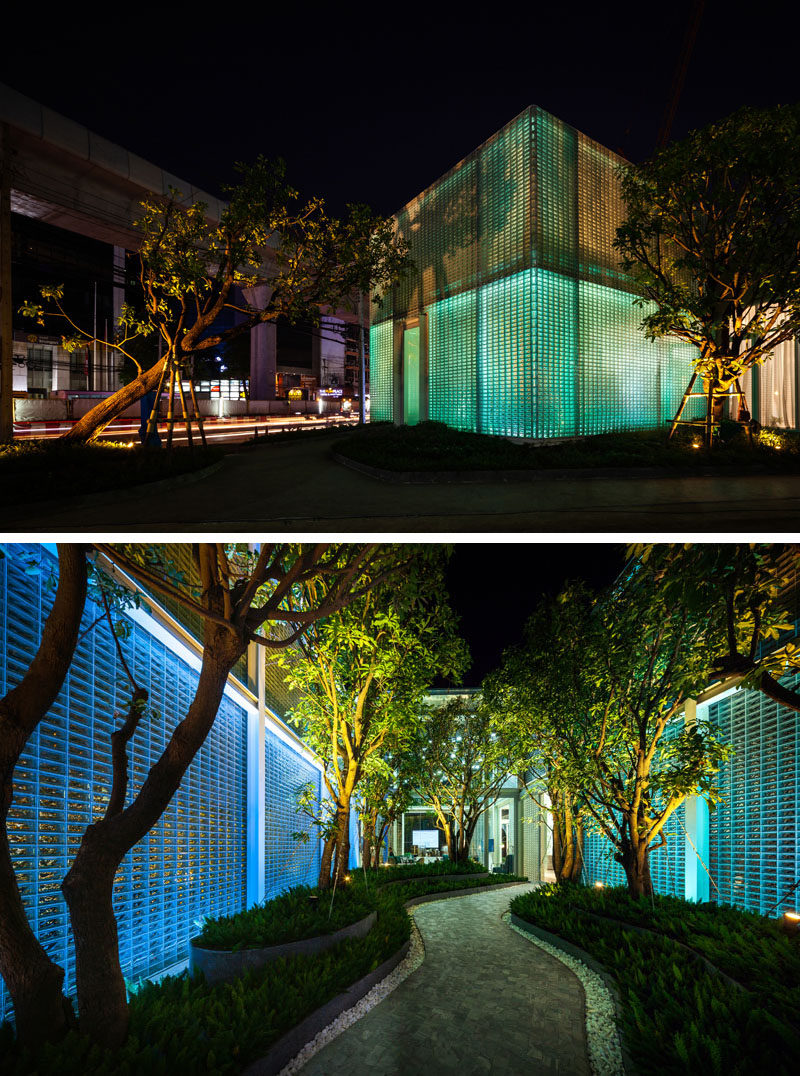 Photography by Spaceshift Studio | Architect: Archismith Co., Ltd. | Team: Jirawit Yamkleeb, Sukonthip Sa-ngiamvongse, Takol Pattanopas, Thanaphon Phumipanchaphak | Landscape Designer: Landscape Studio by Arsomsilp | Interior Designer: Six.Seven.S | Structural Engineer: 2-R Engineering | Mechanical Engineer: V.Group Engineer | Main Contractor: T.T.S. Engineering
---
Get the contemporist daily email newsletter – sign up here