Pohl Rosa Pohl have designed a vibrant new facade for a parking garage in Lexington, Kentucky.

Pohl Rosa Pohl's description
Built in 1966, the Helix Garage had always been an eyesore on Lexington's Main Street, and it recently required extensive structural renovations. The Lexington Parking Authority saw this as an opportunity to rebrand the facility and make it an asset not just for the parking public, but for the city. The Authority hired Walter P. Moore to design the structural renovation, and Pohl Rosa Pohl, local architects, to design a new facade.
Before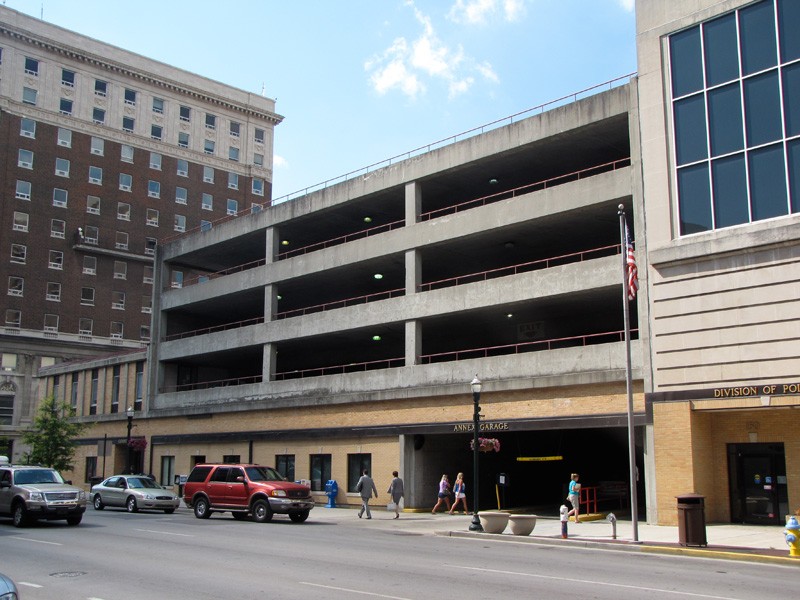 After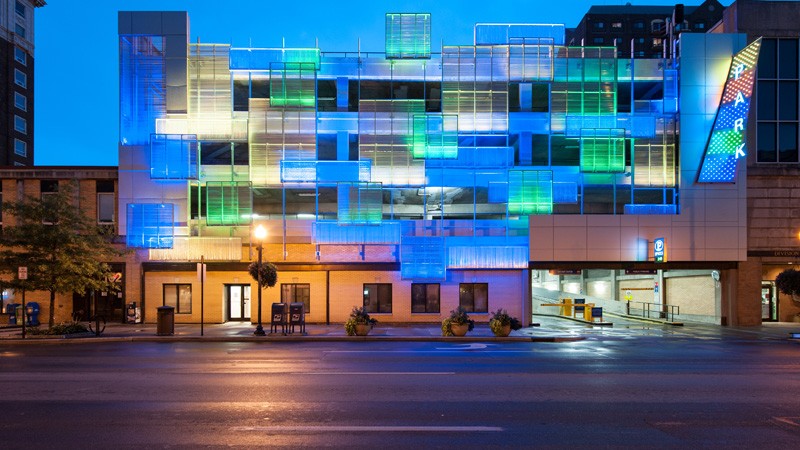 The substantial structural renovations saved the building from demolition – a great opportunity for the city and a major save for the environment.

The facade solution is comprised of discrete steel panels suspended on a rhythmic vertical steel scaffold. Opaque panels bookend the facade and turn the corners, providing an appropriate gravitas and sponsoring a custom sign with a Helix motif.
Before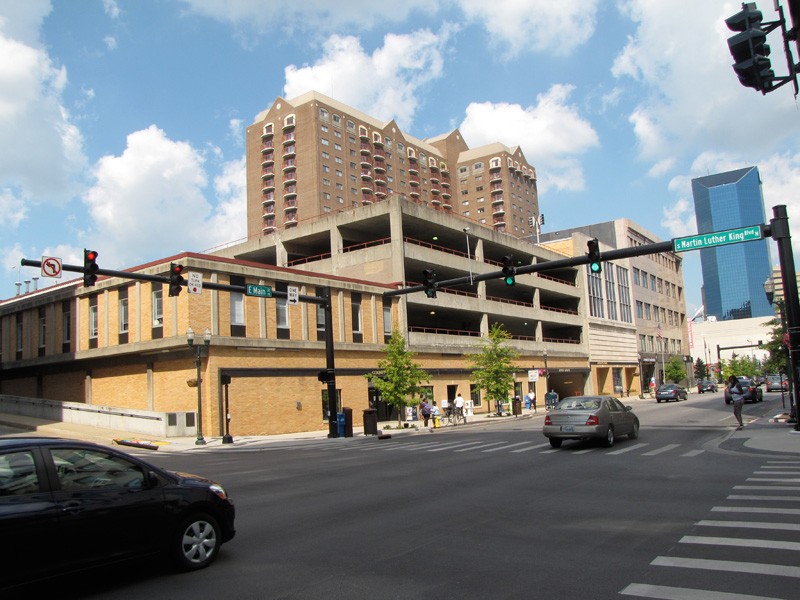 After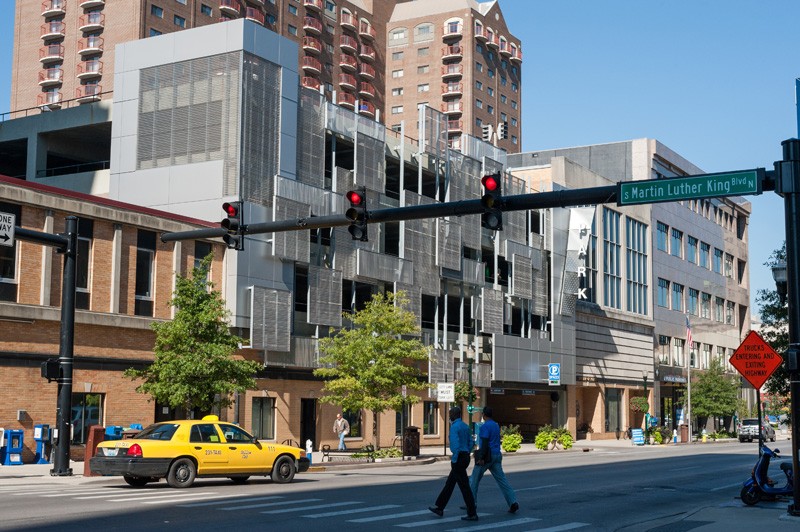 Arrayed between these elements are three layers of perforated stainless steel panels. The perforations in the panels make them almost translucent, adding great interest to the layering during the day and providing a wonderful canvas for LED backlighting at night.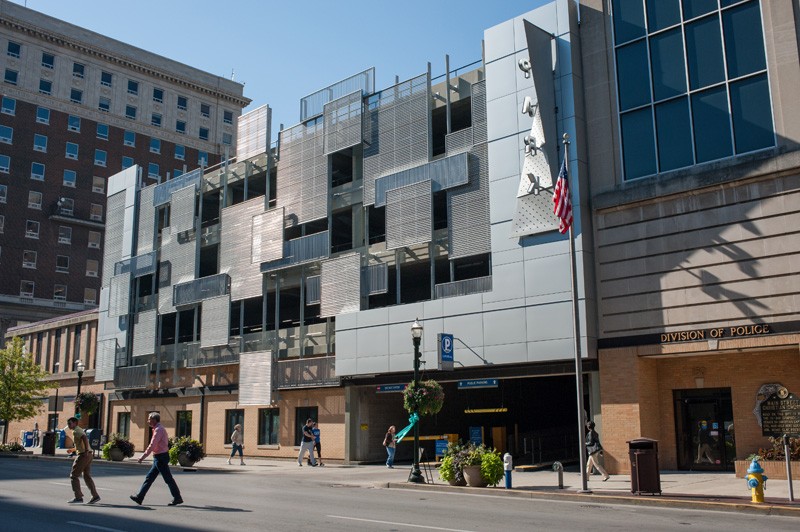 The new facade responds directly to its context, with the scale of the panels and the gaps between them reflecting wall-to-window ratios on adjacent buildings, and in places revealing the original concrete structure.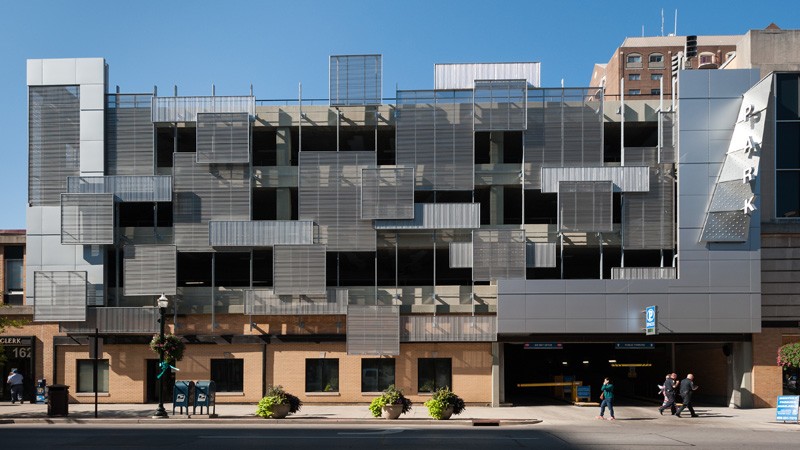 The perforated panels were arrayed using simple rules. There are three panel shapes, one for each layer. The largest panels are in the first layer and have a very regular geometry. The second and third layers play off the first, setting up rhythm and hierarchy.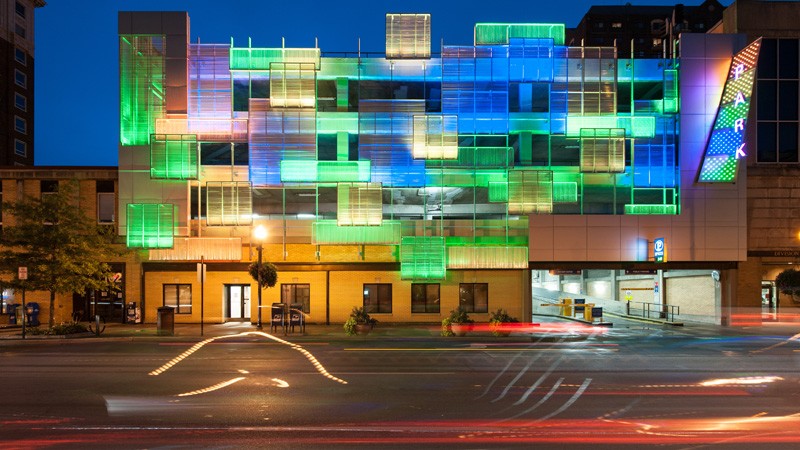 At night the colors shift over time, so that from one minute to the next the composition takes on different attributes. For special occasions, like Independence Day, Christmas, or a Race for the Cure, the colors reflect colors of the event, adding to the public spirit.
Design: Pohl Rosa Pohl
Photography by Frank Doering