Declan Burn and Matt Ritani of Burn + Ritani have designed 'Belly of the Beast', an installation in Matakana, New Zealand, that is a 12 meter tower covered in shingles made of tires.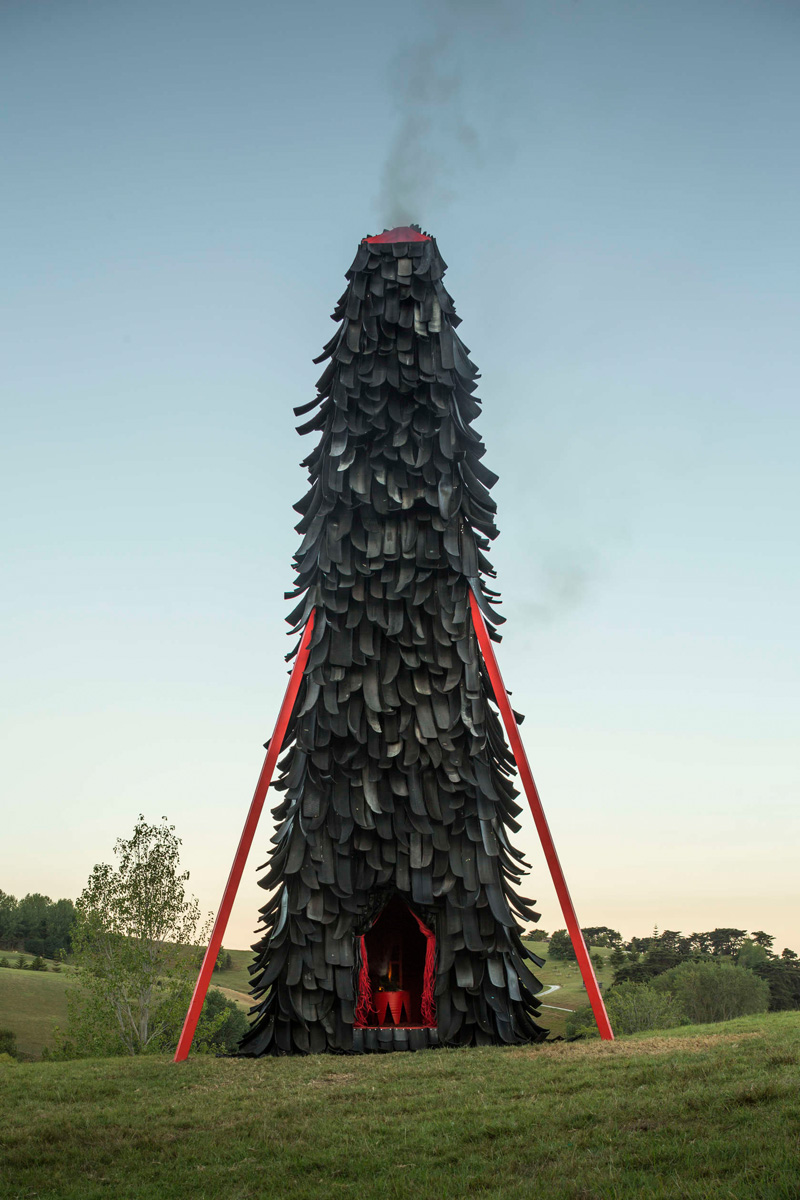 The Project Description:
A furry pelt? A prickly cousin of the Brick Bay tower? Perhaps a Kakahu or cloak? 'Belly of the Beast' gestures towards many references, however it resists a single meaning. Borrowing strategies of ambiguity in fringe practices of sculpture and architecture, 'Belly of the Beast' situates folly as a 'double' of architecture. As mannequin architecture this project gazes away from architecture proper.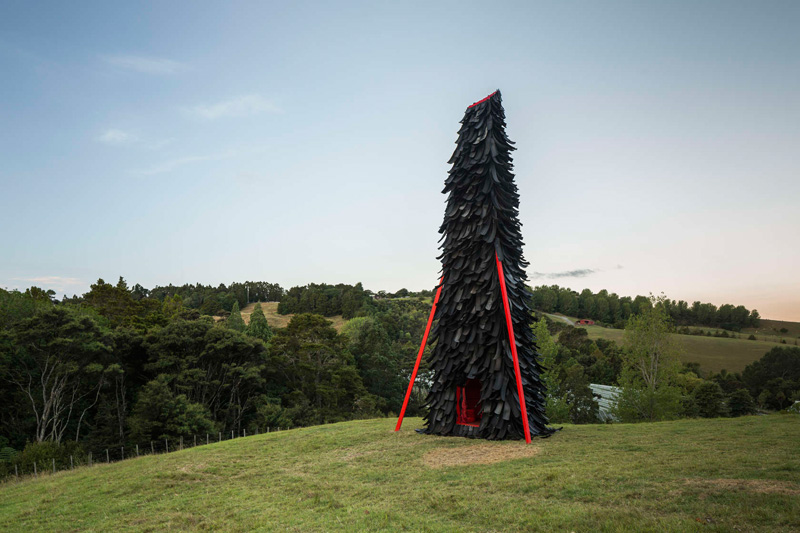 The Folly is embodied; one can become the architecture, with the inhabitant climbing up an internal ladder which leads to an open window, serving as its temporary face. This calls into question the static relationship between object, meaning and audience. The Folly consists of a 12 metre tower clad in tyre tread shingles, utilizing a sustainability ethos of 'materials in transit' meaning all components of the proposal continue on to second lives at the end of the exhibition.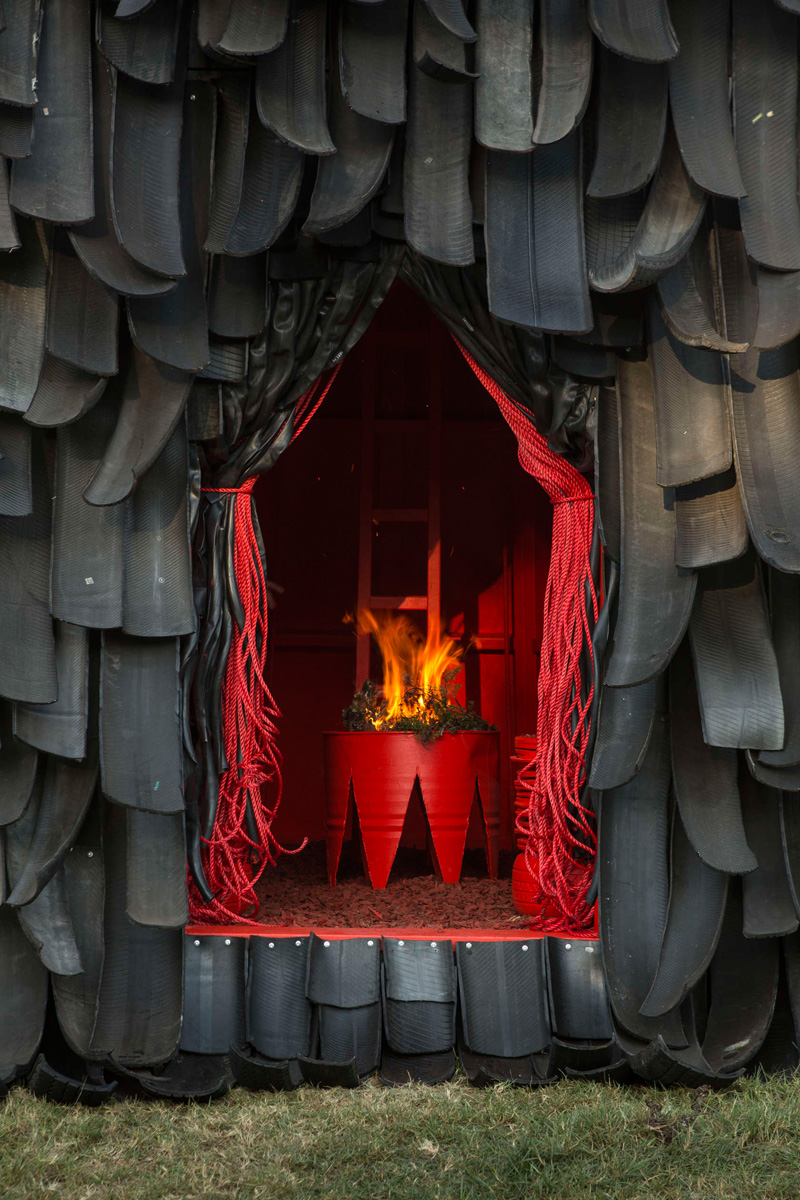 Matt and Declan have looked to sculpture for possible points of collision between sculptural and architectural practice. A key moment occurs in the development of modernist sculpture when sculpture dissolved the pedestal, removing a frame that signifies it as an ideological place holder. Sculpture began to have more agency in everyday space and therefore began to implicate architecture. Sculpture became less about an objective gaze and its relationship to us as an audience became under tension.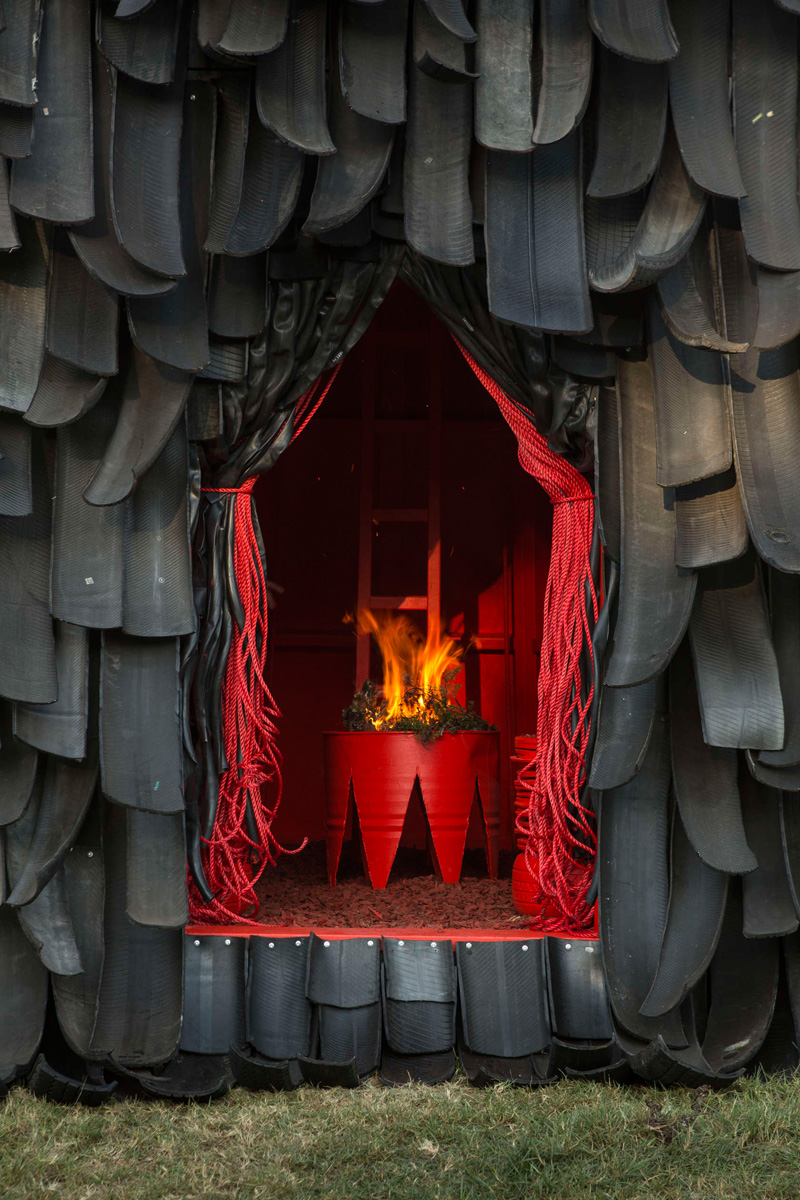 This tension was something that Matt and Declan wished to explore. The Folly is vague in its references; including Kahu toi (Maori Flax Cloaks), a furry beast, the existing Brick Bay tower and Eva Hesse's Accession series amongst other readings. However in our project no single reference is attributed with a primacy of meaning. It is all of these things – it is none of these things. And just like in the development of the modernist sculpture, anxieties of interpretation start to operate in the art of The Folly. The tyre tread exterior blurs its architectural tectonic refusing its constructed nature and othering itself from architecture, a strange abandoned abstract object.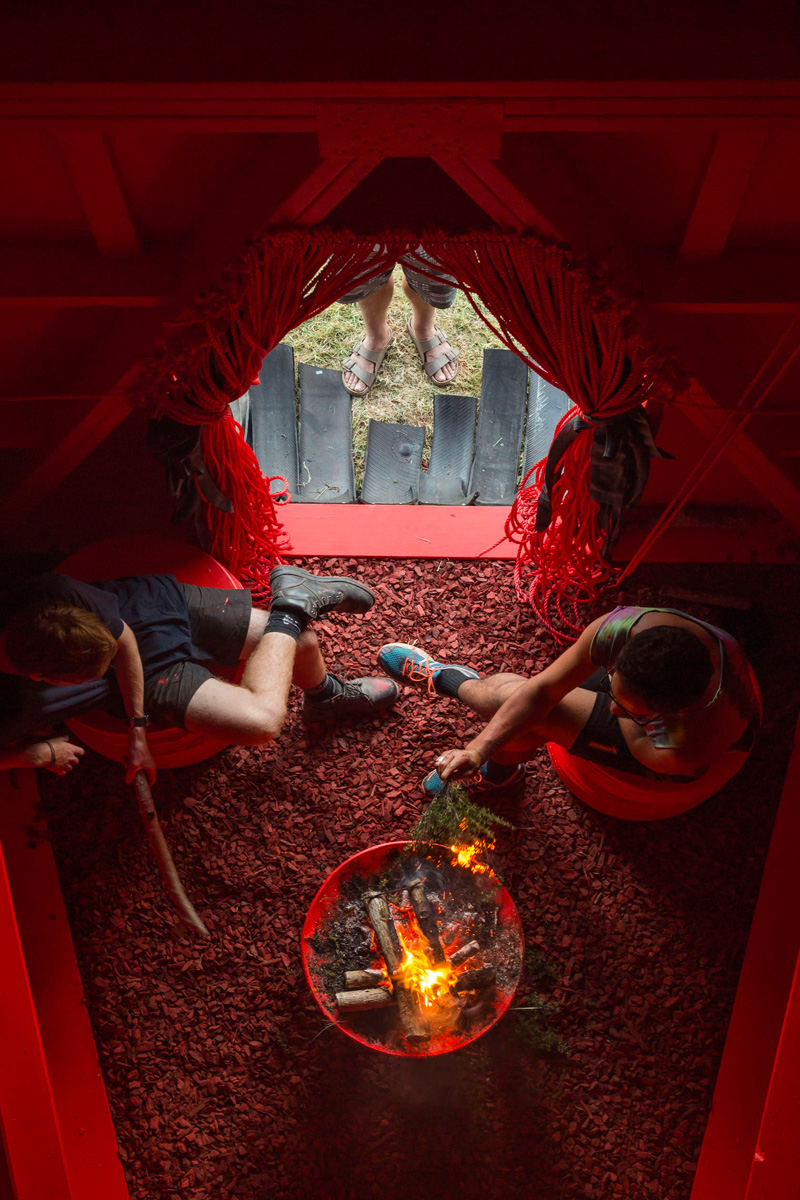 Jeremy Till wrote that 'all architecture is building waste in transit.' In the interest of sustainability, it was important for us to situate the construction of the folly within a process of future assemblies, meaning The Folly is a temporary material state for what will transform into other plausible uses. This consideration fundamentally alters the detailing of such a folly as the proportions of systems must optimise reusable material. The cladding is in oversized tyre tread shingles, reusing what would otherwise be waste. After the exhibition period of 12 months the tyres will then be sent to an Auckland based tire shredder and be donated to a local equestrian club for dressage arenas as rubber chip is more comfortable for horses. Rather than simply recycling we increase value, contributing to community good.
Design: Burn + Ritani
Photography: Sam Hartnett