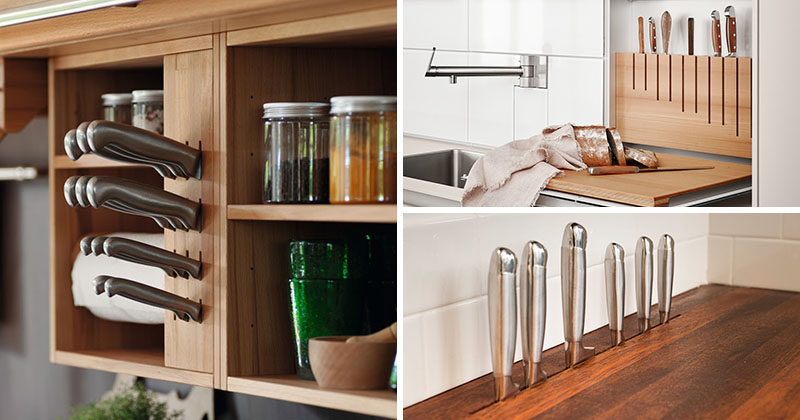 Knife blocks that sit on the counter can be a nuisance. They take up valuable counter space, they slide around, and they don't always look good. Built-in knife blocks eliminate all of those issues and keep your knives within reach, but also out of the way.
They come in a variety of styles including small slits in the countertop, defined wood blocks, and hidden shelves that pop out of the counter.
Let's take a look at a few different ways you can include a built in knife block in your kitchen design.
---
1. This knife block is built into the cabinetry instead of the countertops to save valuable space and keep the knives out of the reach of children.
---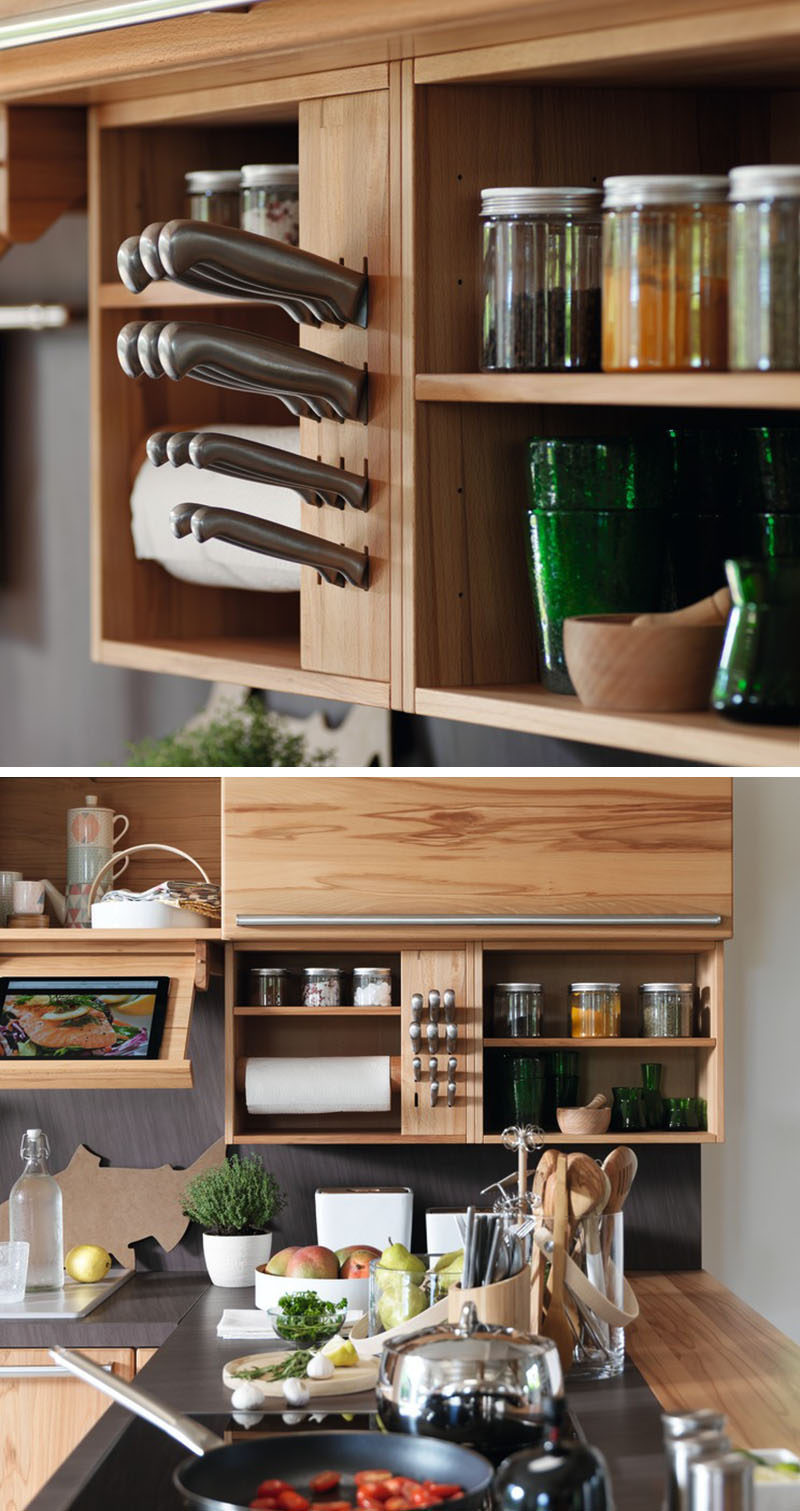 Inspiration from the Rondo kitchen designed by Team 7.
---
2. Slits in this butcher block countertop keep the knives in the most convenient spot, making food prep a breeze.
---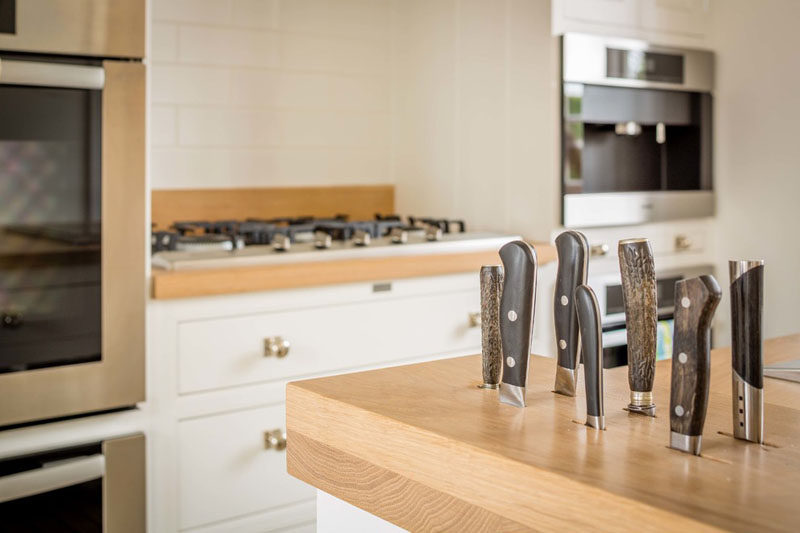 ---
3. This custom knife block has been built into a small drawer to make use of the small space between the stove and the other drawers and to keep the knives off the counter, making more room for cooking.
---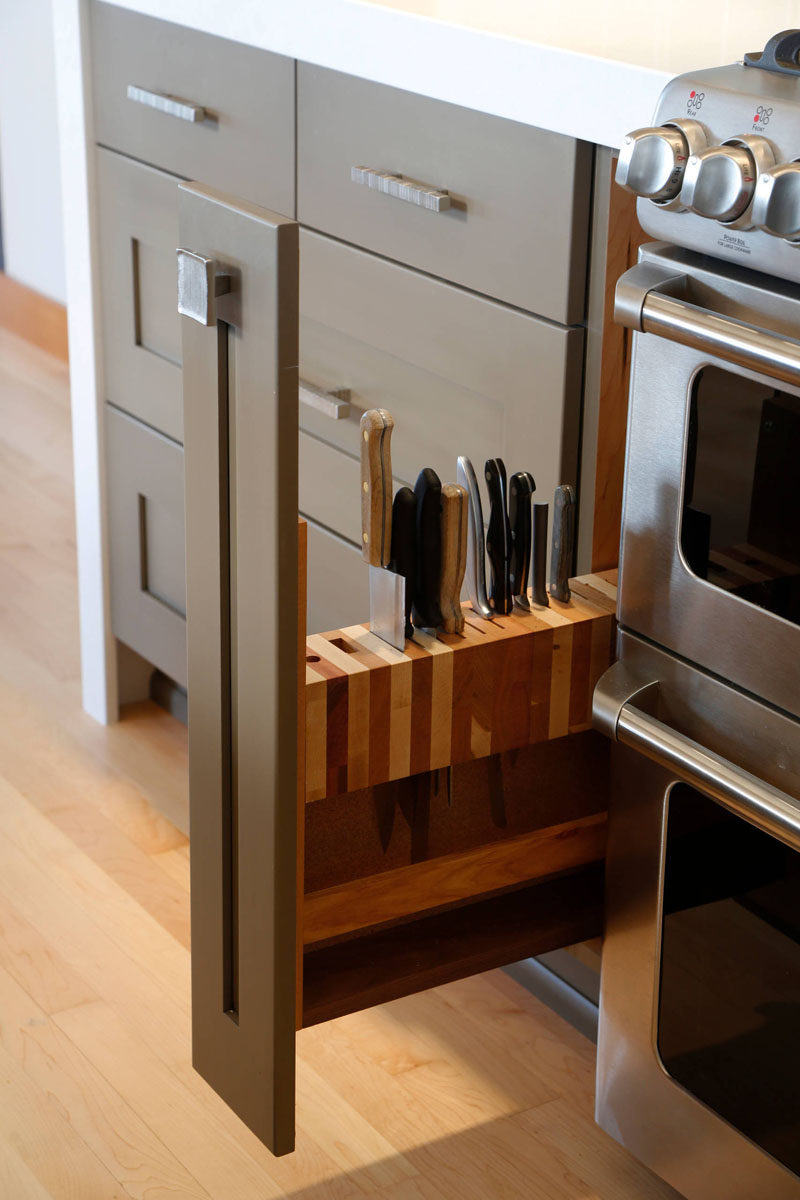 ---
4. A single slit in the back of this wood countertop provides the perfect spot for storing knives and doesn't restrict the sizes of the knives that can fit in it.
---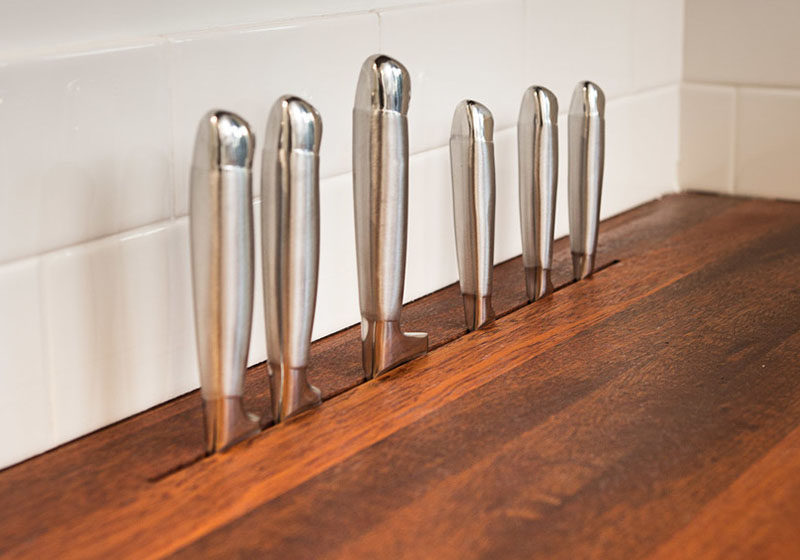 ---
5. This built-in knife block curves with the countertop and is in the perfect location to easily grab a knife when you're cutting at the attached butcher block counter.
---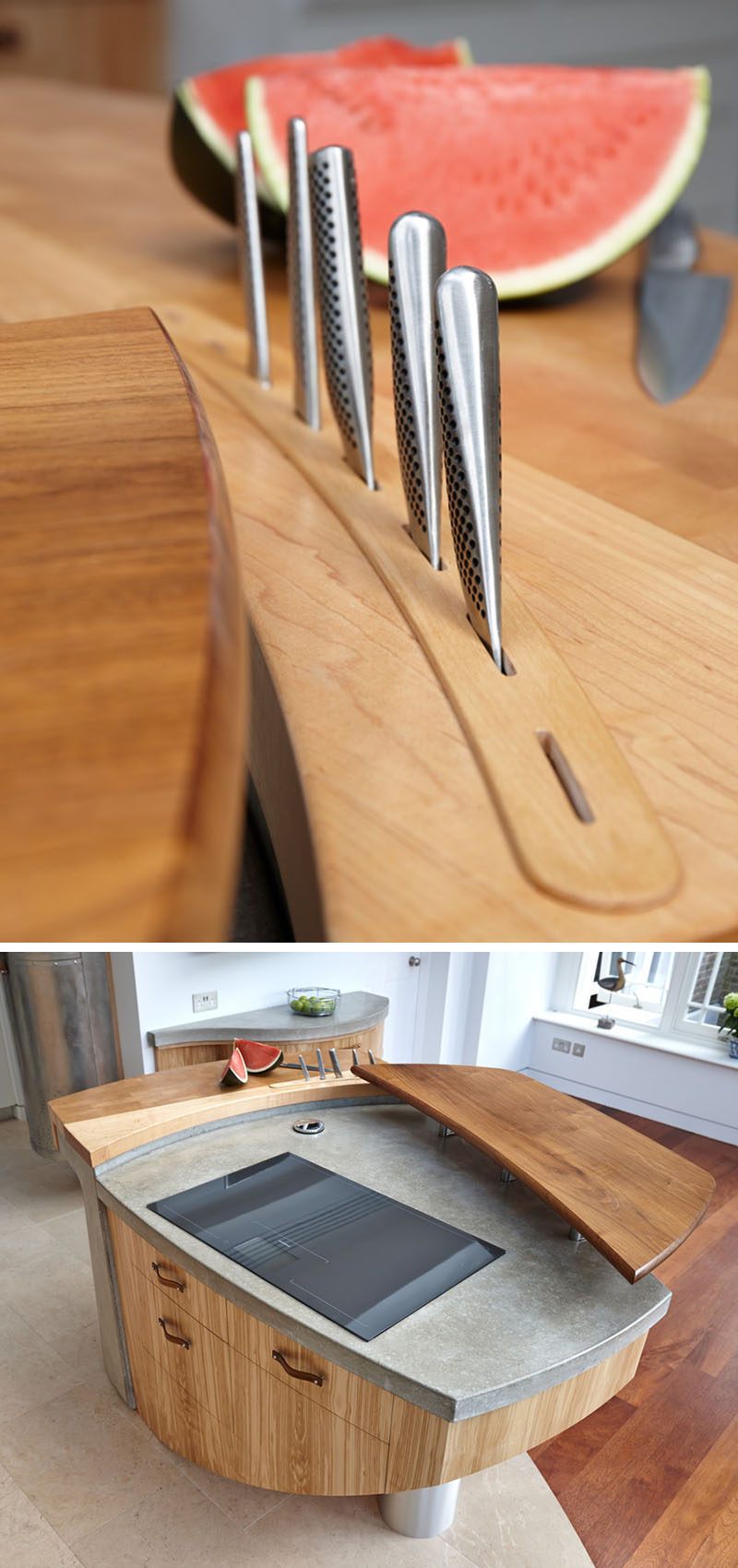 Inspiration from a kitchen designed by Johnny Grey Studios.
---
6. This knife block is built into the wall to make it easy to grab a knife when you need it and keeps the knives off the counter to save precious prep space.
---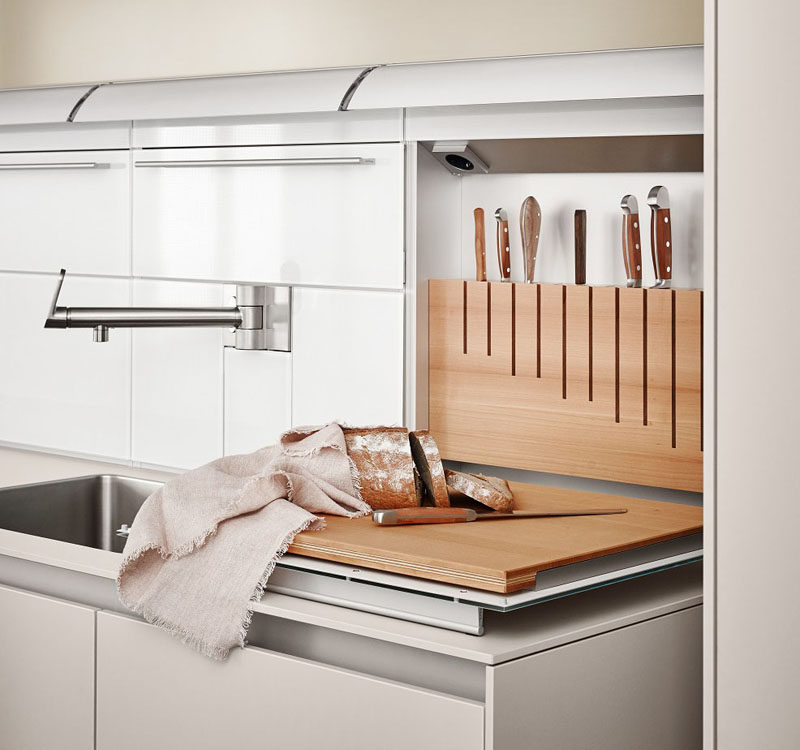 Inspiration from a kitchen designed by Bulthaup.
---
7. This knife block tucks right into the countertop and pops up when you need it, making it a super safe option and one of the best ways to maximize countertop space.
---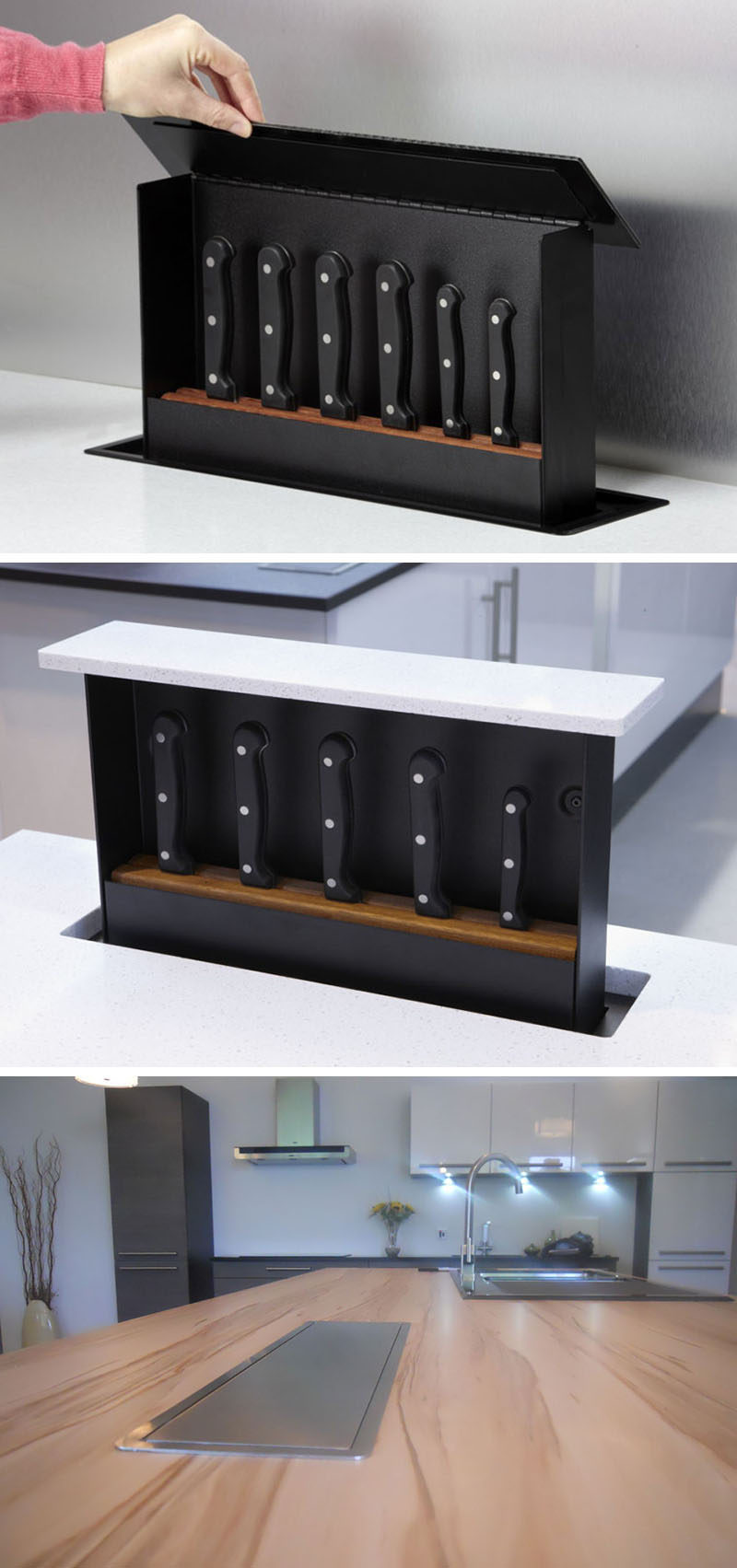 Pop up kitchen knife block from S-Box Plus.
---
8. Custom slits have been made in this countertop to accommodate various knives, a sharpener, and the scissors, keeping all cutting utensils within reach at all times.
---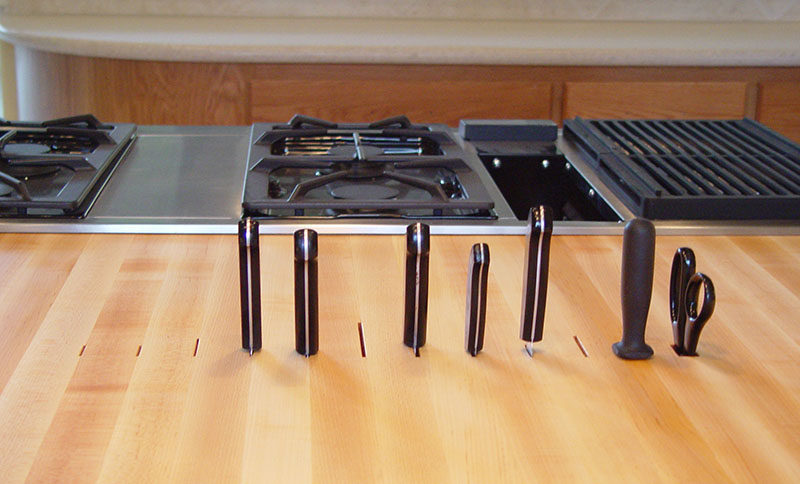 Inspiration from a kitchen countertop designed by DeVos Custom Woodworking
---
9. This wood knife block sits in the corner of this small kitchen countertop and contrasts the dark countertop material.
---
Kitchen designed by Laure Guillelmi. Built by by Gepetto. Photography by Yannick Grandmont.