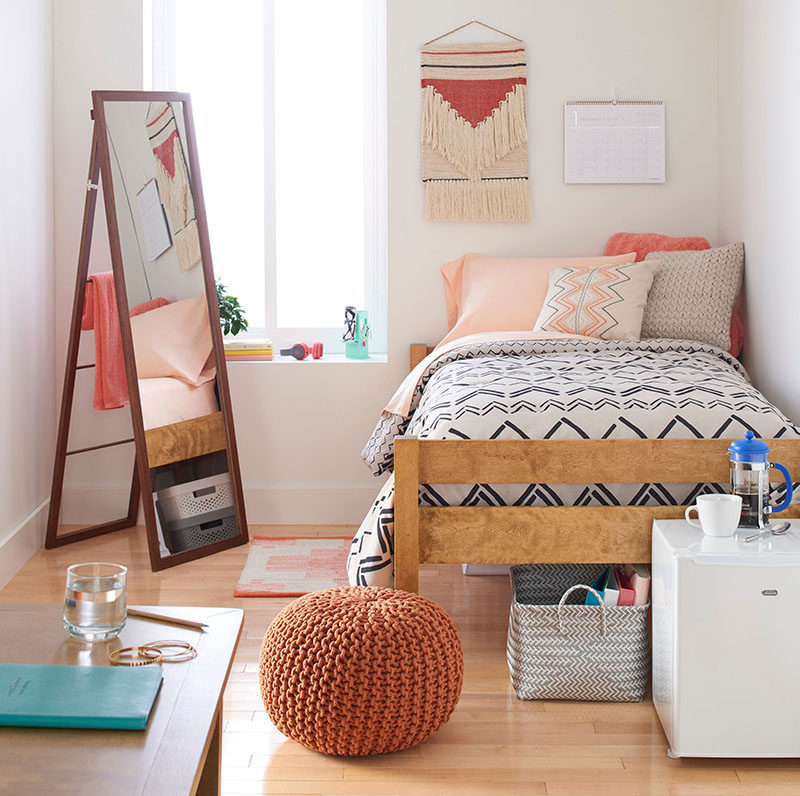 Inspiration via Target
It's getting close to that magical time of year. The time of year when students anxiously start thinking about the start of a new school year.
With many college students starting to head out to stock up on dorm room supplies, we thought we'd share some inspiration and ideas for creating a stylish room that feels comfortable and cozy.
---
THE ESSENTIALS FOR YOUR DORM ROOM
While dorms typically provide you with the barest of bare minimums (bed, desk, chair and wardrobe) there are some things that you will not want to forget.
Storage
You'll want storage for your storage. That's how much storage you'll want. For example, you'll need desk storage for chargers, pens, pencils, highlighters, erasers, notebooks, binders, and papers.
You're also going to need closet storage solutions, under the bed storage for all the things you'll need but have no space for, and over the door storage for your towels, hoodies, or backpack.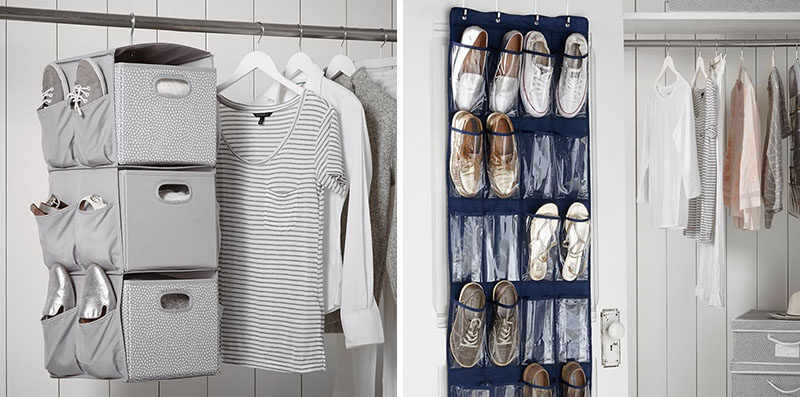 Closet storage by PBteen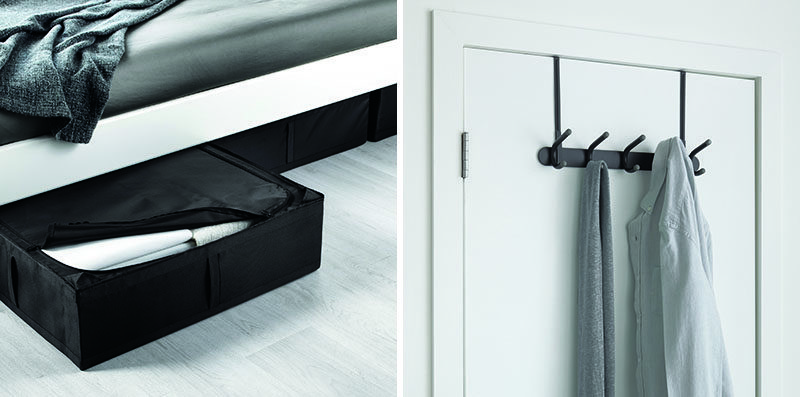 Left photo – SKUBB by IKEA. Right photo – BRELLA Hook by Jordan Murphy for Umbra.
---
Lighting
Lighting in dorm rooms is always horrible. The overhead lighting is usually pretty harsh and you won't want to use it late at night because it'll give you a headache or you'll wake up your roommate. Lights can pull all sorts of double duty now so it's wise to invest in a light that will give you more than just light, like the ones with wireless charging from IKEA.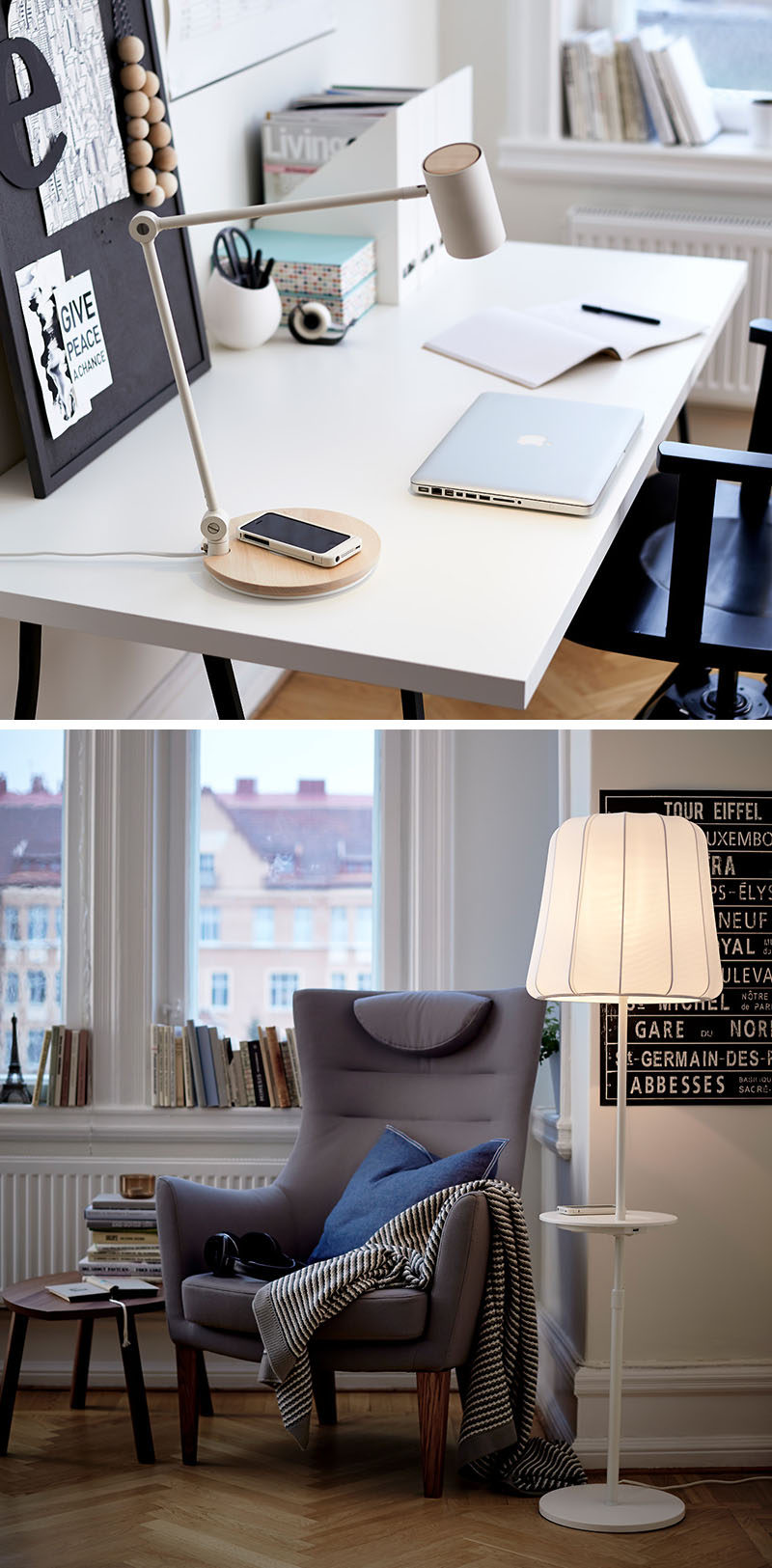 Lighting from IKEA
---
Mini Fridge
A mini fridge is a must-have for all that beer…..I mean….vegetables, water bottles, and milk you'll want to keep cool 😉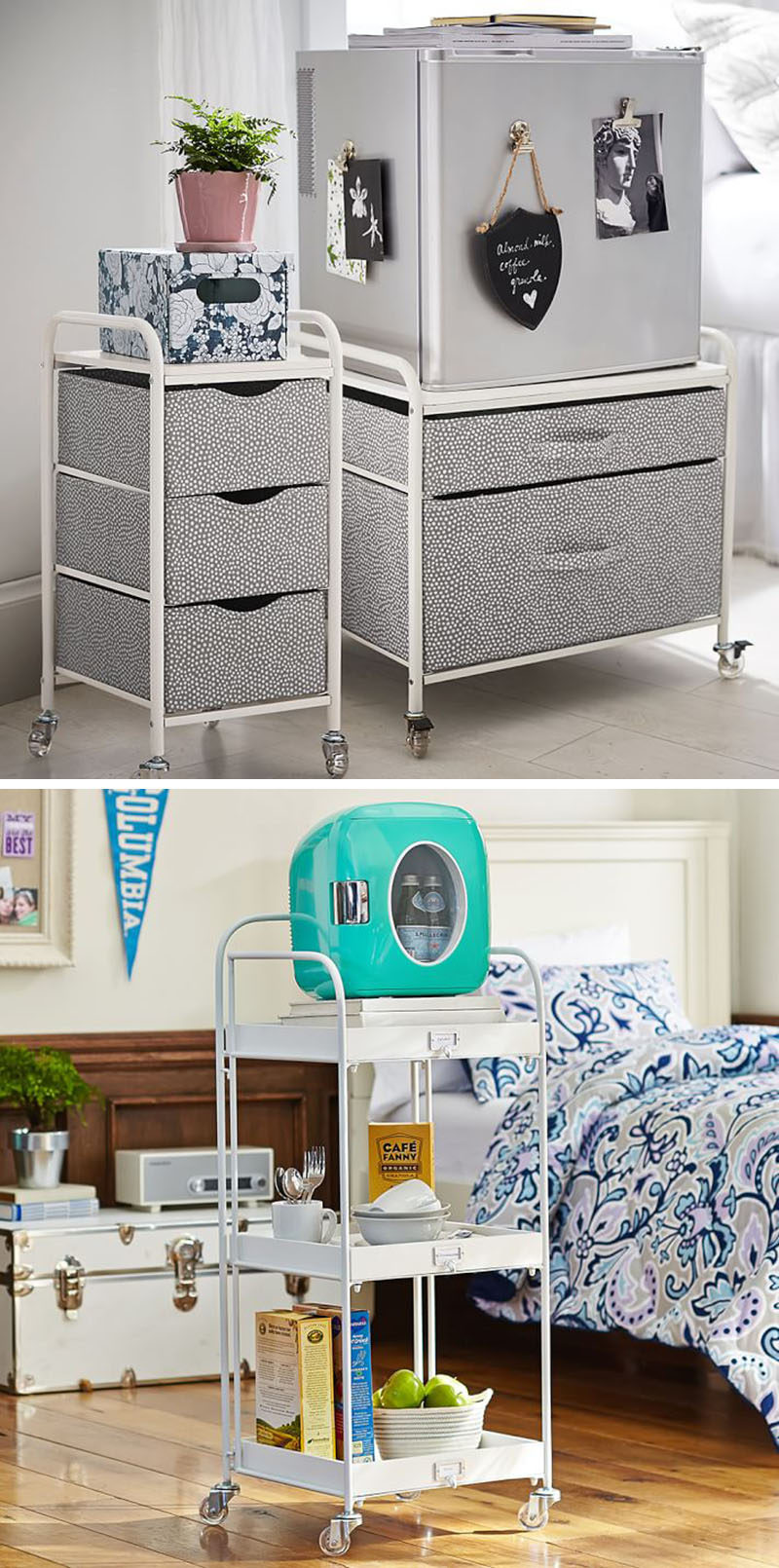 Mini fridge and retro cooler from PBTeen.
---
Bathroom Storage
A shower caddy is extremely necessary if you use more than just shampoo. Carrying your shampoo, conditioner, soap, razor, face wash, and whatever else you use in the bathroom is so much easier in a basket than in your arms.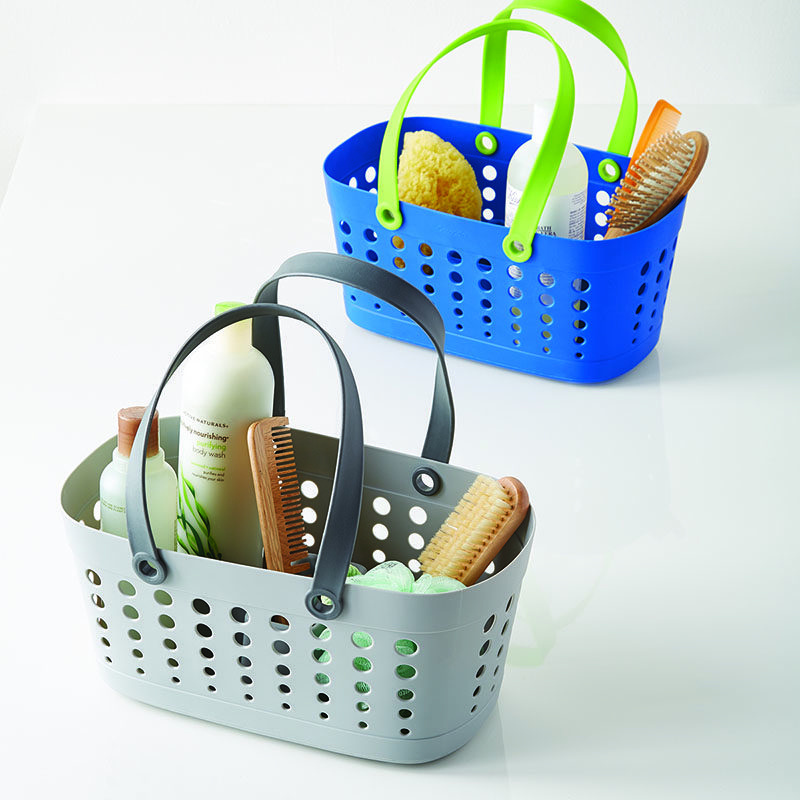 ---
Comfort
While studying at a desk or in the library is great when you really need to focus, there's nothing quite like reading and studying in bed. Pillows with arm rests help prop you up and have more structure than regular pillows, making them great study buddies.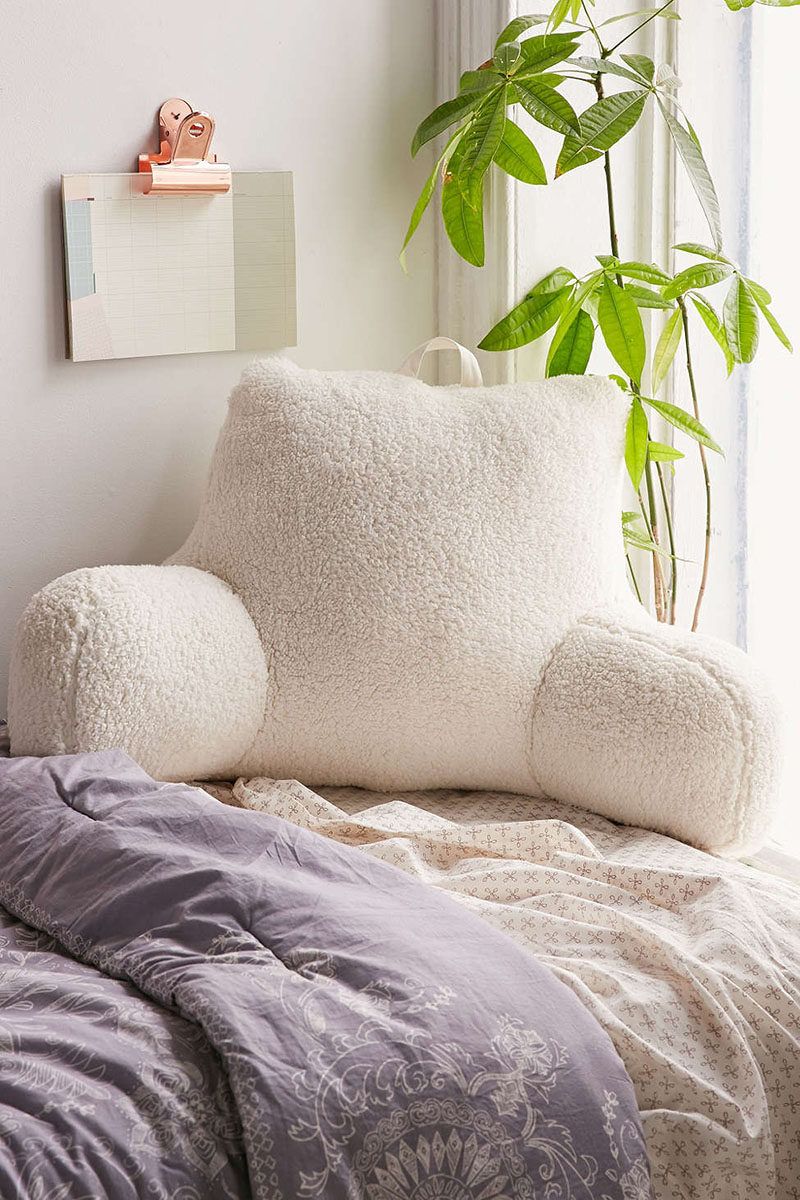 ---
Floor Covering
Dorm room floors can feel cold and unwelcoming – especially in the mornings when you already don't want to get out of bed. Throw down a cozy rug and make your mornings a little more comfortable.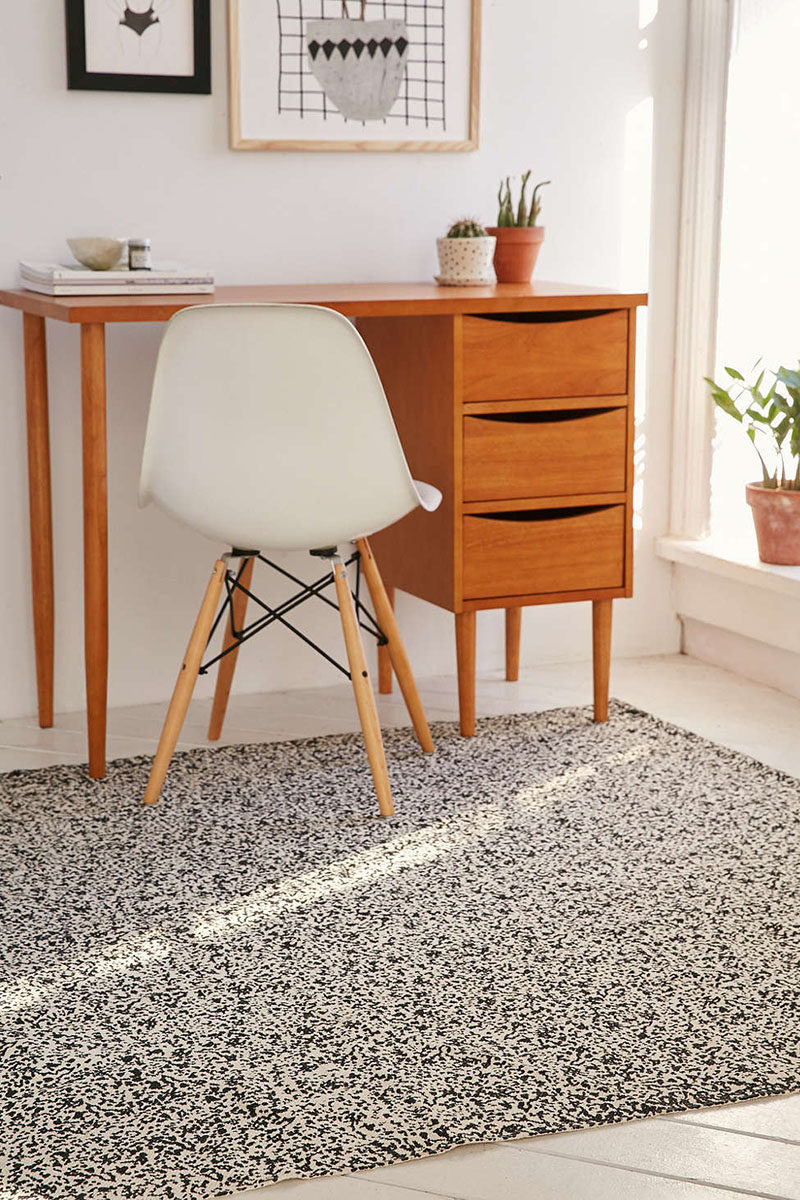 BAGGU & UO Static Printed Rug from Urban Outfitters
---
And Now For Some Quick Decor Ideas
With very little space to add pieces of furniture and table top space at a high premium, wall decor will be your best friend. Here are some ideas for easy ways to decorate your walls to make your tiny space feel more like home.
Washi tape is a fabulous way to add personality and color to your walls without having to worry about holes or peeling paint. With washi tape you can create frames around favorite photos or inspirational quotes or create custom wall decals that can be changed whenever you feel like it!
---
Photo displays do more than add life to your walls – they act as little reminders of happy moments and memories that provide extra comfort on days when school feels overwhelming or the homesick feeling is hitting hard.
---
Inspirational banners can give you that little boost when your twelve page paper or midterm worth fifty percent of your mark just seem like impossible feats. Plus they add texture and warmth to your space. Win win
---