The Generator Hostel Berlin Mitte in Germany, has been created by Ester Bruzkus together with WAF Architects and DesignAgency.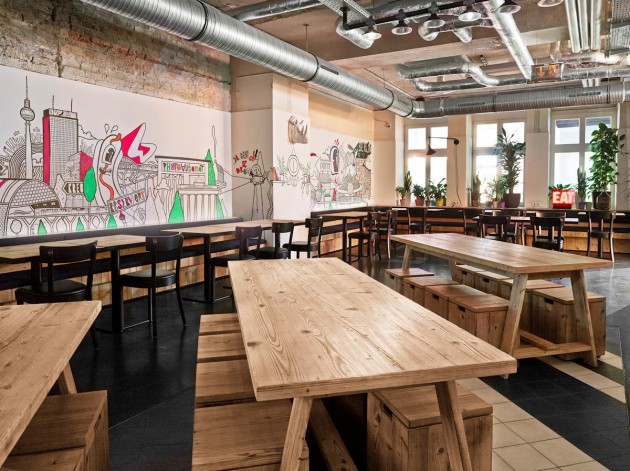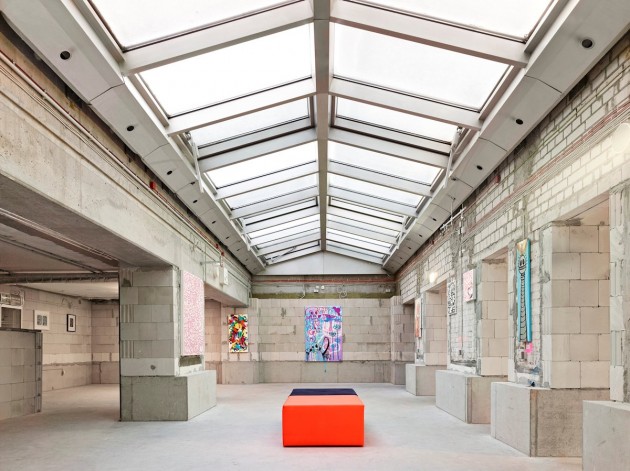 Project description
Generator Berlin Mitte is the newest location in Generator's quickly expanding chain of distinctive and eclectic urban design hostels. Within walking distance of the lively Hackescher Markt, Alexanderplatz, Museum Island, and iconic Kunsthaus Tacheles, Generator Mitte transforms two 19th century office buildings with the artistic character of Berlin's streetscapes and the variety of experiences they offer.

Emphasizing the brand's collaborative spirit, Ester Bruzkus, from Ester Bruzkus Architects, was invited to lead the design team. Working together, Bruzkus, Mark Asipowicz from WAF Architects and Generator's design lead, Anwar Mekhayech, with his Toronto based DesignAgency, infused the project with a dynamic character.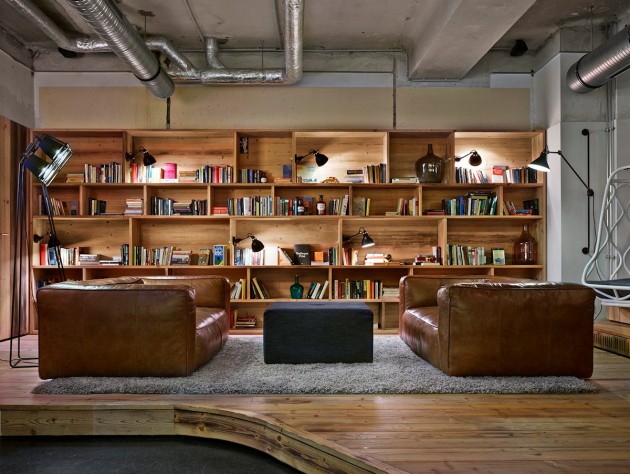 Guests enter through Generator's historic courtyard, past Bella Leonard's wire embroidered stainless steel 'G' sculpture, and are welcomed into Generator's vibrant communal spaces, including a social café and canteen, a chill-out library, a bar and a cool, subterranean, skylit gallery and event space. According to Ester Bruzkus, "We wanted to immerse travellers in the unique character of Berlin, a city of incredible contrasts. So we came up with a design that transforms the interior into an unpredictable experience through layers of art, materials and textures."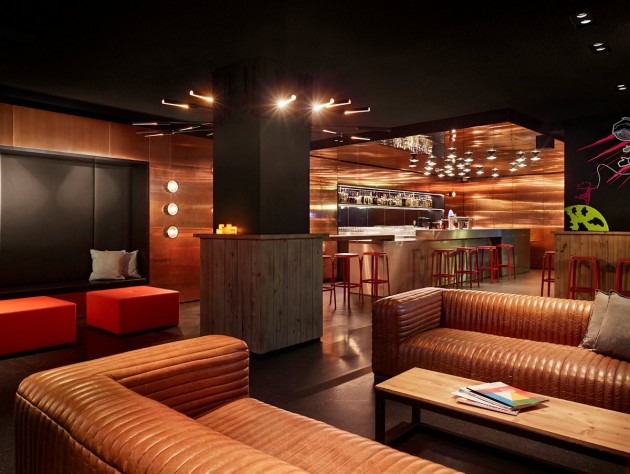 The café and reception are organized by a layer of wood boards punctured by a horizontal line of wooden pegs for both function and display, predictability and playfulness. The wood walls merge with seating platforms from which to see and be seen. Denim, neon pink and orange upholstered cubes provide flexible seating and inject liveliness. The white walls above the pristine Corian café counter serve as a backdrop for French artist Sebastian Preschoux's whimsical and geometric string drawings that hang from the snaking exposed pipes and electrical conduits. Preschoux's surprisingly decorative optical abstraction transports visitors from the outside world.

The canteen and adjacent library impart the themes of sociability and flexibility that are of primary importance to Generator. British artist Luke Embden's mural wraps the canteen with his colourful caricature of Berlin, drawn in response to an artist residency at Generator. A collection of local "off-the-shelf" materials are juxtaposed to create the feeling of a busy, ad-hoc 'eat-in-kitchen'. The cozy couches in the adjacent library create the perfect setting for travellers to chill out and share stories from their adventures.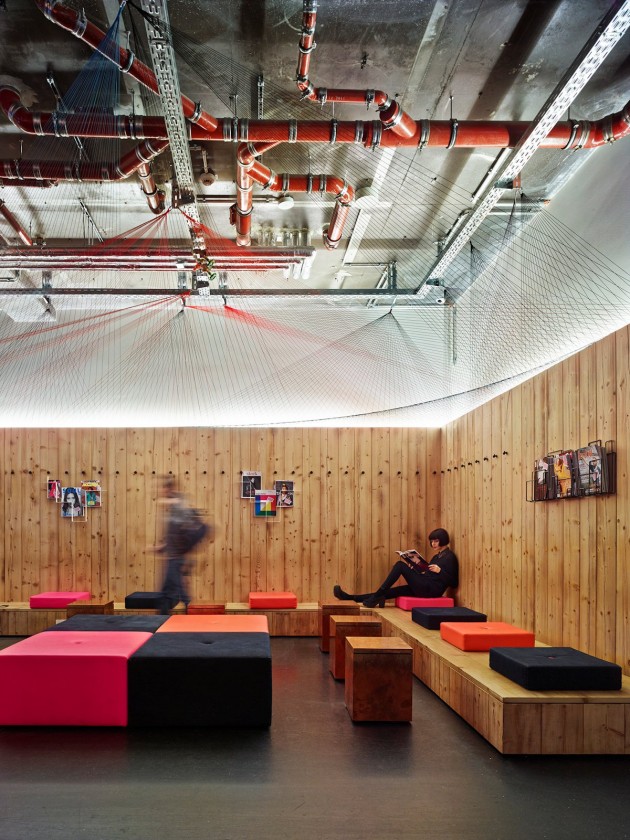 The theatrically dark bar, lined with black walls and raw copper panels and playfully lit with recycled fire extinguisher tubes by Castor and car headlights by PSLAB, creates a dramatic stage set for illusion and fantasy. In an intimate nook at the far end, plush brown leather sofas rest in front of thick purple wool drapery.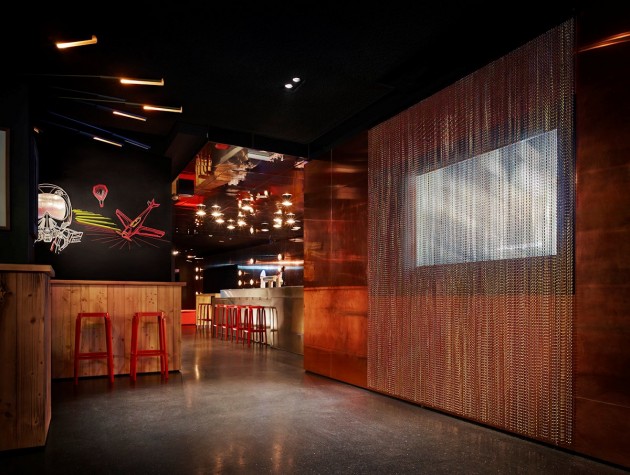 In the dramatic & spacious corridors, famed Berlin street artist Theirry Noir created three-metre high faces, colour coded for each floor, reminiscent of his poetic murals on the Berlin wall. These lead to a wide selection of room options that carry through design themes from the social areas reinterpreted in a basic and quiet manner. In addition to dorms, there are twins—all with en suite bathroom facilities.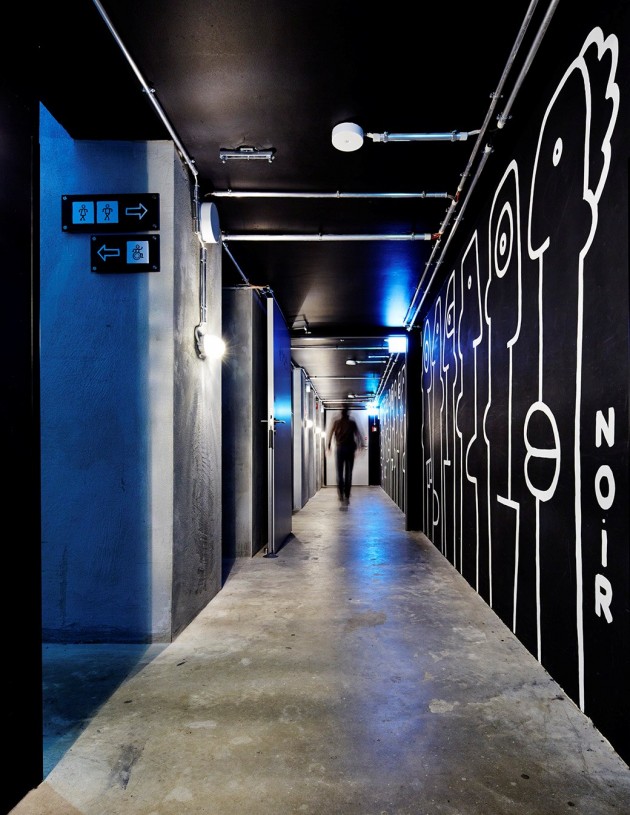 "Generator style is contemporary, unpretentious and at the same time somewhat elusive." explained Anwar Mekhayech. "It's both fun and functional. Berlin Mitte was an especially exciting location because we focused on talented guests to infuse the interior with surprising details and authentic objects that delight with Berlin's spirit, while ensuring that everything is super practical and functional."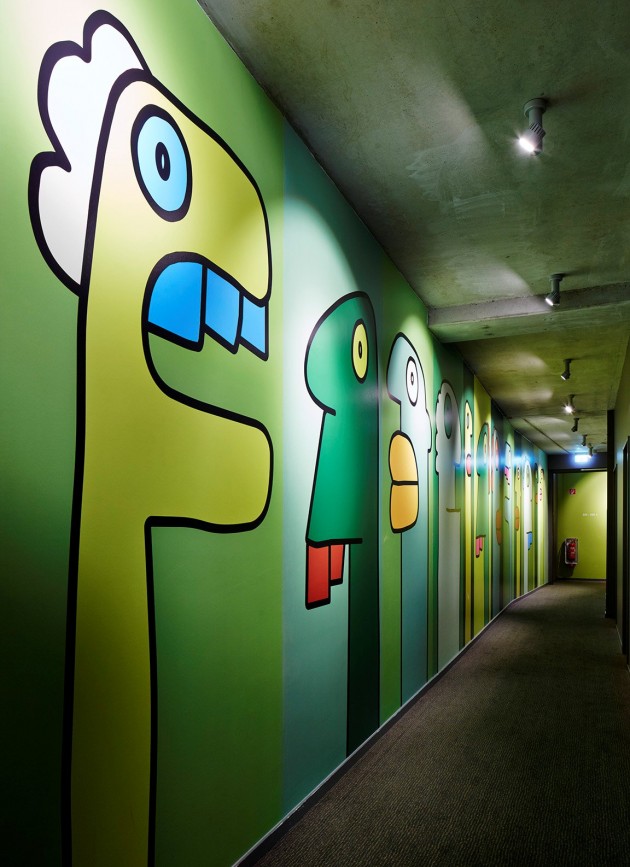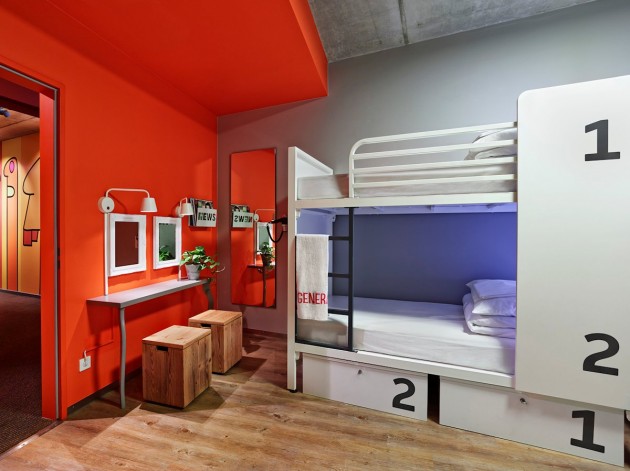 Design: Created by Ester Bruzkus together with WAF Architects and DesignAgency
Photo Credit: Nikolas Koenig