Lifethings have recently completed an interactive public artwork called Idea Tree, located in
San Jose, California.
You can watch a time lapse video of the construction – here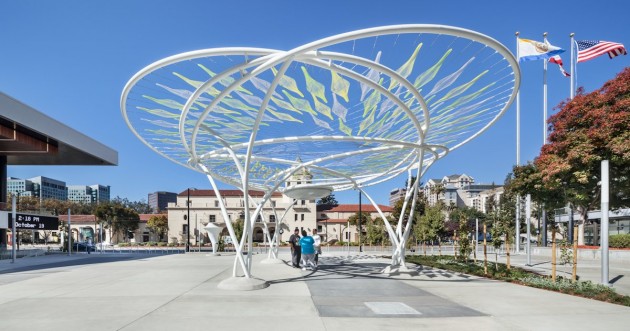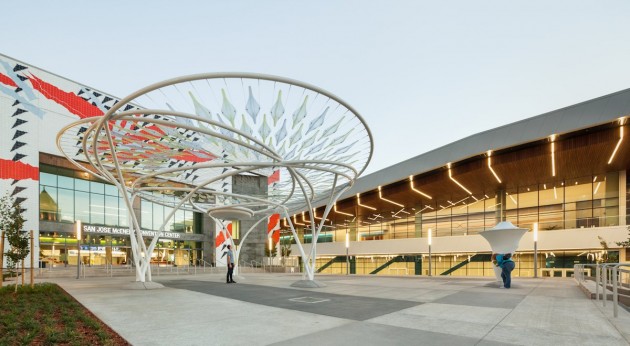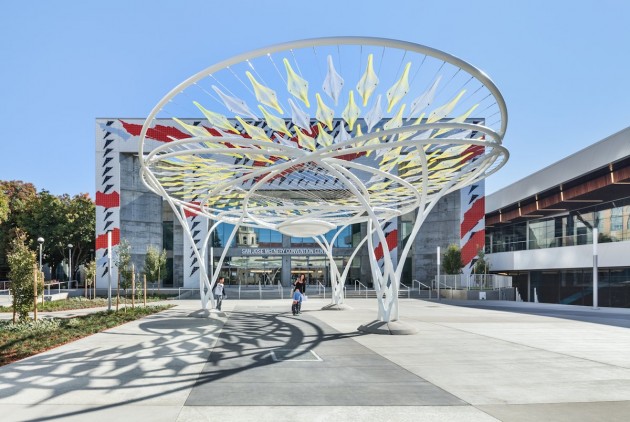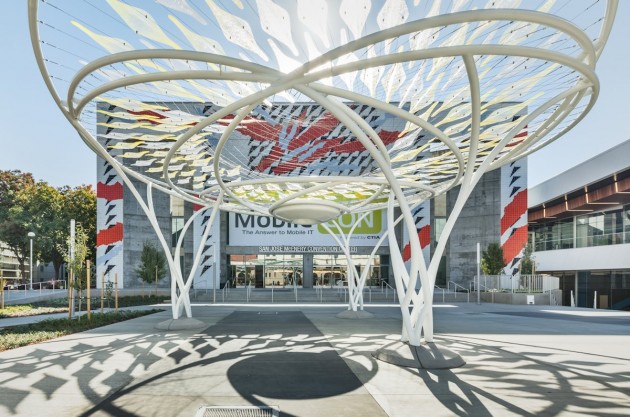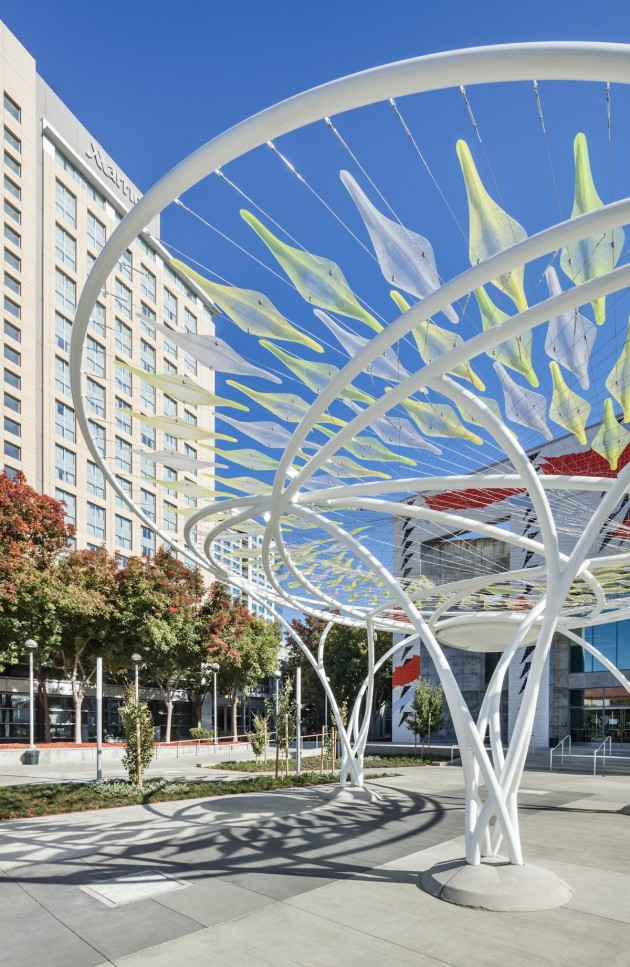 Project description
With a commission for a public artwork to commemorate the expansion of the San Jose McEnery Convention Center, Lifethings completed Idea Tree, a permanent participatory interactive artwork, in the newly renovated entry plaza. Standing in front of a mural from 1989 which celebrated completion of the original Convention Center, Idea Tree demonstrates a changing attitude for public art, providing an urban space for public gathering as well as creating a self-sustaining digital ecology where spoken ideas of the citizens are gathered, remixed, shared and evolved over time.

The site for Idea Tree, San Jose McEnery Convention Center, is located between two public spaces, Plaza de Cesar Chavez and Guadalupe River Park and Garden. The Convention Center area is a developing neighborhood with multiple residential projects planned in the near future as the population density is expected to rise. It is the City's desire that the entry plaza to the San Jose Convention Center, currently under utilized, be developed as an active civic space.

Idea Tree creates an artificial floating 'Canopy' under which various outdoor activities, convention-related and otherwise, can happen. The Canopy, a thin circular volume with a diameter of 40 feet that hovers 16 feet above the plaza, mediates the large scale of the plaza creating a 'human scaled space' as a transition from the street to the building's entrance. The Canopy is skinned with translucent polycarbonate panels, the 'Leaves,' that provide protection from the sun. These Leaves, vacuum formed from embossed polycarbonate sheets, refract the sunlight into fragments of small spotlights in a way that creates visual experience of seeing the sun through dense volume of leaves in a forest. The steel branches of the 'Canopy' suspends an opaque sculptural volume at the center, the 'Fruit', which houses electronic and sonic equipments for interactive participation. Idea Tree is carefully places near three newly planted trees. These baby trees will grow and form a small urban forest with the Idea Tree in the future as their branches tangle with the steel cables and their leaves fill the gaps between the polycarbonate 'Leaves'.

The interactive programming of the artwork is inspired by the Convention Center itself as the "meeting room of Silicon Valley" where iterative innovation happens over time. Majority of events at the Convention Center are booked as recurring events over multiple years — five years minimum and often between ten and twenty years. This invisible cycle inspires the artwork to respond to a unique time scale. Since events are scheduled annually and at approximately the same time of year, there exists an interesting cyclical ecology of ideas at the Convention Center. Simply put, if a particular group of people with similar ideas attend an event at the Convention Center this year, the same group of people will be back in the years to follow. This is an amazing opportunity for interaction that can be experienced over time.

In response to this cyclic context, Idea Tree creates a self-sustaining ecology of ideas that evolves and devolves over time. The public can share their ideas by leaving a short voice message into the 'Seed' placed on the plaza. 'Seed' is a freestanding sound booth where a single person can engage the artwork and participate by leaving a spoken idea, an idea gene. Upon approach, the 'Seed' talks to invite a passer by with messages like 'Hello, please come close. Your everyday thought could spark somebody's imagination. Tell me, what's on your mind right now?' or 'Hello…please come close (pause one second) Please share your inspiration with the tree and inspire others.' When a passer by shares a spoken idea with the 'Seed', three messages are remixed into an exquisite corpse-style haiku. Walking under the 'Fruit', people hear whispers of these haikus. By measuring how much time people spend listening to each haiku, popular haikus will "live" and stay in the playlist to have a chance to be whispered again in the future. Unpopular haikus "wither" to "compost." These haikus lose their literal content and are distorted into an abstract soundscape through algorithmic composition process. The ambient soundscape will be audible from underneath the surface of the 'Canopy' creating a condition that has the potential to stimulate people's mind and work as fertilizers of new thoughts.

Working specifically in participatory public art as an artist, Soo-in Yang recognizes that participatory public artwork can be a double-edged sword in that lack of participation could lead to failure. "Past experiences have taught me a few lessons about participation." says Yang, "The artwork should be placed at a location where people are willing to participate. An artwork on a New York subway platform in rush hour will not draw people's attention, no matter how well designed the interface is. The artwork should have an intuitive interface, where a mother on a walk with a five year old daughter can figure out a way to participate within a minute. The artwork should have an immediate incentive, a reaction, to somebody's participation, thereby increasing the chance for participation. However, these attributes only increase the chance of participation. I can't really guarantee that there will be enough input. In Idea Tree, the artwork has within it an ability to sustain its life, a computer algorithm that self-generate remix of participant inputs and a rating system that further evolve the outcome. With this, Even a small number of participation can create an ever-changing experience."
Design and drawings: Lifethings

Photography by © Kyungsub Shin.