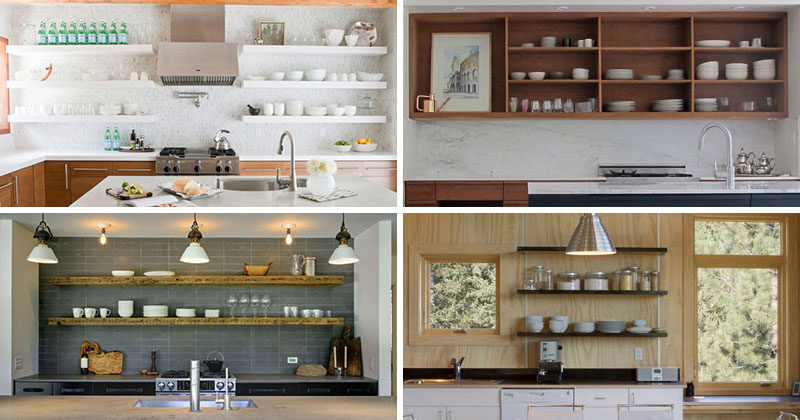 Open shelving is a style of shelving with a surprising amount of controversy surrounding it. Sure, it displays all of your beautiful plates, mugs, cups, and bowls, but it also means displaying all of your not so beautiful plates, mugs, cups, and bowls. While some people love it and others love to hate it, open shelving is a trend that's being seen more and more these days.
Love it or hate it, here are 19 examples of kitchens that have done open shelving in a variety of different ways.
---
1. This tiny kitchen features both open and closed shelving on the top and bottom parts of the kitchen, creating the ability to display the beautiful and hide the not-so-beautiful.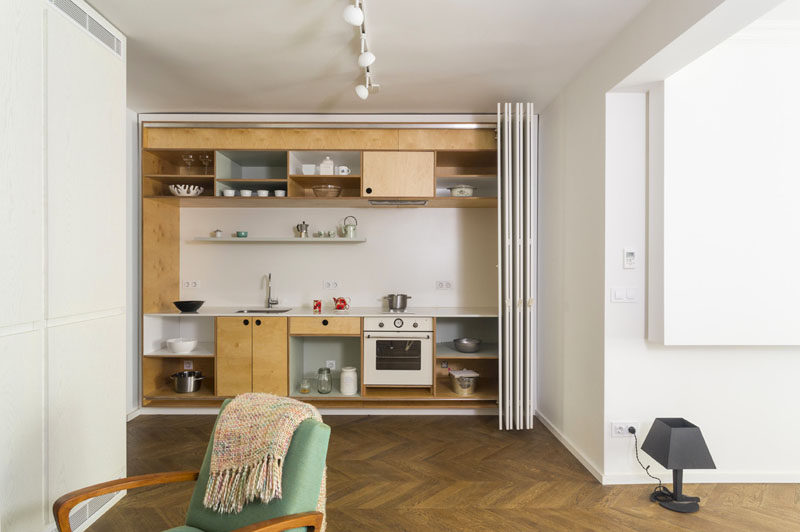 ---
2. The open shelving along the back wall of this bar/kitchen displays the fancy alcohol bottles without looking cluttered.
---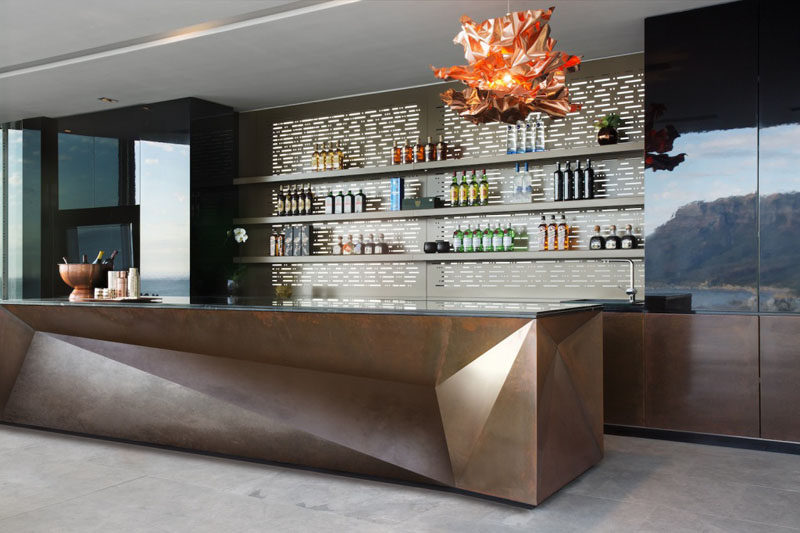 ---
3. Open shelving along the top part of this kitchen keeps the simple plates and bowls on display and makes them easily accessible.
---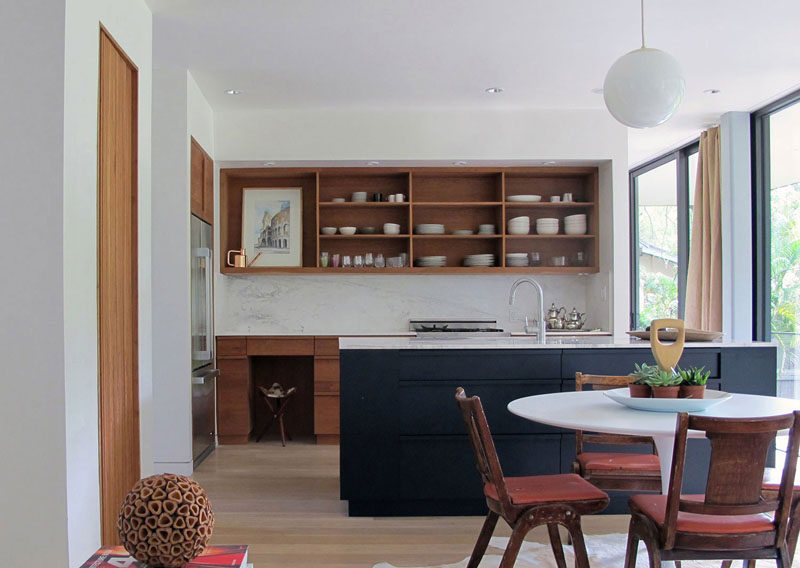 See more photos of this home, here. Designed by Brillhart Architecture. Photography by Stefani Fachini, Bruce Buck, Jake Brillhart
---
4. Floating shelves above part of the counter in this kitchen keep the everyday plates and mugs at arms reach so they're easy to grab and go.
---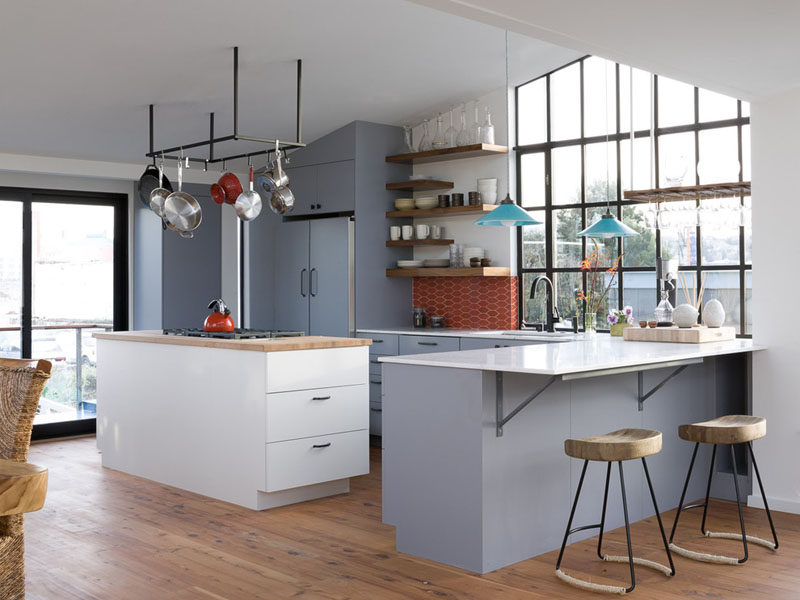 ---
5. Long wood floating shelves mixed with a concrete countertop creates a rustic yet contemporary feel.
---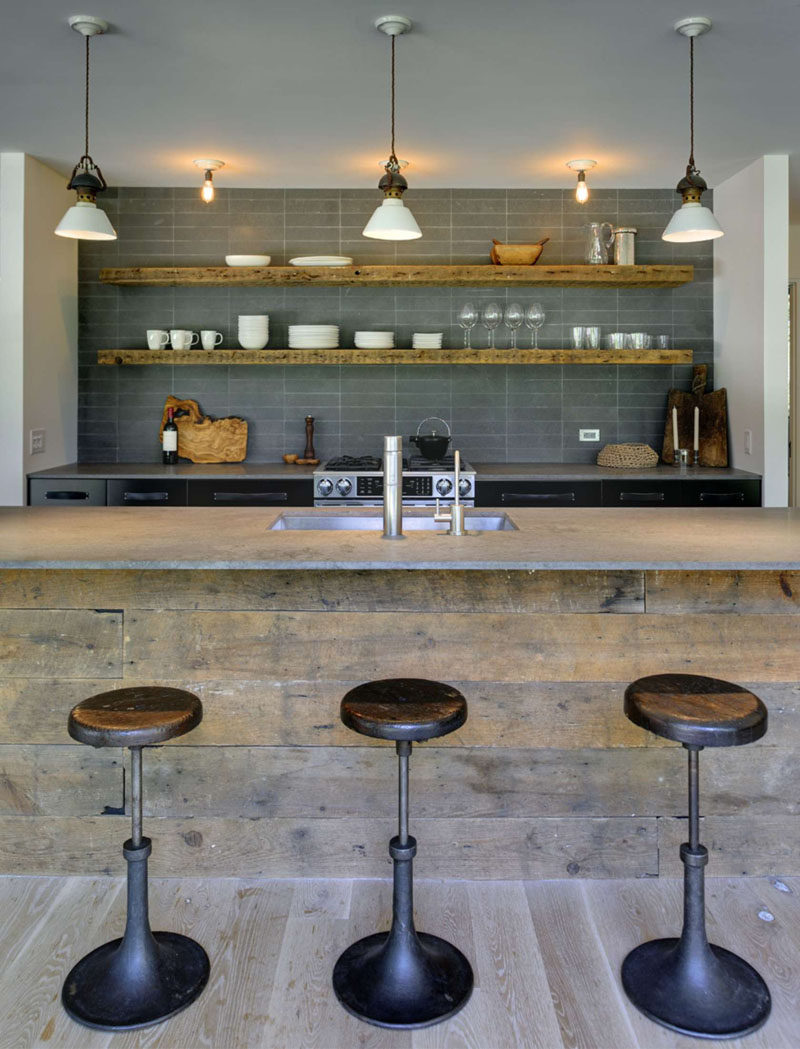 ---
6. Open shelves on either side of the stove keep essentials at hand, while open shelving in the island keeps the wine on display but out of the way.
---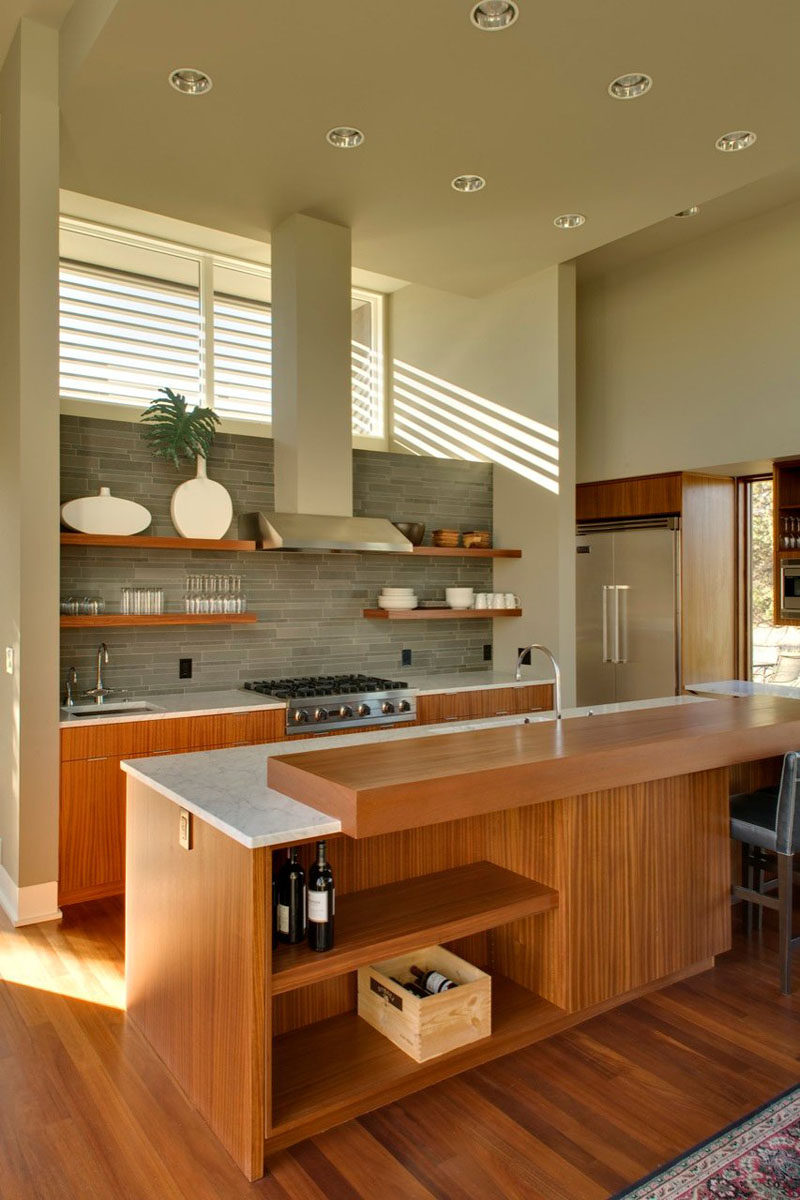 ---
7. Long white open shelves almost appear to blend into the background and create plenty of space for storing bowls, utensils, and food.
---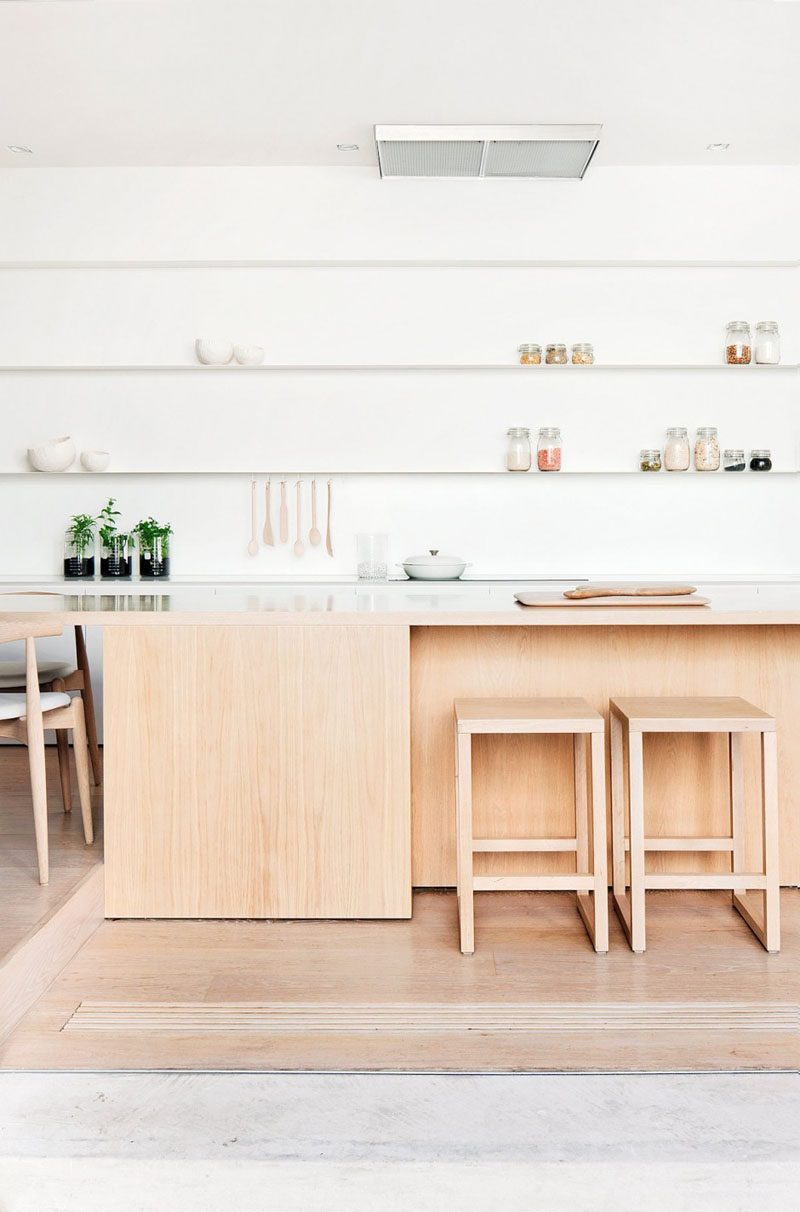 Designed by studiofour. Interior Design by Annabelle Berryman + Sarah Henry. Photography by Shannon McGrath.
---
8. The open shelving in this kitchen puts things like beautiful cake stands, cutting boards, cookbooks, as well as daily essentials, like butter and coffee mugs, on display for all to see.
---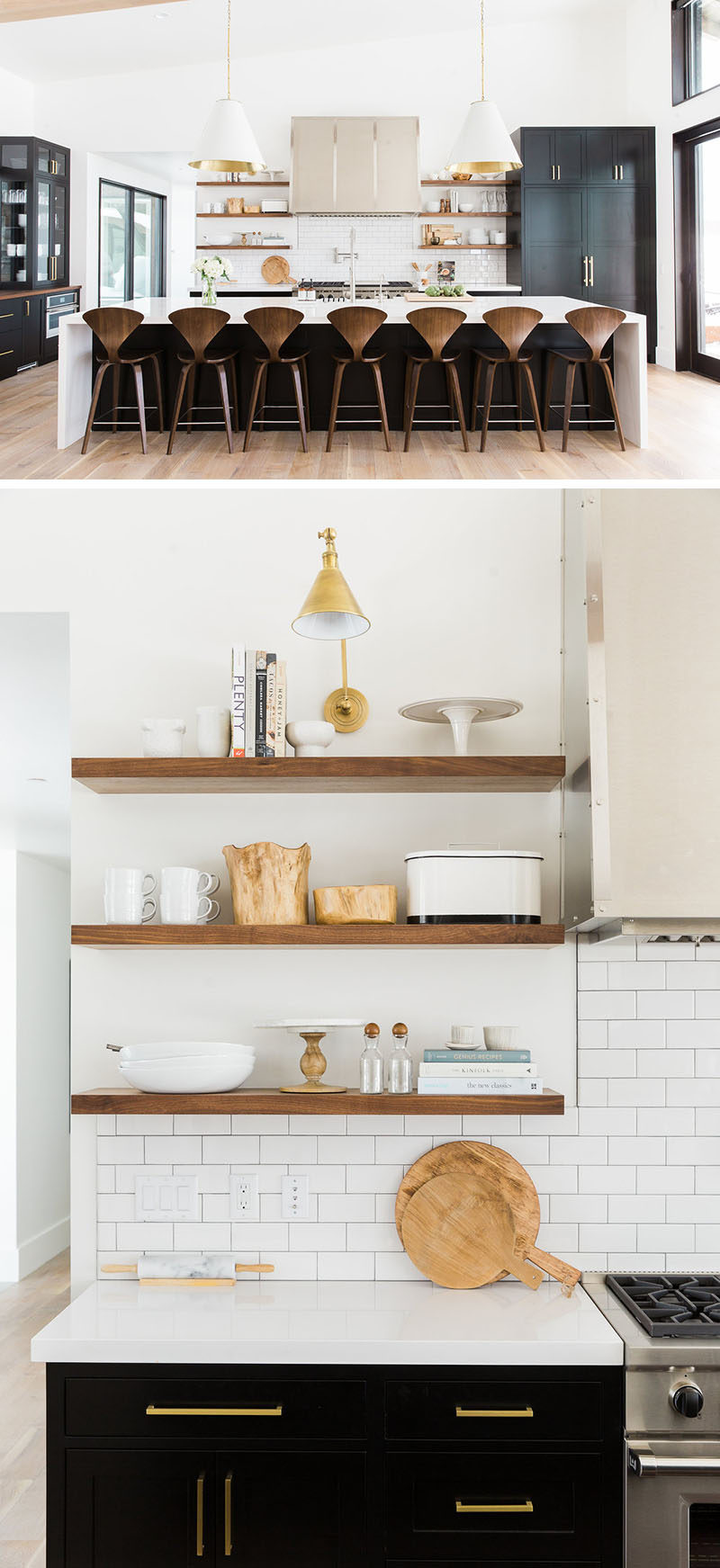 ---
9. These long shelves in the same material as the backsplash, are positioned above the sink and counter to provide a convenient spot for storing pots, pans, plates, and mugs.
---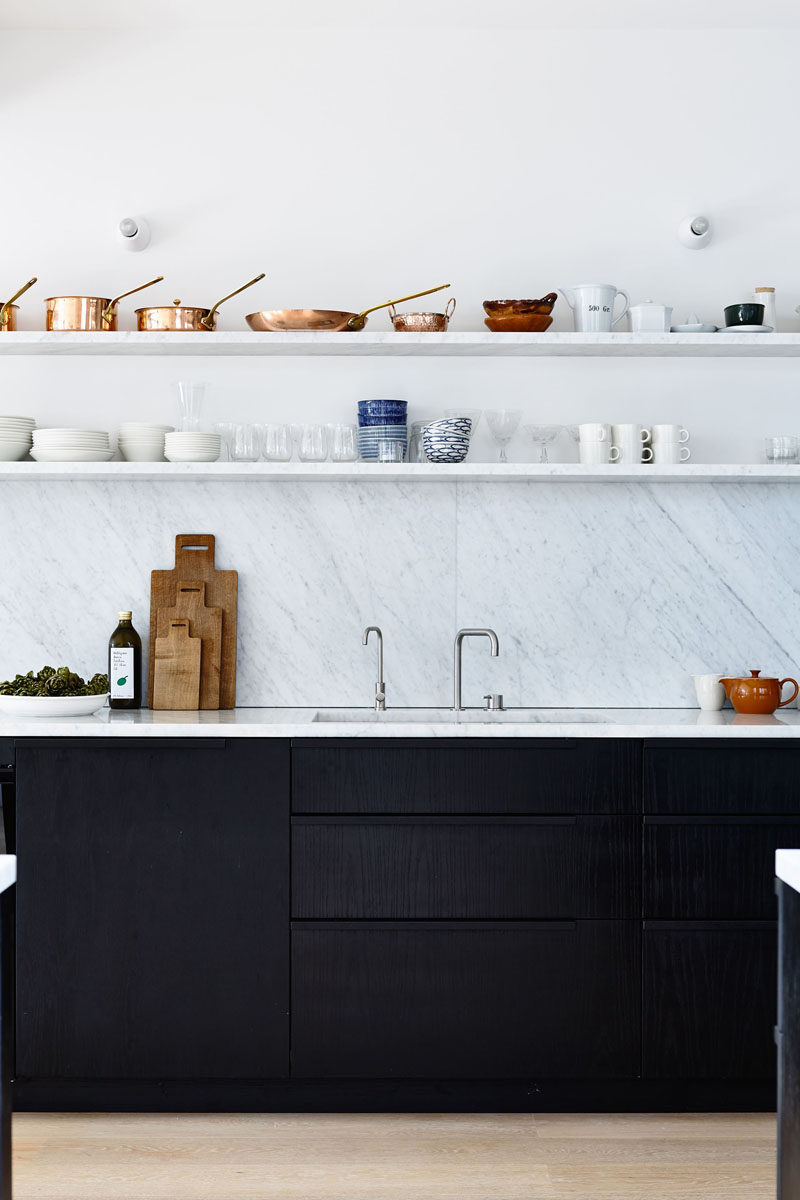 ---
10. Dark wood shelving in the kitchen matches the open shelving in the bar area just off the kitchen.
---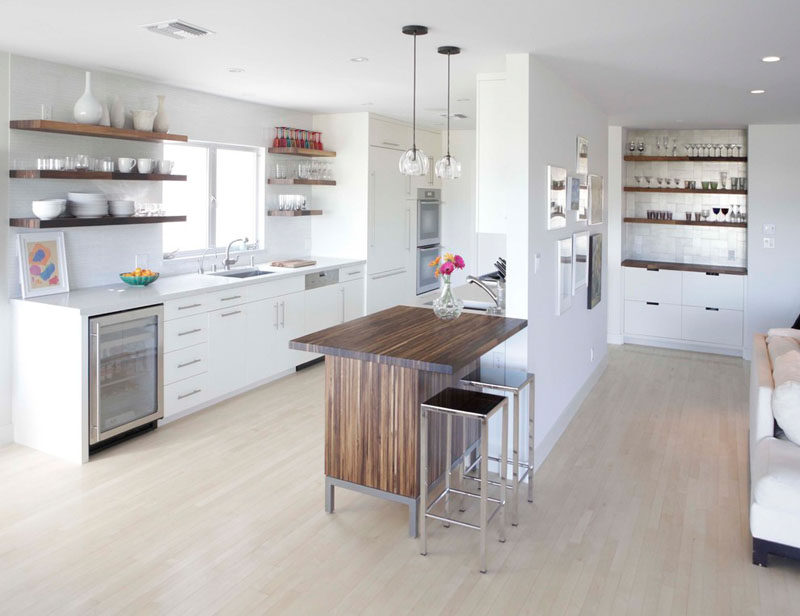 ---
11. This kitchen has a mix of both open and closed shelving, but keeps the pretty things on display and makes sure that the sparkling water supply is always full.
---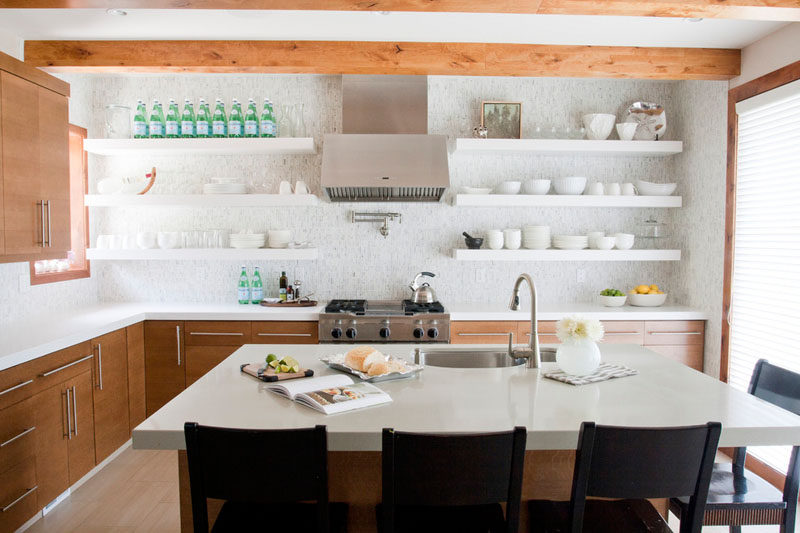 ---
12. Open shelving above the work space and on the wall to the side makes this kitchen easy to navigate.
---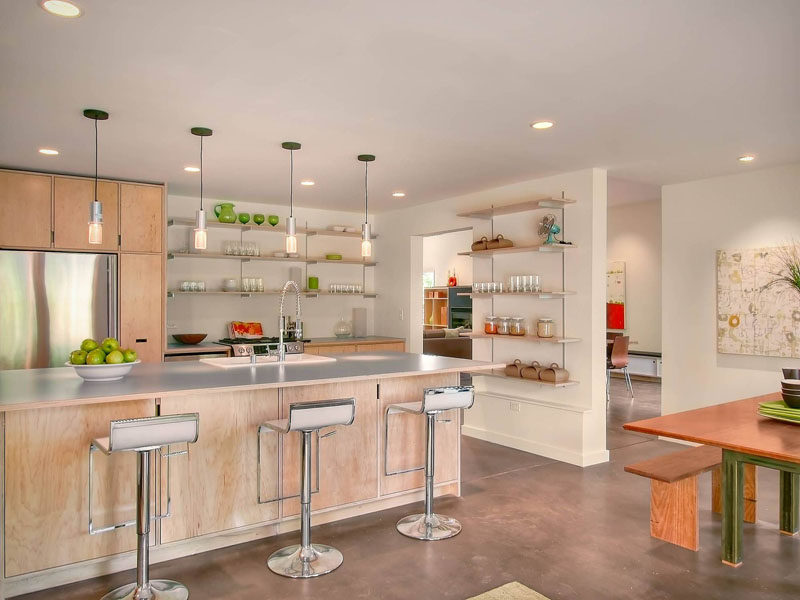 ---
13. These wooden shelves are deep and divided, but lack cupboard doors which makes the fun colored plates and mugs act as kitchen decor.
---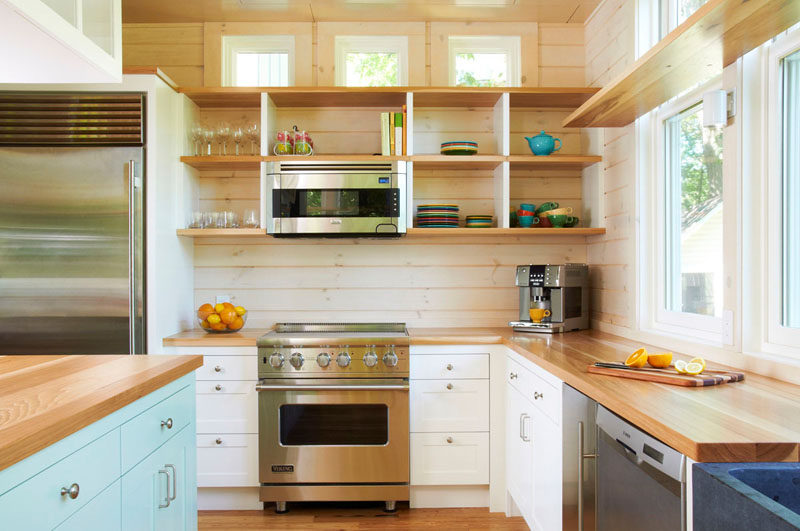 ---
14. Dark wood shelves against the light wood walls make a statement but are kept from feeling overpowering by the lack of cabinet doors.
---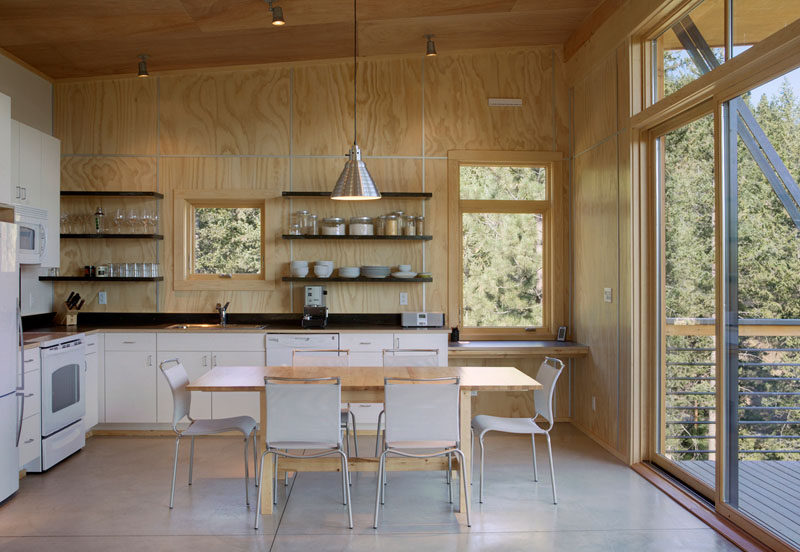 ---
15. The stainless steel shelves above the sink and work space of this kitchen make it feel industrial, but the earthy ceramics soften the overall feel and warm up the space.
---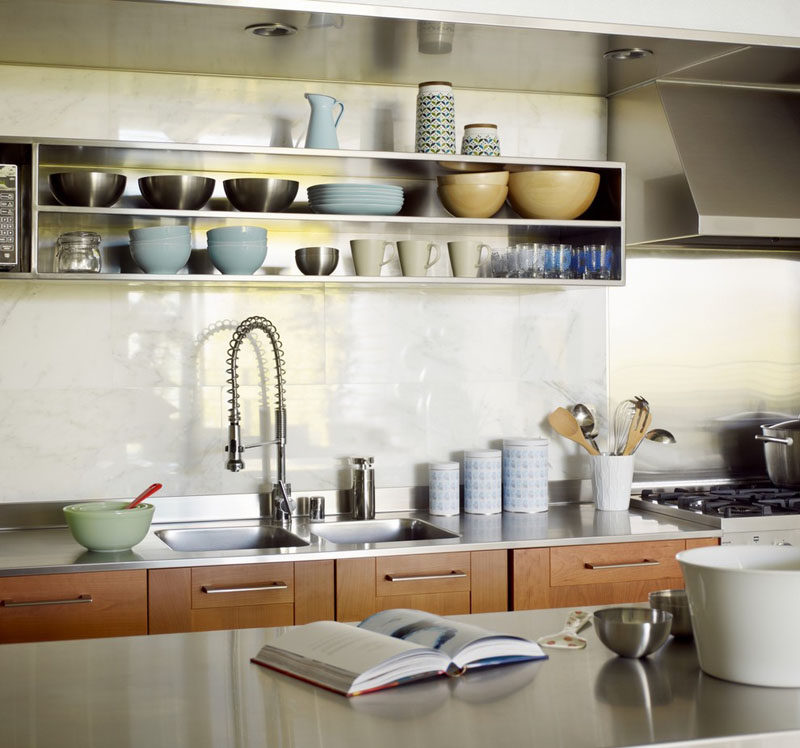 ---
16. The open shelves in this kitchen are used to display the daily plates, mugs, and serve ware, with the top shelves used as a place to display favorite pieces of art.
---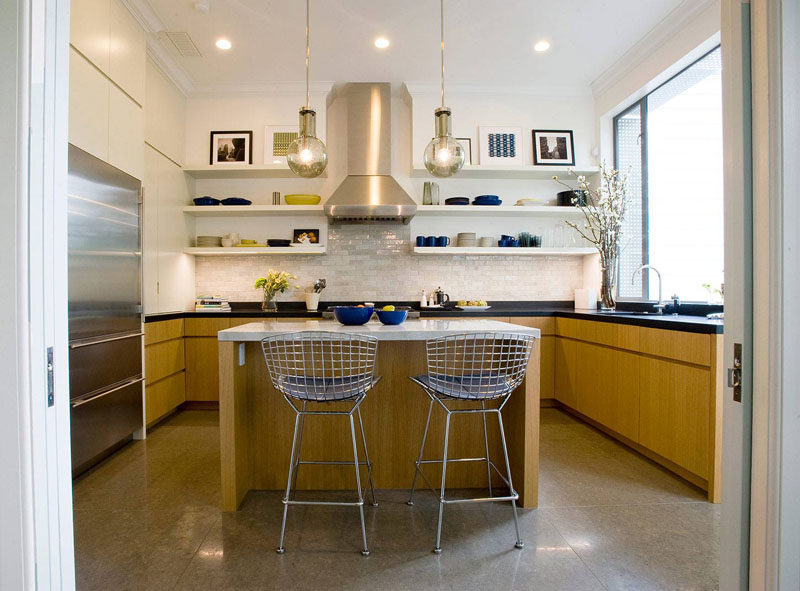 ---
17. Dark wood shelves in this kitchen match the other dark elements, but because they keep much of the tile backsplash visible, allow the space to maintain a bright and airy feel.
---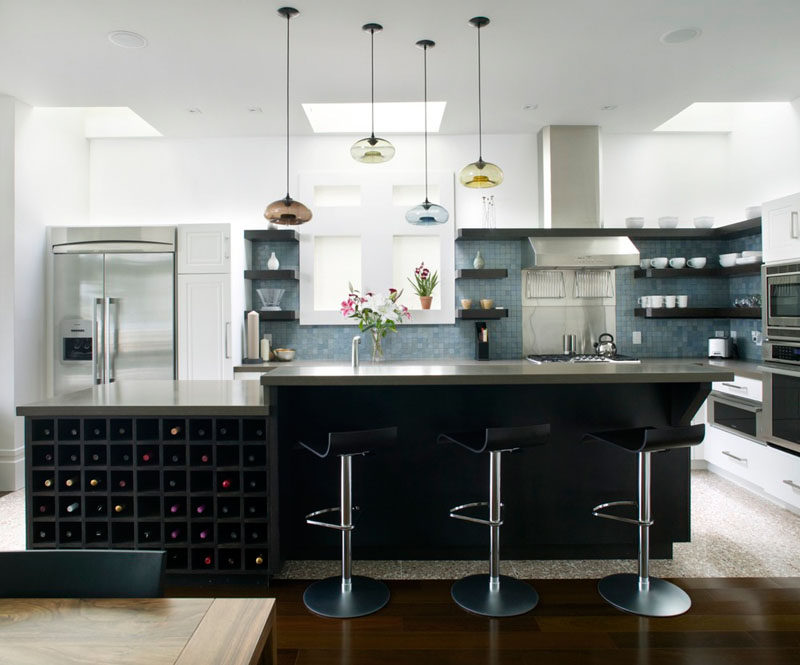 ---
18. Long open shelves are broken up with pieces of frosted glass to keep the less beautiful pieces slightly out of focus.
---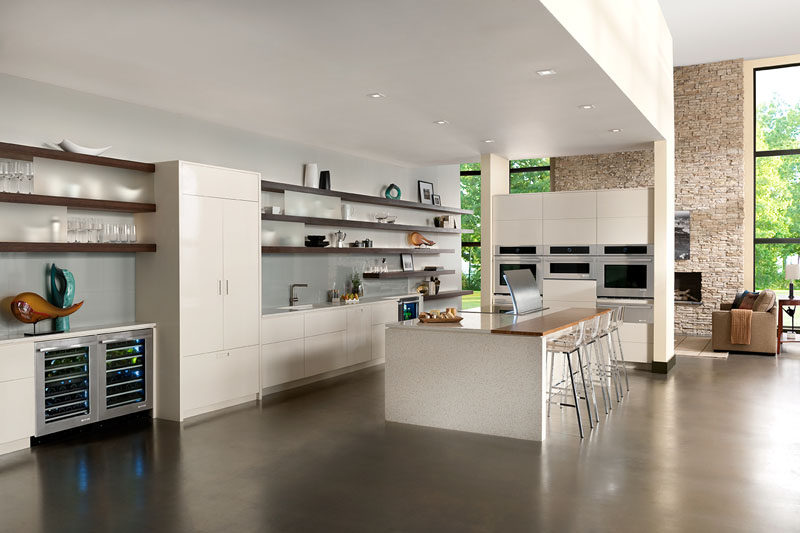 ---
19. This small kitchen has uneven open shelving with a few closed parts to add more dimension and provide a bit of extra storage for things they don't want to have out in the open.
---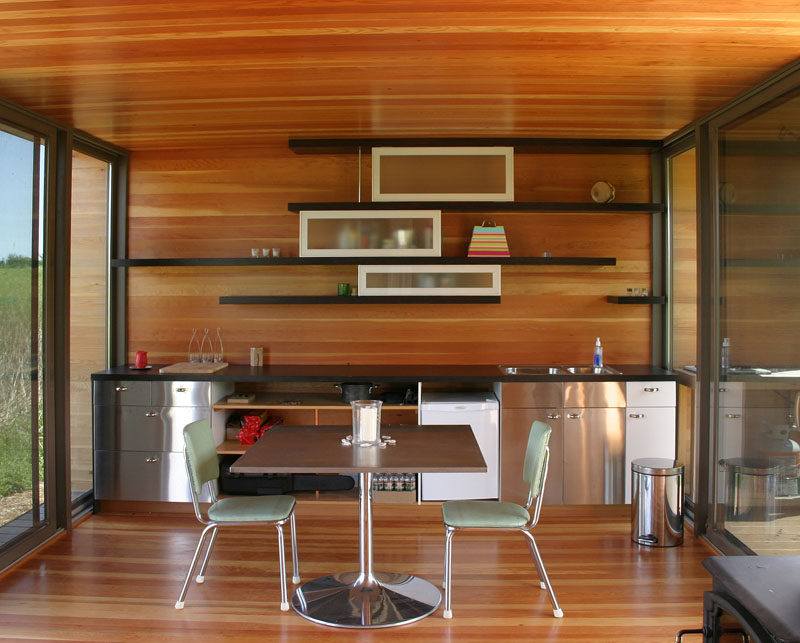 ---