Remy Arquitectos together with interior designers MYOO, have transformed two duplex apartments into one large apartment in Buenos Aires, Argentina.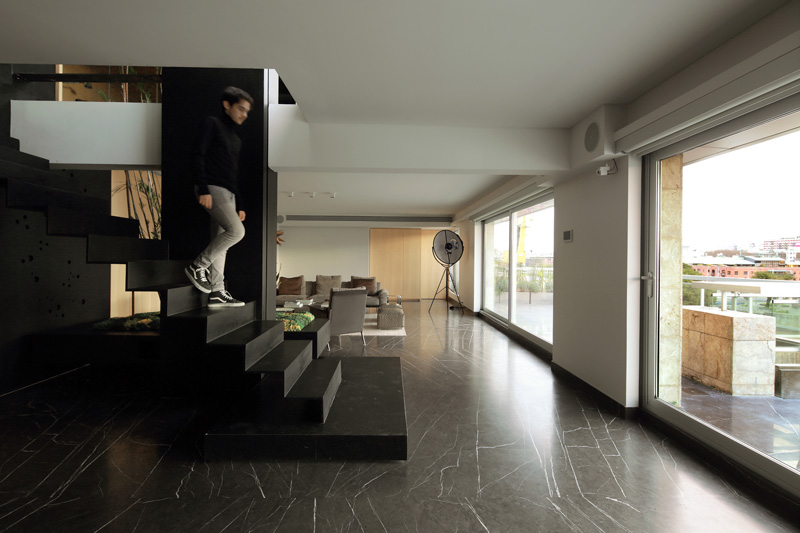 The architect's description
The project consisted in joining two duplex apartments, totaling an area of 300m2. The main concern was to be able to create a continuous open space inside, but also maximize the use of the exterior terraces overlooking the docks and the city skyline. We started by clearing both plans from any wall, getting two open plans of 15 x 6 m. This operation allowed us to play in the interior space, and redesign the void previously occupied by the stairs.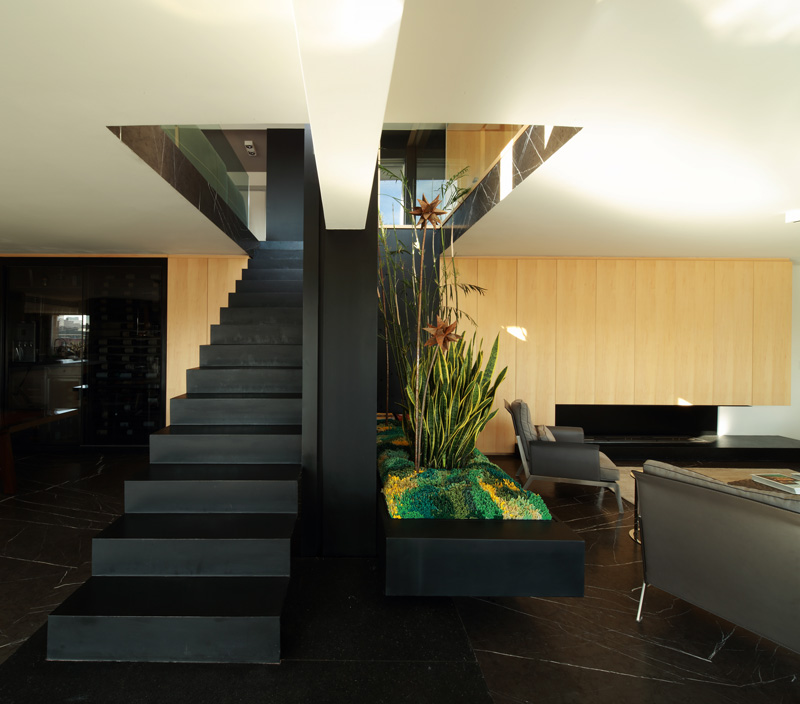 The spaces are integrated visually and functionally, in a sequence of reflections and transparencies. This idea is enforced by using one type of marble flooring throughout the apartment. Also the windows were redesigned to be embedded inside the walls, making the limits of interior and exterior disappear completely. On the ground floor a maple wooden cabinet goes along the entire space, hosting the fireplace, storage areas and the wine cellar.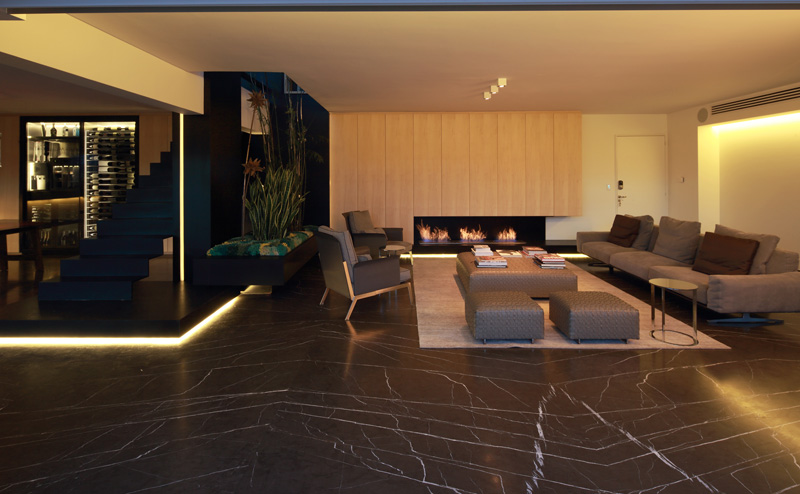 The new stairs – made of 8mm steel- divides the two main social areas – Formal Living from Dinning – without blocking the visuals from one another. A specially designed sculpture goes up the double height, along with the stairs.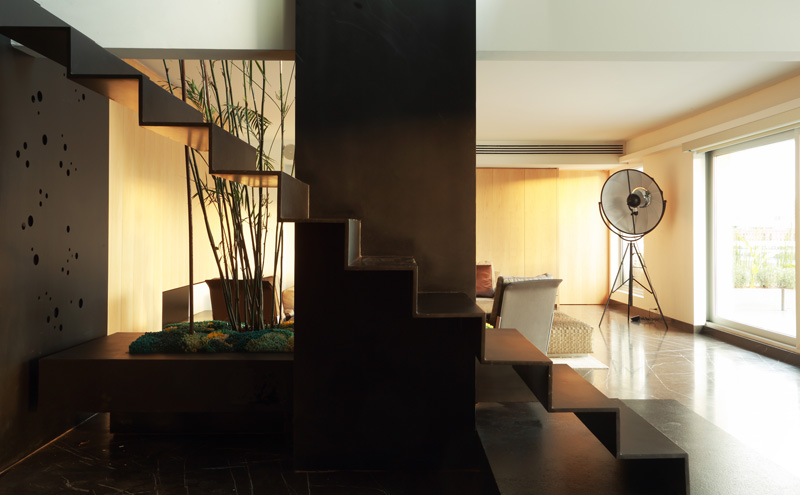 On the first level, the informal living area has openings to both sides – the docks and the street. A closed wooden box in a corner hosts the guest bathroom.  On the terraces, both sides are framed by vertical gardens, providing warmth and color to the project.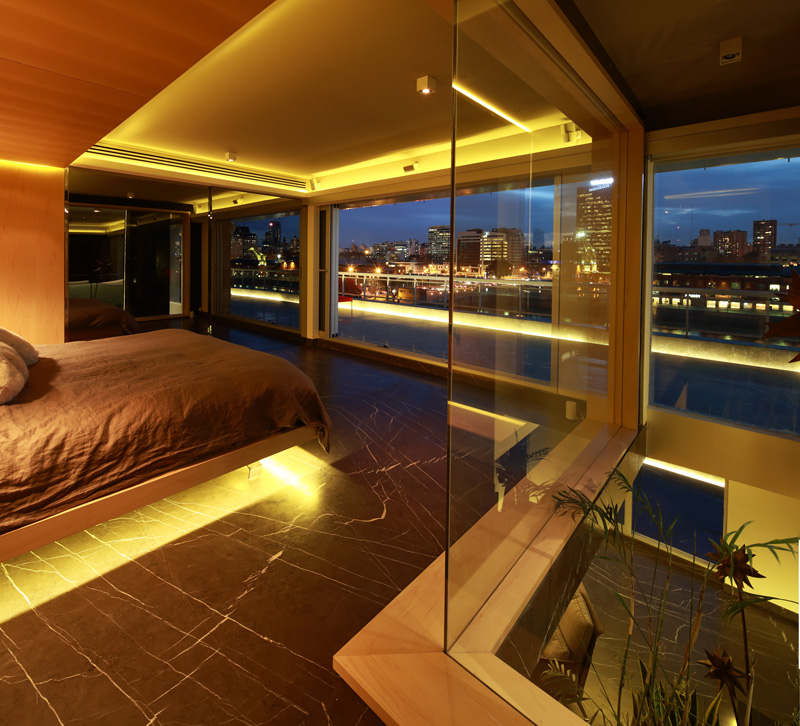 The master suite, composed by vertical planes in maple and mirrors, can have the desired privacy with a black out curtain embedded in a crystal divider.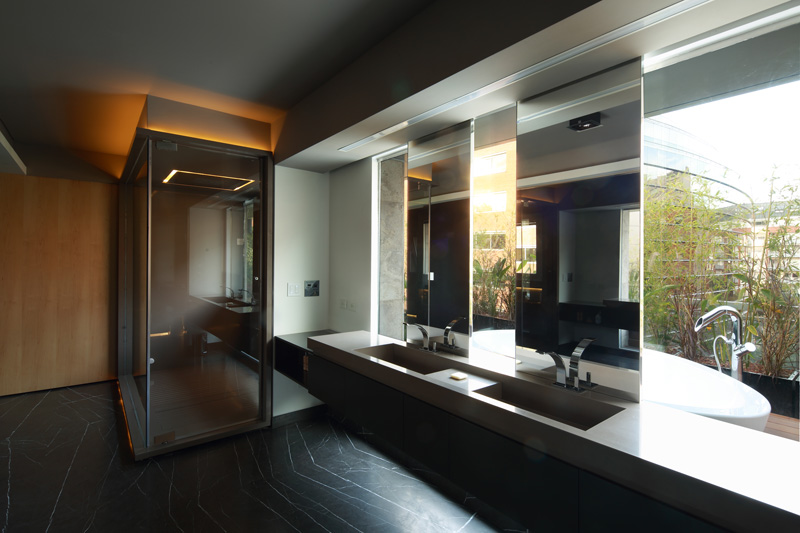 The Before Photos
The After Photos
Design: Remy arquitectos + MYOO
Interior Design: Andrés Remy + Gisela Colombo
Site Direction: Sebastián Remy, Gisela Colombo, Hernán Pardillos
Collaborators: Giovanni Ántico, Diego Siddi, BéréniceMensier
Photography: Gustavo Sosa Pinilla
Landscape: Eduardo Barak
Sculpture: NushiMuntaabski + Ariel Villarreal