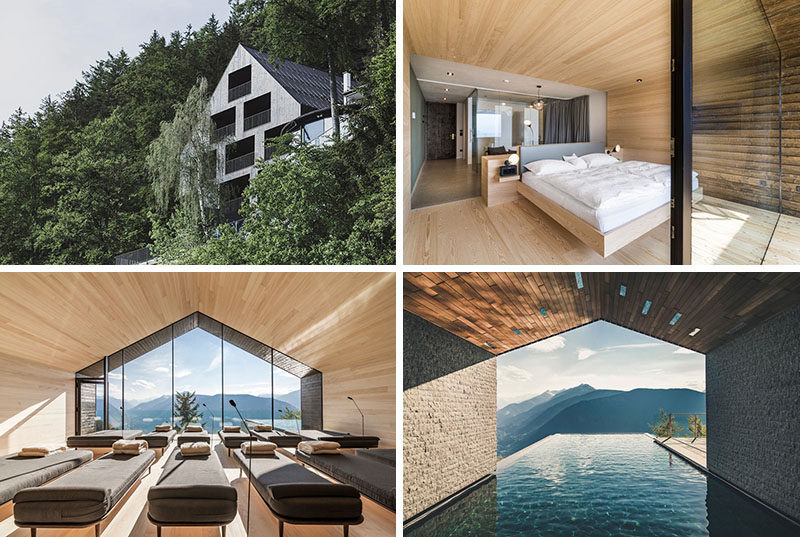 Sitting on the edge of a forest overlooking the town of Merano sits the MiraMonti Boutique Hotel. What was once just a three room guest house in 1932 is now a luxurious hotel with 36 rooms and suites, 3 restaurants, a relaxation space, infinity pool, and forest sauna, giving it status as one of the worlds best small luxury hotels.
The Hotel
The recent renovation to the hotel, completed by Heike Pohl and Andreas Zanier of Arch-Tara, saw the addition of new rooms, the relaxation space, and a new restaurant. All materials were locally sourced in order to reduce the environmental impact and to support the local economy.
Mixing wood and warm tones, reflective of the surrounding landscape, together with minimalist design, resulted in a cozy and luxurious hotel offering a safe place to relax and unwind.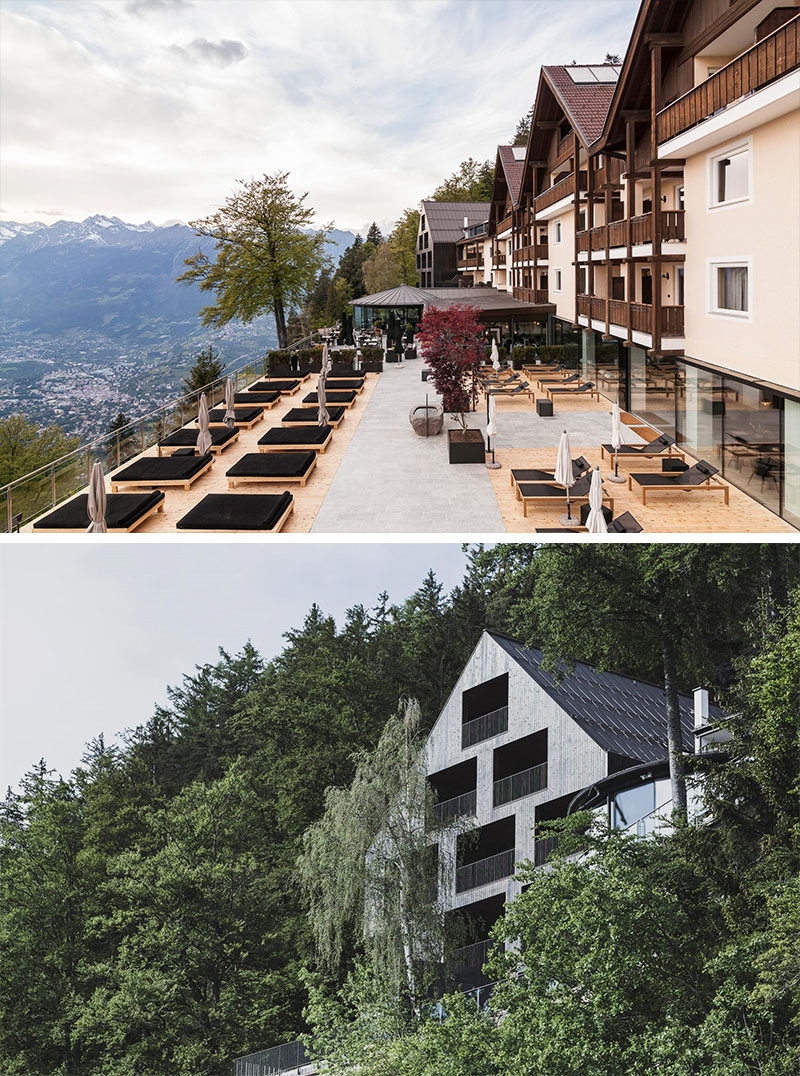 ---
The Restaurant
Panorama Restaurant, as the name suggests, offers guests incredible panoramic views of the mountains around them and the city below them. A large staircase carries guest up to the dining area where floor to ceiling windows give them uninterrupted views far off into the distance and dinner is considered a fine dining experience.
---

---
The Infinity Pool
Warm salt water fills the infinity pool that has views of the mountains and overlooks the city of Merano below. A gabled roof partially covers the pool, perfect for when it gets too sunny.
---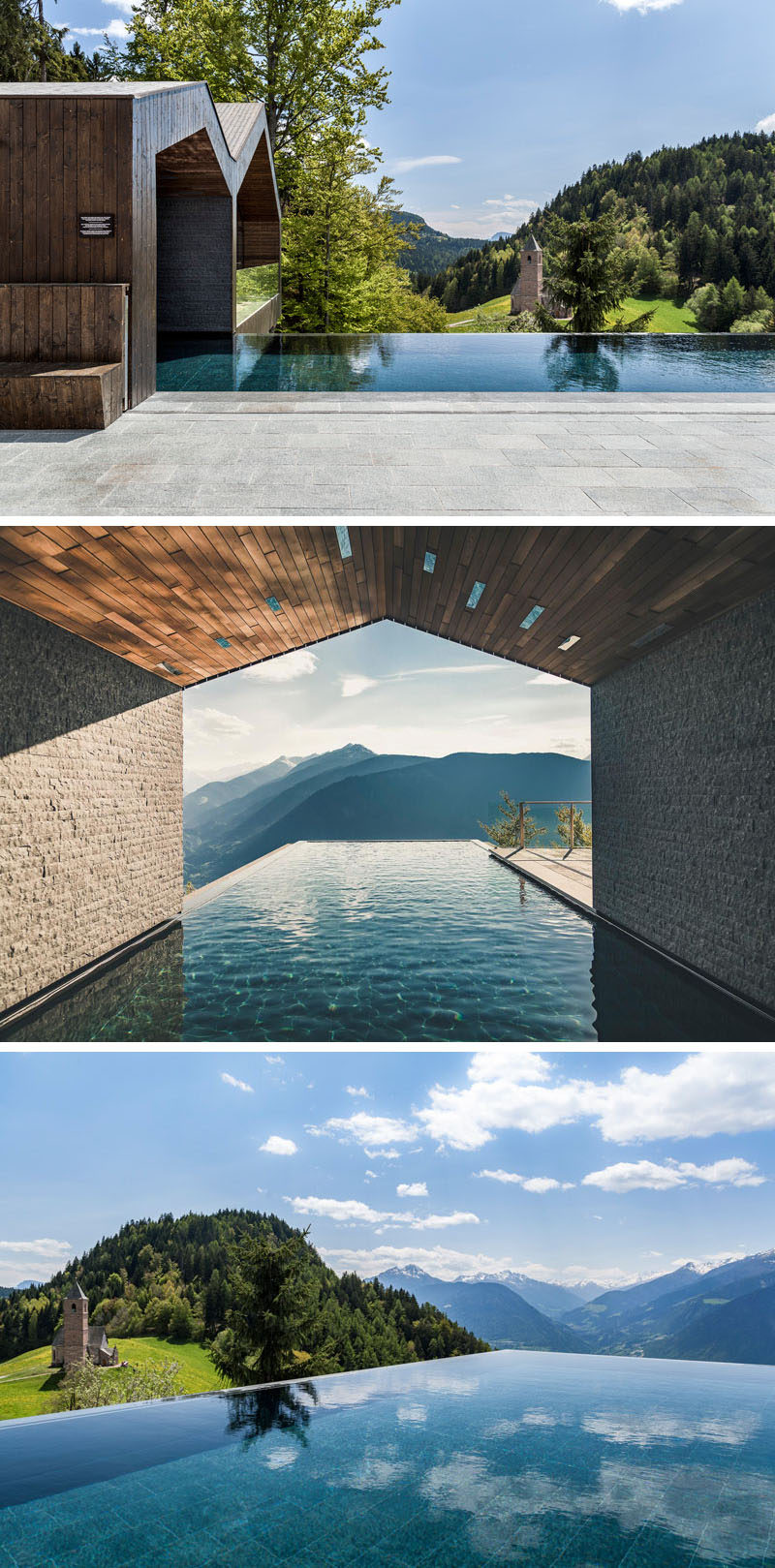 ---
Time To Relax
Light wood walls and ceiling, and large panes of glass create the ultimate sense of calm in this space perfect for relaxation. Laying or sitting under the gabled roof gazing out at the idyllic landscape guests are given a chance to let their minds wander and their bodies relax.
---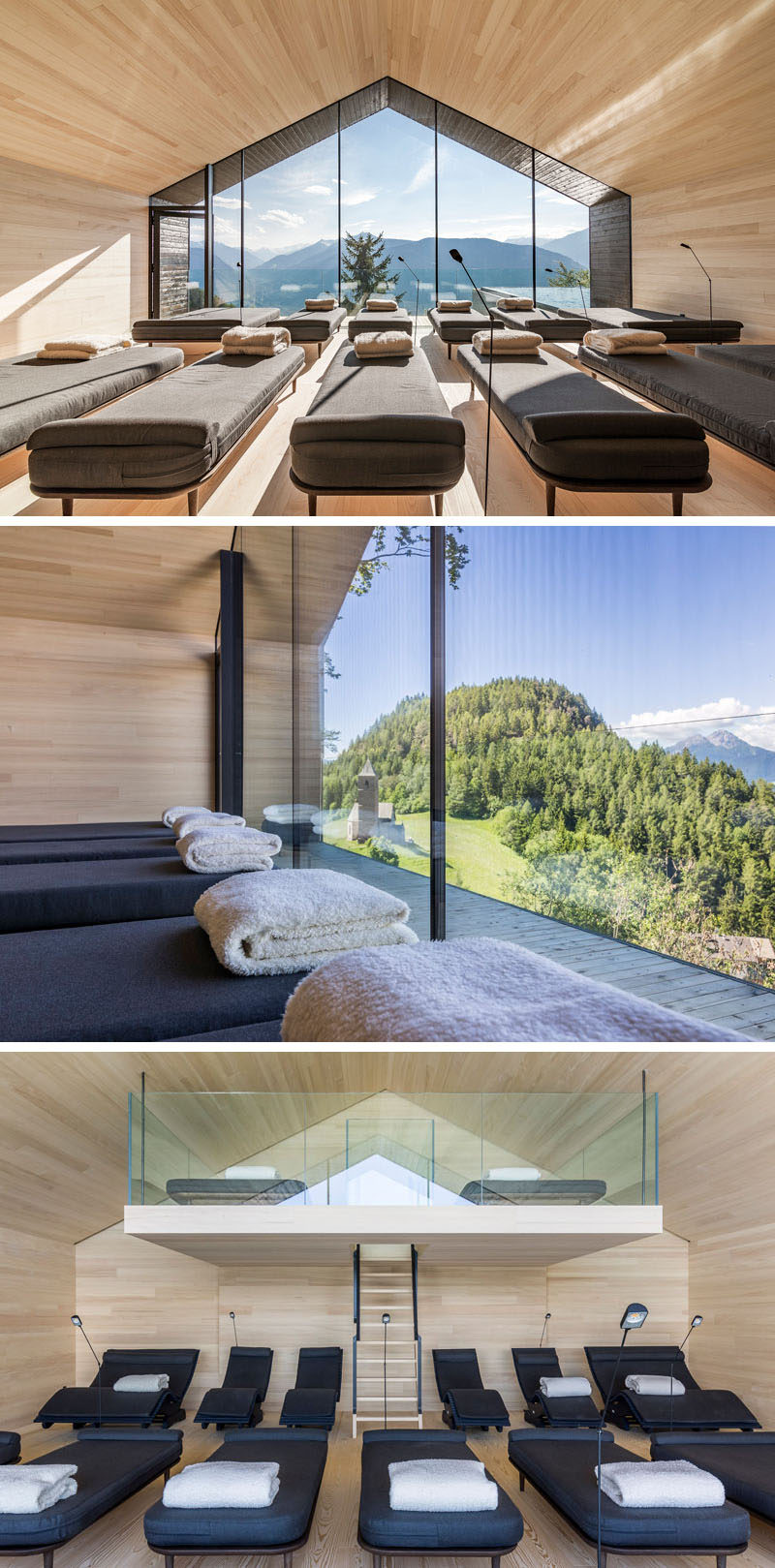 ---
The Forest Sauna
Made from black hemlock, the modern building housing the sauna sits in the rugged landscape tucked behind the rest of the hotel. The sauna, with its incredible views and clean design, secluded from the rest of the world, provides guests with the opportunity to allow themselves to fully relax in the heat.
---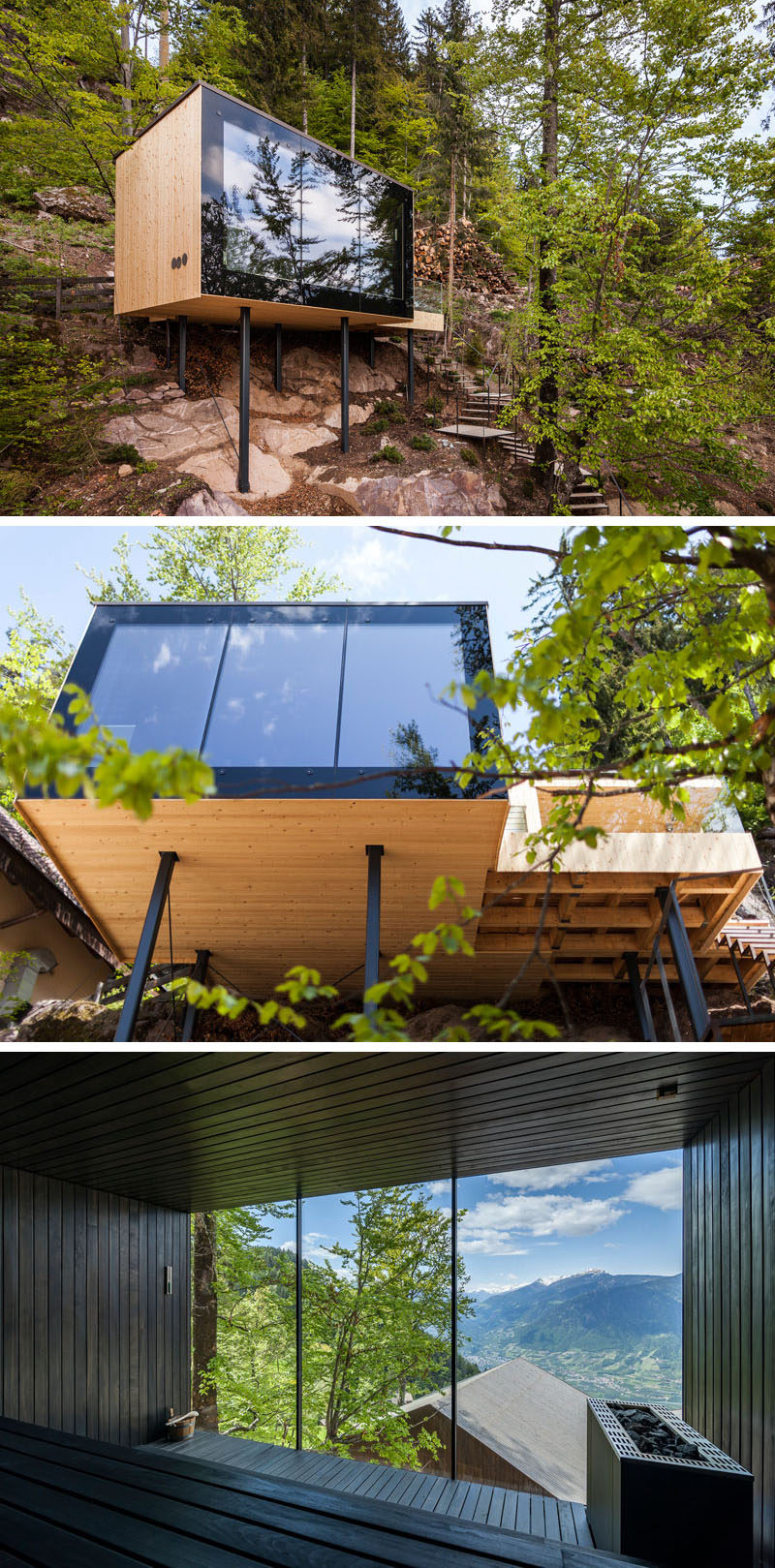 ---
The Guest Rooms
The new addition uses simplistic design throughout, including in the guest rooms. Centrally positioned beds let guests enjoy the views around them from the comfort of their bed while light wood, glass details, and neutral colors create a peaceful and calm environment.
---

---
Simple bedding wrap guests in luxurious coziness, and lights mounted to the headboard let guests unwind as they read in bed after a long day of relaxing or exploring.
---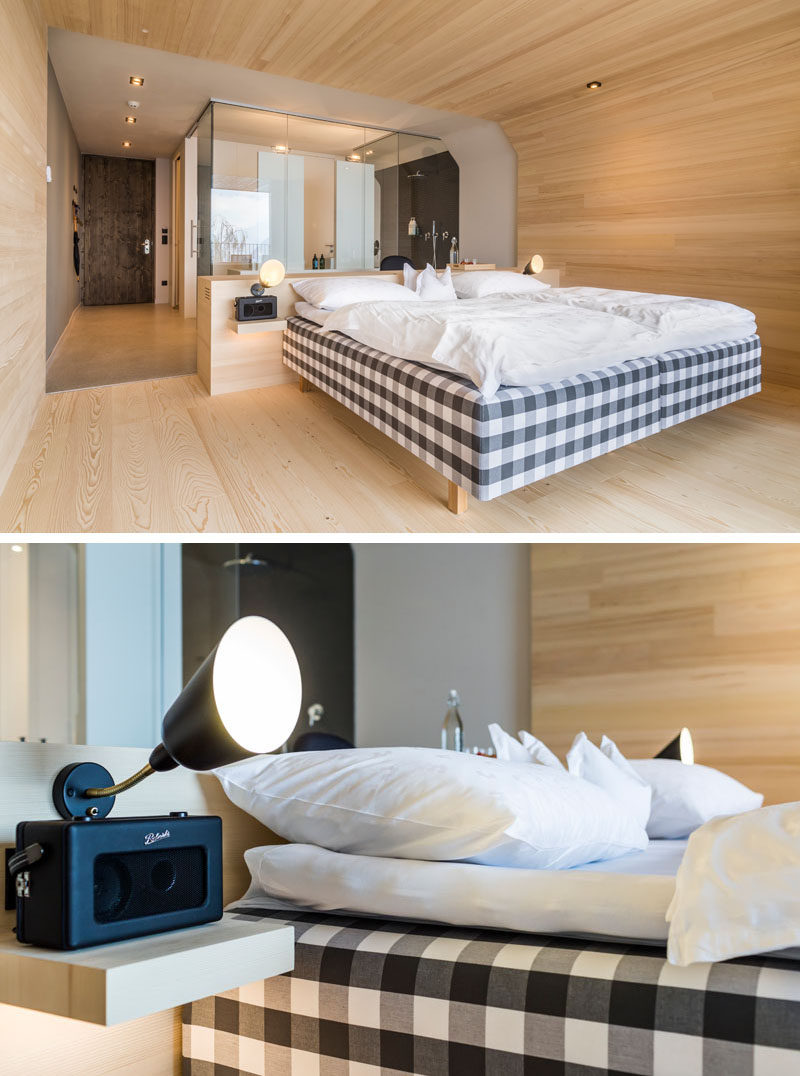 ---