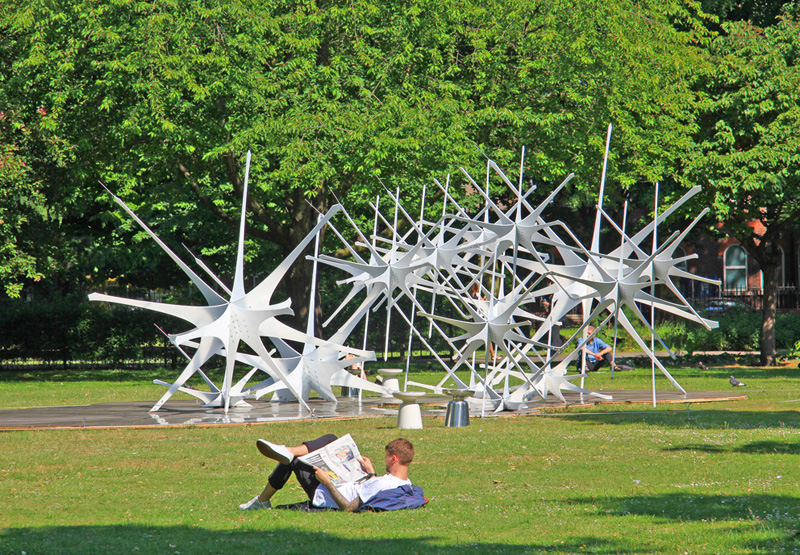 Japanese design studio Nonscale Co., have recently completed the Triumph Pavilion 2015: 'Sky Pavilion' in the Museum Gardens of London, as part of the international competition ArchTriumph.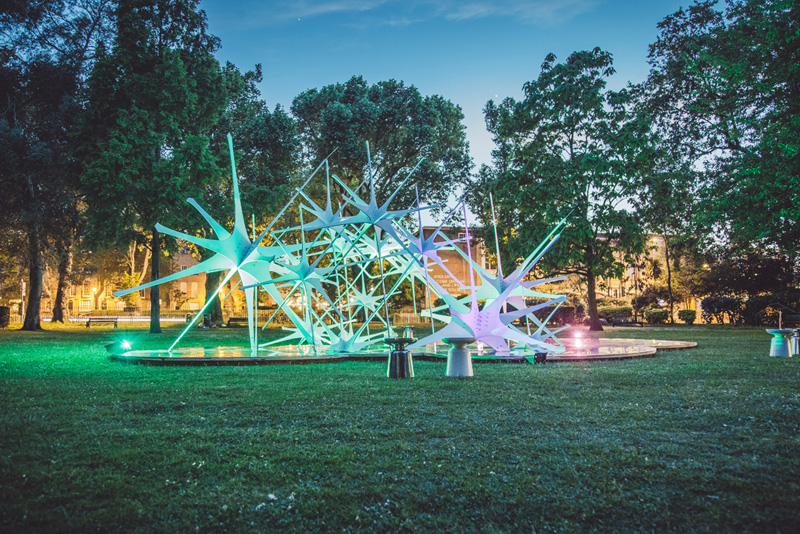 The description from ArchTriumph
The Triumph Pavilion 2015 in the Museum Gardens in Bethnal Green, London E2 9PA, next to the Victoria and Albert (V&A) Museum of Childhood is providing the public with intrigue and fascination with its complex dance of the stars on a mirrored sundial capable of indicating the time.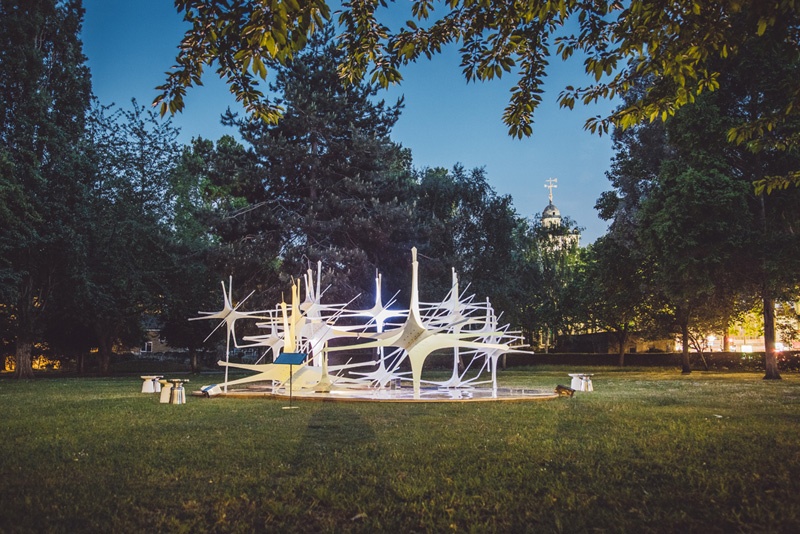 The exhibition, which coincides with the London Festival of Architecture, is one of the main annual highlights of Pavilions in the capital during summer.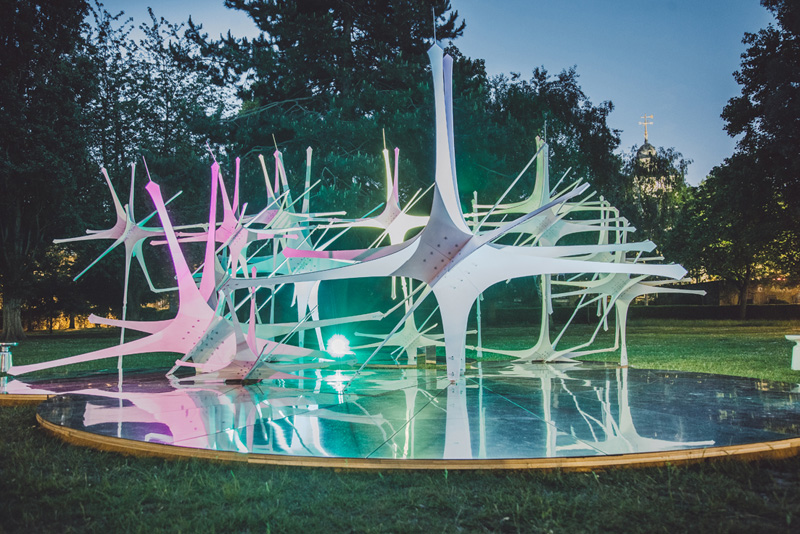 Nonscale, a Tokyo based Japanese practice were selected to design this year's Pavilion with their unique proposal and contemporary interpretation of this year's Triumph Pavilion theme of "Sky". The theme posed an exciting prospect and one that aimed to inspire architects and designers to explore the 5th facade of most architectural building design projects.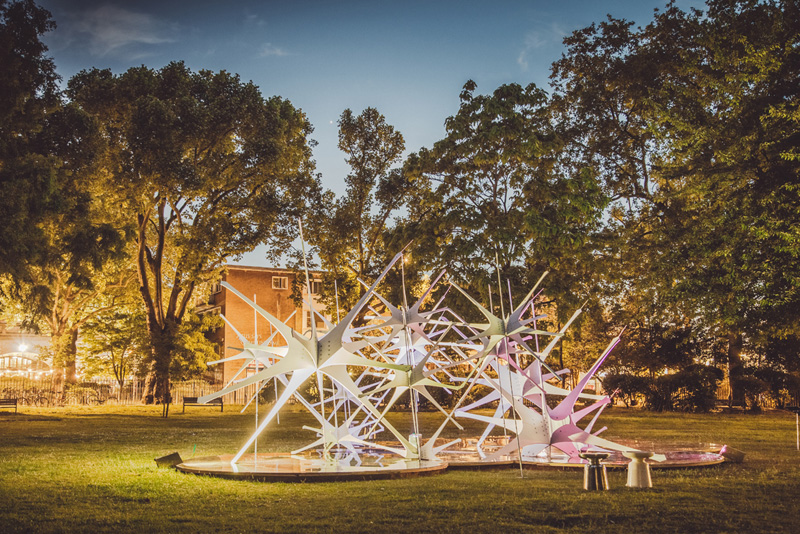 The sky is a complex sphere with such elements as sun, moon, stars and clouds all adding to the dramatic effects of colour, day, night, texture, rain, sunshine etc.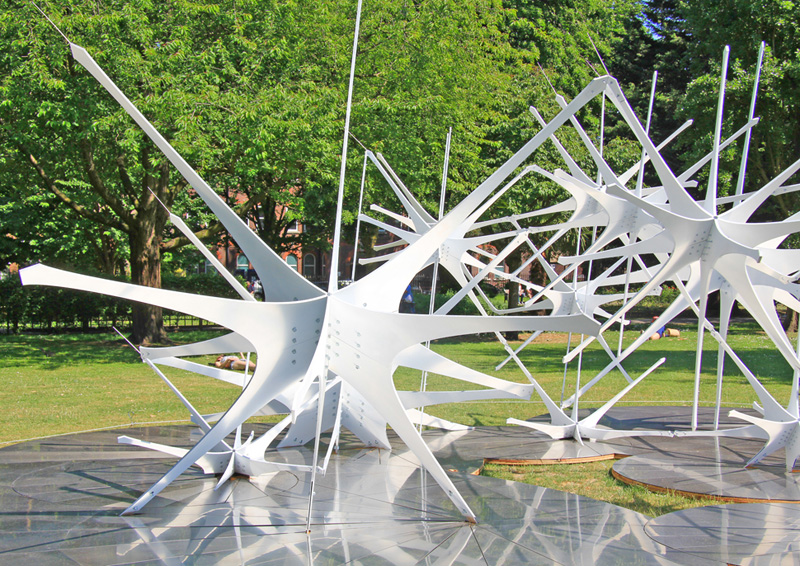 It was a subject that challenged the designers to create a unique space that will intrigue and invite visitors to appreciate the role the sky and its elements play in the perception of architectural structures, our well-being and the world around us as a whole.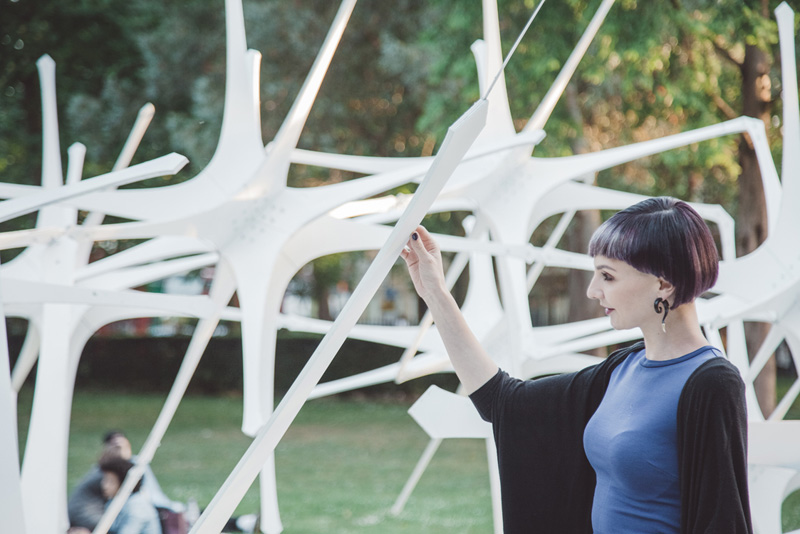 The design was chosen from hundreds of proposals submitted to an annual international competition to design the Triumph Pavilion and it represents the fallen North Star accompanied by a number of smaller stars from the Sky in dialogue with the sun on the earth's axis of rotation as illustrated with the sundial platform base of the Pavilion.
The resulting Pavilion is a self-supporting structure measuring approximately 4m in height and 62m² in area, constructed primarily out of stainless steel composite and supported by sold steel core and structured steel ground anchors with carbon steel heads.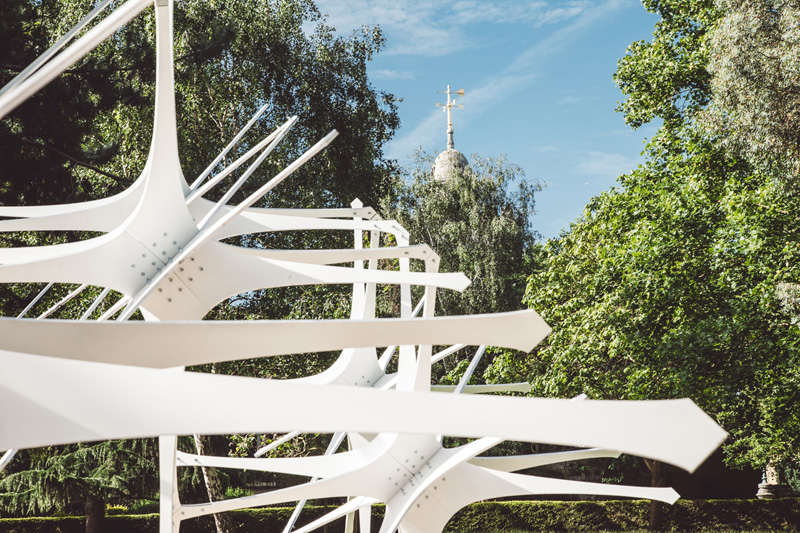 The entire structure weighs approximately 2,004kg with the large stars weighing 60kg and the small stars 27kg; all supported within an interlocking link and ground base plate system to create an intriguing presentation with its mirrored platform base.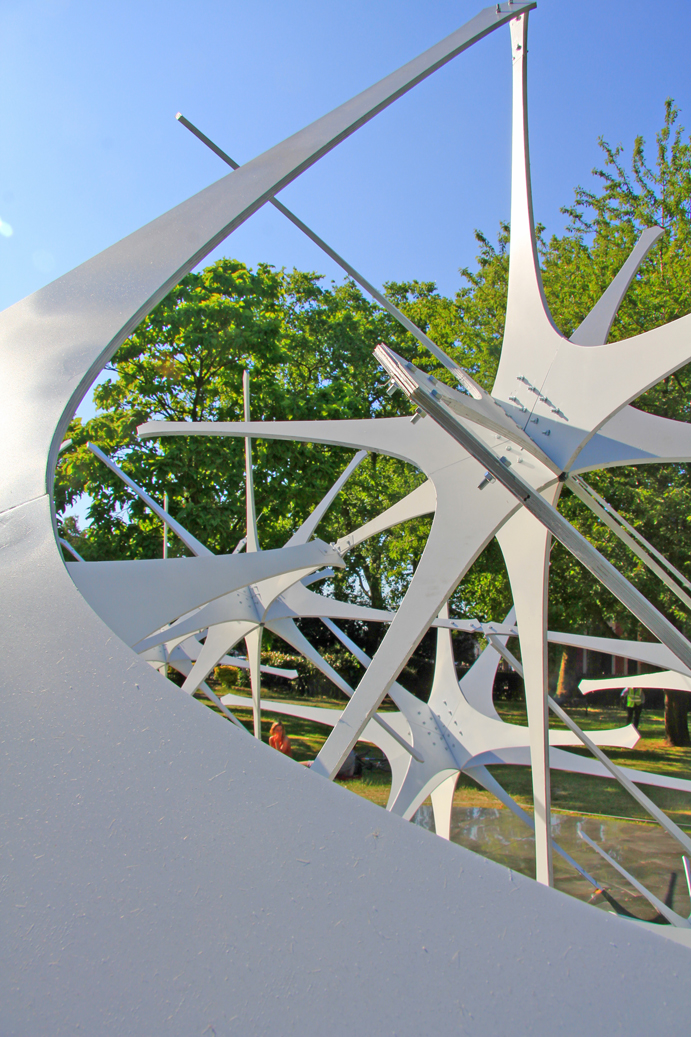 Design: Nonscale Co., Tokyo, Japan (Principle: Masaki Morinobu)
Contractor: Koichi Yamano, Tokyo, Japan
Project Coordination & Management: ArchTriumph, London, United Kingdom
Project Curator: K B Stowe, London, UK
Structural Engineering: Ejiri Structural Engineers, Tokyo, Japan (Principle: Norihiro Ejiri, Project Engineer: Haruhide Kusumoto)
UK Engineering Advisory: Structure Workshop, London, UK
UK Architectural Advisory: D N Izoulet, London, UK
Laser Cutting: Taiyo Kogyo, Fukushima, Japan and Cut and Construct, London, UK
Anchoring: SpiraFix, Newport, UK
Photography: Giacomo Cannata and © ArchTriumph
Images/drawings: ©Nonscale Co.