RCKa has completed Acoustitch, an art piece in the foyer of 11 Waterloo Place in St James's, London, that was made from over 780 pieces of acoustic foam.
The project description
Acoustitch is one of two winning designs in the Ground Floor Project competition organised by The Crown Estate in partnership with The Architecture Foundation to commission designs for the foyer of two of its buildings in St James's.

Briefed to create an engaging artwork that celebrates the unique history of St James's, RCKa drew inspiration from the rich craft-based heritage of the area, renowned for bespoke mens' tailoring and grooming.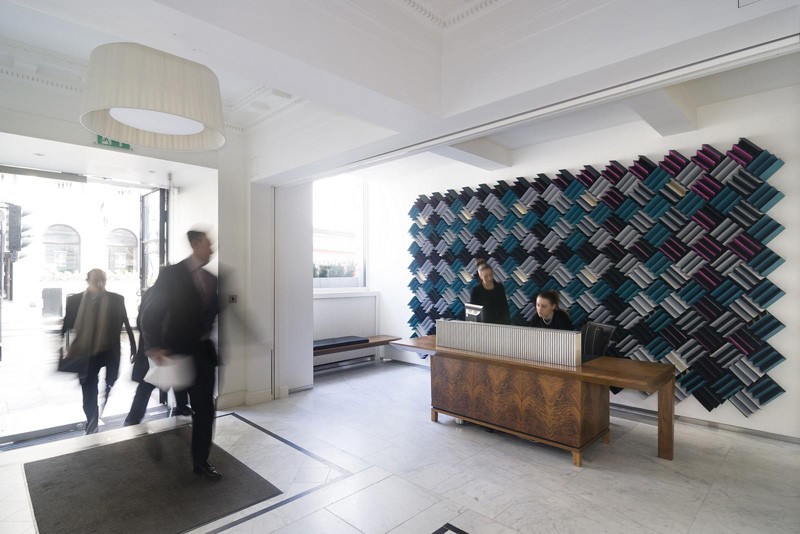 Installed behind the reception desk, Acoustitch provides a focal point for the foyer space whilst making a virtue of spatial and acoustic constraints. The foyer's white marble floor and plaster walls provide a clean contemporary backdrop for the work. Inspired to introduce acoustic comfort into this space, RCKa looked to anechoic sound chambers, choosing to use high-density acoustic foam as the core material for the artwork to soften the acoustics, creating a more welcoming entrance for workers and visitors.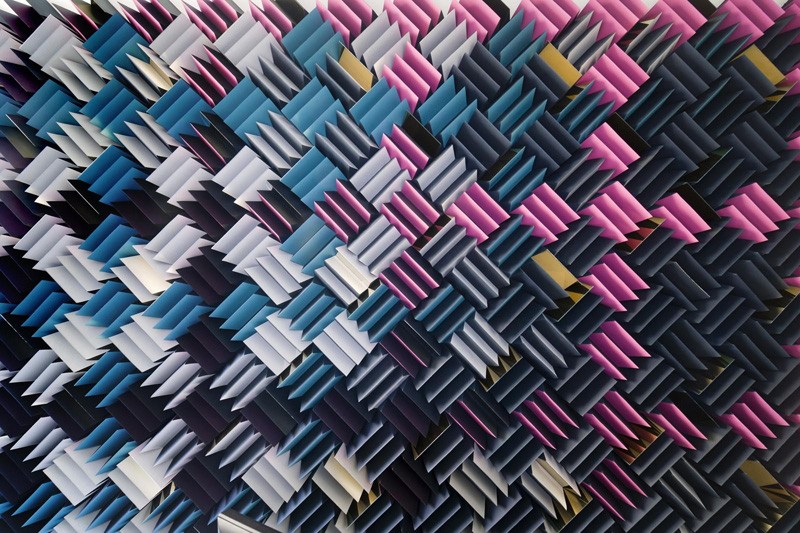 RCKa worked with East London based company Cutfoam to devise a high-quality and cost effective way to fabricate the artwork, which is constructed from 789 pieces of high-density acoustic foam cut into triangular forms. The foam pieces are adhered to birch-faced ply backing sheets that fit together jigsaw like for ease of transportation and installation, and wall mounted using simple split battens.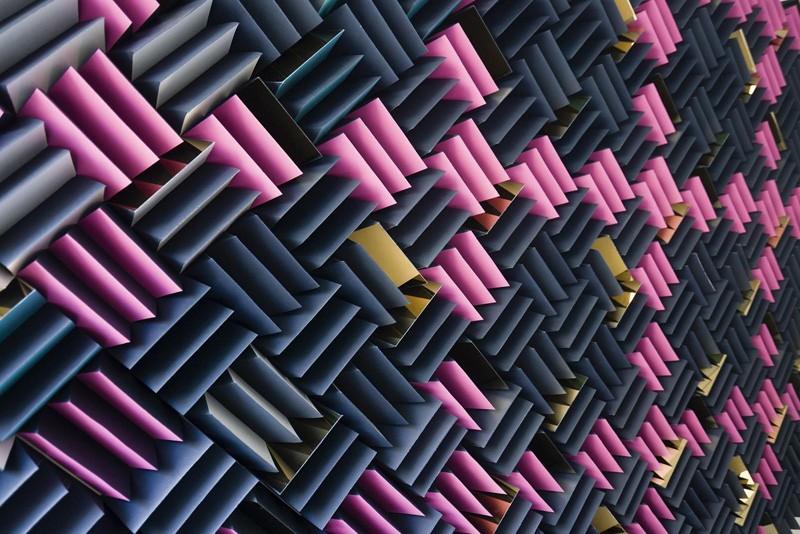 Taking a cue from traditional woven fabric swatches, the triangular forms are grouped and rotated to form a homogenic texture and pattern for maximum visual effect. Acoustitch transforms as visitors move through the foyer to reveal interwoven patterns that evoke St James's history of textiles and tailoring.
Design: RCKa
Photography: Jakob Spriestersbach