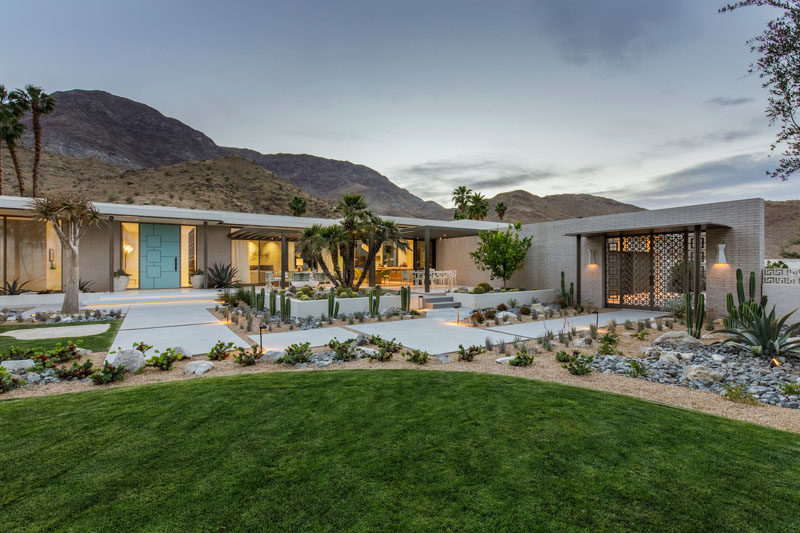 Stuart Silk Architects together with interior design firm Maison Inc., have recently completed the renovation of a mid-century modern house located on a plateau above Coachella Valley, California, that was originally built in the 1960s.

The exterior features brick, stucco, painted steel, and glass, while the walkways are made from poured concrete.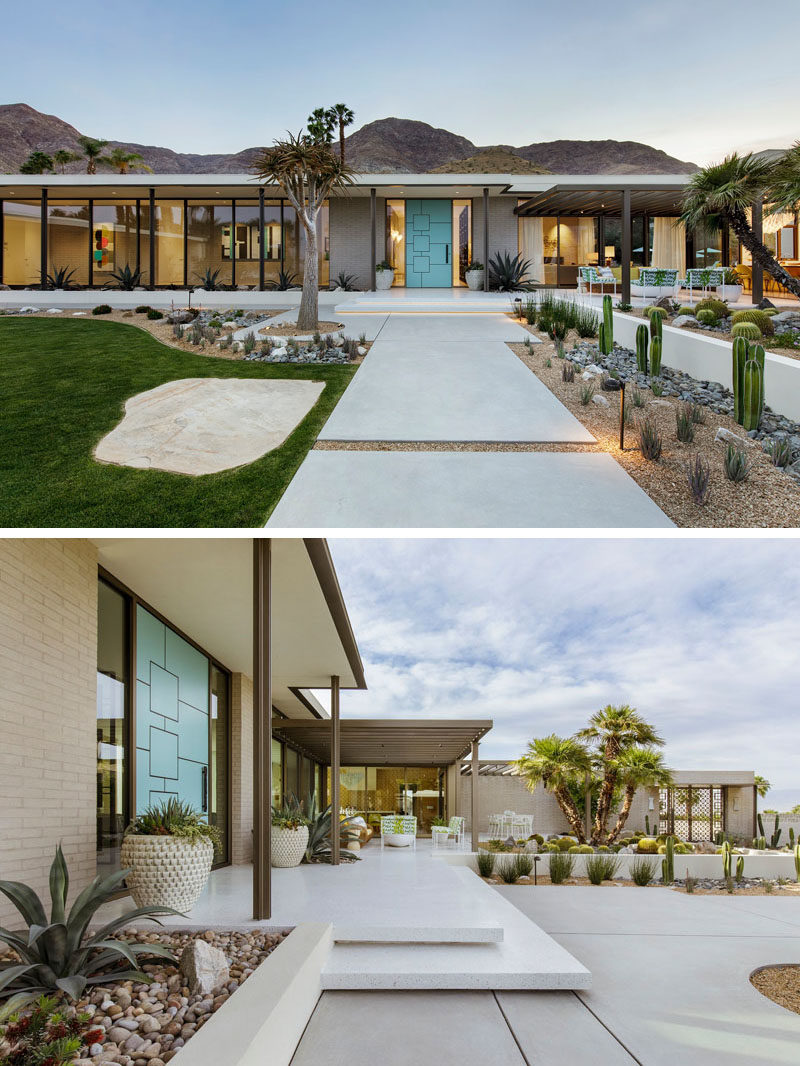 ---
The interiors of the home have been given a fresh update, with the new floor featuring white terrazzo with amber accents that picks up the warmth of the earth tones found in the landscape surrounding the house.
---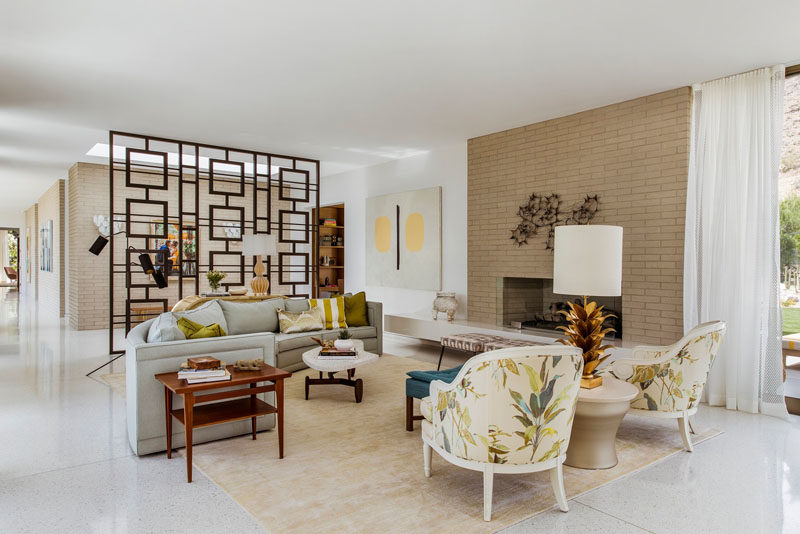 ---
The home has walls of glass that open to reveal outdoor seating areas with pergolas.
---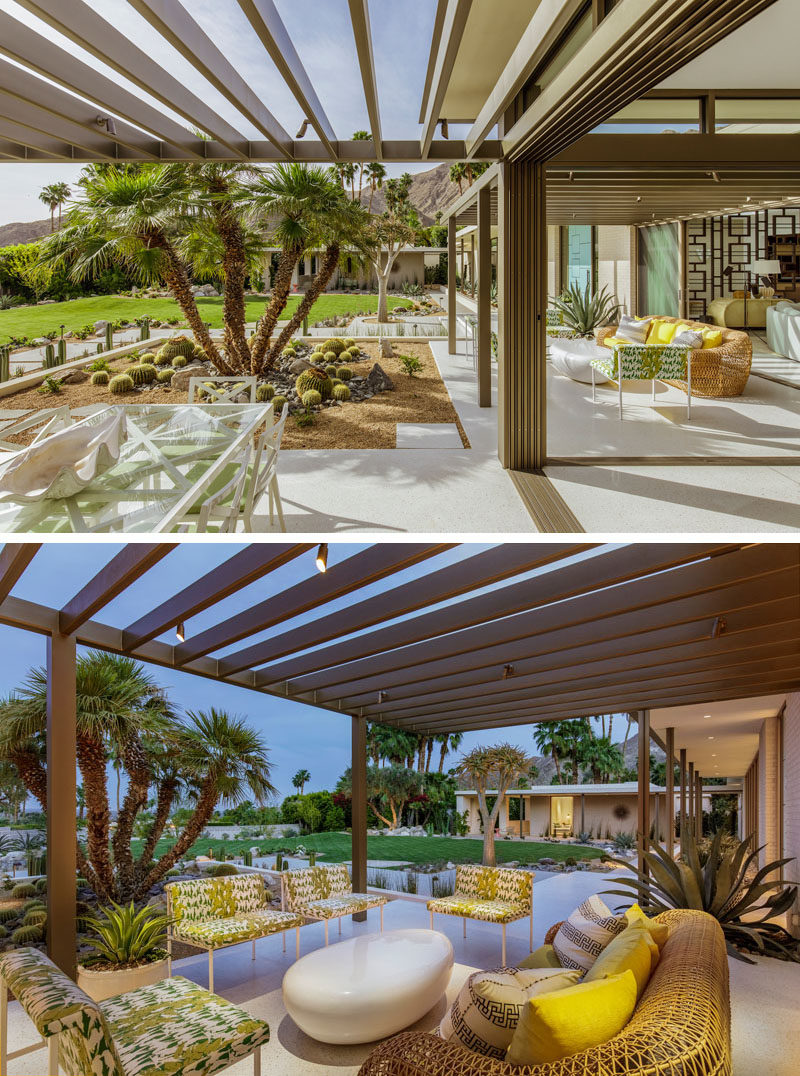 ---
Back inside, and there's a secondary living room with a bar and casual dining area.
---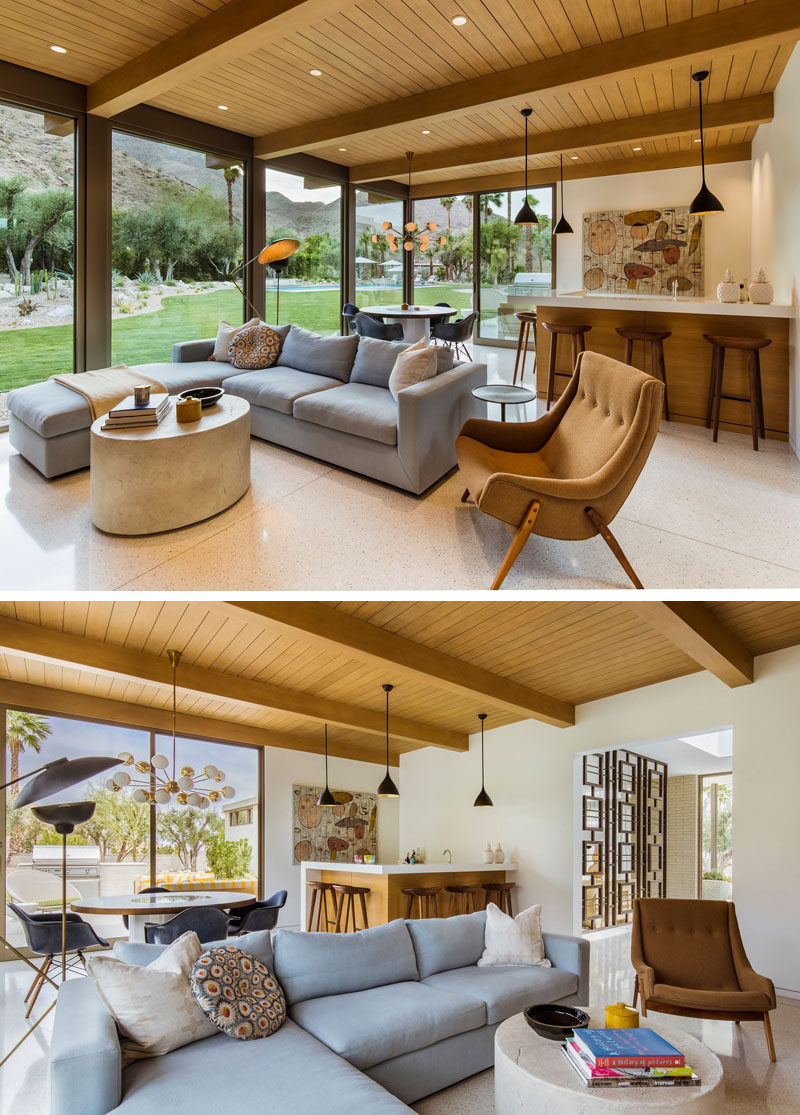 ---
A custom-designed wood shelving unit surrounds the television, while the floor-to-ceiling windows showcase the views outside.
---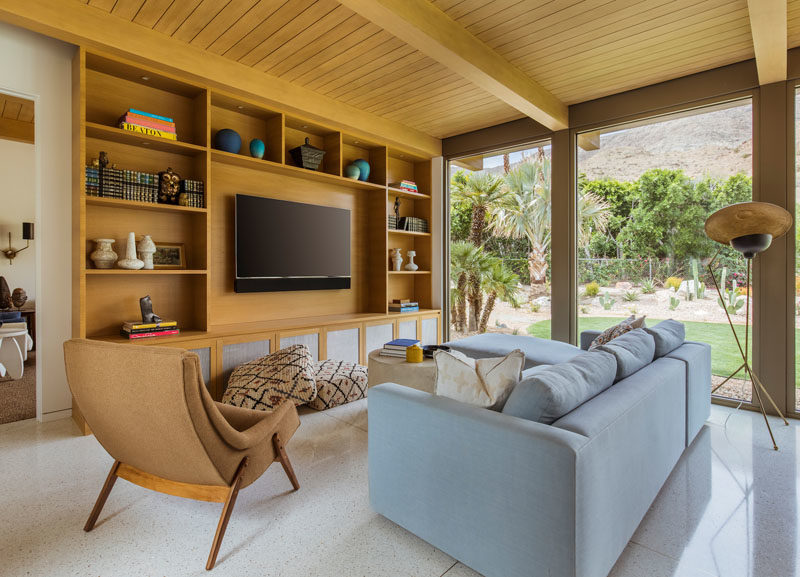 ---
Pastel yellow wallpaper in the kitchen complements the dining chairs, and adds a pop of color to the interior.
---
---
Outside, the rear of the house opens to a large yard, with a lawn, a swimming pool, and numerous outdoor living areas.
---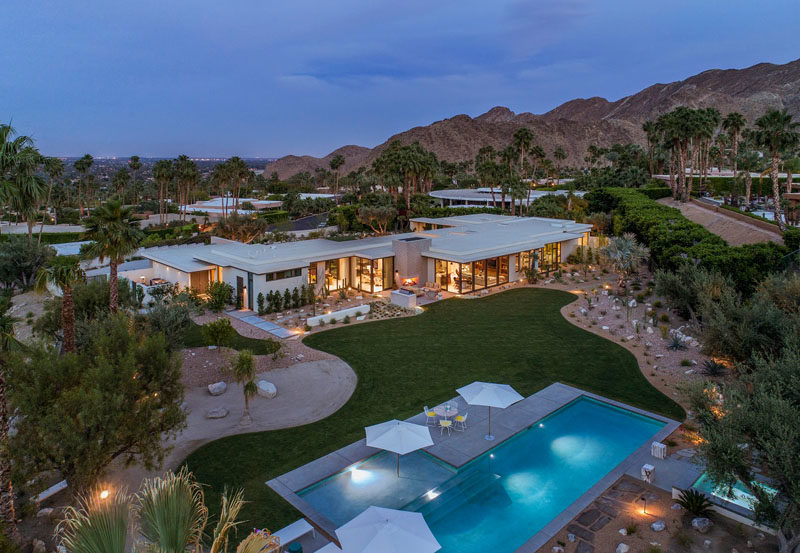 ---
One of those outdoor living areas incorporates a fireplace into the architecture of the house, while a built-in barbecue sits on the edge of the landscaped garden.
---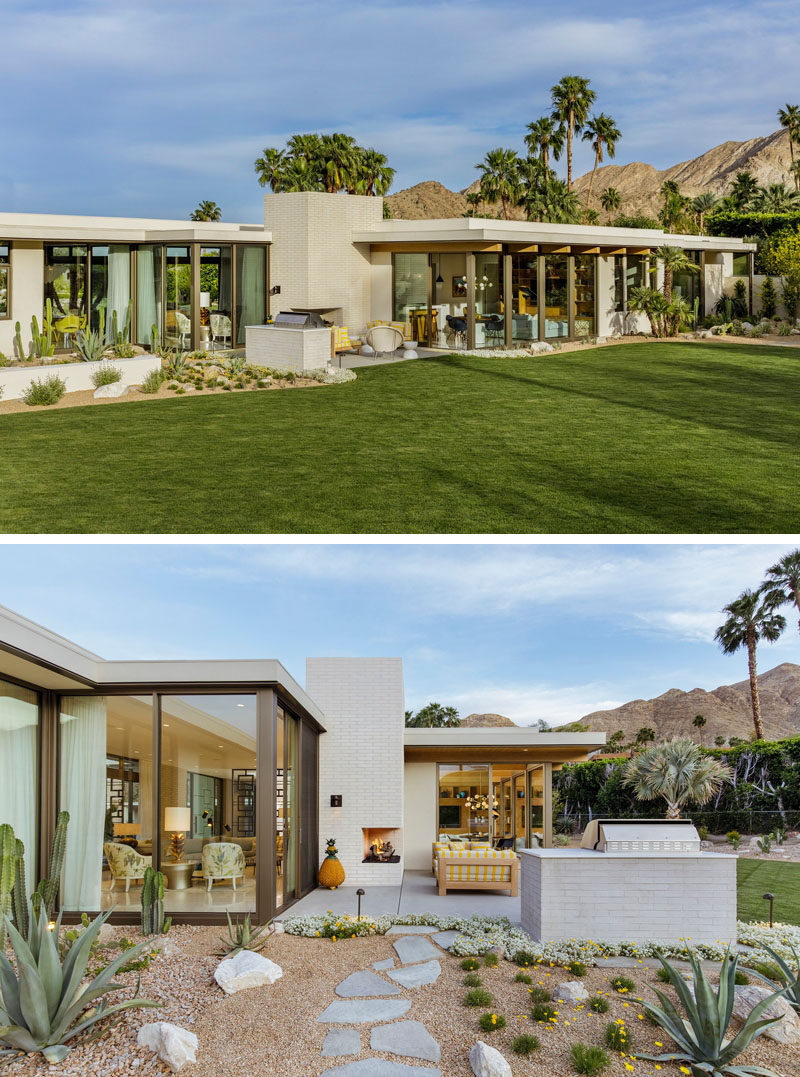 ---
Heading inside, there's a home office with a desk that reaches from wall to wall, and a large window perfectly frames the tree views.
---
---
In the master bedroom, a wood wall with a shelf provides a backdrop for the bed, while a sliding glass door opens to a private patio.
---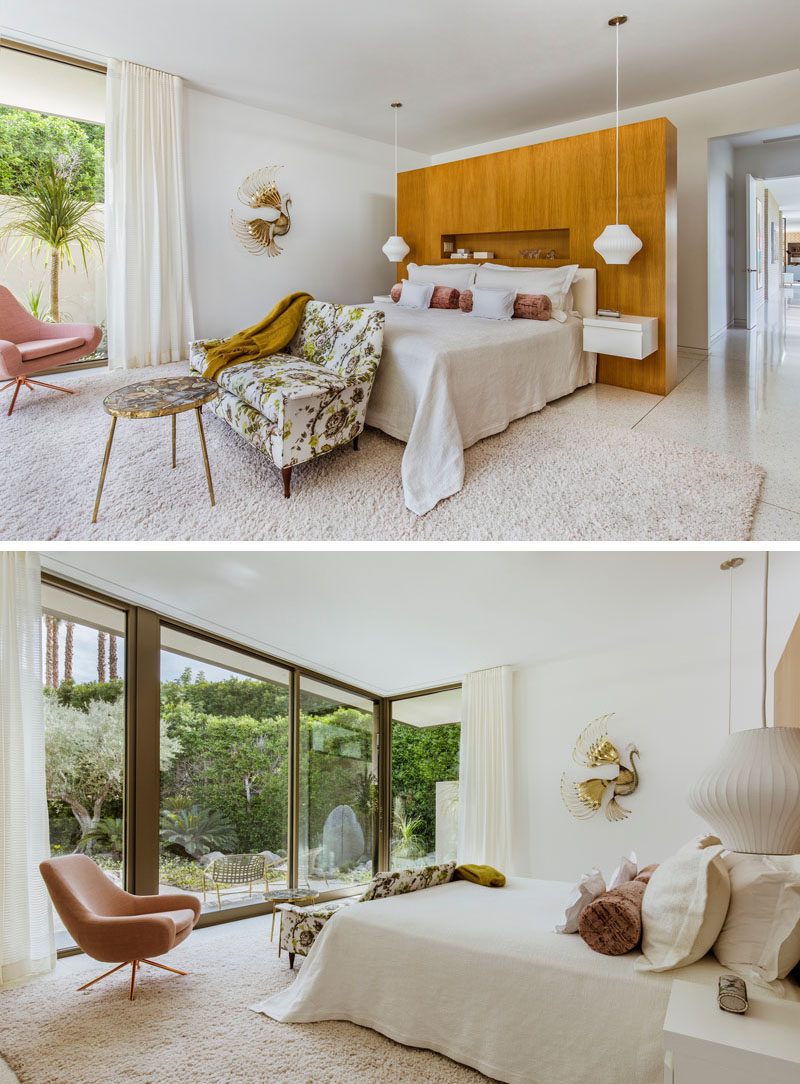 ---
The private patio has a sculpture and a water feature, that both help to create a calming atmosphere.
---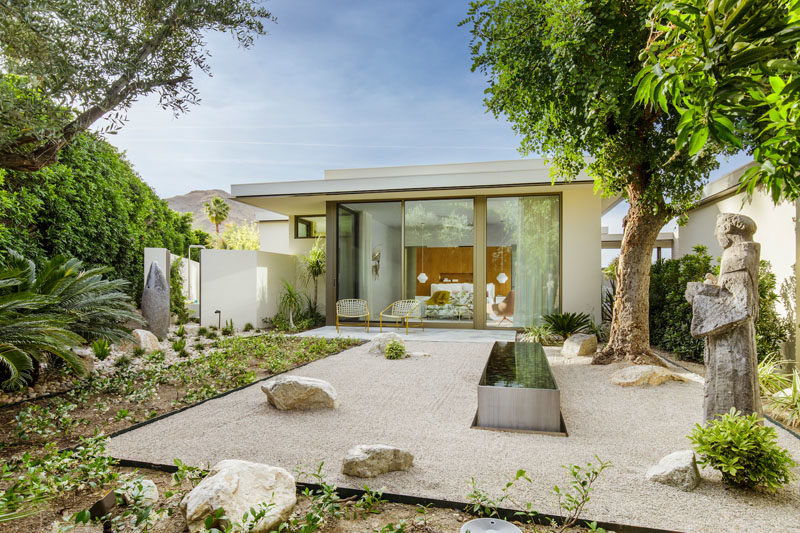 ---
In the master bathroom, tall mirrors reflect the light from outside, while delicate sconces reflect the mid-century design of the house.
---
Photography by David Papazian | Architecture: Stuart Silk Architects – team: Stuart Silk, David Marchetti, Brittney Wilson-Davis | Interior Design: Maison Inc. | Structural Engineering: RA Structural Engineer | Landscape Architect: Anne Attinger | Contractor: West Coast Builders
---
Get the contemporist daily email newsletter – sign up here