Bruns Architecture have sent us some photos of their Rock River House in Rockton, Illinois.
The home sits right on the edge of the property to provide a panoramic view of the river below.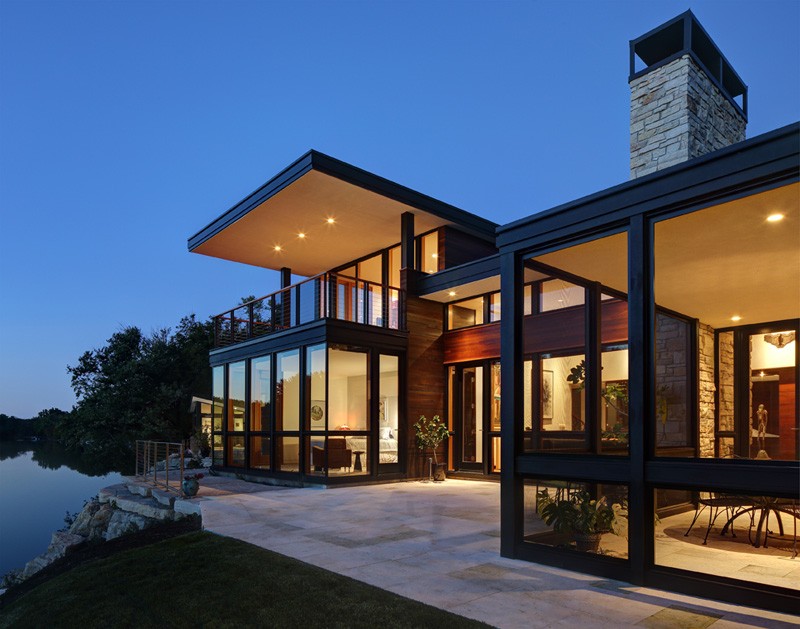 The architect's description
Located at the bend of a meandering river, Rock River House is designed to provide its owners with panoramic views of the glistening water below and forested nature preserve beyond. The family had admired the small, overgrown site for years, recognizing its potential at the end of a quiet street a few blocks from town.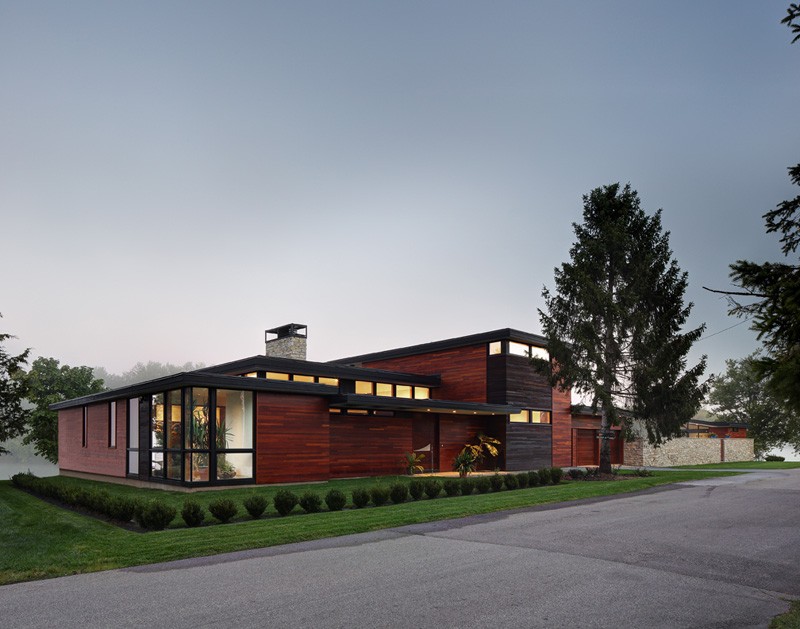 The program is deftly organized on the narrow wedge of land to create a delightfully functional collection of outdoor spaces while conserving the narrowest tip of the parcel as a view corridor for the community.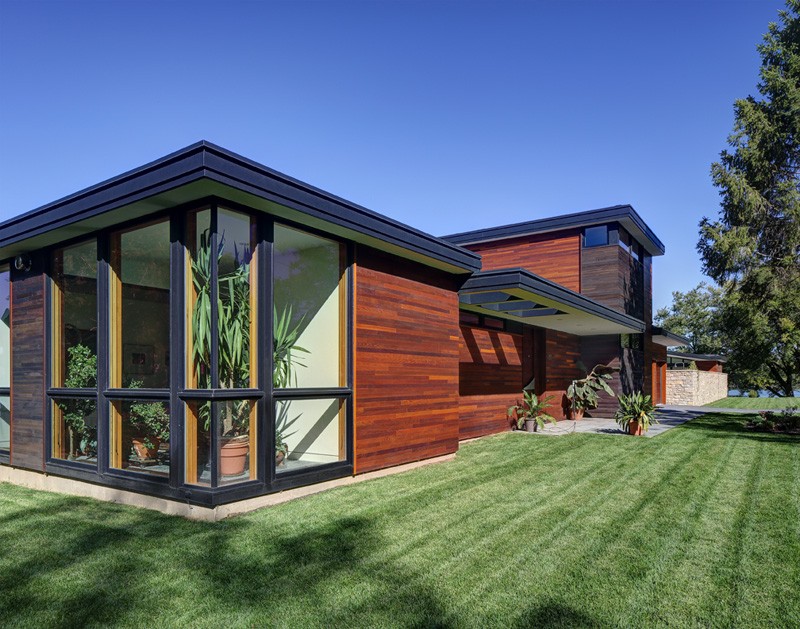 The house is assembled from a collection of stepping volumes that recall the nearby crescent shaped waterfall edge. With two distinct personalities, the composition modulates its apparent scale.

The entry sequence begins through a solid wood door affixed with a custom handle shaped as an abstract of the site.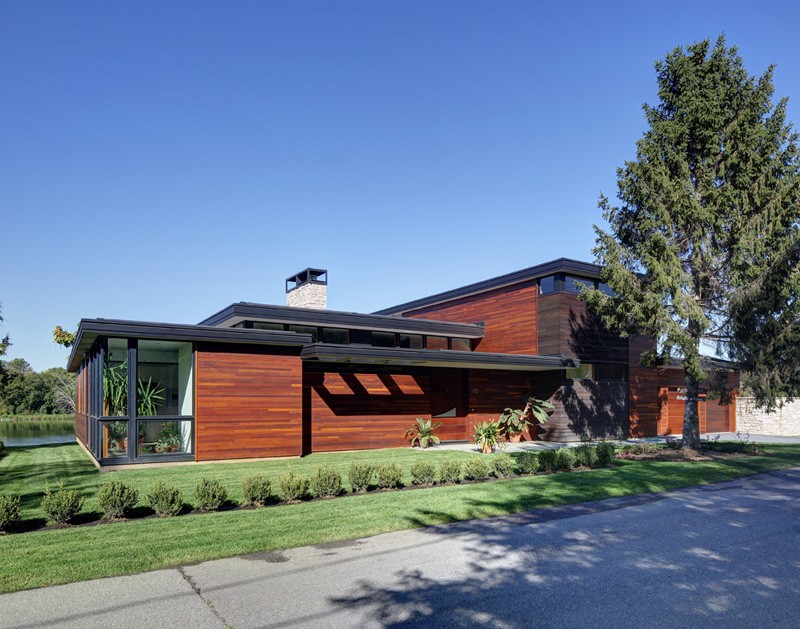 From the street, the construct fits amicably into the modest fabric of the neighborhood as a series of furniture-like wood boxes, but unfolds into a transparent lens affording uninterrupted views to the water beyond. Wall and ceiling planes are arranged carefully to display protean reflections of sunlight off the water.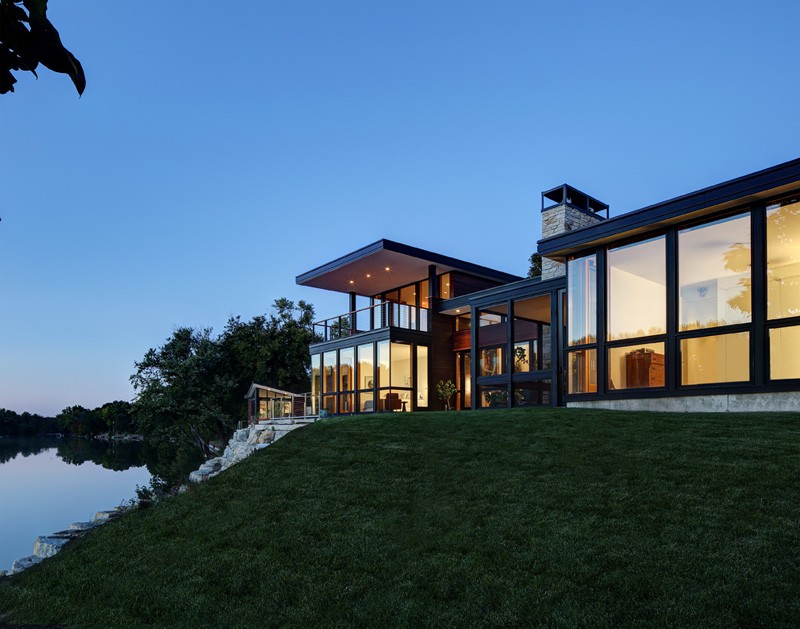 The facade is clad in reclaimed redwood salvaged from a decommissioned local civic building. Varying in dimension, the original boards were re-milled to achieve maximum yield.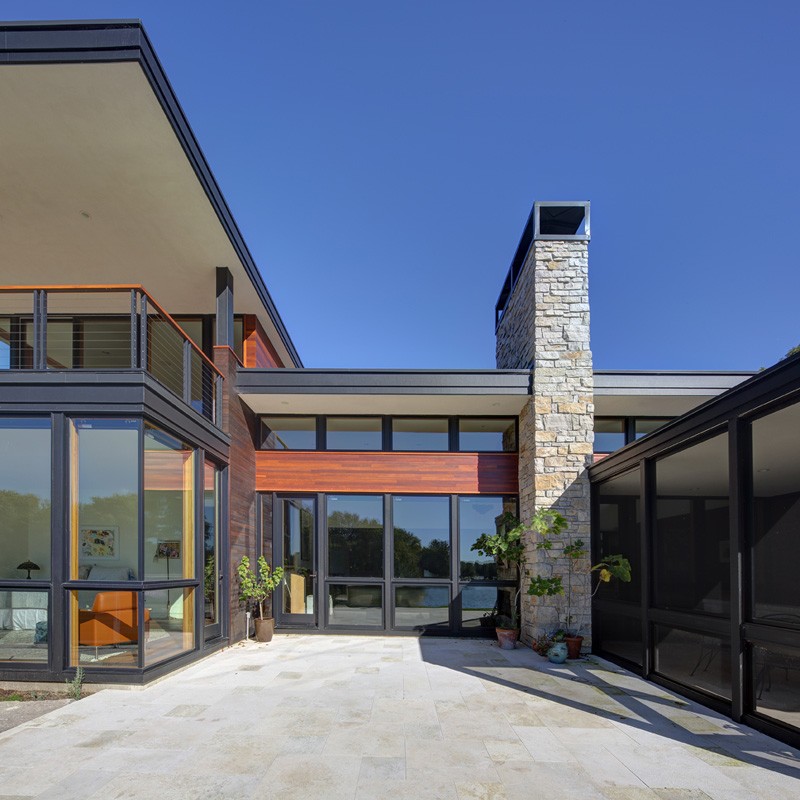 Portions of the material were then wire brushed, creating subtle texture and depth that is composed into larger surfaces to further reduce the scale of the structure. Stone harvested from a neighboring Wisconsin quarry completes the succinct exterior palette.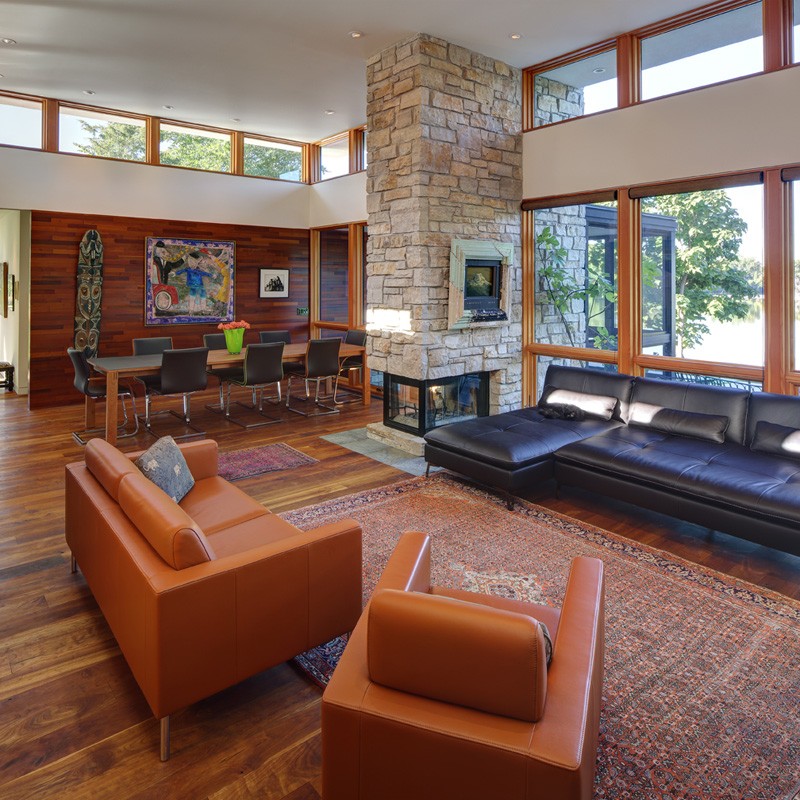 Once inside, a scenic view is framed by wooden millwork elements. As circuitous as the river below, a ribbon of mahogany weaves the two levels of the space together.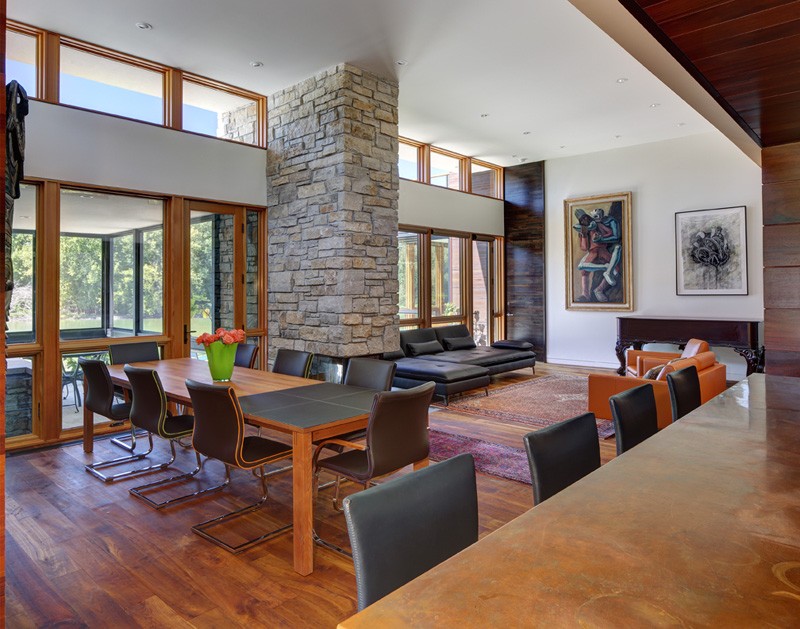 Beginning in the sunlit conservatory, the wood band continues over the kitchen and entry before wrapping down to become a folded wood stair that ascends to the art studio and terrace above. Commanding views of the flora and fauna inspire the owner's own artwork.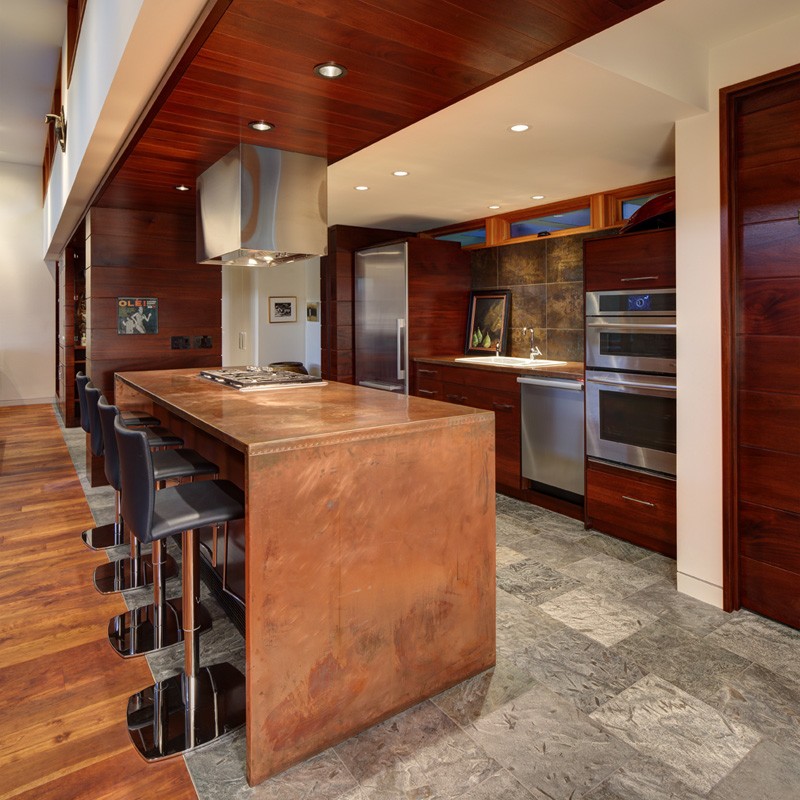 The glazing is specifically engineered to reflect winter heat inward while rejecting summer solar gain, while maximizing visible light transmittance for optimal views to nature.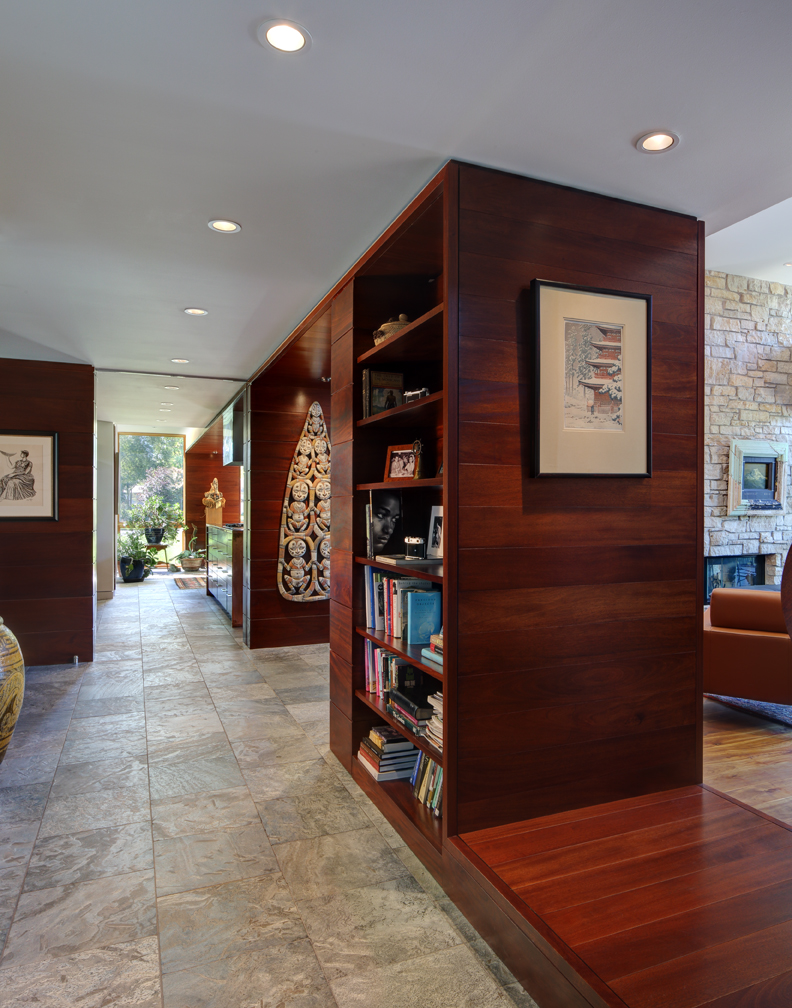 The opaque envelope is insulated with continuous insulation and closed-cell expanding foam to reach average R-values of 31 and 56 for walls and roofs respectively.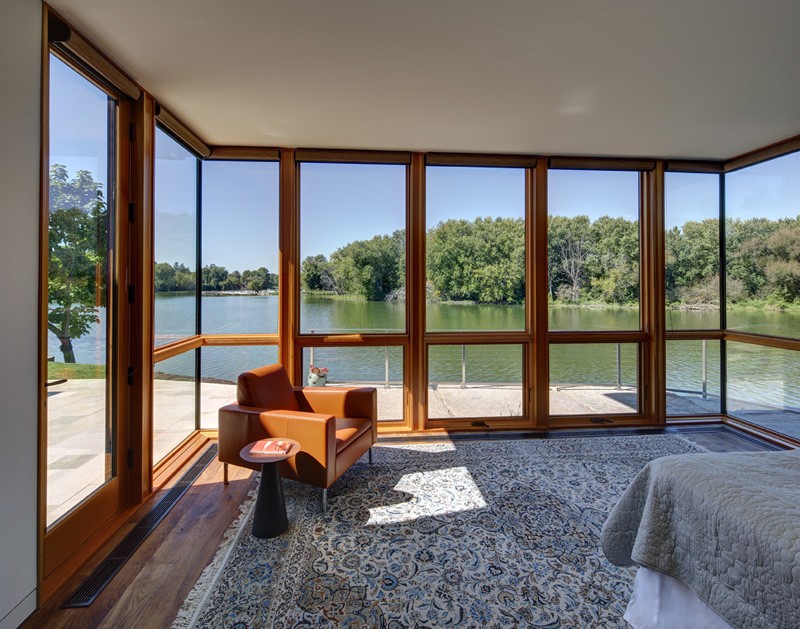 Architect: Bruns Architecture
Photography by Tricia Shay Photography