Architecture firm omb (office of mcfarlane biggar) designed the renovation of the Canyon House, a 1950s family home in Vancouver, Canada.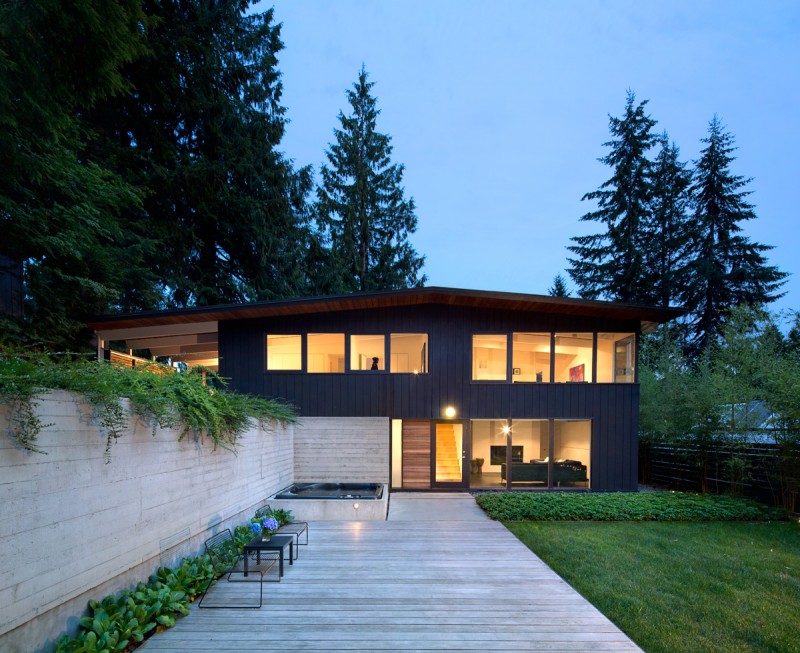 From the architects
When architect Steve McFarlane, a principal of Vancouver's office of mcfarlane biggar, architects + designers purchased this 1950s post and beam house in North Vancouver, he immediately saw its potential. Anchored to a sloping wooded ravine site that backs onto Mackay Creek in North Vancouver, McFarlane admired the architectural clarity of the building and its exceptional ravine setting.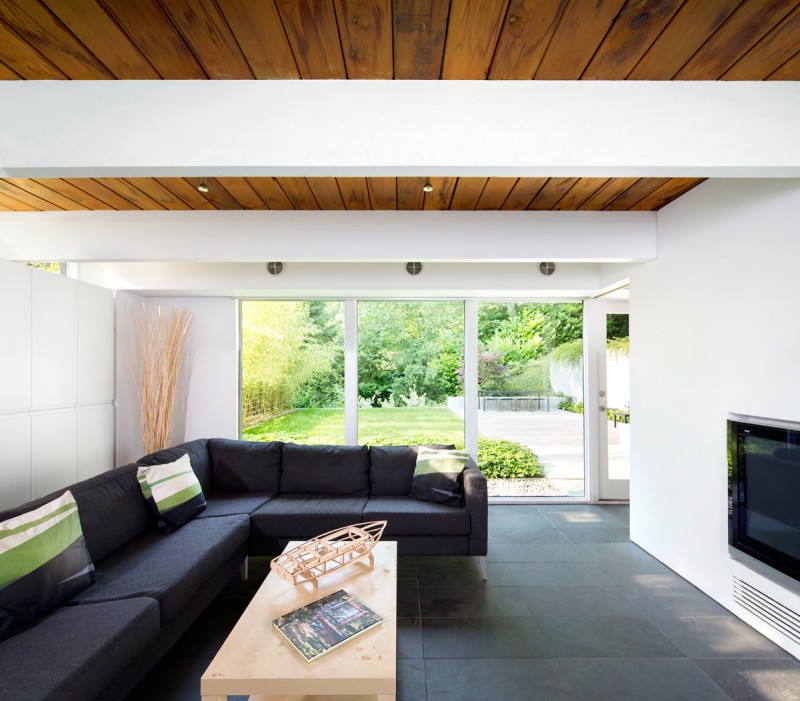 However, the house was tired, dark, cramped and convoluted, and it had few connections with its spectacular surroundings. So McFarlane set out to demonstrate how the original architecture could be refreshed and updated with a contemporary sensibility to accommodate the 21st century lifestyle of his family of four and their dog.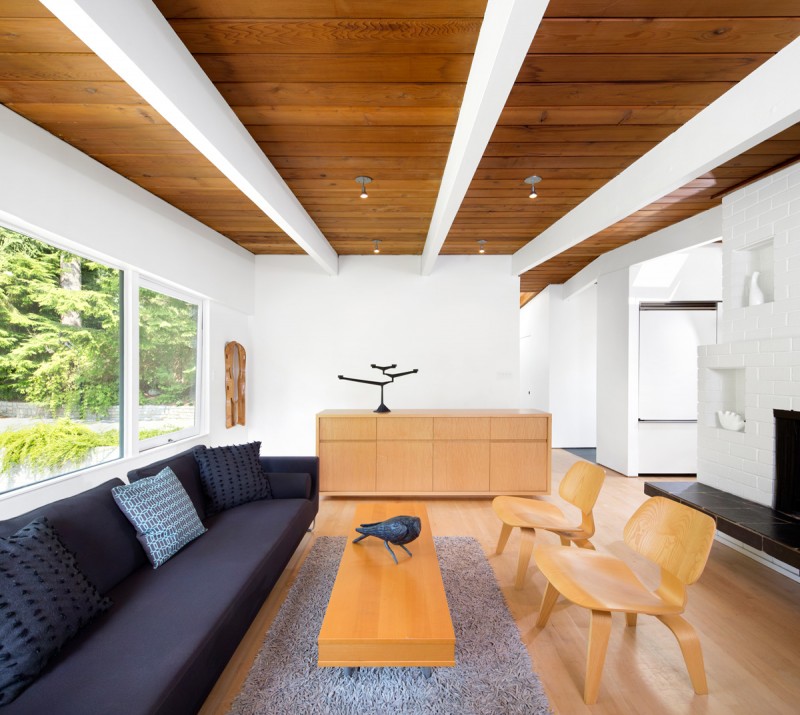 The surprisingly simple renovation does not increase the 1800 s.f. footprint of the house or clash with the modernist feeling of the home. Instead it protects the midcentury modern charm of the house while increasing its flow, natural light, connections to the outdoors, and its energy performance.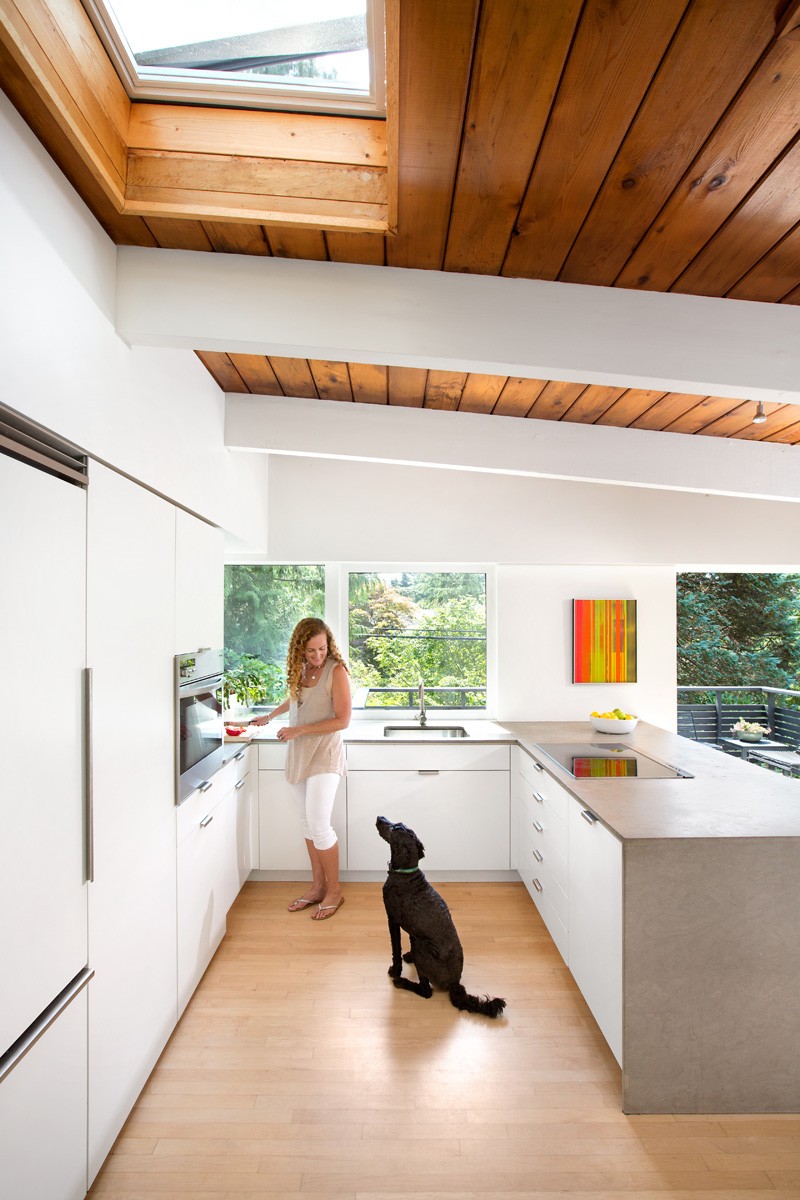 In a post and beam home, heavy timber wall-posts support the roof and floor beams eliminating the need for disruptive vertical supports in the interior spaces. This structure enabled McFarlane to radically open and reorganized the interior spaces without compromising the home's architectural integrity.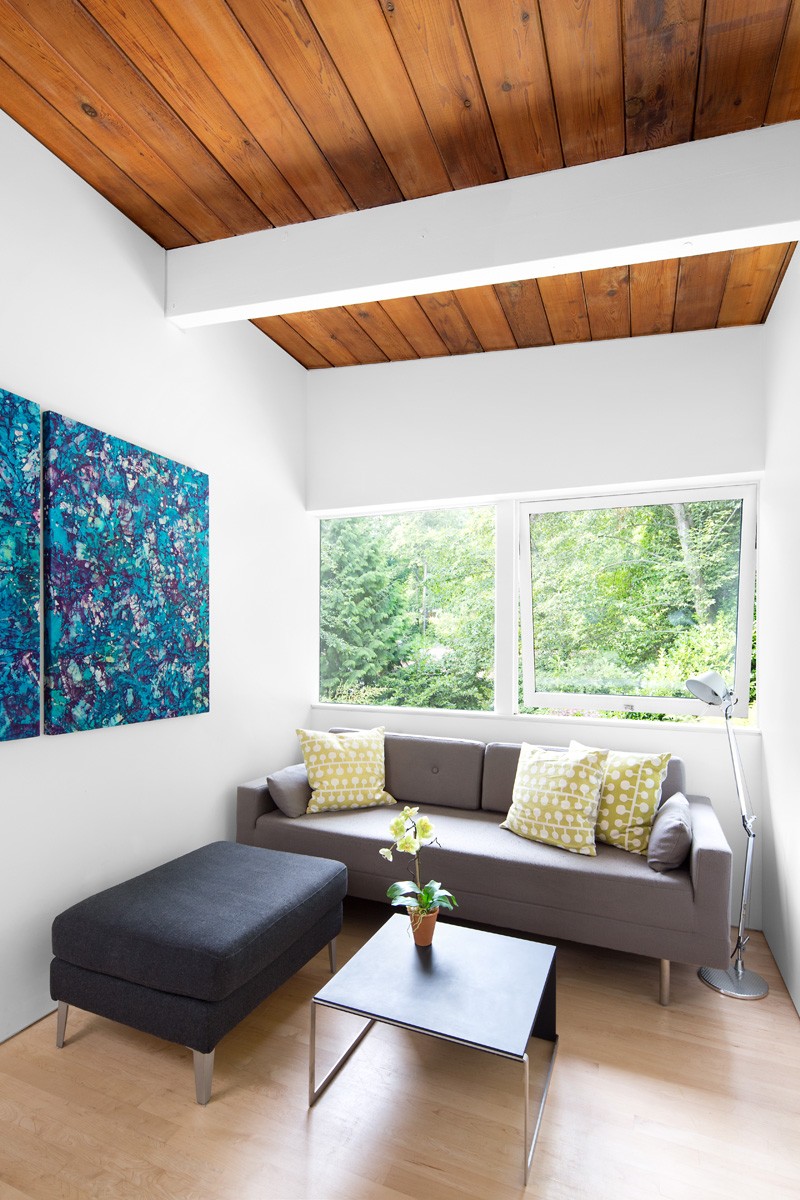 The new eat-in kitchen, large family room, home office and bedrooms celebrate the simple and attractive framing system's adaptability, material integrity and solid craftsmanship while opening the interiors to the surrounding greenery with easy flow and natural light.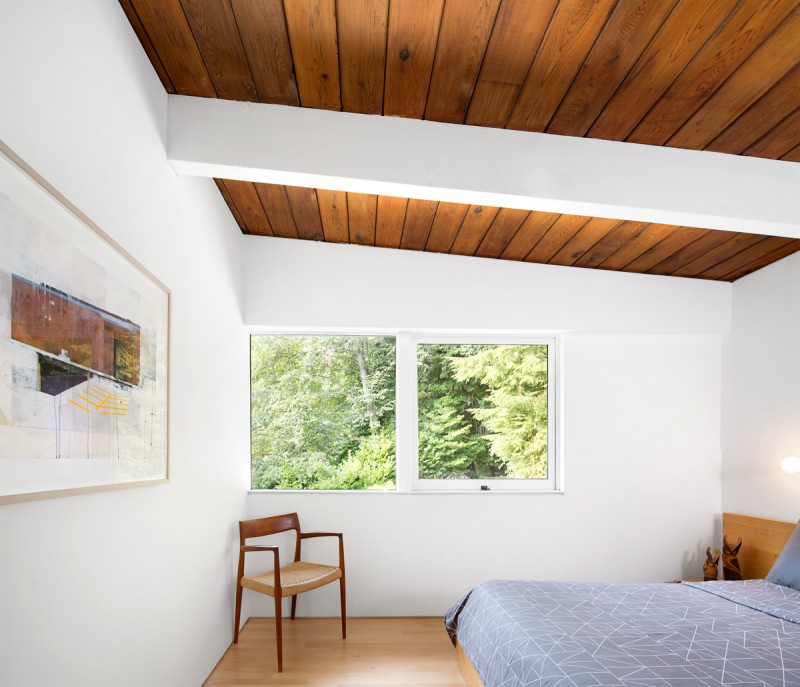 McFarlane chose a simple material palette that respects the modesty of the original architecture while also establishing a clean and durable setting for his active family's daily activities. New maple and stone flooring with radiant heating refresh and unify the interiors while keeping the house warm and cozy. Similarly, white paint unifies, brightens and also highlights the rich cedar ceilings.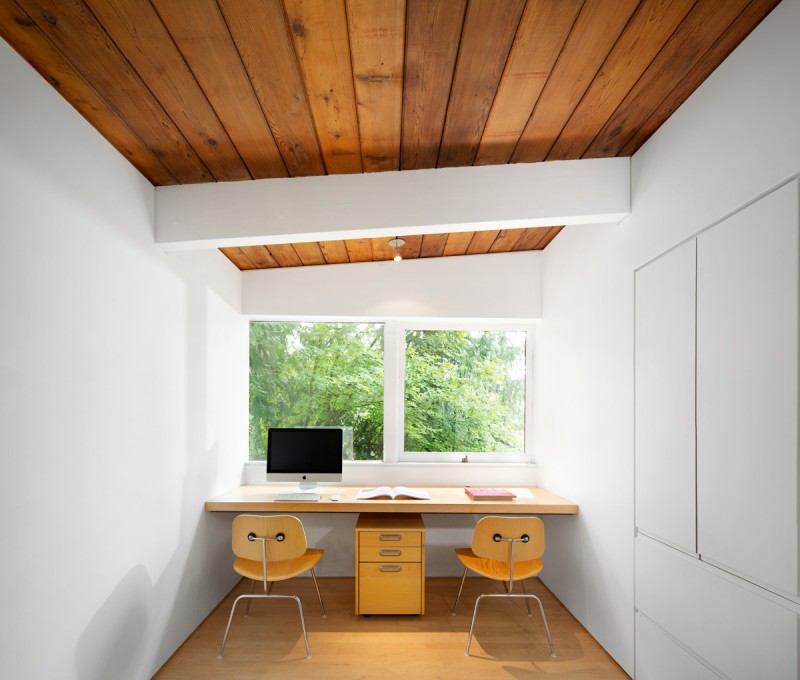 McFarlane strategically placed a skylight above the entrance to enliven the entry vestibule, and throughout the house, he upgraded the single pane windows with energy efficient ones, sometimes adding new openings, or enlarging existing ones. Along the back façade, new, oversized windows open the interior to the garden and accentuate the connection of the home with its surroundings.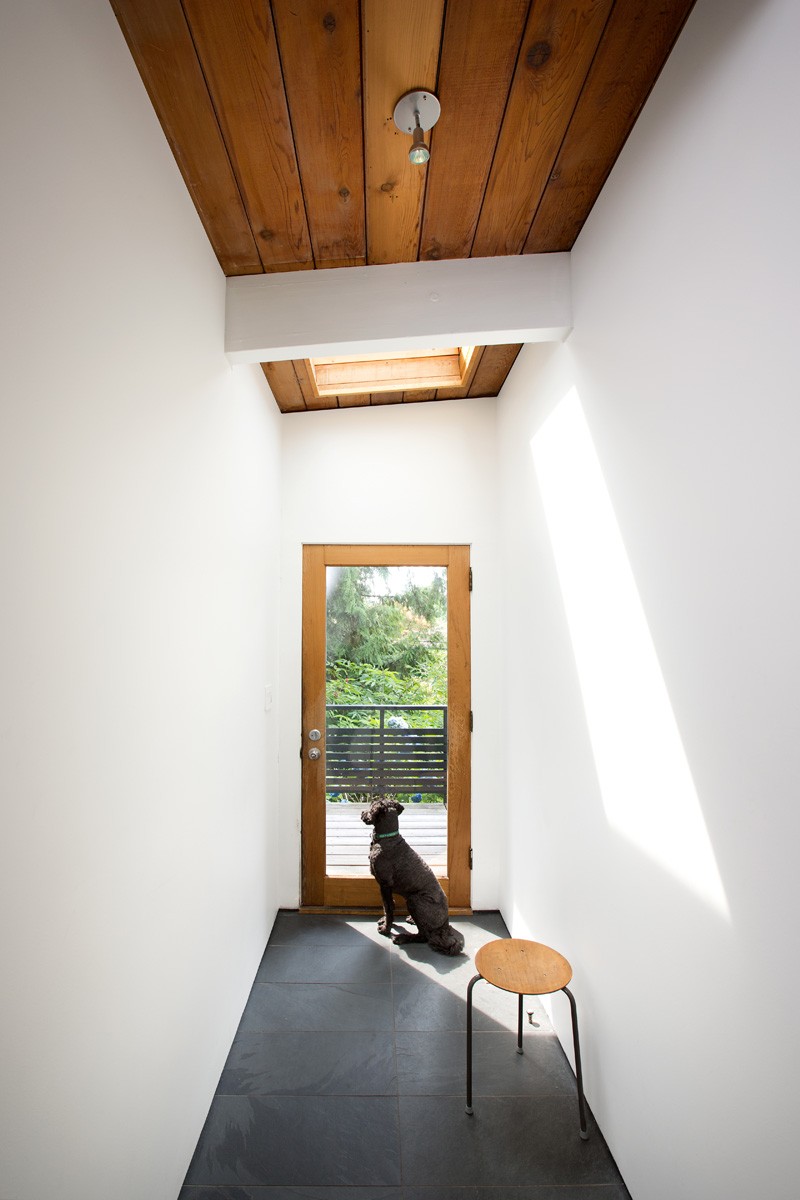 Outside, he created an outdoor living room with a sustainably harvested Ipe wood deck. Enclosed by a board-form concrete retaining wall and lit by landscape lighting, he gave the backyard a similarly sympathetic upgrade to the interior and extended the practicality of the exteriors as an outdoor living space.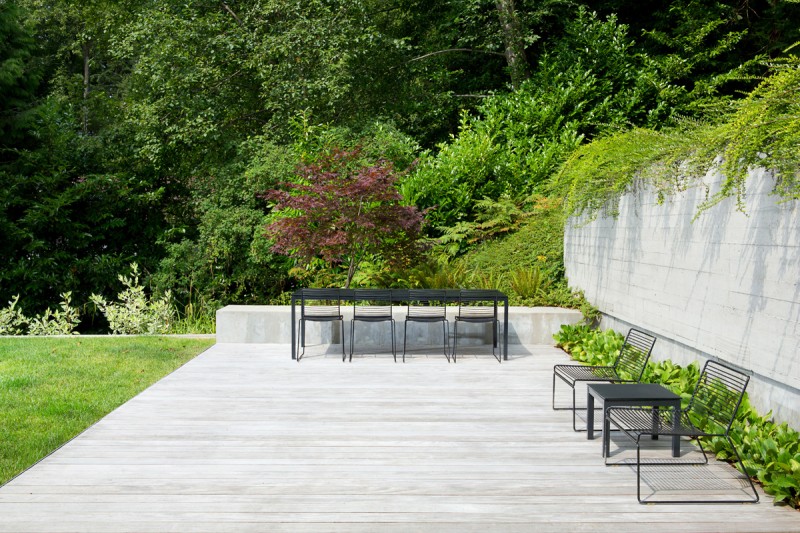 The openness, simplicity and visual warmth of the home celebrate its mid-century modern character, while demonstrating the adaptability of post and beam architecture to meet the needs of contemporary lifestyles.
Architect: omb
Photography by Ema Peter Photography