Designer and creative director Parolio, has recently completed Wanda Café Optimista, a new bright and colourful cafe located in the Salamanca district of Madrid, Spain.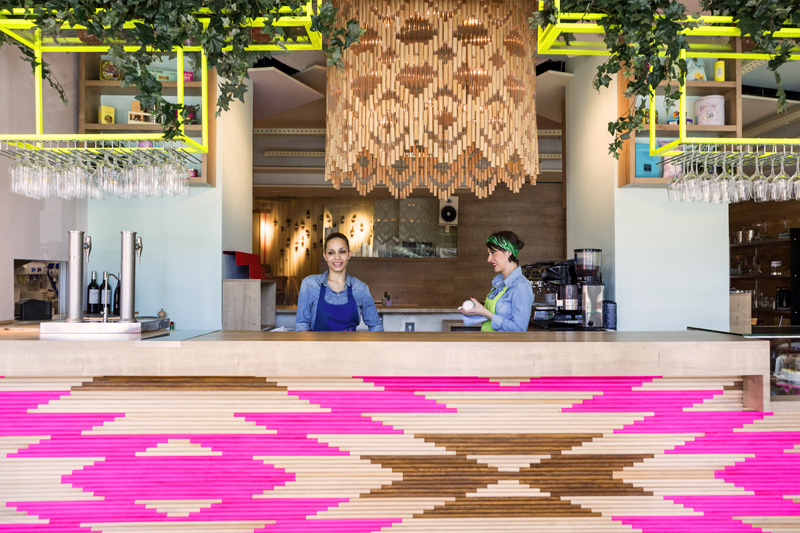 The designer's description
Wanda is a new cafe and restaurant championing optimism in the Salamanca district of Madrid. "After the last few "gray" years of economic recession, I wanted to open a place that communicated the opposite: A projection of vitality, joy, color and a positive outlook on life. The problems and baggage must be left out of Wanda…".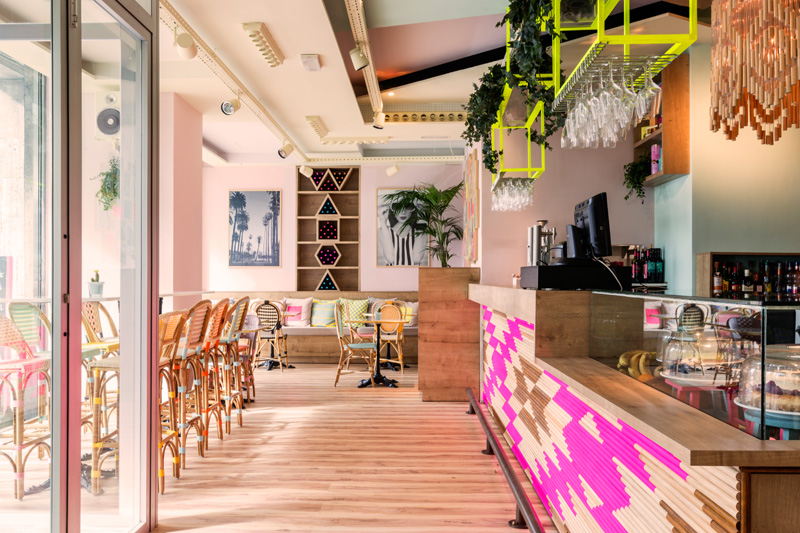 The concept and design by creative director and designer Parolio combines pastel colors on the walls with alluring names such as "coral sand", "piña colada", "tropical sea" and "beach" … with exciting touches fluoro pink and yellow. Natural cane hand-woven chairs in pastel colors and benches with colorful cushions make up the seating arrangement of the space.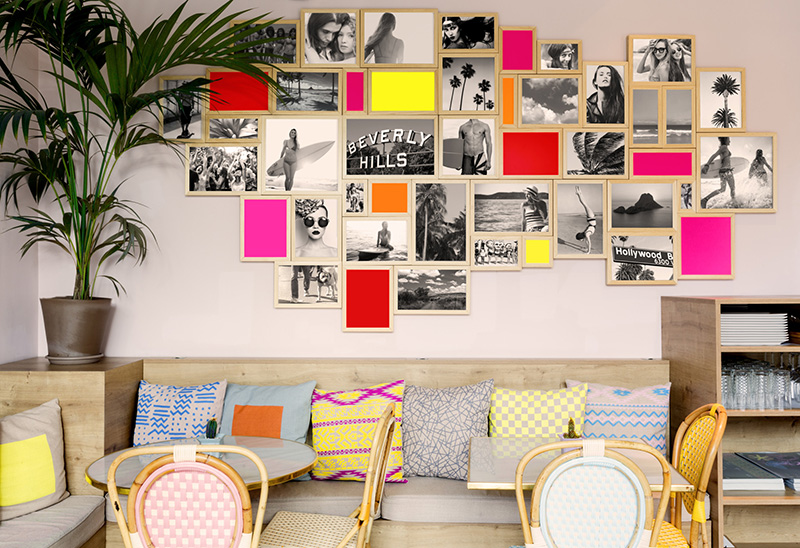 Cut paper pencil illustrations by speed drawing artist Boris Schmitz, a mural with a composition of photos, and fluorescent panels framed in wood colors give an artistic touch to the space. The front of the main bar is covered with hundreds of solid wood cylinders, cut, painted and assembled by hand to form a geometric design, with a look that is "neo-tribal" and "boho-chic".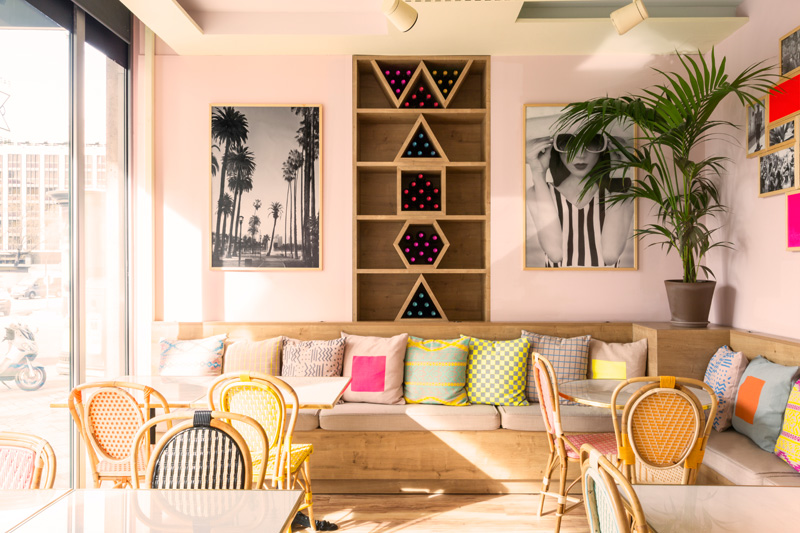 The bar area is crowned with a spectacular lamp made of solid wood and clear acrylic cylinders, giving the finishing touch to a design that takes you from the business and shopping center of Madrid, to the warm, tropical and cosmopolitan capitals, because: "The idea is that when you enter Wanda you enter the emotional universe of the holidays, summer and the positive feelings associated with leisure time. At Wanda its always sunny, there's a good vibe." Says Parolio.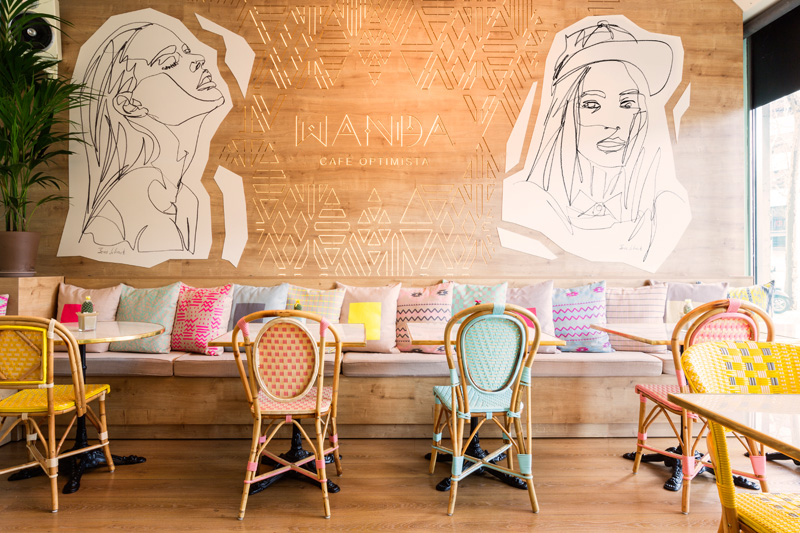 Wanda is open from eight in the morning until late at night. You can get powered drinking coffee or a delicious breakfast, eat, spend a nice afternoon taking advantage of the menu designed especially for that time or a revitalizing drinking juice with spinach and natural herbs. You can also connect and recharge your computer to finish that project or write that novel that you are working on; all the tables have sockets and "Wifi".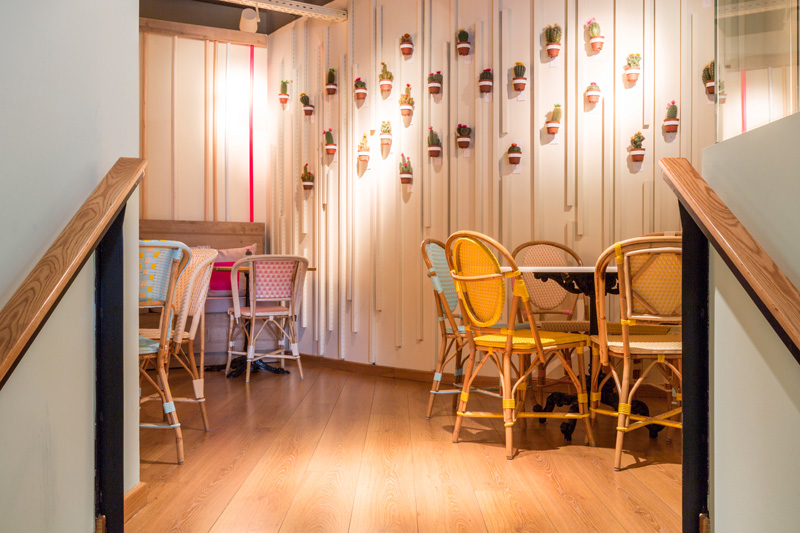 At night Wanda transforms with candles and warm color lighting. Serving delicious dishes, all selected by our Team Wanda, signature dishes of cities and vacation destinations that inspired the space.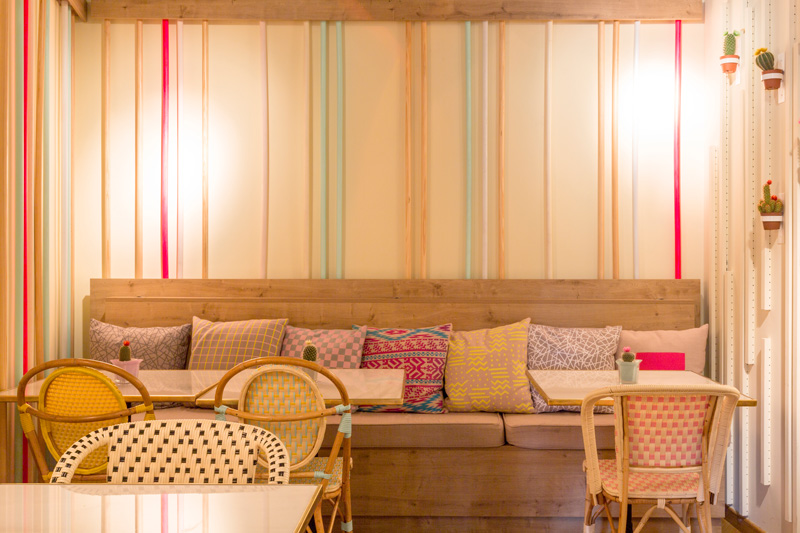 The night is long at Wanda, stay for a drink and try their special "Happy Tsunami", a mega cocktail to be shared between four people or the "Smurf", which is a mini cocktail, so you can try more combinations. Cafe Wanda Optimista is located in Maria de Molina 1 in the corner with Castellana.
Interior Design and Creative Direction: Parolio
Photography: Juan Baraja