The Lululemon Interiors Team together with Quadrangle Architects and artist Jason Blower, created a 380 square foot graphic facade of custom sandblasted wood panels for a Lululemon store located in the Southgate Shopping Mall in Edmonton, Canada.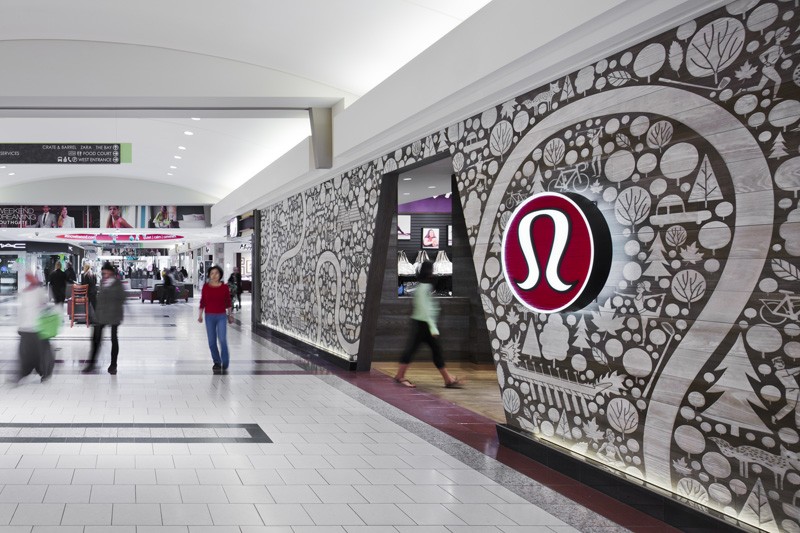 The project description
Designed by local illustrator Jason Blower, in collaboration with Quadrangle Architects and the Lululemon interiors team, the 380 sq. ft façade is comprised of wood panels sandblasted with an intricate collage of locally-inspired imagery including trees, rivers, joggers and several Edmonton landmarks.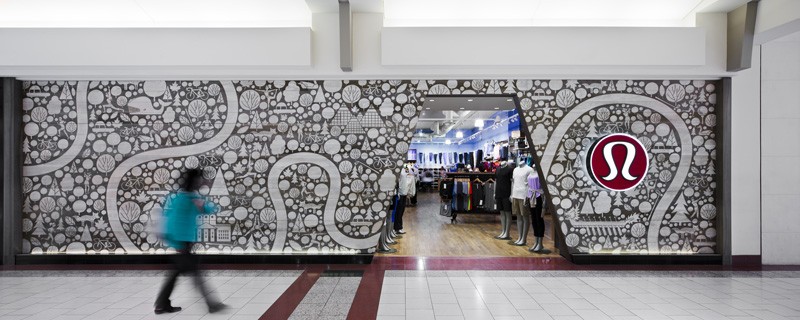 The warm and welcoming entrance creates a sense of authenticity and community pride within the bustling mall while also underscoring Lululemon's brand affiliation with yoga, harmony and balance. Inside, the 3500 sq. ft interior is in keeping with the other Lululemon stores across Canada – designed to make the brand's brightly coloured athletic wear the focal point.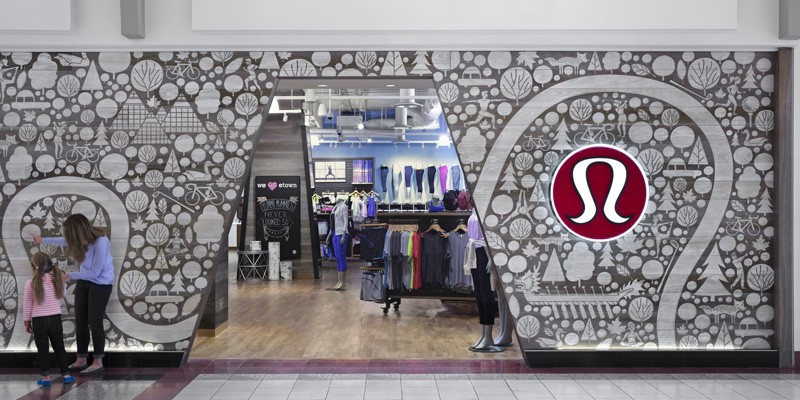 Blower's design was inspired by an "I (heart) E-Town" t-shirt that he created for Edmonton's SNAP Gallery. Blower reworked Milton Glaser's iconic "I (heart) NY" logo, filling the heart with depictions of locations and artifacts that are synonymous with Edmonton.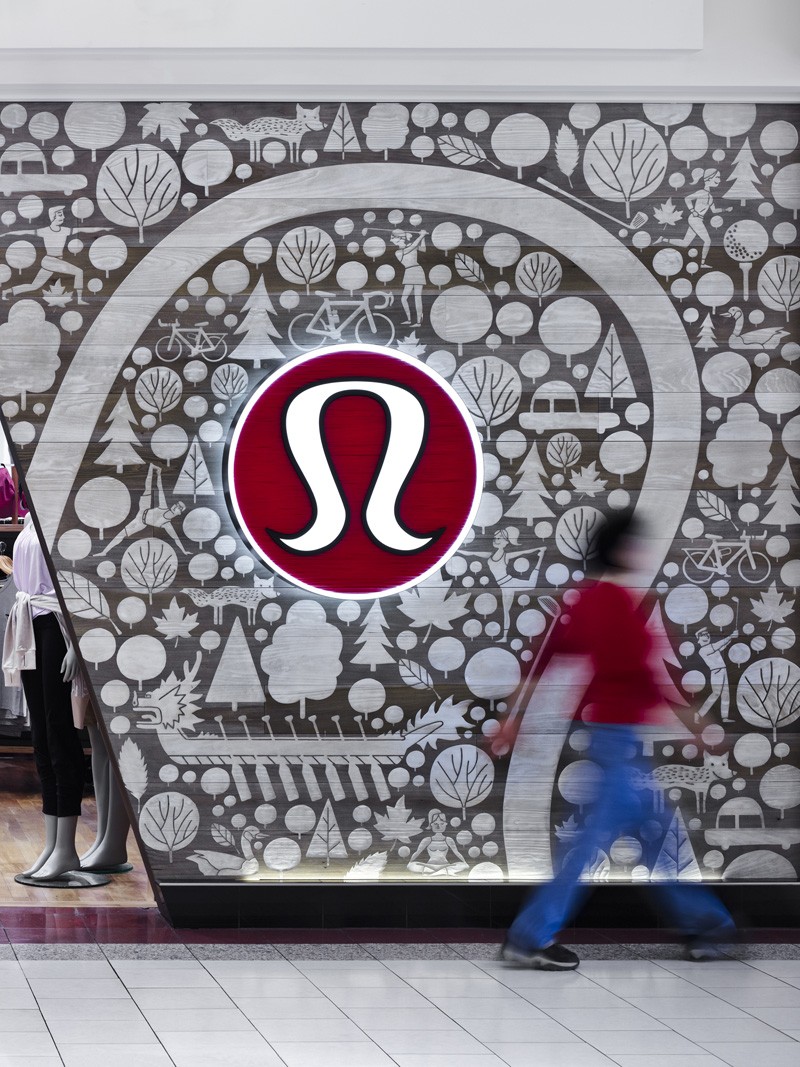 Creating the storefront for the Southgate store, Blower adjusted his imagery to also reflect Lululemon's culture including bicycles, golfers and yogis, while still incorporating famous Edmonton landmarks, like the Legislature, the Muttart Conservatory and a whale – an ode to an iconic, bronzed sculpture that was once in the West Edmonton Mall. The North Saskatchewan River, which flows through the illustration, is also akin to Lululemon's logo.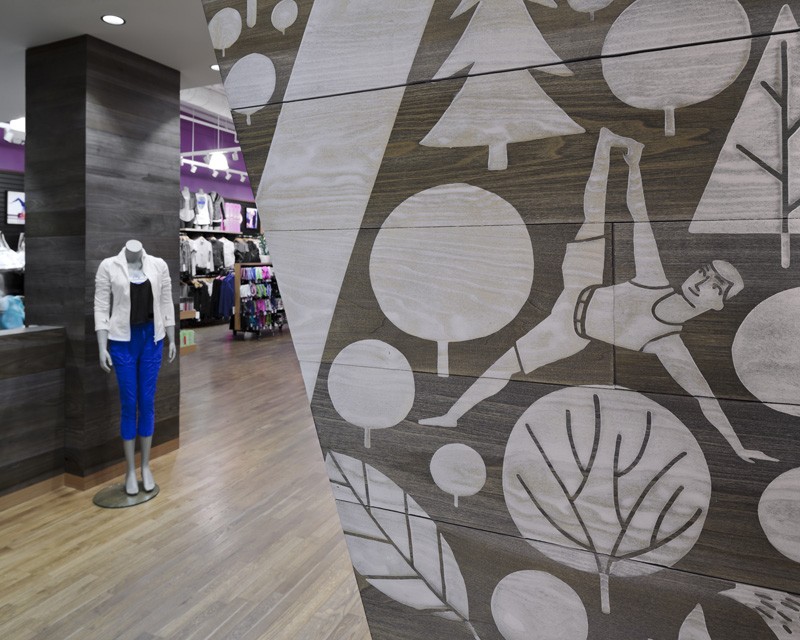 Once the design was complete, Lululemon hired Great Lakes Woodworking in Detroit, Michigan to execute Blower's vision into a custom sandblasted piece that honoured Lululemon's desire to use a natural material palette. The sandblast technique was developed specifically for this piece to ensure the detail of Blower's design translated from the computer rendering into the finished piece.
The varied illustrations etched into the wood encourage passersby to stop and take a closer look, maybe even touch the art and feel how the textures change from smooth to rough. The visual imagery and tactile nature of the façade creates an engaging experience for visitors, both tourists and Edmontonians alike.

"This project was an amazing learning experience and public piece! Having something evolve from a concept sketch, to manufacturing, to the final reveal was uplifting and inspiring." – Jason Blower, Artist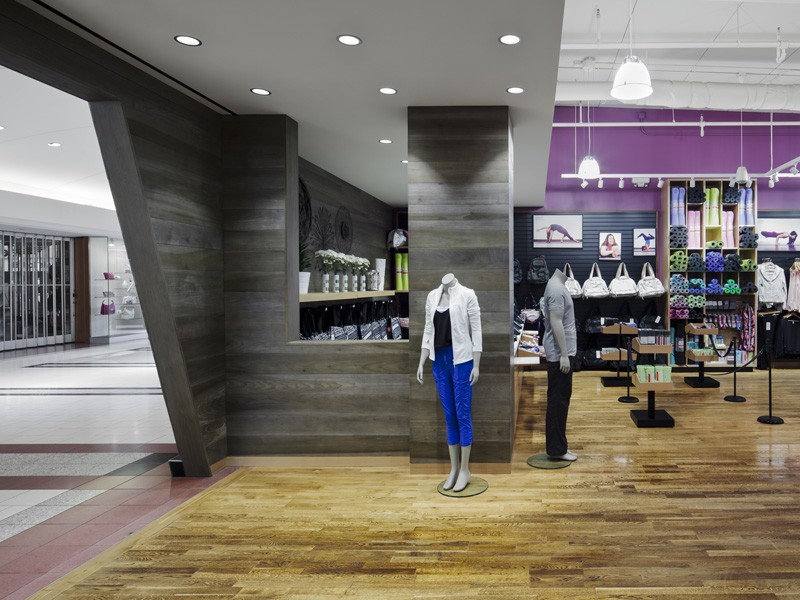 Interior Design: Lululemon Interiors Department
Architecture: Quadrangle Architects Limited
Artist: Jason Blower
Woodworking: Great Lakes Woodworking
Photography: copyright Latreille Delage Photography; Andrew Latreille