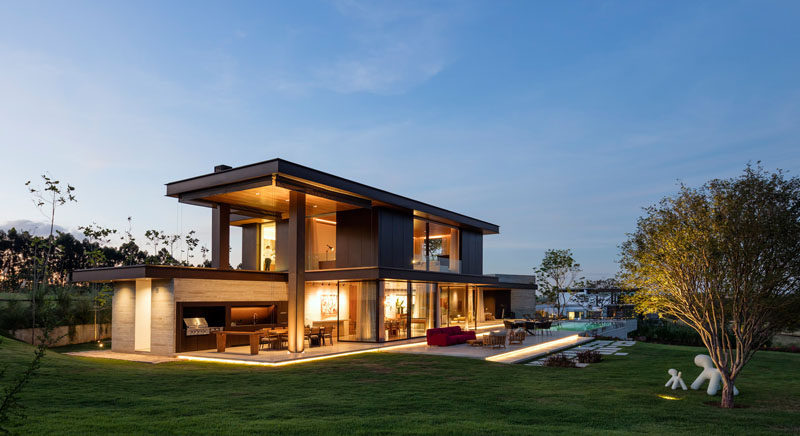 This contemporary house in São Paulo, Brazil, takes advantage of the views and outdoor lifestyle with a large backyard, swimming pool, outdoor kitchen and dining area, as well as an outdoor lounge.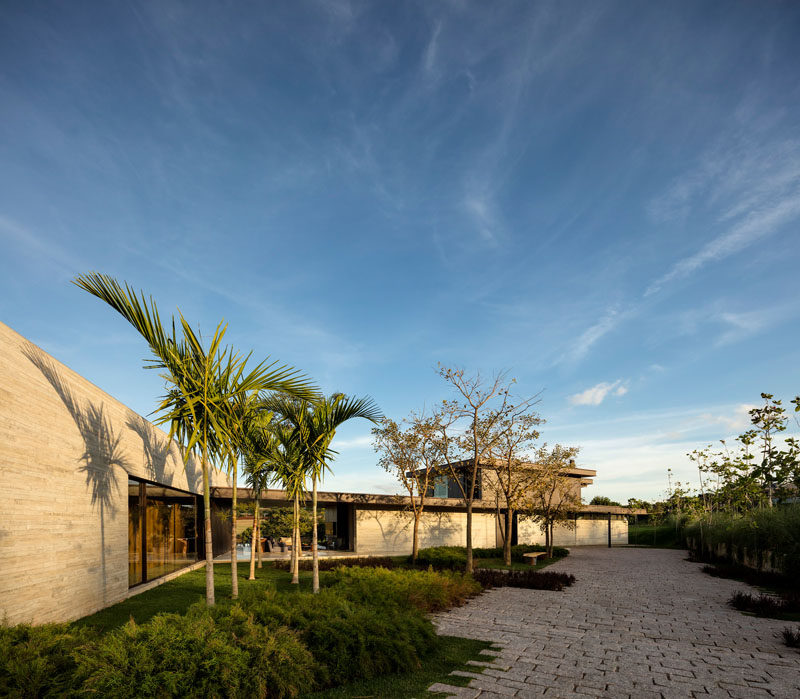 ---
The home, designed by Fernanda Marques Arquitetos Associados, has two volumes separated by the outdoor lounge, the main one, where the living area, kitchen and master suite are and the side one, with suites for visiting guests.
---
---
Here's an overview of the home, where you can clearly see the two sections, as well as the layout of the backyard and outdoor spaces.
---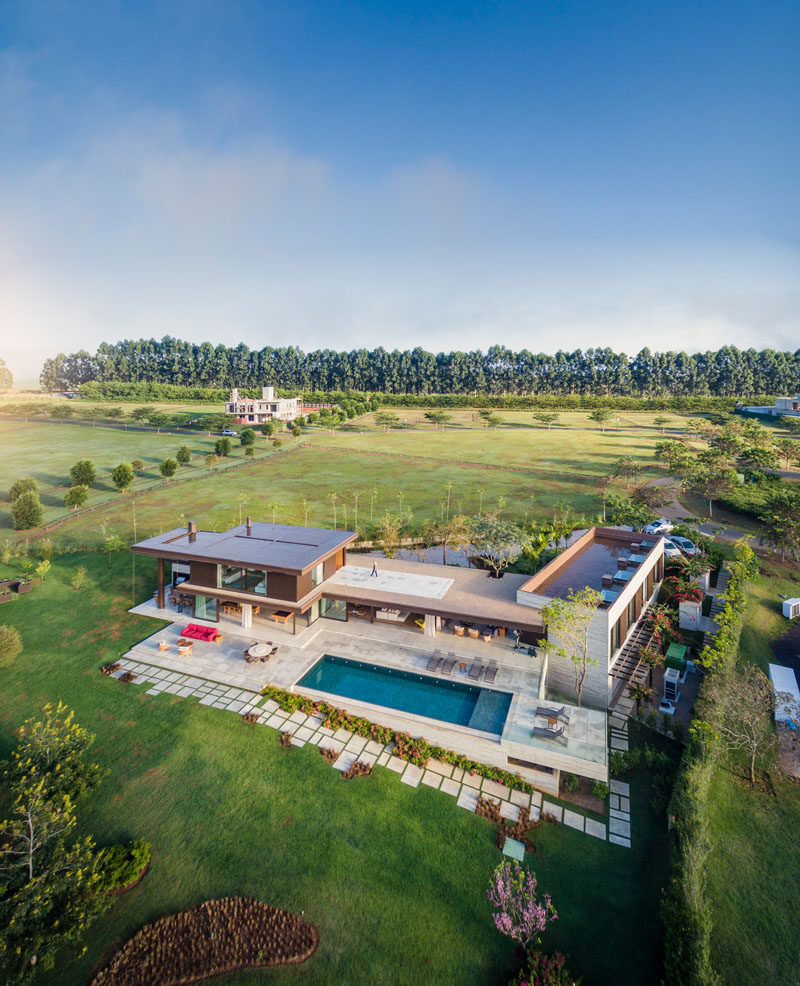 ---
This is the view from the side of the house, and notice at night, the stone covered outdoor areas are outlined with hidden lighting.
---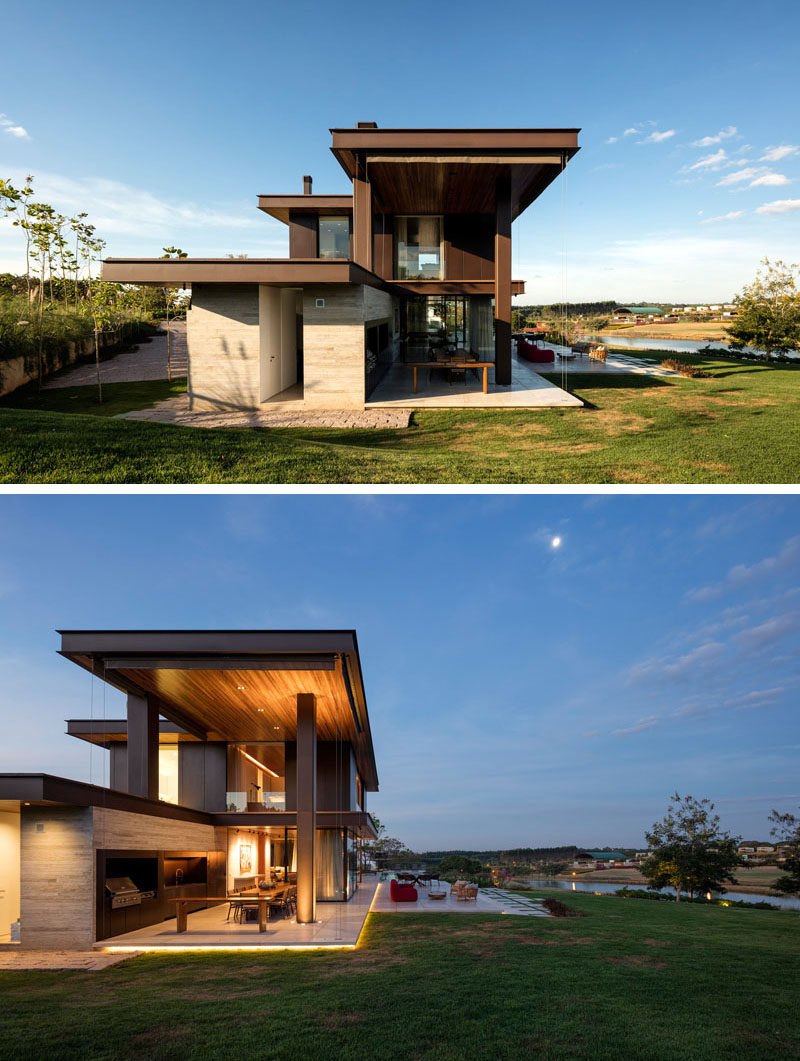 ---
The swimming pool is stepped down slightly from the house, and lighting is hidden within the steps, create a nice atmosphere at night.
---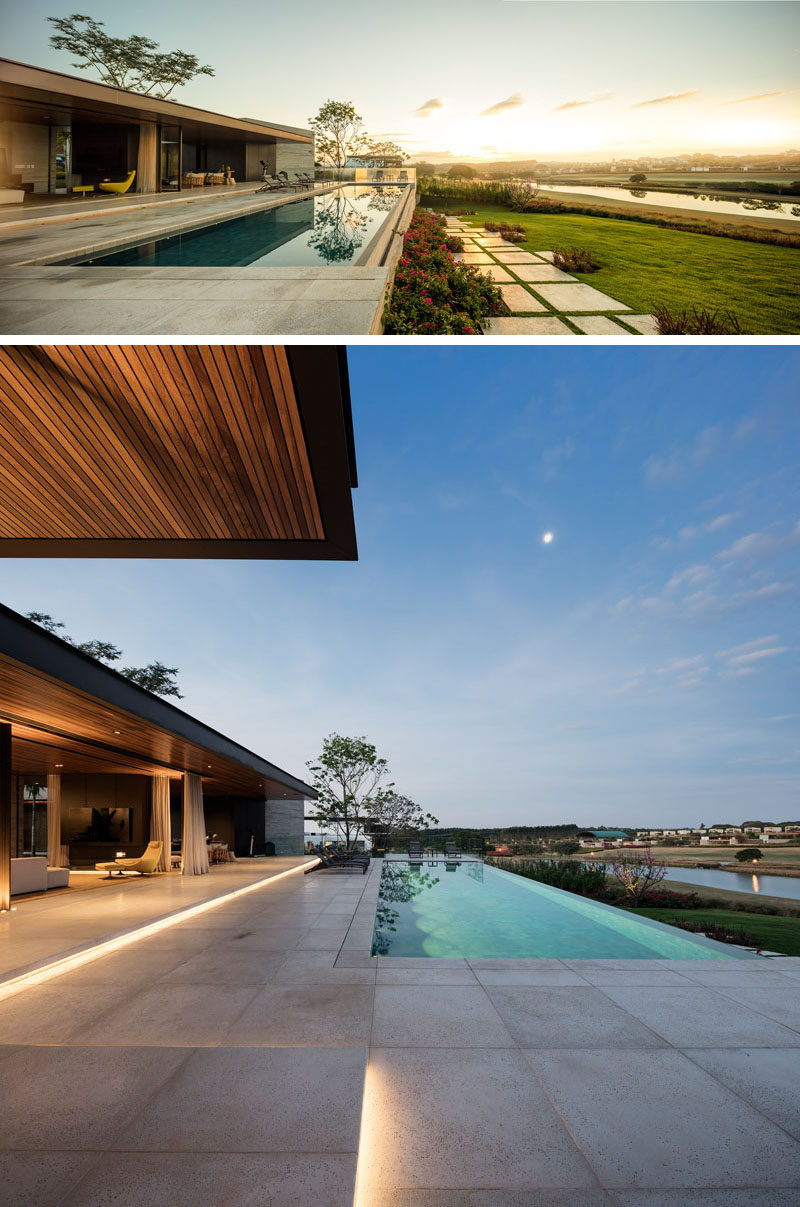 ---
Next to the swimming pool is an outdoor lounge area, with television and fireplace, and a wood ceiling that travels the length of the house.
---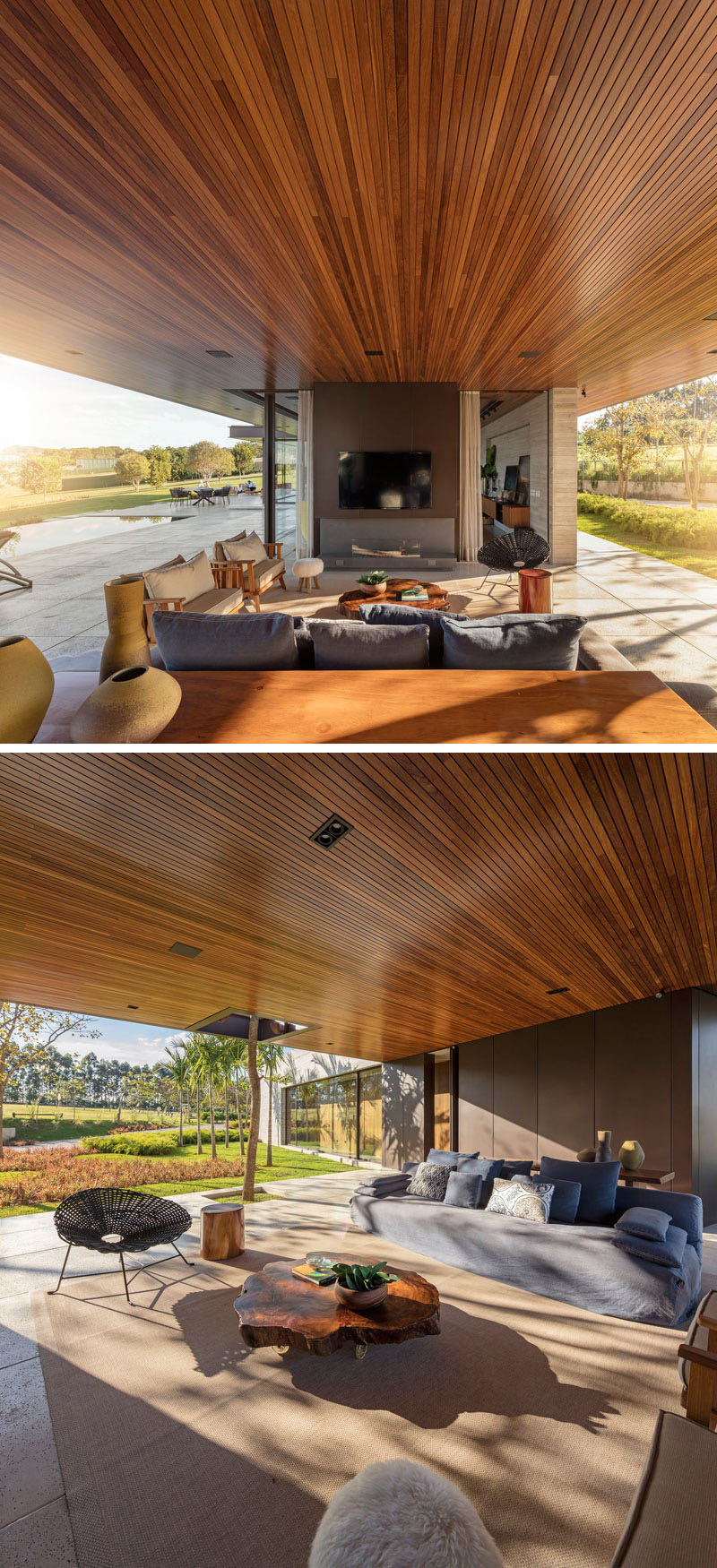 ---
A small section of the floor, ceiling and roof have been removed to allow a tree to grow.
---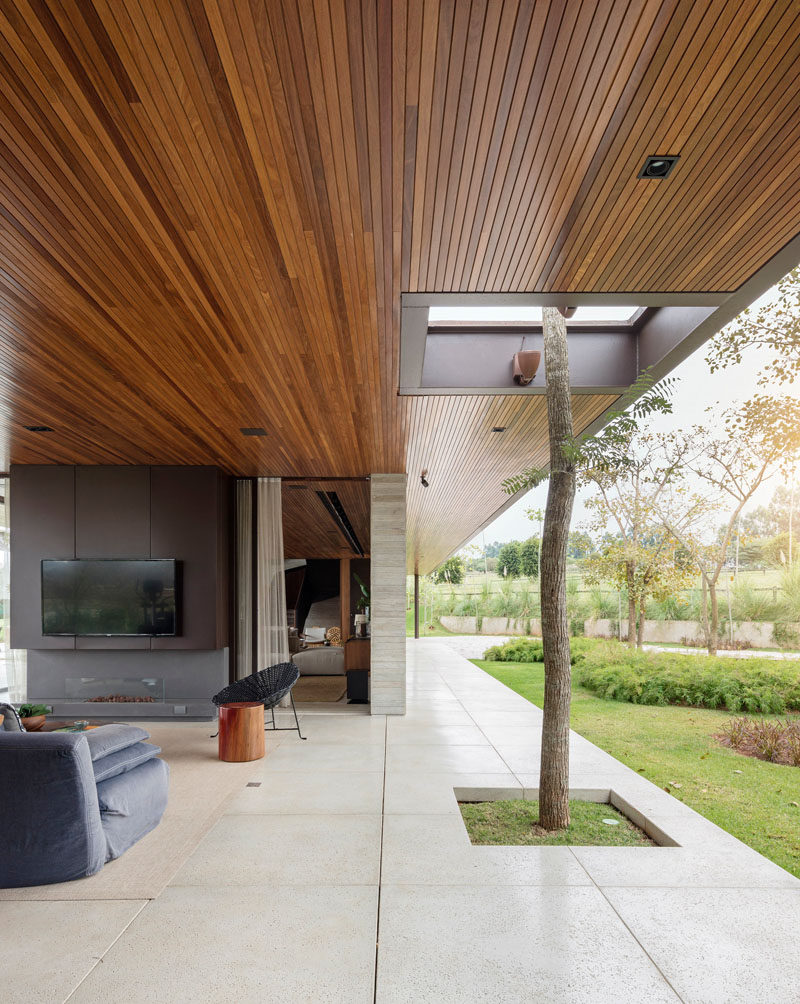 ---
Inside the home, the ceiling is covered in wood and the large glass doors open to take advantage of the direct access to the outdoor areas.
---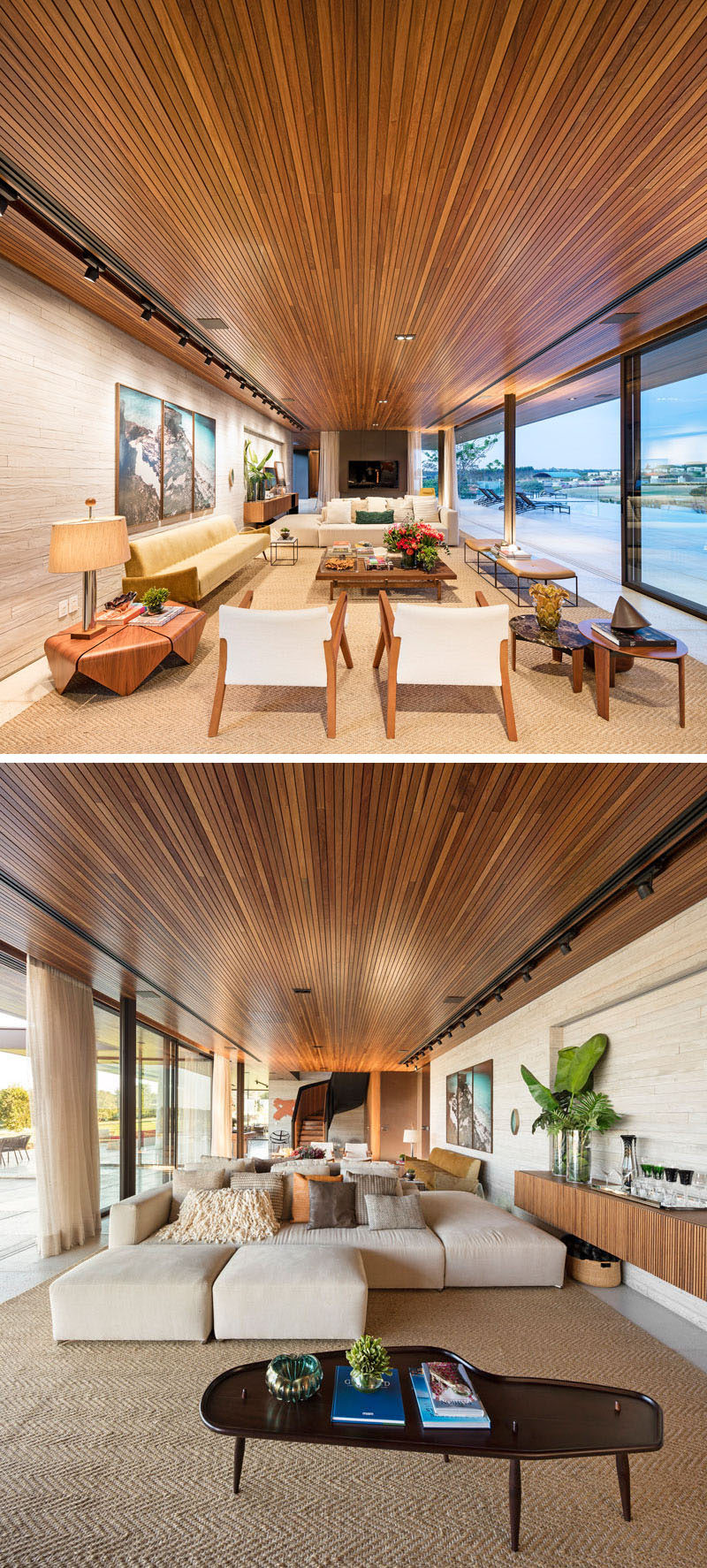 ---
Around the corner from the living room, is a dedicated spot for playing pool. Perfect for when you want to have a game after cooling off after a swim.
---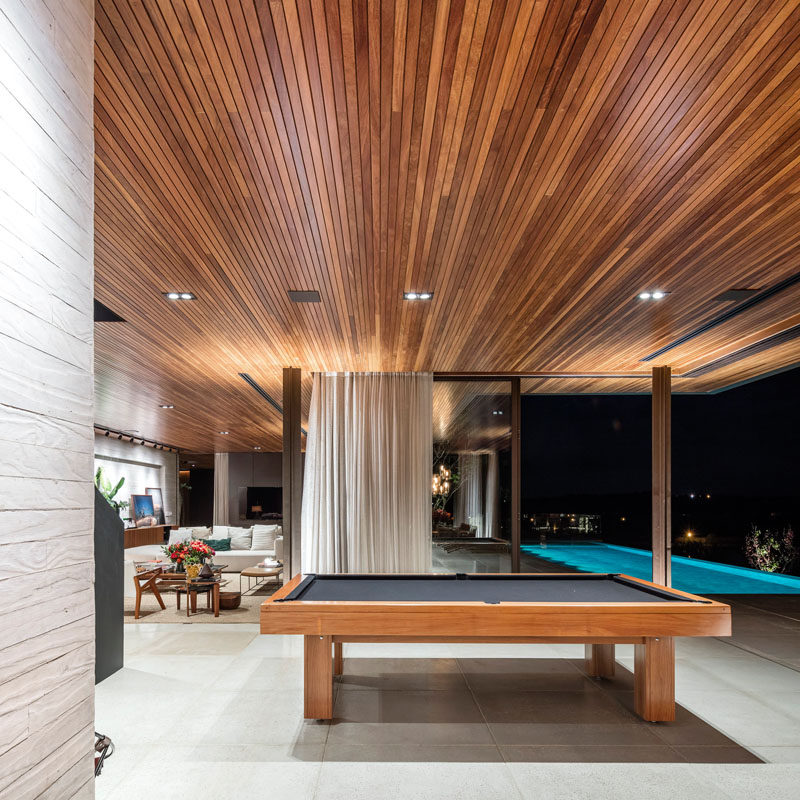 ---
Next to the pool table is the dining room. Multiple pendant lights define the dining area, and a simple floating sideboard rests under a highlighted piece of art.
---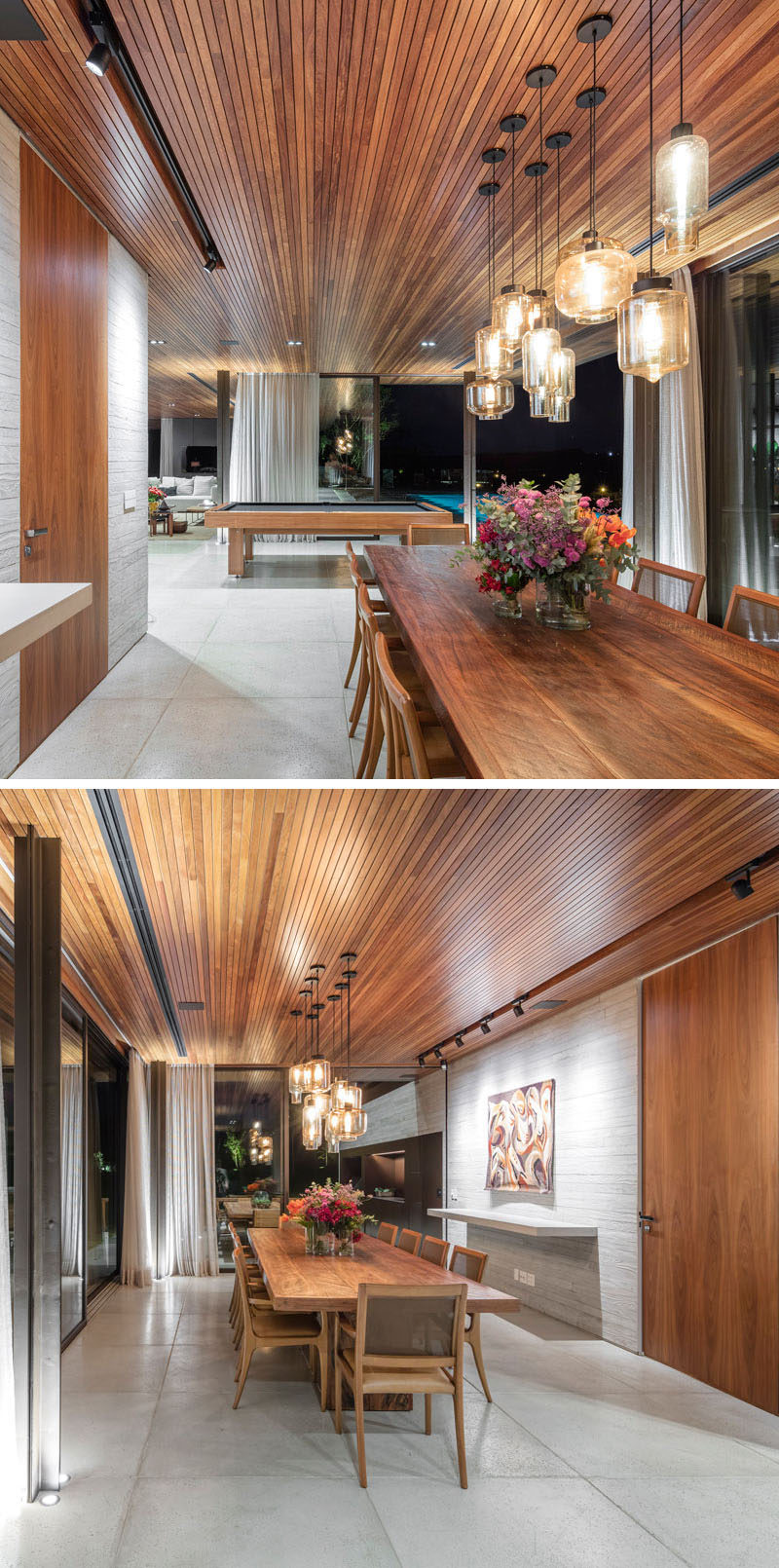 ---
Just off the dining room, there's an outdoor kitchen and large dining area, perfect for entertaining.
---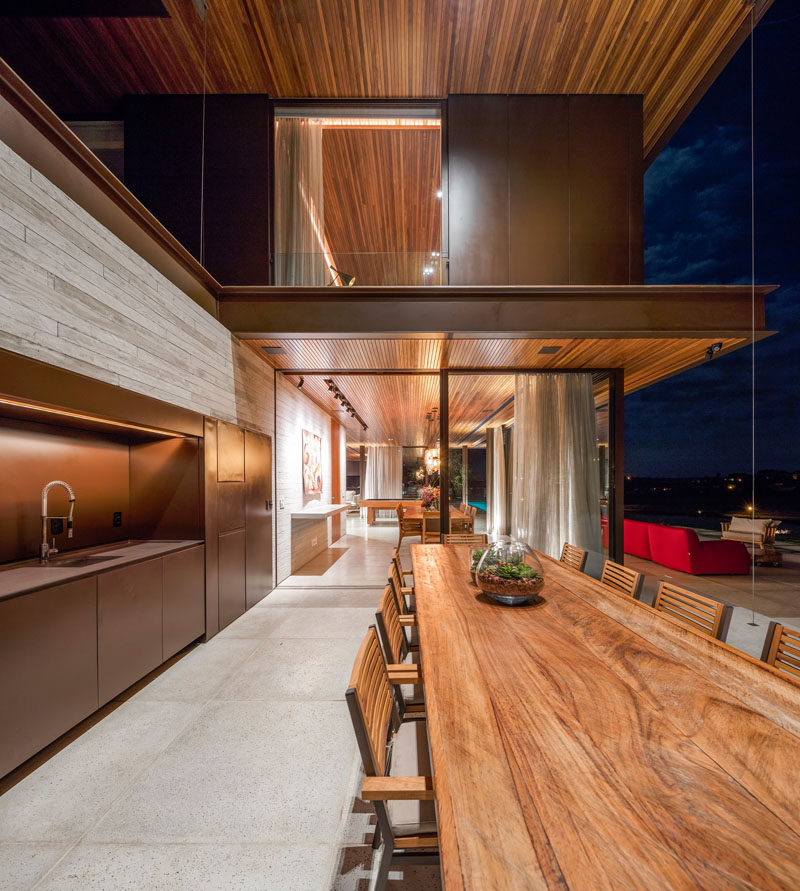 ---
Back inside, let's have a look at the stairs. From many angles the stairs appear to be just a black staircase, however when looking at the interior, you see the stairs and handrail are wood. But that's not all, there's also lighting that wraps its way up the stairs, hidden between the stairs and the handrail.
---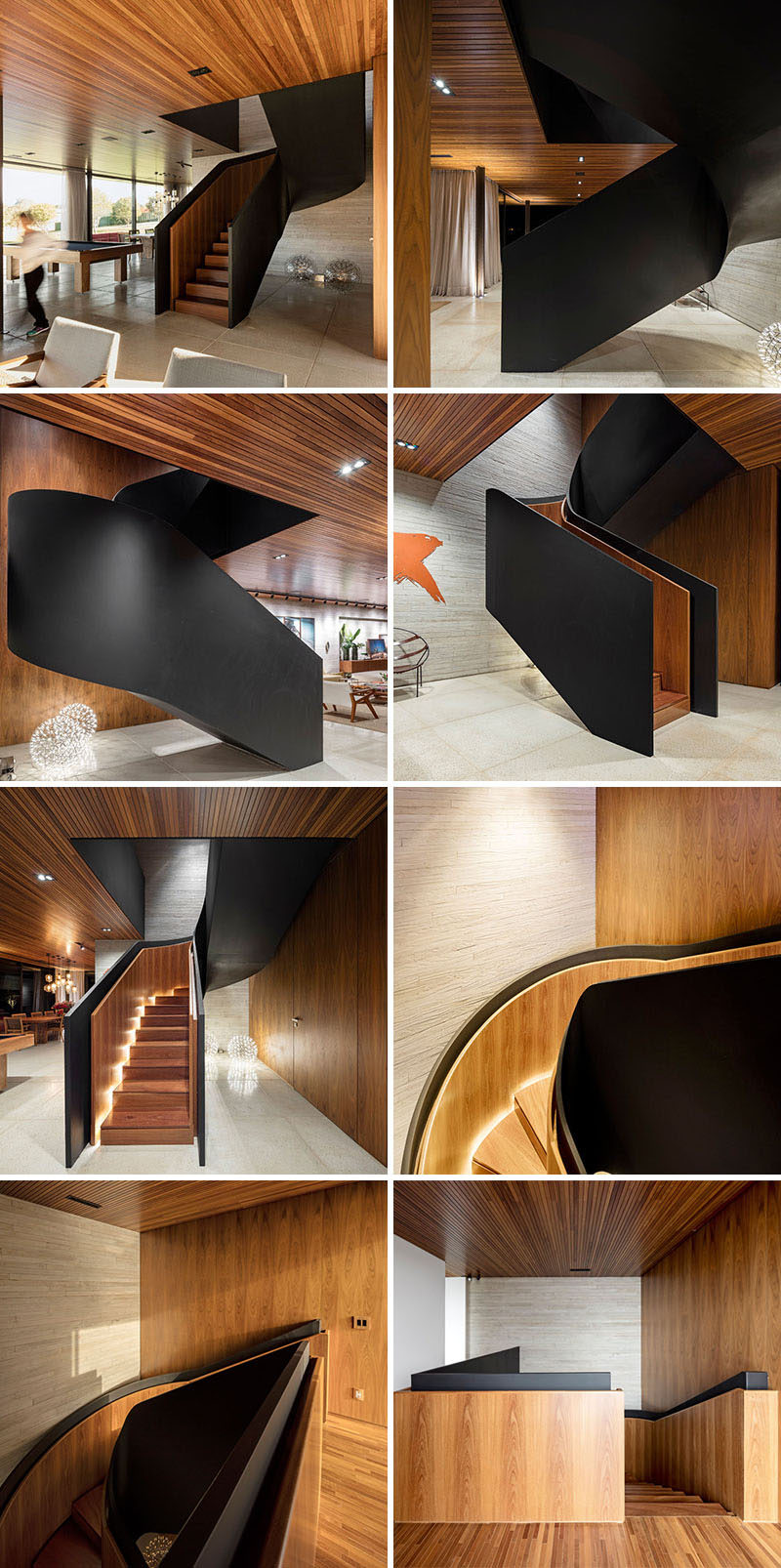 ---
Upstairs, there are bedrooms like this one, that has white walls with soft lighting hidden behind the custom-built headboard that runs the length of the room.
---
---
In the ensuite bathroom, there's a vanity with a single sink, and a walk-in shower with lots of light from a skylight.
---
---
Here's a second bedroom that has been set up as a guest room with two beds.
---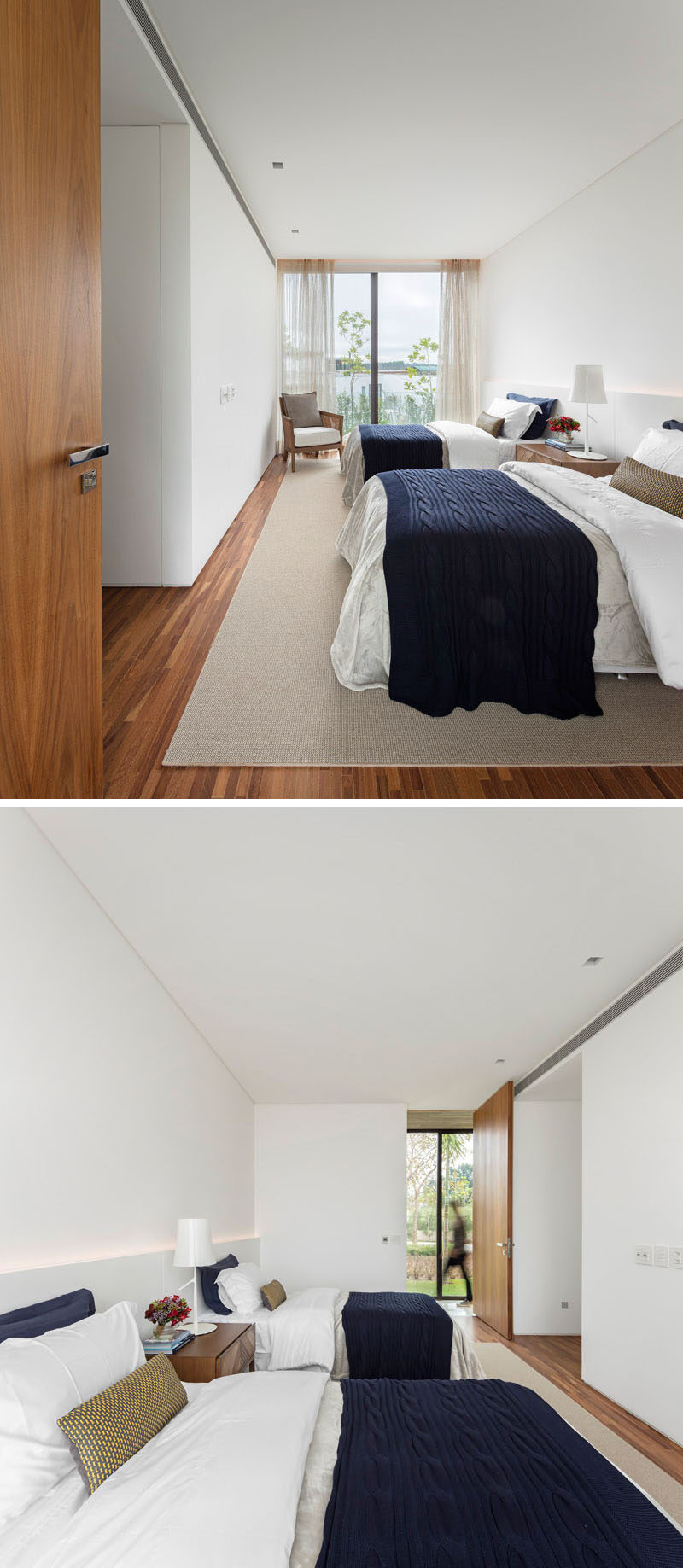 ---
The master bedroom has it's own lounge area, and doors all around open up to a private balcony.
---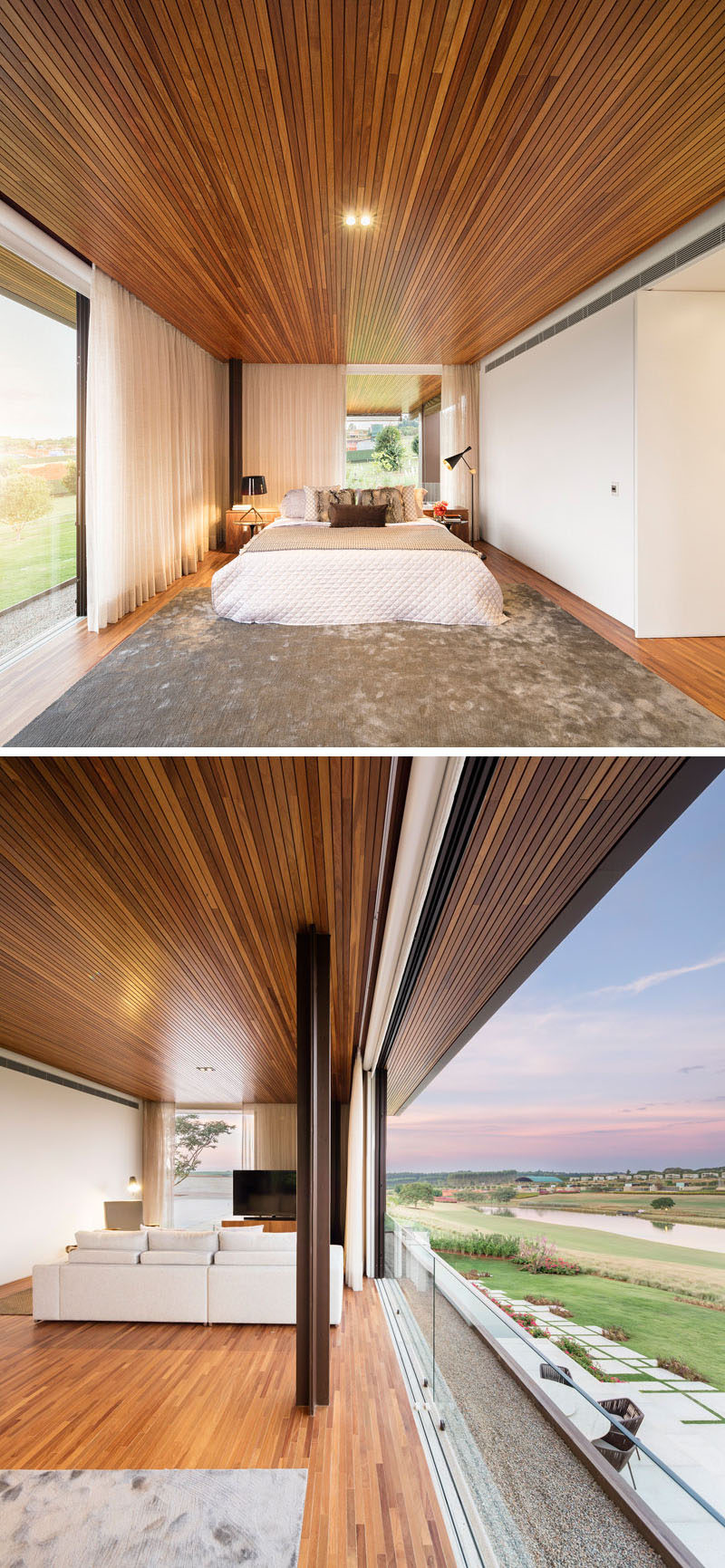 ---
In the master bathroom, there's a dual sink vanity, and a floor-to-ceiling window, but don't worry, it becomes frosted when needed for privacy.
---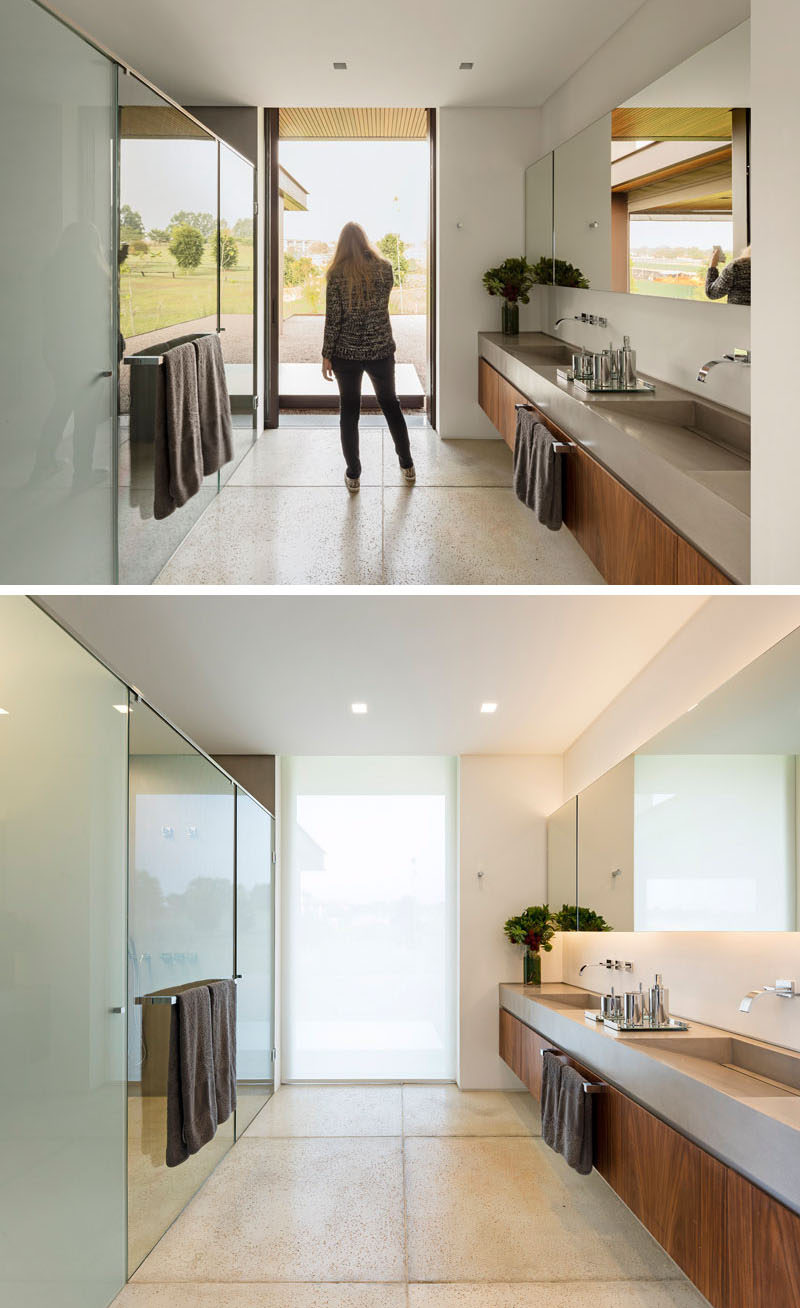 ---
Off the top floor, there's a rooftop patio to take advantage of the views.
---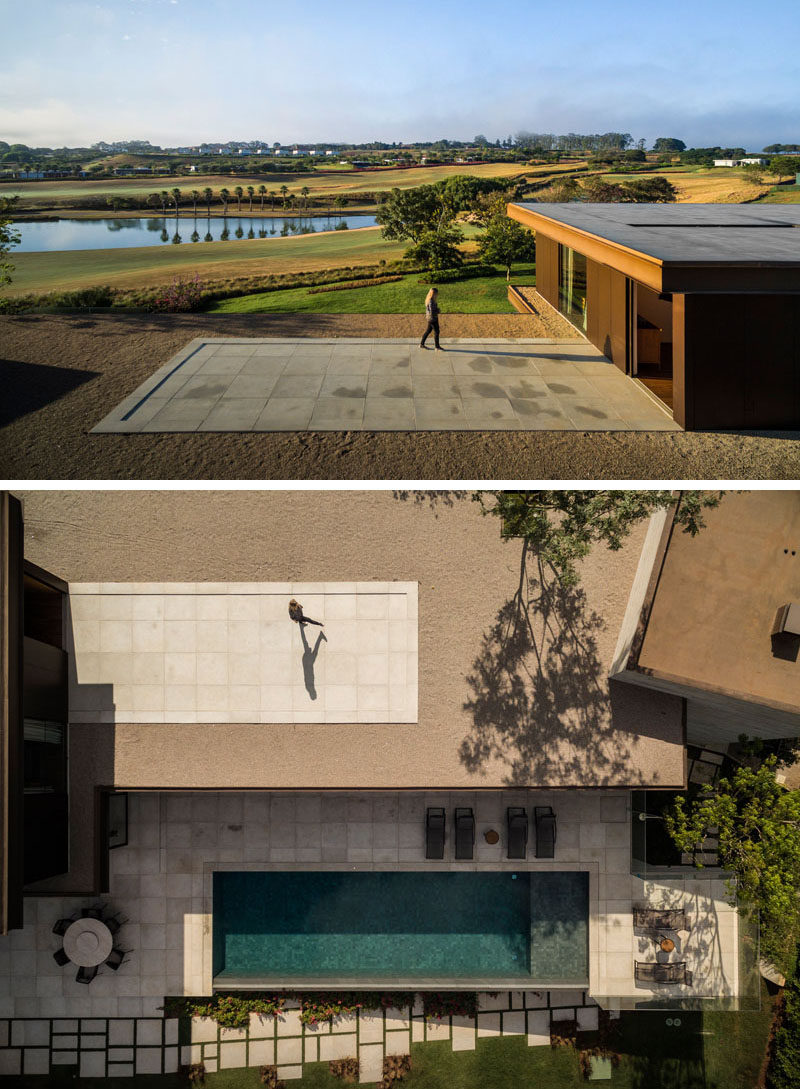 ---
Here's another view of the house, showing a custom built circular vegetable garden.
---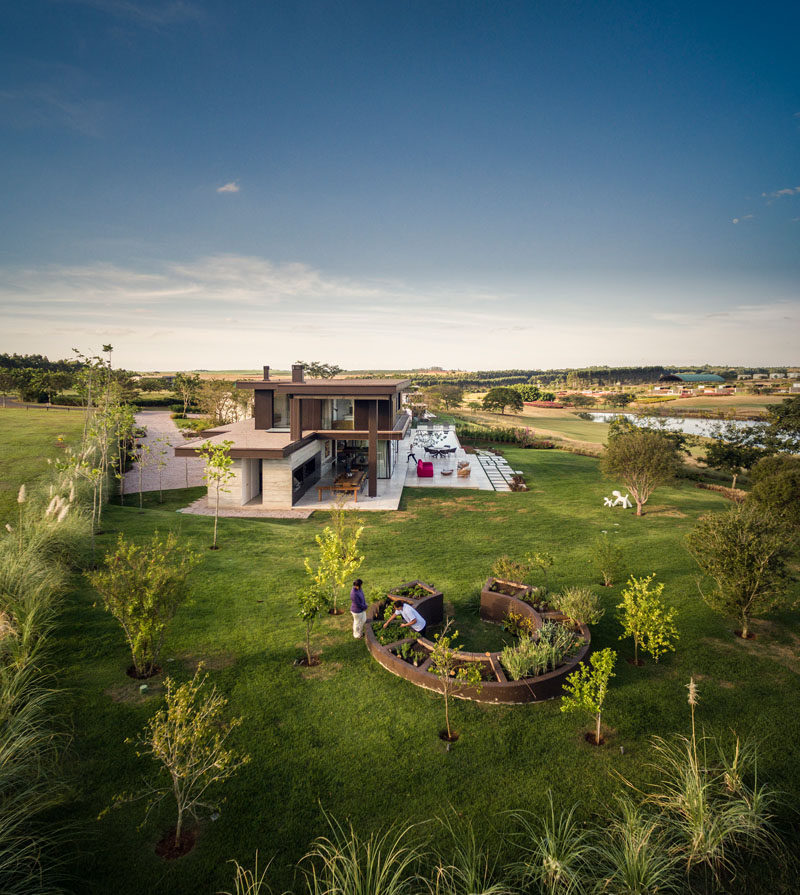 ---