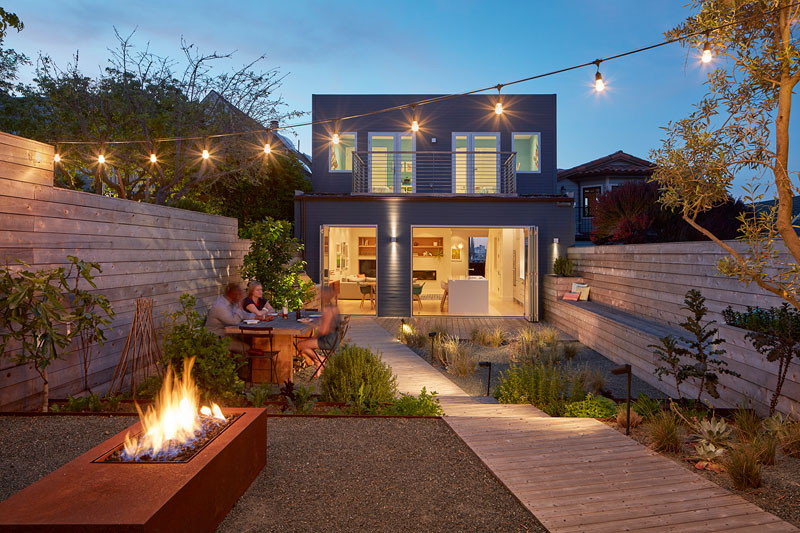 "Give us an urban oasis, something minimal and modern but warm with a seamless flow from inside to out", that was the mandate from the clients, a family of four, to the architect, for this San Francisco home remodel.
The existing house did not have a usable top floor, so YAMAMAR Design Architects added a third story, freeing up the main floor for open plan living, dining and entertaining. There's also an in-law unit tucked away above the garage.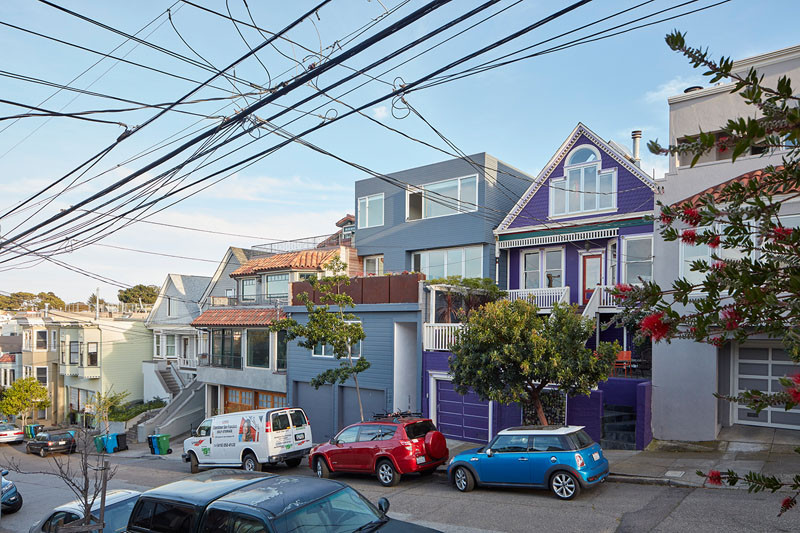 ---
YAMAMAR Design Architects worked together with landscape design firm Terremoto, to design the backyard.
---
---
The fully landscaped backyard has had the space split up into various sections, like dining, socialising, and resting.
---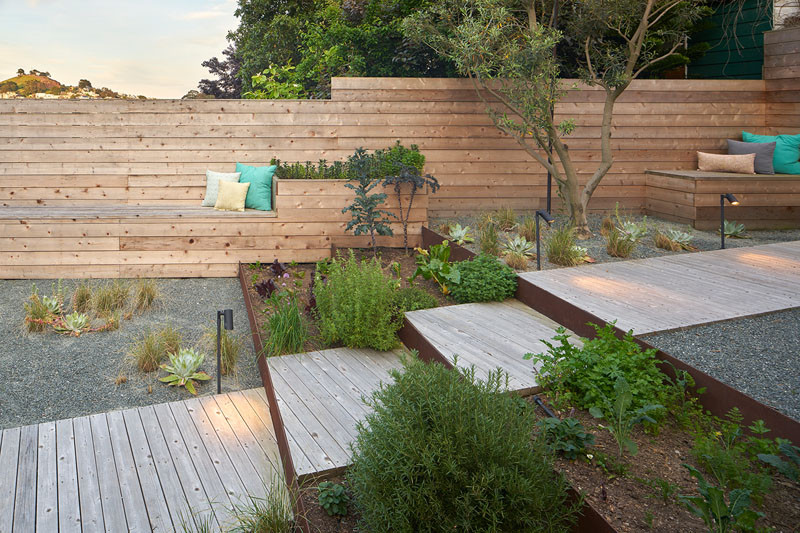 ---
Along one side of the backyard, is a wood bench, that almost runs the entire length of the space.
---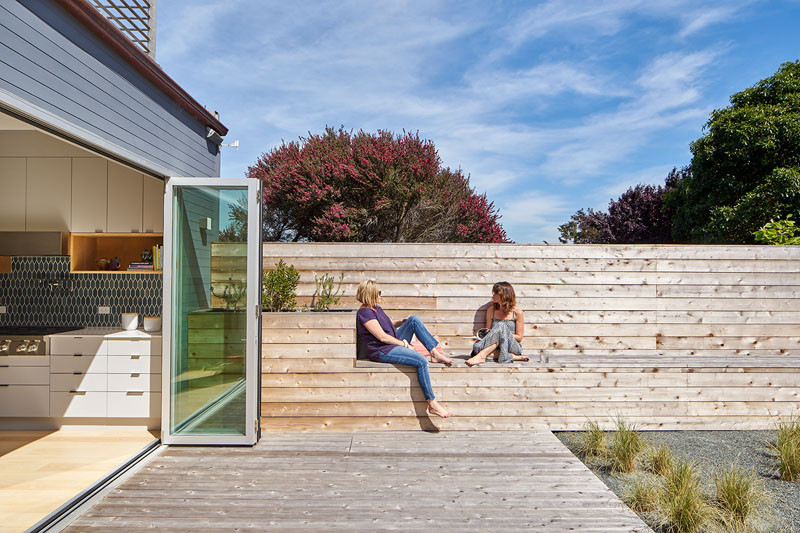 ---
The bench leads you directly into the kitchen.
---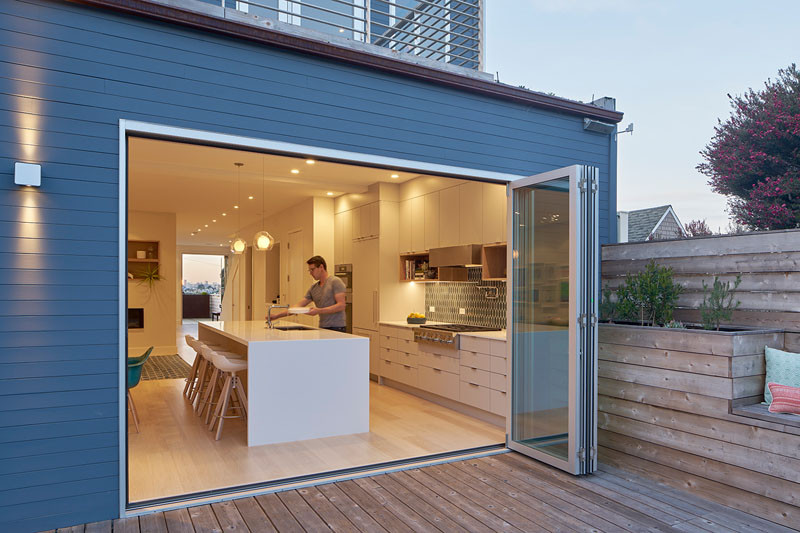 ---
Folding doors open directly onto the backyard, essentially extending the kitchen area, especially with access to the BBQ.
---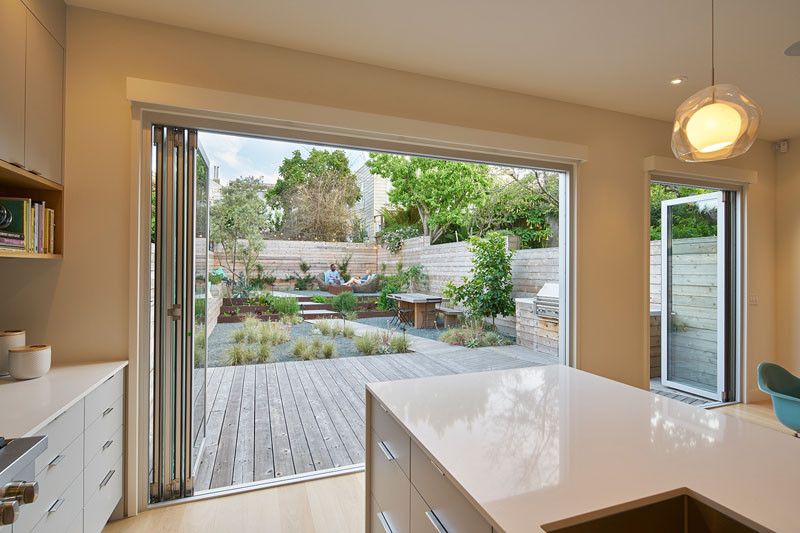 ---
The diagonal path in the backyard lines up perfectly with the door to the inside.
---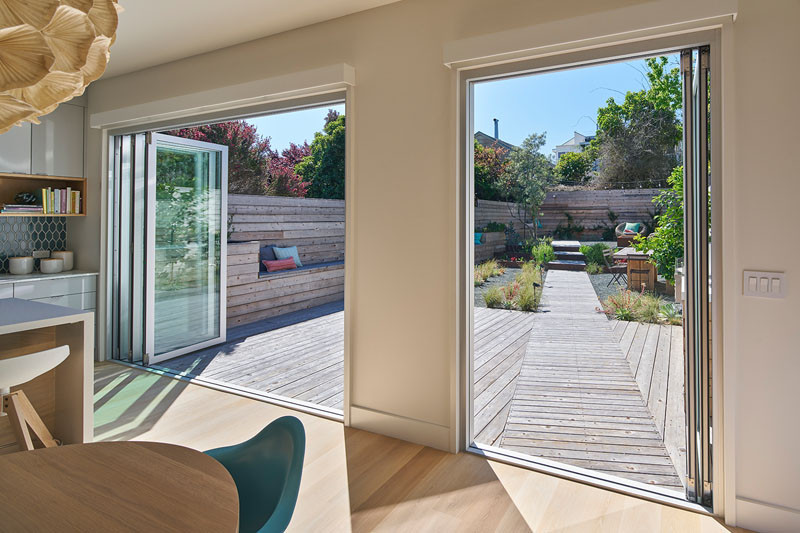 ---
Here's a look at the LaCantina® folding doors.
---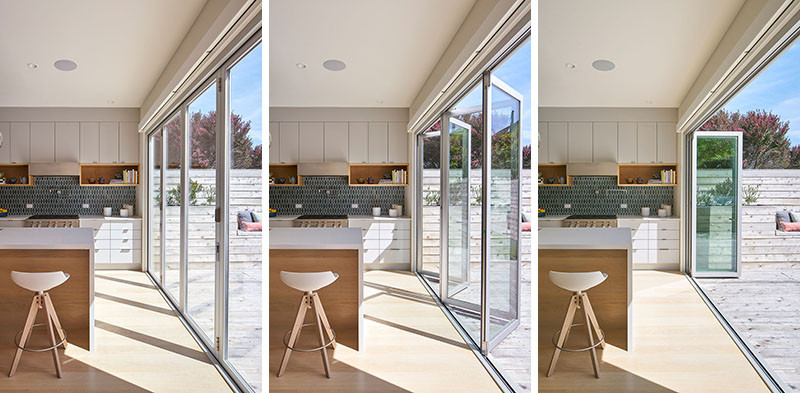 ---
In the kitchen, blue tiles add some color to the white and wood kitchen palette.
---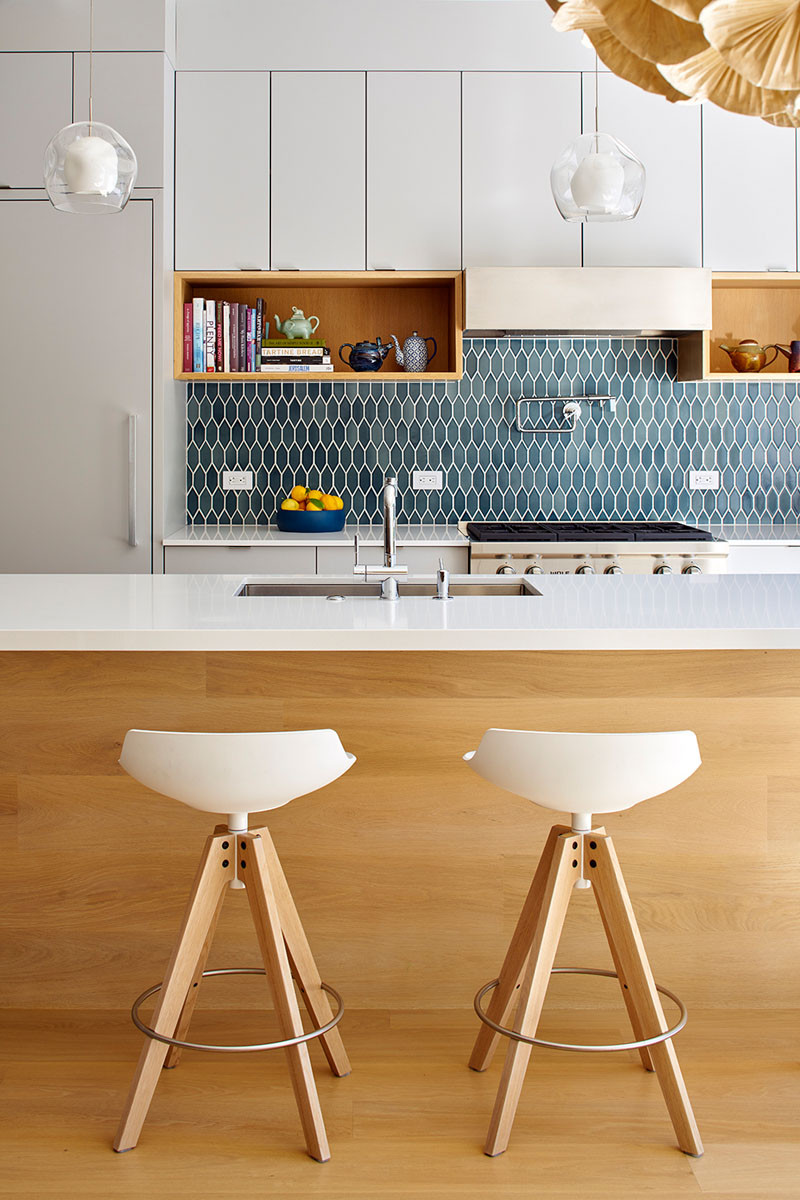 ---
Next to the kitchen is a circular dining table and chairs, with a large sculptural pendant light.
---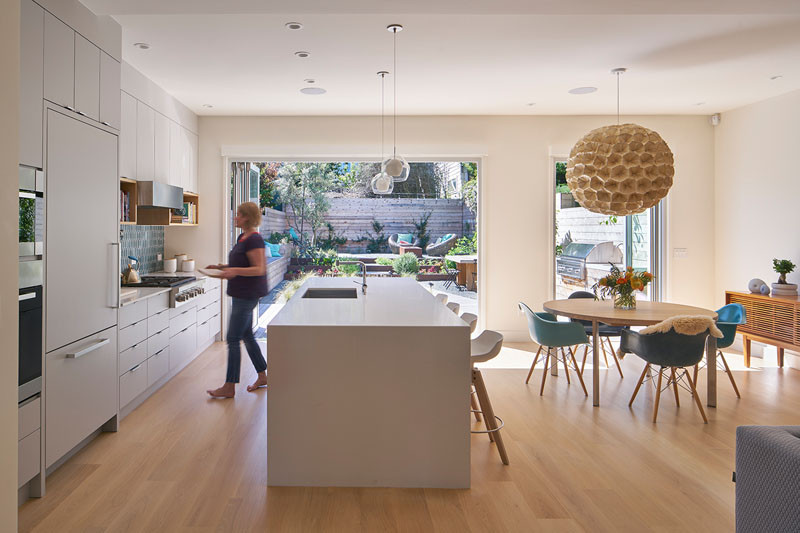 ---
From the front of the home, you can see through to the backyard.
---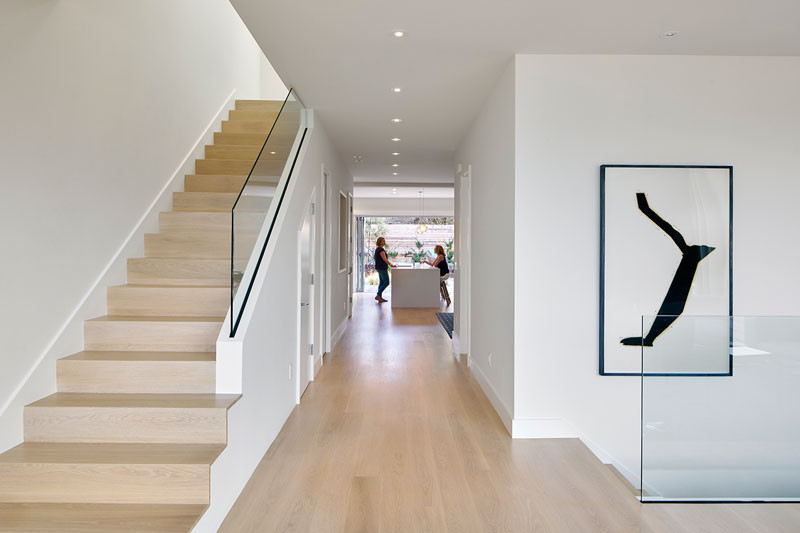 ---
Wood and white stairs lead you to the different levels of the home.
---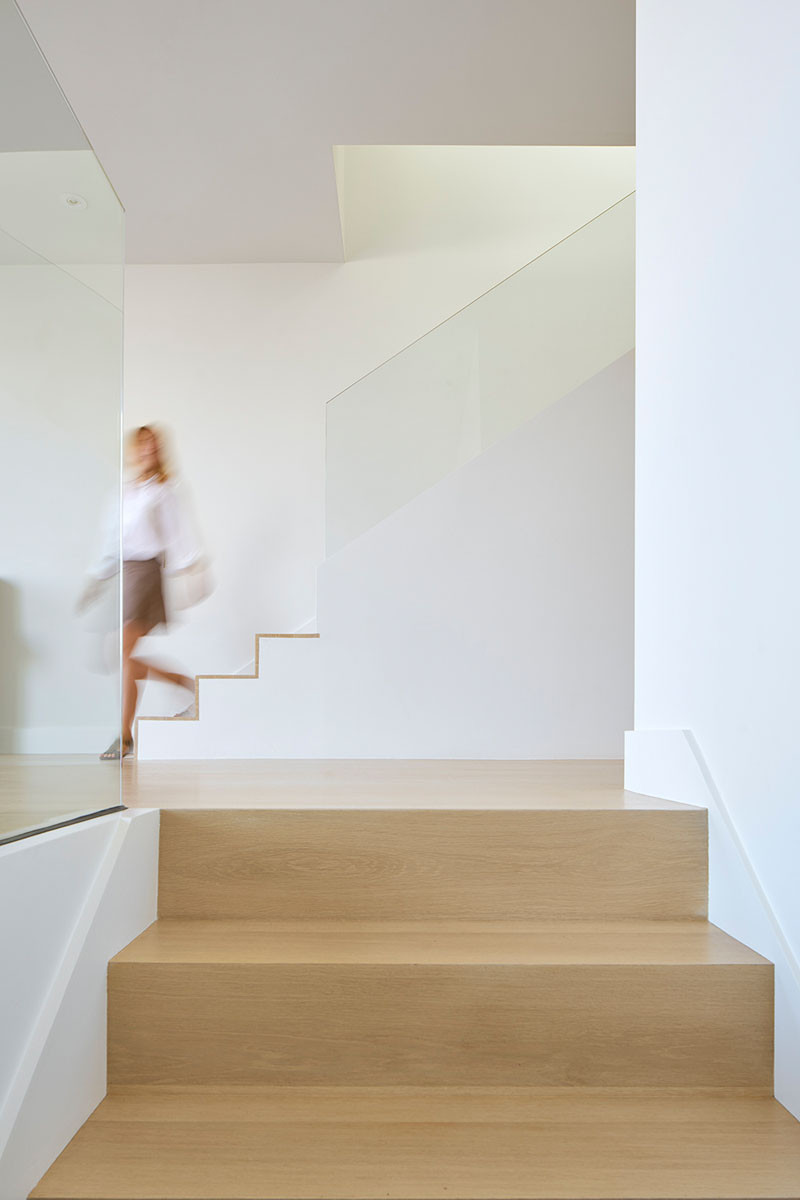 ---
The architects worked with Alison Damonte Design to complete the interior design of the home.
---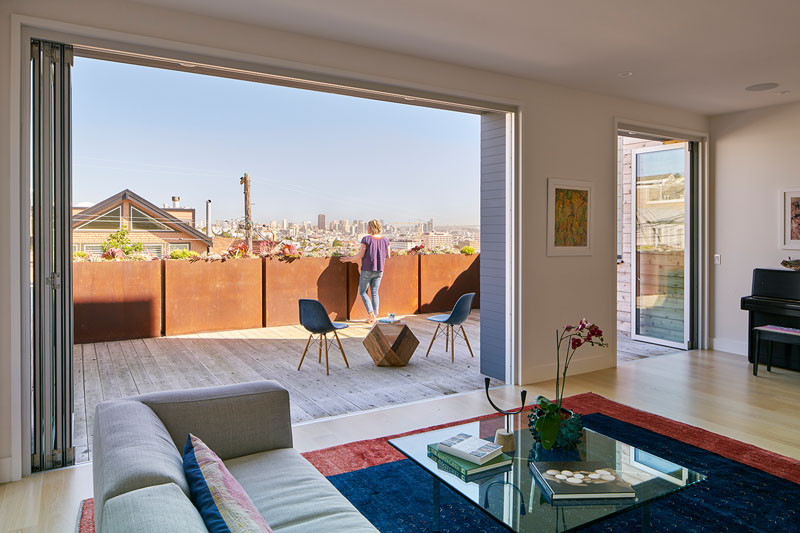 ---
Off the living area there's a deck with views of downtown San Francisco.
---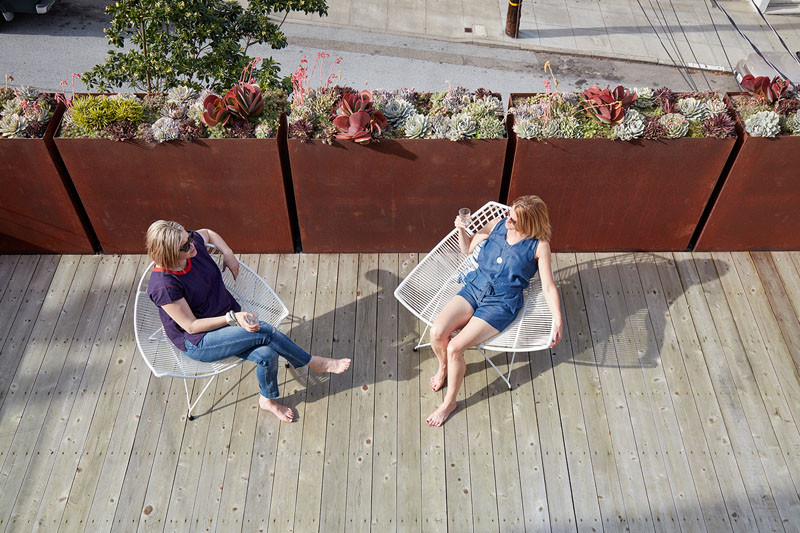 ---
Weathered steel planters line the deck and are filled with succulents.
---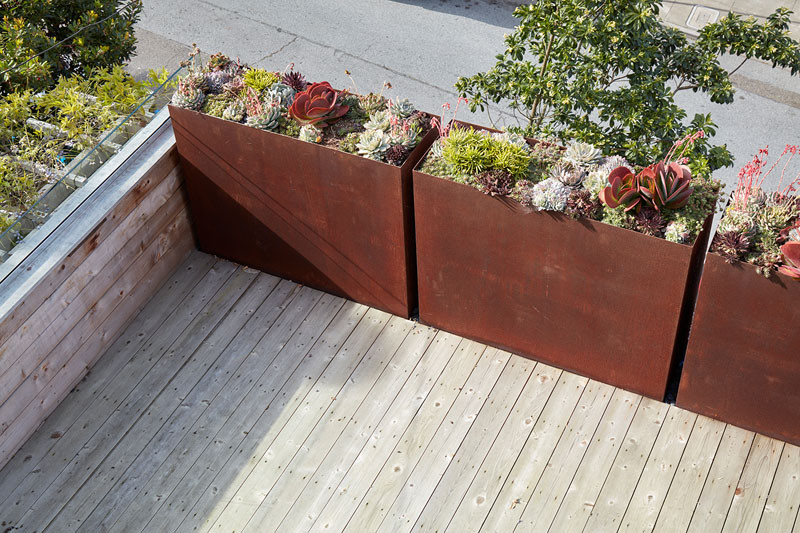 ---
Throughout the home, wide plank engineered white oak floors have been installed.
---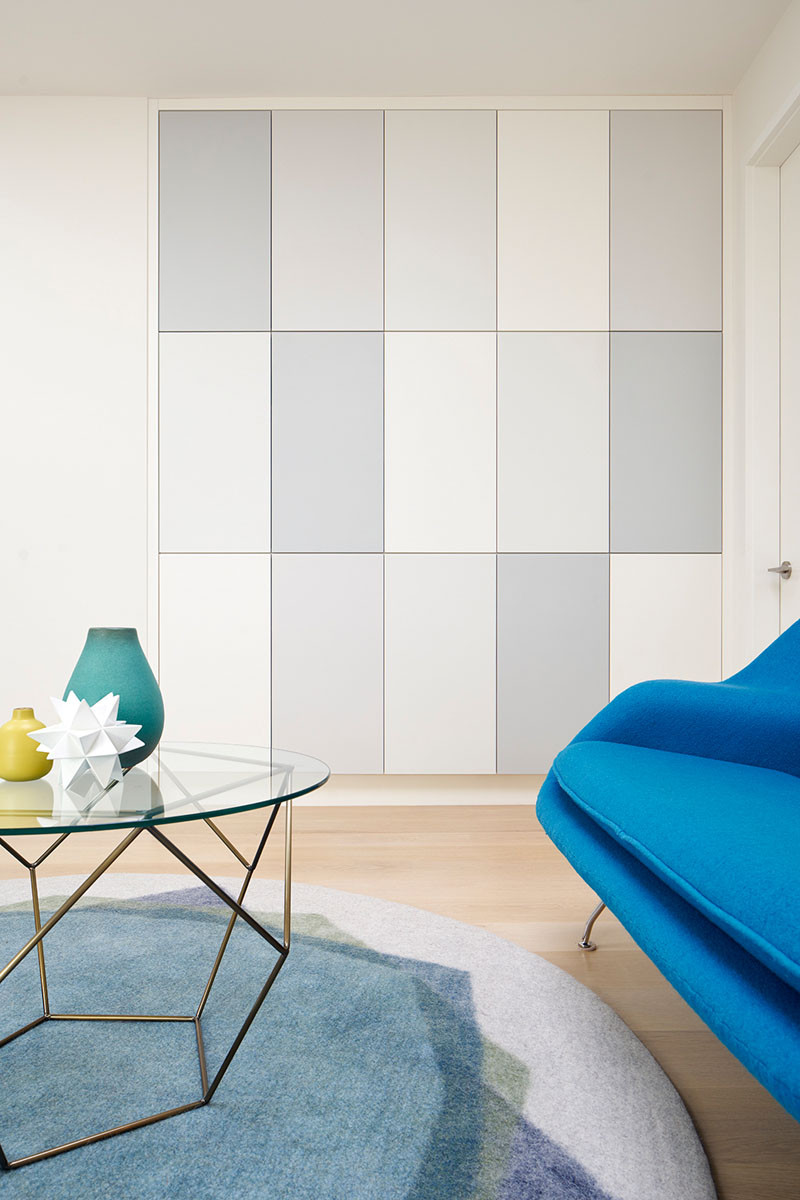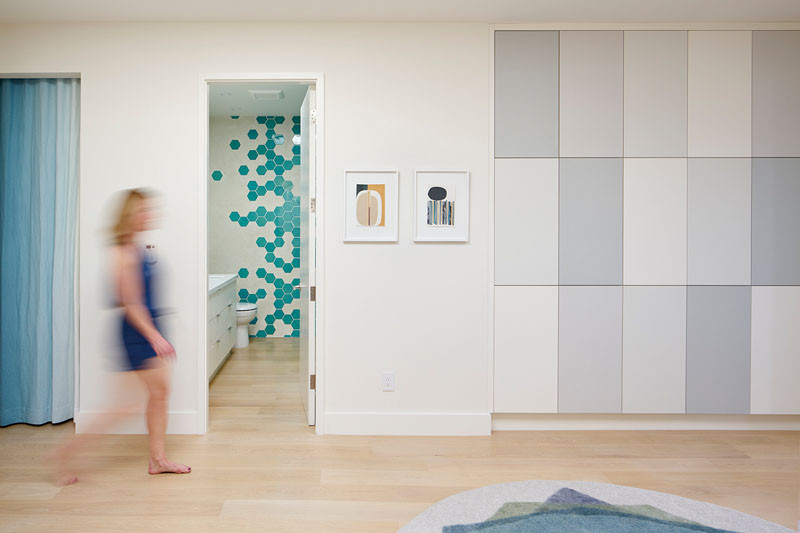 ---
Blue hexagon tiles add some color to this otherwise white bathroom.
---
---
The hexagon theme carries through to this bedroom, with the colorful hexagon shelves on the wall.
---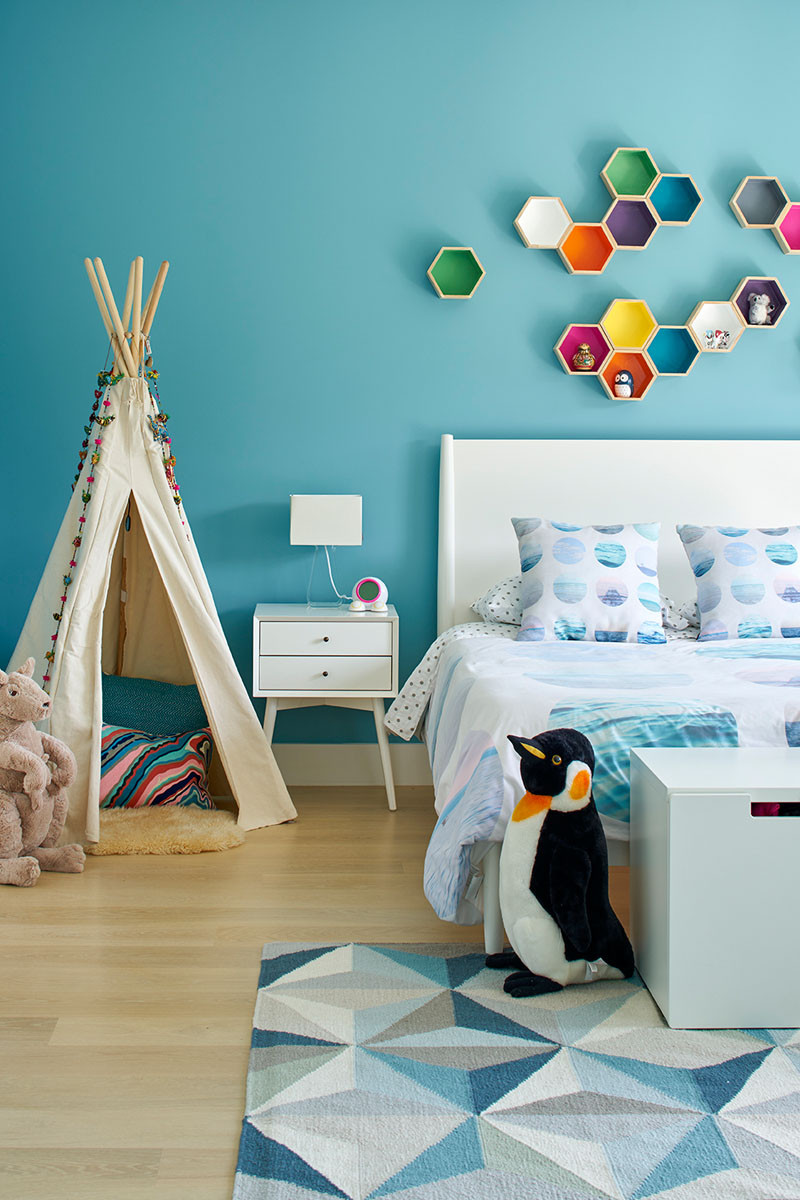 Photography by Bruce Damonte
---
In the second bathroom, dual sinks and dual mirrors have been included in the design,
---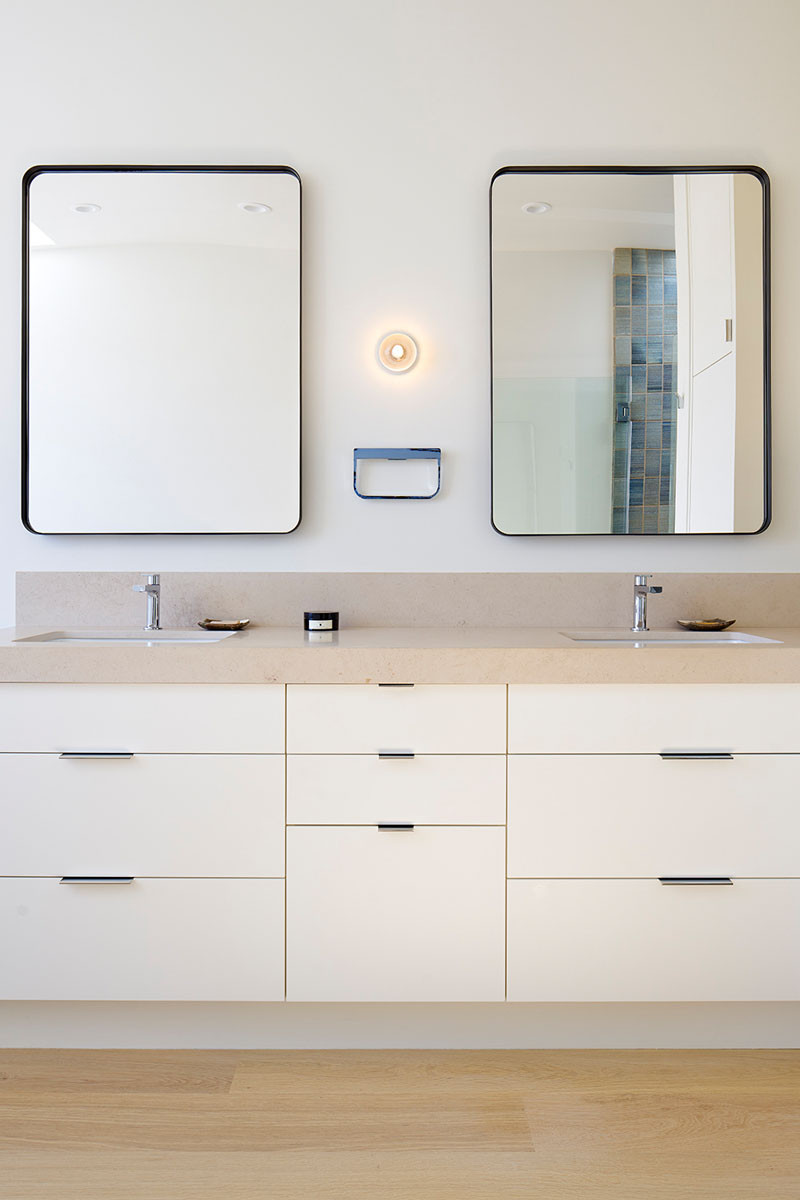 ---
The bath has been positioned to take advantage of the view.
---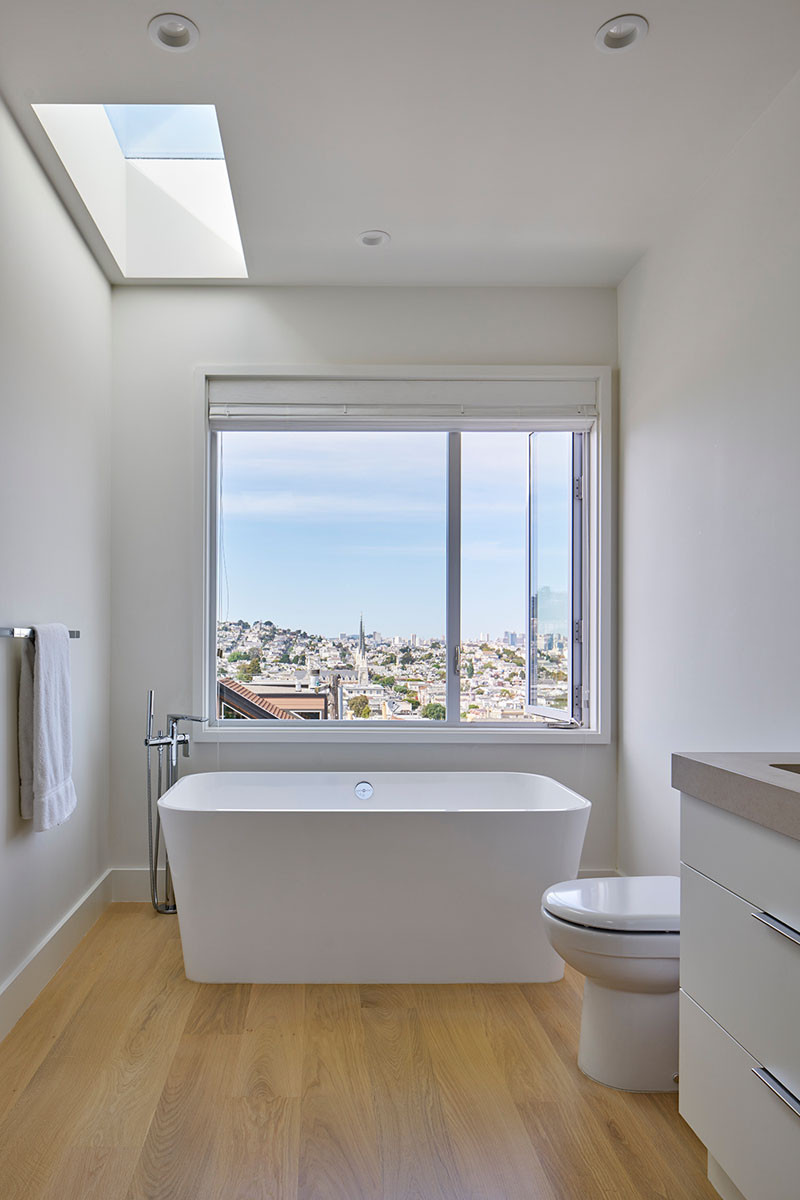 ---
At the other end of the bathroom. soft blue/grey tile covers the walls and floor of this shower.
---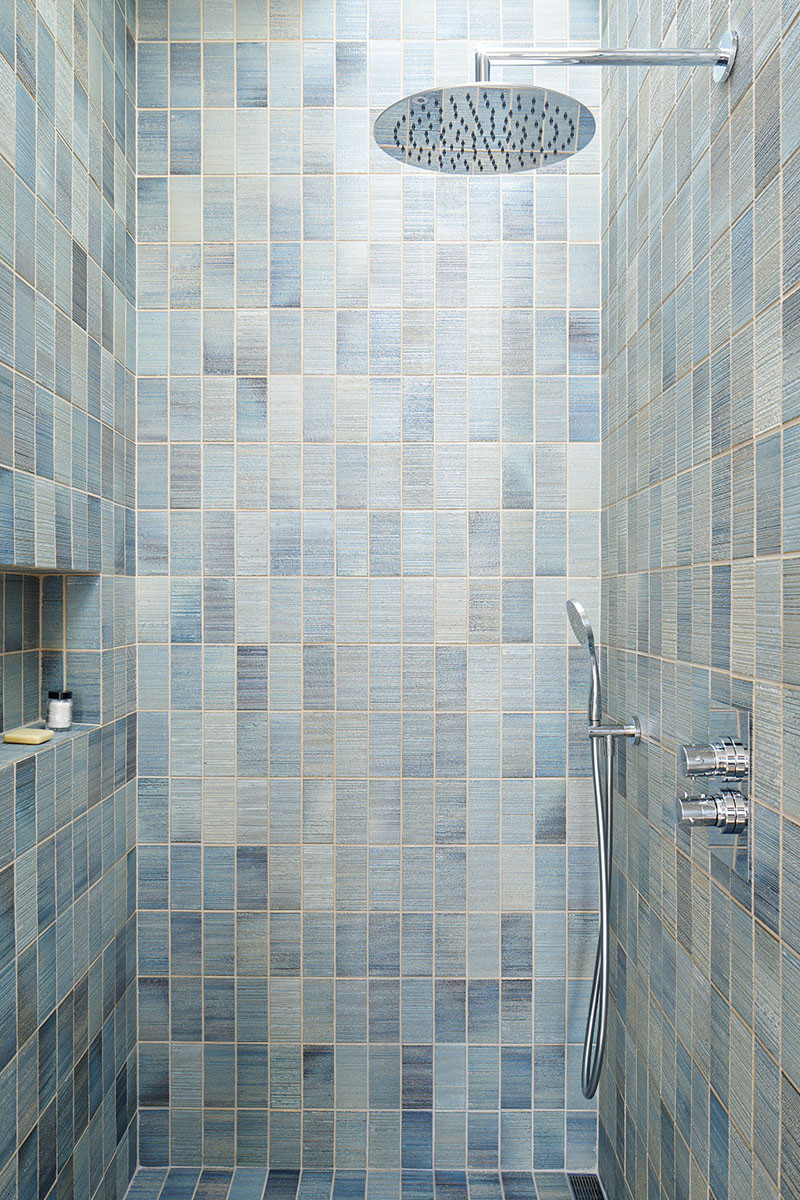 ---