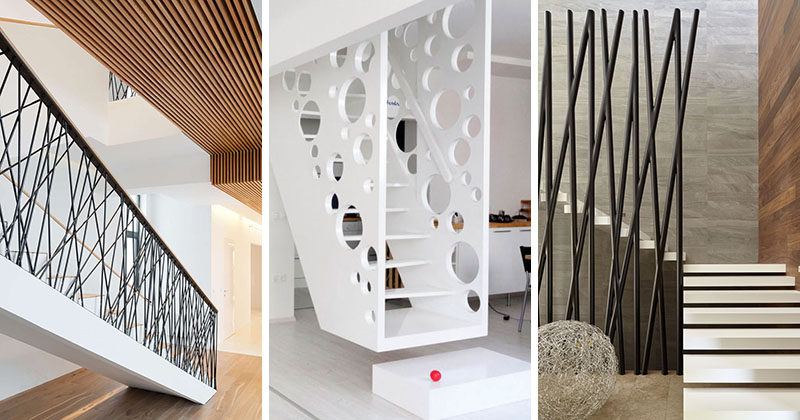 Here are 11 examples of creative stair railings that show how railings don't have to be boring and can be the focal point in a house.
1. A sheet of metal has been laser cut and painted green to create an artistic floral print that doubles as both a safety railing for the stairs and an artistic installation to look at while you go up and down the stairs.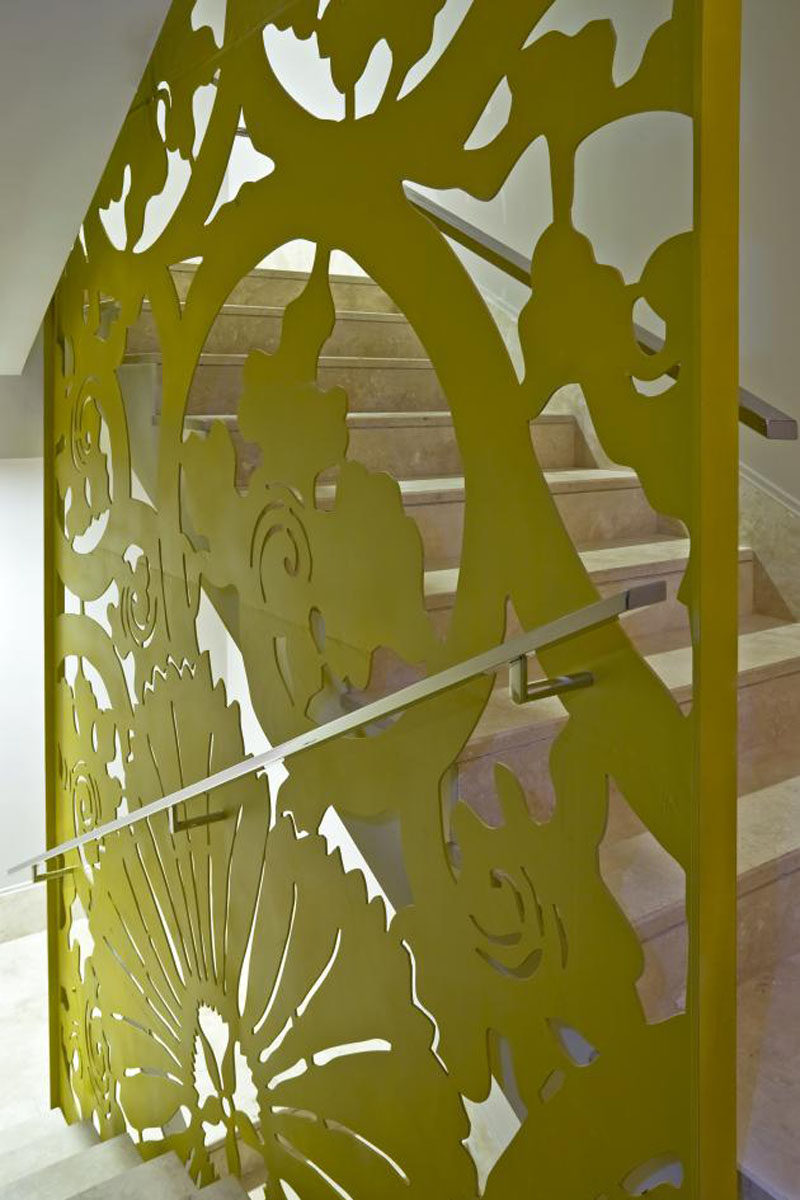 2. A patterned red safety railing on these wood stairs adds an artistic and bold statement in this modern house.

3. The metal safety railing on these stairs has a vertical pattern and adds dimension to the interior.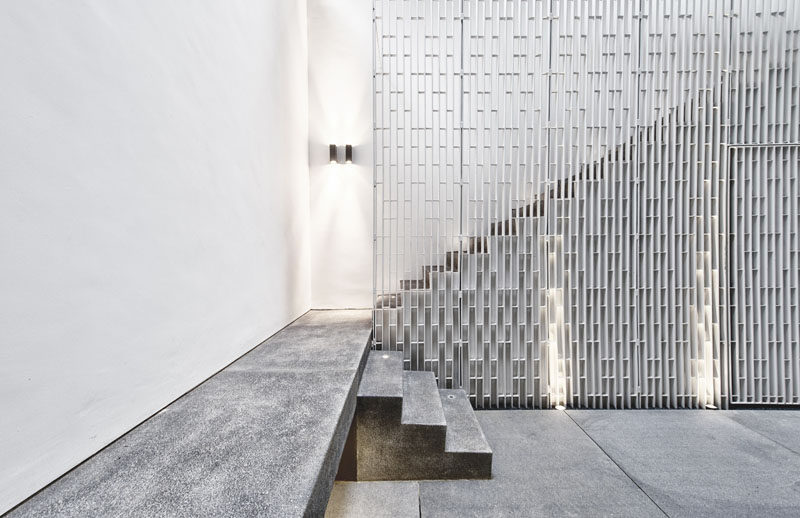 FARM designed this modern house in Singapore. Photography by Bryan van der Beek and Edward Hendricks.
4. This white sculptural railing running the length of the staircase is made from Corian to make sure it's strong, durable, and able to withstand lots of use over the years.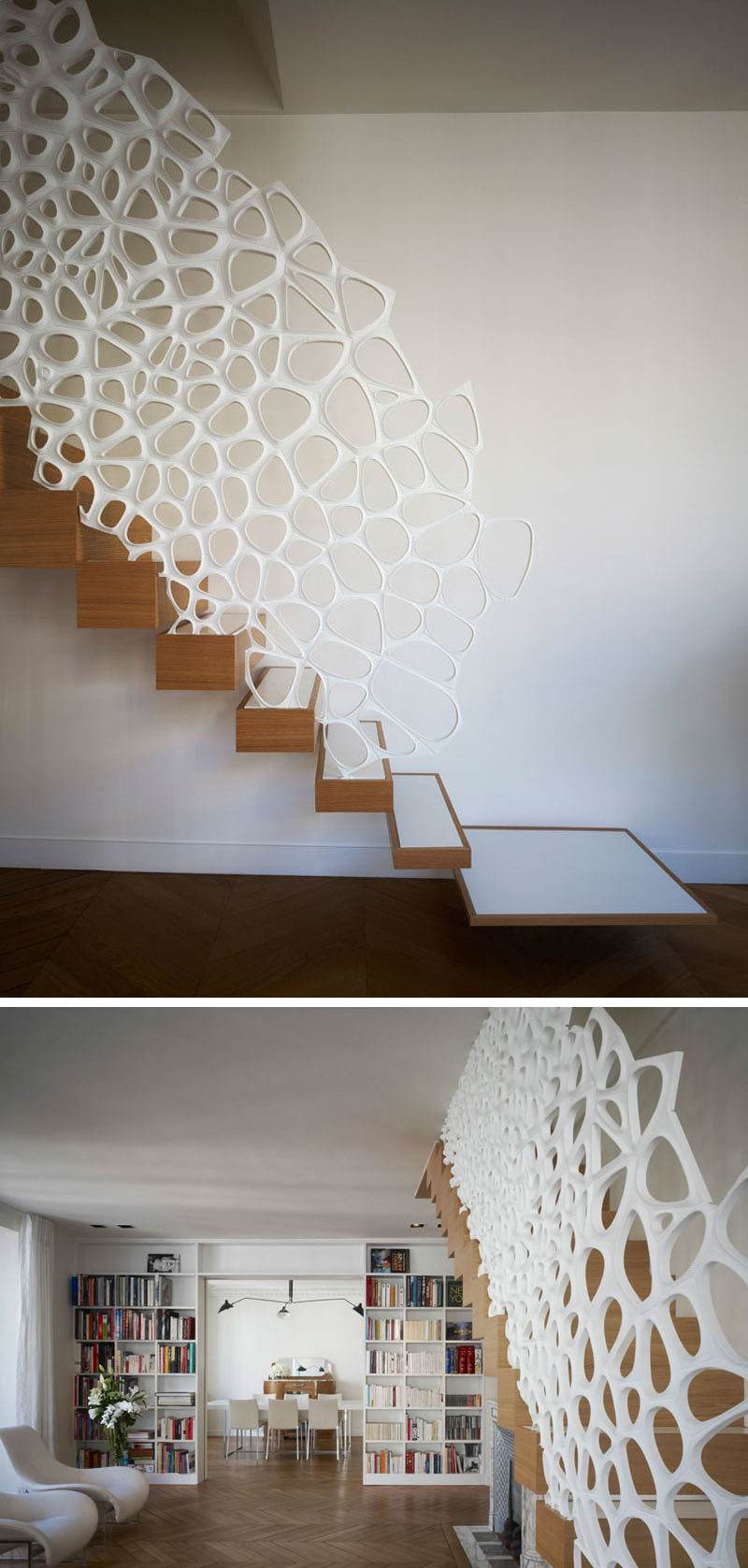 5. Randomly arranged steel rods have been placed on the railings of these stairs to both protect and act as a focal point in the home.

6. The artistic pattern on the railing of one side of this staircase not only creates a unique design detail in the home, but also creates the pattern on the opposite wall when the sun shines through the sliding glass door.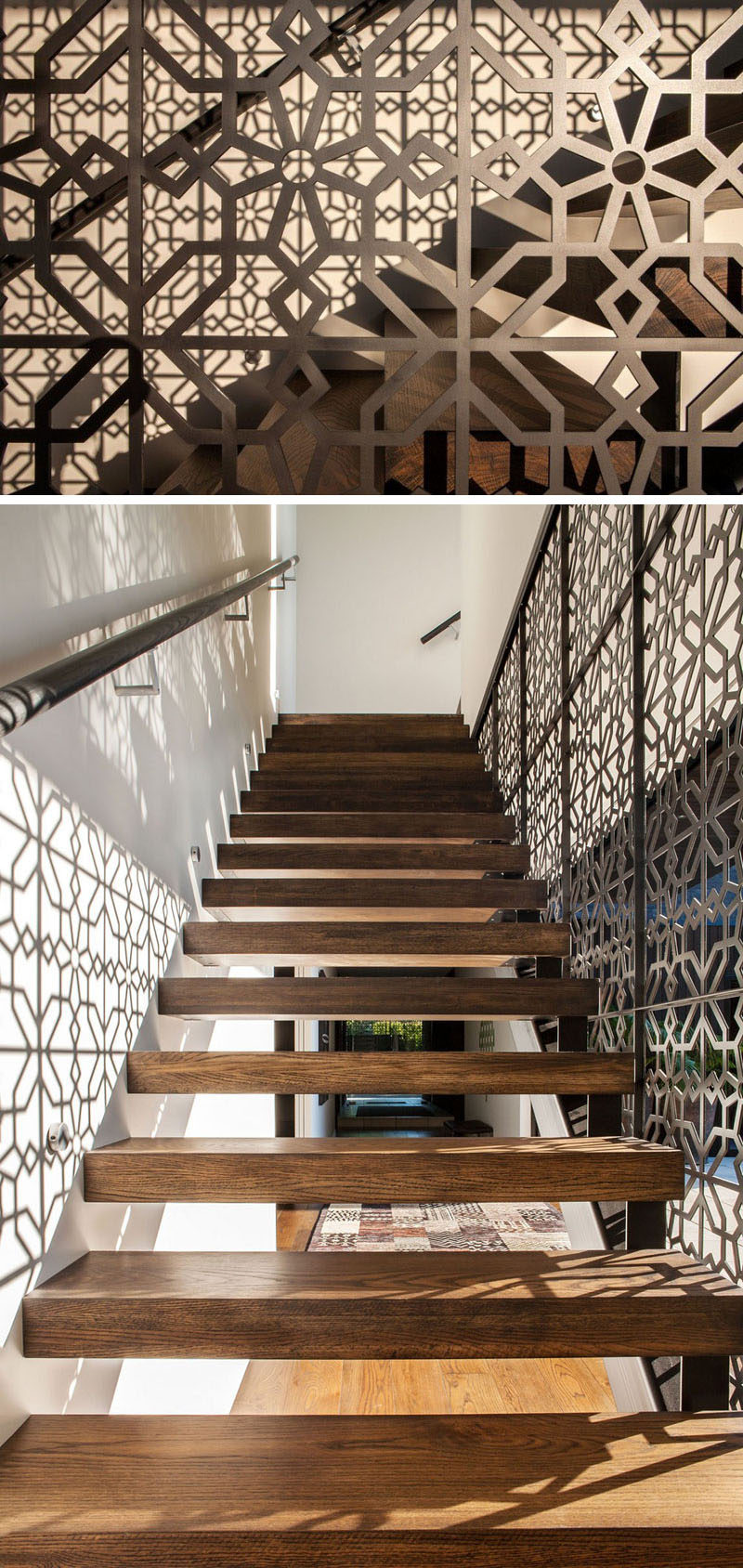 Dorrington Architects designed this modern house in Auckland, New Zealand. Photography by Emma-Jane Hetherington.
7. This playful, white, hanging staircase has circular cutouts on both sides to add an element of safety to the stairs and make the space feel more open and connected.
Biljana Jovanovic designed these modern stairs for a home in Budapest, Hungary. Photography by Gerardo Altemir.
8. This creative metal stair railing has designs on it that make it resemble the look of the bark on the trees surrounding this home in the Pacific Northwest.

9. The large black metal poles protecting the side of this floating staircase have both a natural and industrial look to them that helps create a modern look throughout the home.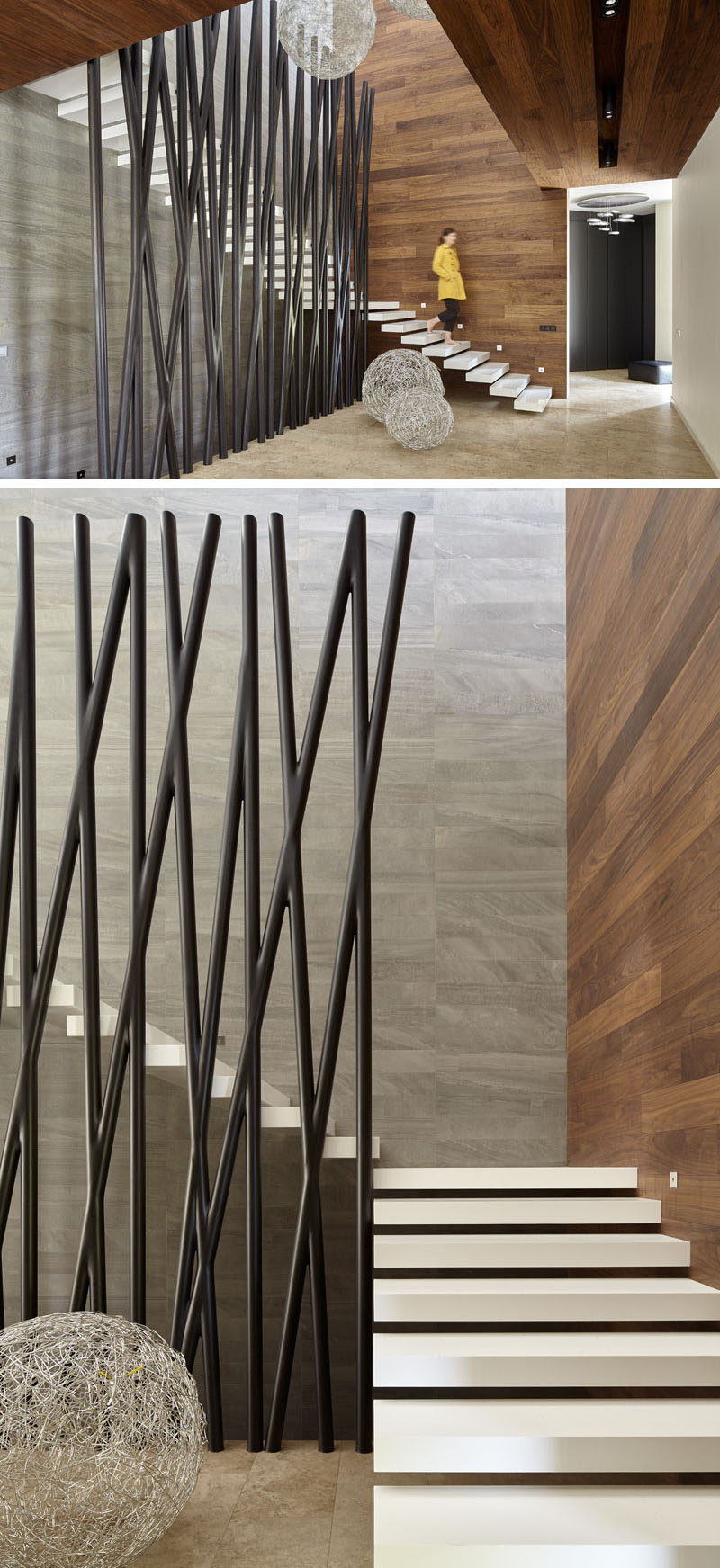 Fedorova designed this home in Russia.
10. This custom designed white spiral staircase features a laser-cut design that was inspired by the currents and waves of the ocean nearby.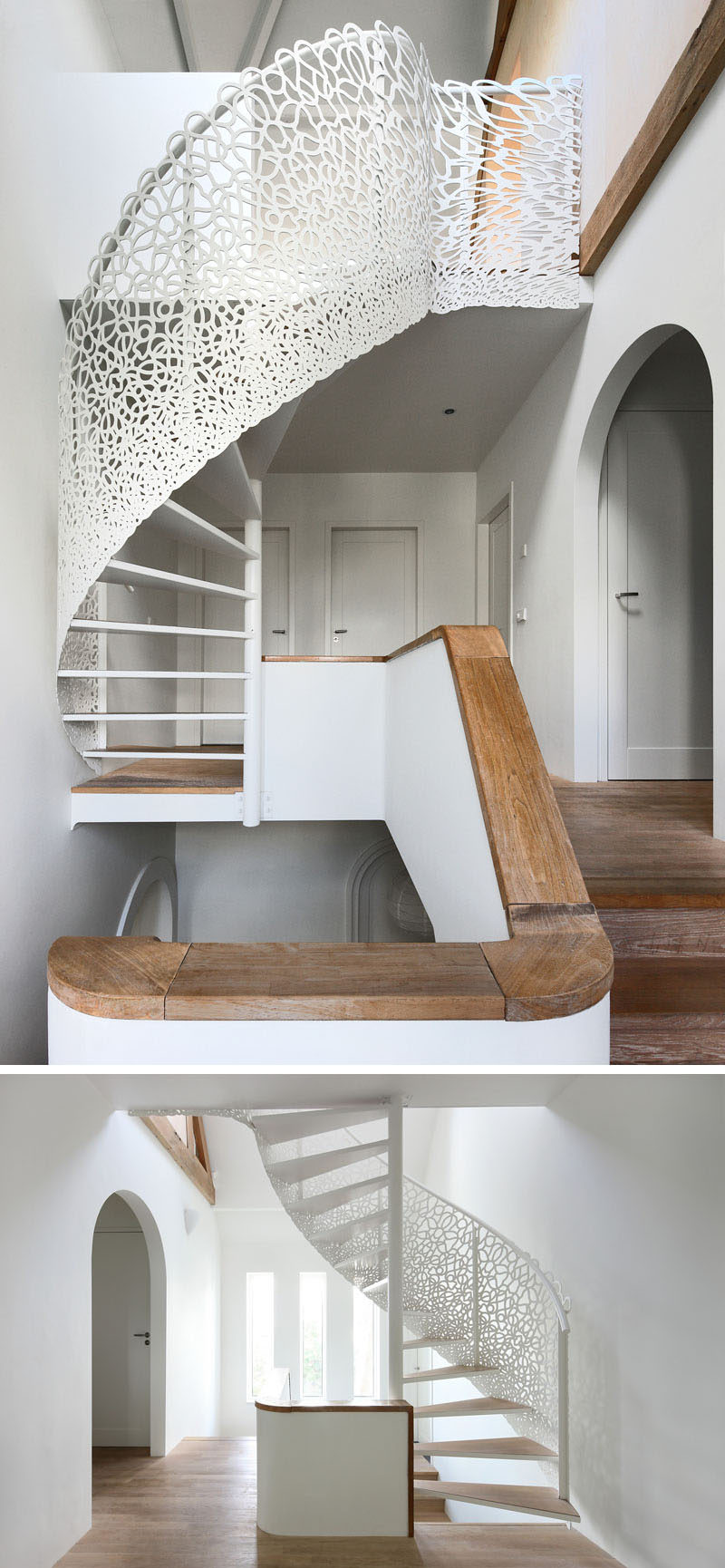 Maxwan designed this home in The Netherlands. Photography by Filip Dujardin.
11. The black metal safety railing protecting one side of the staircase matches the design of a white fence that surrounds the house, creating continuity throughout the house and adding extra safety to the stairs.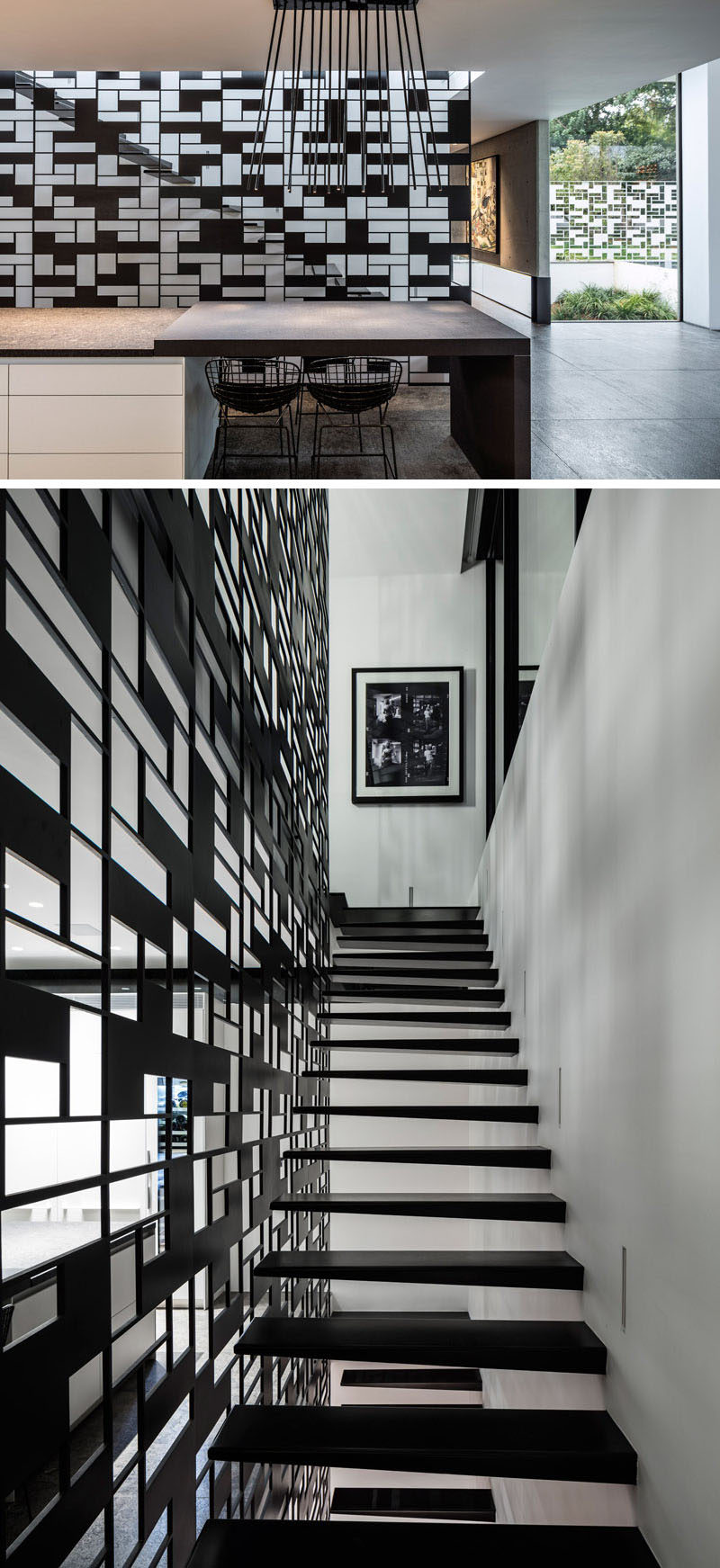 Pitsou Kedem designed this house in Tel Aviv, Isreal. Photography by Amit Geron.