Before And After – The Hollyridge House Renovation By AUX Architecture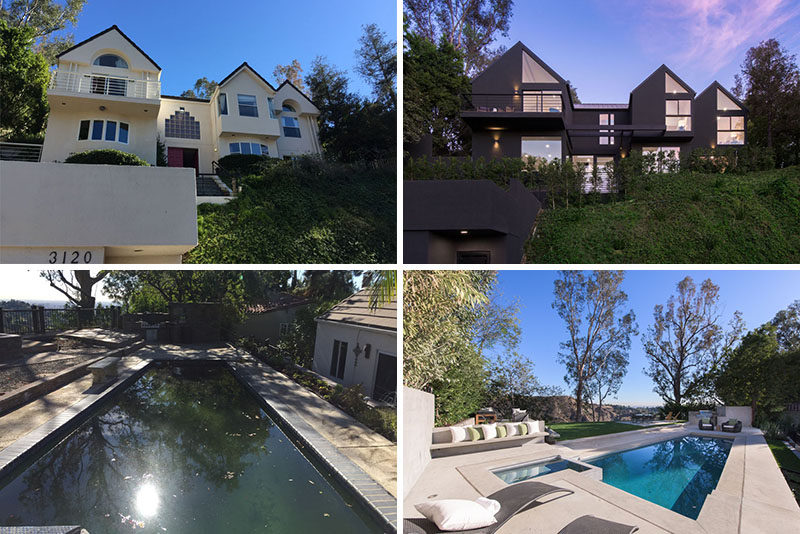 Before photos courtesy of AUX Architecture | After photos by John Galich Group
AUX Architecture have recently completed the renovation of a house in the Hollywood Hills, California, that was once owned by Red Hot Chili Peppers' Anthony Kiedis.
The home, which is currently for sale, was originally built in 1989, and had previously undergone multiple owners and renovations, giving it a mostly Southern California Mediterranean look with a Spanish tile roof and tiny windows.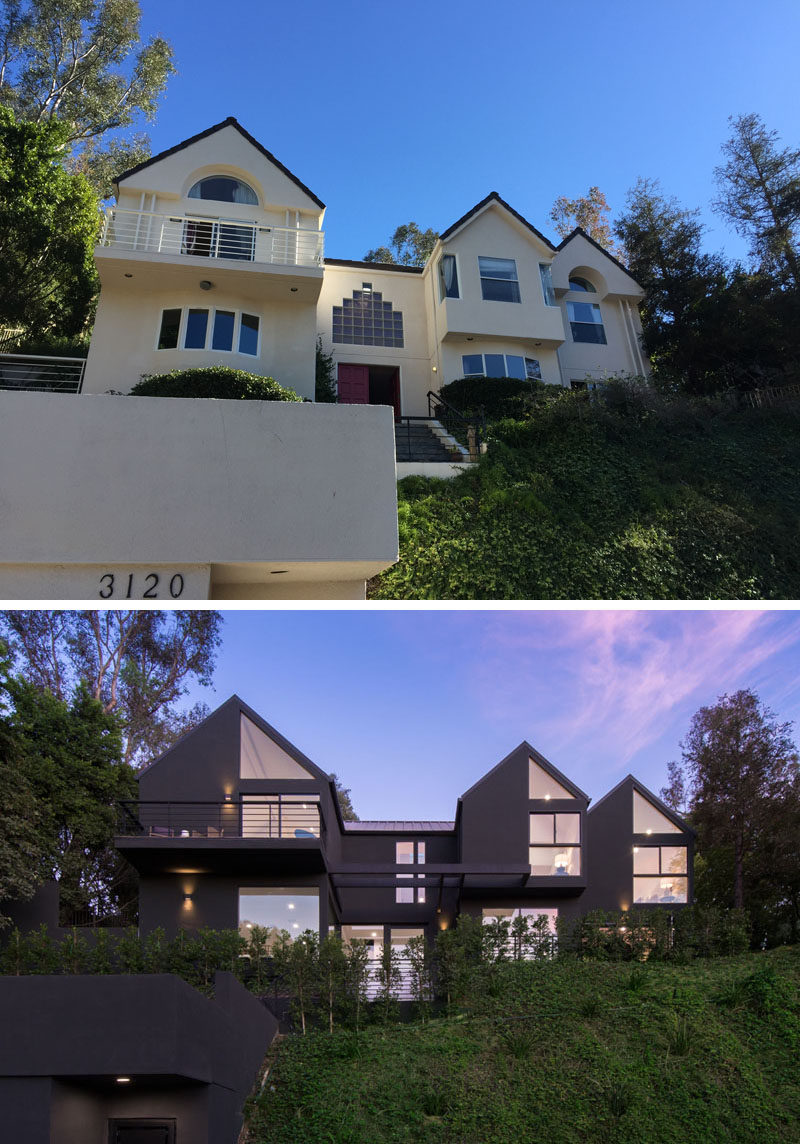 Before photos courtesy of AUX Architecture | After photos by John Galich Group
---
AUX Architecture, led by Brian Wickersham, worked within a budget to produce an impactful and transformative design without structurally changing the home's rooflines.
---

Before photos courtesy of AUX Architecture | After photos by John Galich Group
---
The backyard, which has views of the surrounding neighborhood, also received a major overhaul, with an updated pool and bbq area, built-in seating, a new lawn and patio area.
---

Before photos courtesy of AUX Architecture | After photos by John Galich Group
---
Inside the house, the architects created a space that emphasizes indoor-outdoor living with lighter and brighter spaces. In the living room, the white walls are broken up by black-framed windows and doors, while in the corner, there's a fireplace that almost blends its surroundings.
---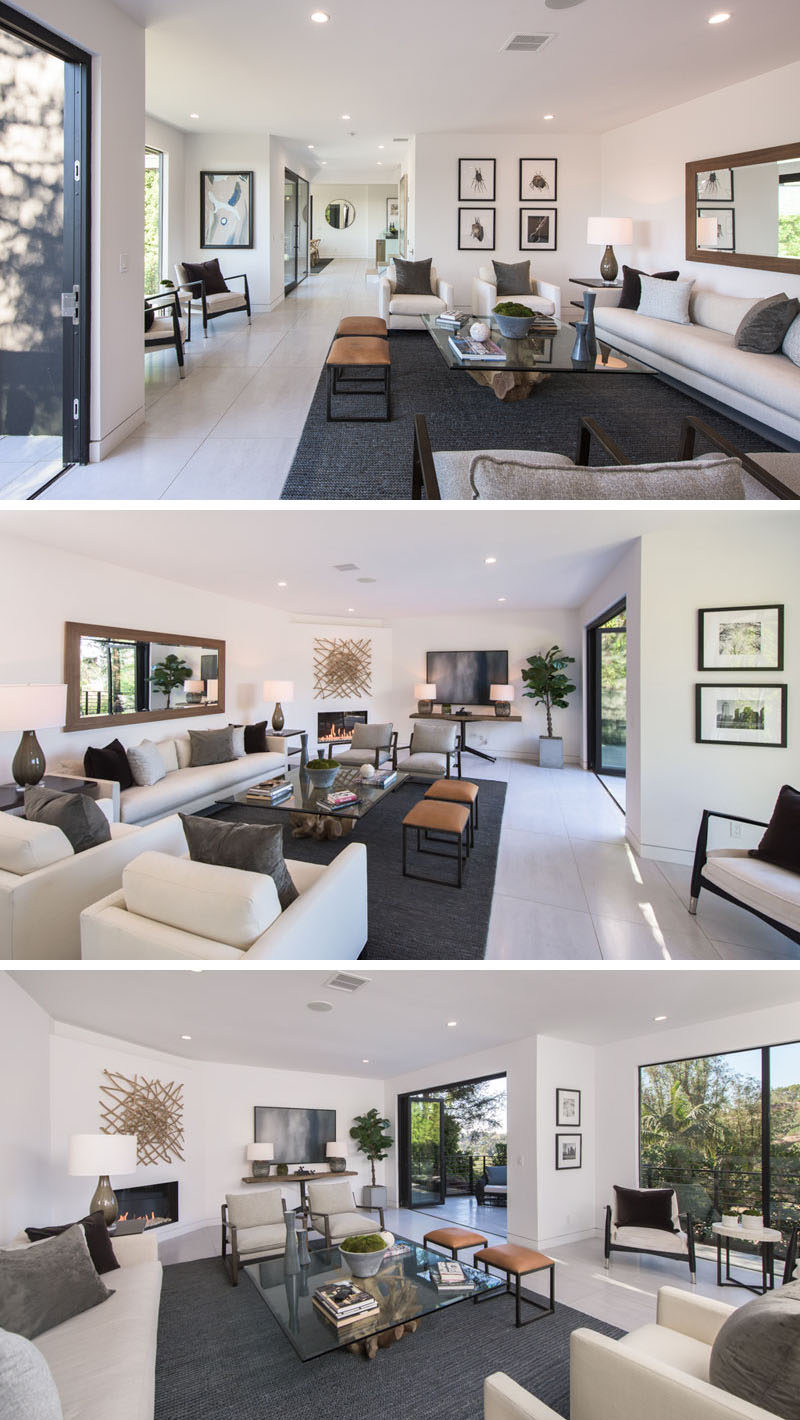 ---
Next to the living room is an open plan kitchen and dining room. In the kitchen, minimalist floor-to-ceiling white cabinets have been combined with a grey countertop for a clean contemporary look.
---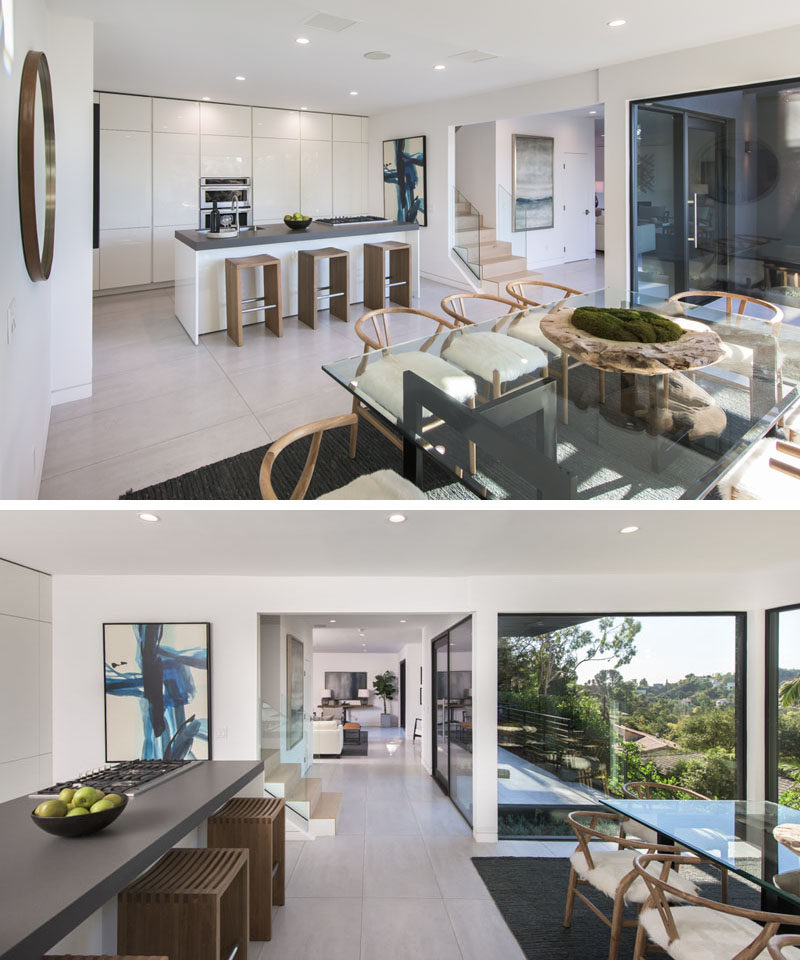 ---
In the dining room, large picture windows provide tree views and act as secondary pieces of art.
---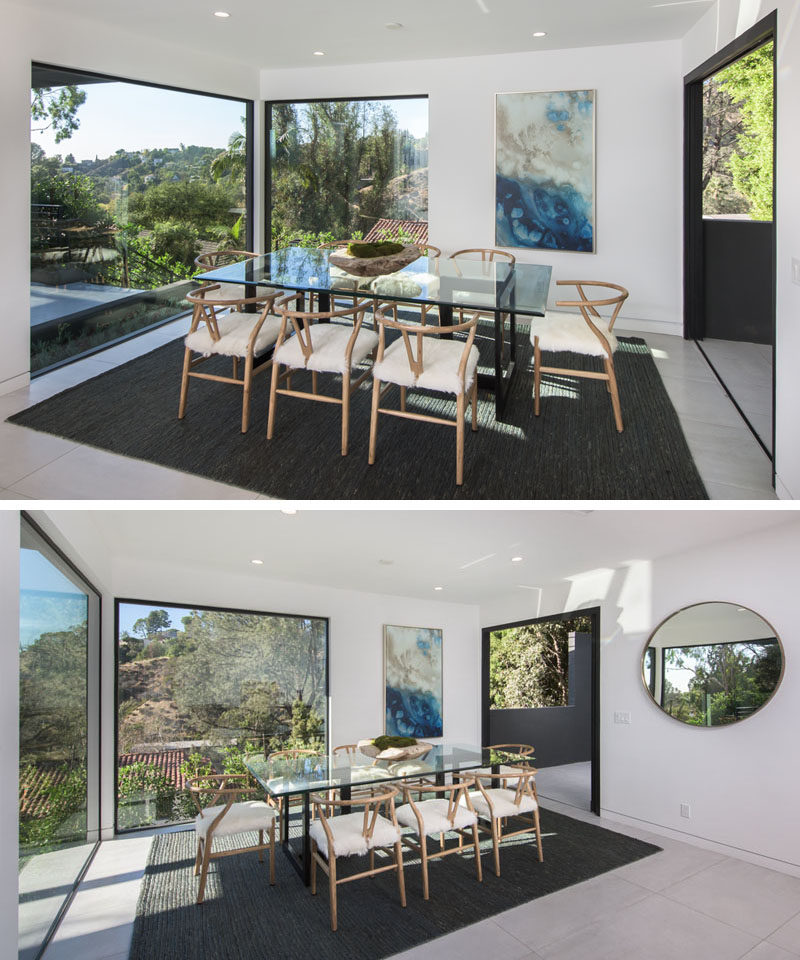 ---
Off to the side of the dining room is an outdoor dining area. What was once an overgrown patio, has now been transformed into a private oasis with dark walls and a tidy appearance.
---

---
Back inside, there's light wood flooring and stairs with glass handrails that connect the various areas of the home. Built-in shelving provides a place for displaying decorative items.
---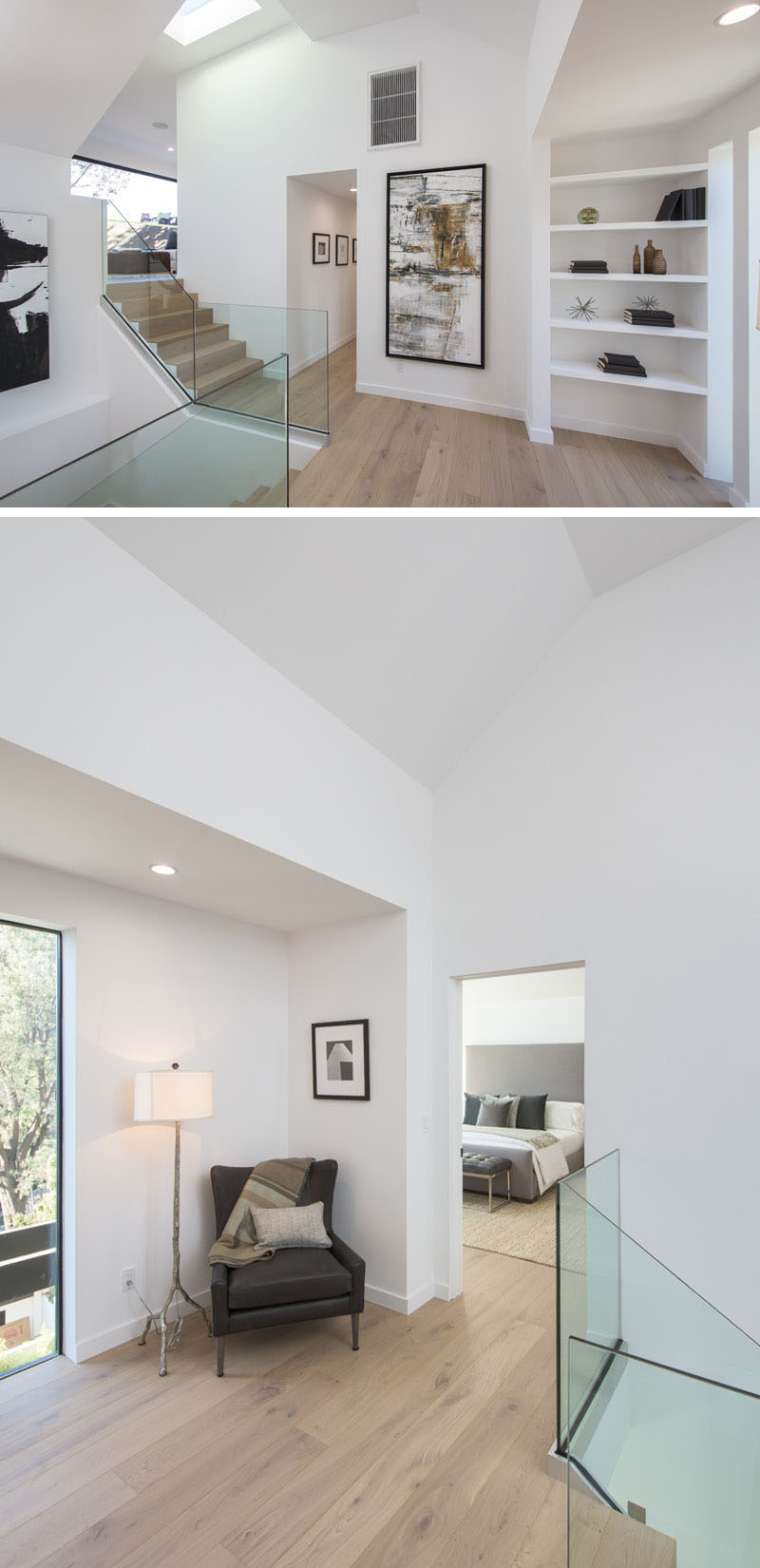 ---
Just off to the side of the stairs is the master bedroom, that has a vaulted ceiling with a bathroom that's open to the rest of the room. The wood floors are featured throughout the bedroom, until you reach the bath and shower area. A white freestanding bathtub sits next to the dual shower, which is surrounded by tile. On the opposite wall to the shower is a wall of closets.
---

---
Here's a look at another bedroom in the home. This bedroom also features a vaulted ceiling, and a triangular window draws your eye upwards to the height of the room.
---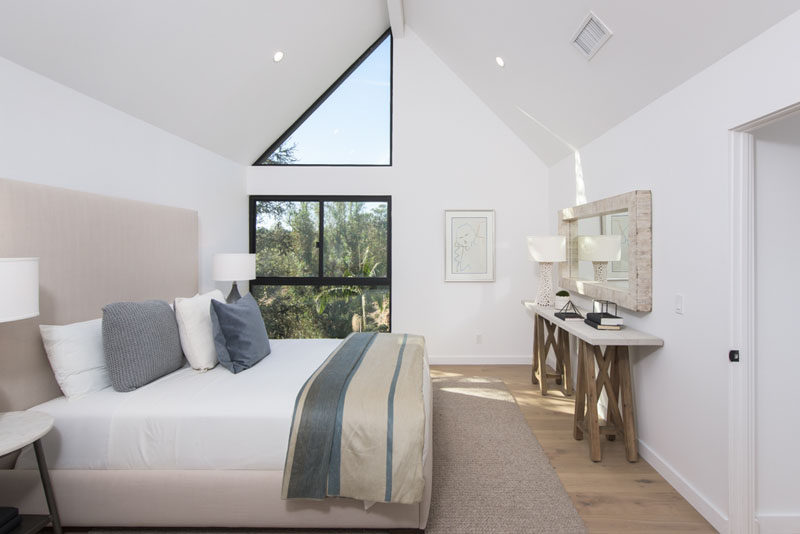 ---
Get the contemporist daily email newsletter – sign up here