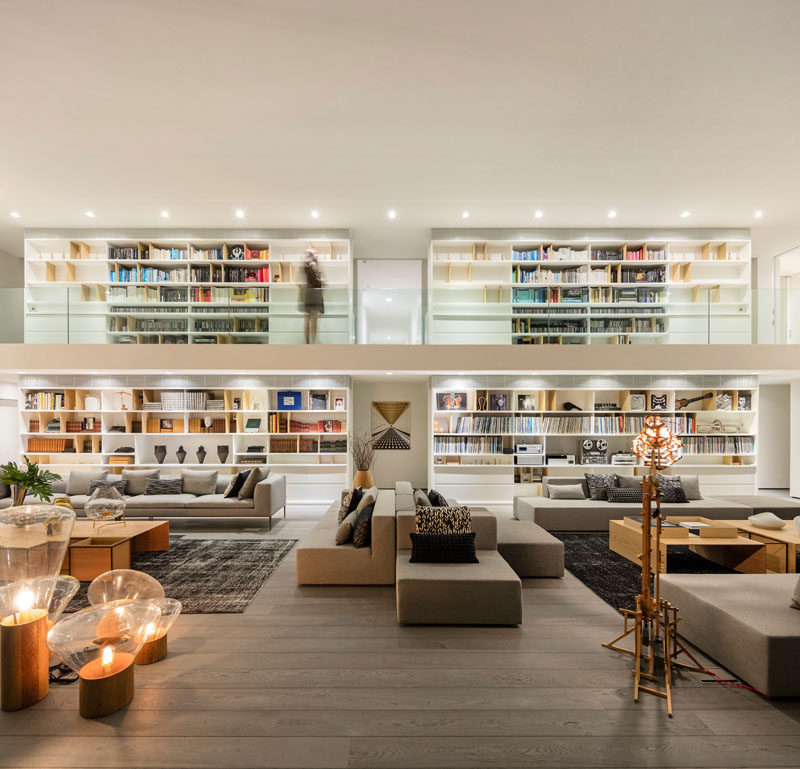 Studio MK 27 have designed a bright and airy modern house in Sao Paulo, Brazil.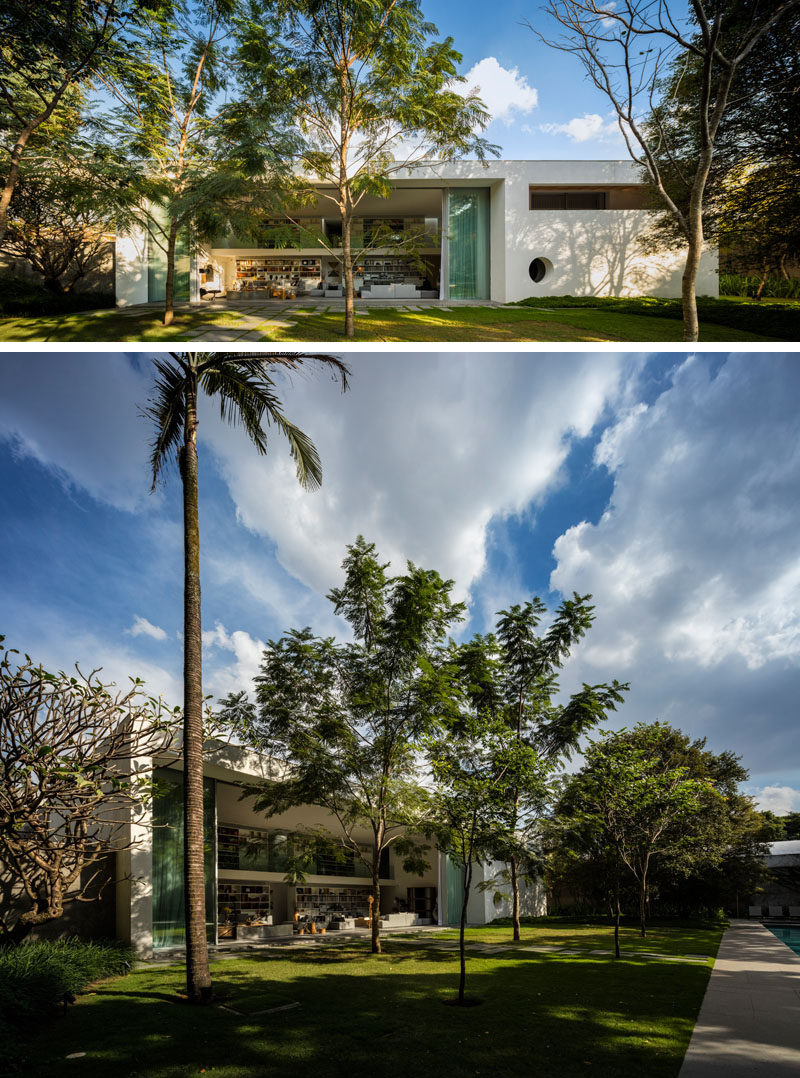 ---
A wood front door with entrance hall welcomes people to the home and guides them inside.
---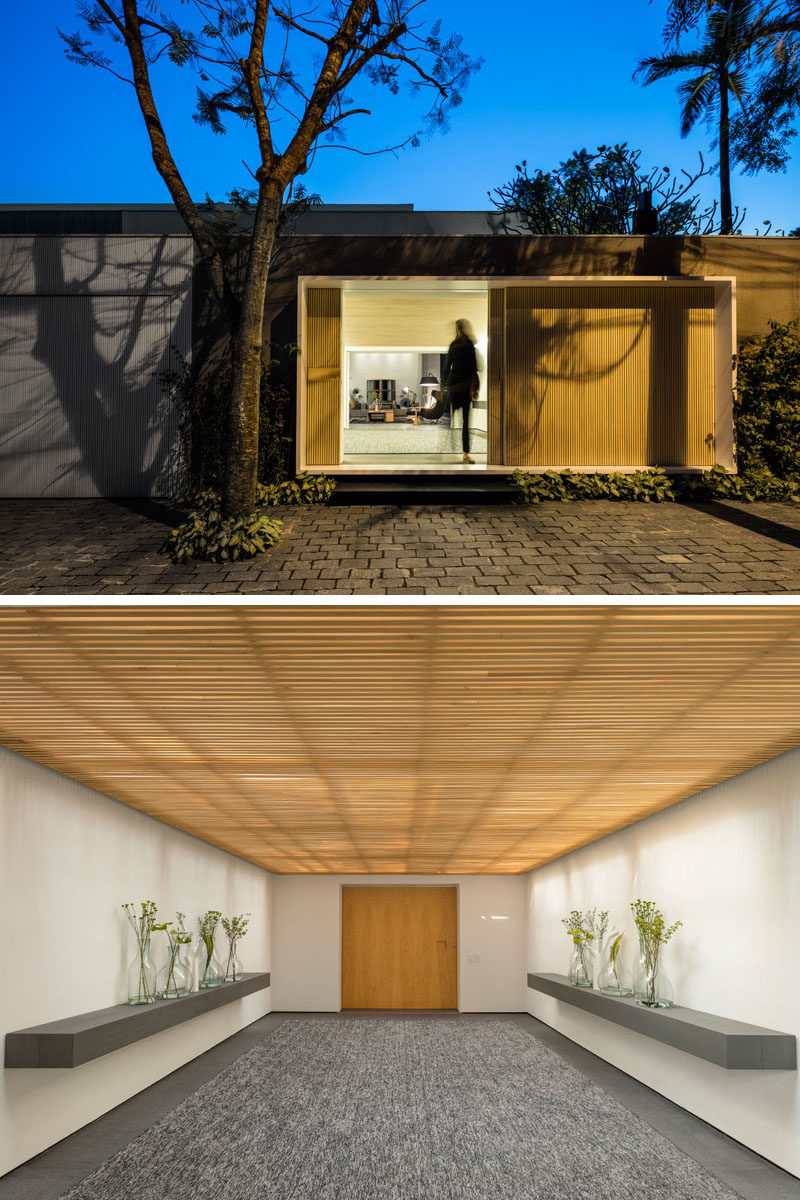 ---
The entrance hall opens to a large living room with a double height ceiling and bookshelf. Huge windows open out onto the garden, creating an indoor/outdoor living environment.
---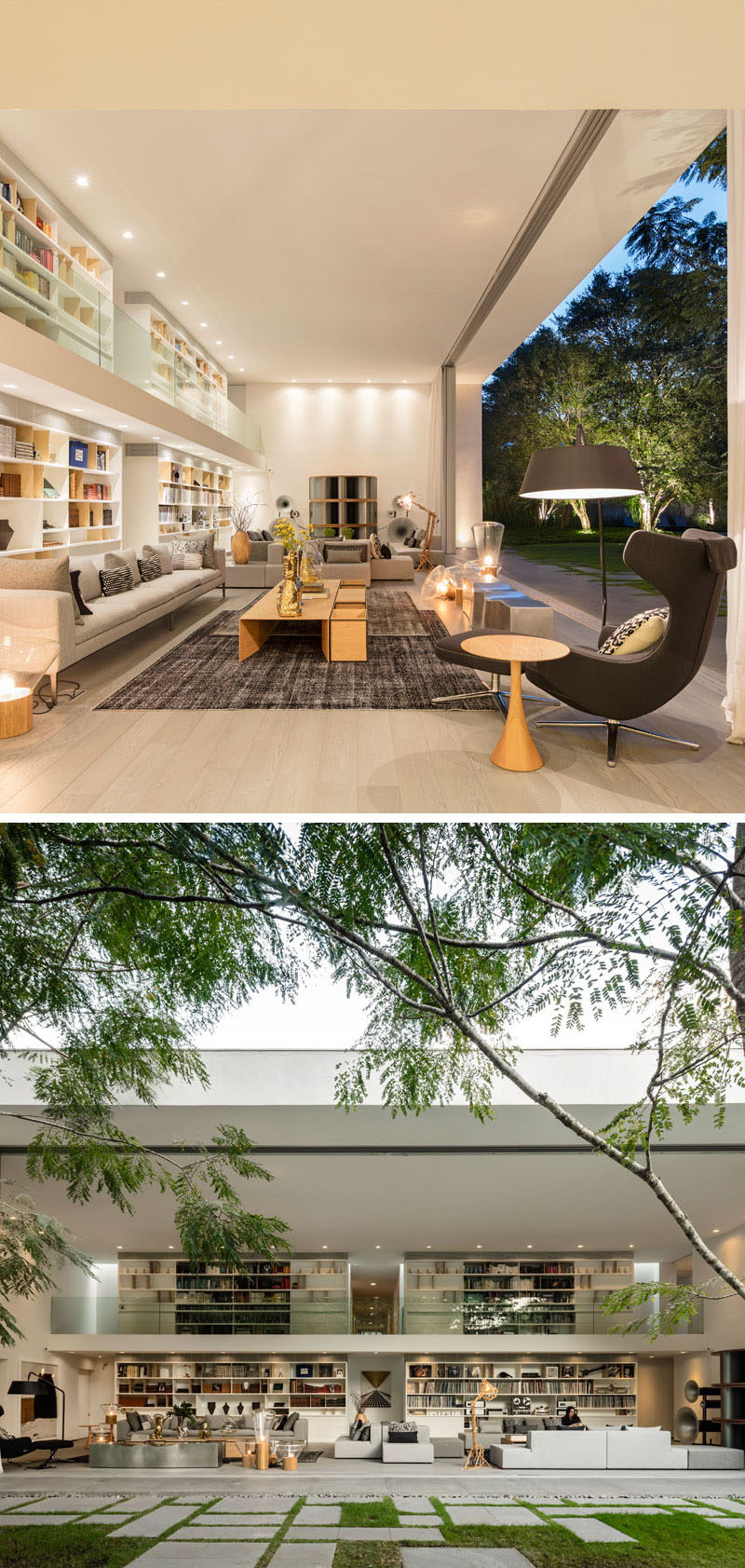 ---
The living room opens to a landscaped backyard with a 9 x 98 foot (3 x 30m) swimming pool.
---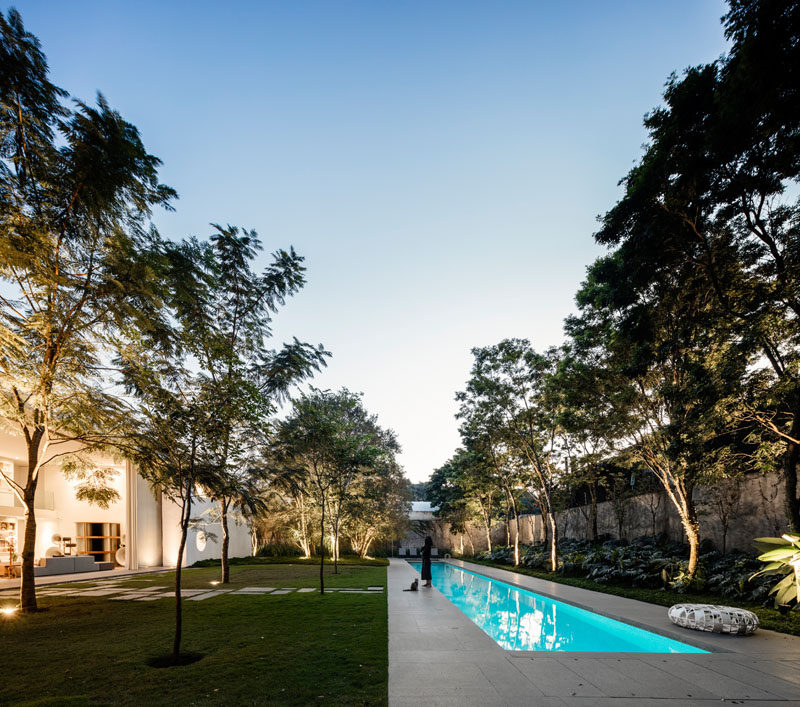 ---
Many of the ground floor spaces are located off courtyards, and have large sliding glass doors. In the dining room, a long table makes sure there's plenty of room for guests, while artwork breaks up the mostly white interior.
---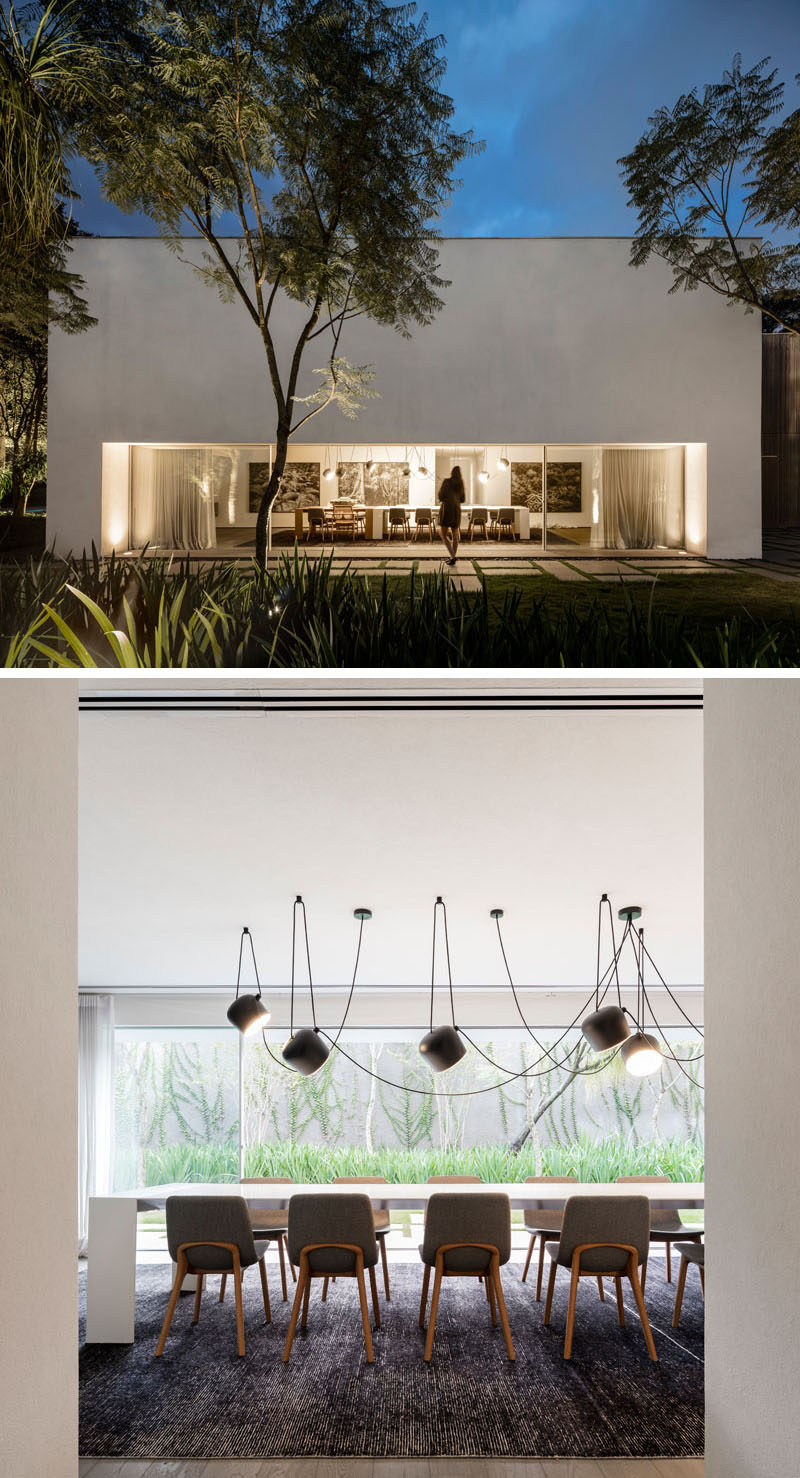 ---
In the kitchen, a large island with space for seating is central to the room, while open wood shelving surrounds the wall ovens.
---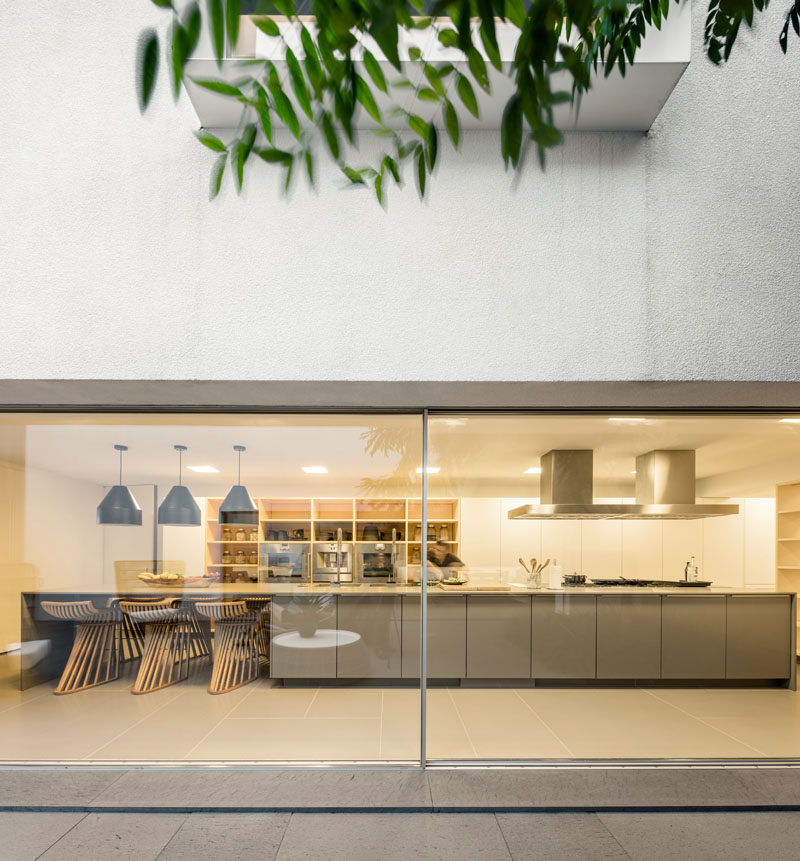 ---
This level also has a wine room with a wall of built-in fridges, and opposite, a mirrored wall with open shelving for displaying glassware.
---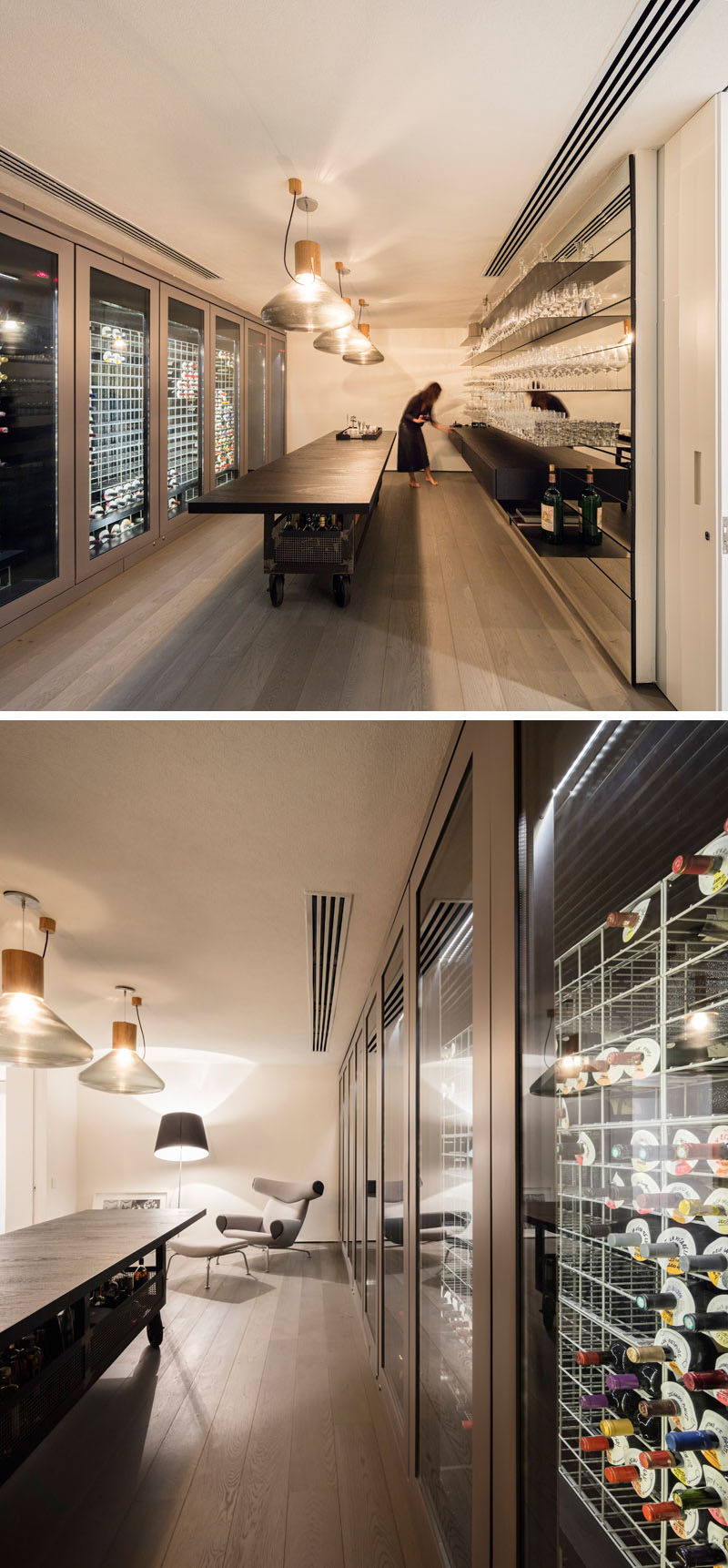 ---
Located across the courtyard from the kitchen is a studio space that has a double height ceiling with a mezzanine.
---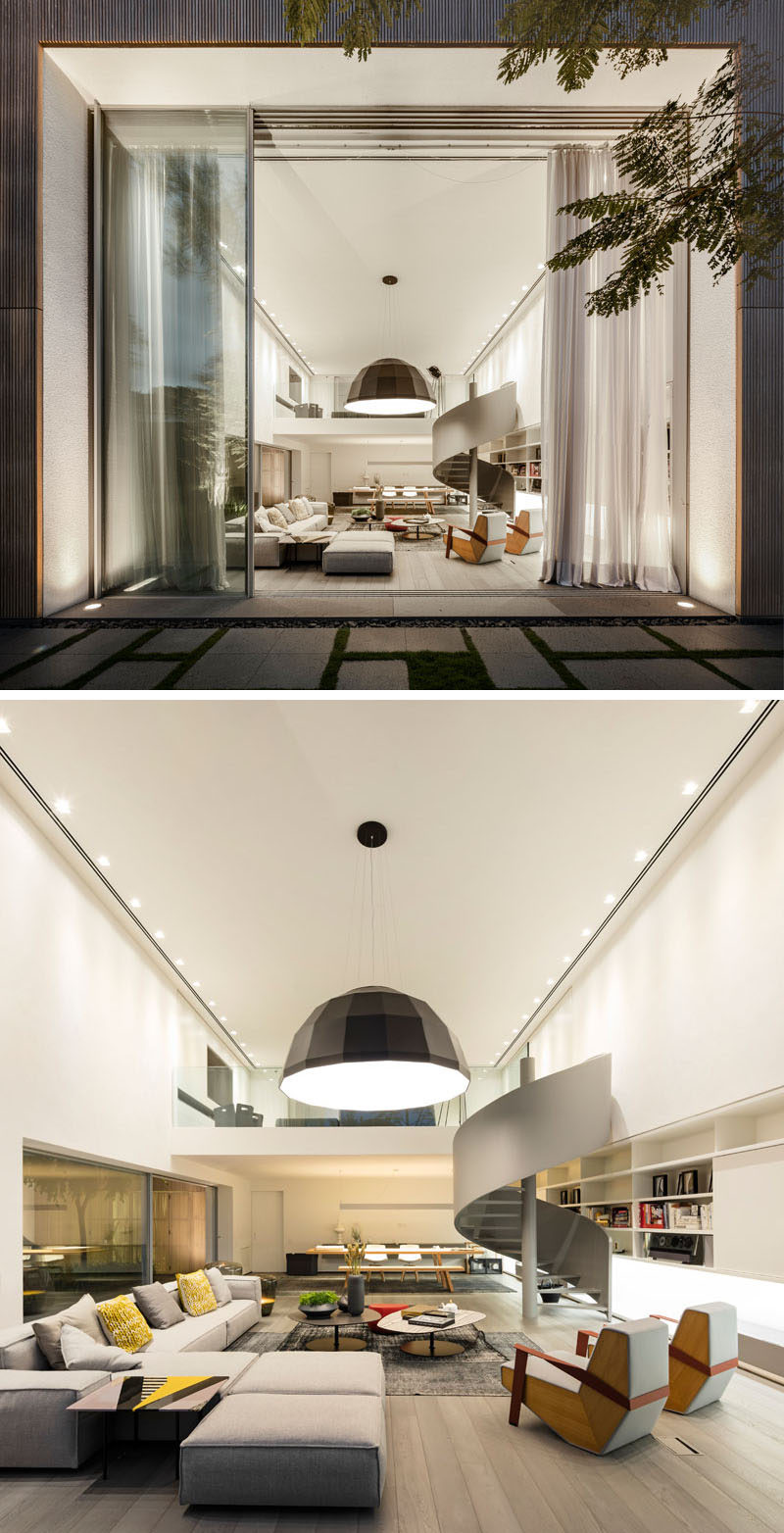 ---
Underneath the mezzanine is a open work area with a large wood table and a floating sideboard.
---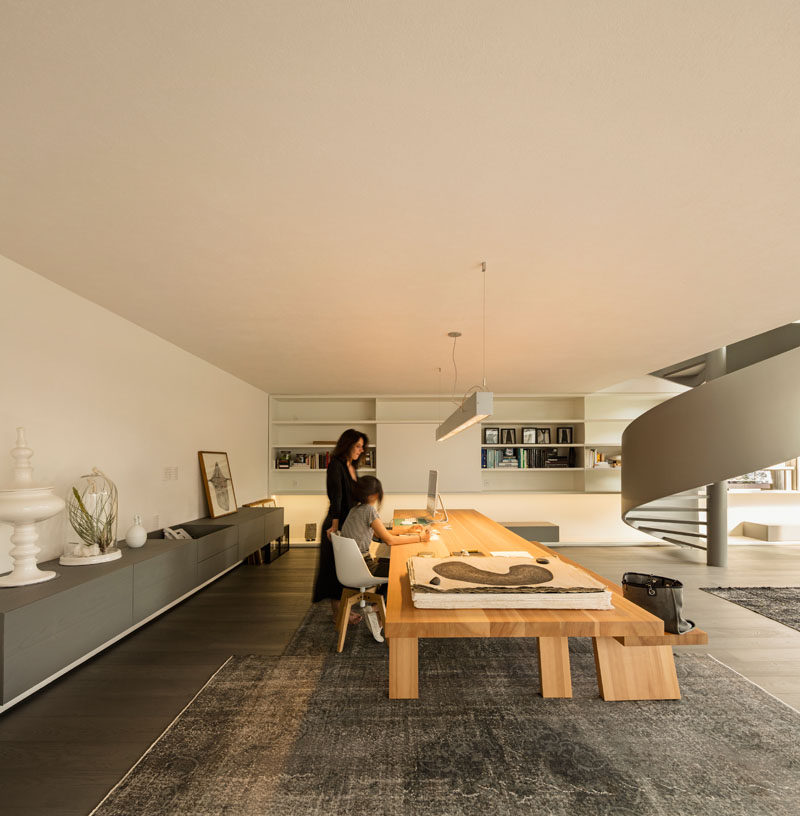 ---
Grey spiral stairs lead up to the mezzanine.
---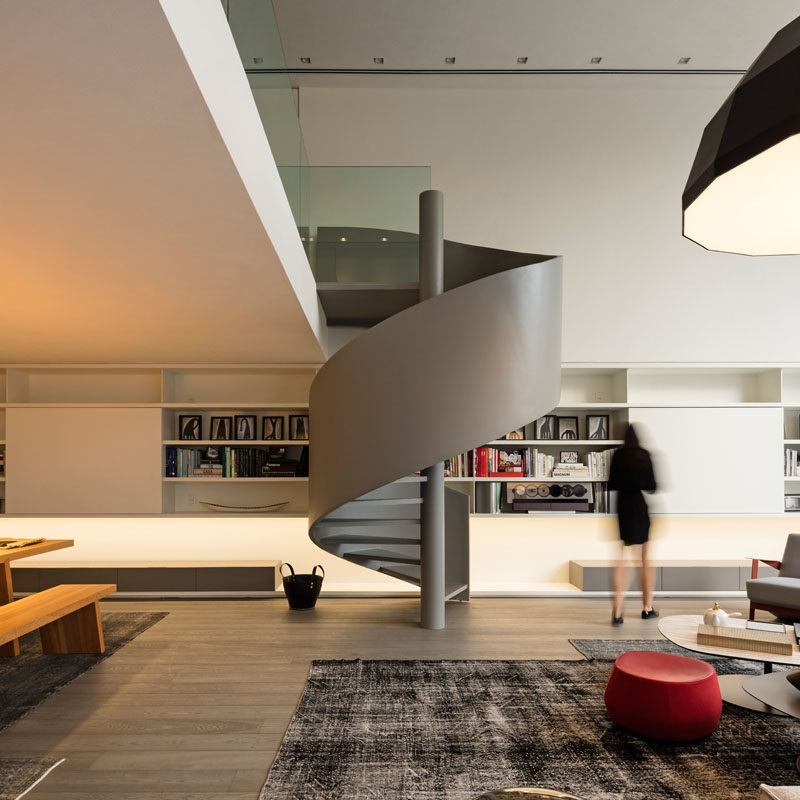 ---
The mezzanine is home to another living room, that connects to the upper floor of the house.
---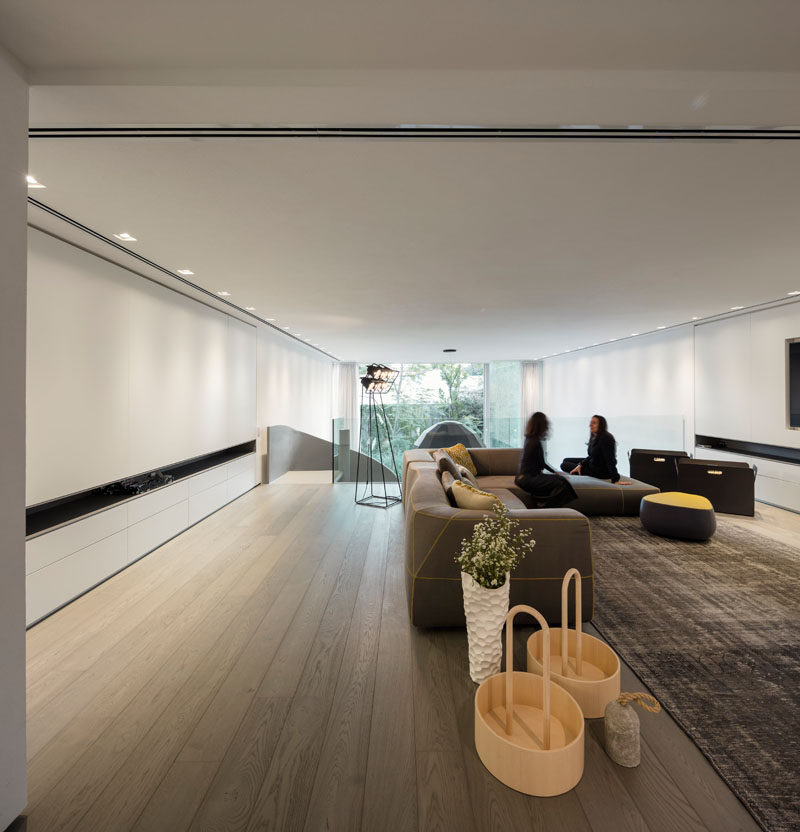 ---
Upstairs, there's a home office / TV room that has a long sideboard that runs the length of the room.
---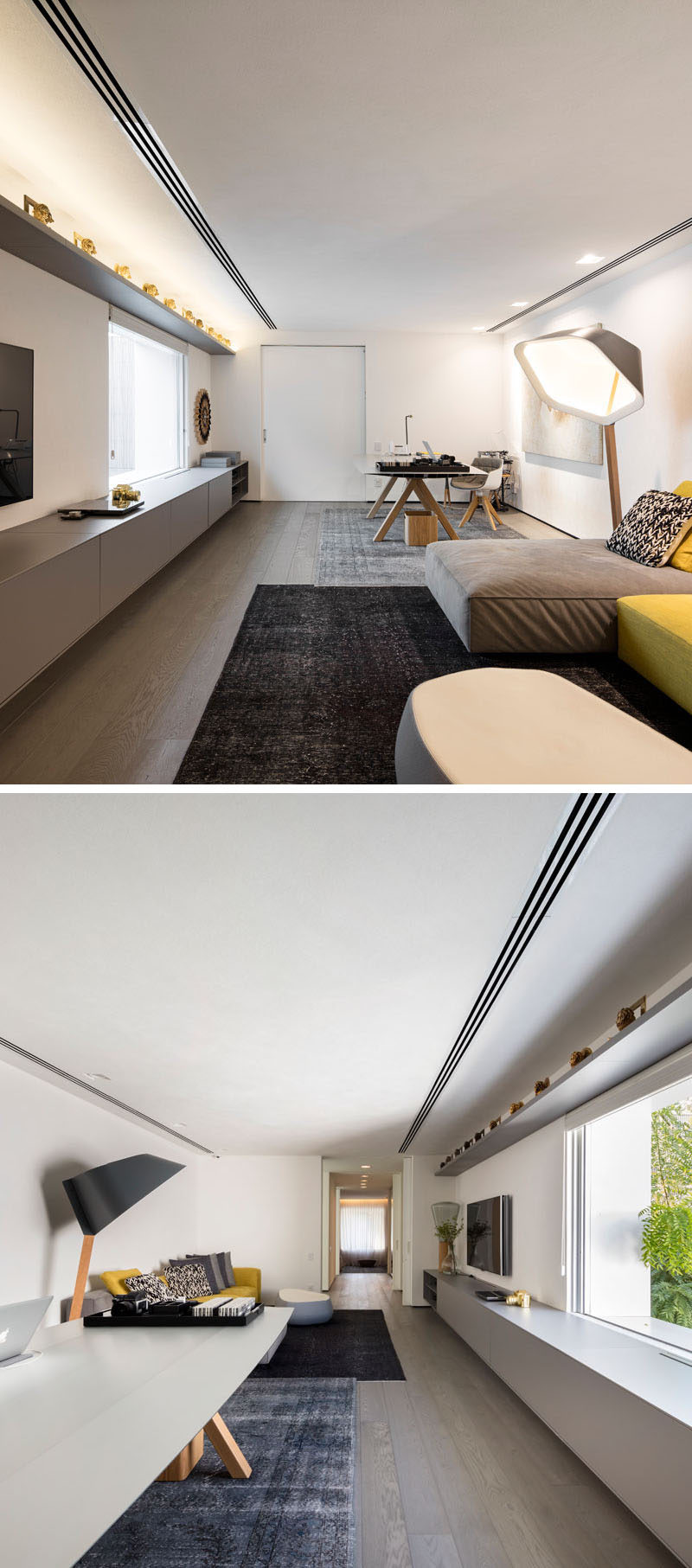 ---
The large master bedroom has a sitting area for watching TV, a picture rail that lines the wall and displays artwork, and a private covered balcony.
---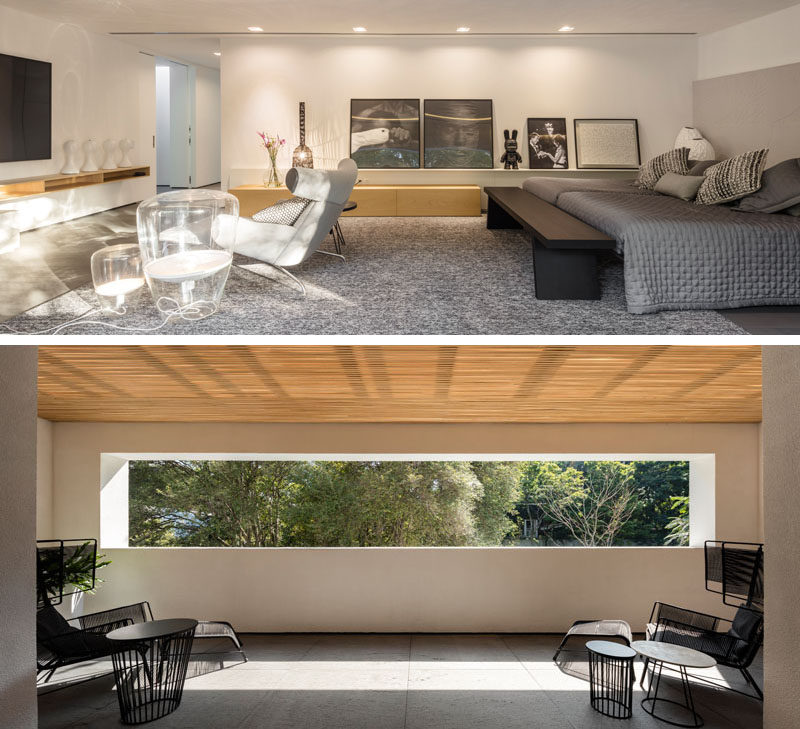 ---
In the master bathroom, a glass shower screen separates the shower from the rest of the bathroom, while a freestanding bathtub sits opposite the vanity.
---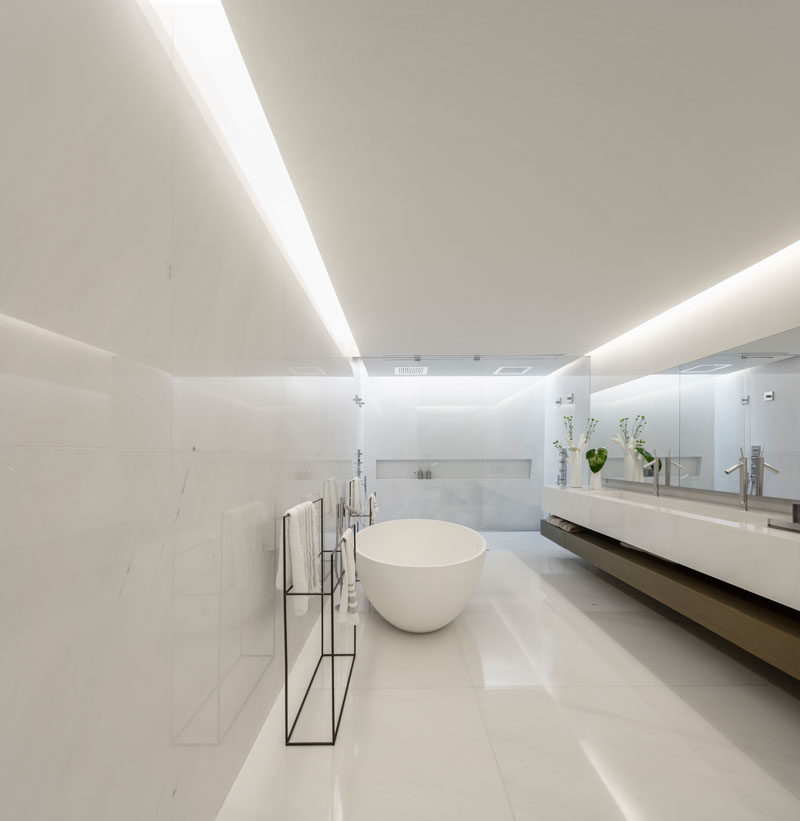 ---
In one of the guest bedrooms, large windows provide ample natural light to the small sitting area and the rest of the room, while a patterned headboard becomes a backdrop for the bed.
---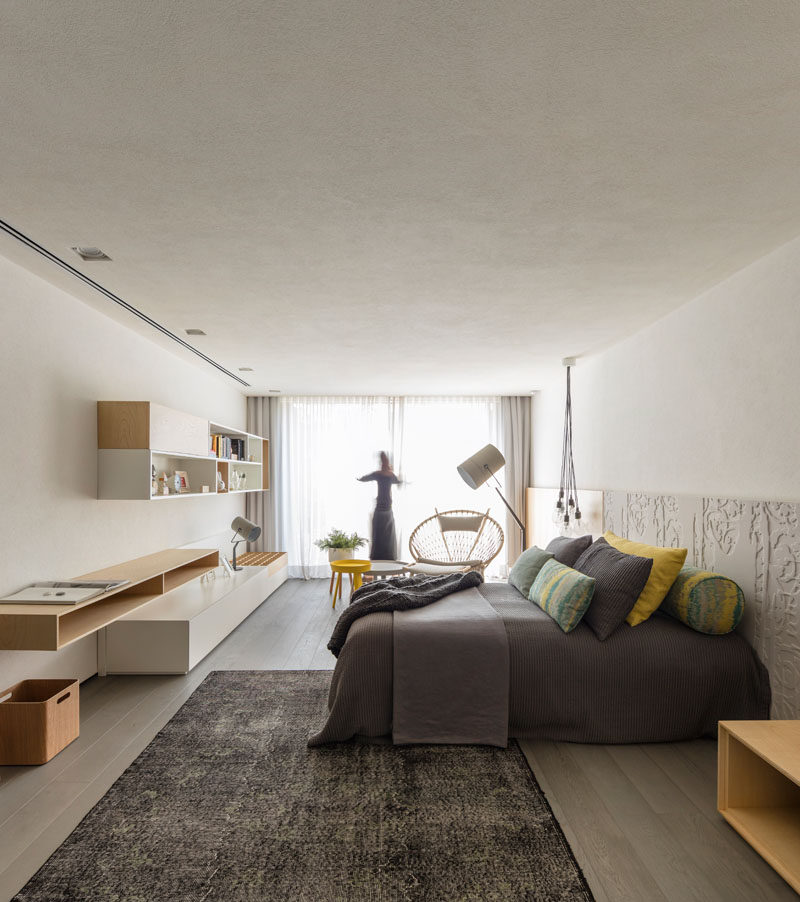 Photography by Fernando Guerra | Architecture Firm: studio mk27 | Architect: Marcio Kogan | Co-Architect: Lair Reis | Project Team: Anna Helena Villela, Beatriz Meyer, Carlos Costa, Laura Guedes, Luciana Antunes, Mariana Simas, Oswaldo Pessano | Interiors: Claudia Issa | Structural Engineer: Eduardo Duprat | Acoustics Consultant: Harmonia Acústica
---