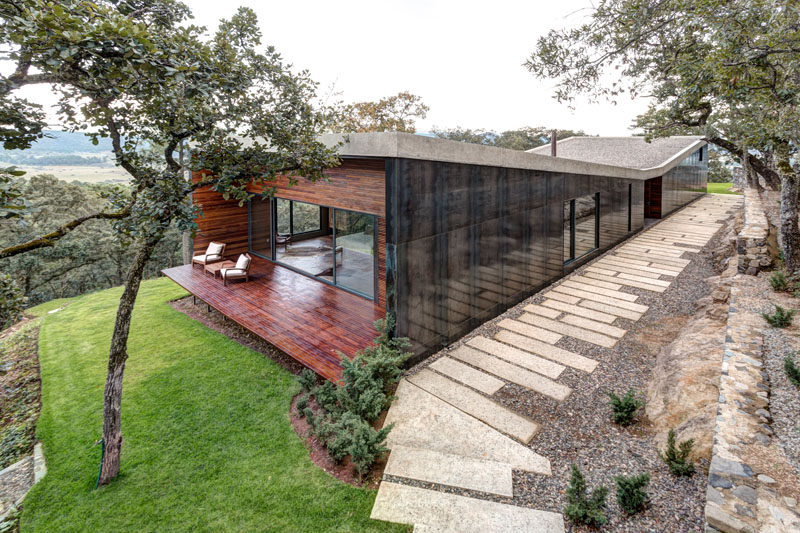 Photography by Marcos Garcia
Elías Rizo Arquitectos have designed this modern house for their client, a middle-aged bachelor who wanted to build a weekend house in a clearing within the forest that's also on a mountain.
The home, located in Tapalpa, Mexico, has been designed on a series of terraces that are carved into the hill and linked by a zigzag path. Approaching the house from the garage, that sits higher up from the house, you're able to see the roof that's made up of a concrete slab covered with gravel.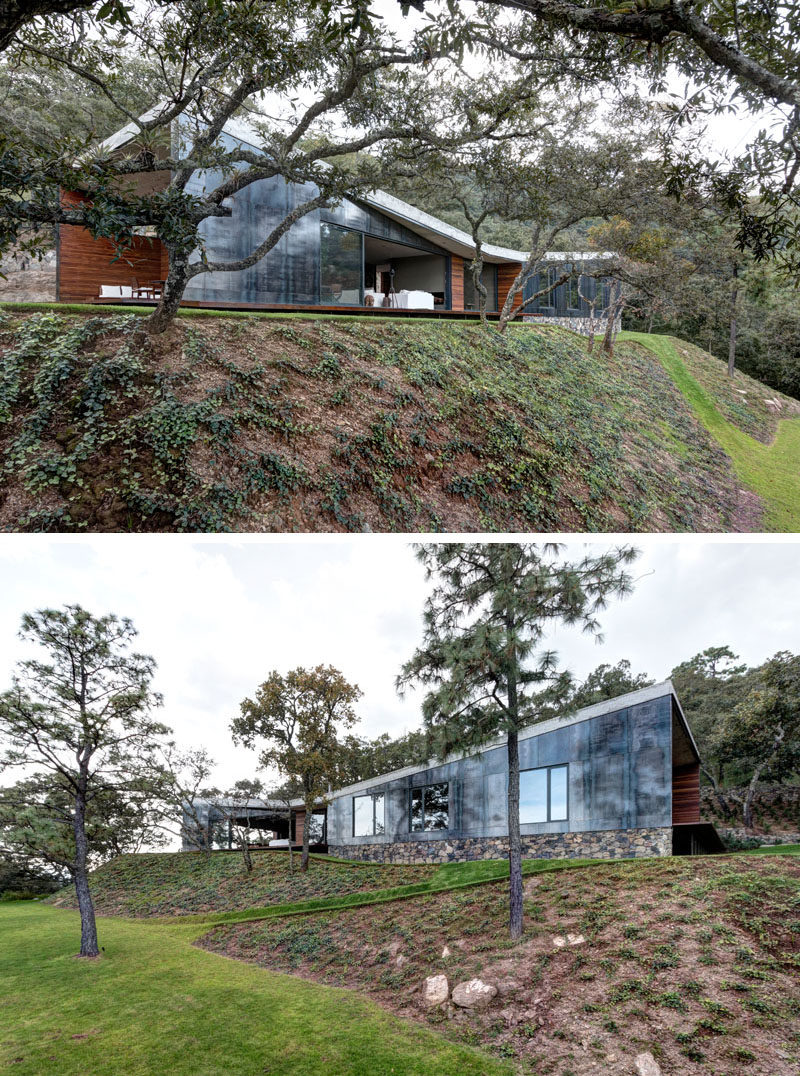 Photography by Marcos Garcia
---
The exterior of the house is covered in a lacquered steel plate, that will age overtime and will lose its luster and will oxidize, changing the house color to be rusty red to blend in with the red earth, a characteristic of the region.
---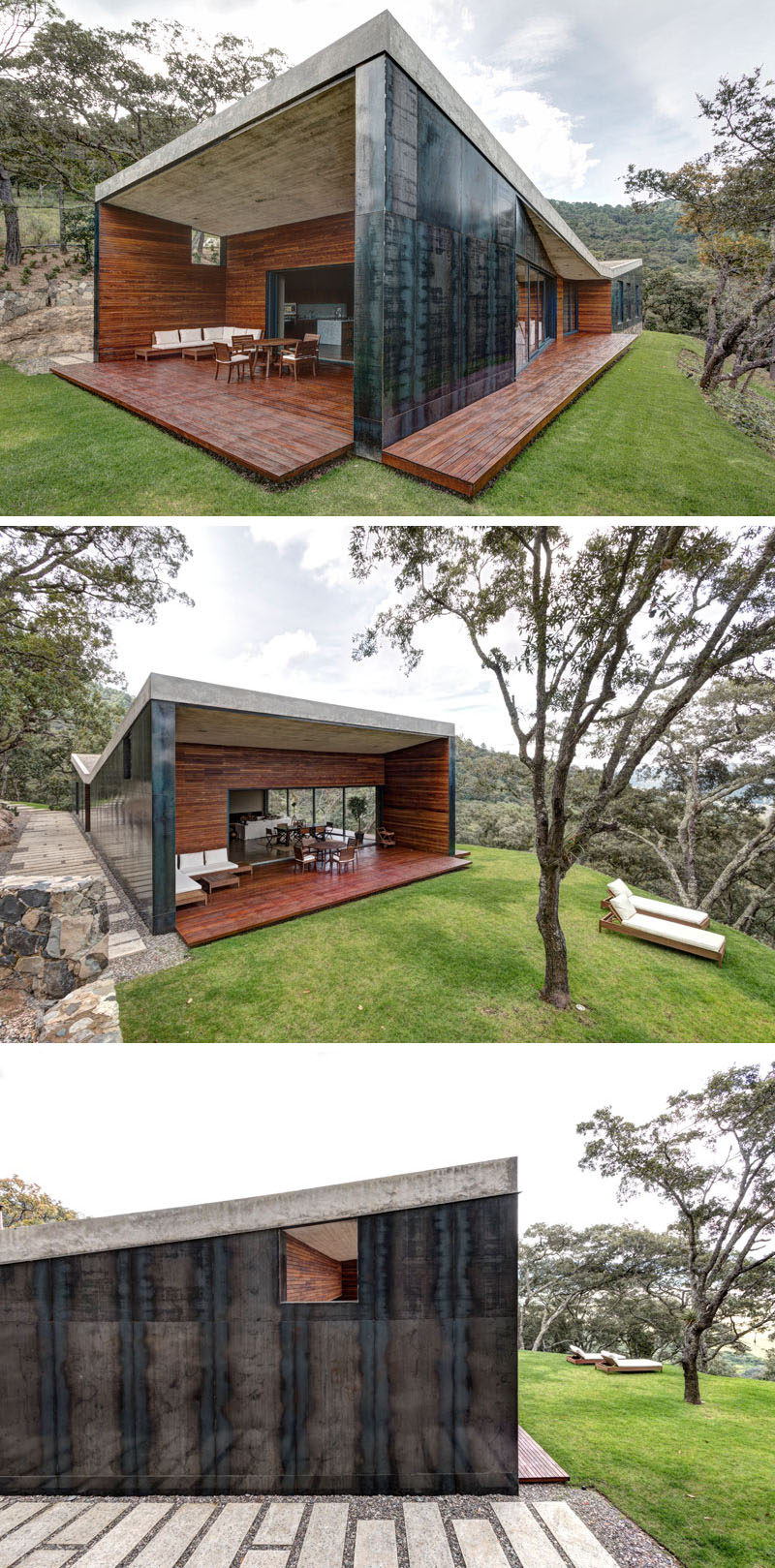 Photography by Marcos Garcia
---
Here's a look at the path that leads down from the garage to the front entryway. The entryway, including the front door, are covered in wood, breaking up the harshness of the surrounding steel and the concrete overhead.
---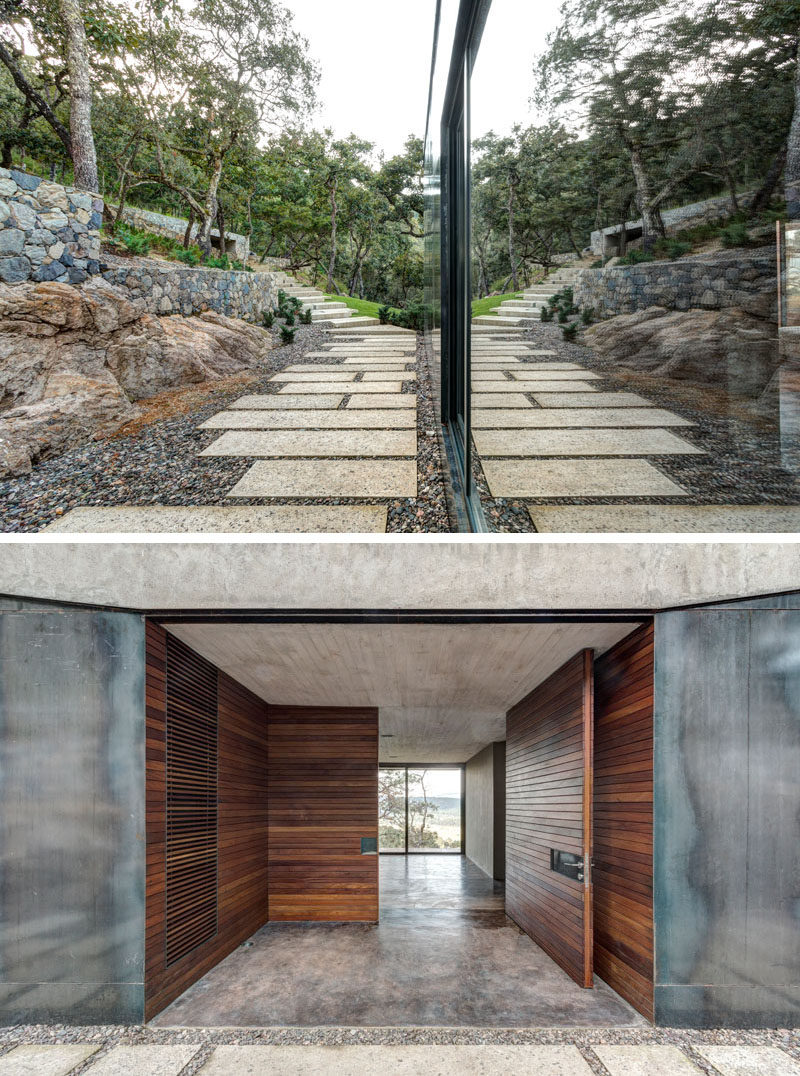 Photography by Marcos Garcia
---
Inside, and to the right is the main living, dining and kitchen areas. Wood cabinets run along the wall and designate the kitchen, white the living room is focused on the fireplace, and the dining room sits behind the living room. All of the different areas benefit from having a view of the forest outside.
---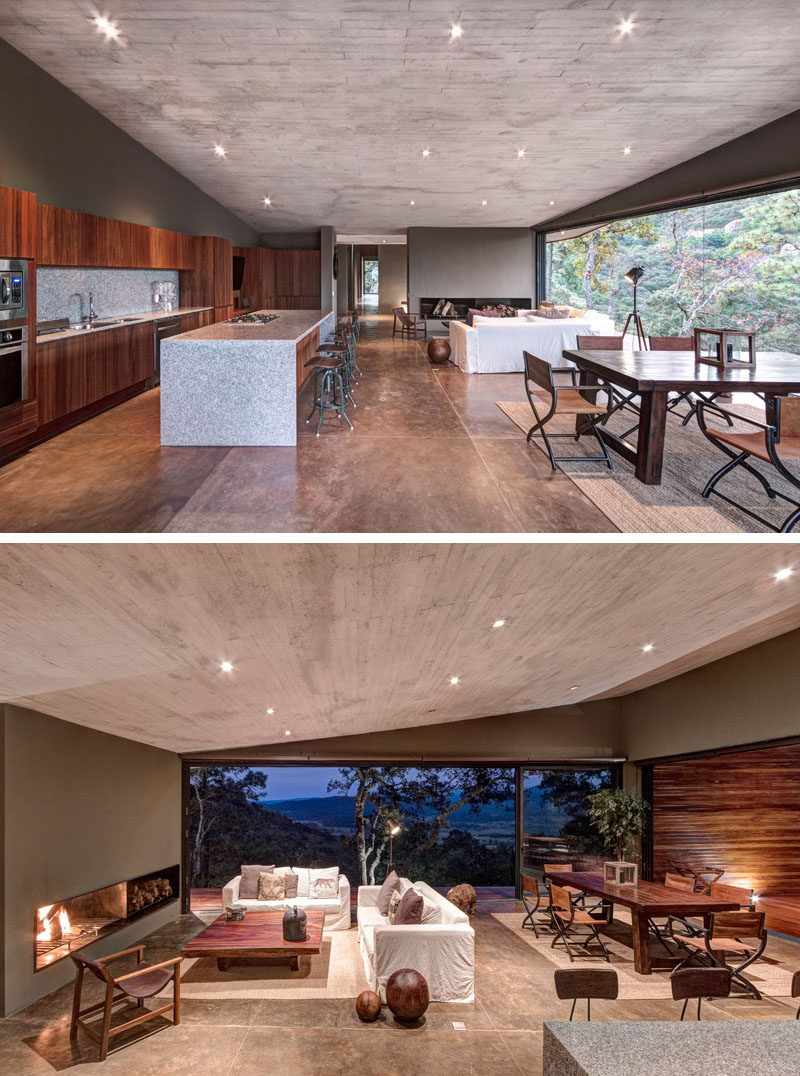 Photography by Marcos Garcia
---
Off to the side of the main living area is a large covered outdoor entertaining space. The wood walls surround an additional living and dining area, and protect the area from the elements.
---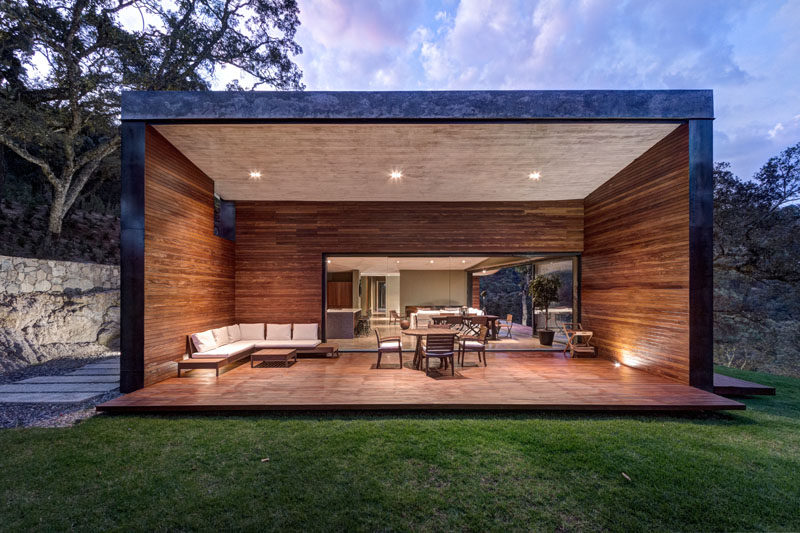 Photography by Marcos Garcia
---
Around the corner and off the interior living and dining room is another outdoor space with a small deck that overlooks the valley.
---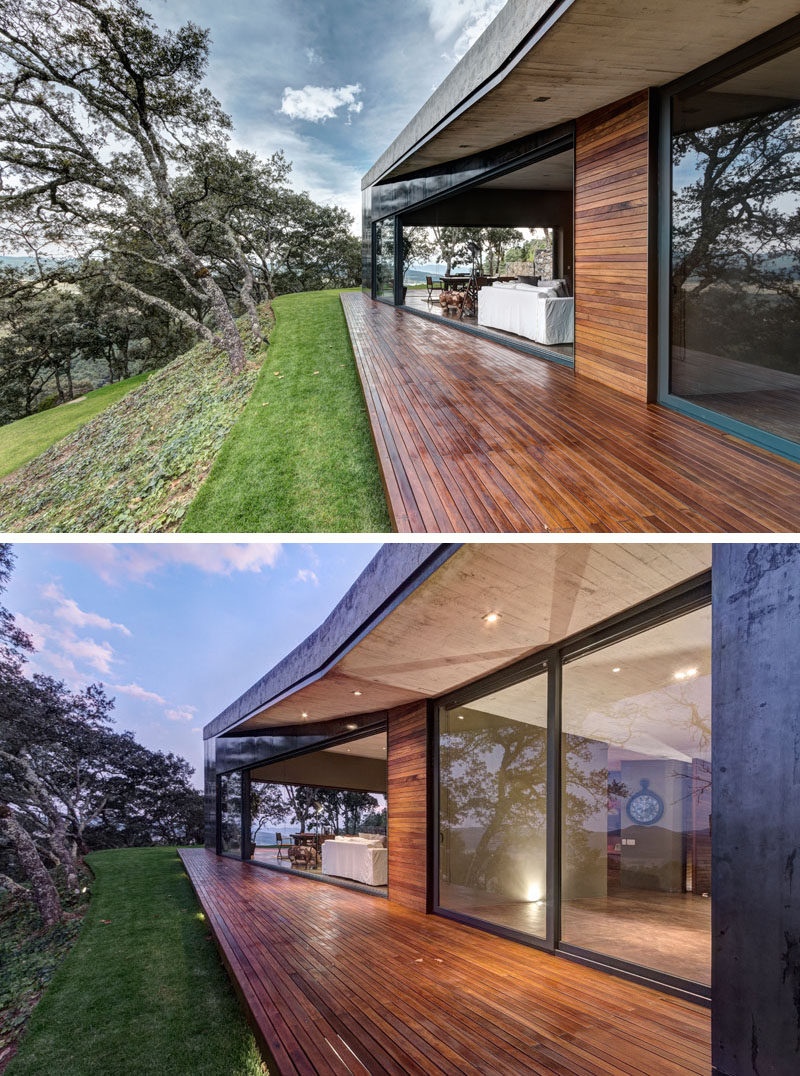 Photography by Marcos Garcia
---
Back inside and to the left of the entryway is the master bedroom. Large sliding glass doors open to provide access a private balcony. Also at this end of the house are two guest bedrooms with ensuite bathrooms and a laundry area.
---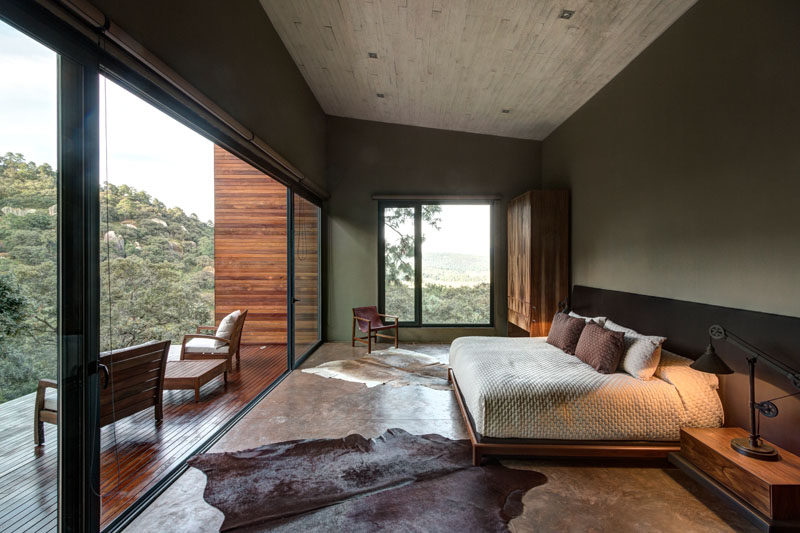 Photography by Marcos Garcia