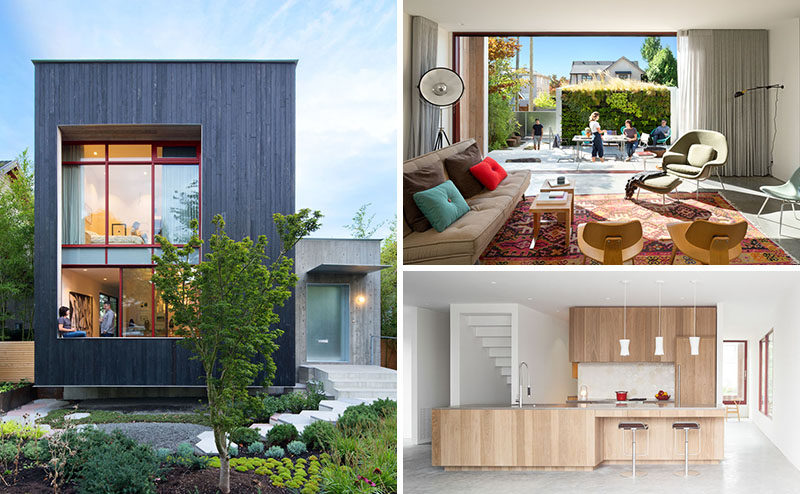 Measured Architecture has designed this modern house in Vancouver, Canada, that opens up to a backyard patio area with a green wall.
The exterior of the home is covered in carbonized cypress wood exterior cladding, giving it a bold and dark appearance, while hexagon stepping stones guide visitors to the front door.

---
At the rear of the home, re-purposed white-washed concrete boardform boards have been used as window surrounds and on the soffits. Large sliding doors open the home to the backyard patio.
---

---
The backyard patio has a green wall backdrop that wraps around onto the roof of a laneway house and garage.
---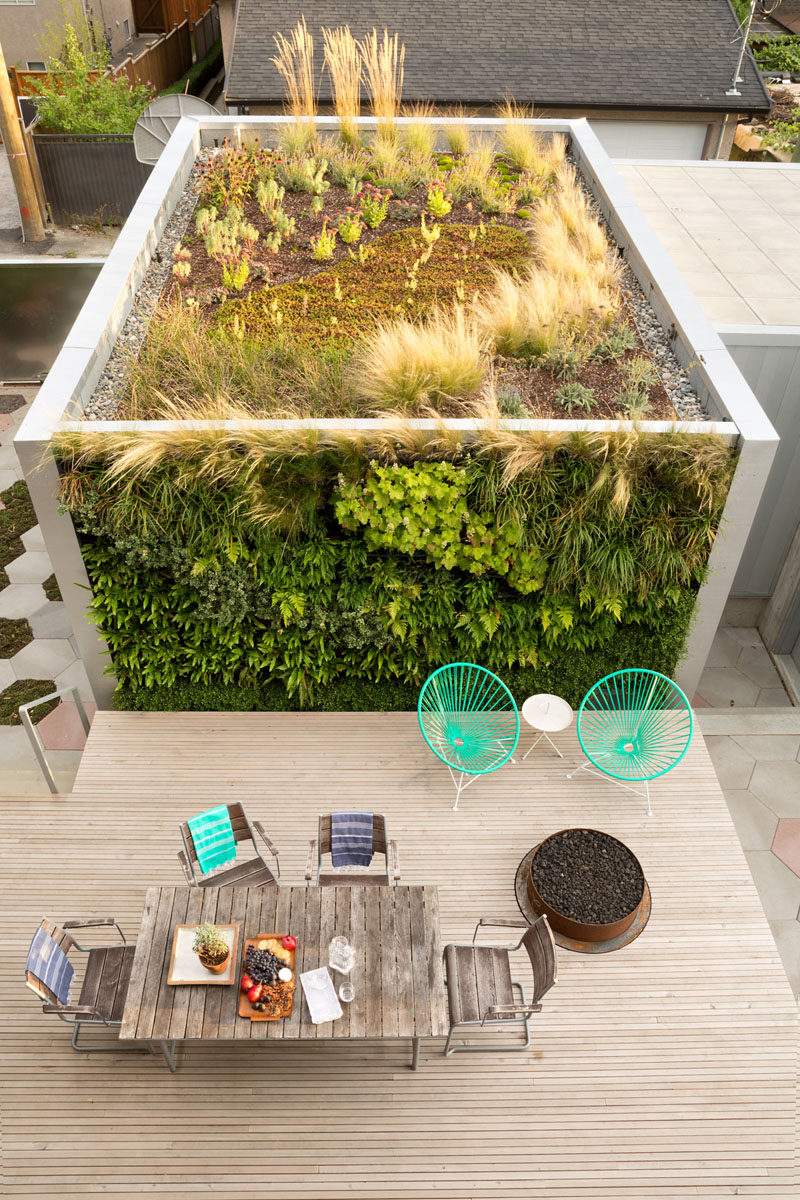 ---
The view through the open space looks right out to the green wall. Inside, the living room and kitchen share the same space, with the living room anchored in the room by a large rug.
---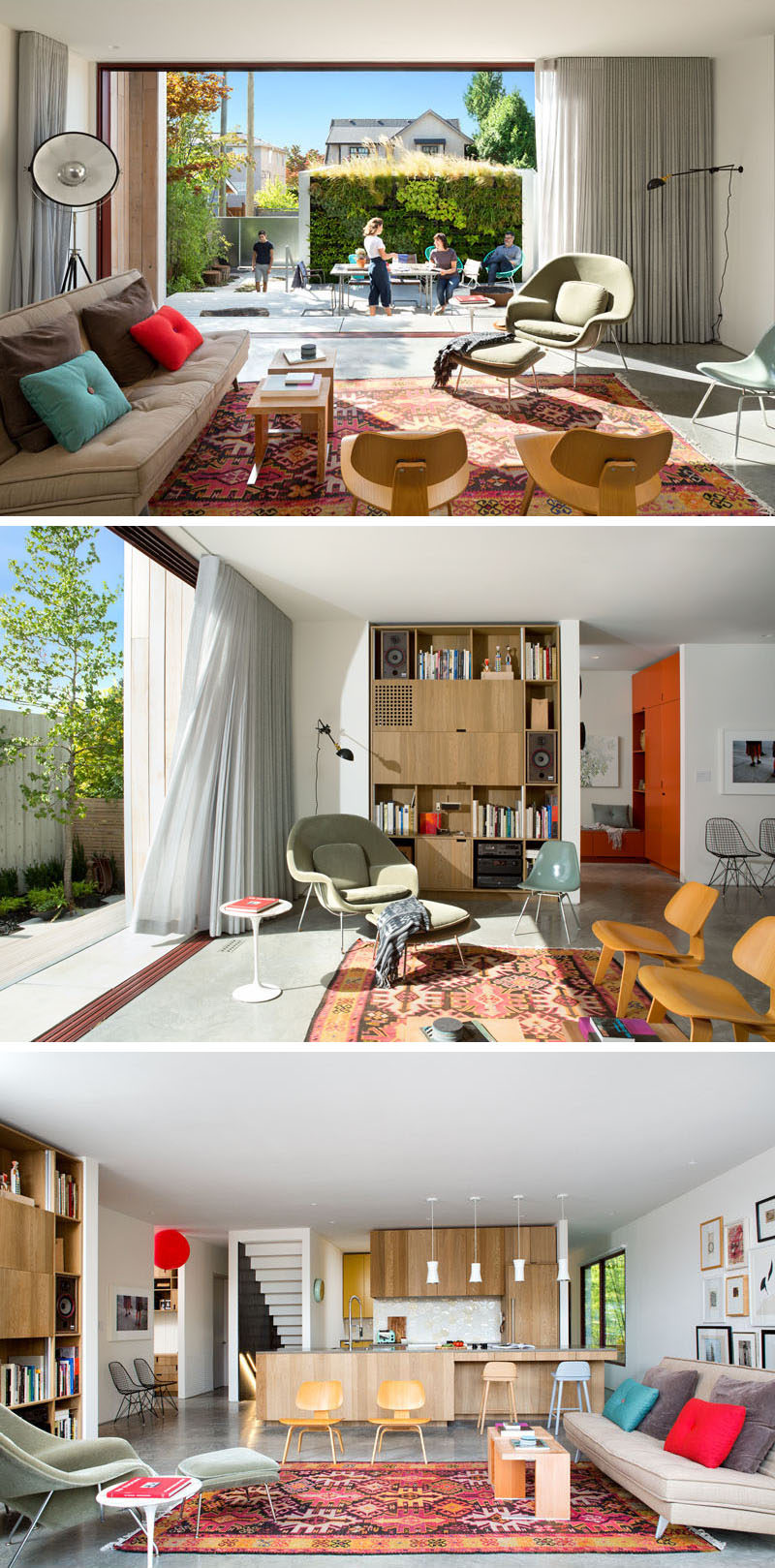 ---
Between the living room and the kitchen is a wall decorated with a gallery of favorite art pieces.
---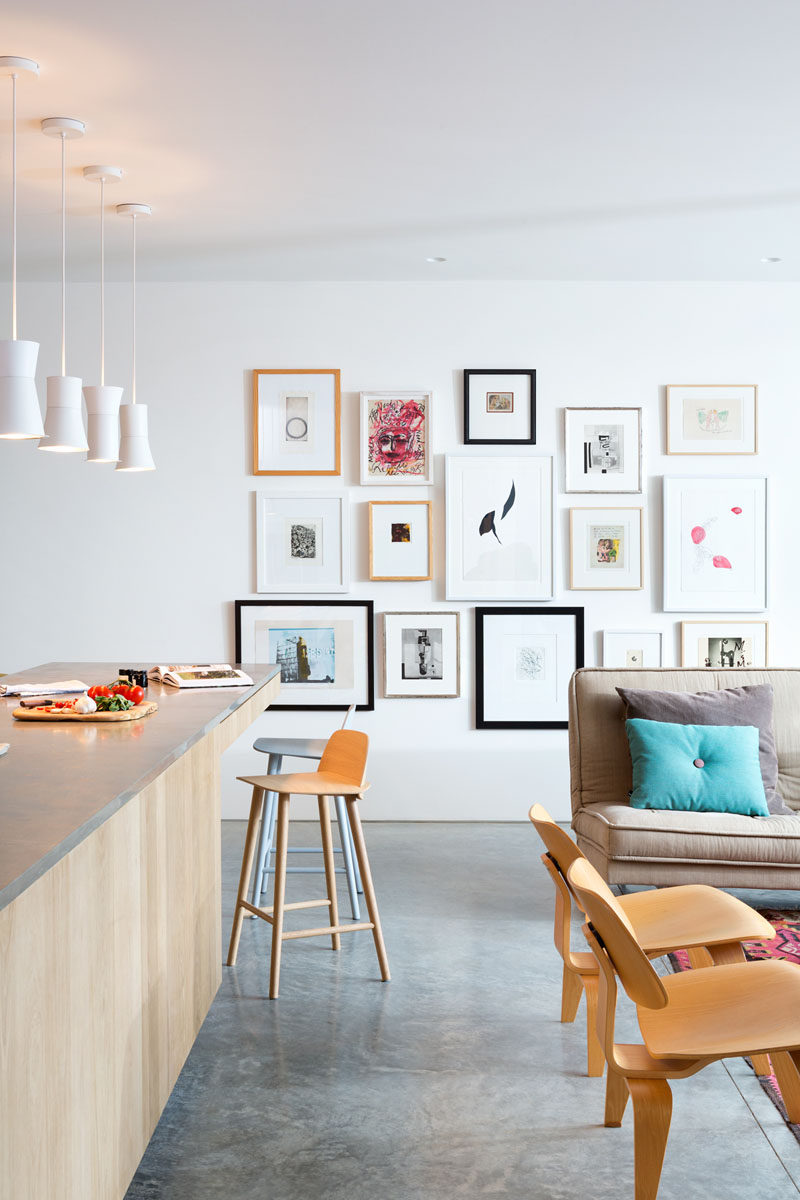 ---
The light wood kitchen has a large island with space for counter stools, and the fridge easily blends into the cabinets. Light hexagon tiles have been used as a backsplash and helps to tie the landscaping outside with the interior spaces.
---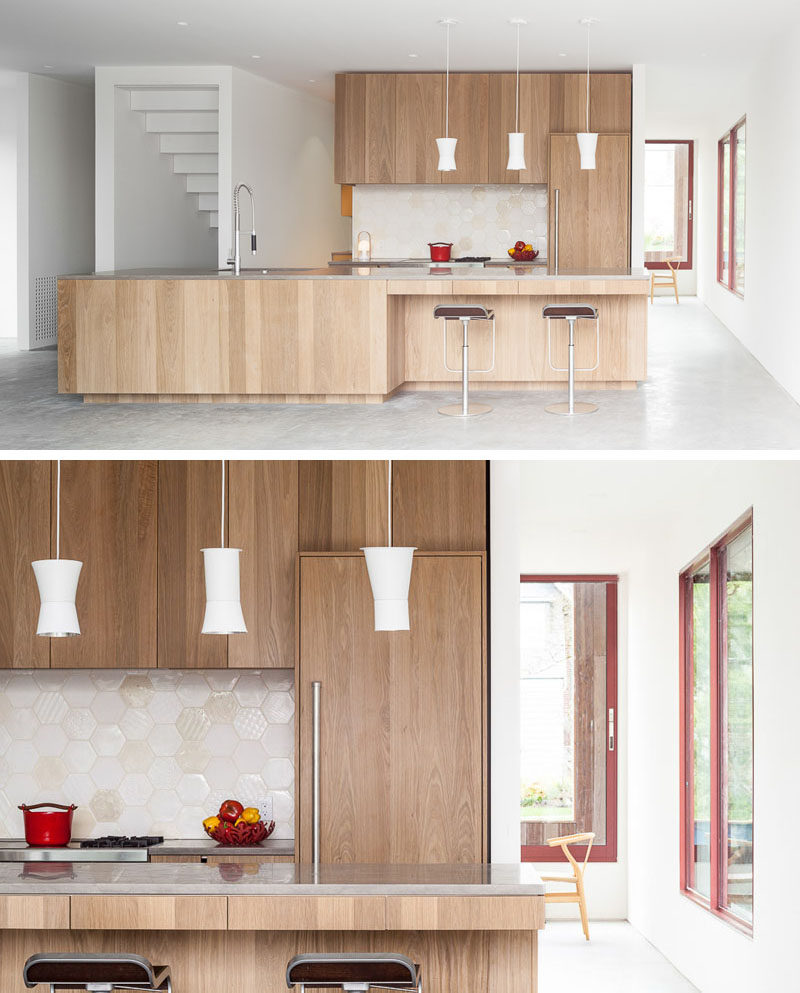 ---
Behind the kitchen on the left is a hidden pantry room and secondary kitchen that has the ovens and plenty of storage space.
---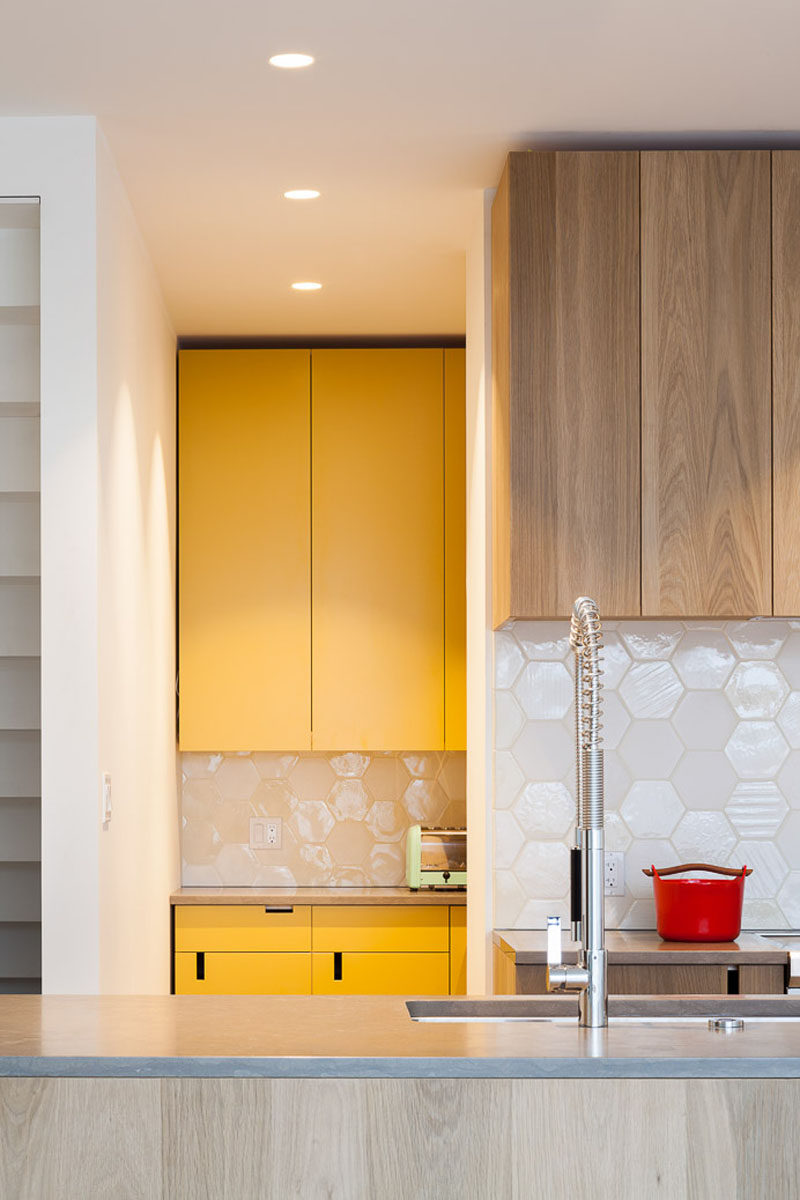 ---
On the opposite end of the kitchen, there's a small walkway that opens up to a casual dining room that's flooded with natural light.
---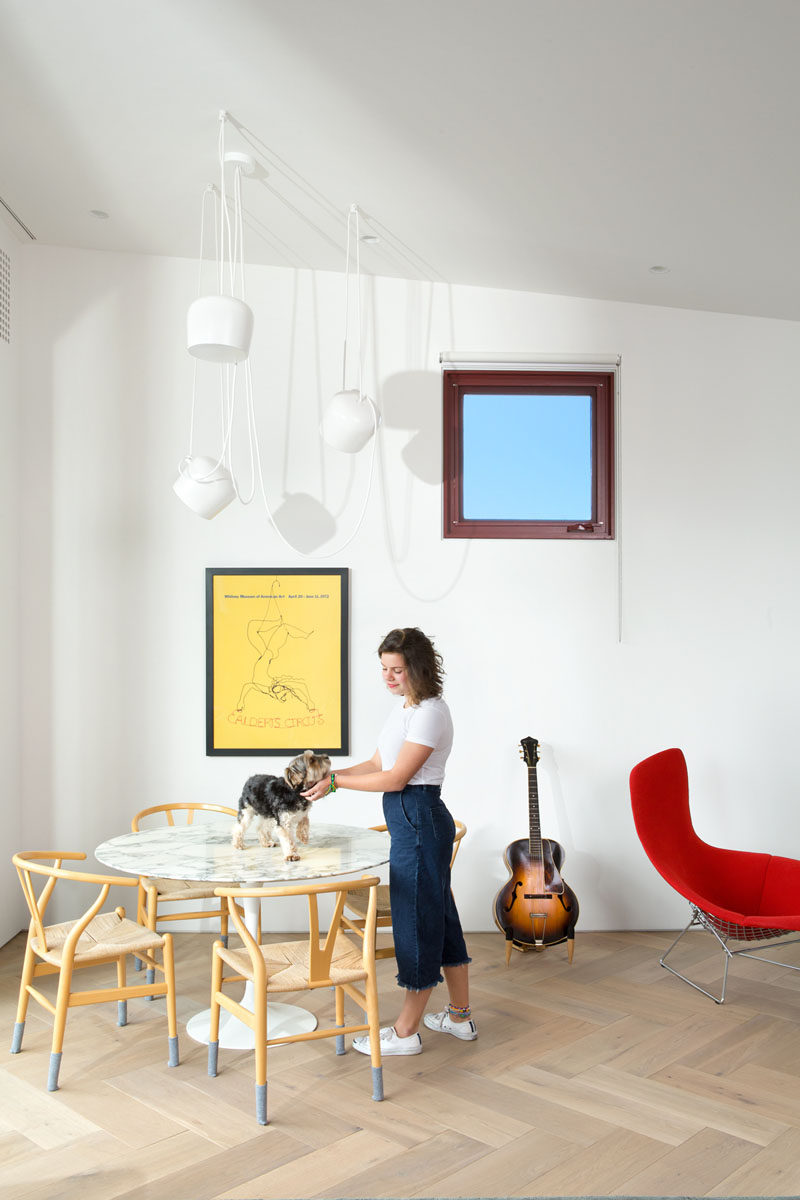 ---
The home also has a more formal dining room, and when the windows are open, the window sill can be used as a spot to sit and relax.
---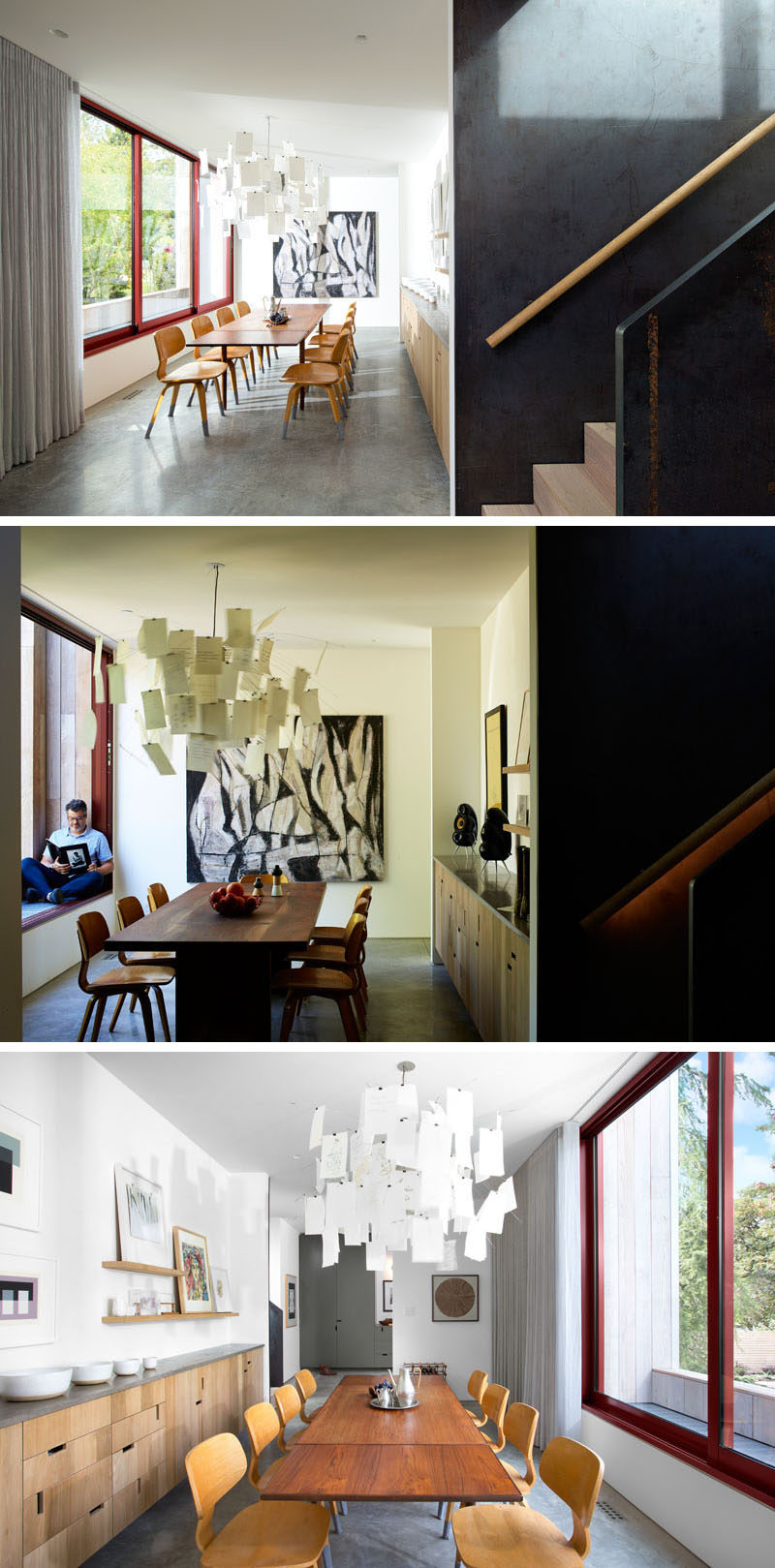 ---
The stairs that are central to the home have a large 1″ thick weathering steel plate running alongside them, and over time, the steel plate will slowly develop a patina and change color.
---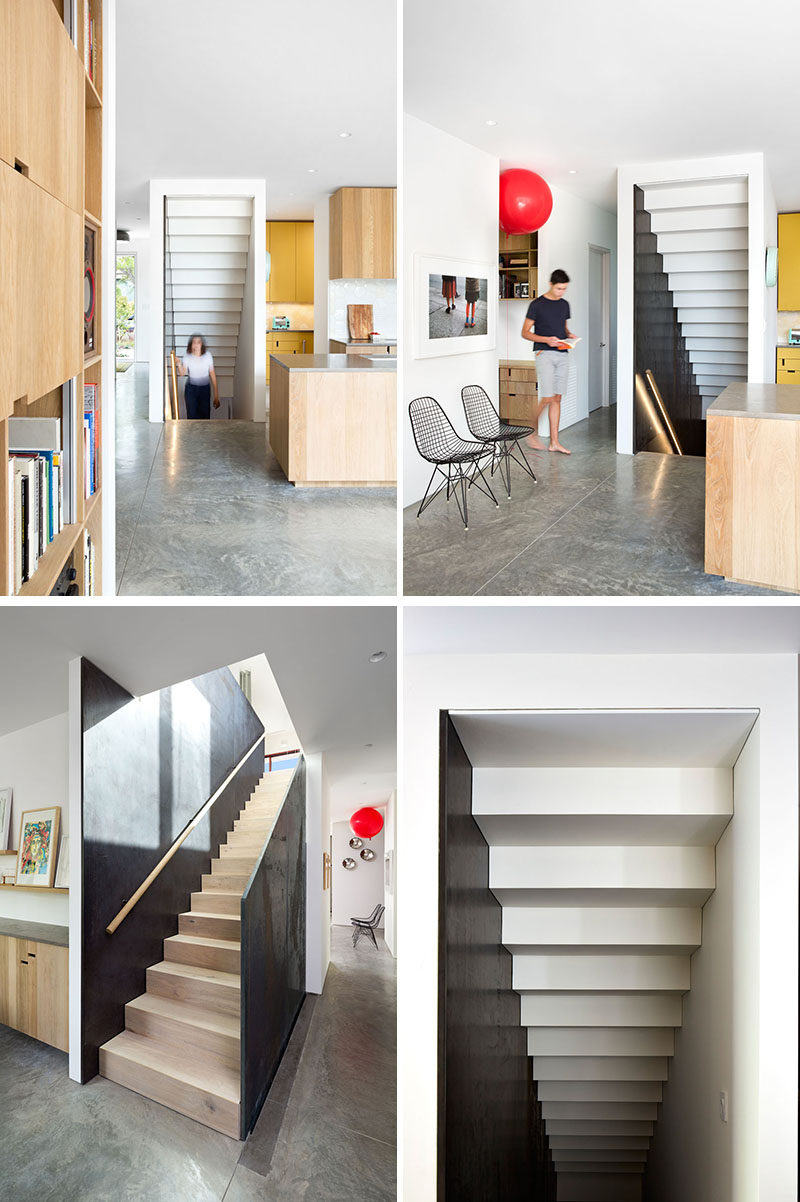 ---
At the top of the stairs, the wood floor has been arranged in a herringbone pattern.
---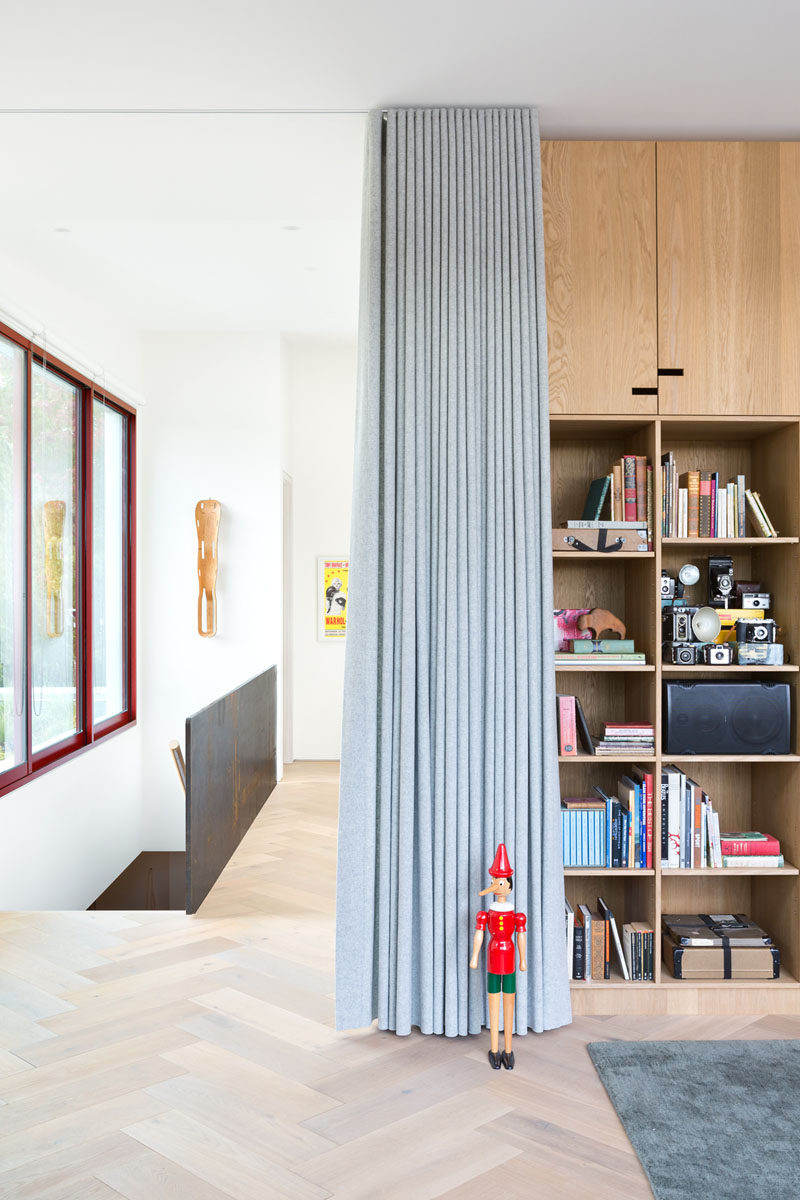 ---
Here's a look at a couple of the bedrooms. This bedroom, featured in the lower level of the home, has bright white walls, multiple small windows and a bright blue blanket on the bed for a pop of color.
---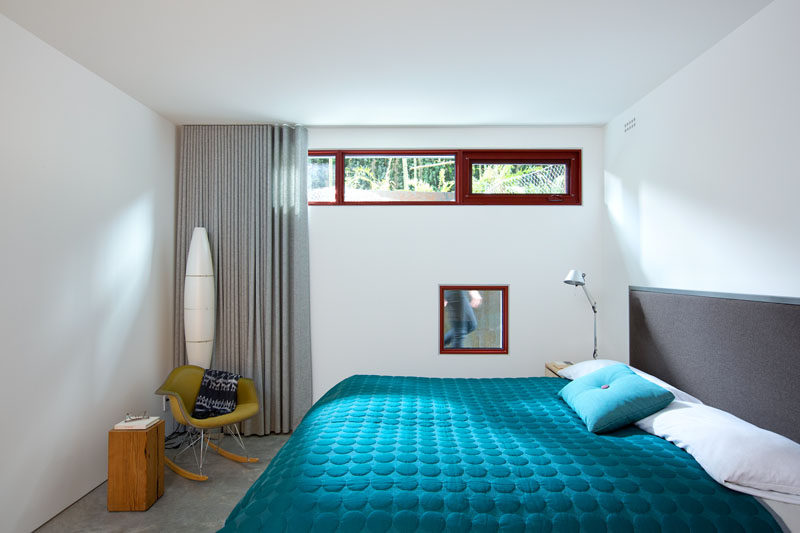 ---
In another bedroom, this time set up for a teenager, there's a lofted reading nook above a closet.
---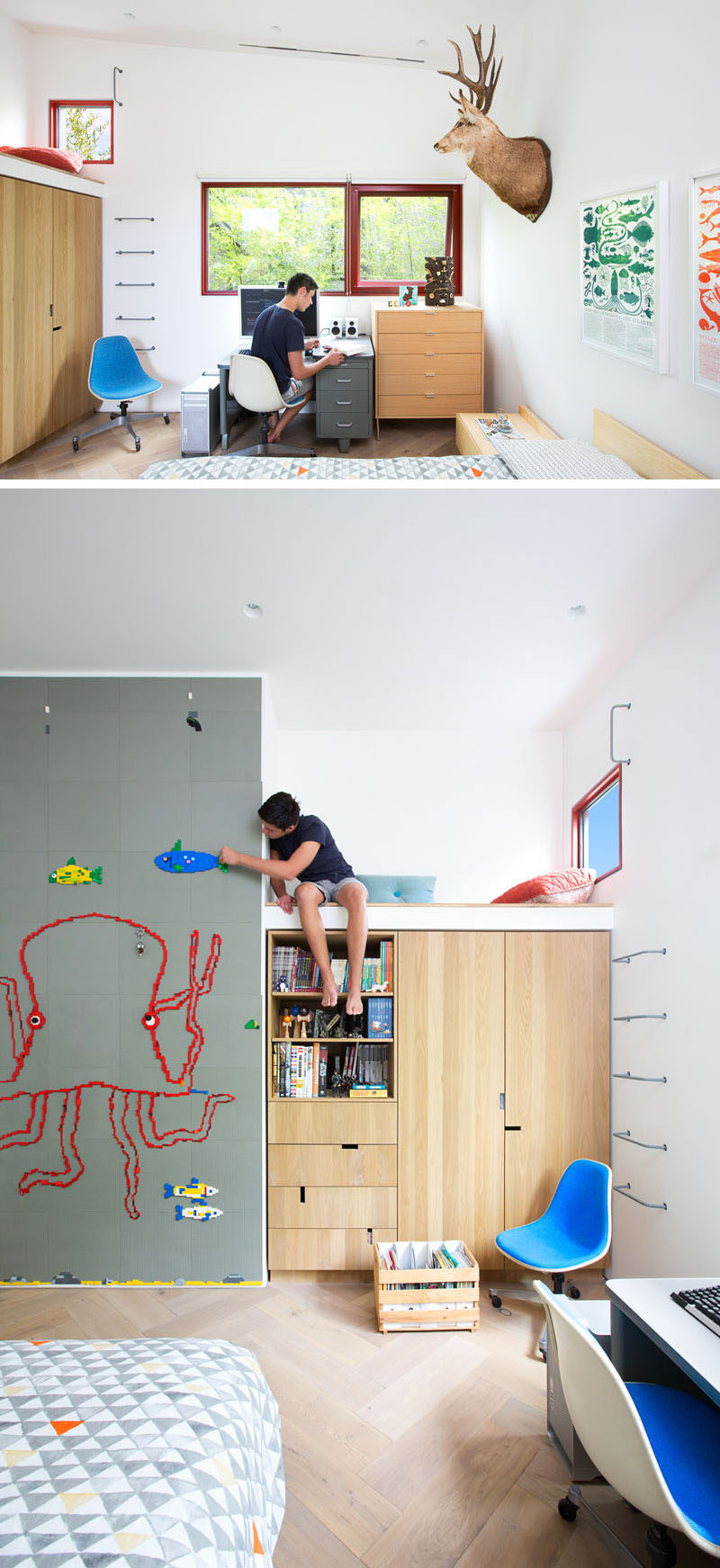 ---
The bathrooms in the home are creative in their design, this this one filled with colorful 'X' tiles that almost look like a cross-stitch embroidery pattern.
---

---
In this bathroom, hexagon tiles in a variety of colors ranging from light to dark, cover the walls from the floor right up to the ceiling.
---
---
The home also has an office, for when work needs to get done. A small row of windows allows natural light to enter the room without the view through the windows creating a distraction.
---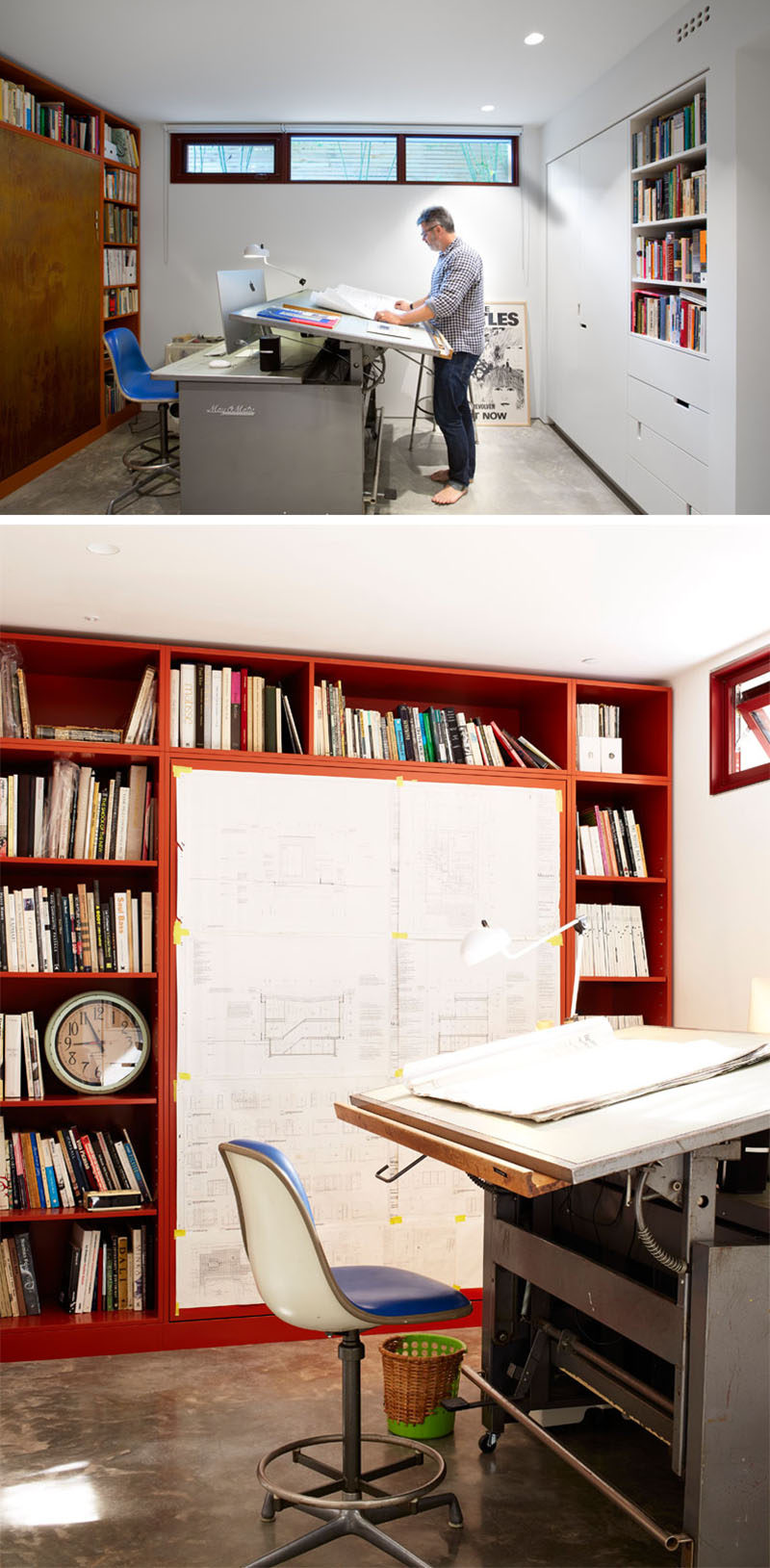 ---
Here's a look at the garage and laneway house that has the green roof seen earlier.
---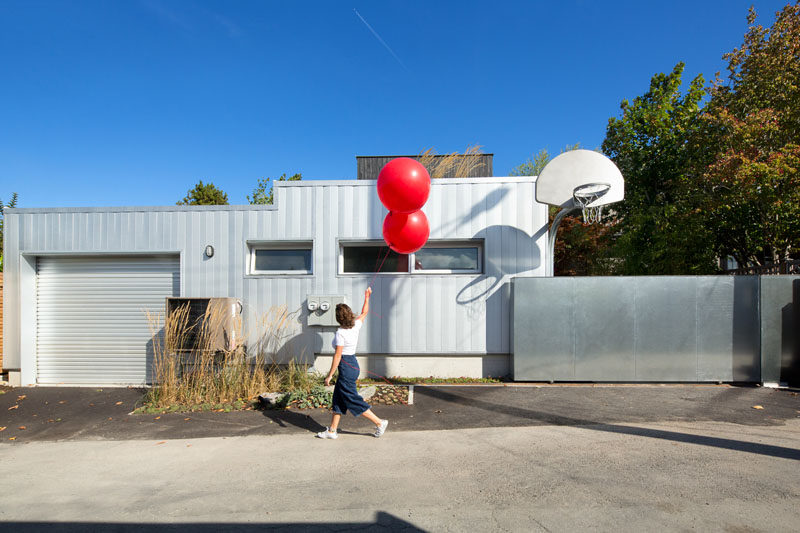 ---