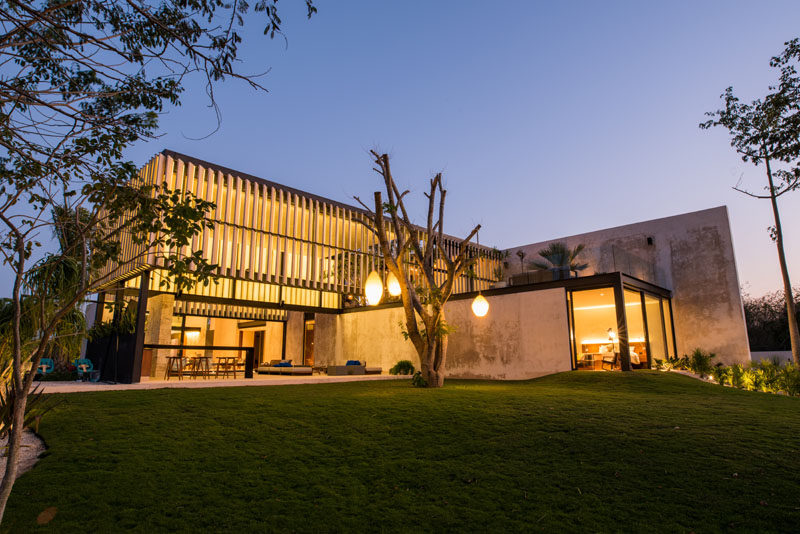 Architecture firm tescala have designed this modern house in Merida, Mexico, named Casa Chaaltun, that features plenty of space for entertaining.
The facade of the house features large solid walls, a sunken driveway and a tall entryway.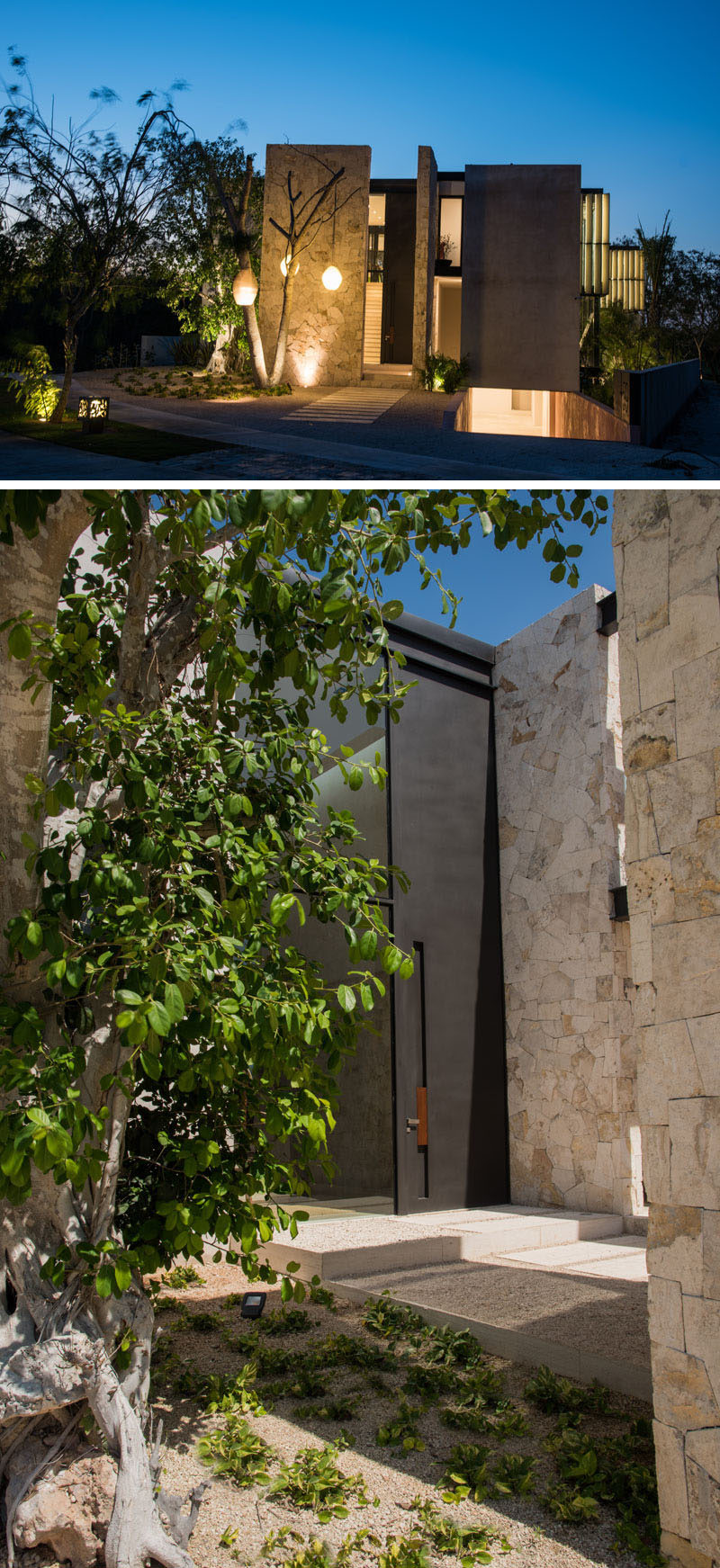 ---
At the rear of the home, the house is more open, with glass and an area that opens up to the backyard.
---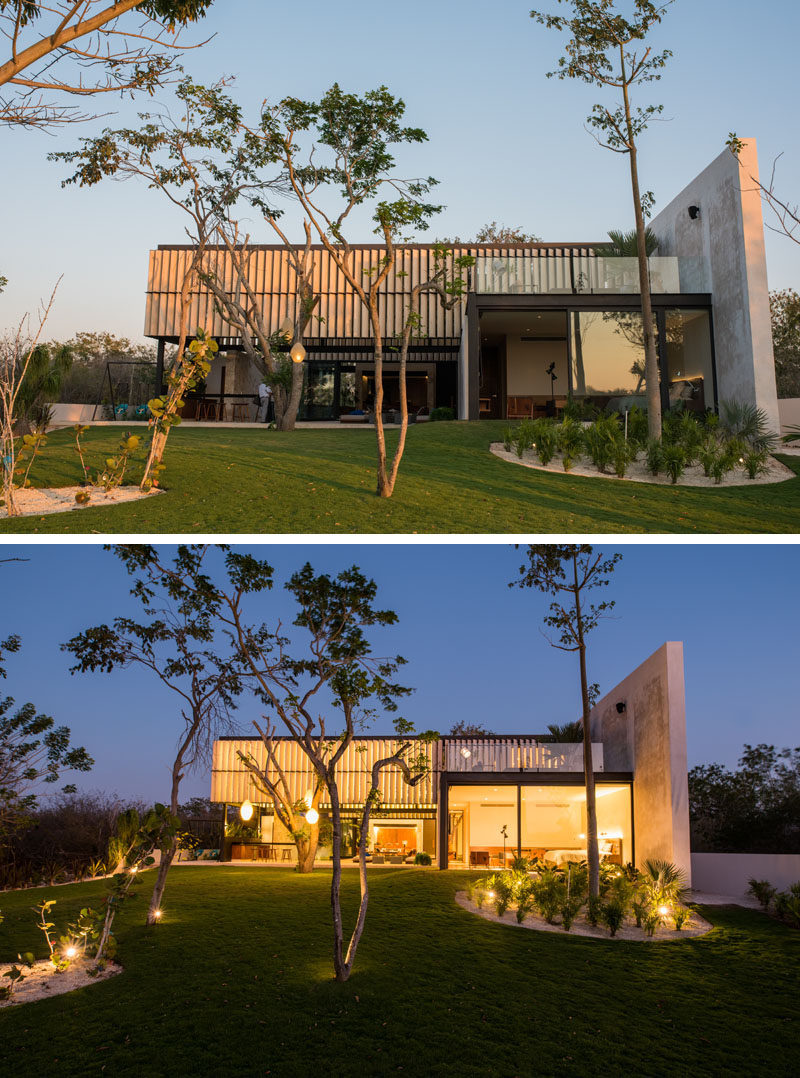 ---
Stepping into the house but not technically inside, there's a large open area with a bar, lounge and swimming pool perfect for entertaining.
---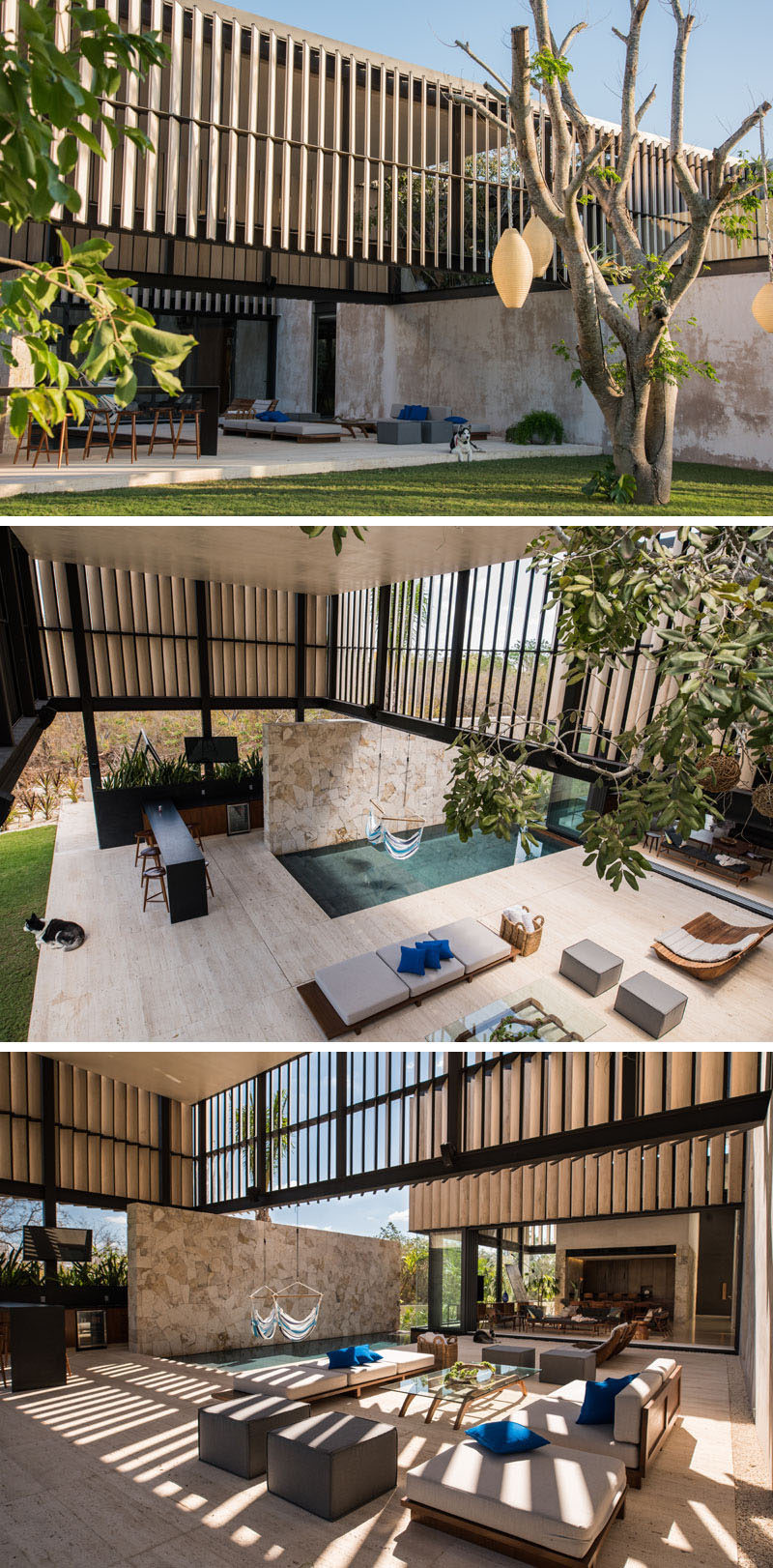 ---
Two hammocks hang above the pool, while a stone wall creates privacy for those swimming.
---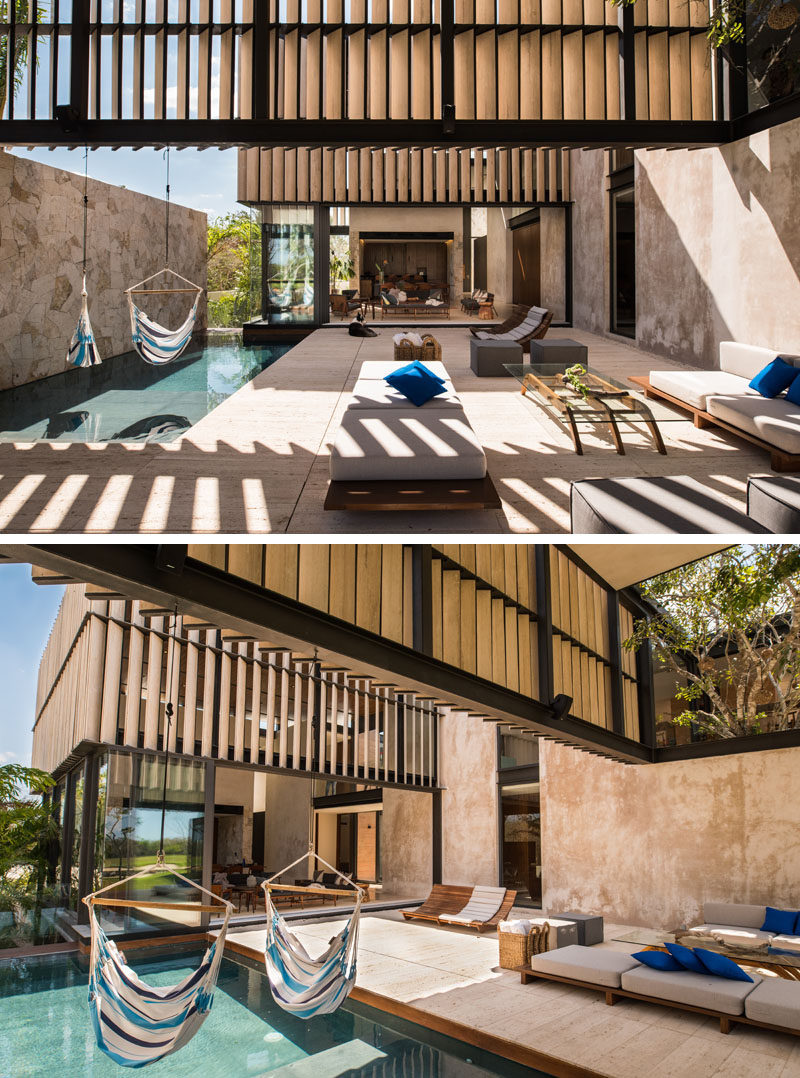 ---
The outdoor entertaining area flows through to the interior of the house and the living room. A simple color palette of grey, wood and stone has been used to create a relaxed environment that ties back to nature.
---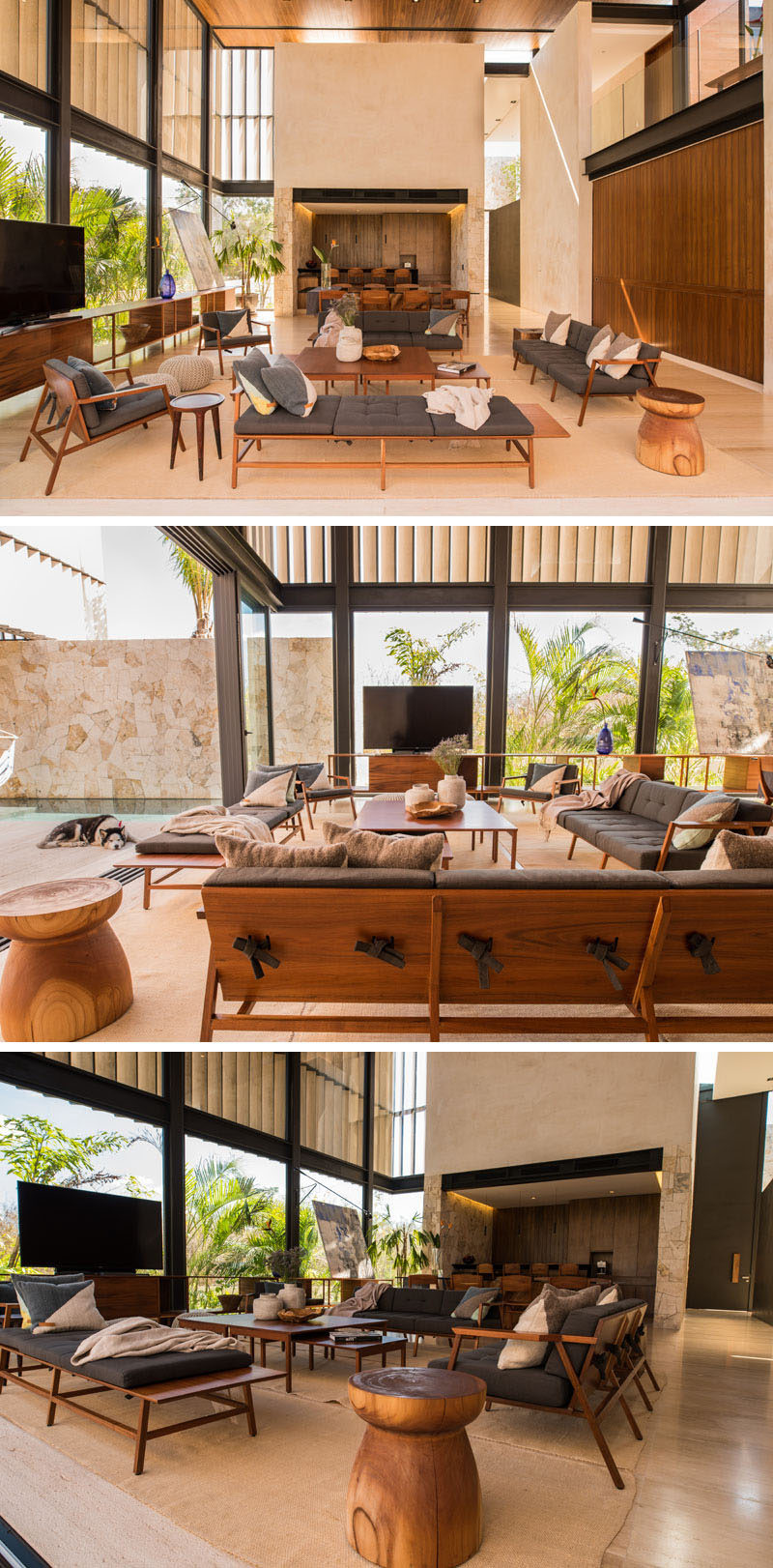 ---
Beside the living room is the dining room. A glass table top allows the wood base to be seen, and at the same time, keeps the interior feeling light.
---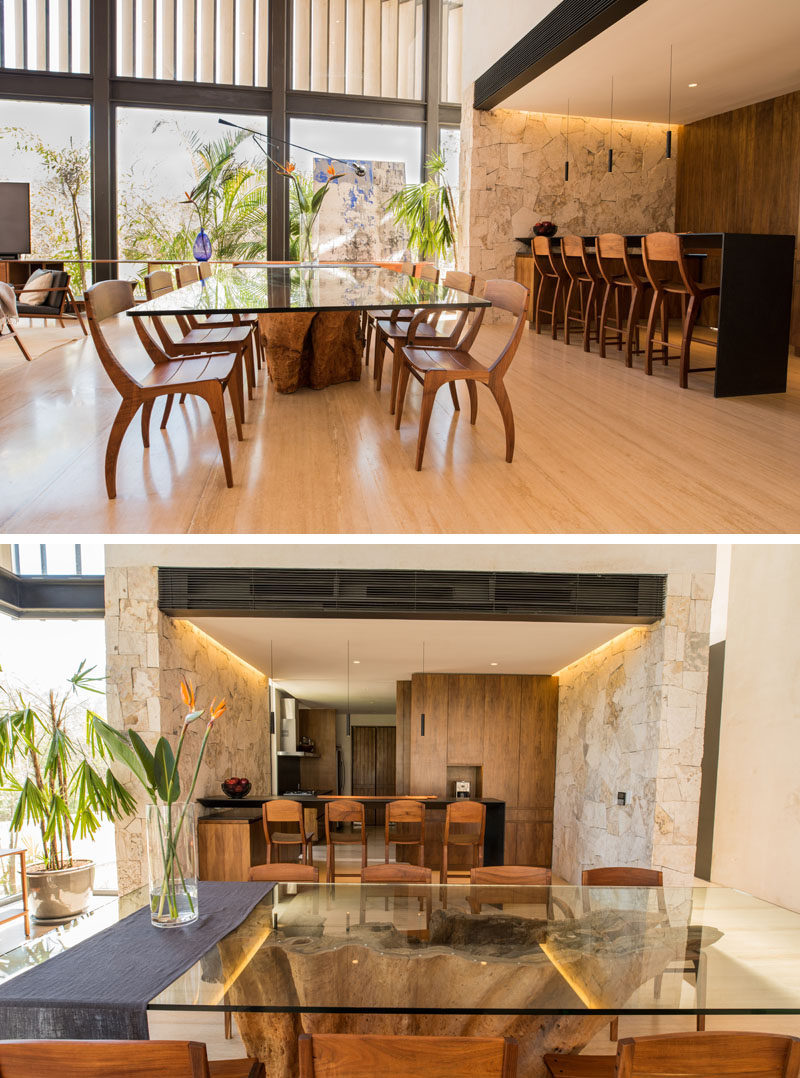 ---
Behind the dining area is the kitchen, that features a light stone wall with a contrasting dark countertops and wood cabinetry.
---

---
Also on the main floor of the home and down a hallway are some of the bedrooms. The master bedroom, with a lounge and built-in desk, looks out onto the backyard through floor-to-ceiling windows.
---

---
The same wood in the bedroom also continues through to the master bathroom in the form of cabinets with open shelving and a floating vanity. A standalone white bathtub sits below a large wall-mounted plant.
---

---
Next to the master bedroom is the children's bedroom. This bedroom also has built-in furniture and an ensuite bathroom.
---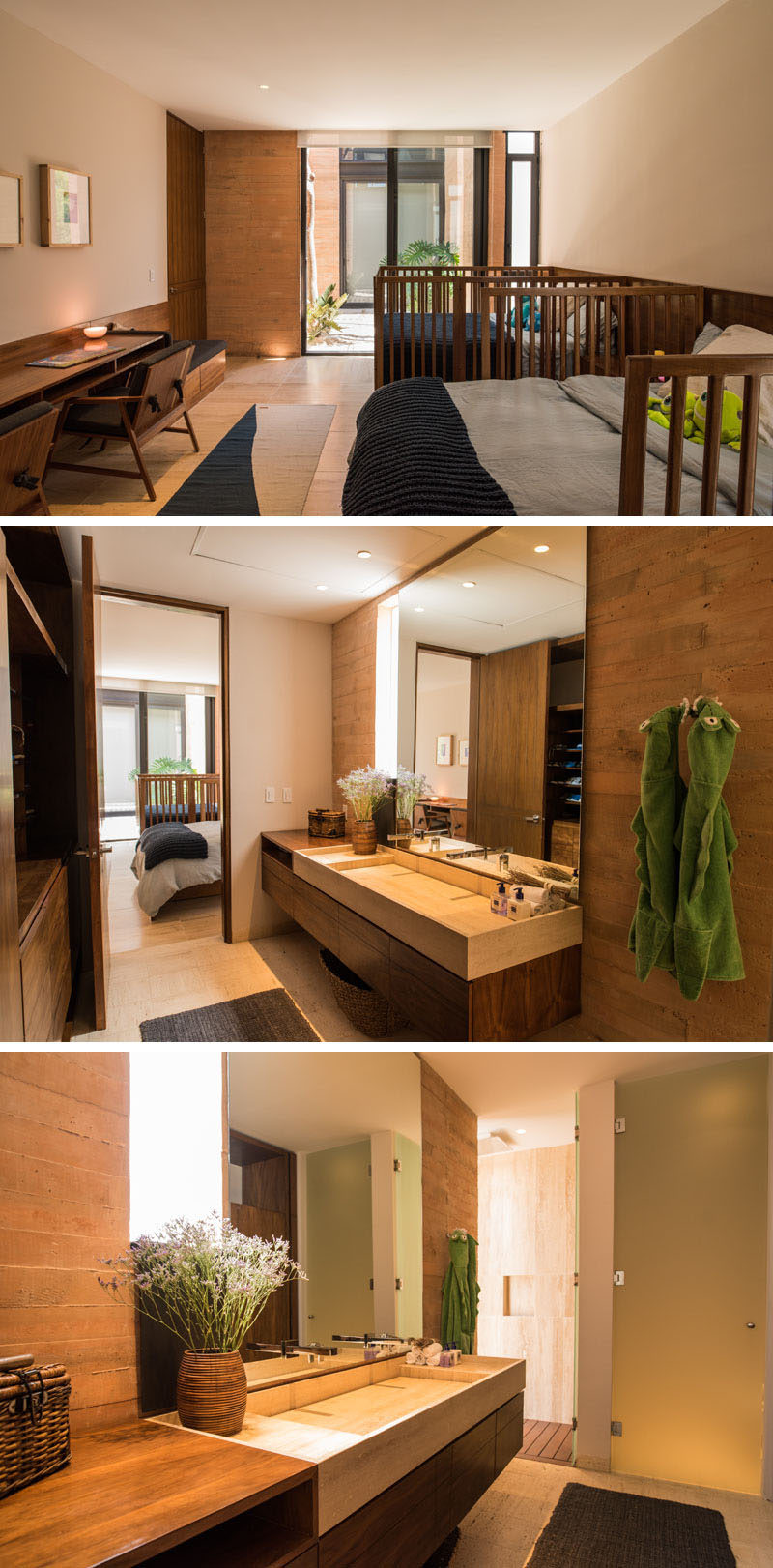 ---
Separated from the children's bedroom by a small courtyard, is yet another bedroom. The courtyard provides the room with plenty of natural light.
---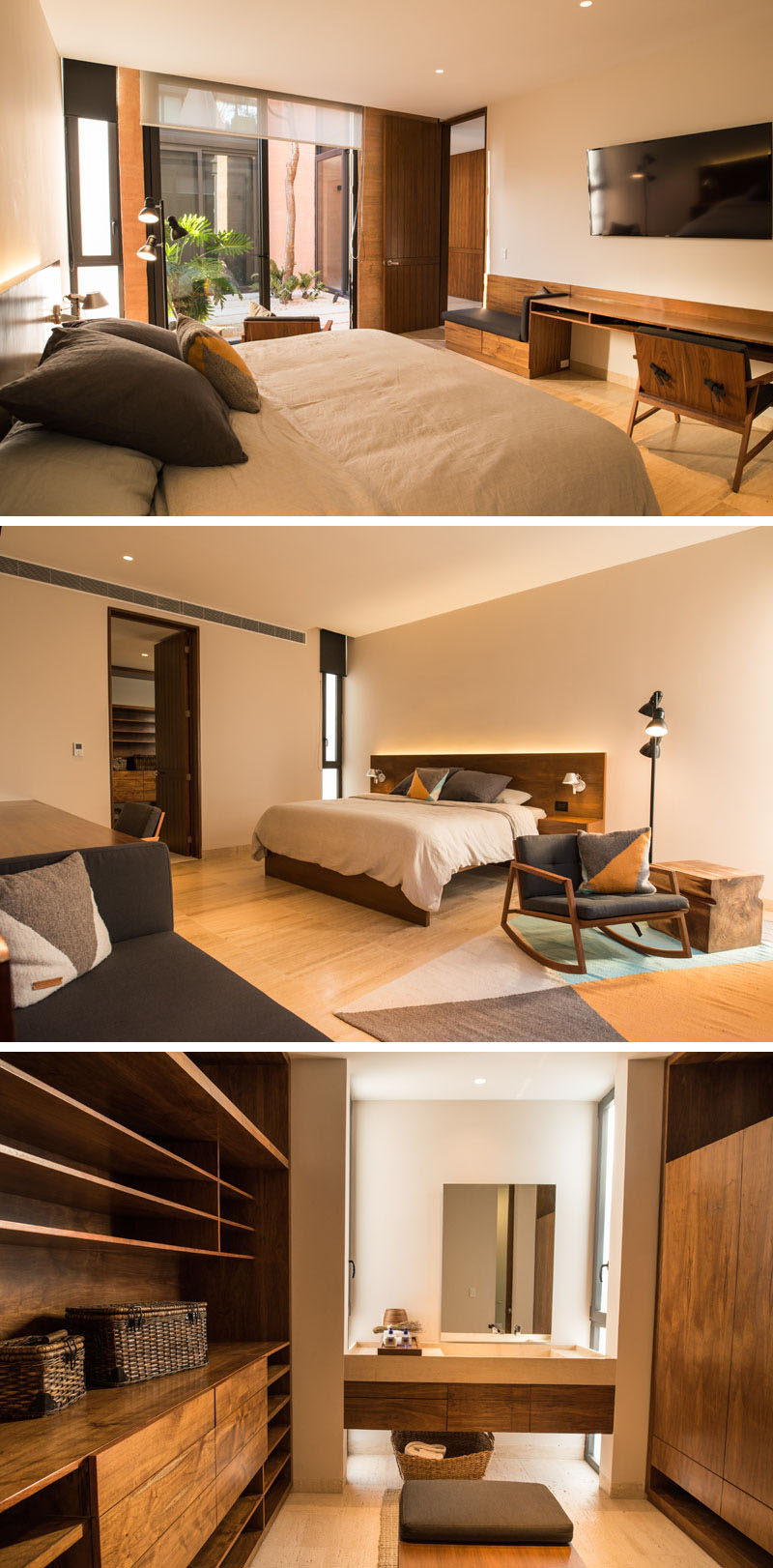 ---
By the front door of the house, there's stairs that lead up to the second floor of the home.
---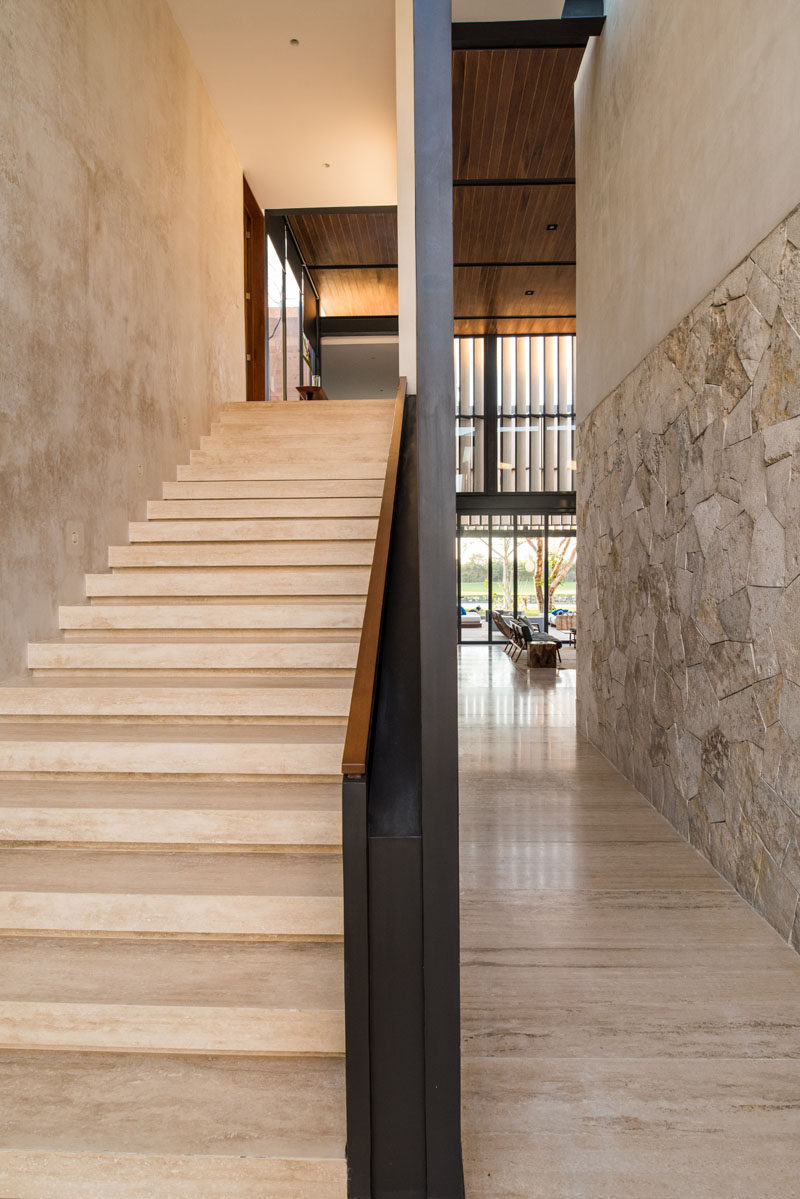 ---
On the upper floor of the home, there's another bedroom. This time, it looks down onto the small courtyard.
---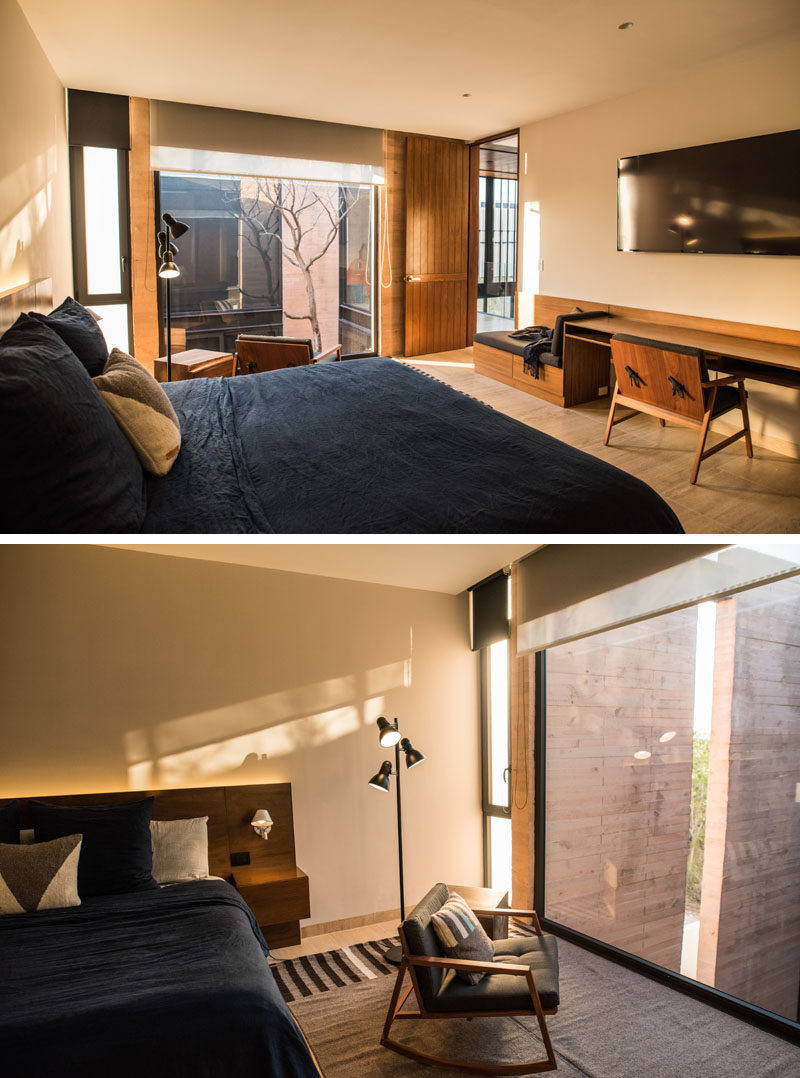 ---
Outside the bedroom, there's a bridge that looks down to the courtyard on the left, and on the right, it looks down to the outdoor entertaining area and pool.
---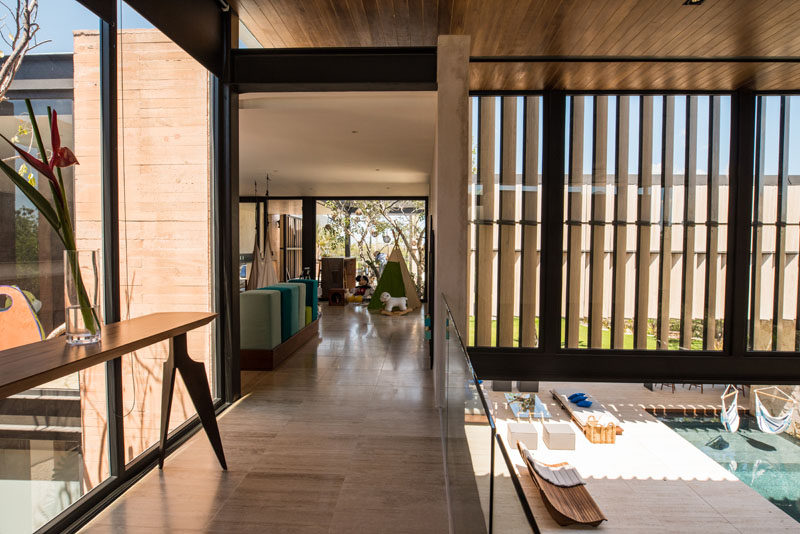 ---
The bridge leads to a playroom, designed by miostudio, that has small hanging chairs, and upholstered blocks that can be played with individually or made into a couch.
---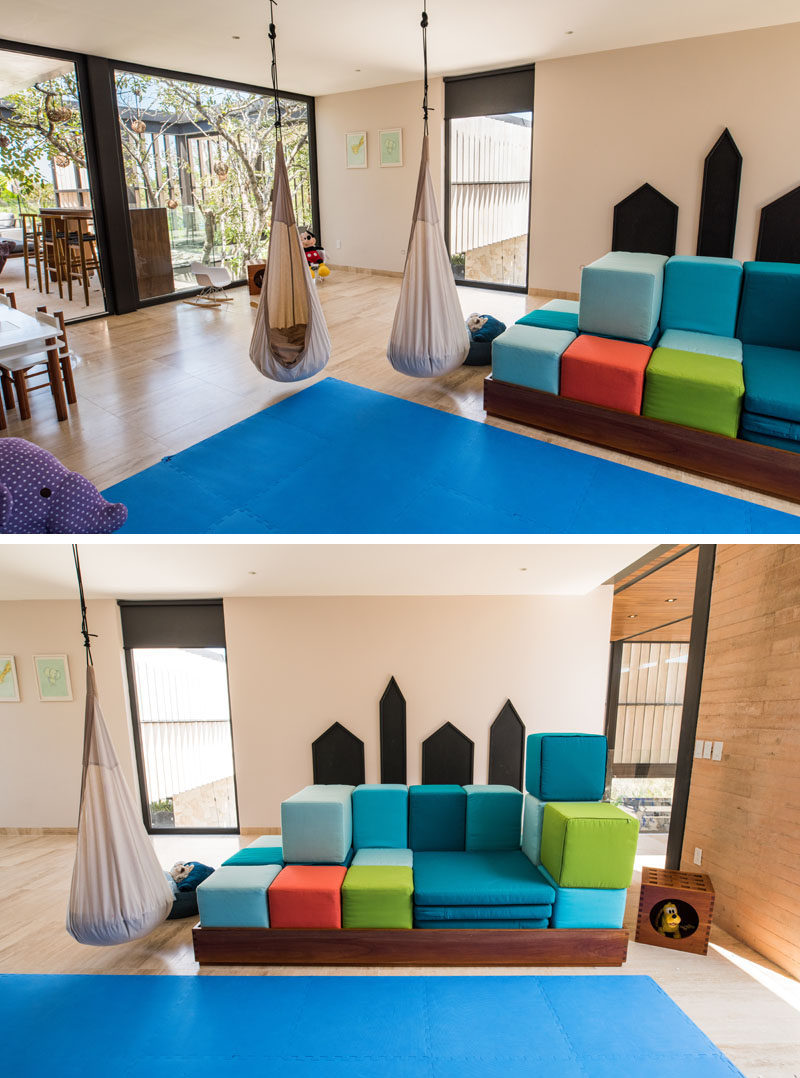 ---
Just off the playroom is a second partially covered outdoor entertaining area. There's a kitchen, a bar, a swing, and a dining area.
---
---
There's also an outdoor lounge that overlooks the landscaping below, designed by Ernesto Degetau.
---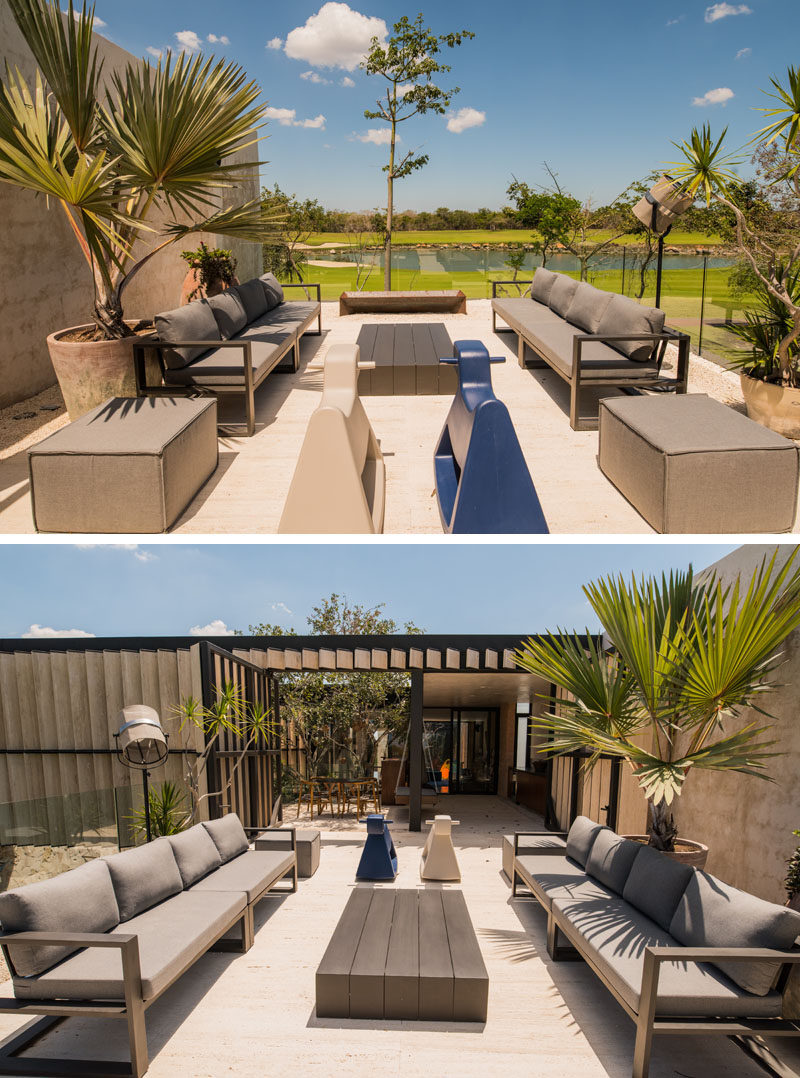 ---