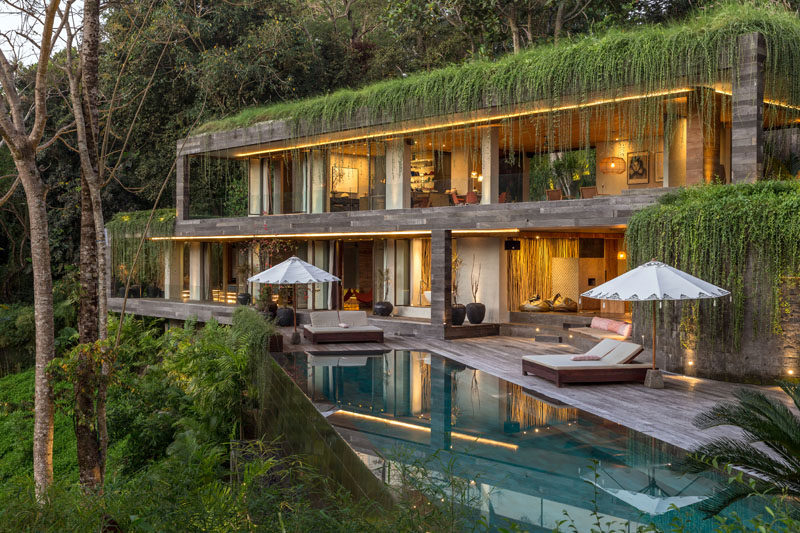 Architecture firm Word Of Mouth, have designed the 'Chameleon Villa', a multi-level home that's located in a southwest coastal area of Bali, Indonesia.
Constructed on an acre of land, overlooking a dense forest and a gentle river below, the villa sits on a steep contour with an 11-meter difference of level between the arrival area and the river that runs the western length of the property.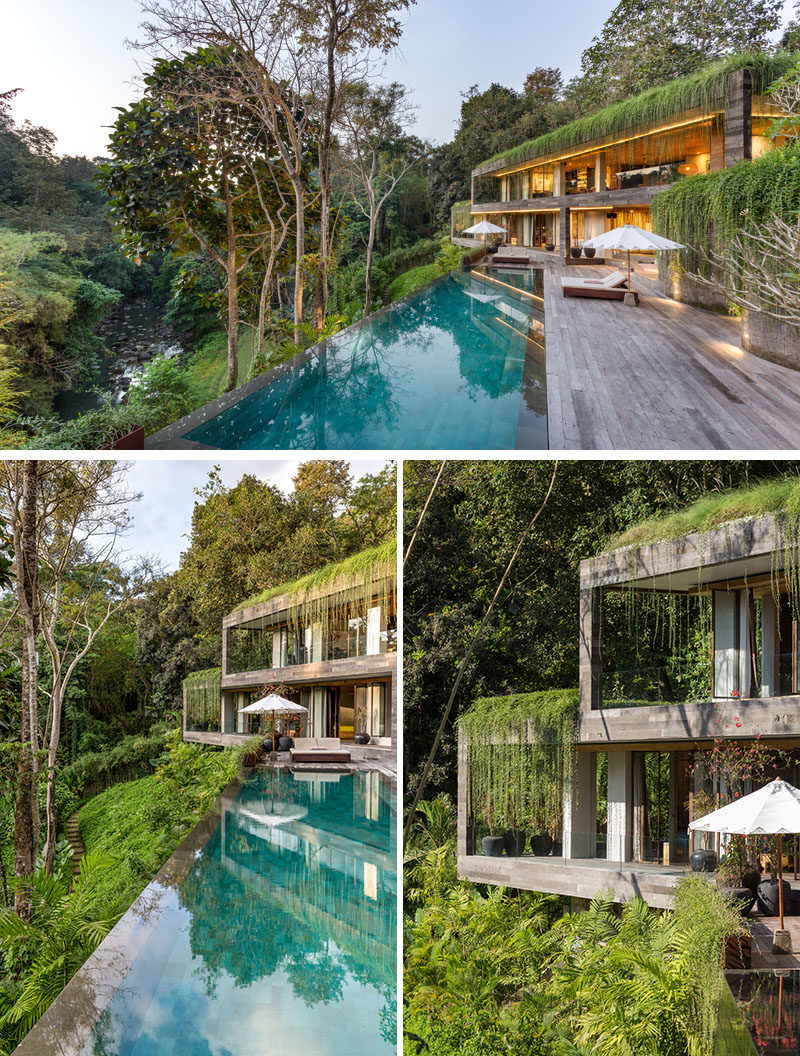 ---
The luscious tropical landscape becomes the backdrop for a calming retreat, where a stepped path surrounded by plants leads from the parking area down to the house.
---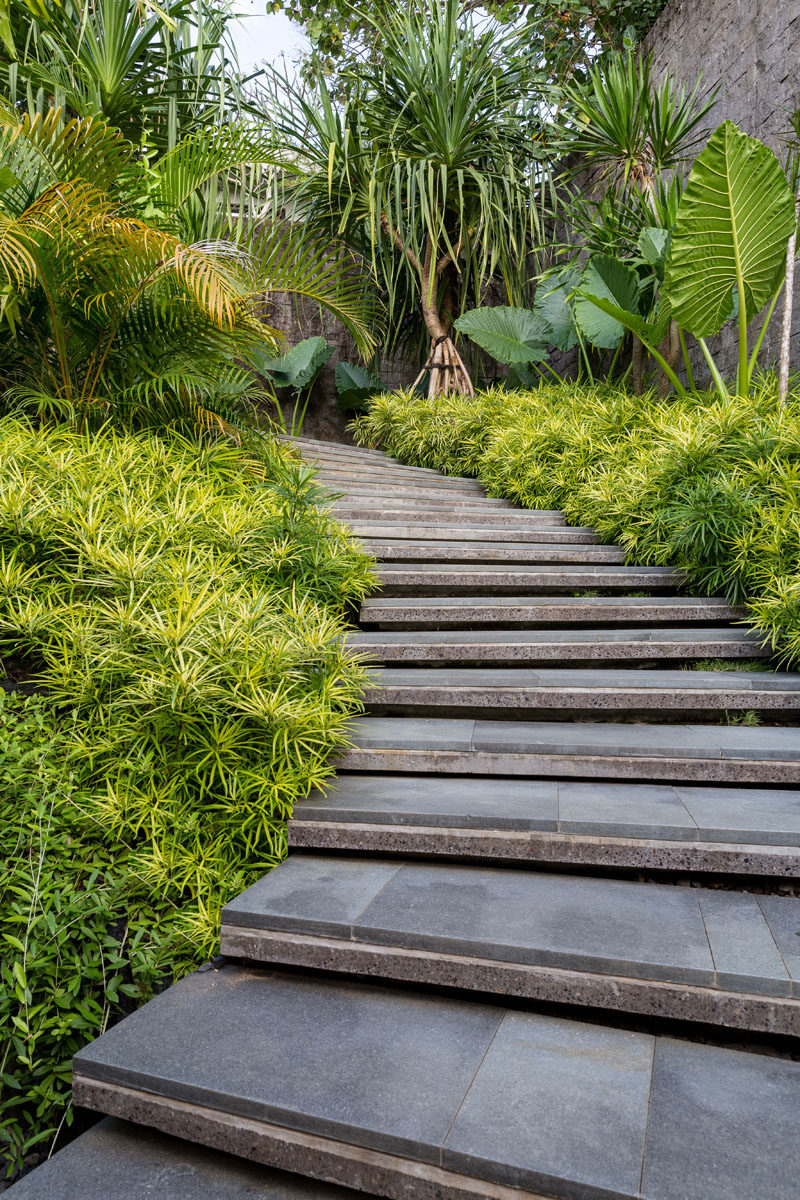 ---
The material palette throughout the house is largely comprised of natural and locally sourced materials, meaning that not only could local suppliers and artisans be supported by this initiative, but it also minimized the home's carbon footprint.
---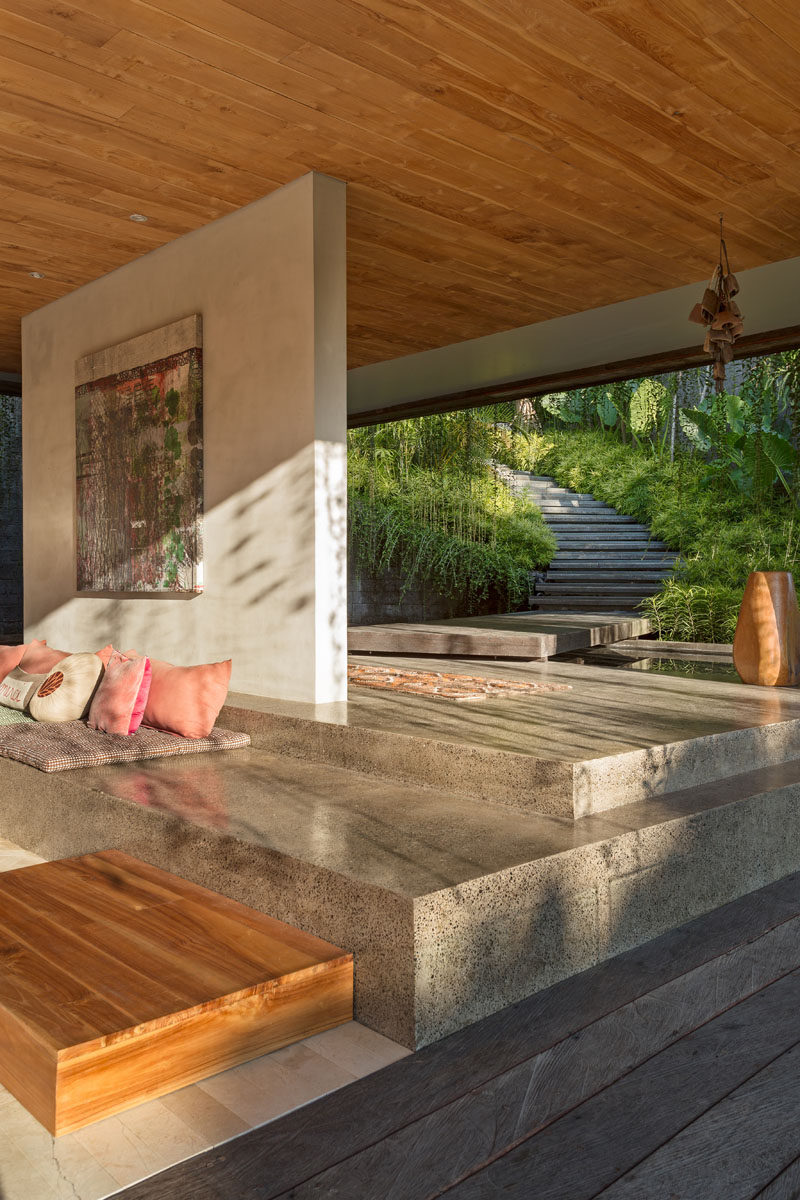 ---
All of the social areas of the house, like the living room, have been kept open towards the elements, whereas the bedrooms and other more private spaces such as office, gym, and media room can be closed off.
---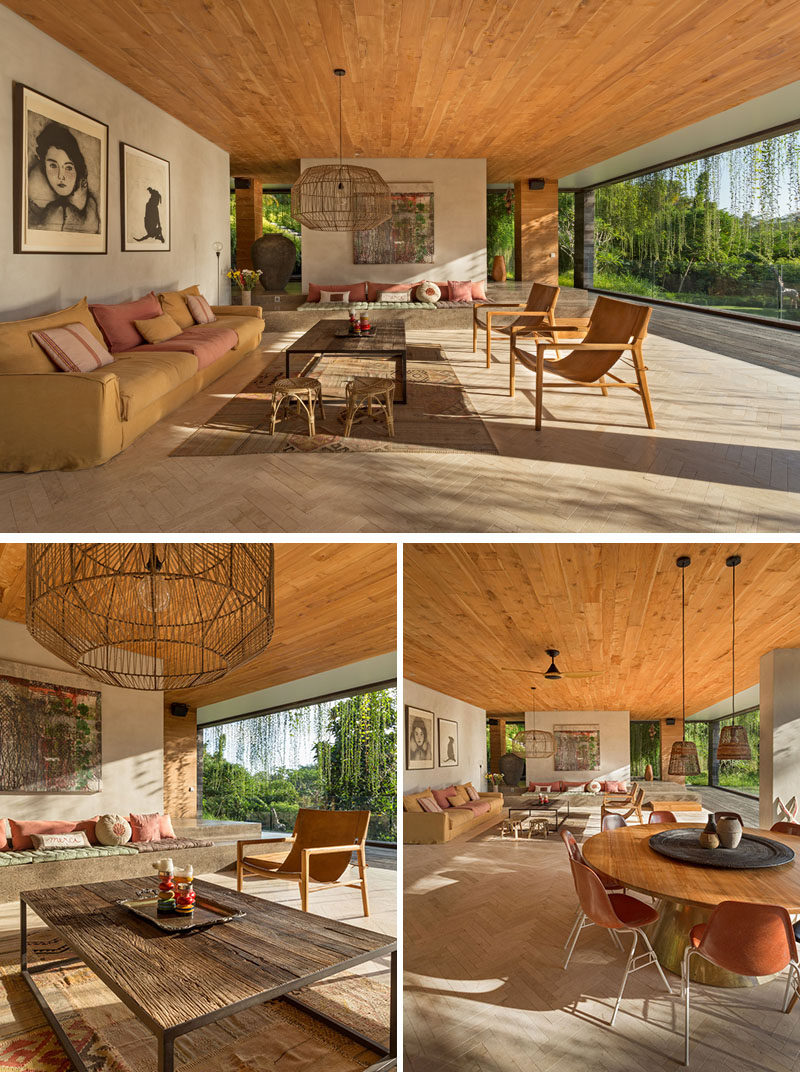 ---
At the end of the open living and dining room, there's the kitchen, that shows off a mirrored metallic island.
---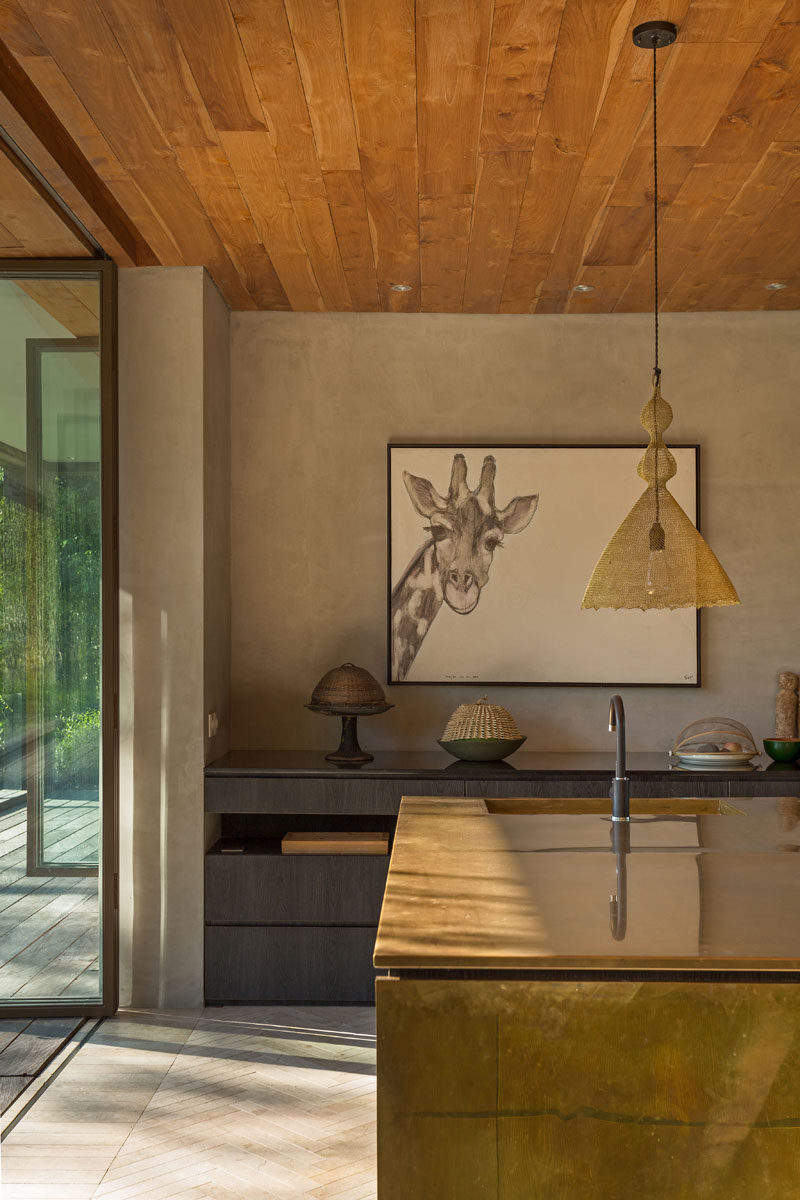 ---
The social areas of the home open to a terrace deck that provides an uninterrupted view of the forest, the swimming pool, and the somewhat hidden roof of the building below.
---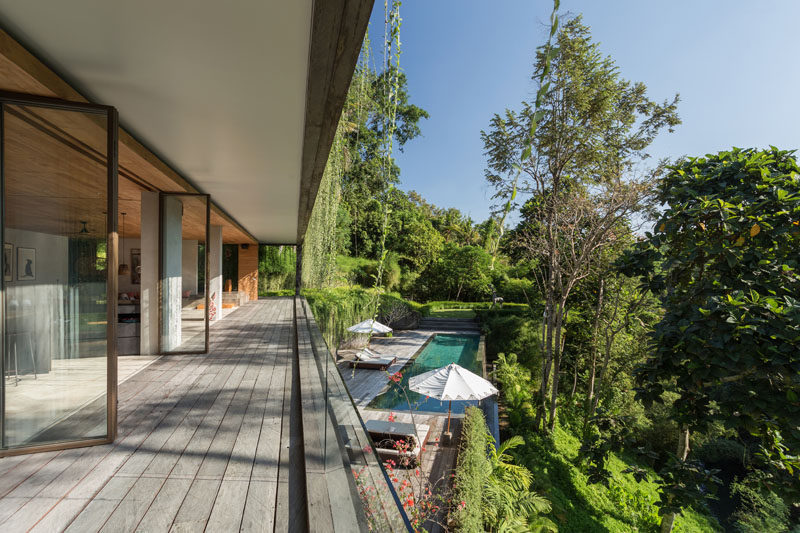 ---
Another social area of the home is a cave-like lounge and bar area that leads to the swimming pool. The lounge features a built-in curved concrete couch with cushions and a large table.
---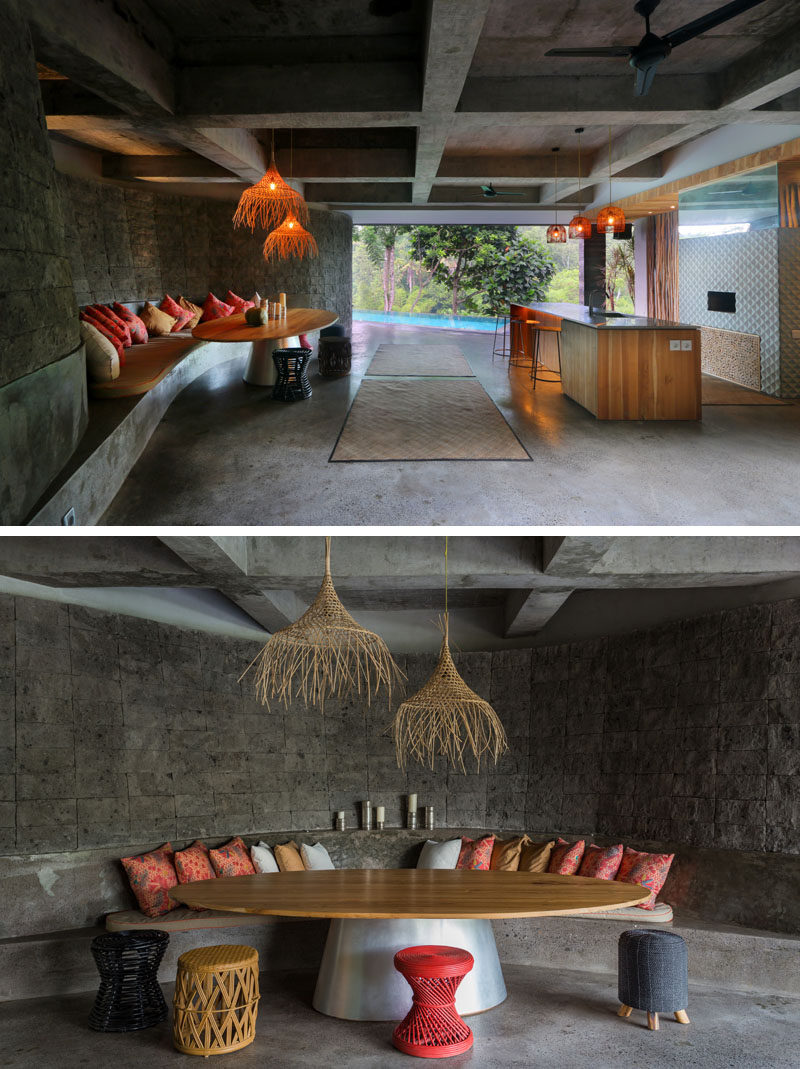 ---
Also on this level of the house are more private areas, like this bathroom with a freestanding circular bathtub. The bathroom is also open to one of the bedrooms, that has raised platforms for the beds to rest on.
---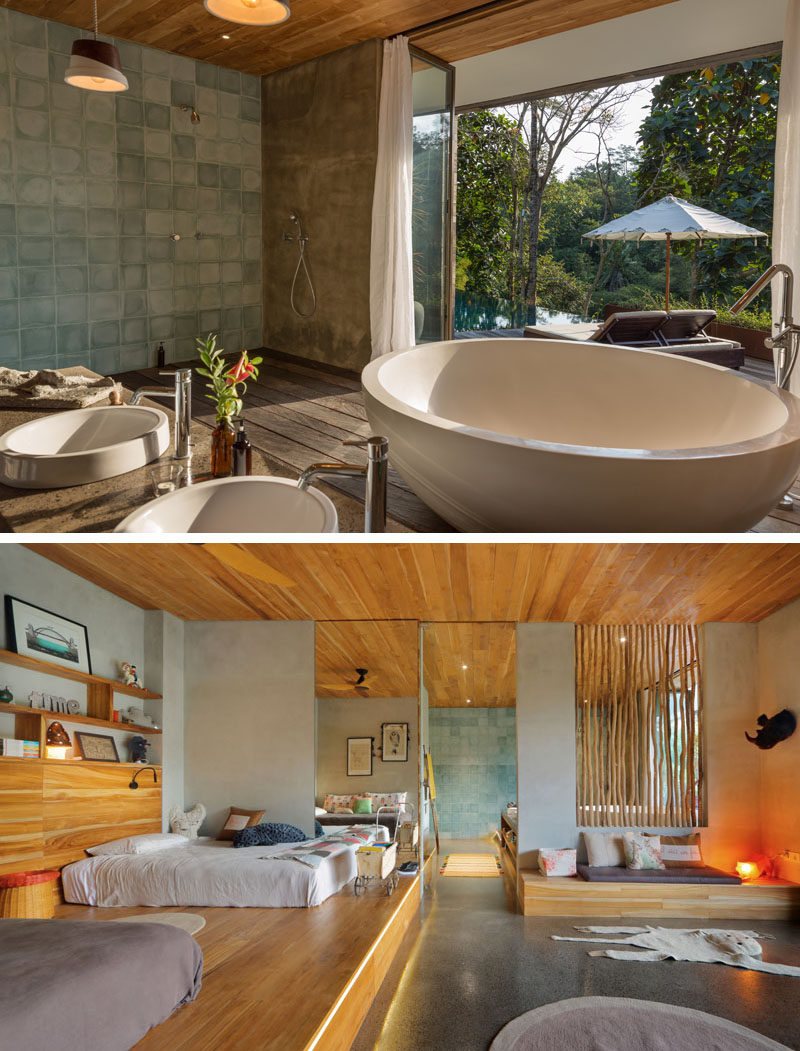 ---
In another bedroom, a grey colored wall with a built-in shelf becomes the headboard for the bed, while wood features heavily on the ceiling and on the floor.
---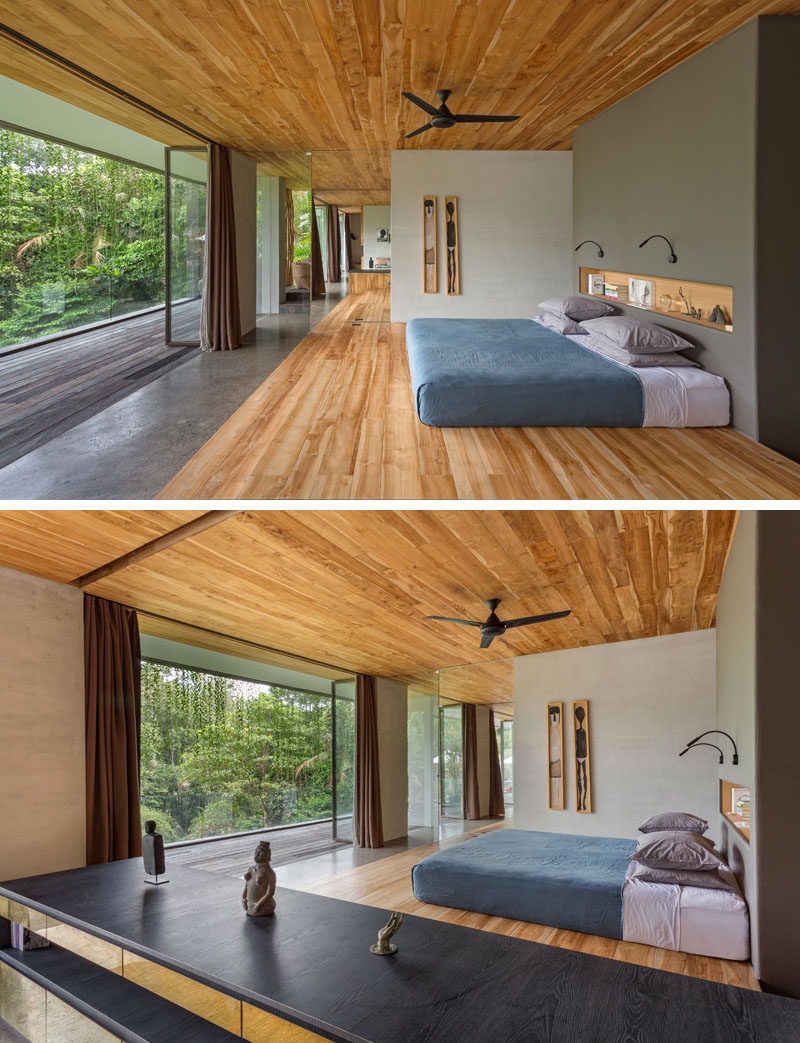 ---
In this bathroom, a black sunken bathtub is positioned for relaxing tropical garden views.
---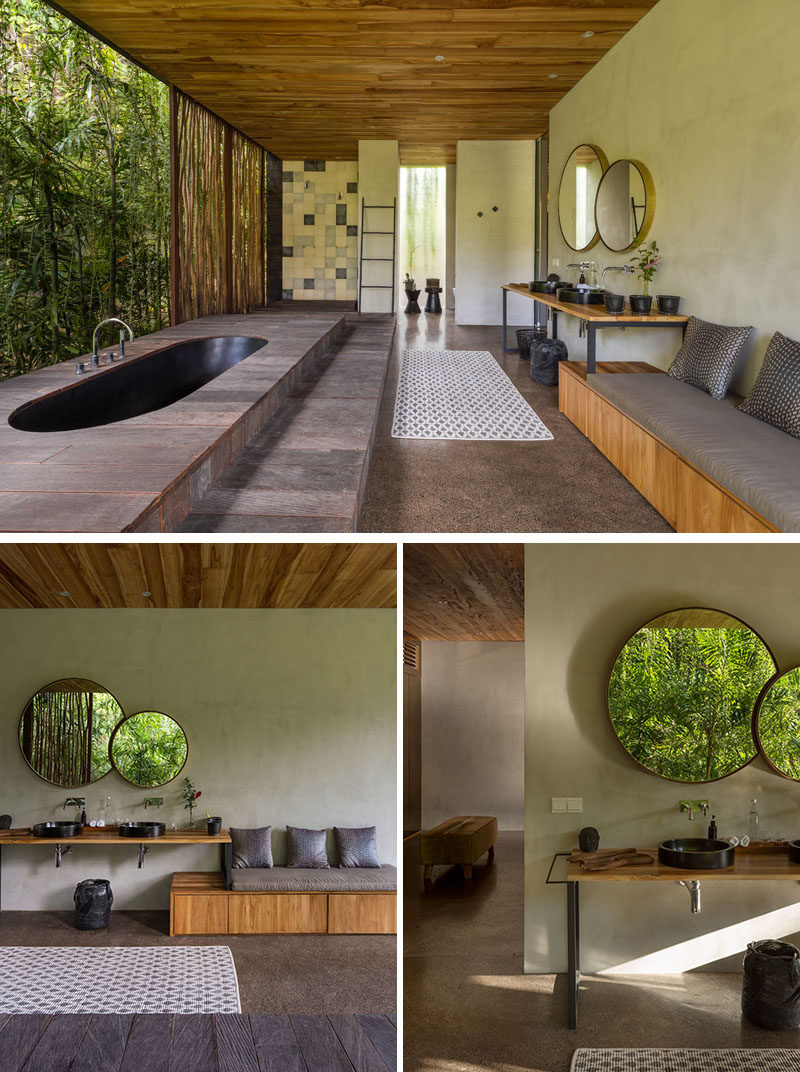 ---
Here's a closer look at the sunken bathtub.
---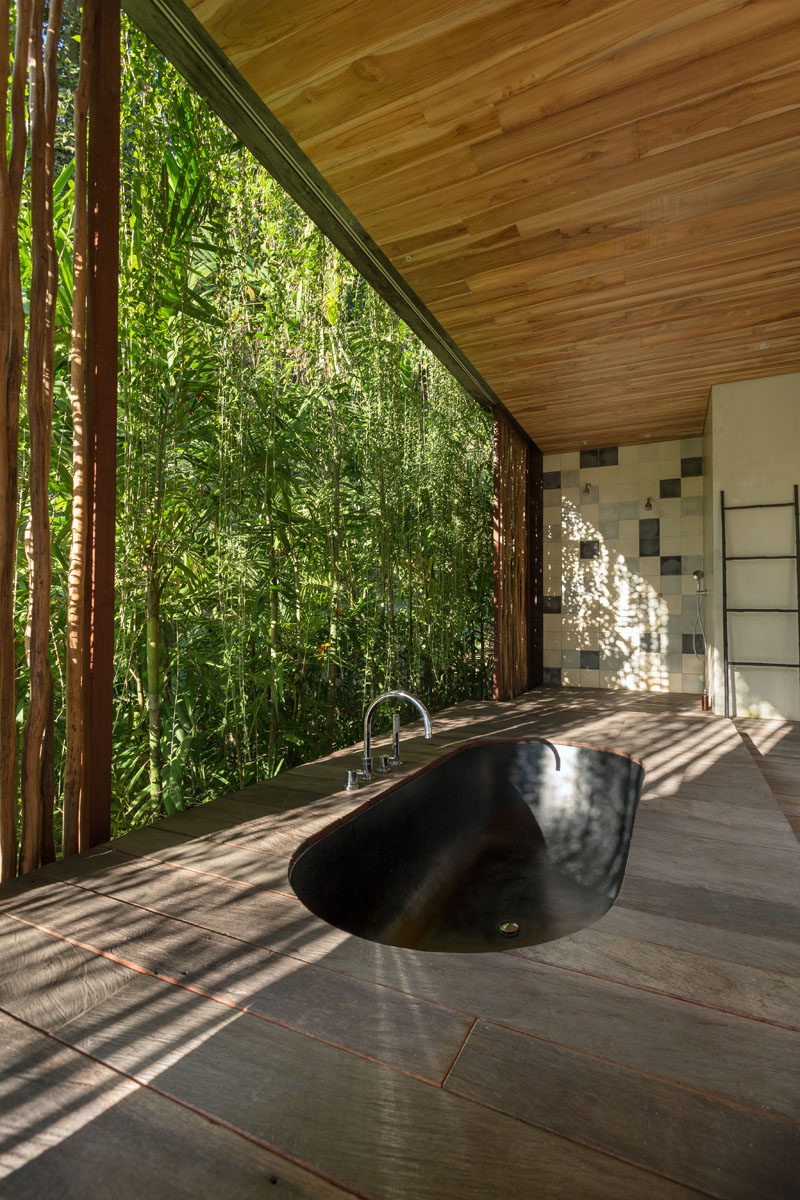 ---
In another bathroom, the room is circular with a single round skylight that provides a view of the green roof and sky beyond.
---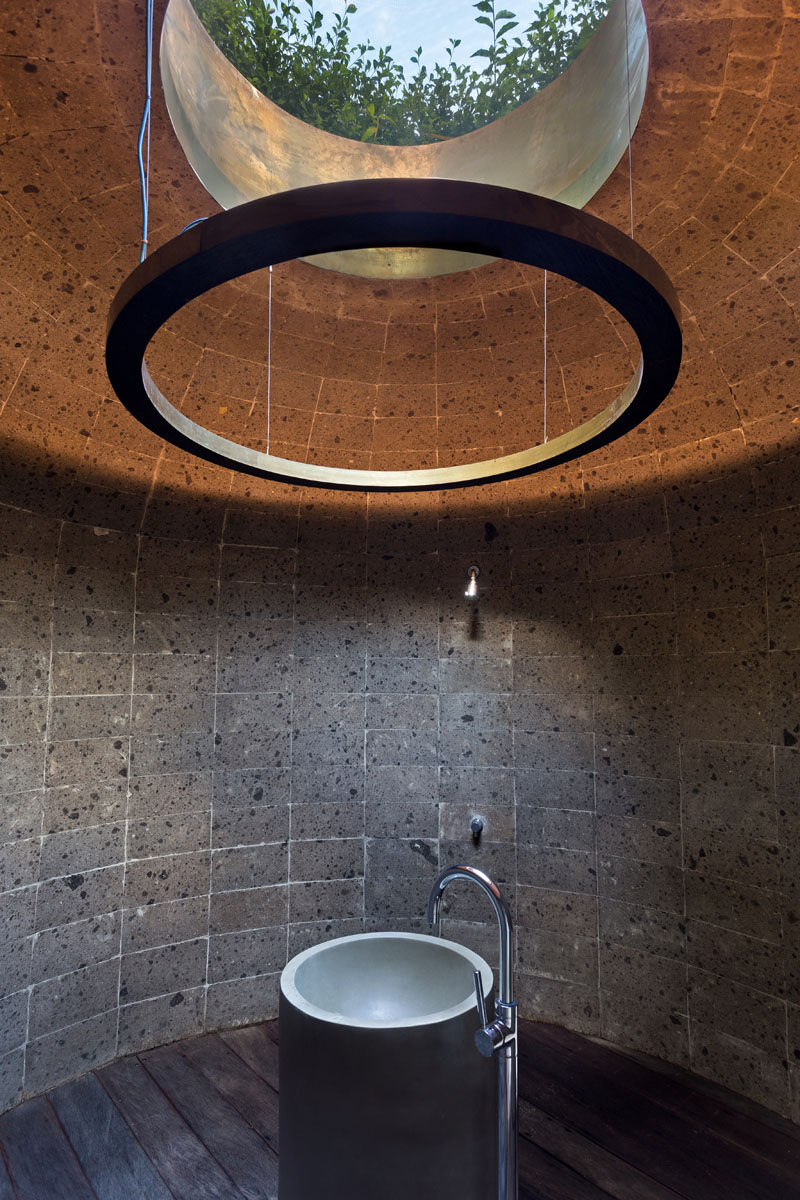 ---
The villa also has designated rooms for guests, like the one below that again, has the bed raised on a wood platform. The guest rooms are actually hidden within a building at the end of the pool.
---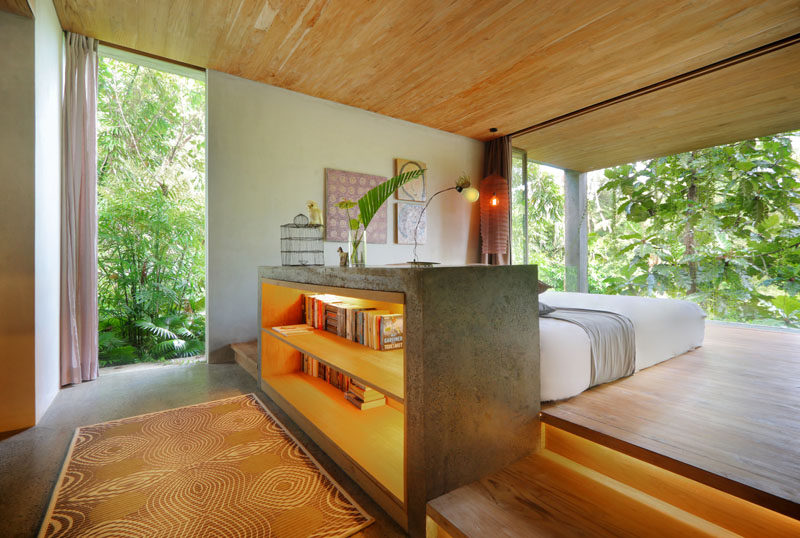 ---
One of the guest rooms has a bathroom that opens up to a private courtyard.
---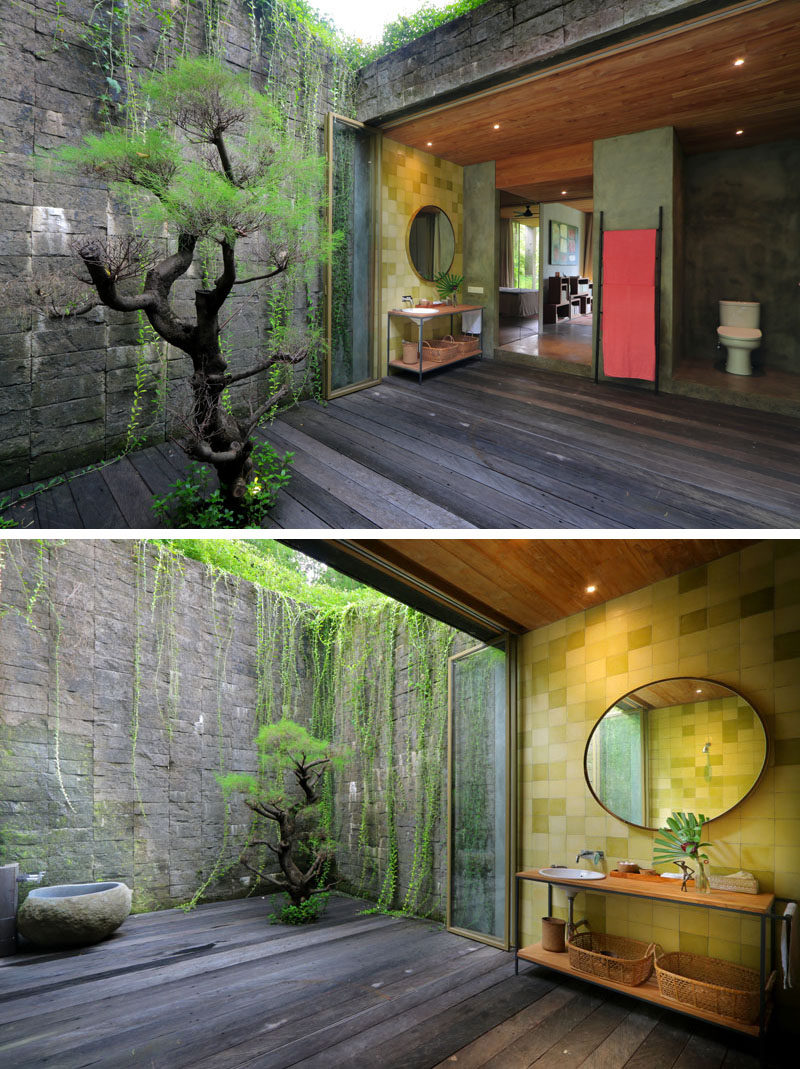 ---
From this angle, you can see that the guest rooms are hidden within a building that has a 'camouflaged' roof, which provides a cooling effect to the spaces below and assists with rainwater collection.
---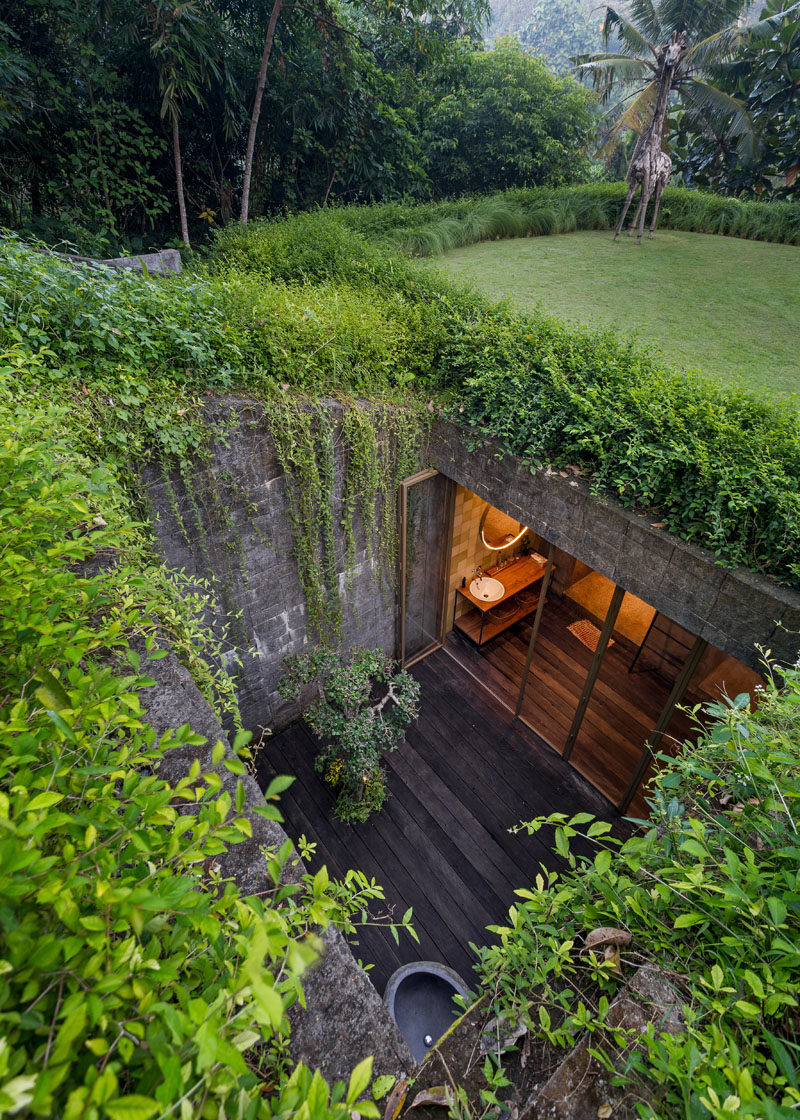 ---
Here's another courtyard that's located off another guest room. This time, lights have been added to highlight the stone walls, while cacti add to the rock garden feel.
---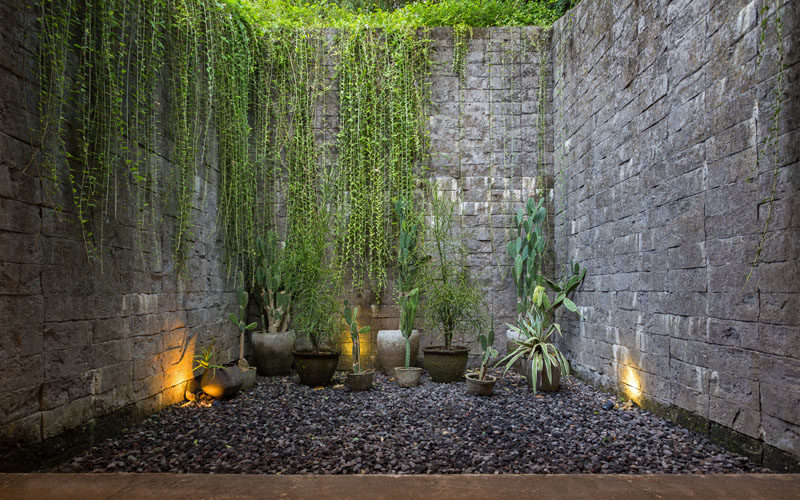 Photography by Daniel Koh | Architect: Valentina Audrito | Design Team: Abbie Labrum, Dewi Arianti,Agung Sudarma, Rachel Fabrina, Levina Sunarjo, Firman Azi, Parinita Dewan | Builder: Johannes Weissenbaeck | Collaborators: Triloka Bali- Robin Bimantoro
---