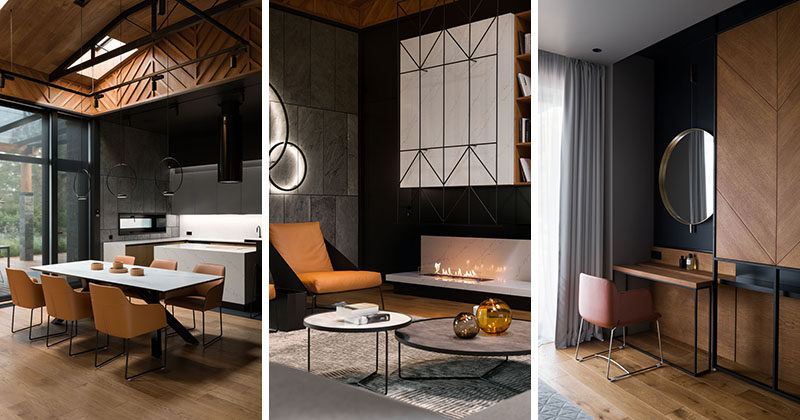 Denis Rakaev of D E N R A K A E V, has recently completed the interior design of a home that lies on the outskirts of Kiev, Ukraine, and is surrounded by a forest.
Stepping inside, the high ceilings throughout are immediately apparent, while a custom designed multi-purpose furniture piece in the entryway provides a place to hang jackets and store shoes.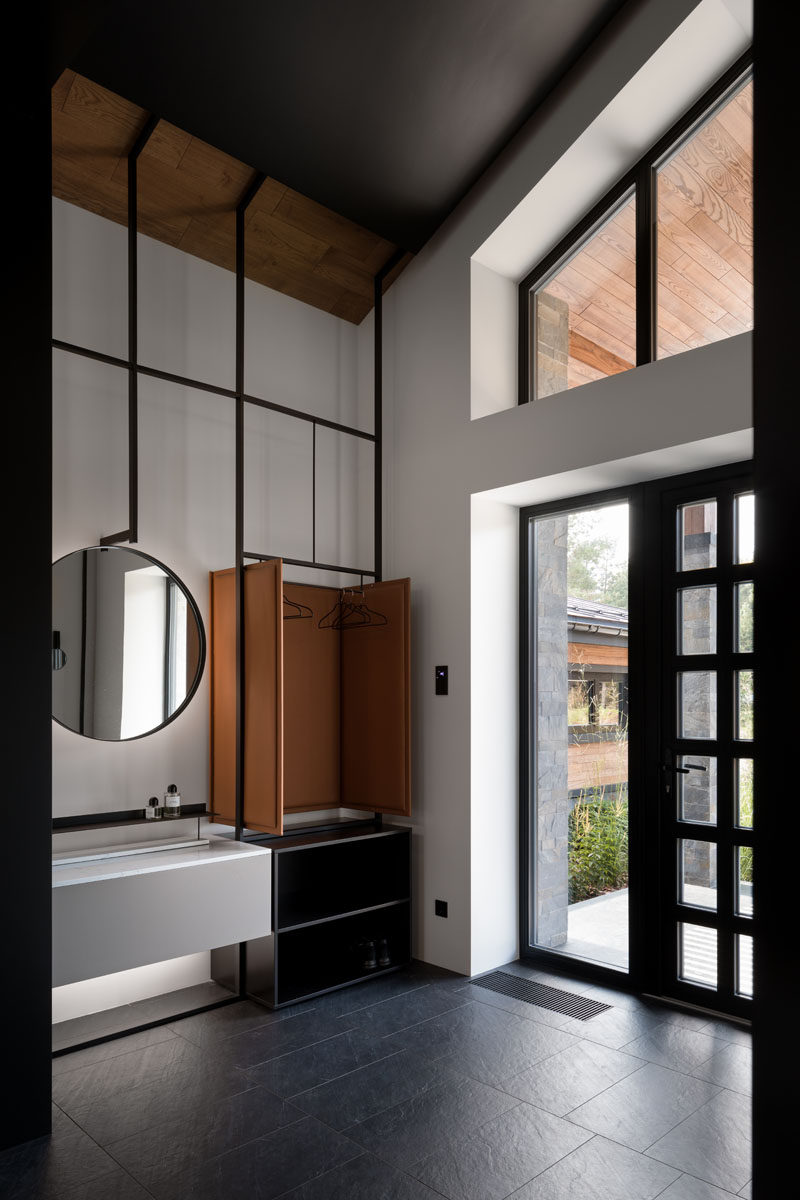 ---
The entryway opens up to an open plan living room, dining area and kitchen. In the living room, a large light grey couch is focused on the the television and fireplace.
---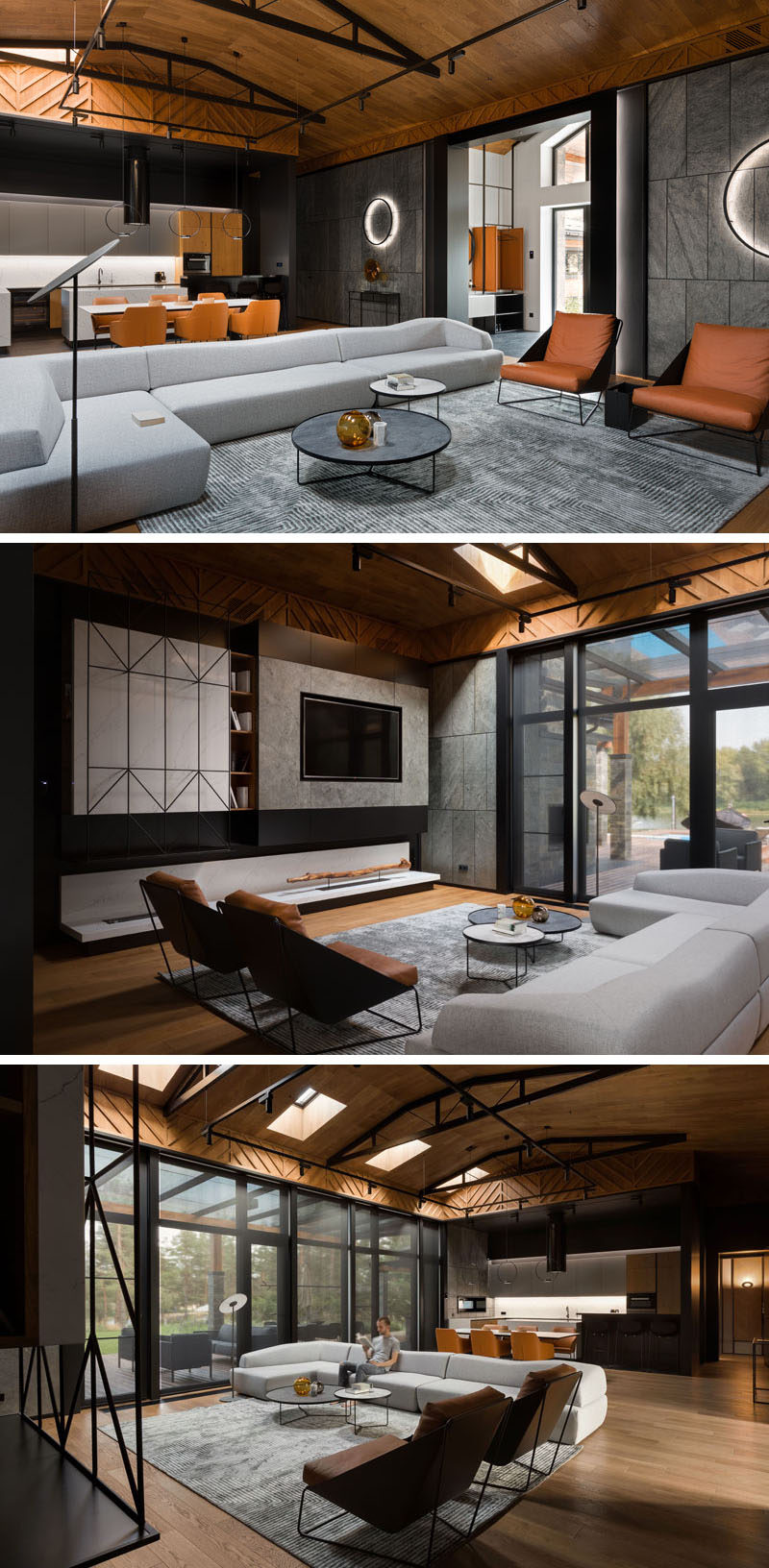 ---
Located outside the main social areas of the house is a covered patio with an outdoor dining area, a lounge and a fireplace.
---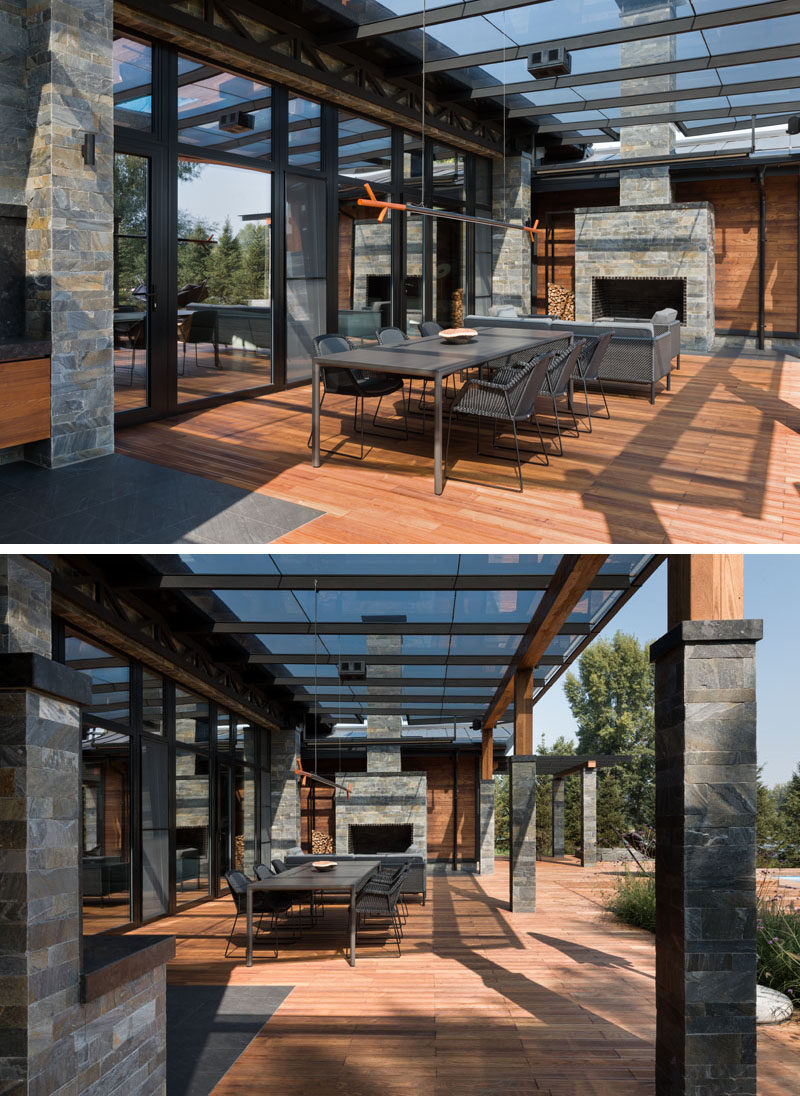 ---
Back inside, and the dining area, positioned beneath three minimalist circular pendant lights, separates the living room from the kitchen.
---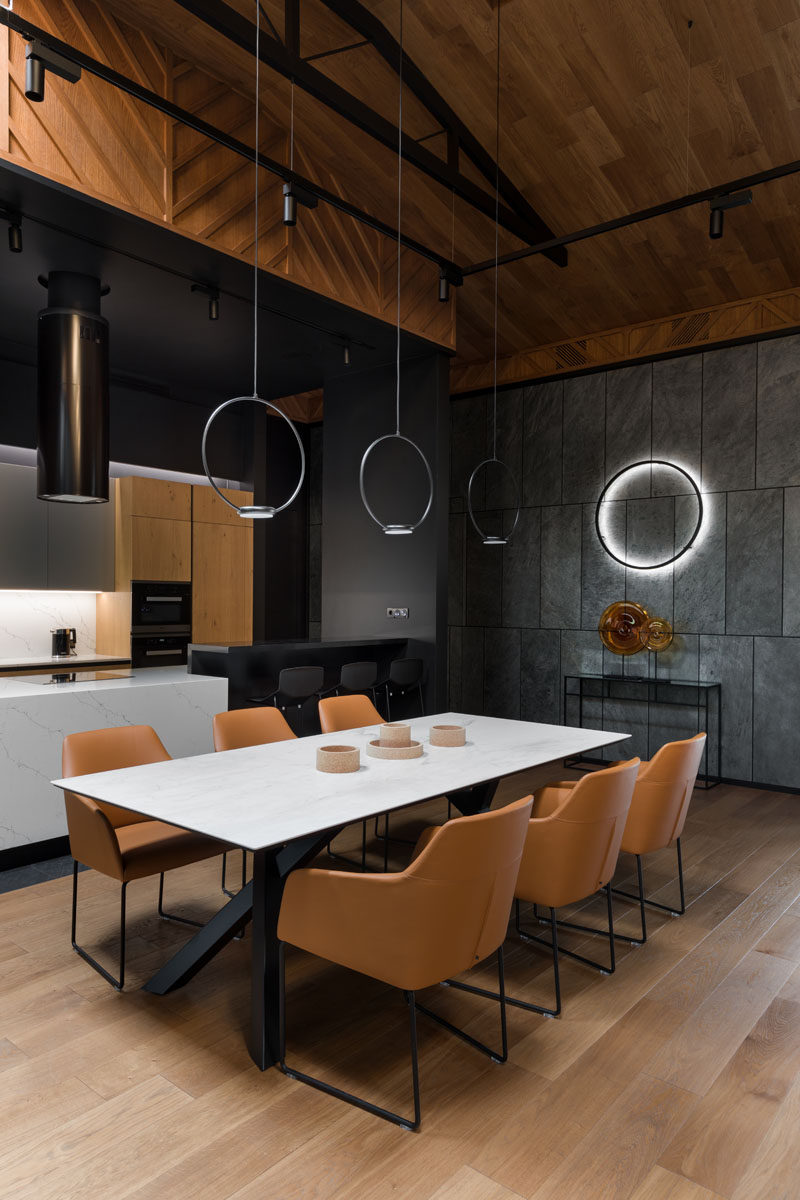 ---
In the kitchen, the minimalist white upper cabinets, countertops, and kitchen island, have been paired with wood cabinetry and a black breakfast bar with seating.
---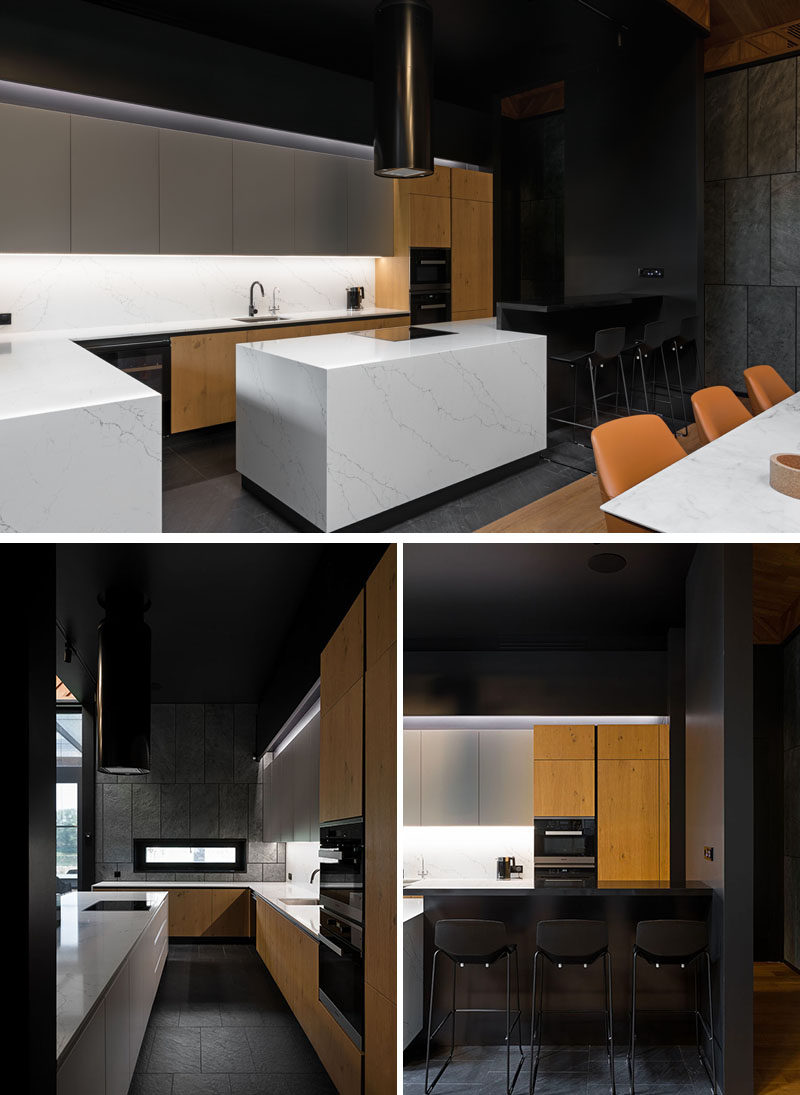 ---
Hallways with wood panels highlighted by scones lead to the more private areas of the home, like the home office / guest room, and the bedrooms.
---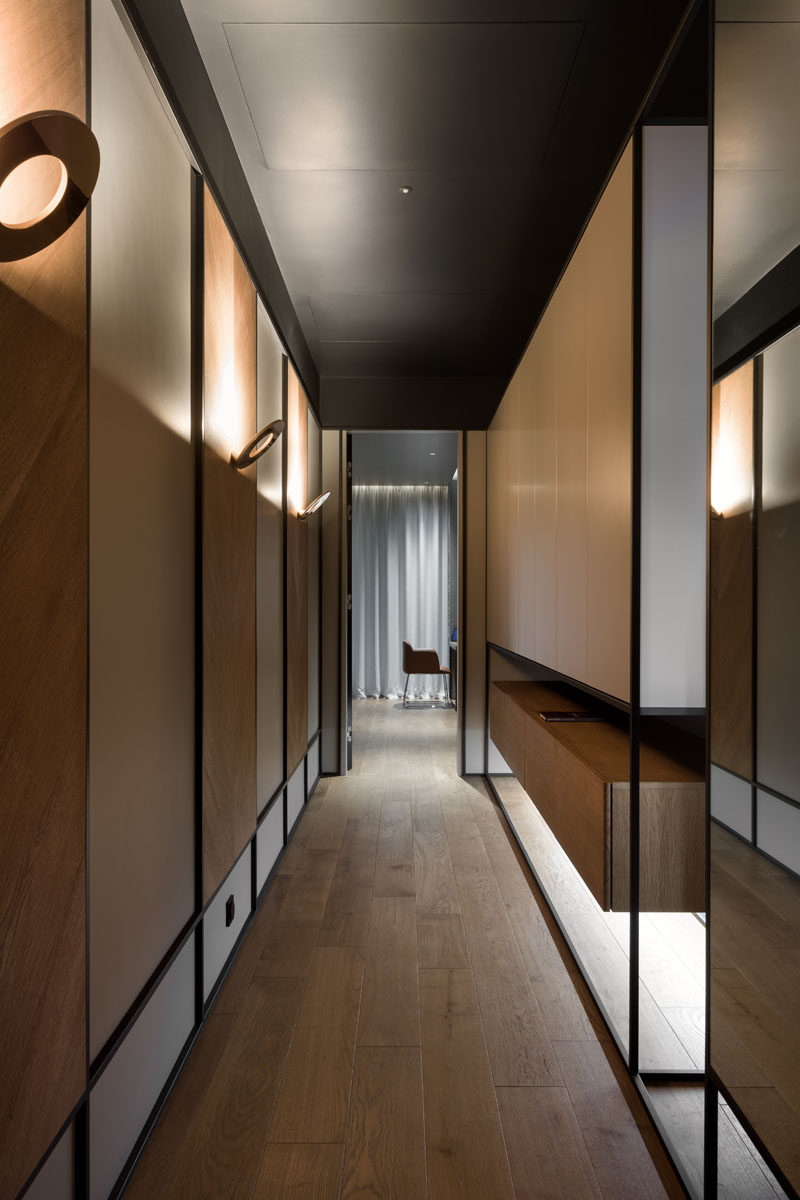 ---
In the home office / guest room, there's a wall with a storage cabinet below the television, and beside it, a work area with upper storage cabinets and display shelves.
---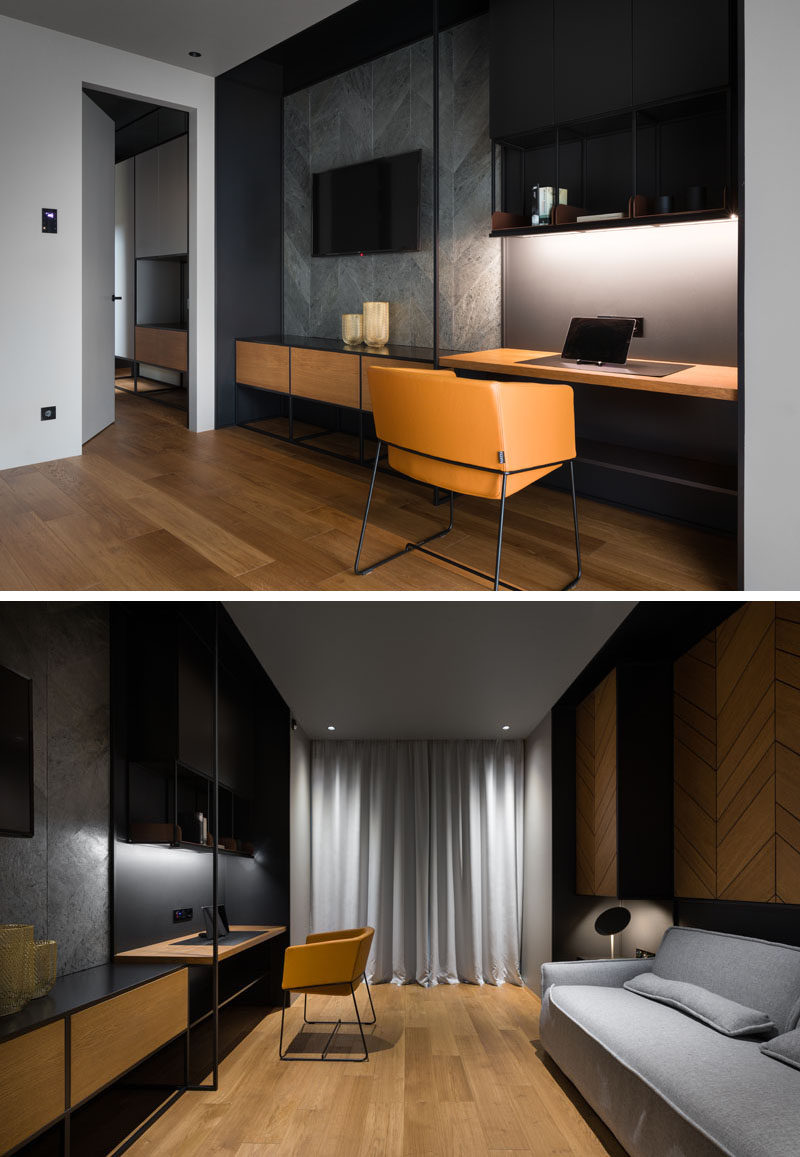 ---
On the opposite wall, there's a wood accent wall with a chevron pattern. A couch sits between two side tables, and when required for guests, can be transformed into a bed.
---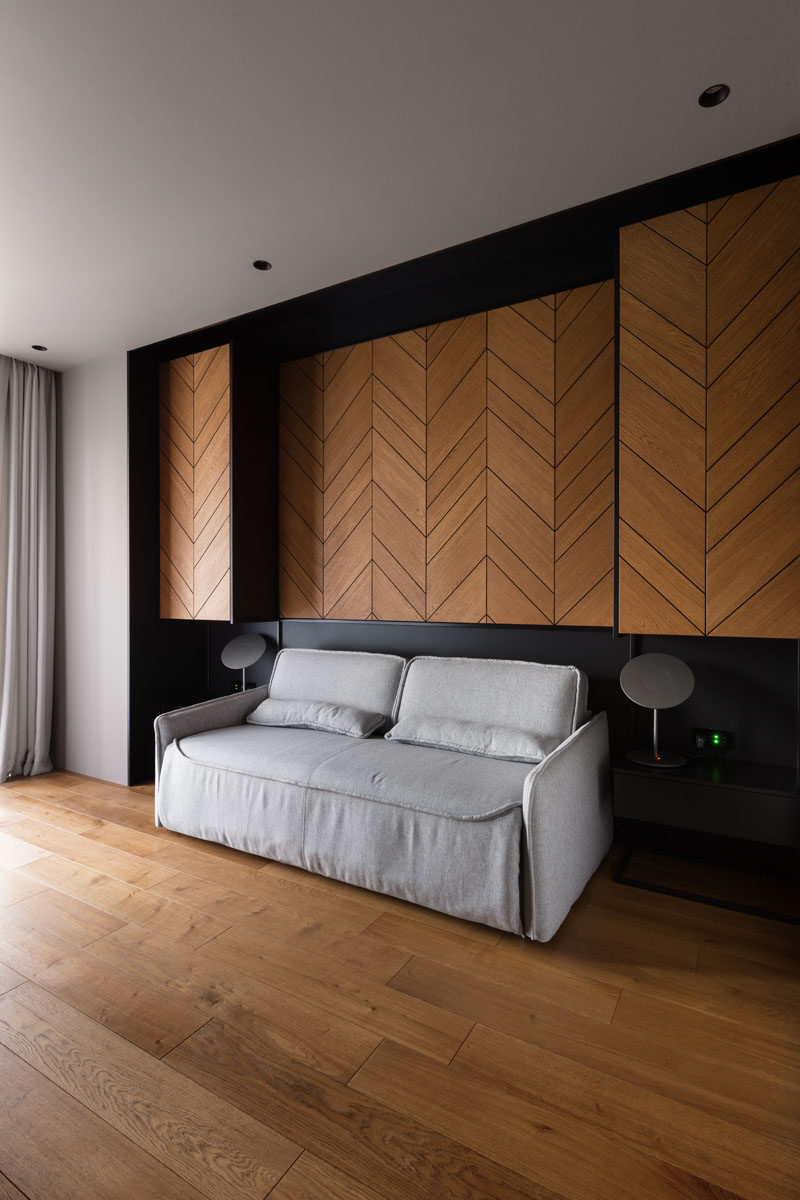 ---
In the master bedroom, grey tiles, also installed in a chevron pattern, have been angled to create a unique wall feature above the bed.
---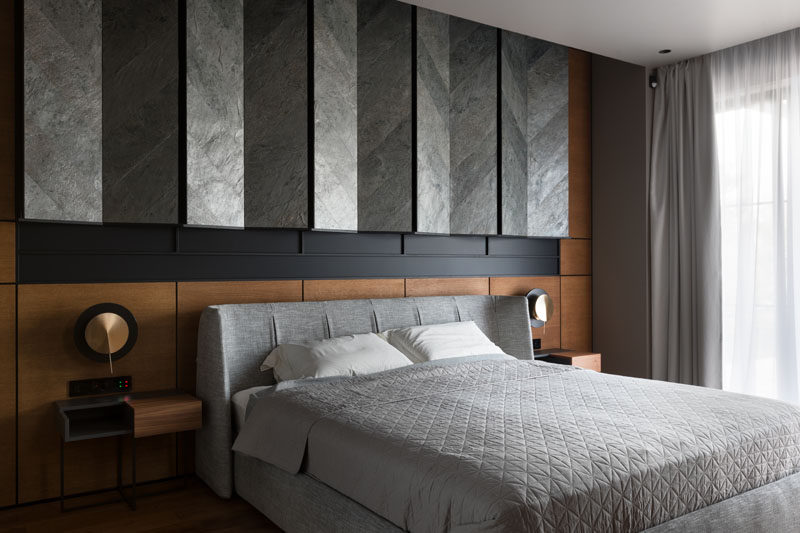 ---
On the opposite wall, there's a custom shelving unit with sliding wood panels that can be opened to reveal the television, or closed to highlight the open shelving and vanity on either side.
---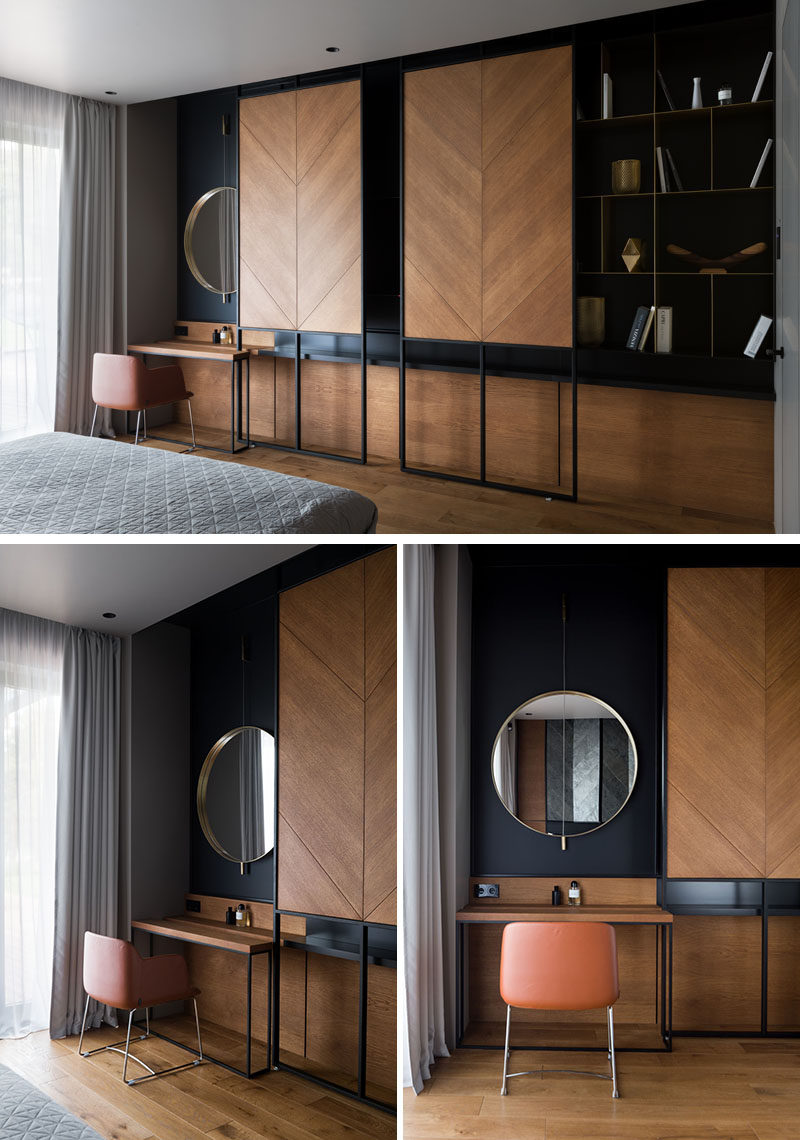 ---
In the master bathroom, a round freestanding bathtub has been placed on a raised platform, while a skylight draws the eye upwards to the high ceiling.
---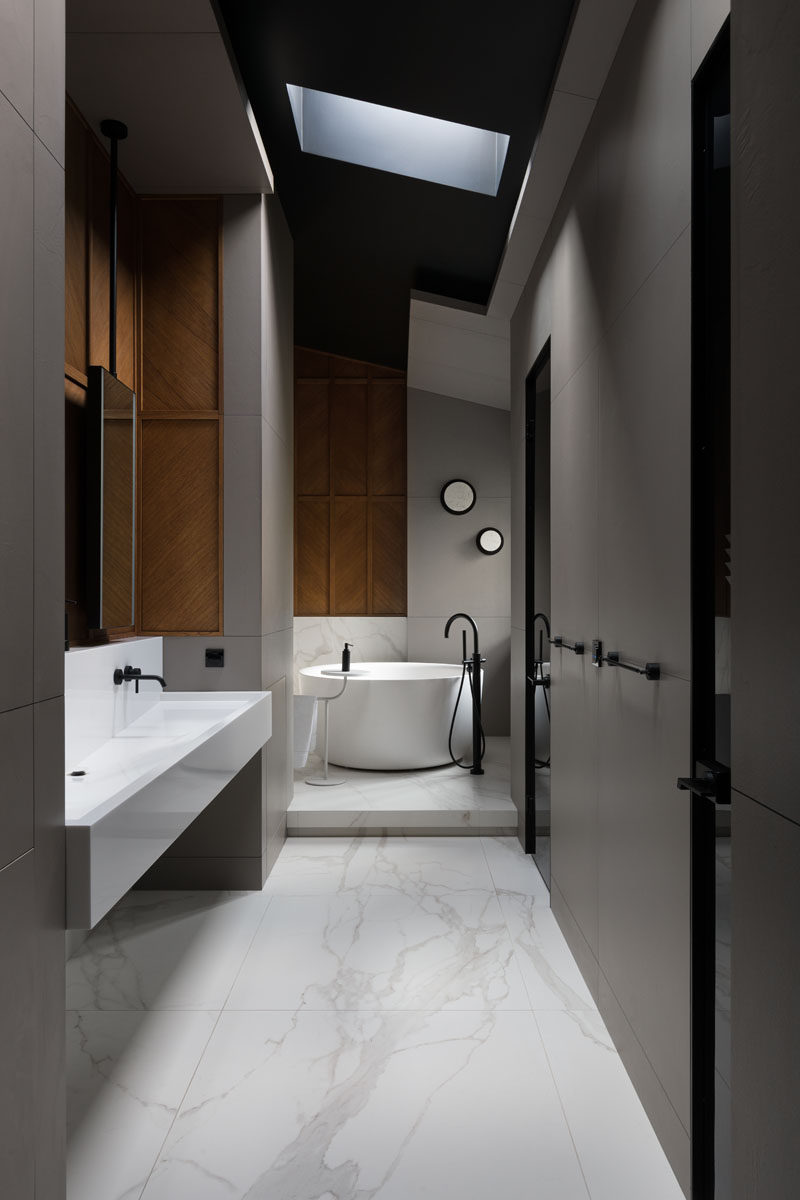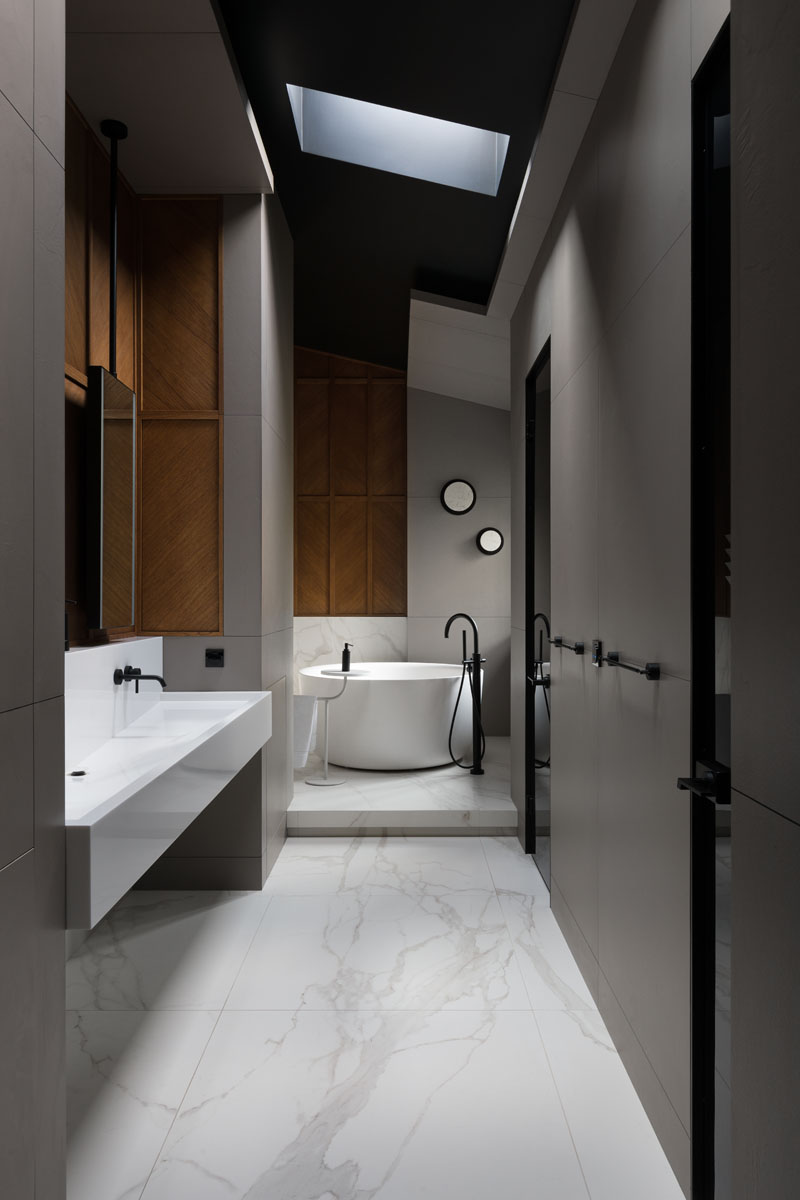 ---
In another bathroom, curved elements like the mirror and the basin reflect the curved interior shape of the bath.
---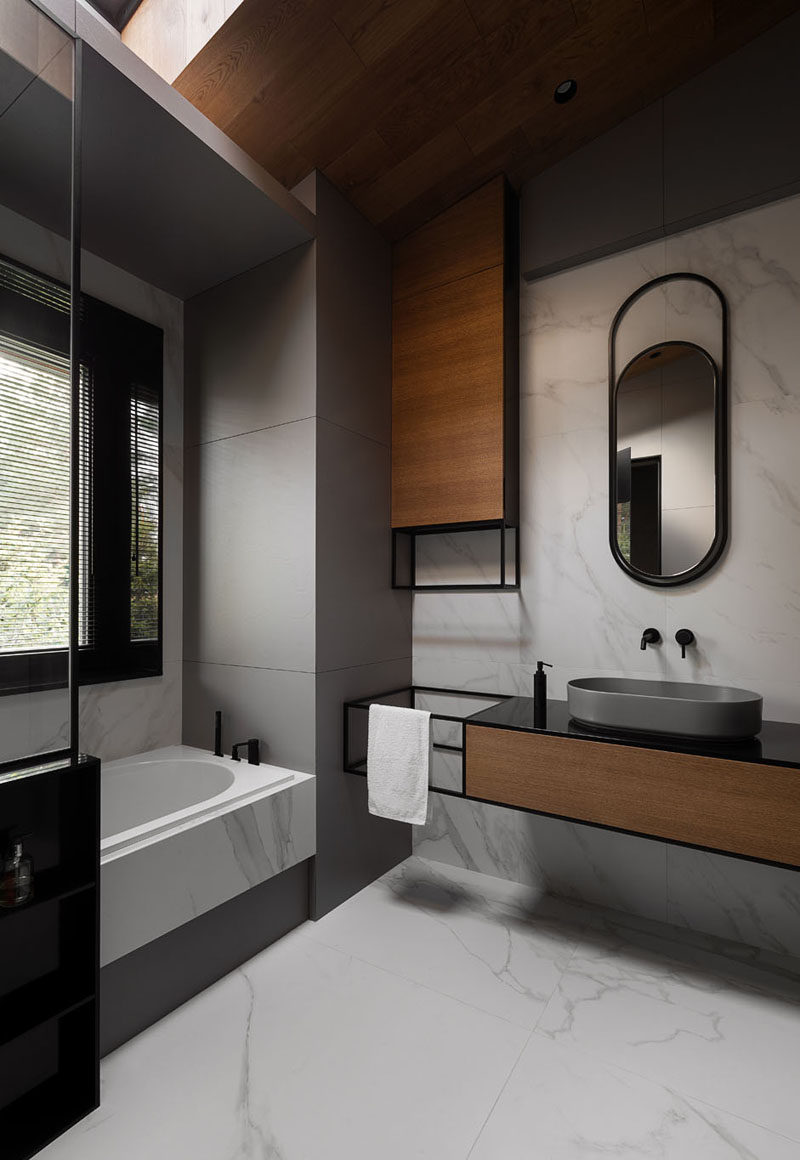 ---