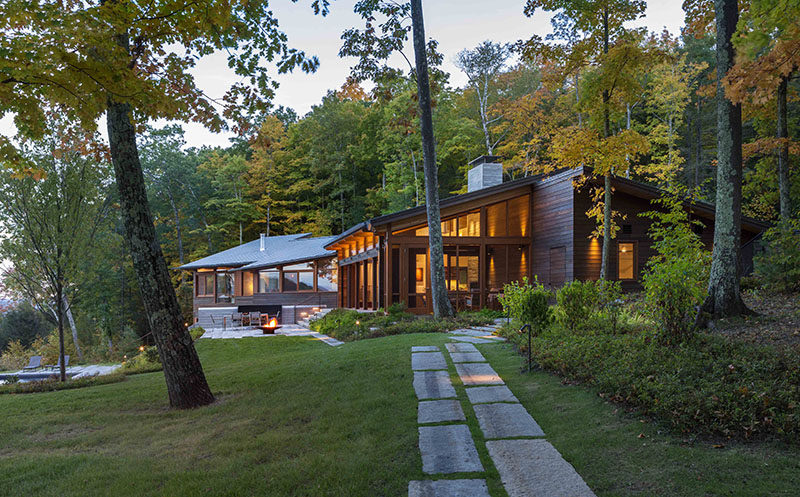 Mathison | Mathison Architects have designed a new house for a family that sits high above the Housatonic River in Great Barrington, Massachusetts.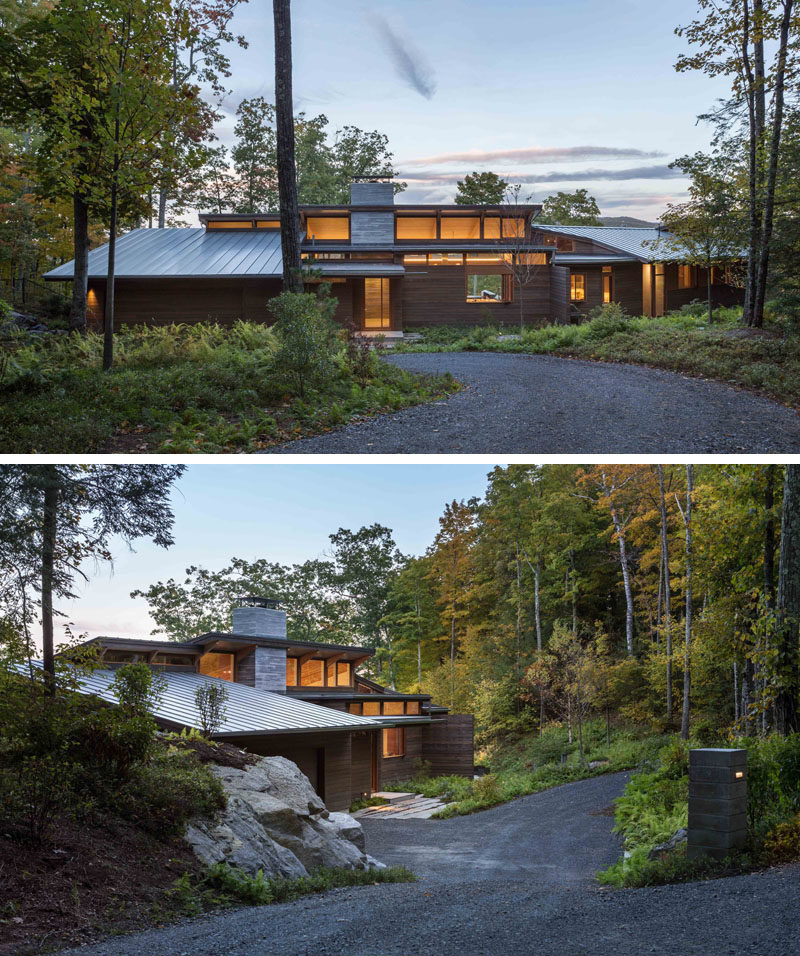 ---
Upon arrival, the home has an earthy palette with black stained cedar siding, mahogany windows and a natural zinc colored metal roof.
---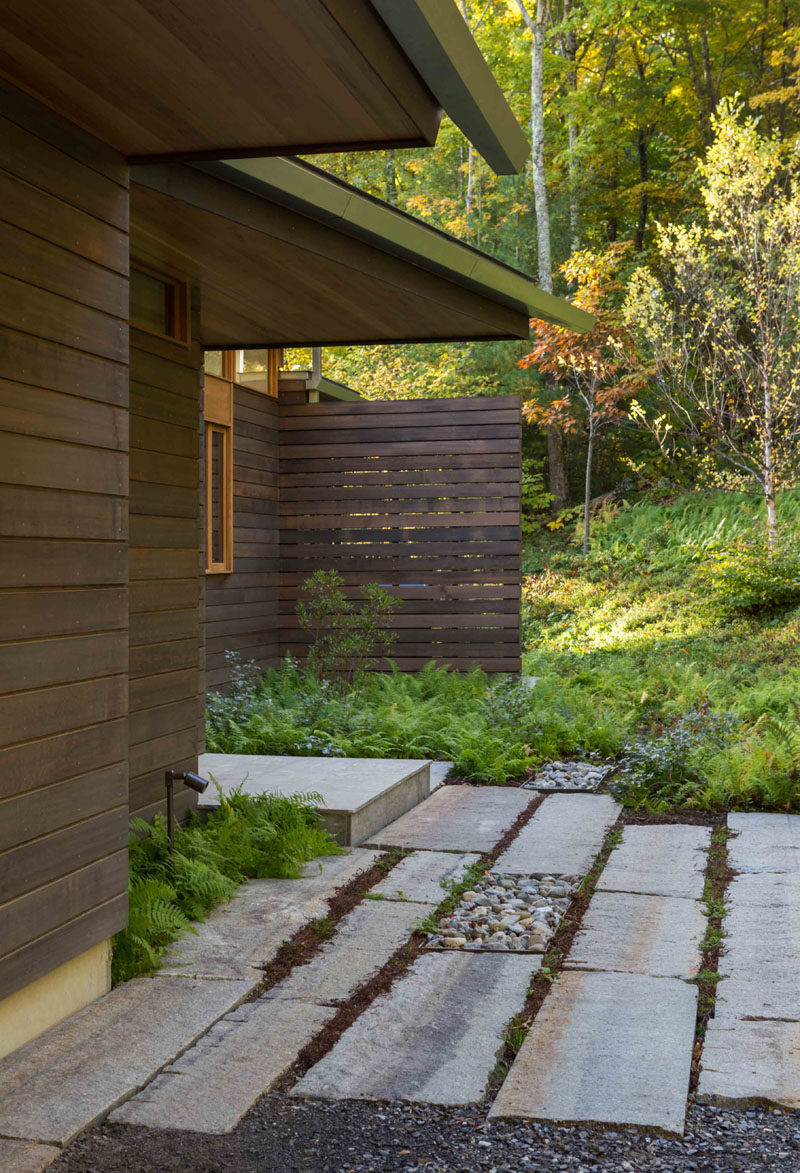 ---
Stepping inside, the interior spaces are clad with western red cedar walls, with walnut and natural stone floors.
---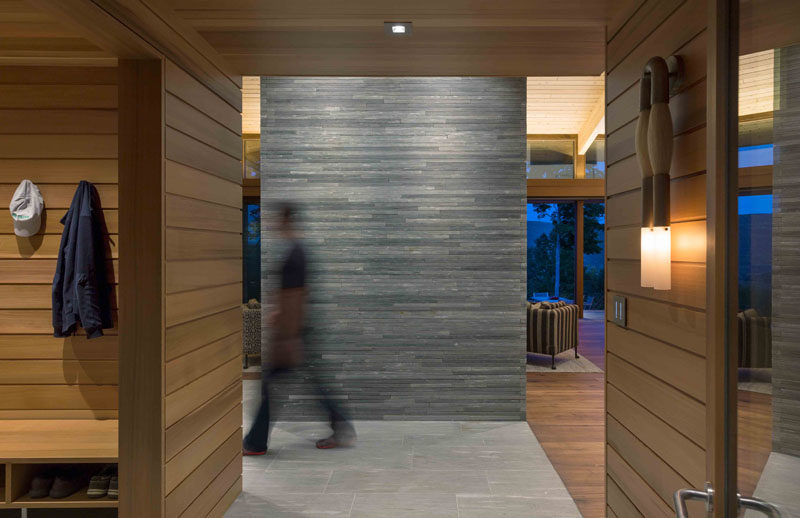 ---
The main social areas of the home are open plan, creating a bright and welcoming environment.
---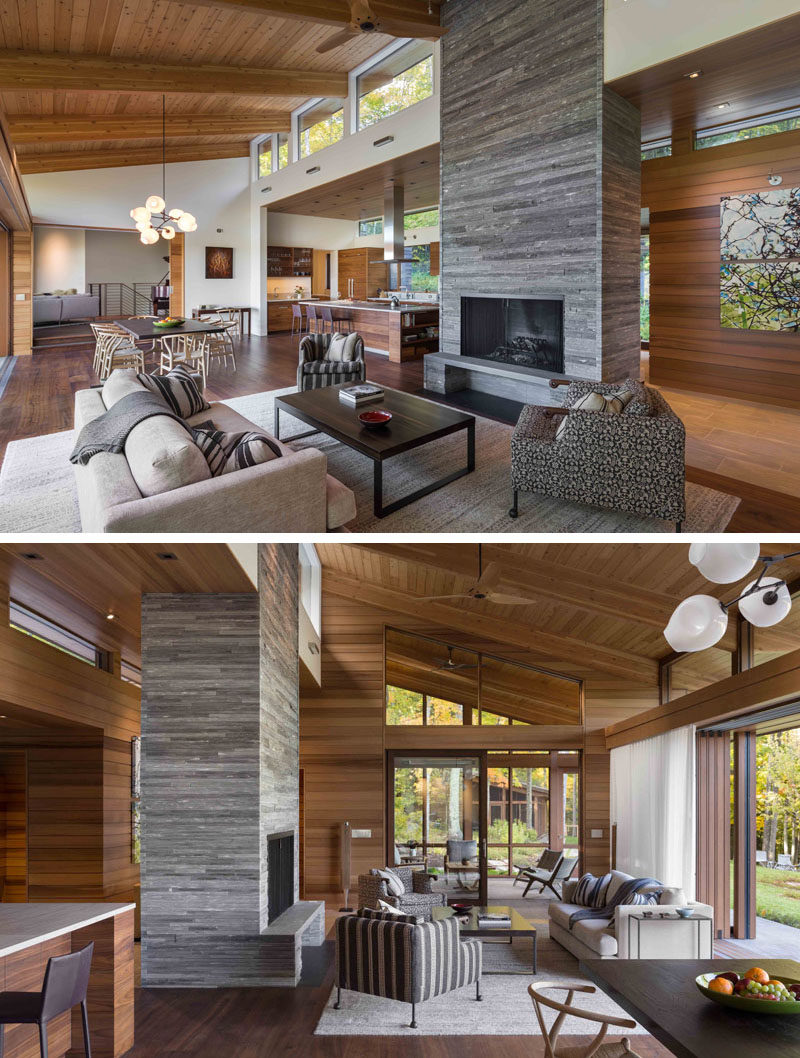 ---
In the living room, there's a stacked stone fireplace and hearth, that draws the eye upwards to the clerestory windows and the height of the room.
---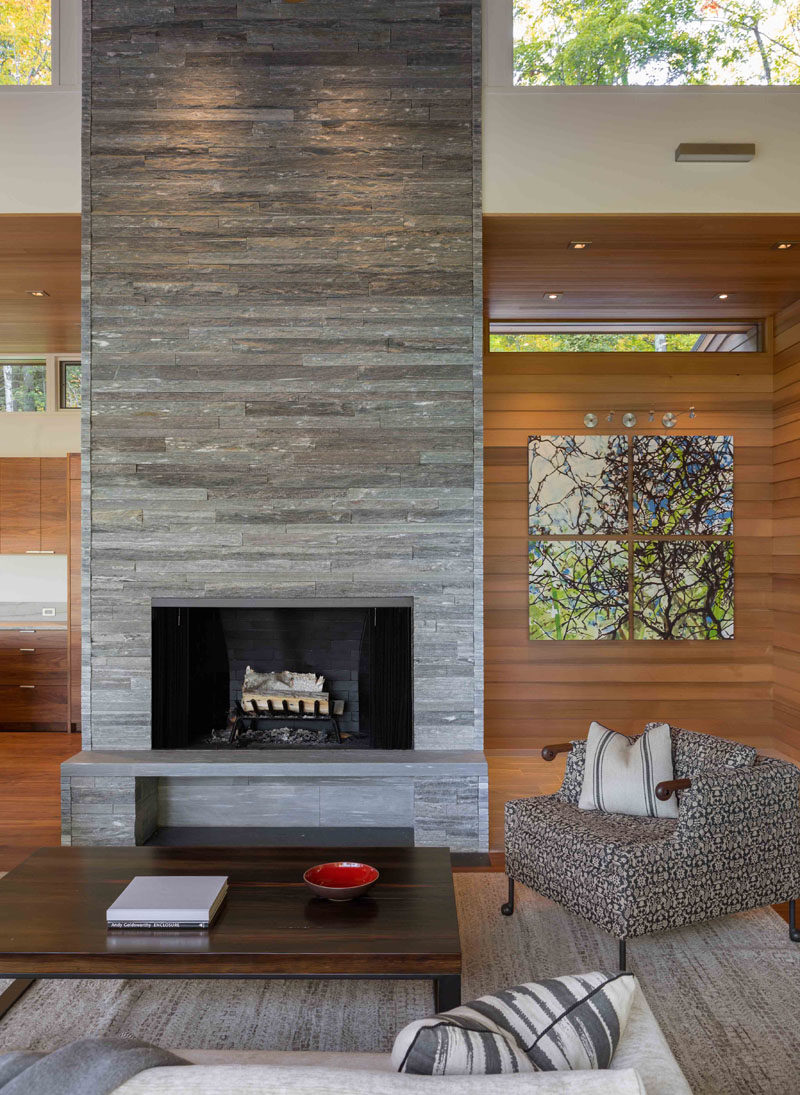 ---
Just off the living is a large screened in porch with views of the trees.
---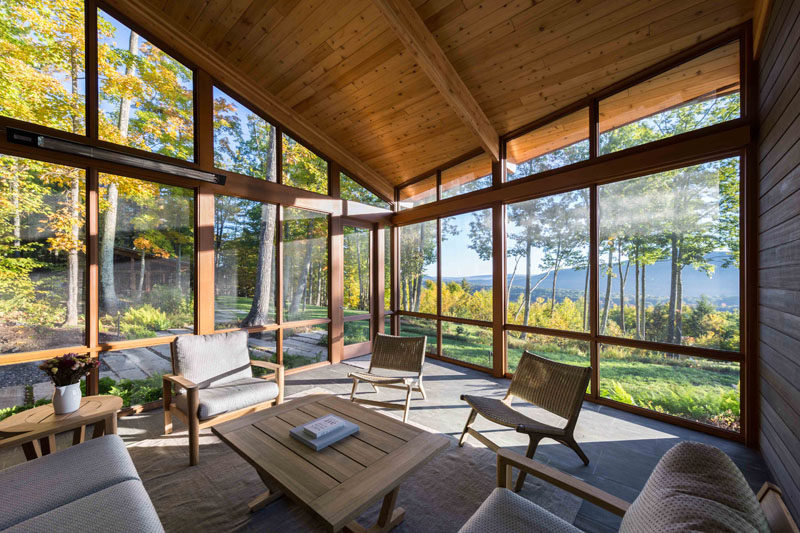 ---
On the other side of the living room is the kitchen and dining room. The kitchen has dark wood cabinets with white countertops, while a large island provides an additional place for seating.
---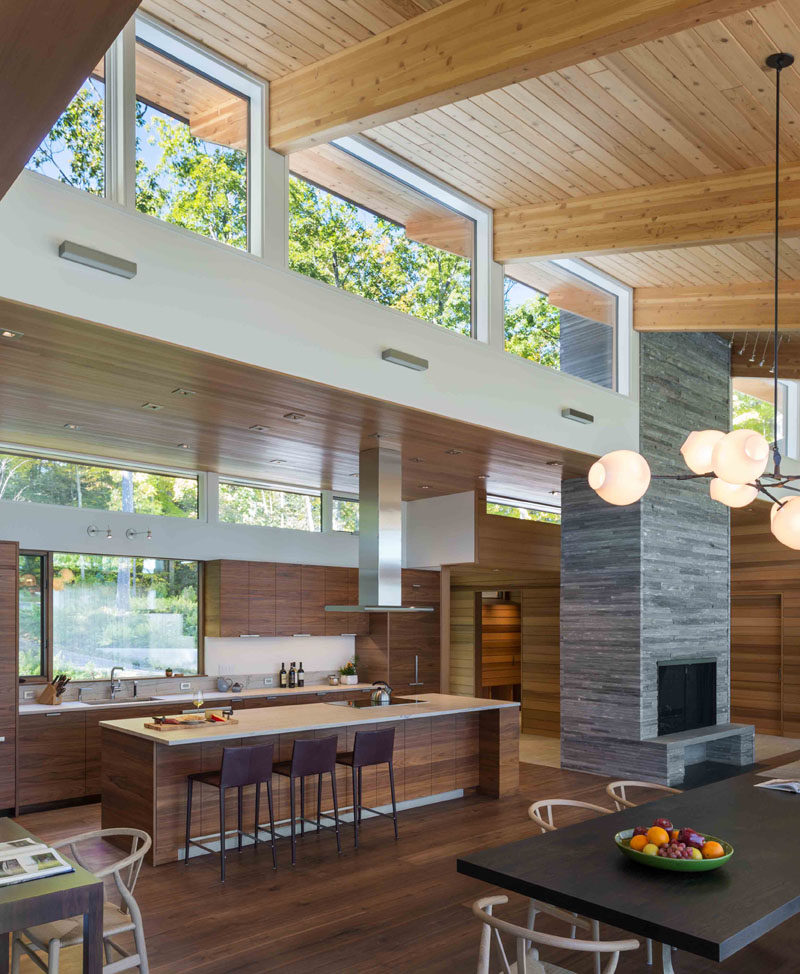 ---
The dining room, with a dark wood table and light wood chairs, is anchored in the open floor plan by a chandelier.
---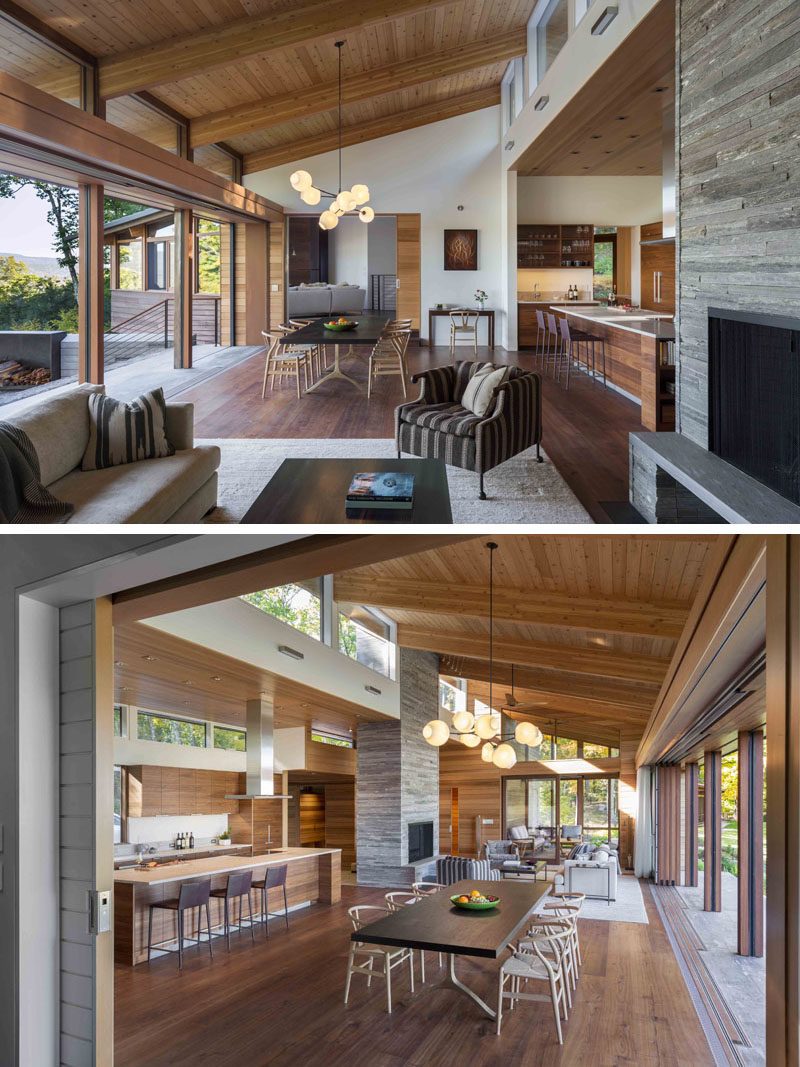 The main social areas of the home fully opens up to the outdoors and patio with the use of a 40-foot retractable glass door system that includes overhead screens that drop down from the exterior soffit. The house also shares its site with an existing small cabin by the same designer, completed several years earlier.
---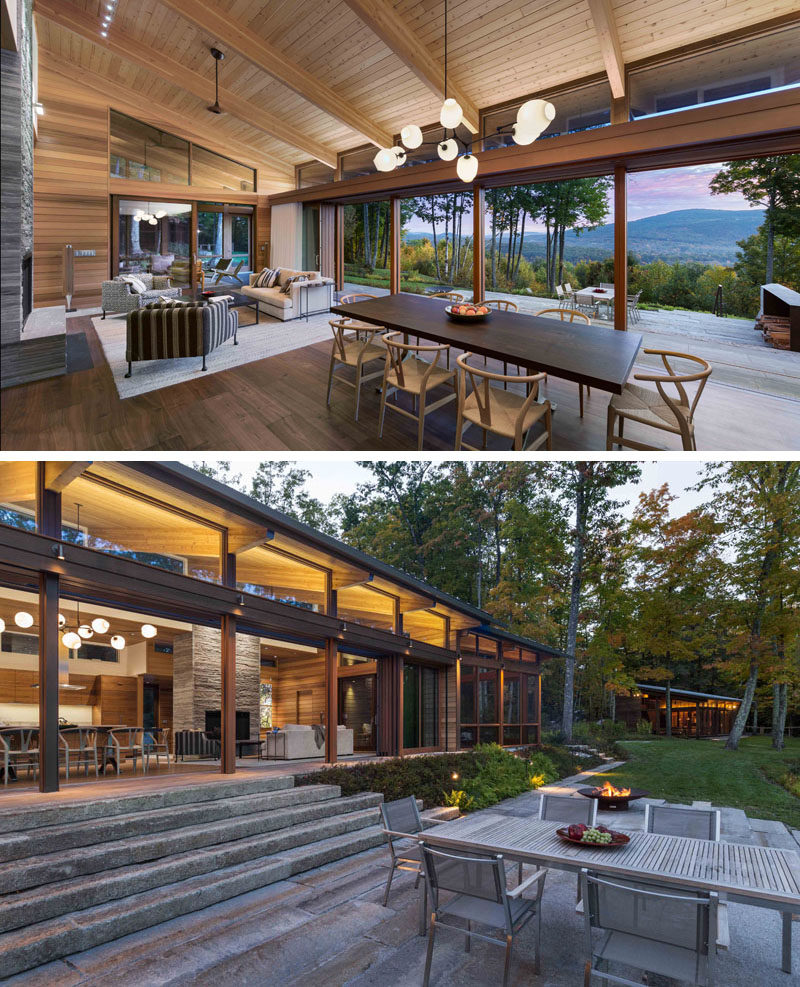 ---
Outside, there's a patio area with a firepit, before stairs lead down to the swimming pool.
---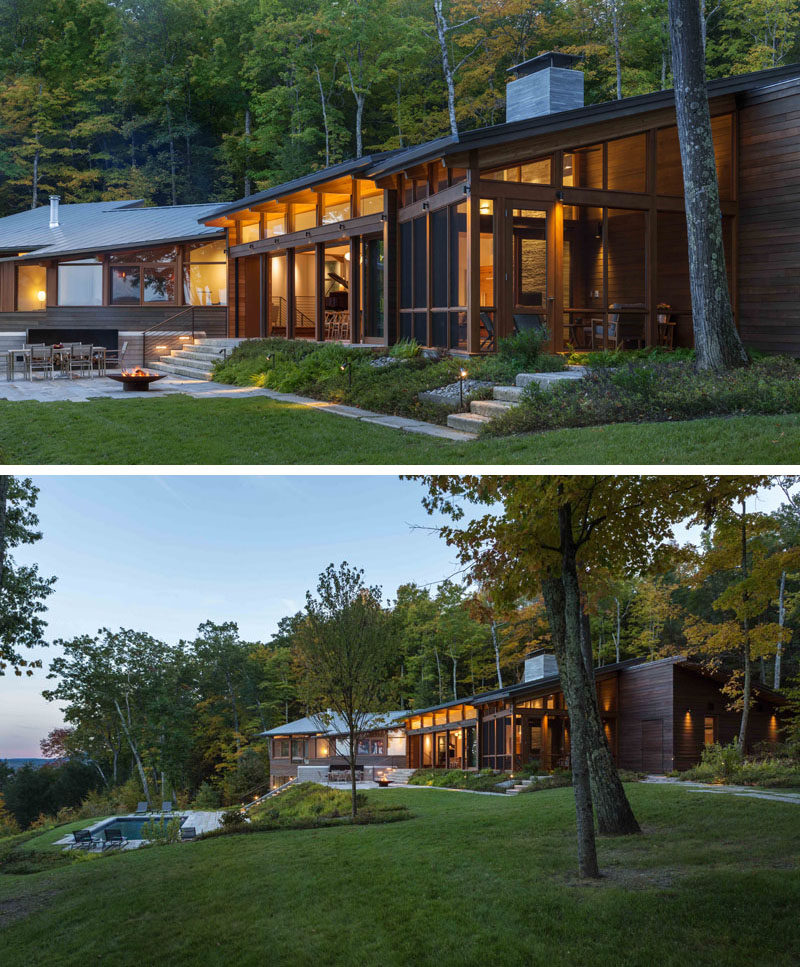 ---
The swimming pool is positioned at the edge of a drop-off, and it has views of the valley and ridge beyond.
---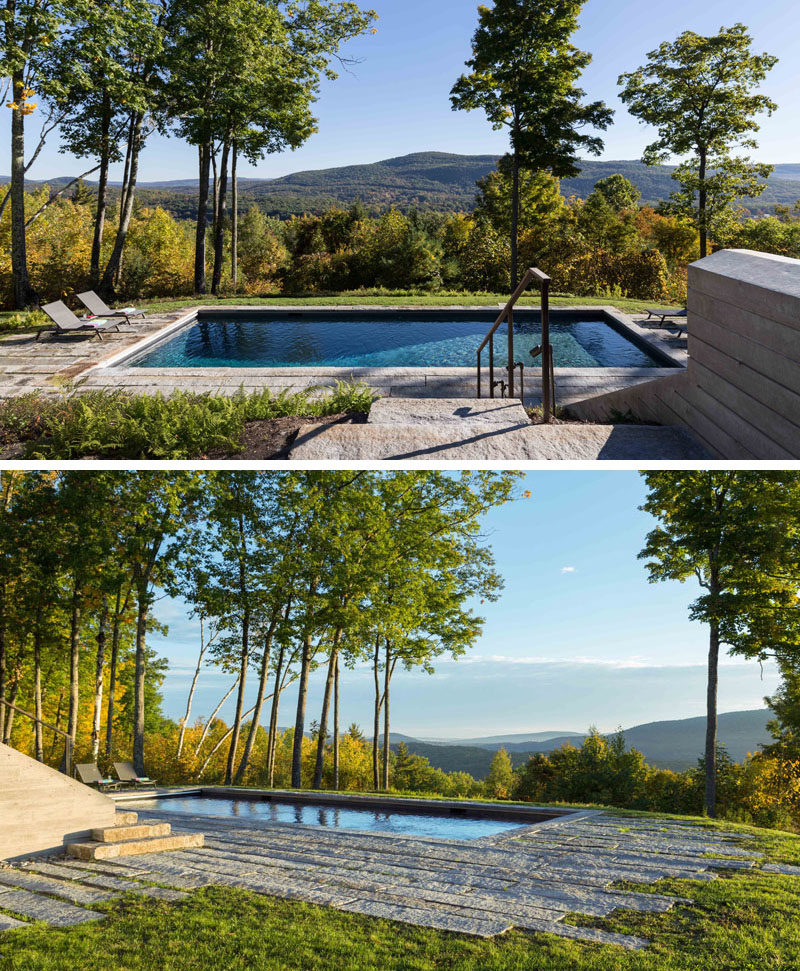 ---
A series of board-formed concrete retaining walls and planted slopes negotiate the outdoor spaces, which are overlaid with paths and seating areas using reclaimed granite curbs from Massachusetts and New Hampshire.
---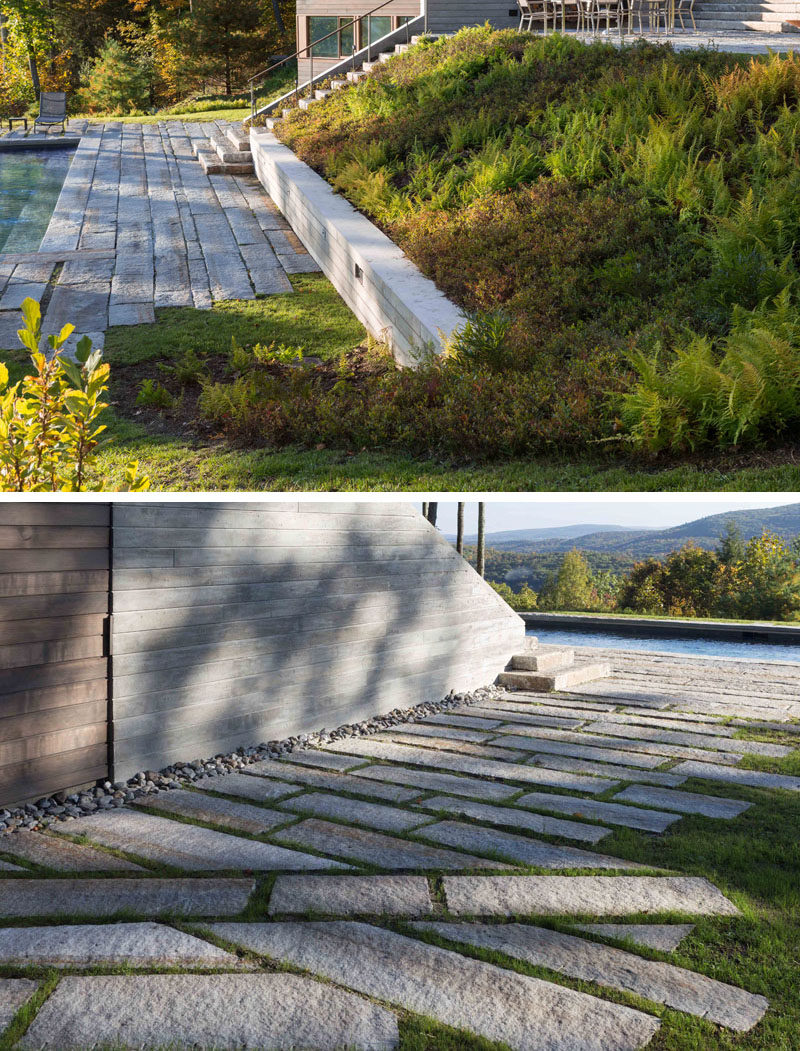 ---
Back inside, there's a master bedroom with a large windows, a sloped ceiling and a fireplace.
---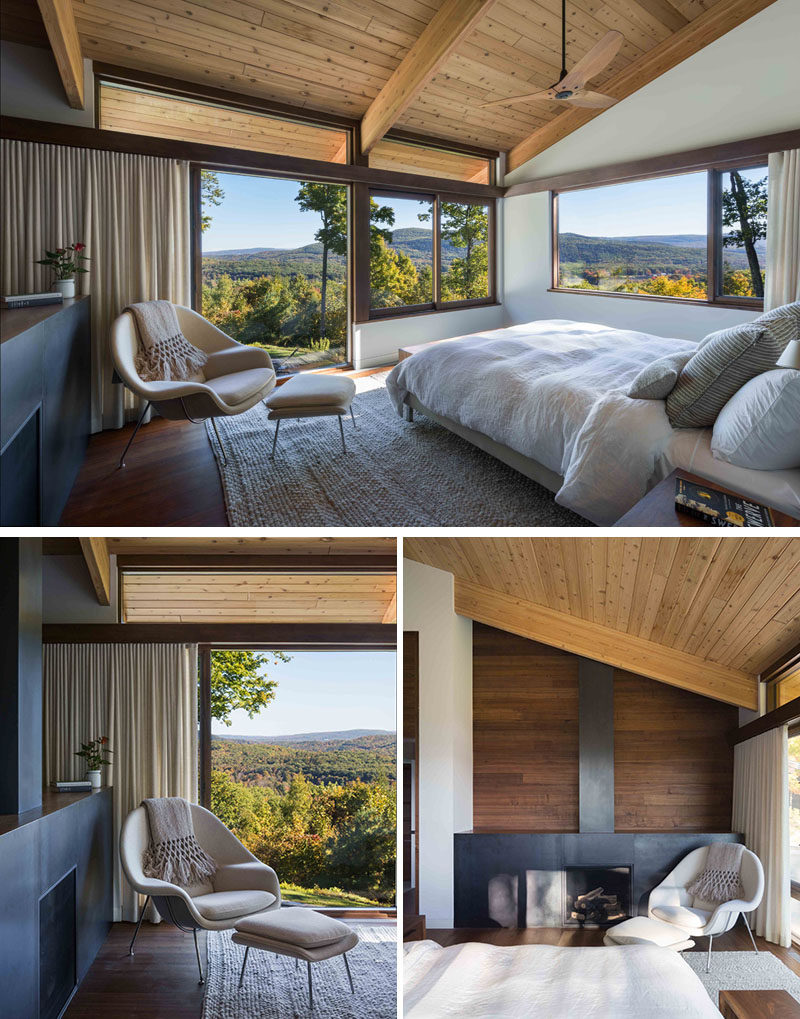 ---
In the master bathroom, light colored tile and plenty of windows keep the space bright, while a glass enclosed shower is located at the end of the bathroom, with a freestanding bathtub nearby.
---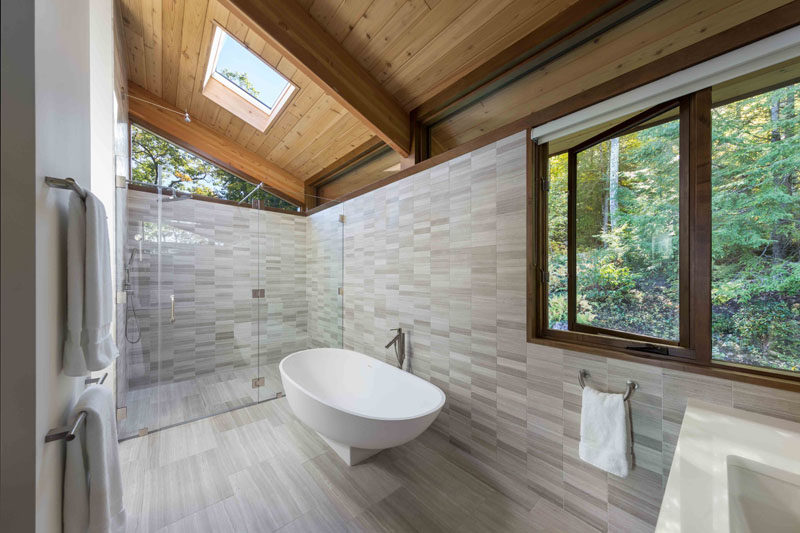 ---
As the home is two-levels, there's a wood and steel staircase that connects the floors.
---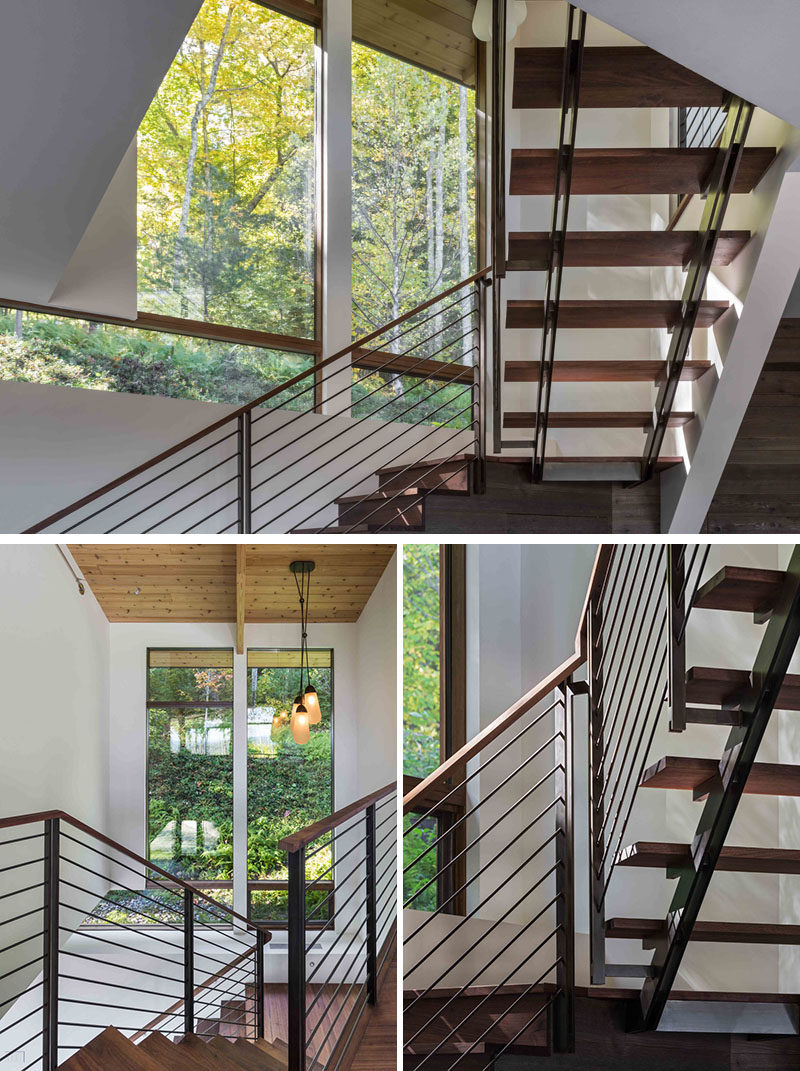 The lower level includes an expansive private living area with a band of horizontal windows facing east and clerestory windows to the west. Next to the living area is a bunk room for guests.
---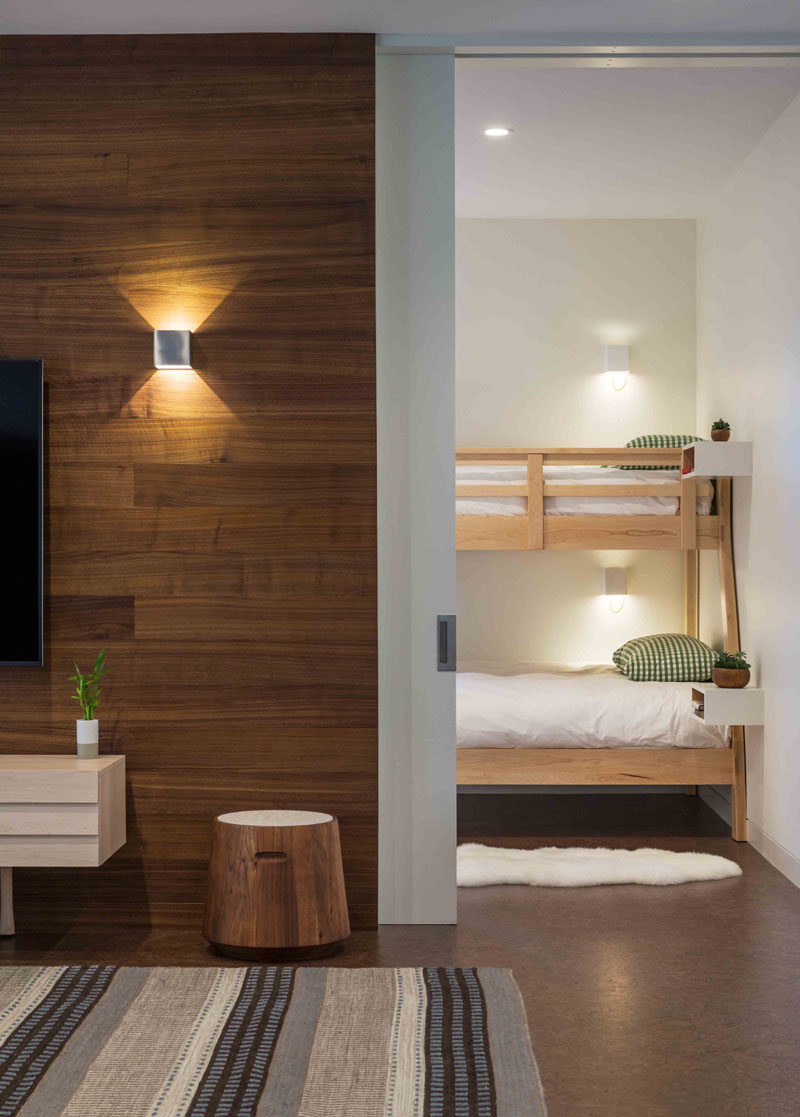 ---
There's also a cedar-clad bathroom with light green tiles.
---
---
Near the bathroom is a specially designed sauna that includes glass panels that provide continuous views of the Berkshire Mountain landscape from inside the space.
---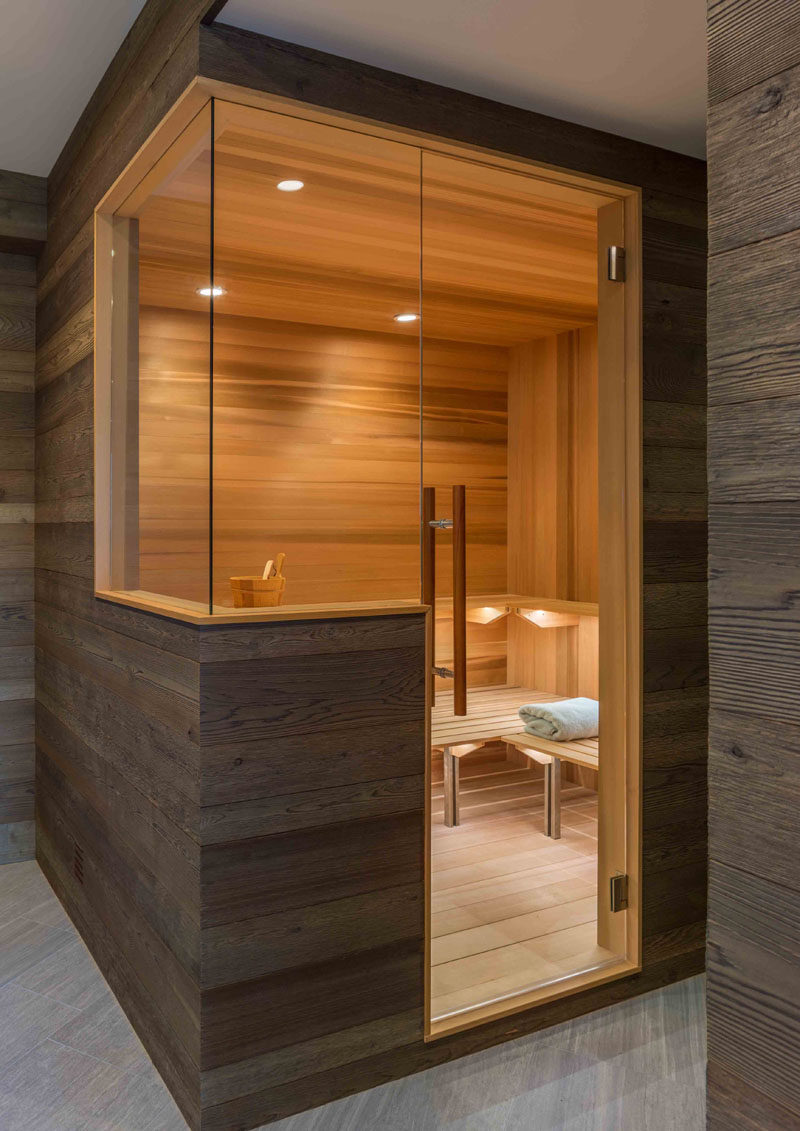 ---
Also downstairs is a wine cellar with wood lined walls and storage space for displaying the wine collection.
---