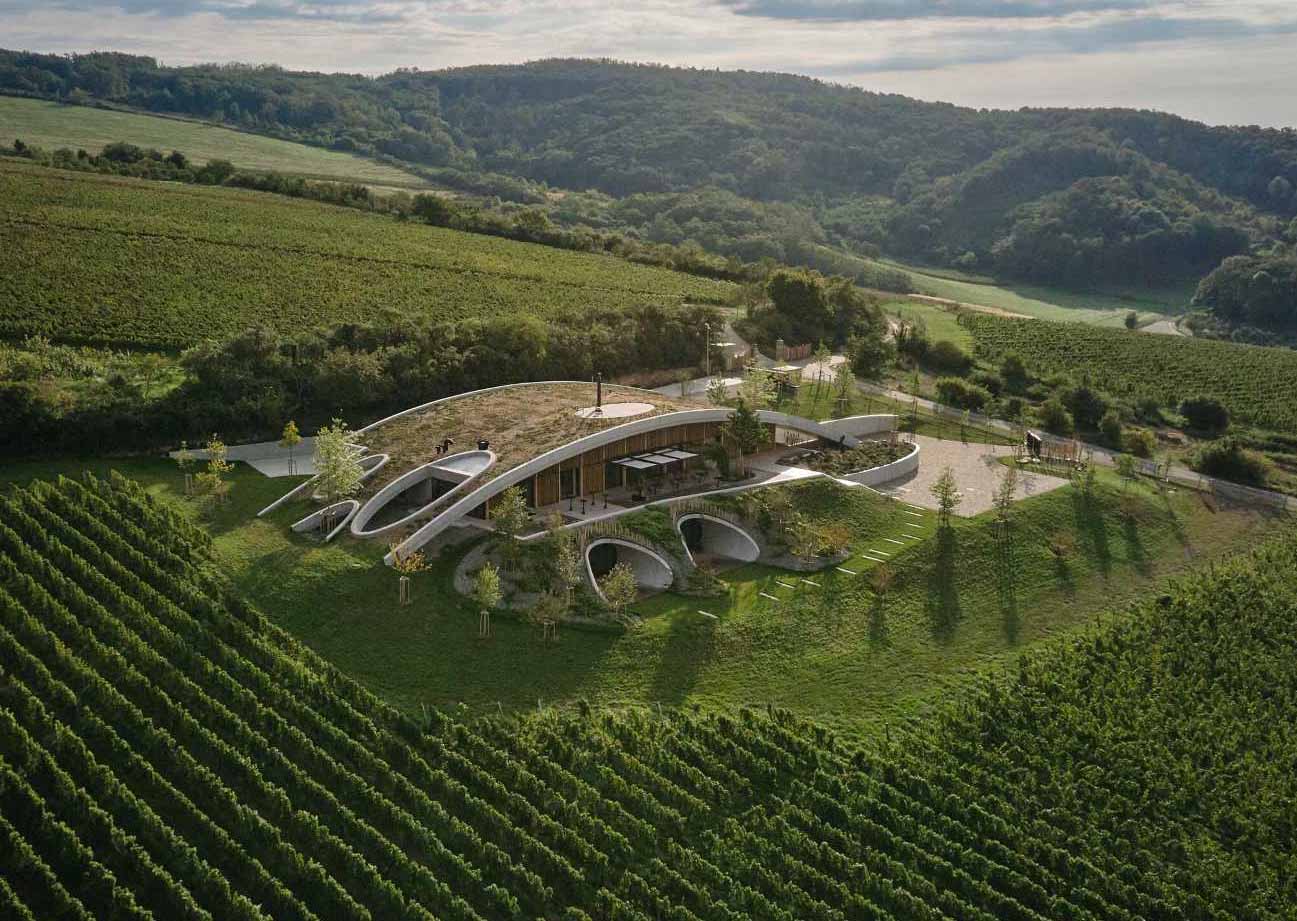 Architecture studio Aleš Fiala has recently completed the design of Gurdau Winery in the Czech Republic, which includes a unique curved green roof.
The building's location in the open countryside naturally brought with it high demands for architectural and landscape integration. The architects addressed this in the form of a gentle curve – a wave in the landscape, a hill between hills.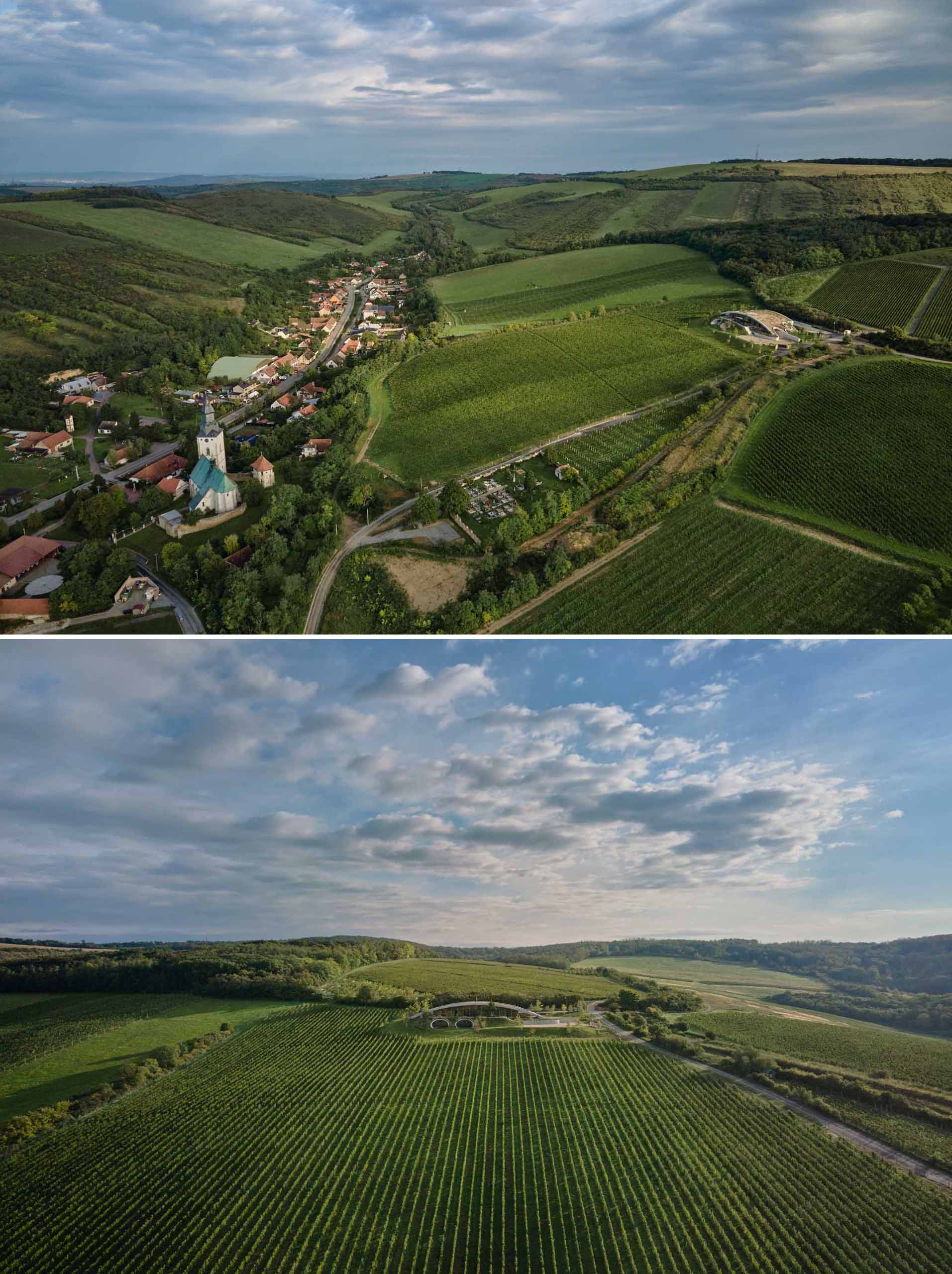 The extensive curved green roof is almost invisible in distant views and will be even more so once the vegetation has grown. The surroundings of the building are supplemented with a number of new shrubs and mature trees in order to also create an optimal microclimate in the future.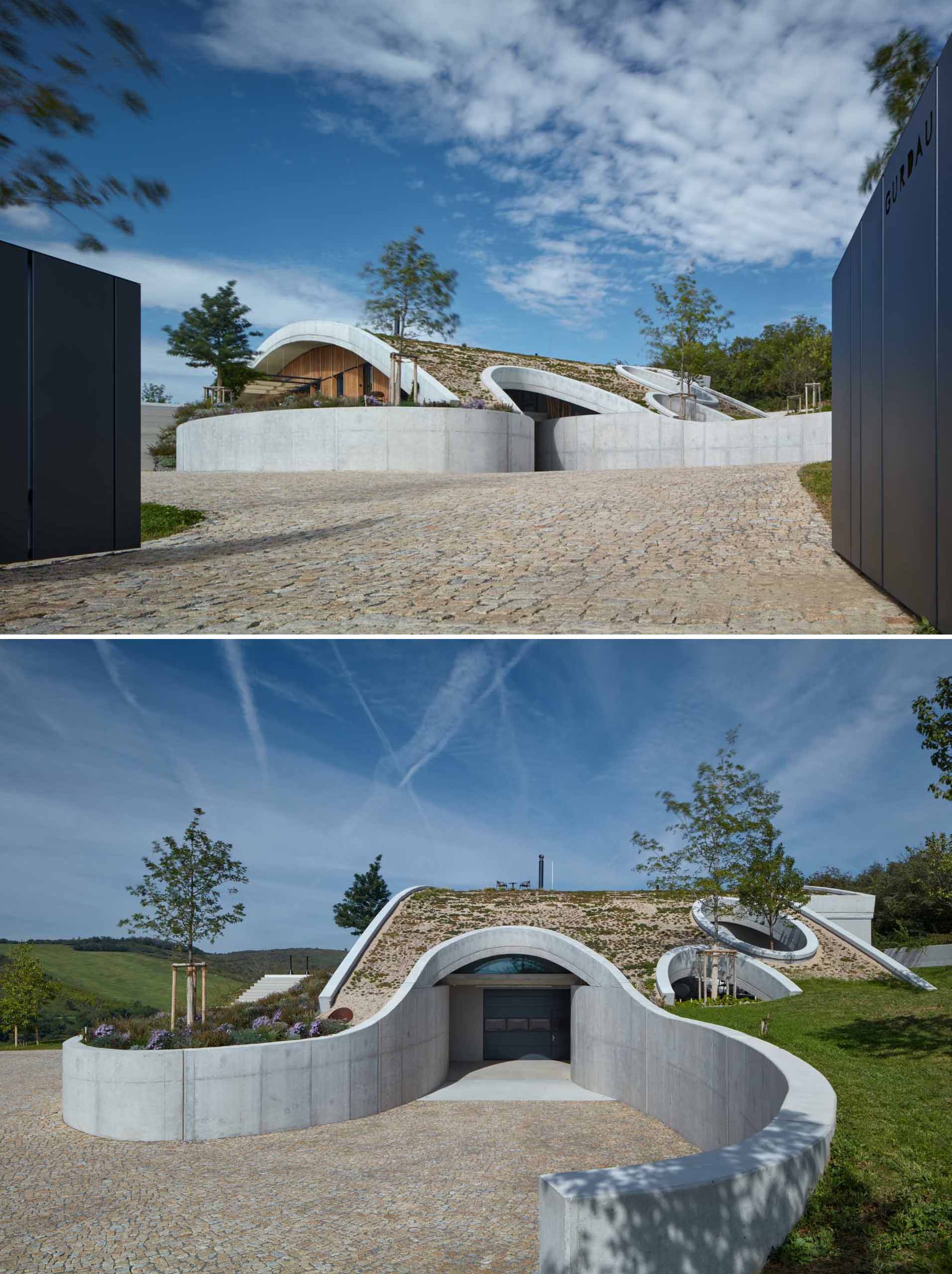 The building itself is built in reinforced concrete and is two floors high. The lower level is used for producing, storing, and archiving wine. The ground floor is used for tasting, seating, and sales. Two apartments are available for occasional overnight stays.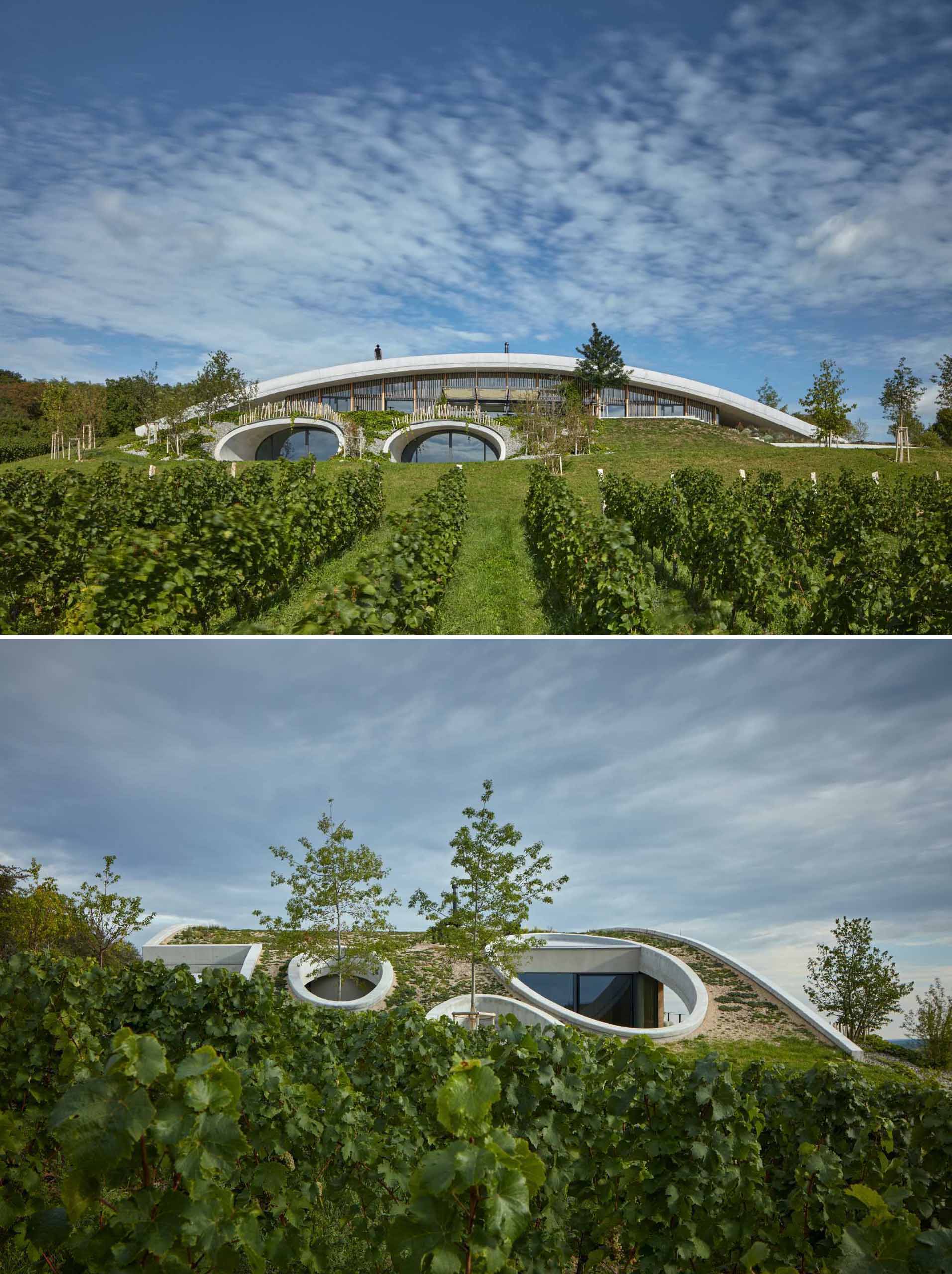 The use of materials such as exposed concrete, glass, metal, oak, and acacia wood supports the organic form of the building.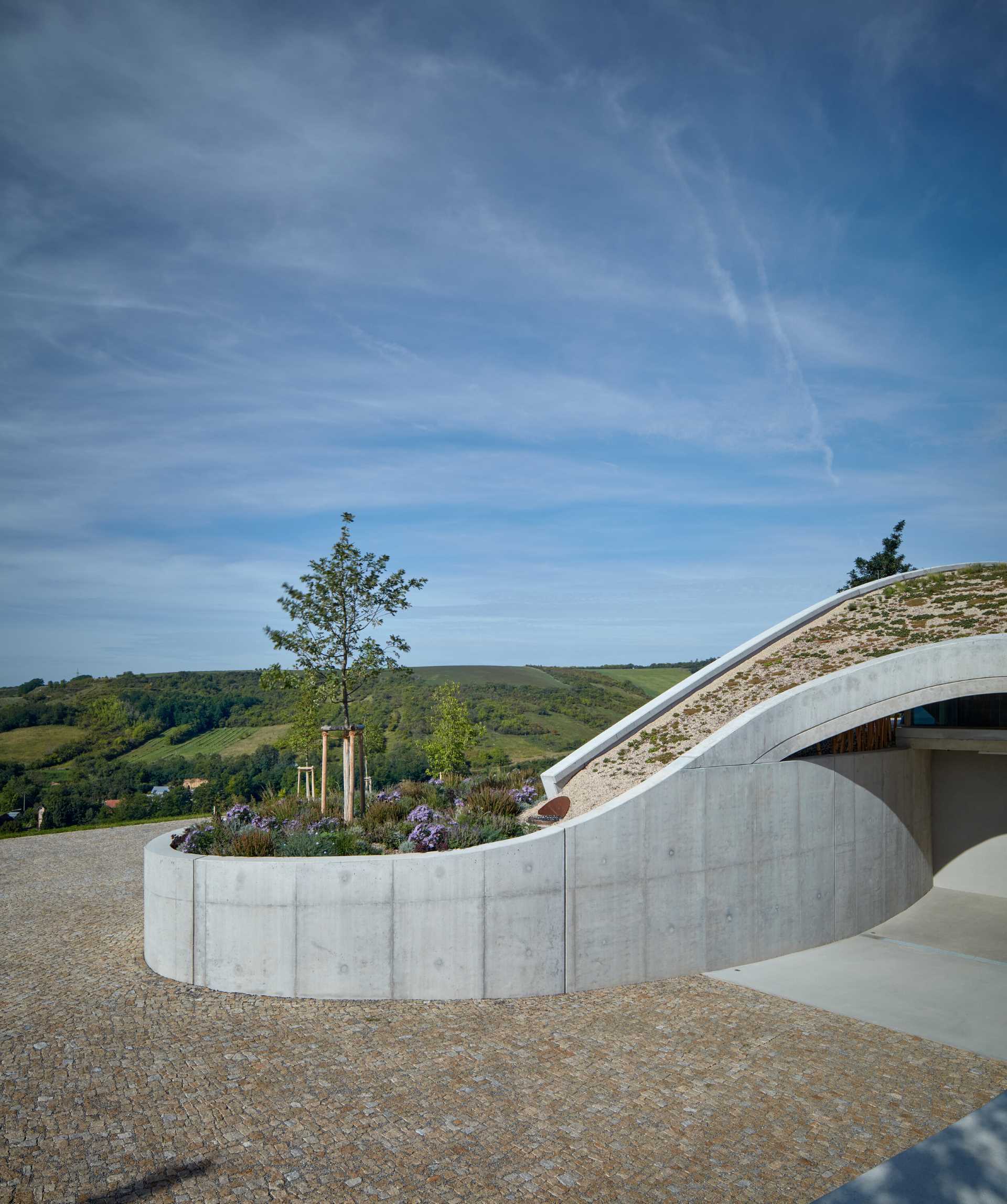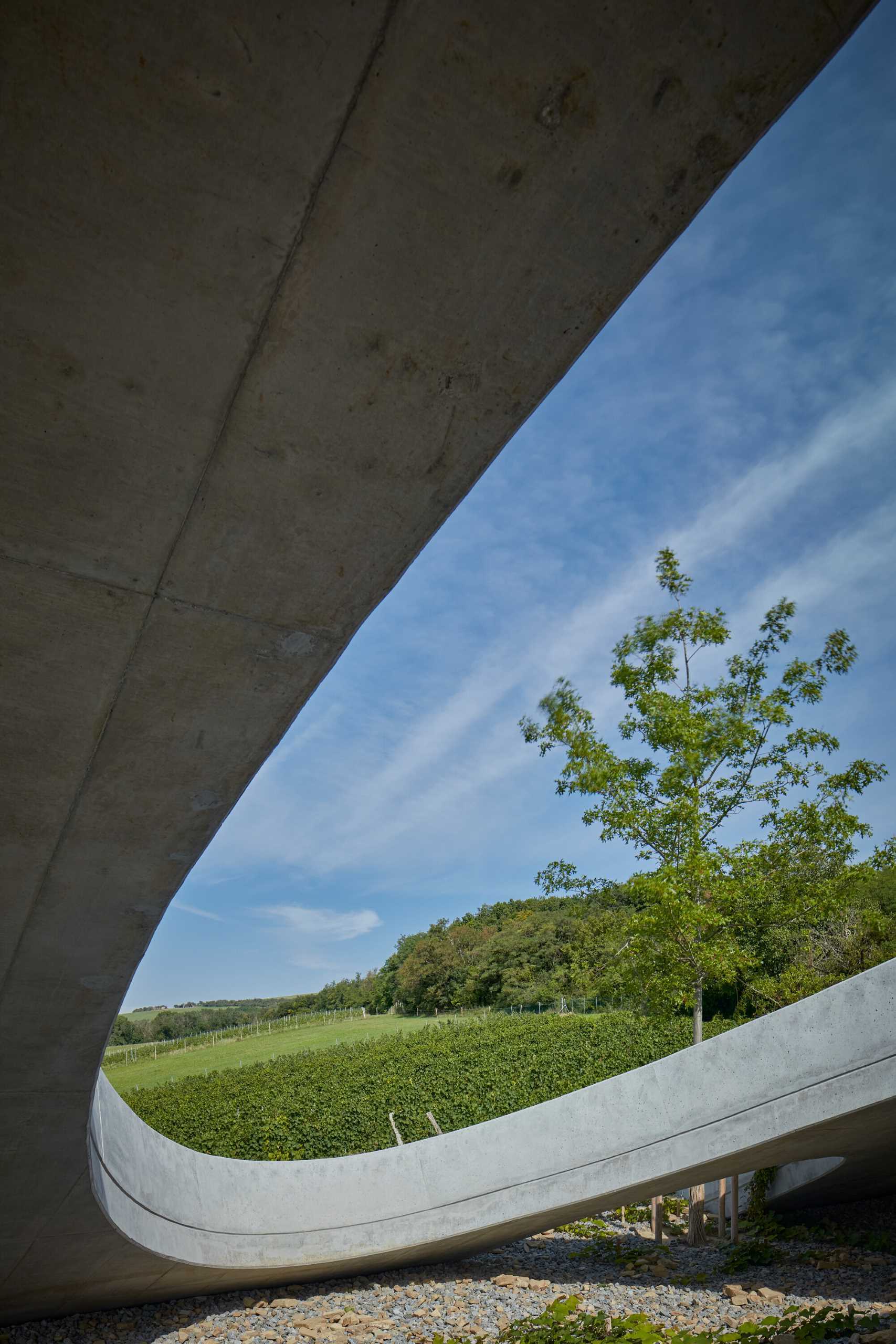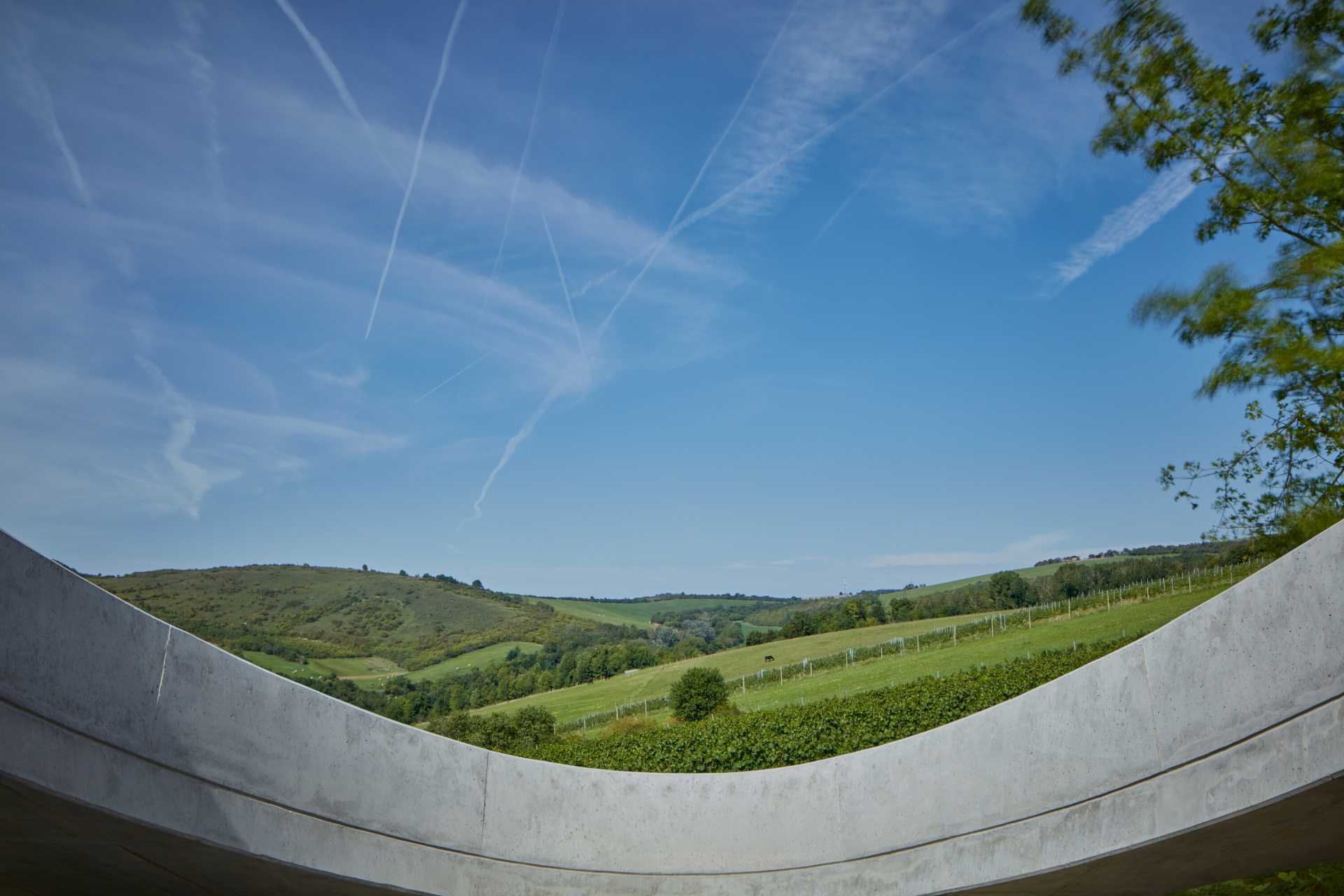 The location of the building right in the vineyard minimizes the transport of raw materials and workers within the winery.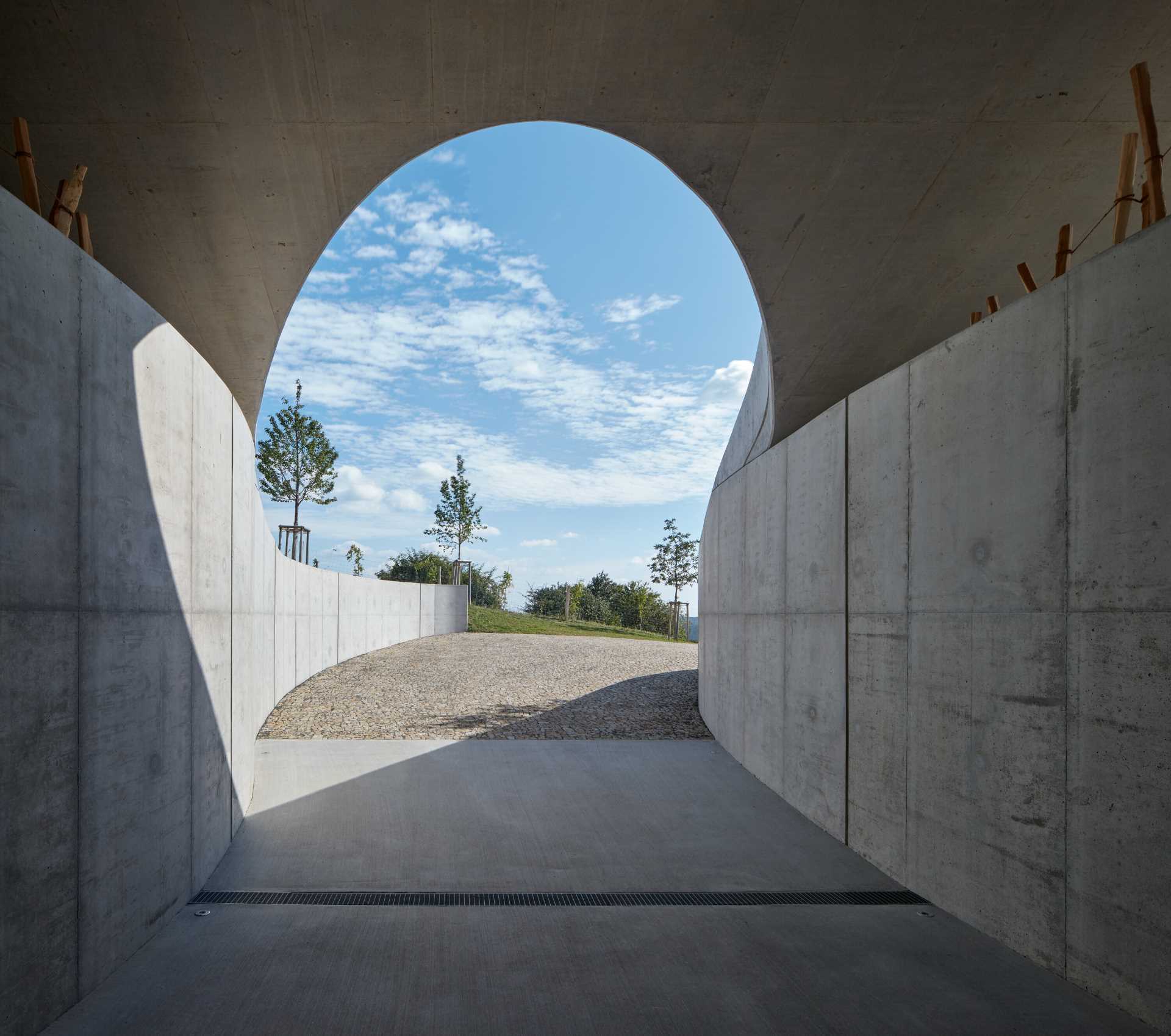 The production areas are located under the terrain, while the customer areas are open to the sun through a glass facade, thus making use of passive energy.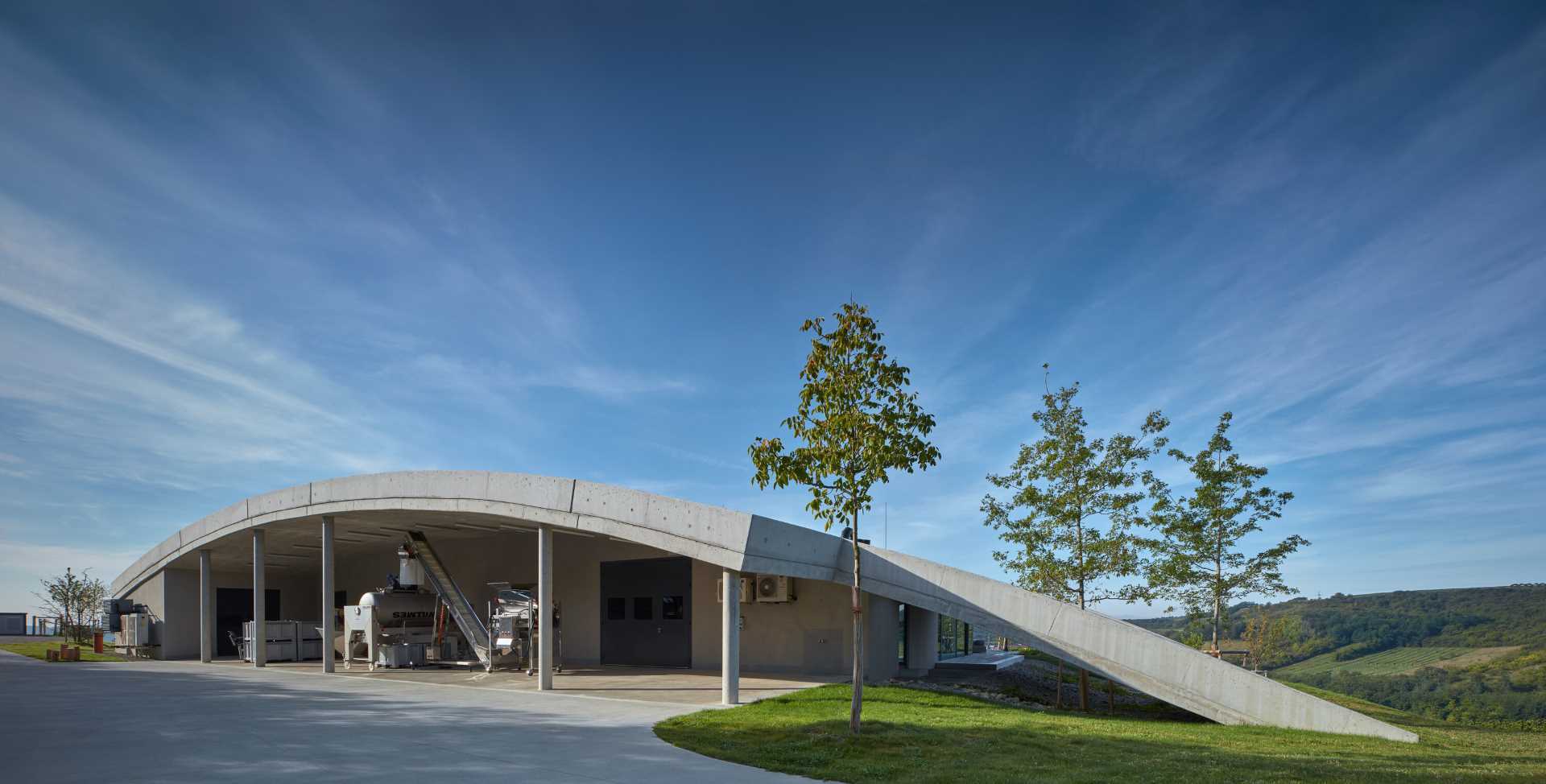 To prevent overheating in the hottest summer months, thermally insulating triple glazing is designed in combination with wooden oak slats in front of the windows.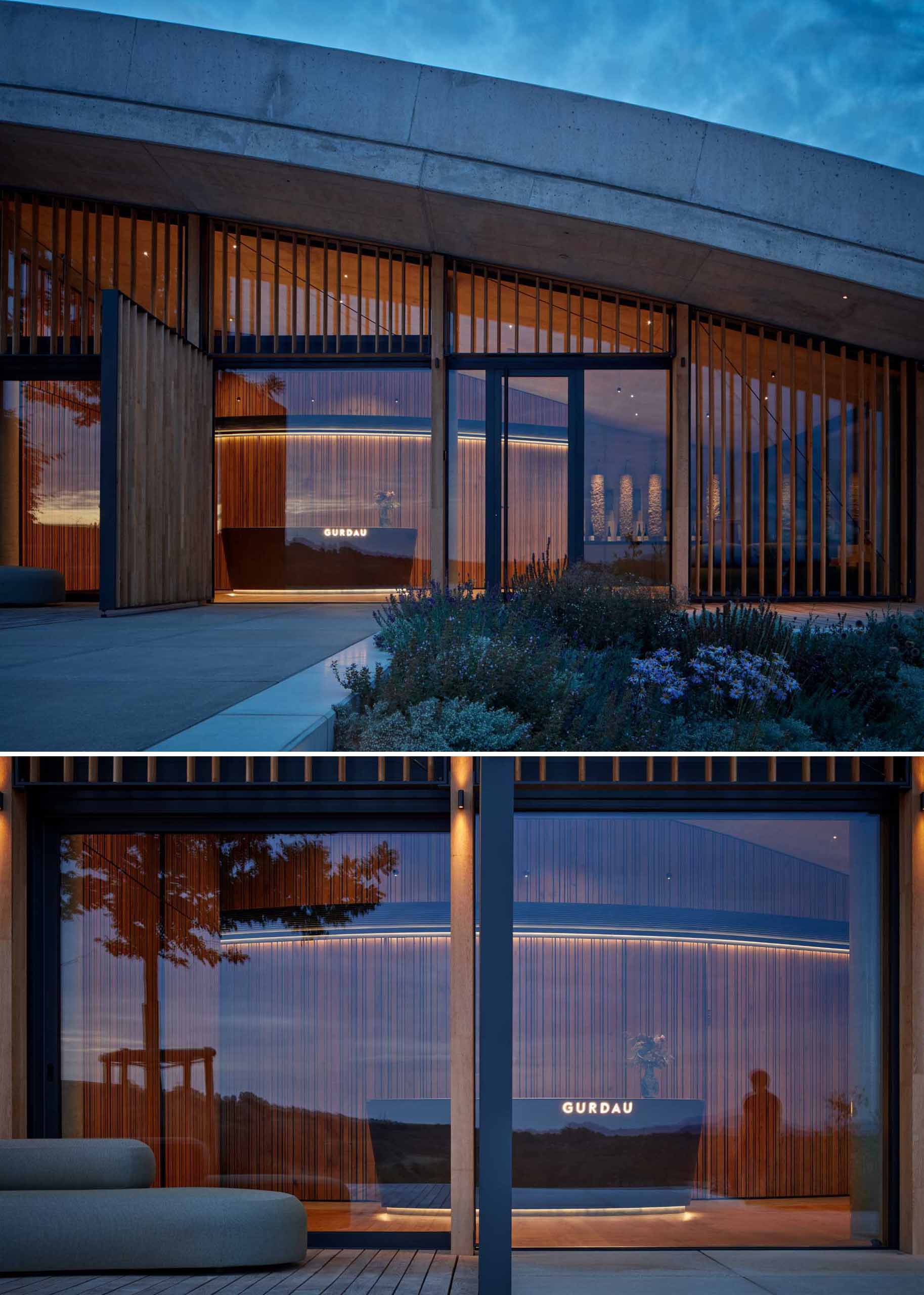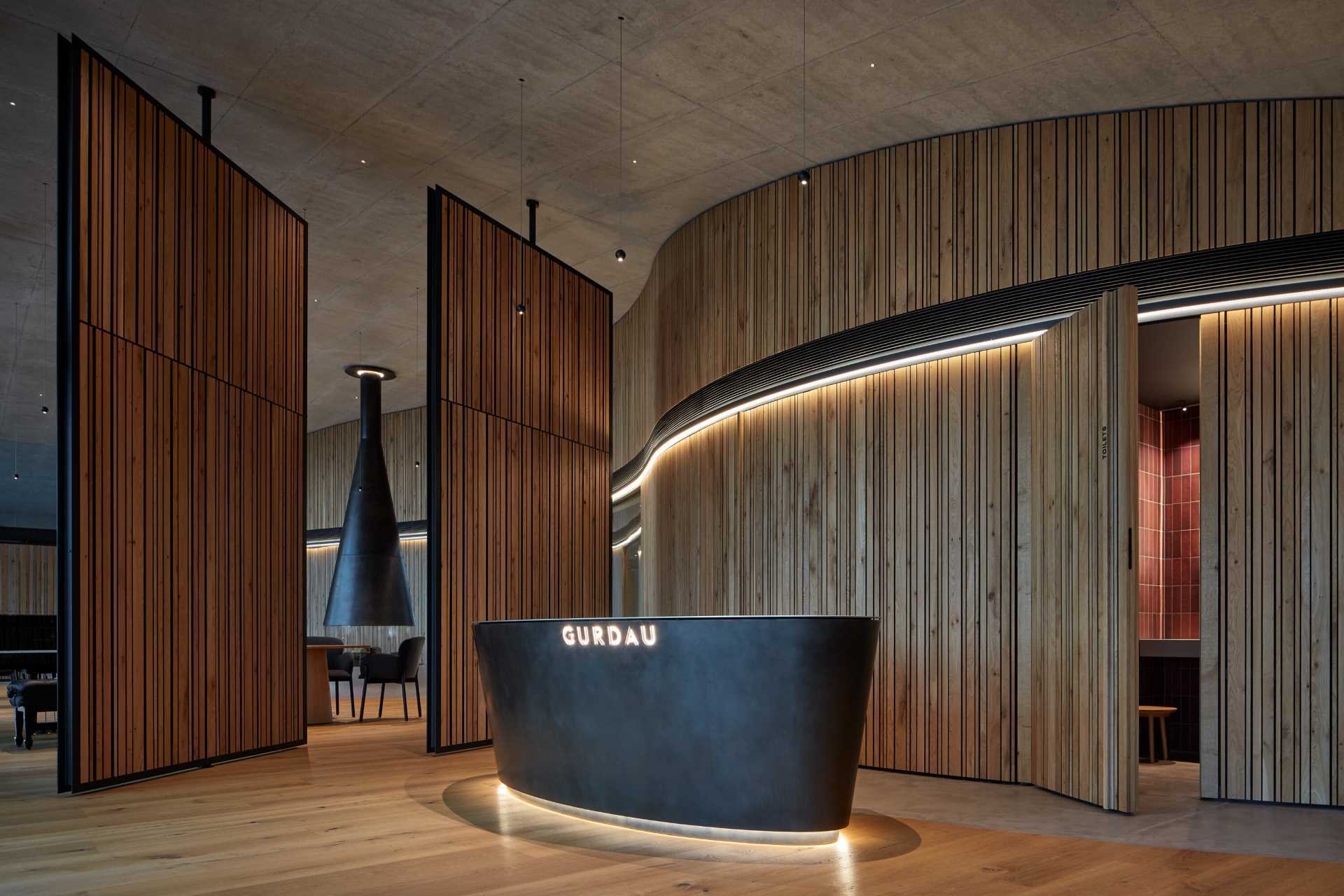 A sufficient overhang of the curved roof and shading of the patio pergola create shaded areas for visitors to enjoy.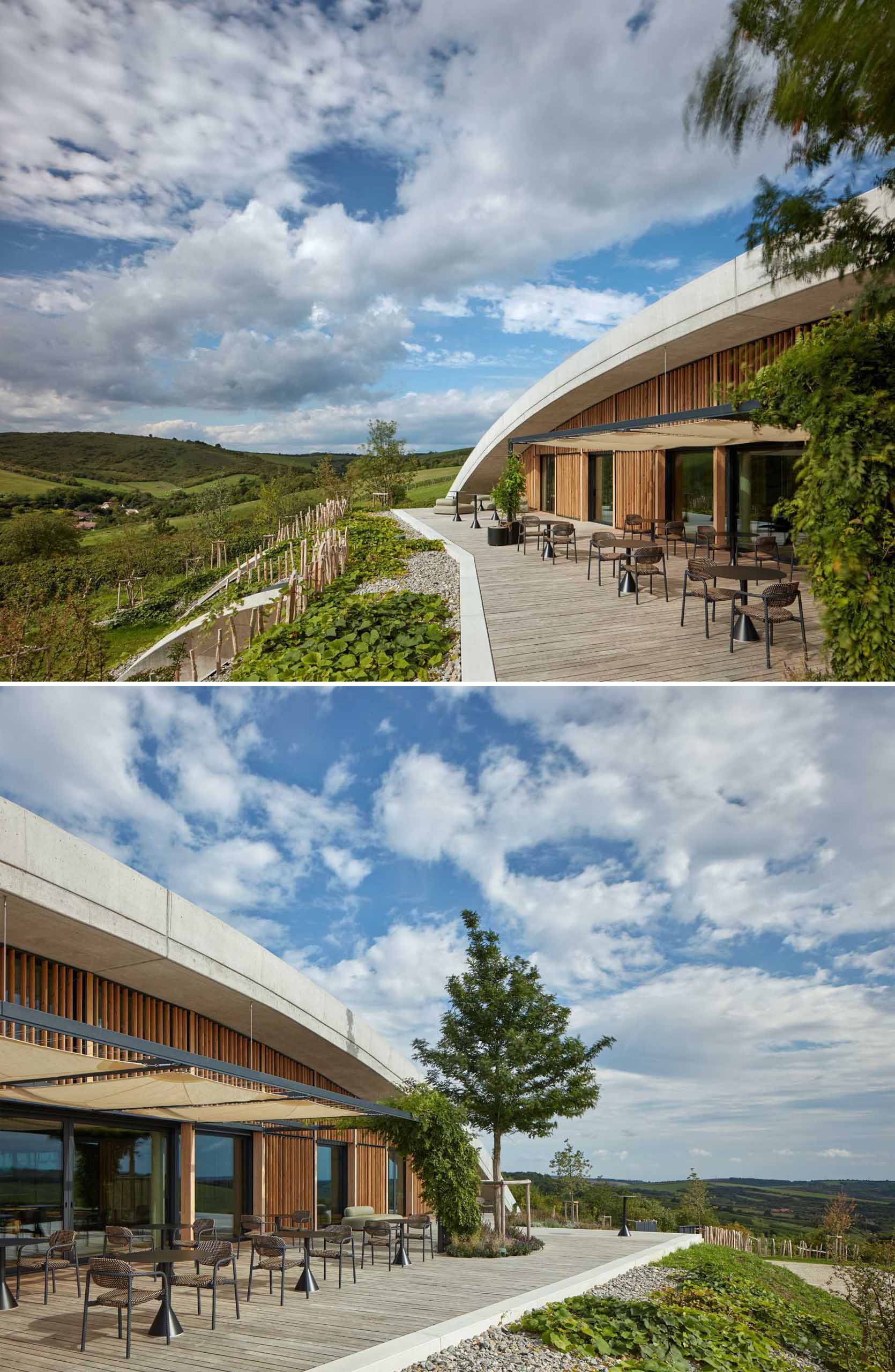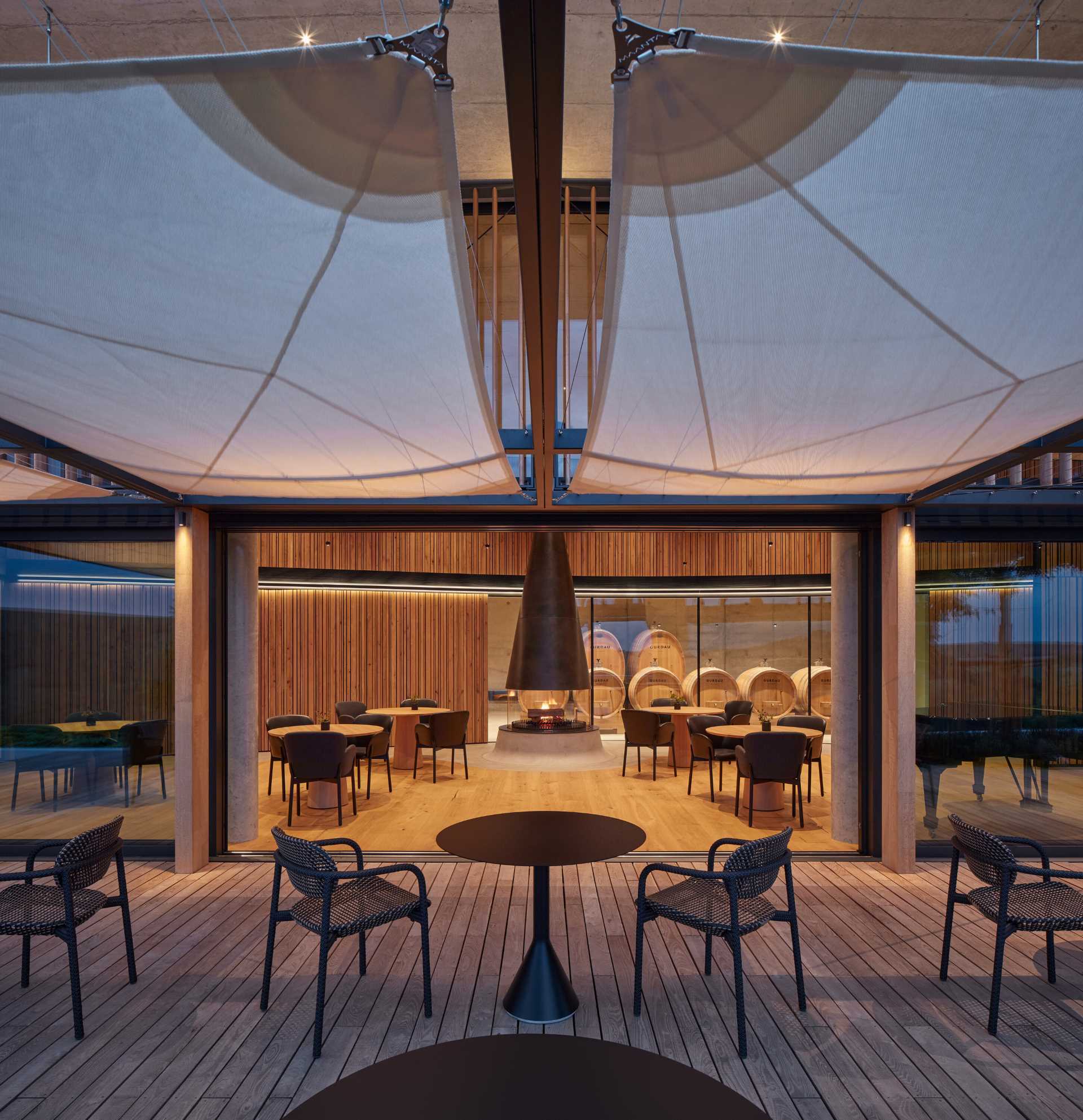 Inside, wood walls and floors soften the hard concrete ceiling, while a fireplace becomes a focal point in the tasting room.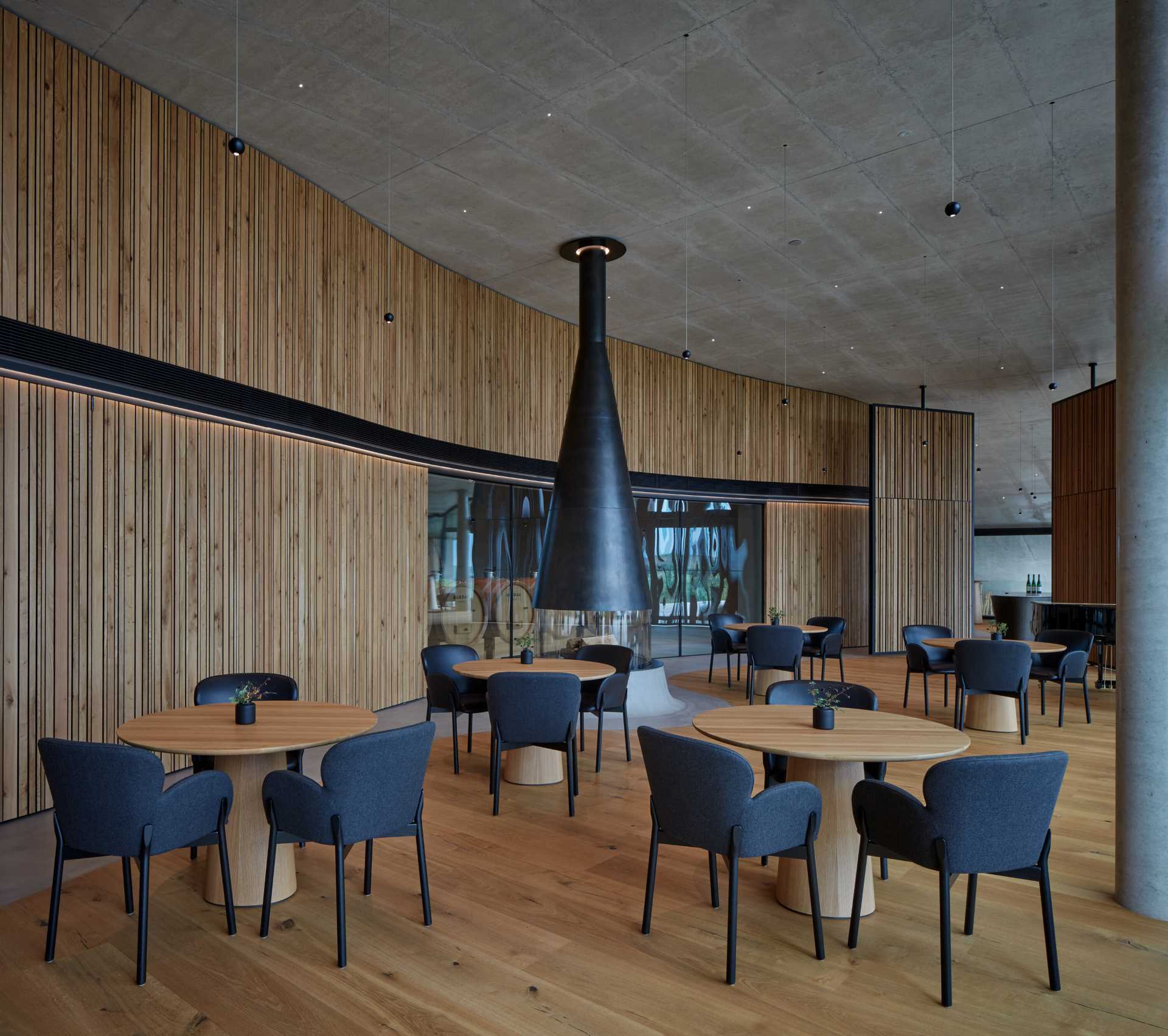 A selection of wine barrels are housed behind a curved glass wall, providing visitors with a glimpse of the wine-making process.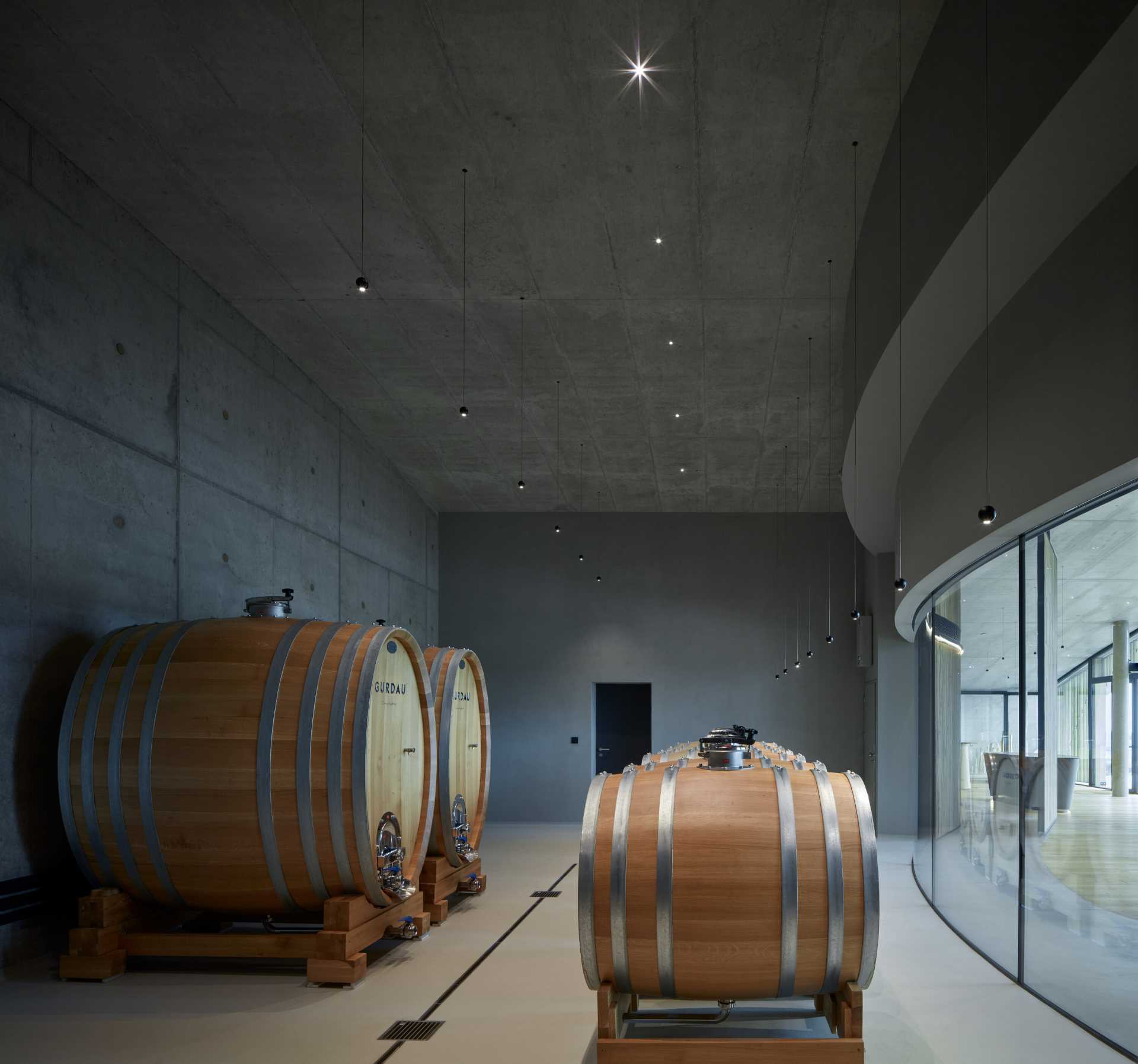 The accommodation has its own unique rounded design, with doors that open to a semi-private patio with views of the vineyard.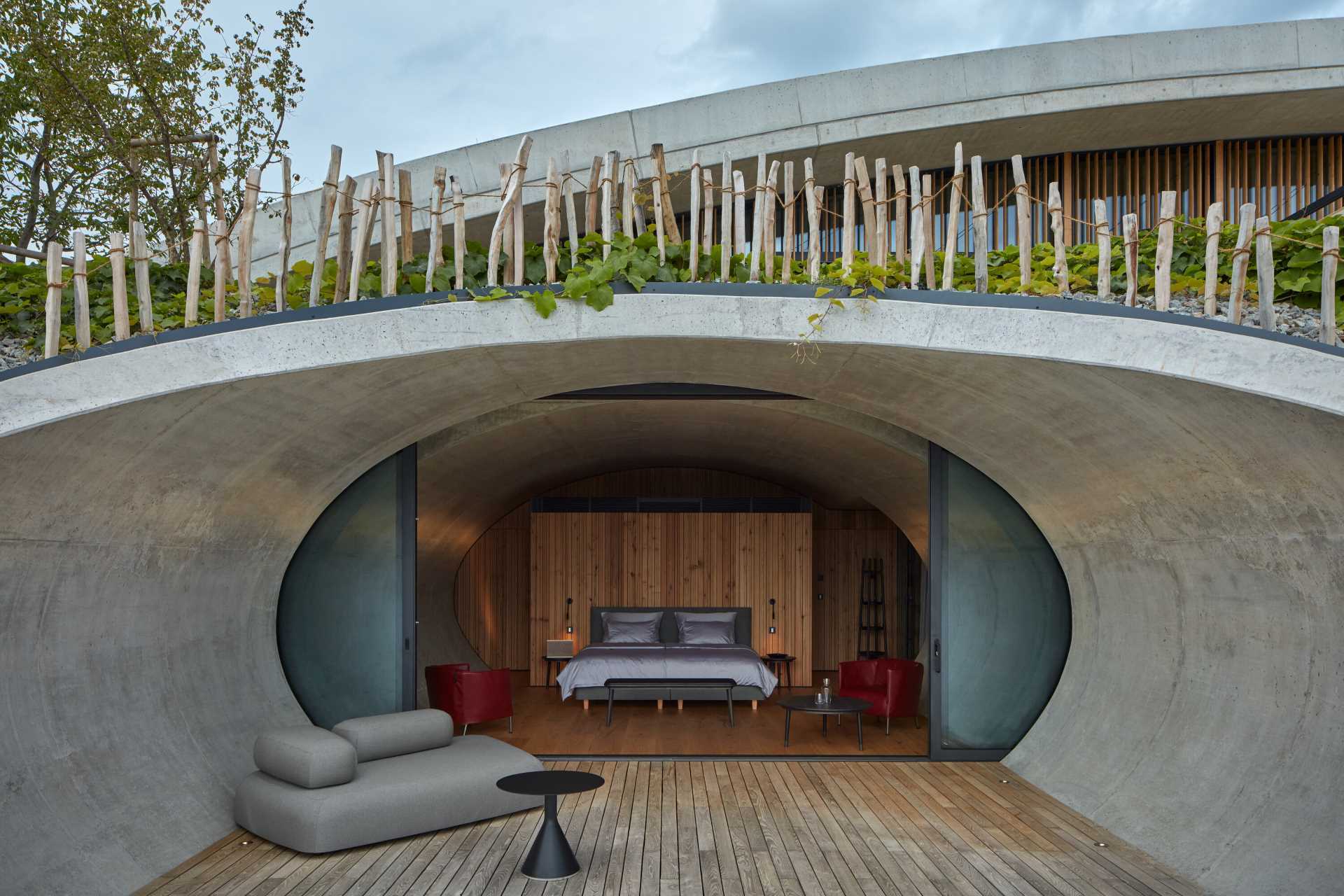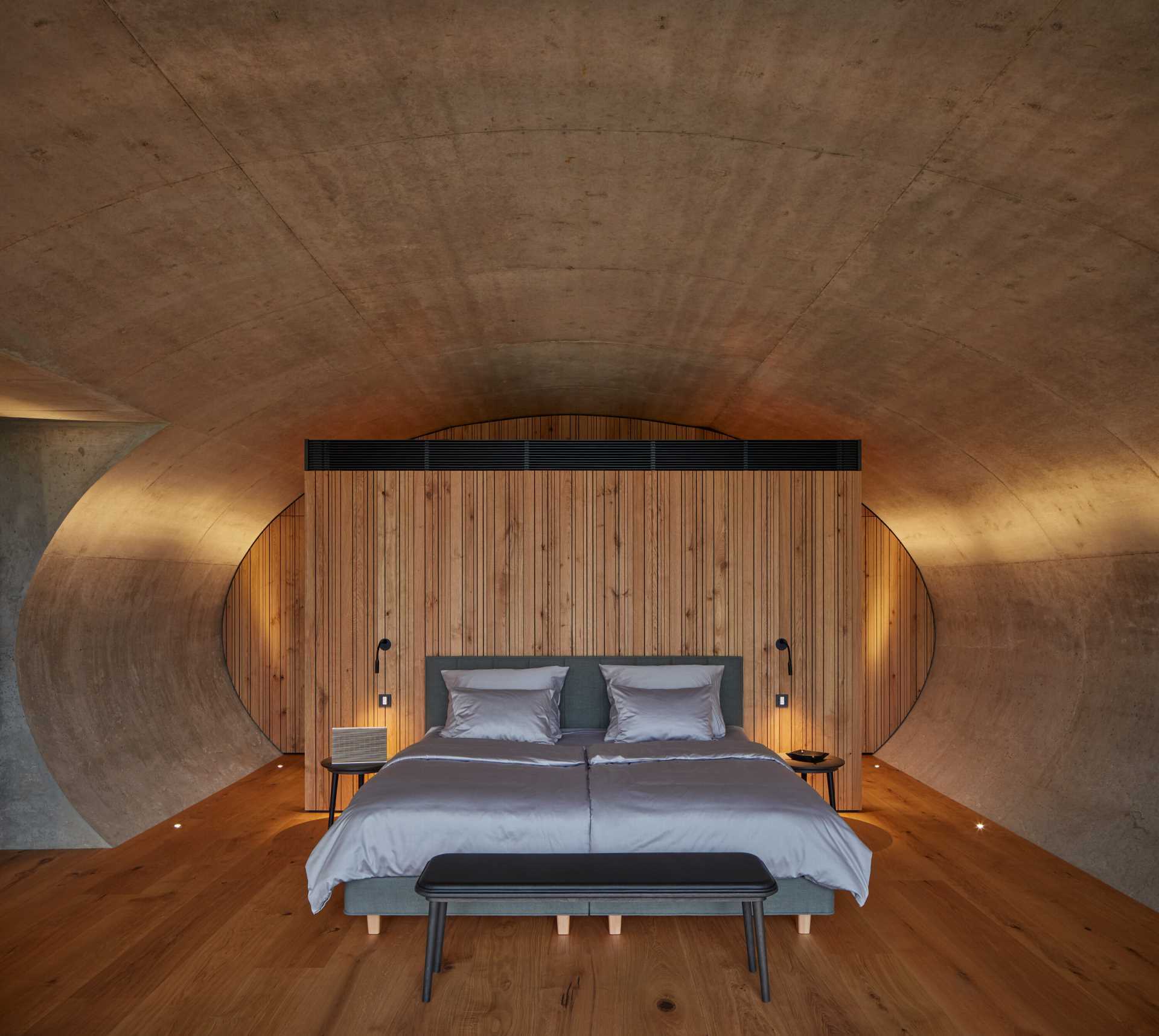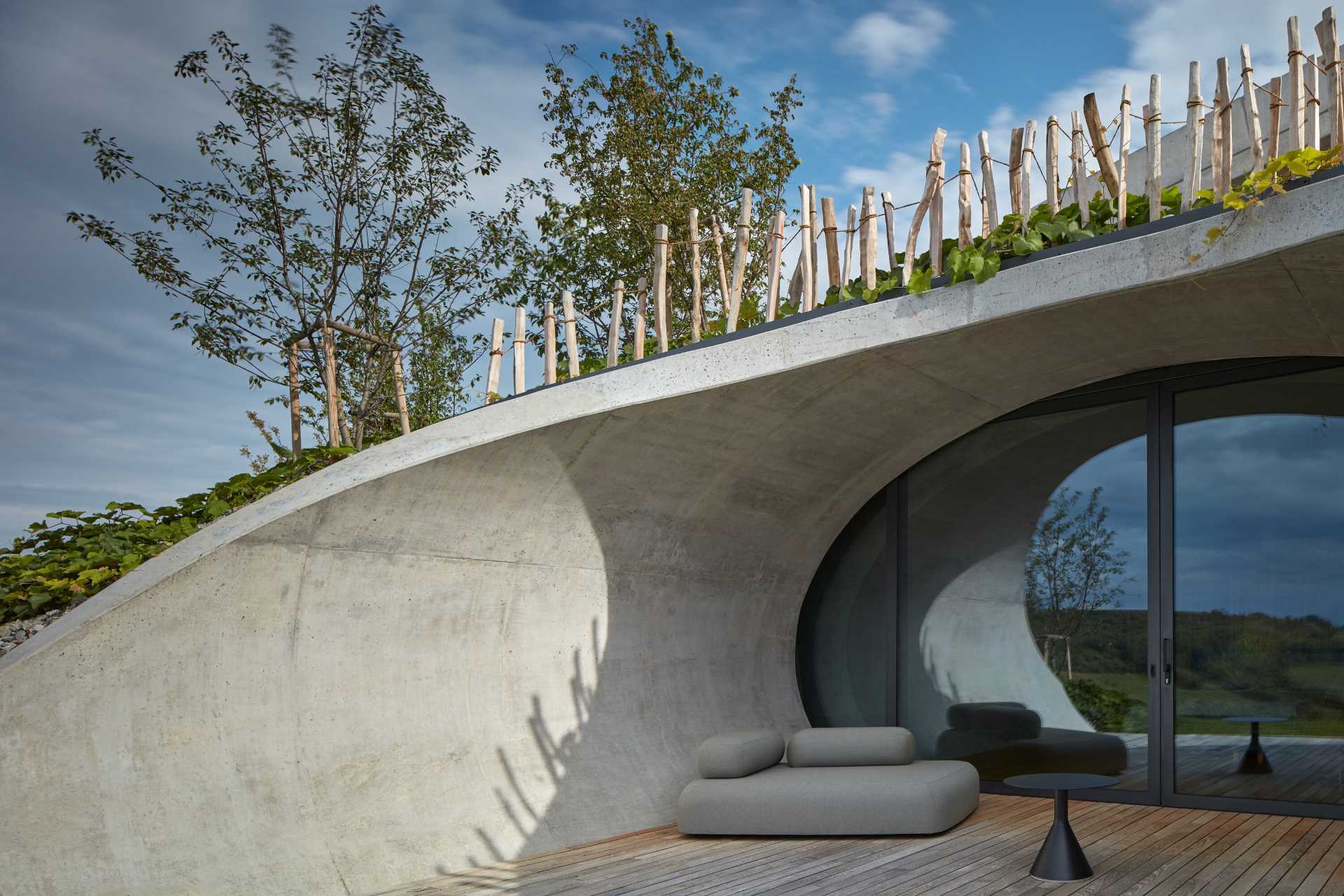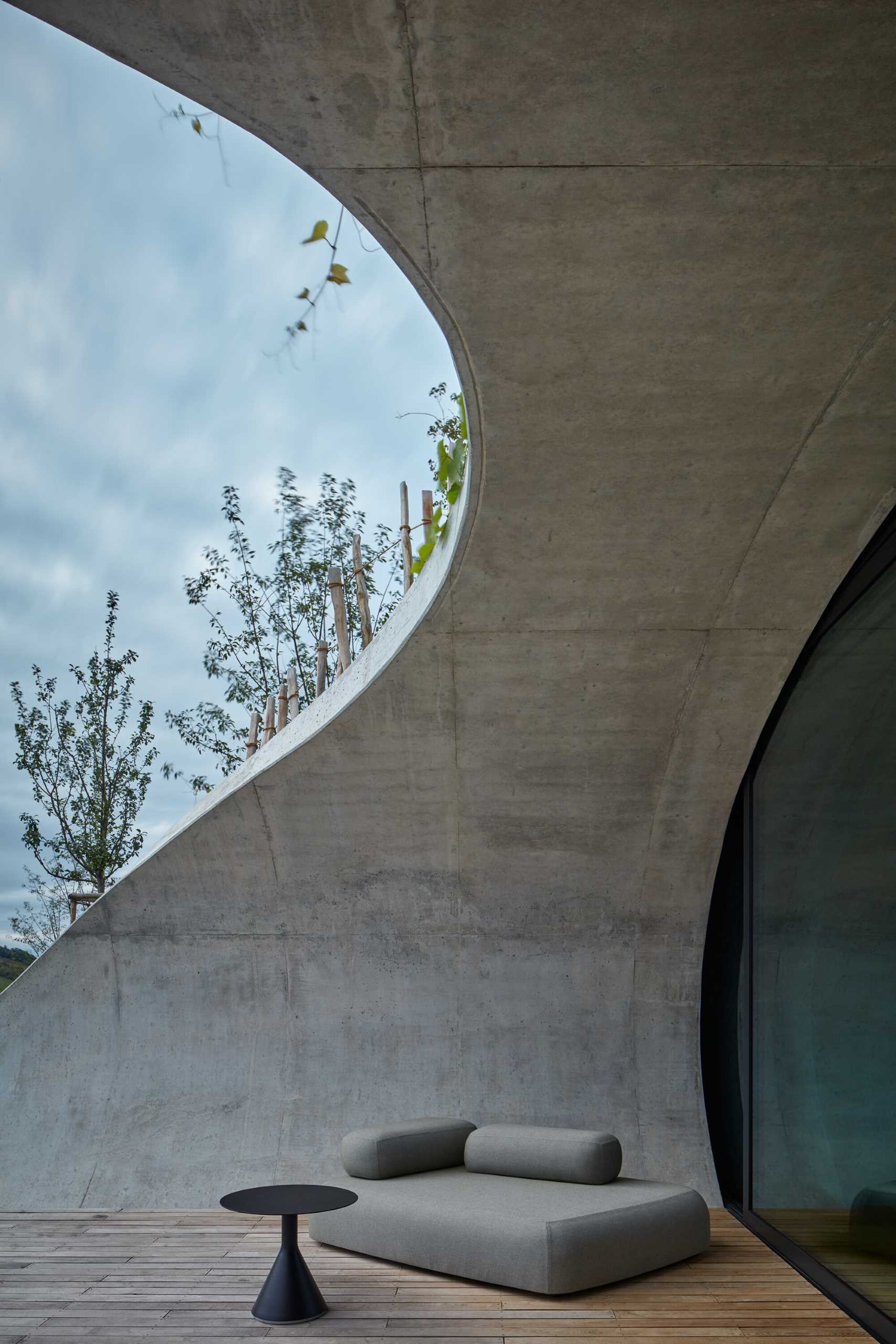 At night, the winery glows amongst the hillside.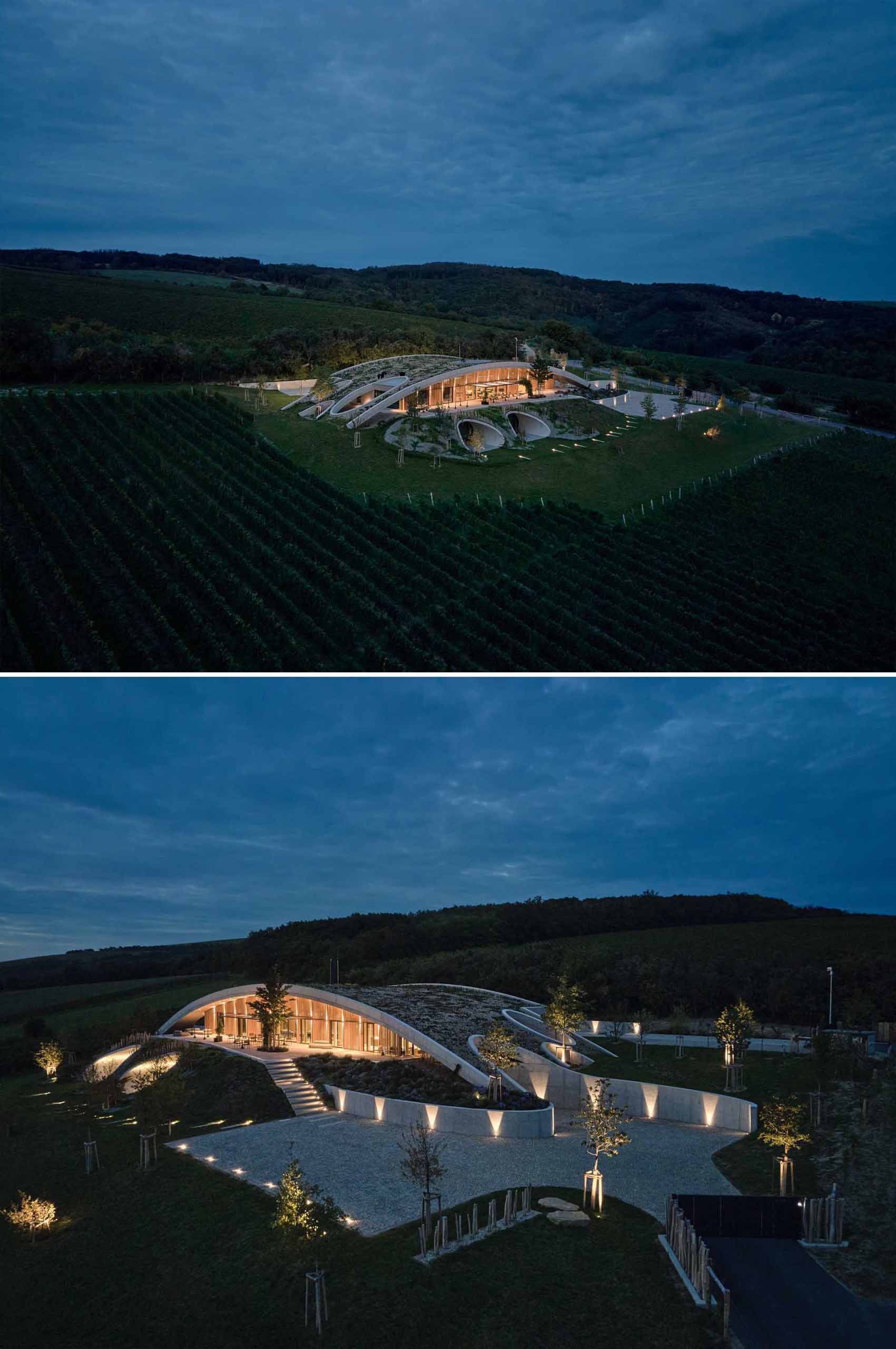 Here's a look at the various architectural drawings for the winery.
The Site Plan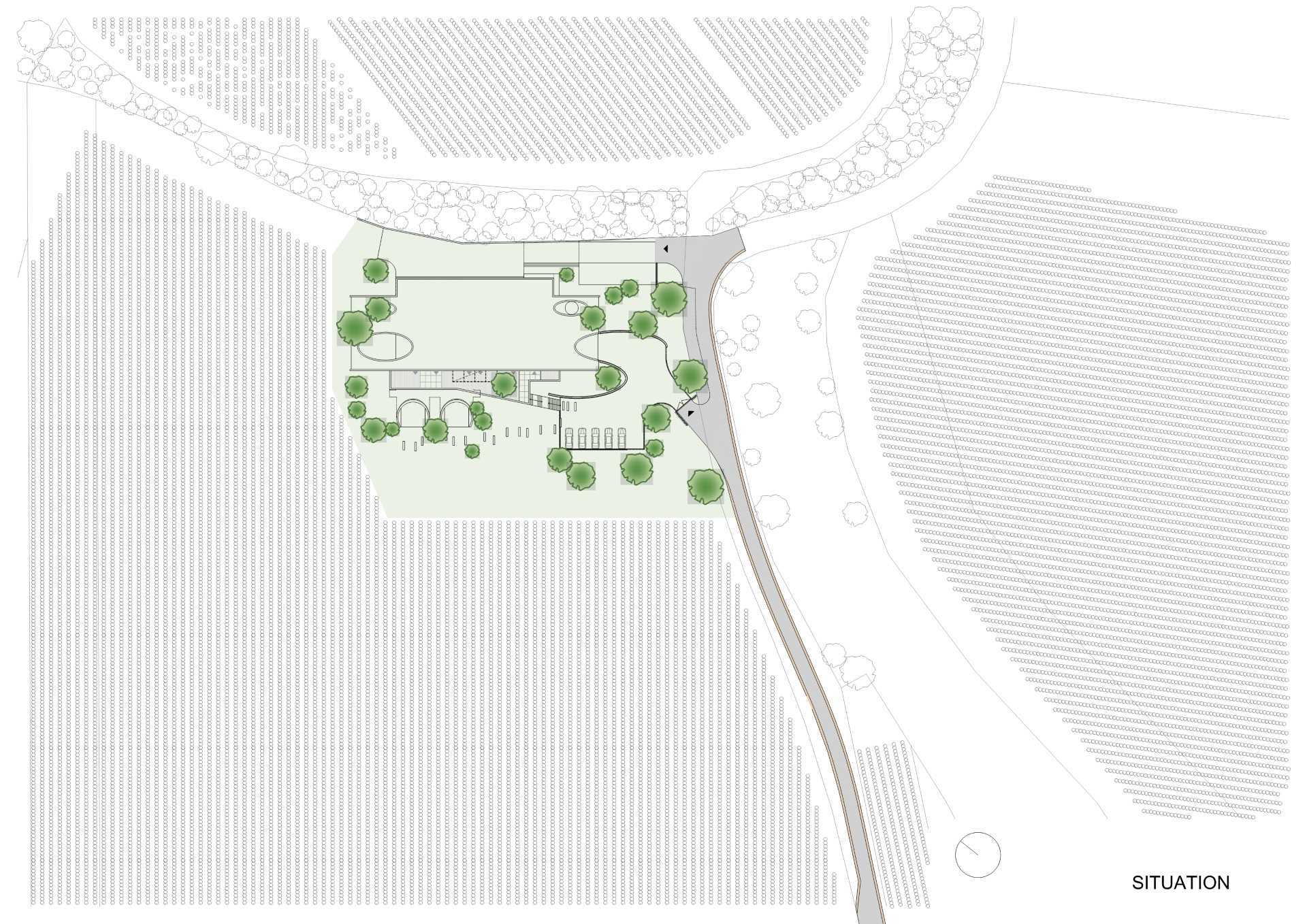 Longitudinal Section

The Elevations
The Floor Plans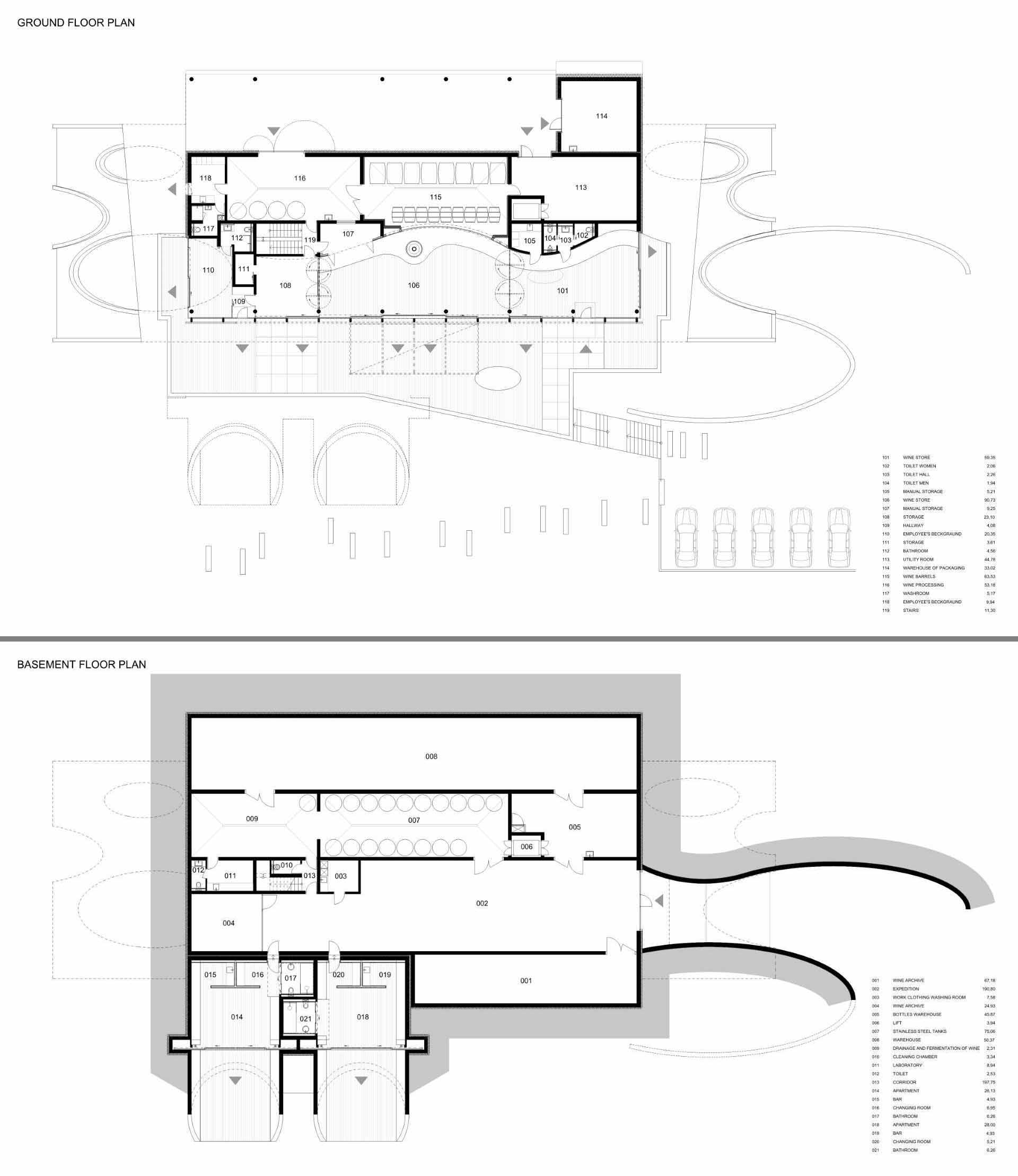 Photography by BoysPlayNice | Design: Ales Fiala – Tomas Bilek, Bronislav Bures [civil engineers] | Collaborators – Statics: OK atelier | MEP: Projekce TZB Prokes | Electrical installations and security system: CATEGORY | Landscaping: Zdenek Sendler | Furniture design, interior details: Daniela Hradilova | General contractor: Navlacil stavebni firma | Steel constructions: OMELKA | NEJEZ stavbne zamecnicke prace | Atelier Original Horanek | Joinery: DREVOSTYL [Libor Zeman] | Bilek&Bilek truhlarstvi | Wooden floors and terraces: BELEVEY [Ladislav Sedlacek]