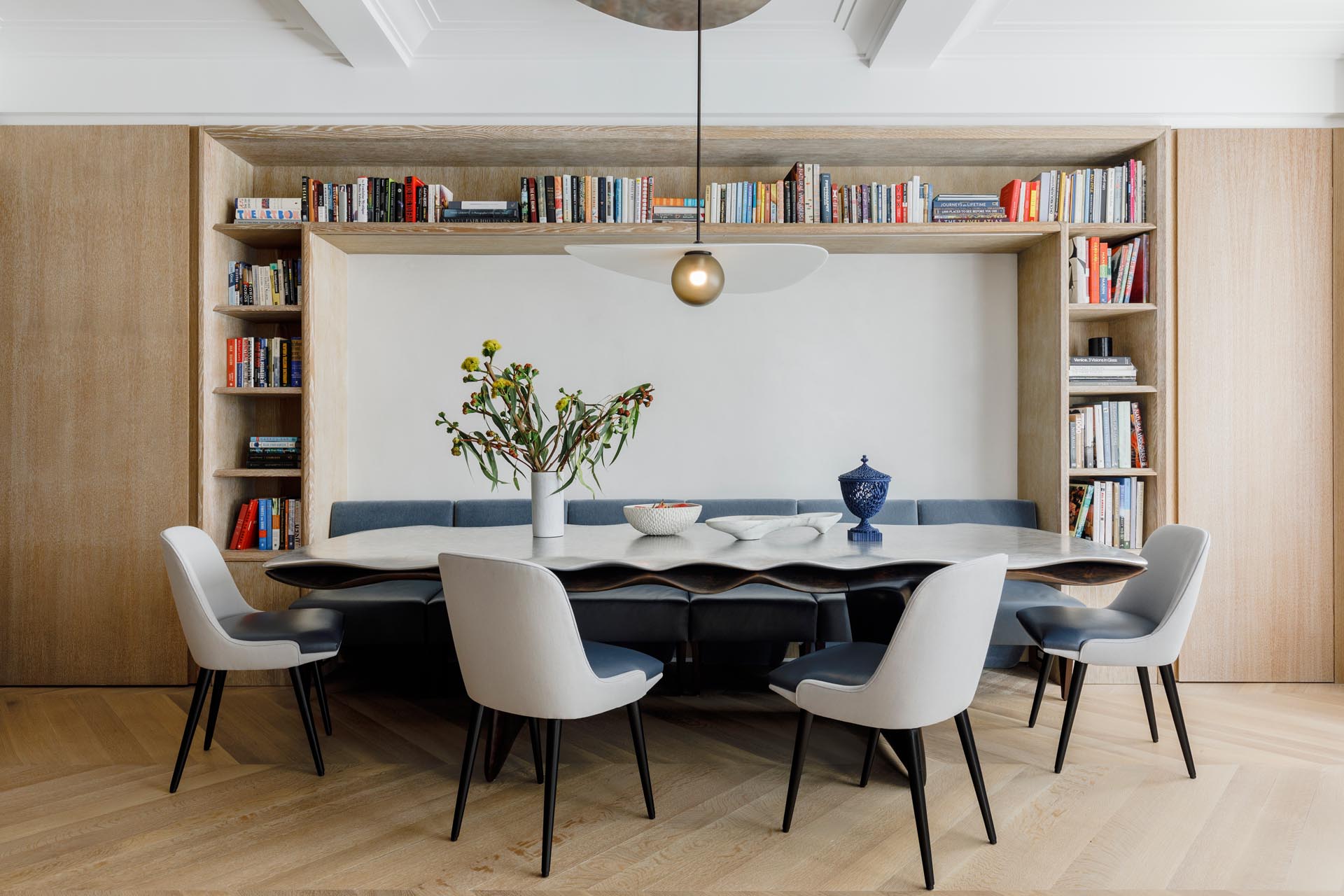 Michael K. Chen Architecture (MKCA) has designed the architectural renovation and interiors of a large apartment on Park Avenue on Manhattan's Upper East Side, and included is a dining room with a unique design solution.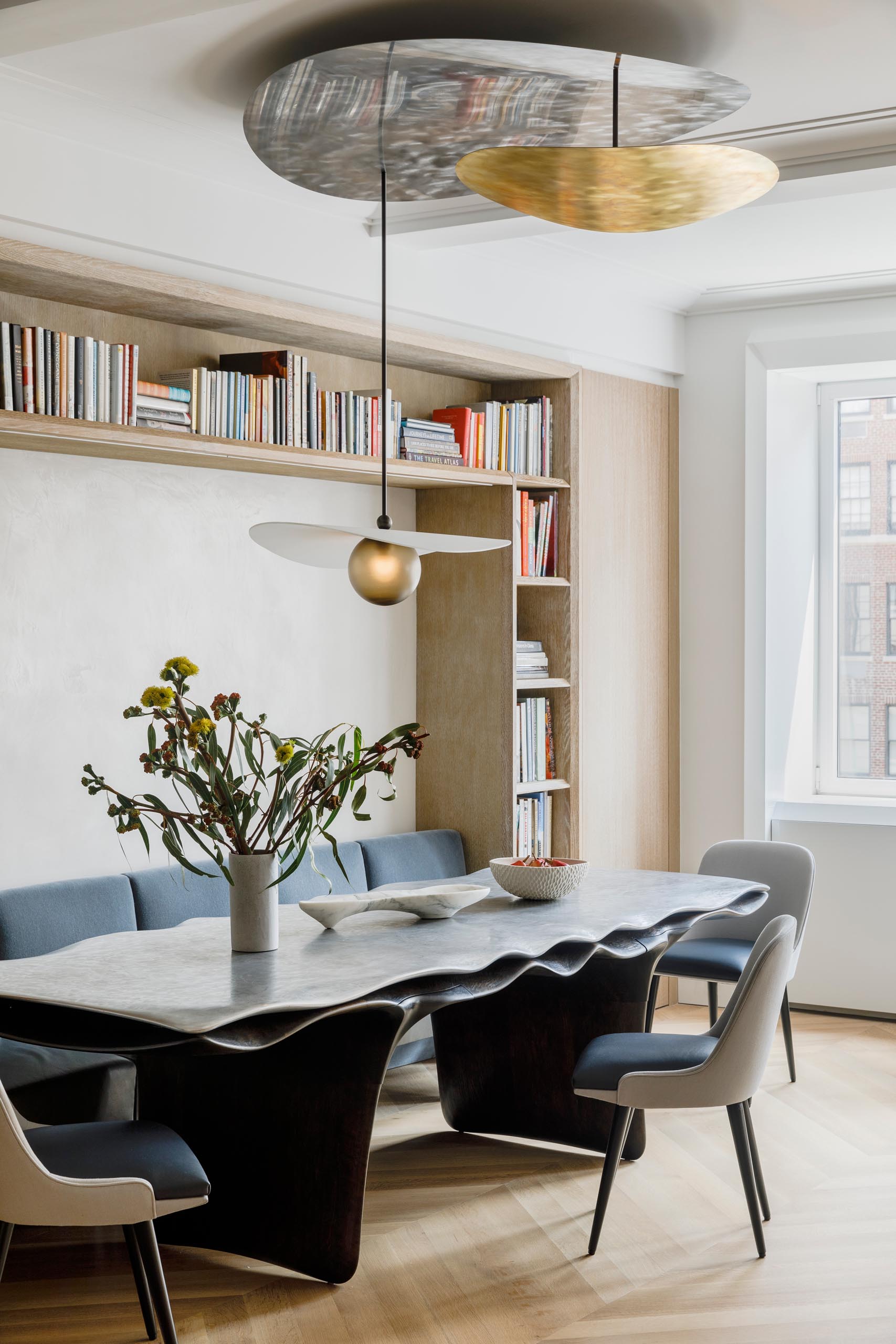 Within the dining room, a cold-forged aluminum and oxidized cherry dining table by Christopher Kurtzcan can expand, the leather and mohair banquette by MKCA and fabricated by Manzanares Furniture can break apart into chairs, and the custom transforming chandelier designed in collaboration with Ladies and Gentlemen studio, swivels to the center of the room.
All of these furniture and lighting choices allow for a seamless transition between family meals and formal/entertaining settings. Also included are vintage dining chairs by Osvaldo Borsani.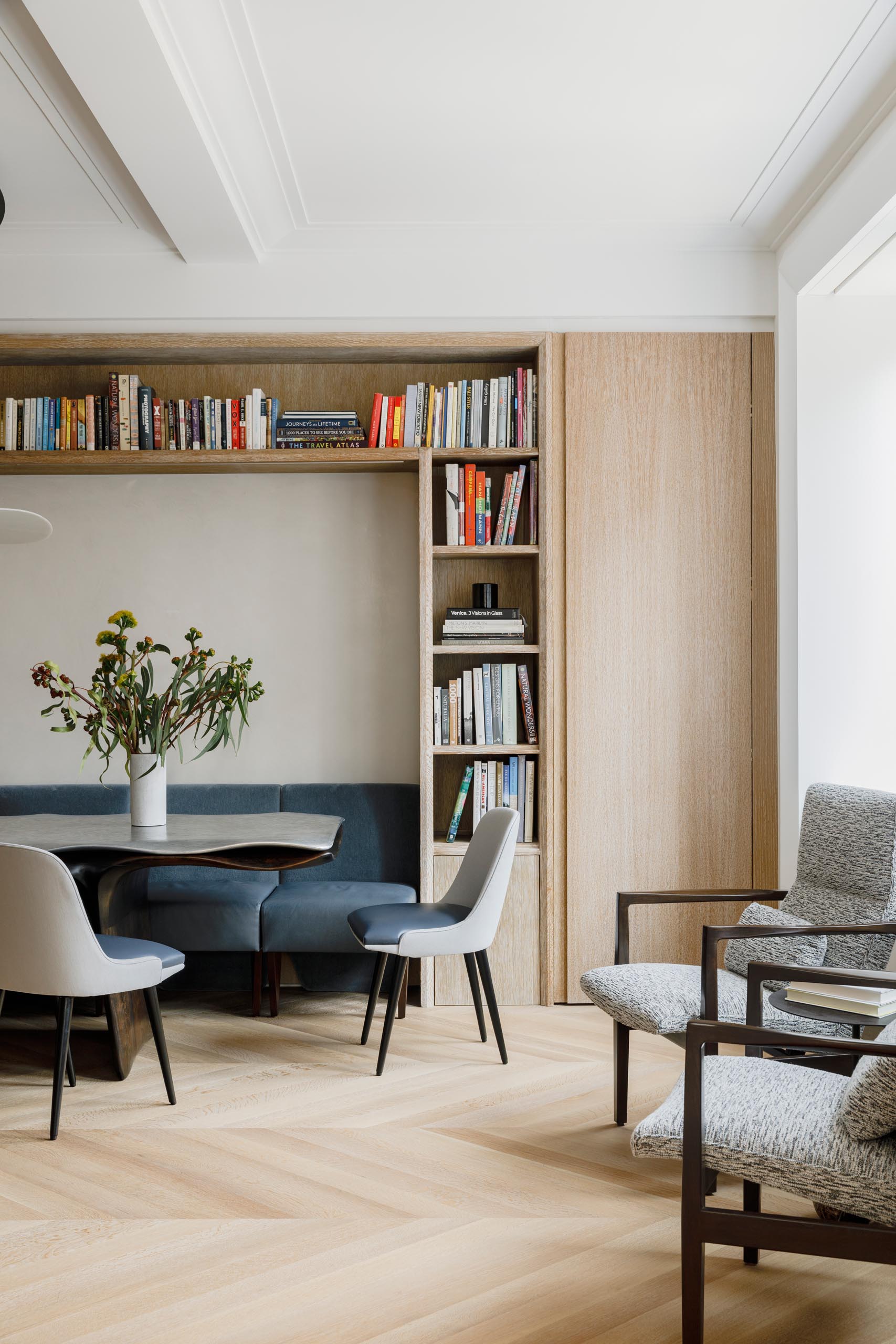 Surrounding the banquette are white oak built-in shelves and storage with LED lighting, and on the opposite wall, a custom-designed bookshelf surrounds artwork and cabinetry. Within the cabinetry, there's a TV on a concealed motorized lift, and above is photography by Edward Burtynsky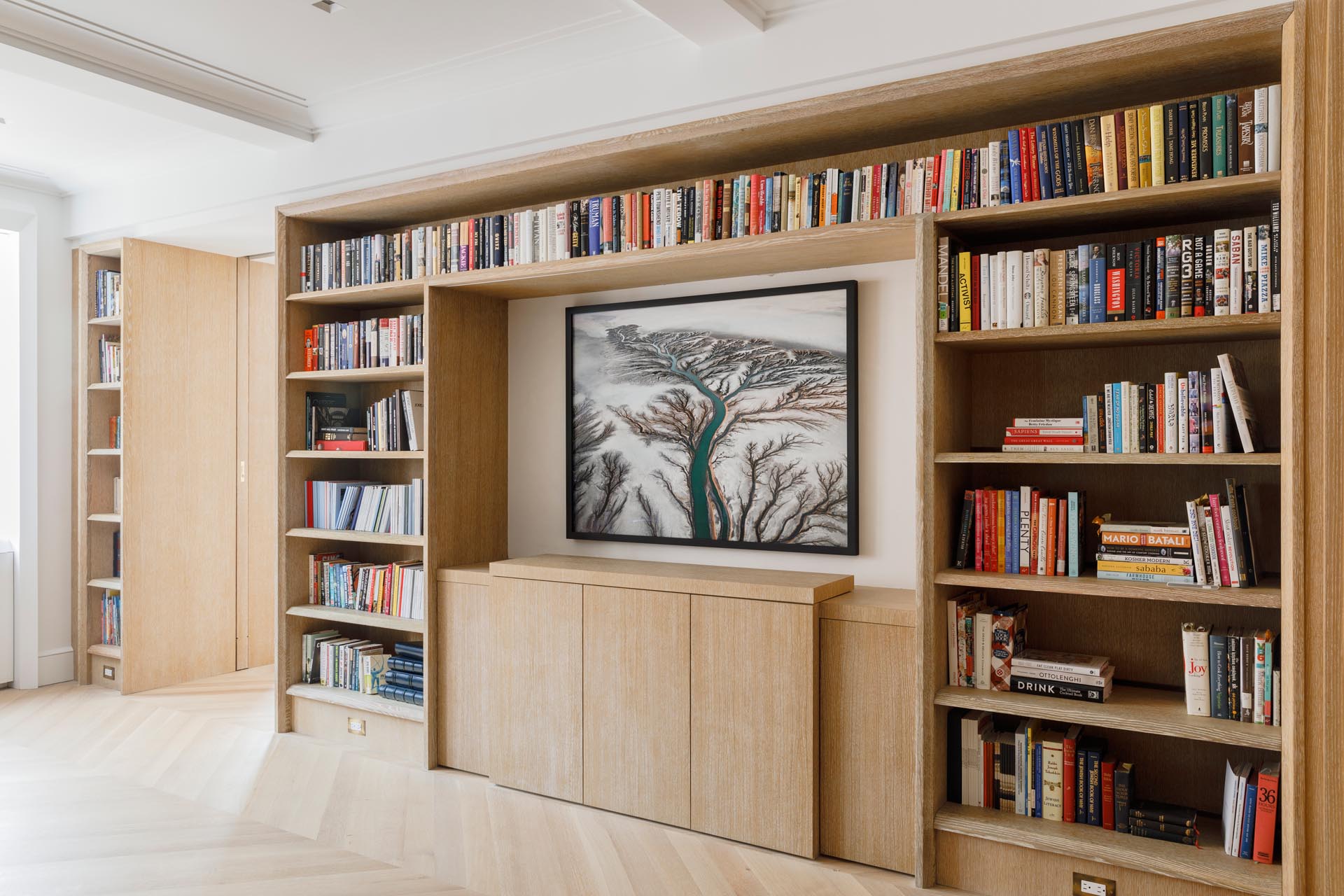 White oak floors in a chevron pattern finish off the room.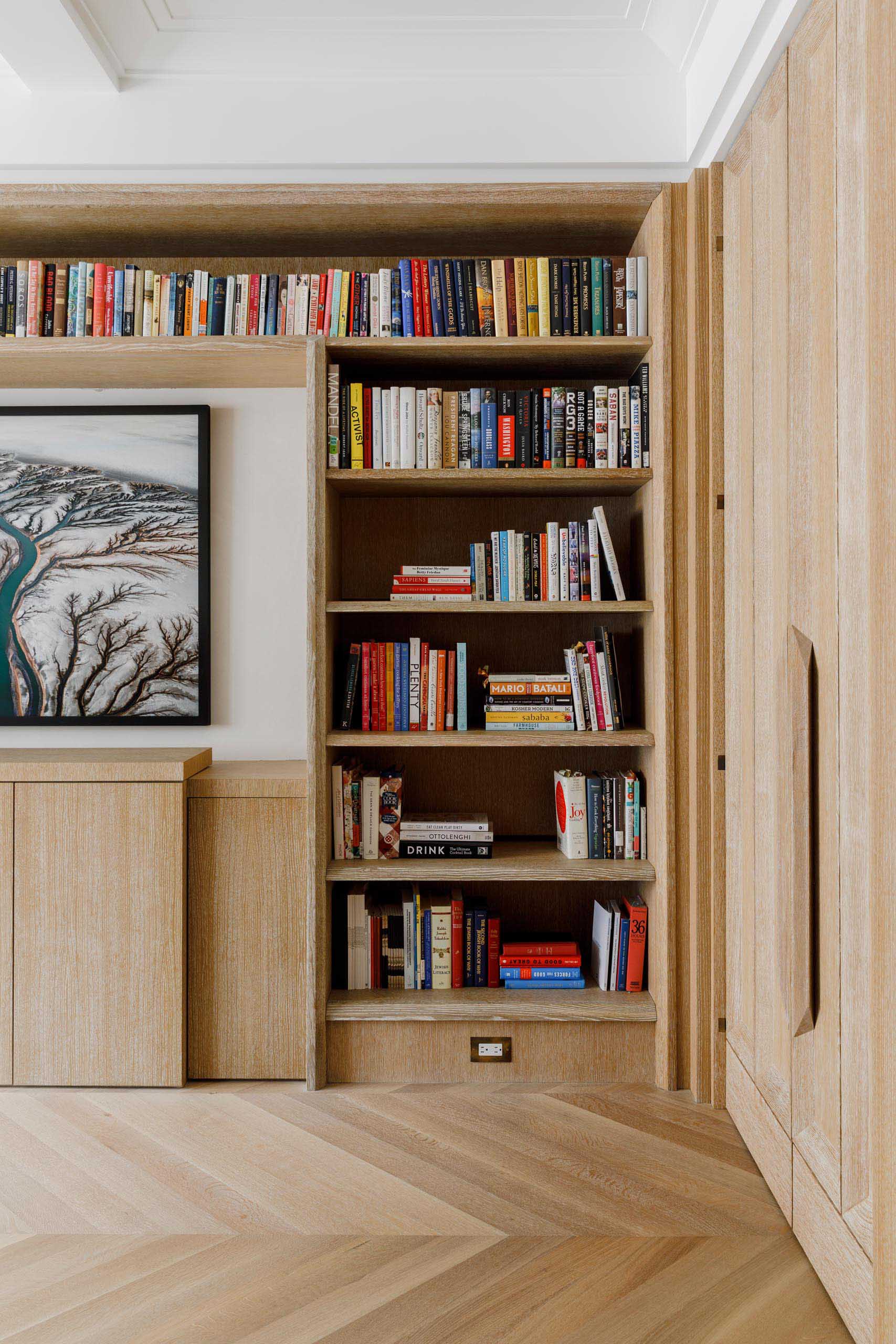 Let's take a look around the rest of the apartment…
The Entryway And Gallery
The entryway and gallery include deeply coffered paneling in cerused white oak, custom terrazzo floor with hand bent brass inlay, two "Castle" pendants by Jason Miller for Roll and Hill, photo artwork by Candida Hofer, and a fiberglass bench by Brodie Neill.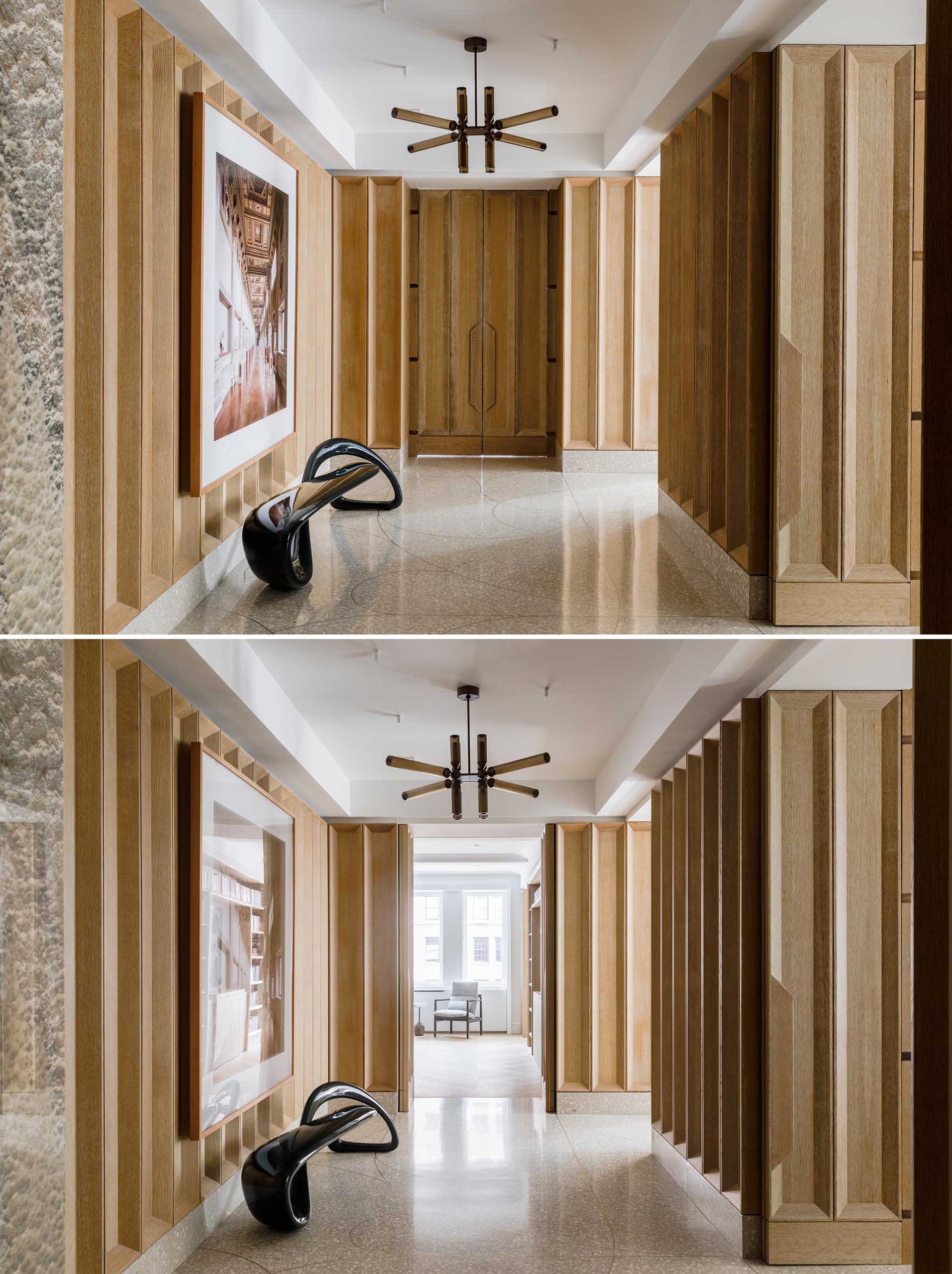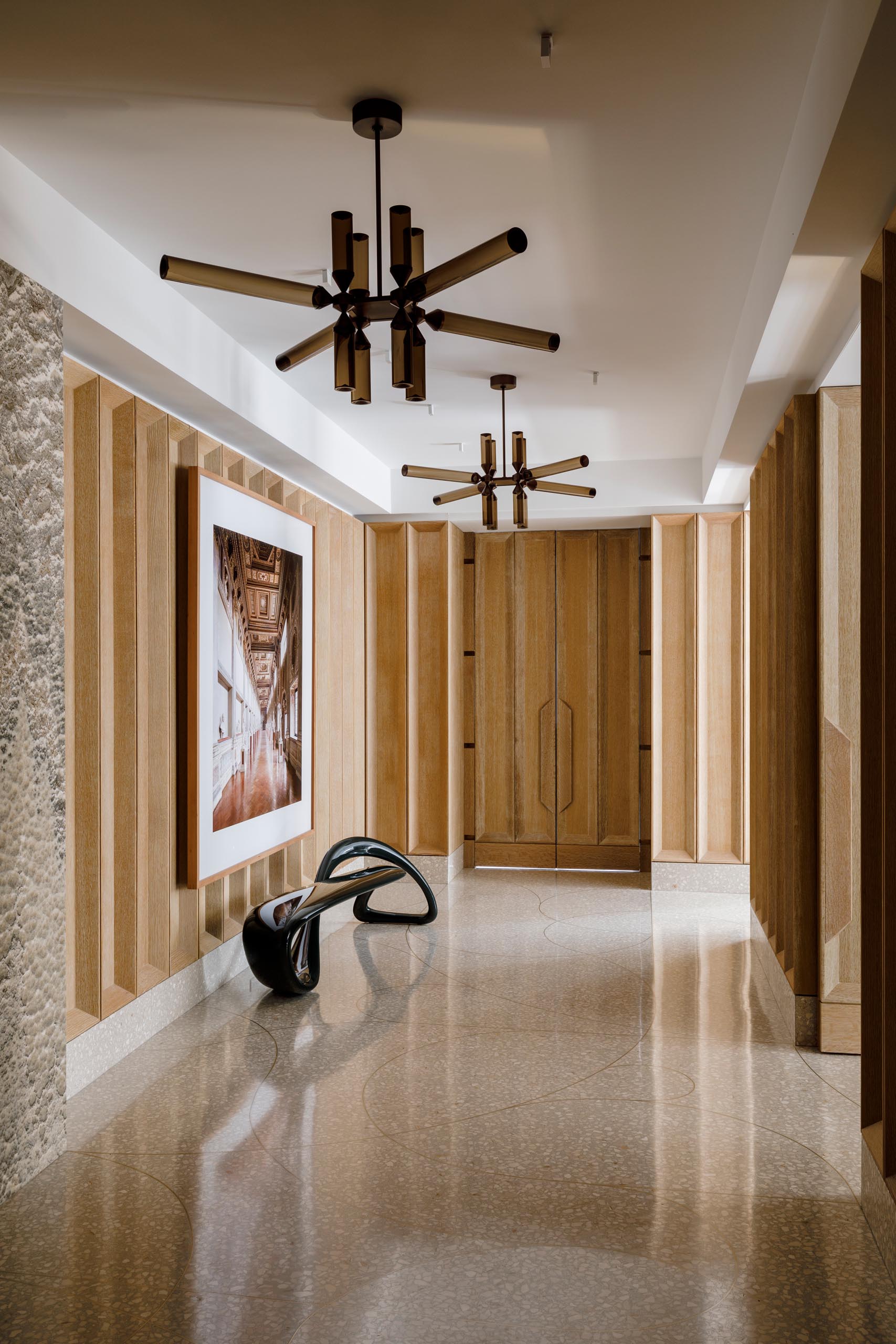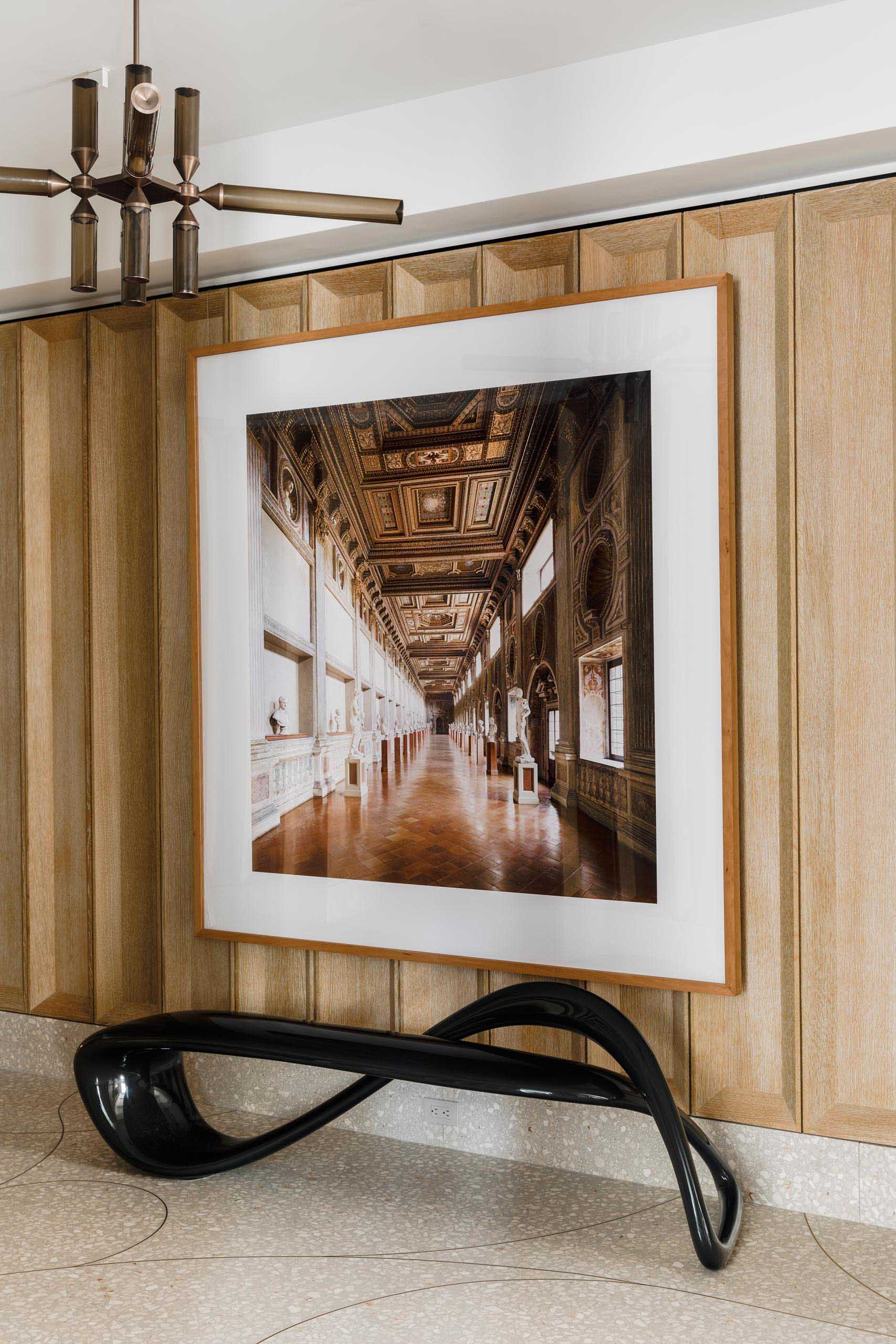 The Living Room
The living room is hidden behind integrated pocketing doors on harmon hinges.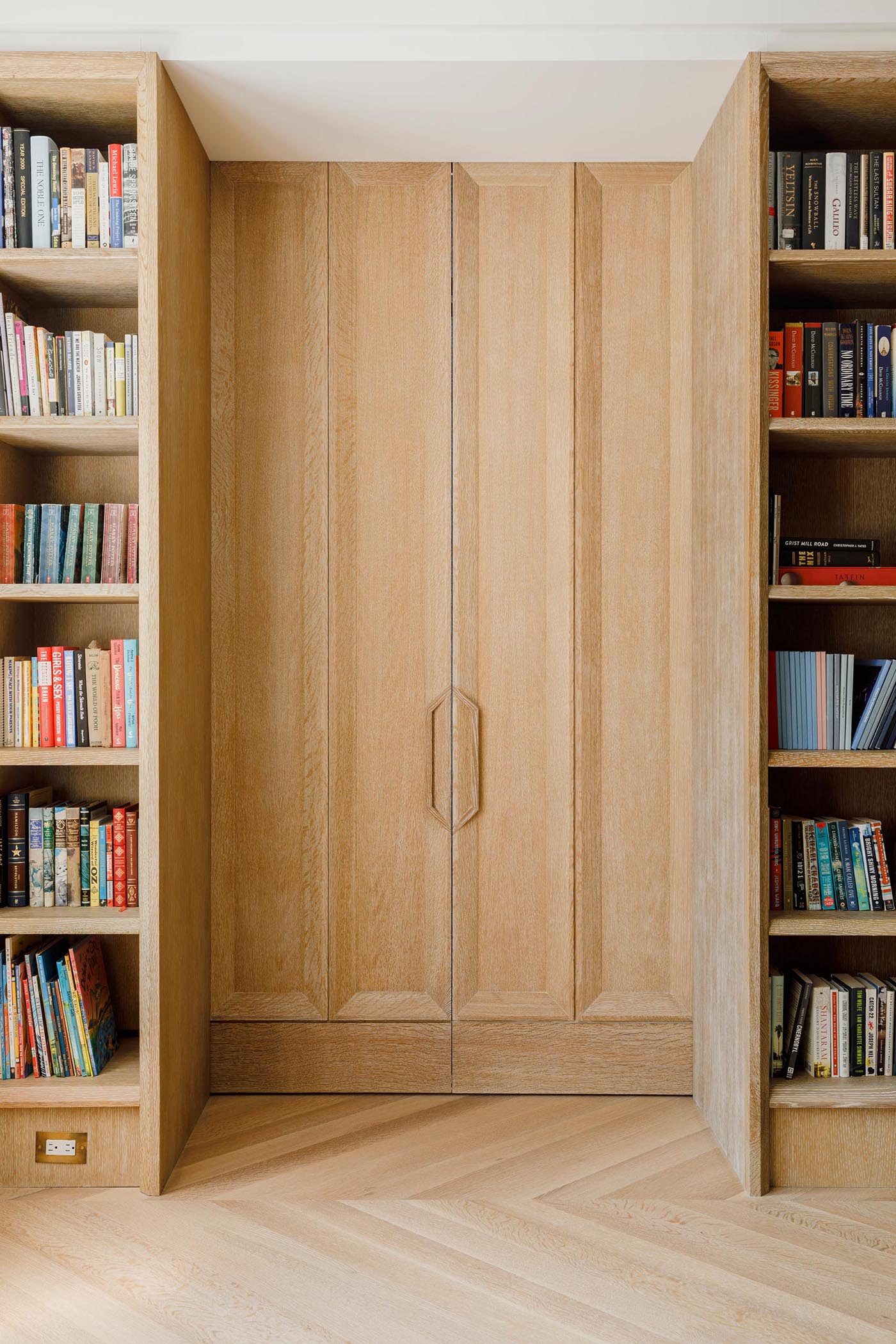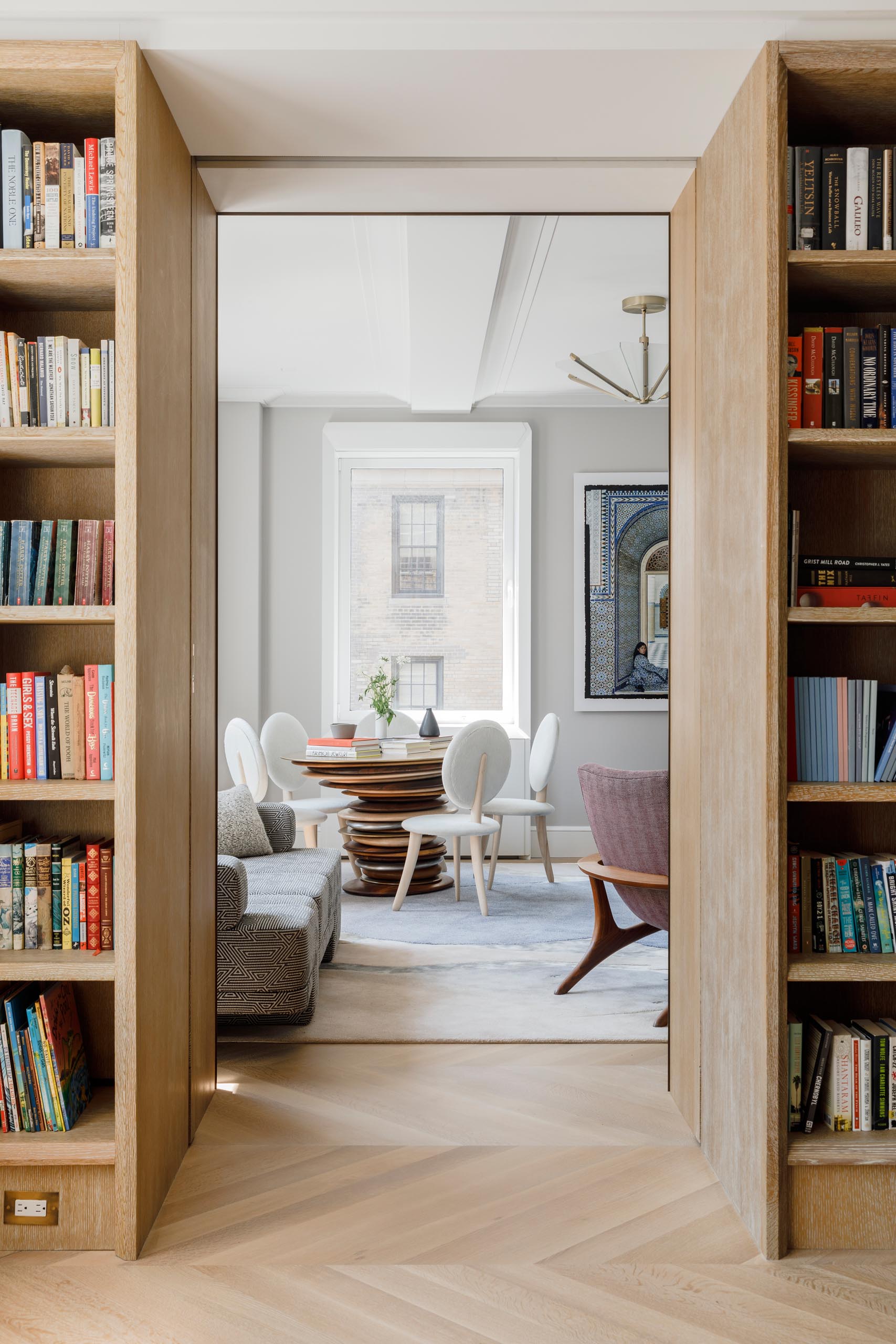 Inside the living room, there are custom faceted window casings with automated shades and radiators, as well as vintage and custom-designed furniture.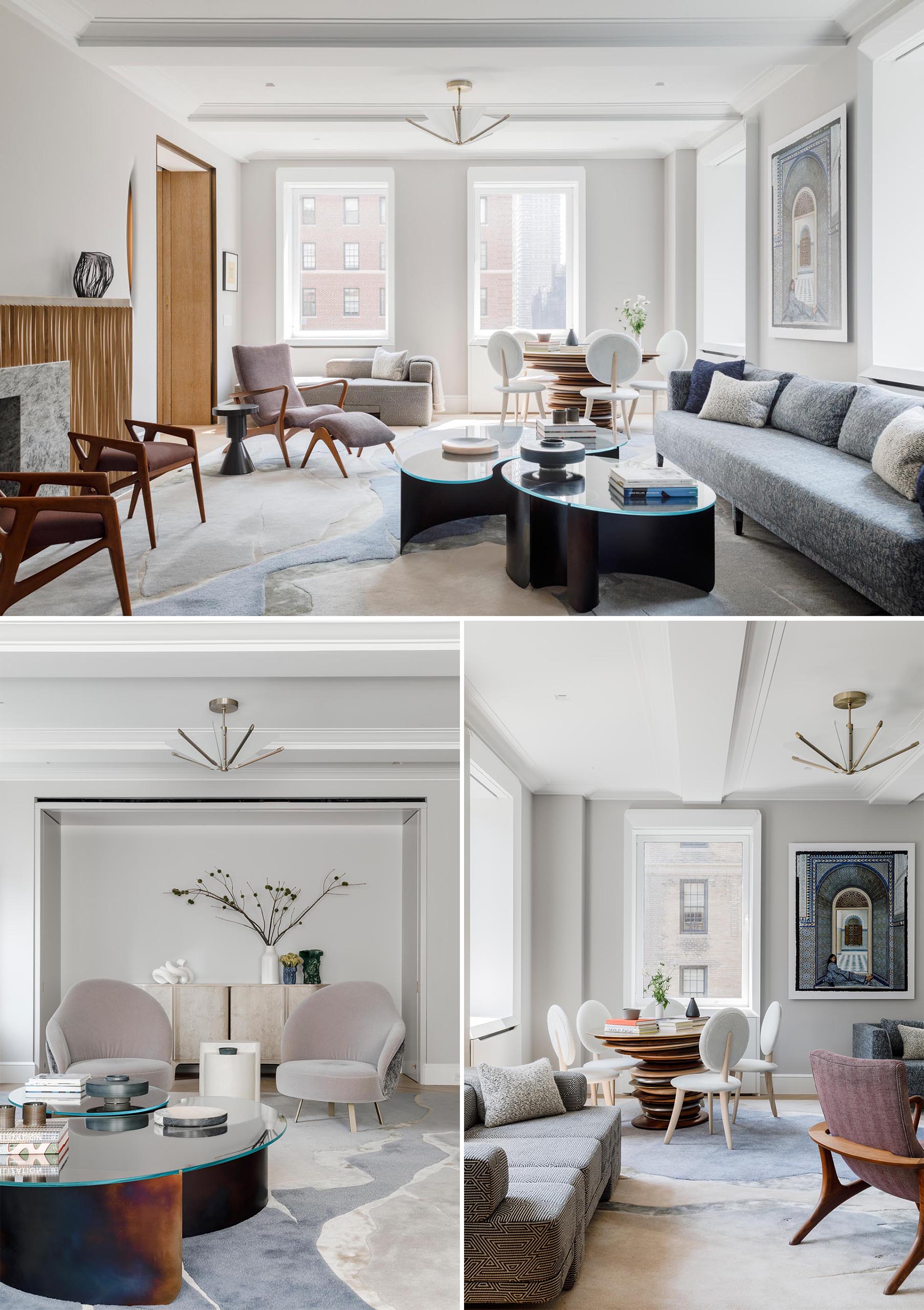 A custom bleached walnut, marble, and bronze mantel has been designed by MKCA and fabricated by JH Works, while Integrated carved sconces were created by Christopher Kurtz.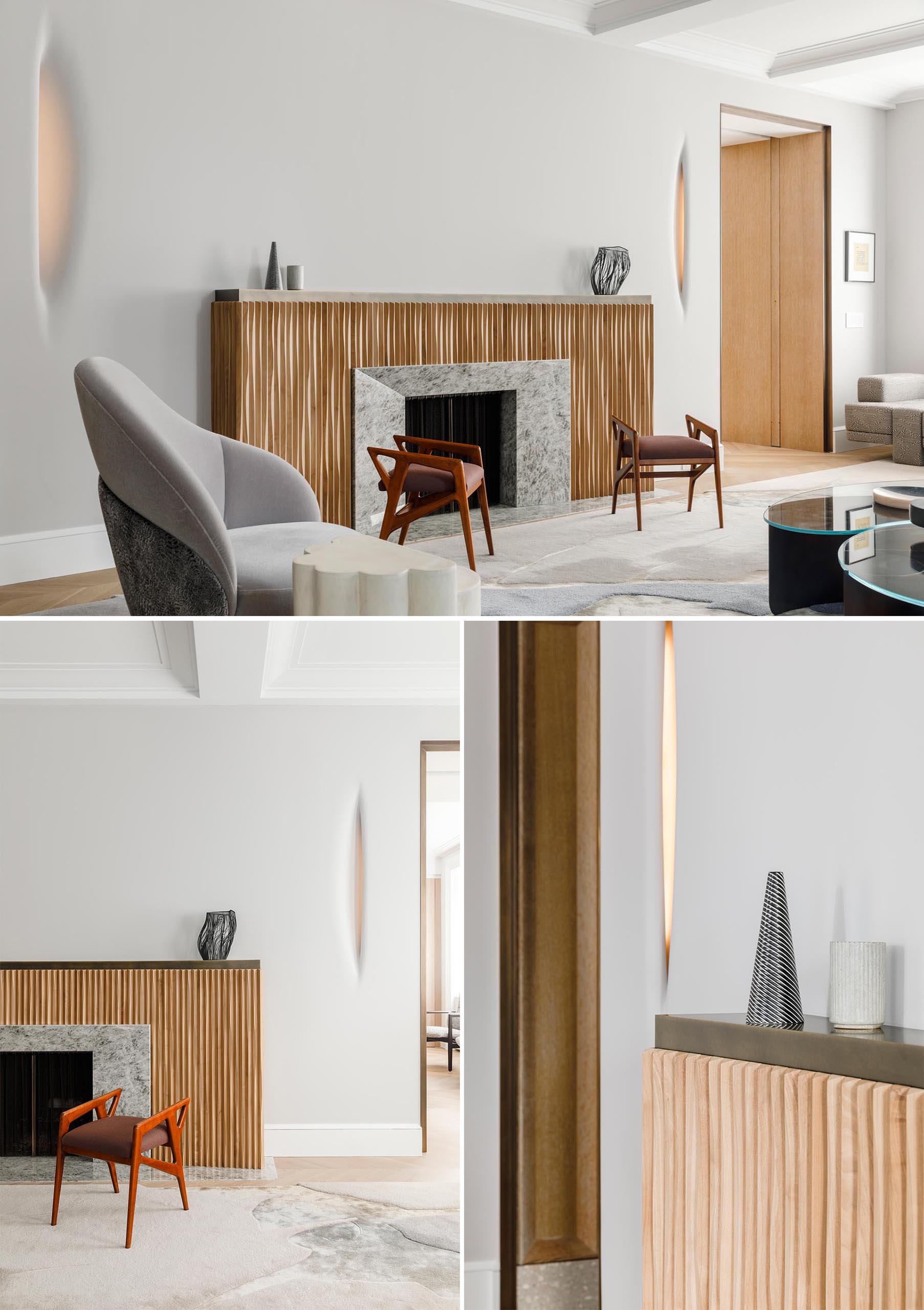 Custom lacquered niche and cabinetry surround a custom bleached oak burl bar by Aaron Poritz. Illuminated glass and lacquer liquor cabinet at left, and an air conditioning unit to the right.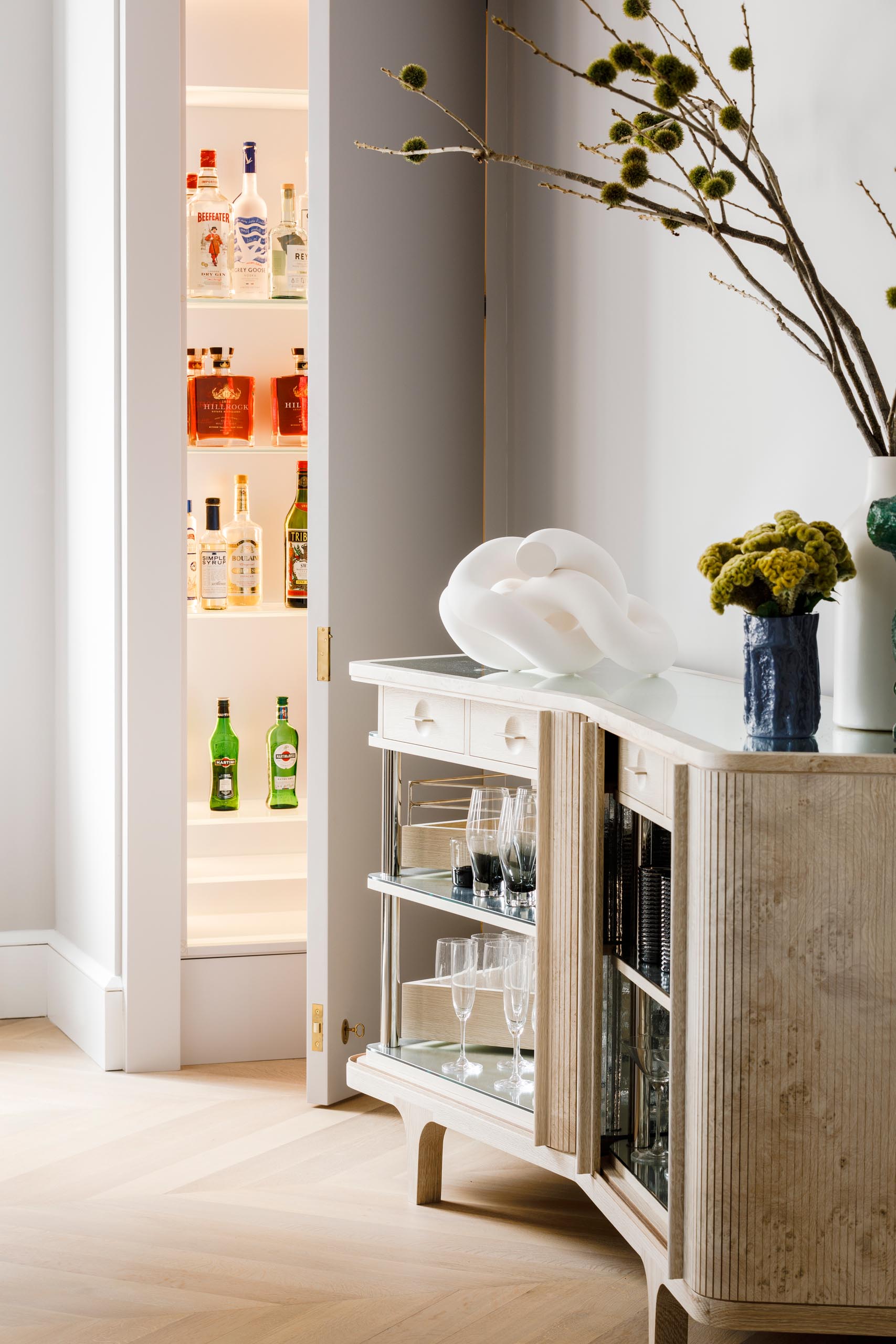 The Kitchen
Within the kitchen there's cabinetry designed is by Henrybuilt, with additional customization by MKCA. The countertops are white Cristallo quartz and the floor is terrazzo.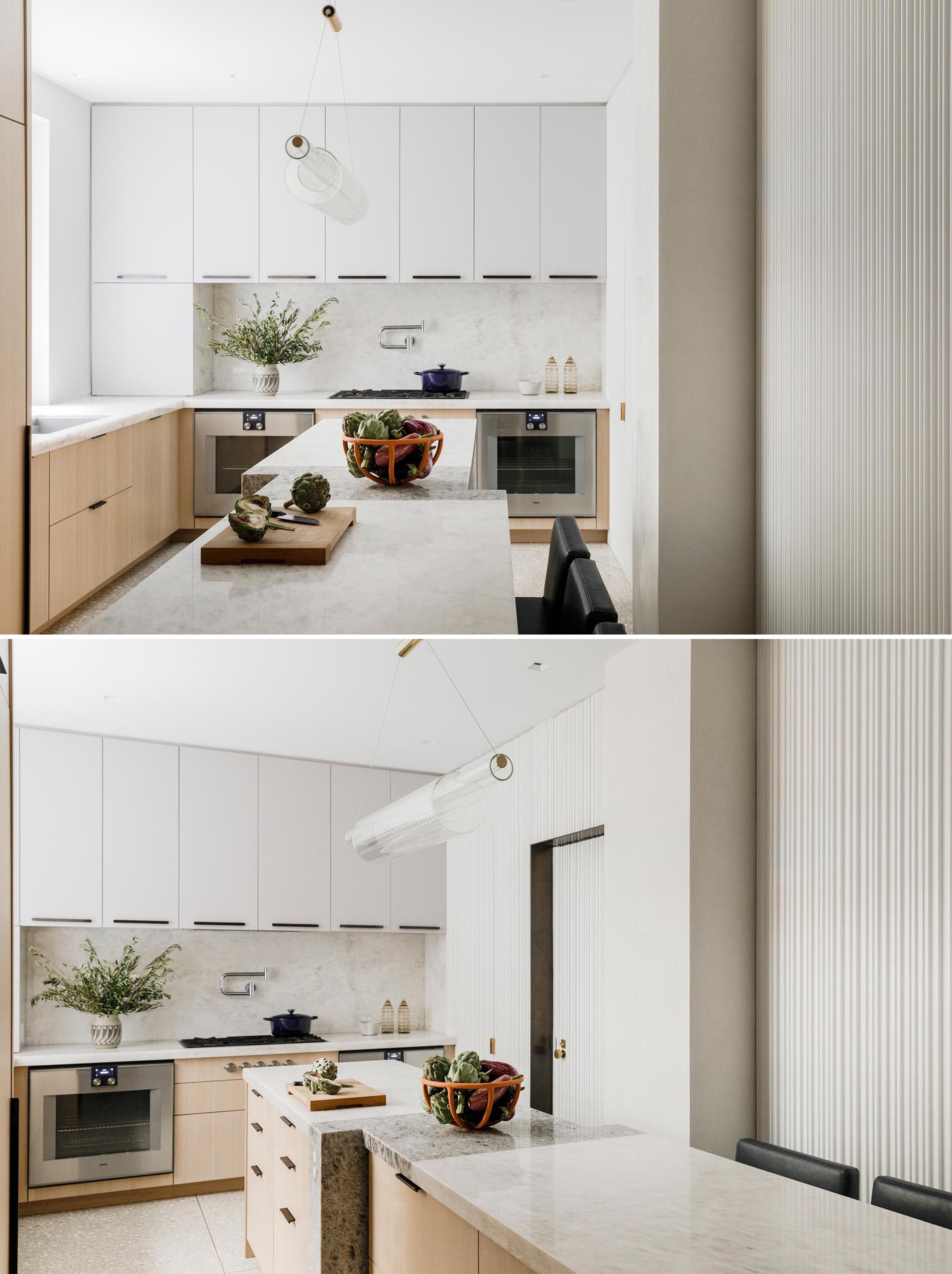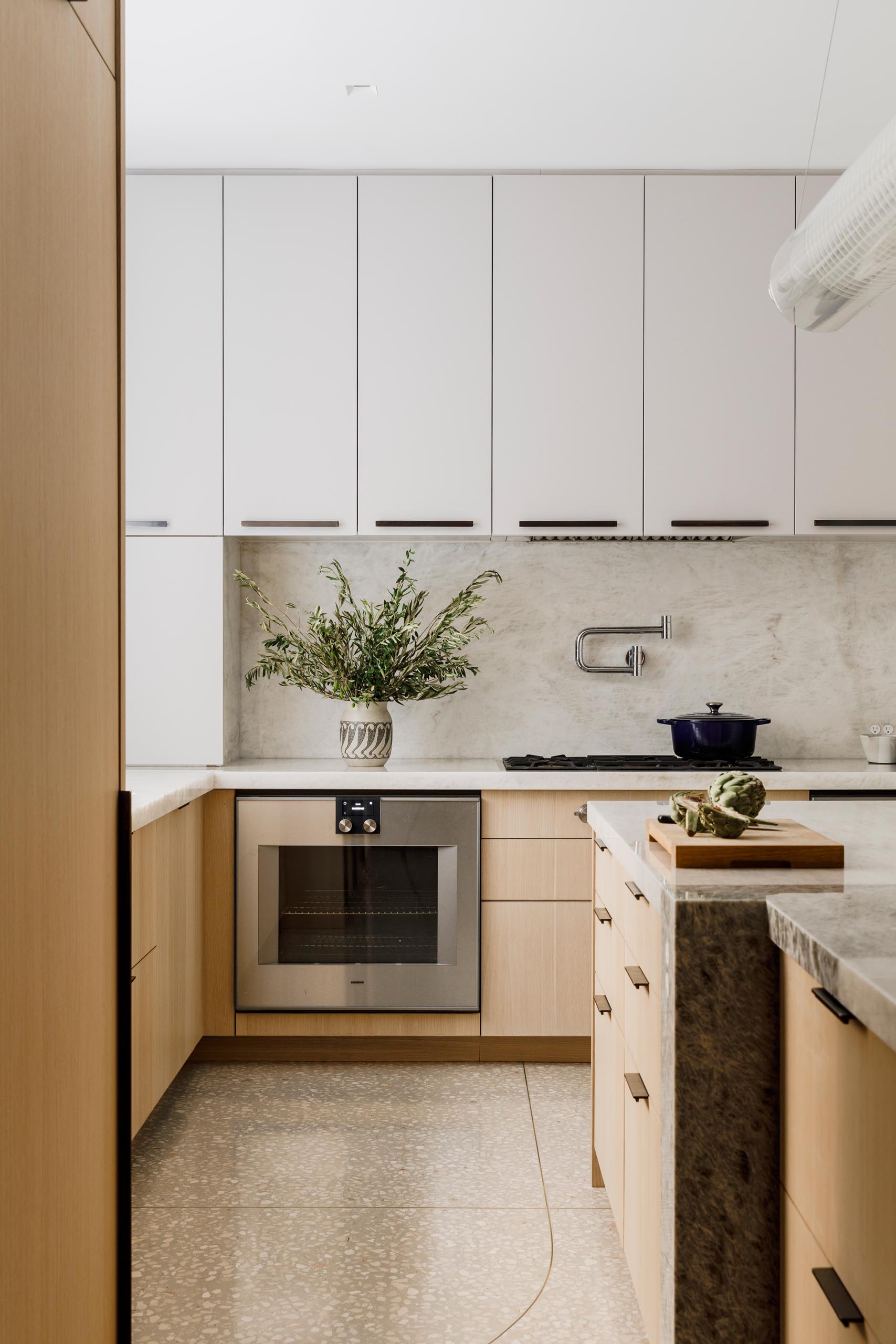 The kitchen Island is Henrybuilt with hefty stone legs and ribbed walnut cladding designed by MKCA, while the countertops are a mix of Cristallo and Ice Grey marble.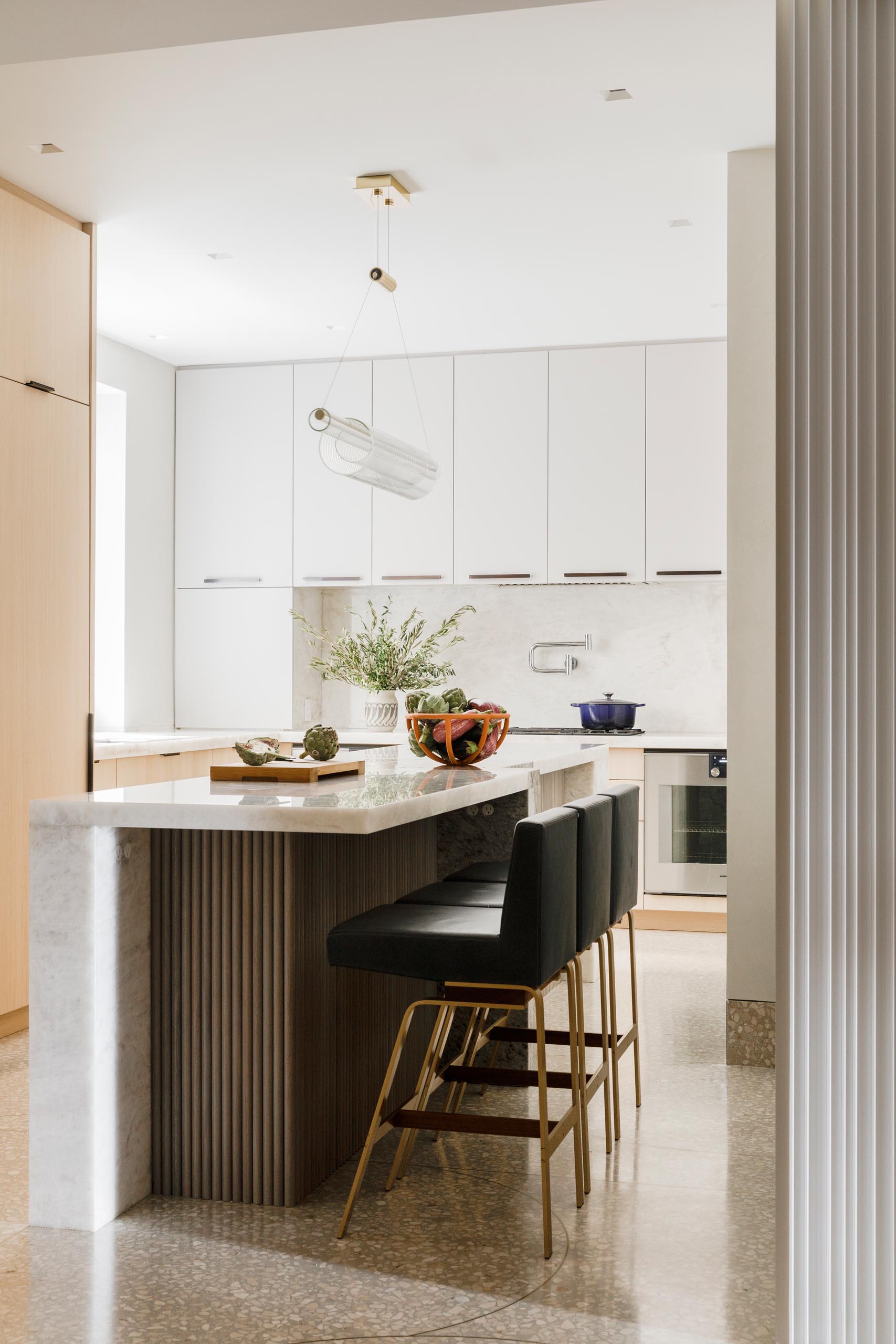 There are also integrated refrigerators and an under-mount sink. Above the island, there's a "Coax" pendant by John Hogan for Roll and Hill.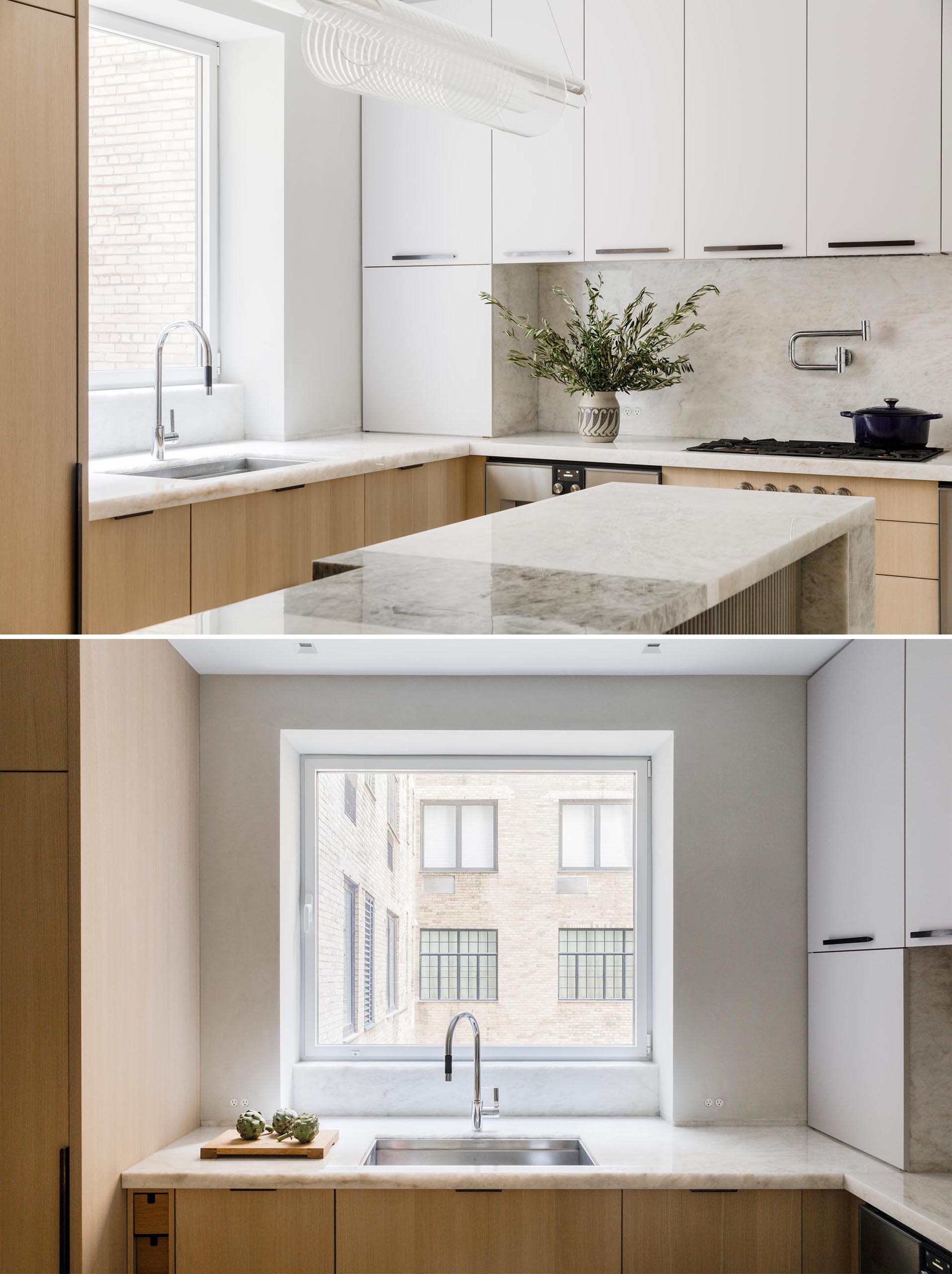 The Media Room
In the media room, there's hand-painted "Kintsugi" wallcovering by Porter Teleo, a Patagonia marble fireplace, a custom leather, walnut, and glass ottoman by MKCA and fabricated by Manzanares Furniture, a sofa by Poliform, and an overhead "Maxihedron" pendant by Bec Brittain for Roll and Hill.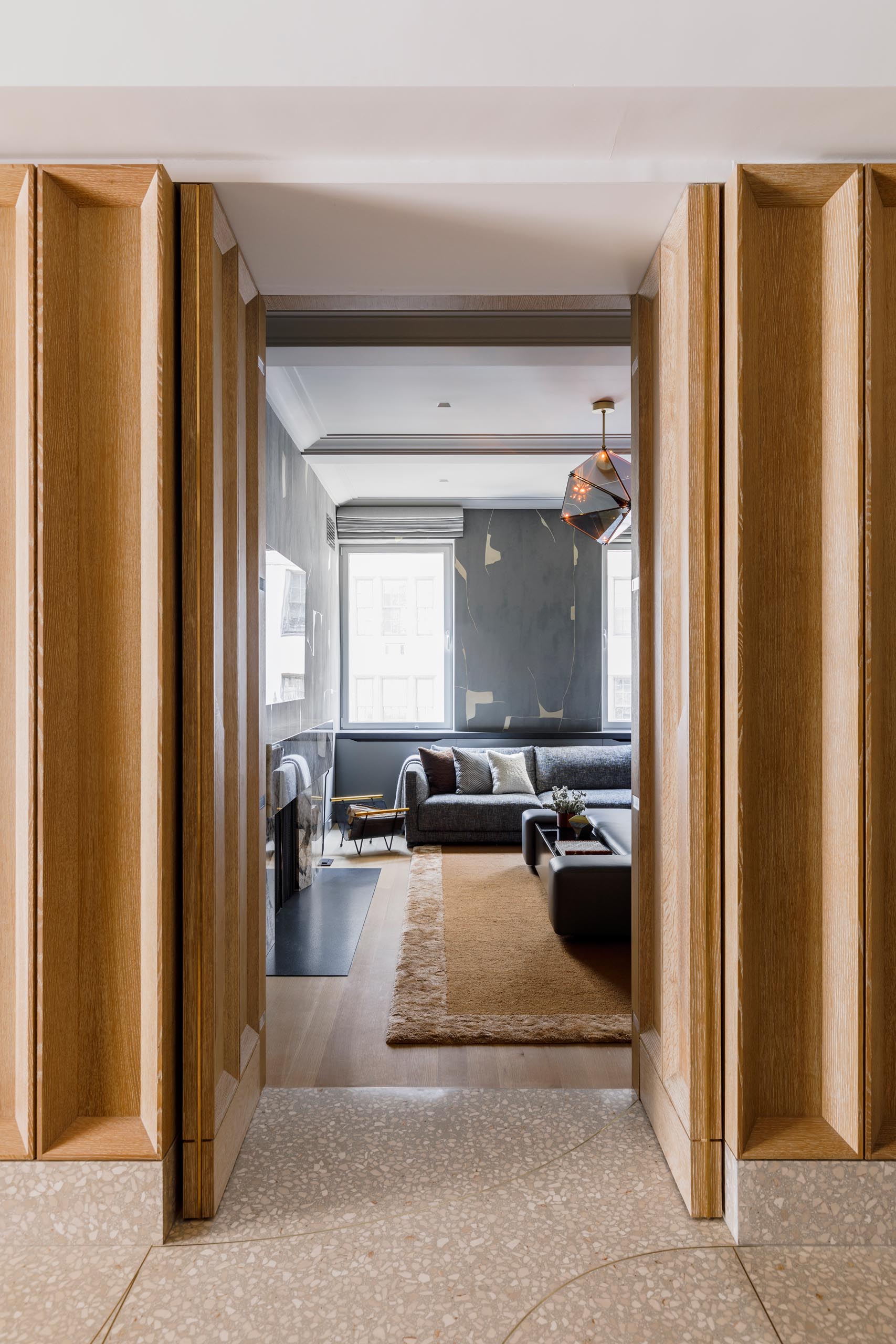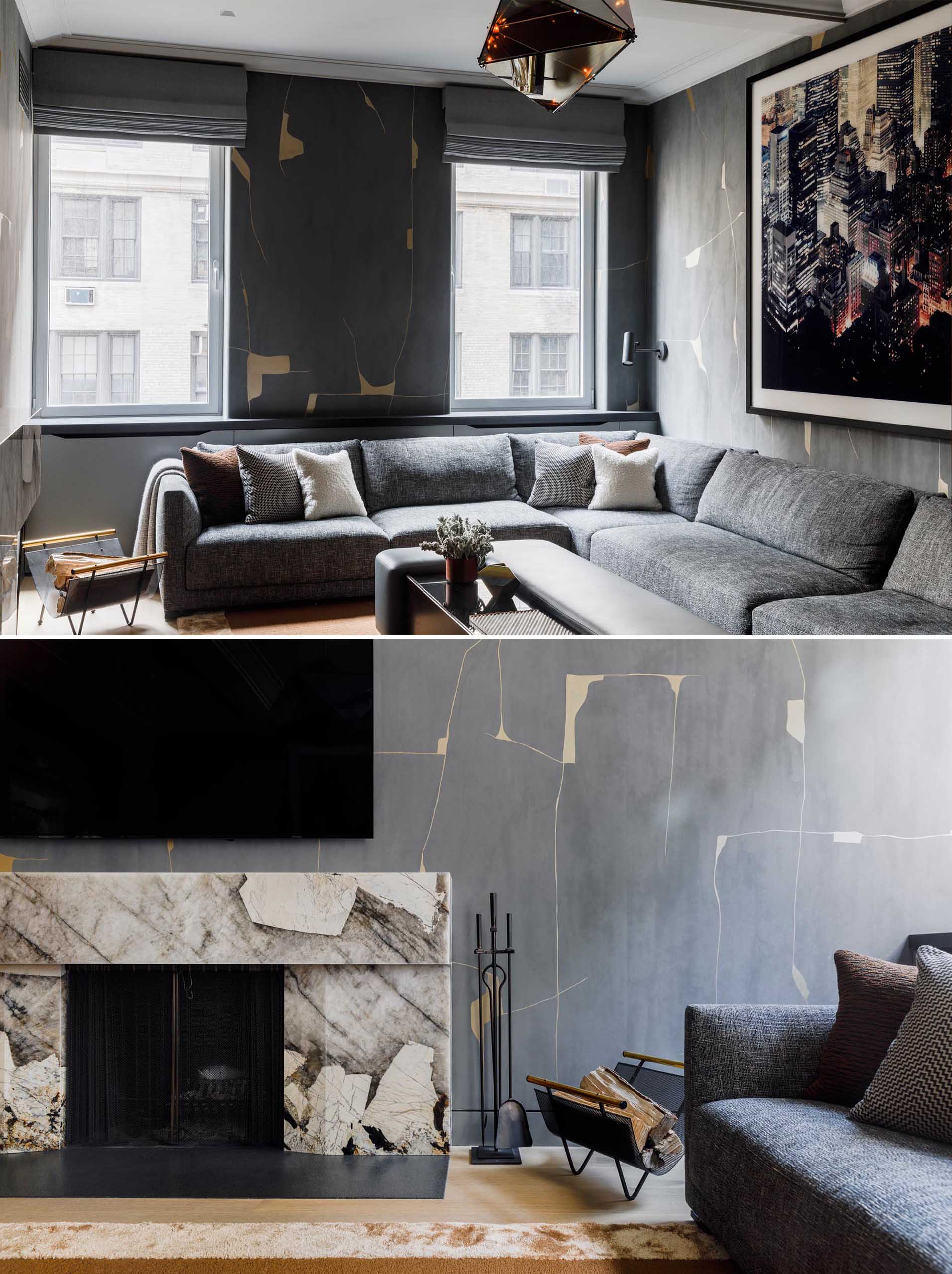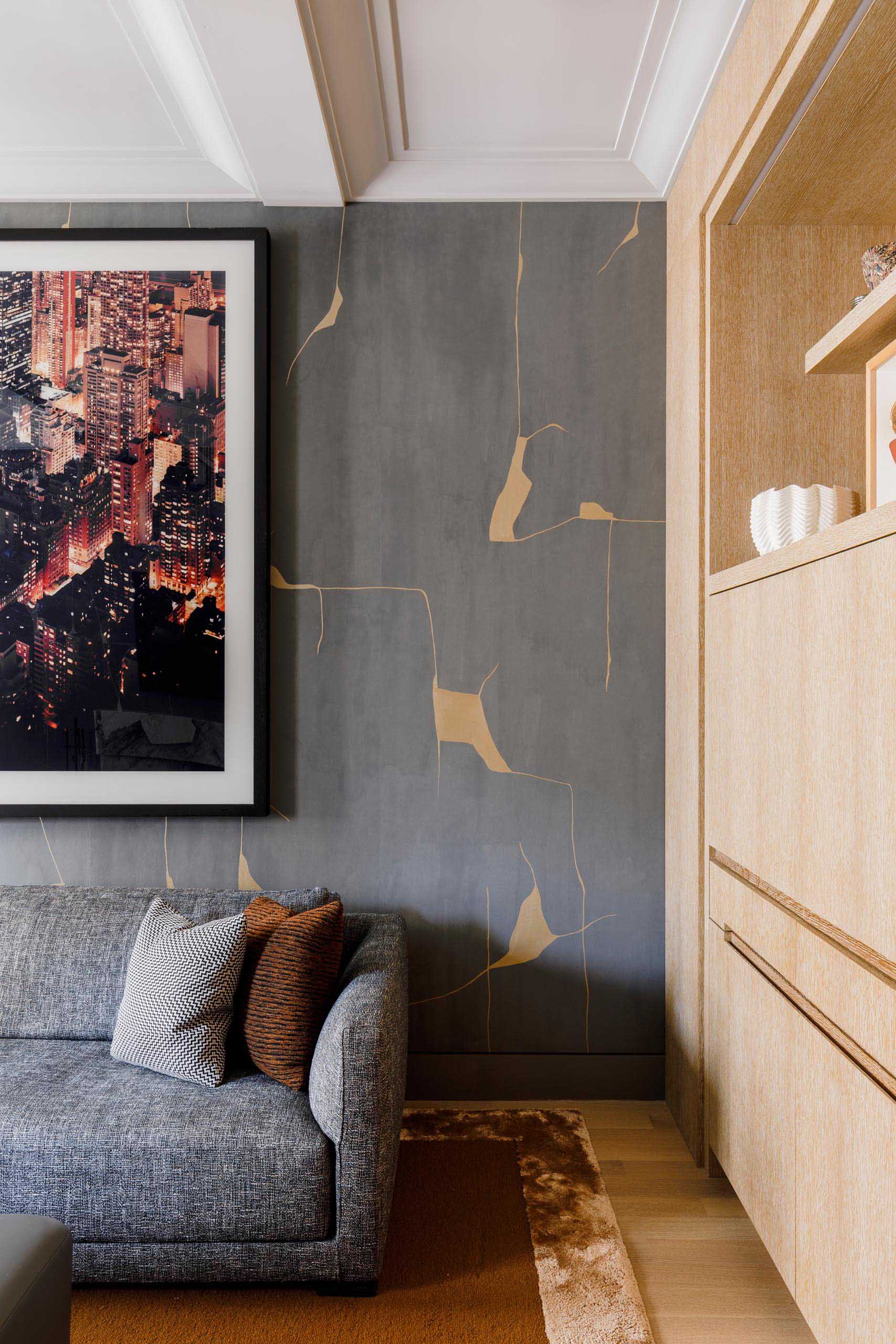 The Playroom
In the playroom, there's a hand-printed wallcovering and graphic carpet MKCA created with Stark Carpet. Complementing the walls are a range of vibrant and modern furnishings from Moroso and Hem.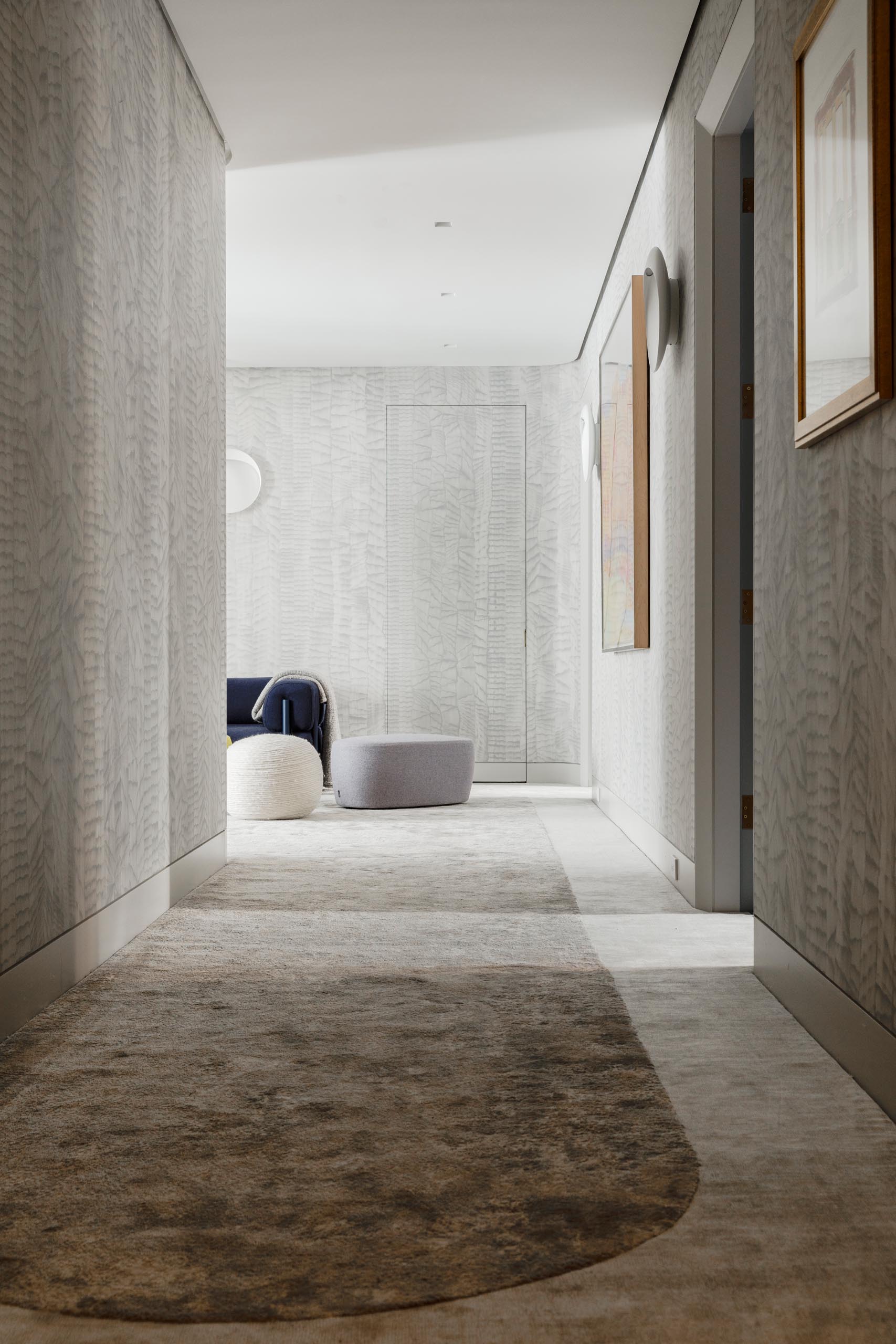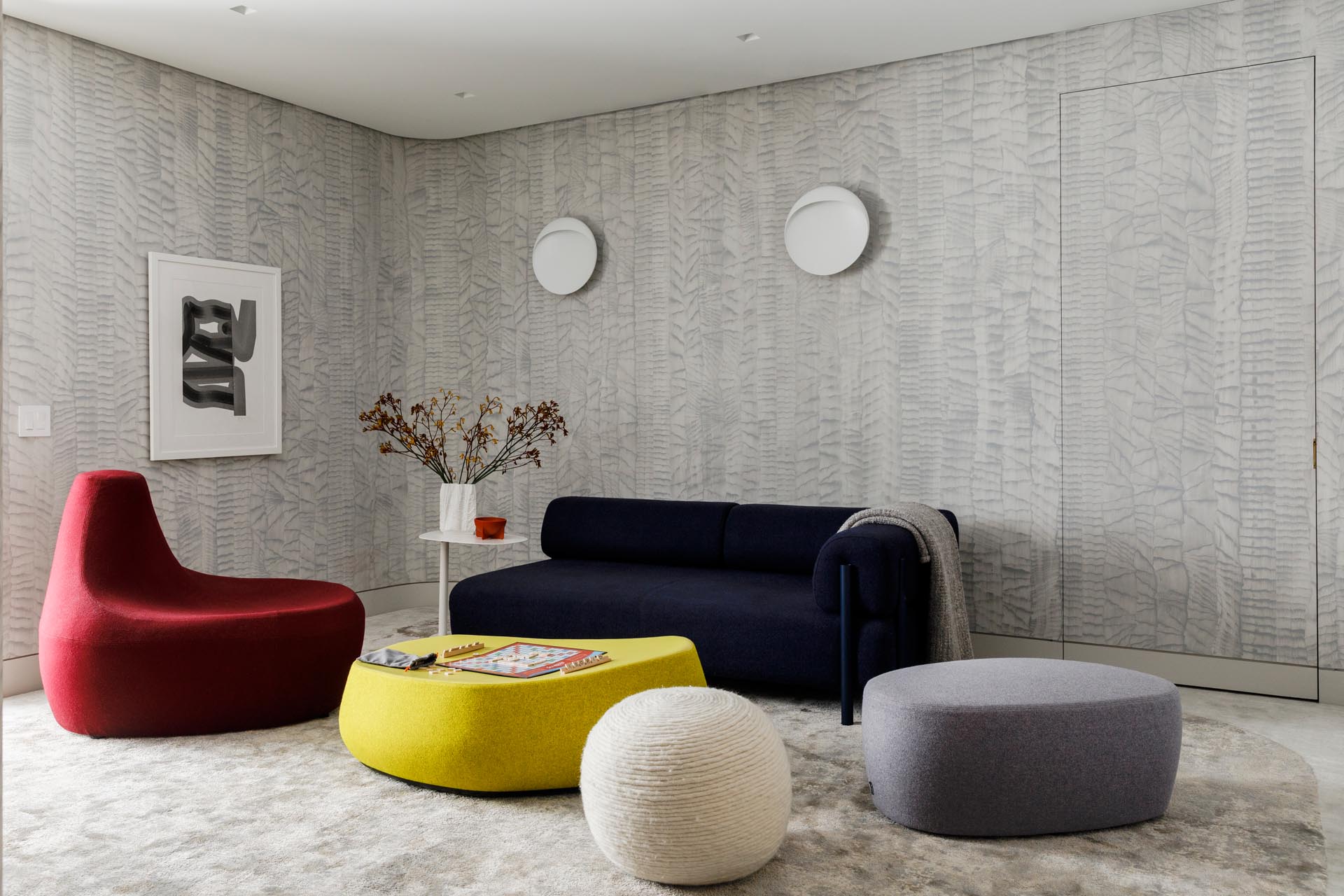 The Main Bedroom
The main bedroom includes design elements like a custom upholstered bed by MKCA in walnut and boucle, silk wallcovering by Philip Jeffries, a silk carpet by MKCA and fabricated by Tai Ping, and custom loomed drapery textile by Hiroko Takeda.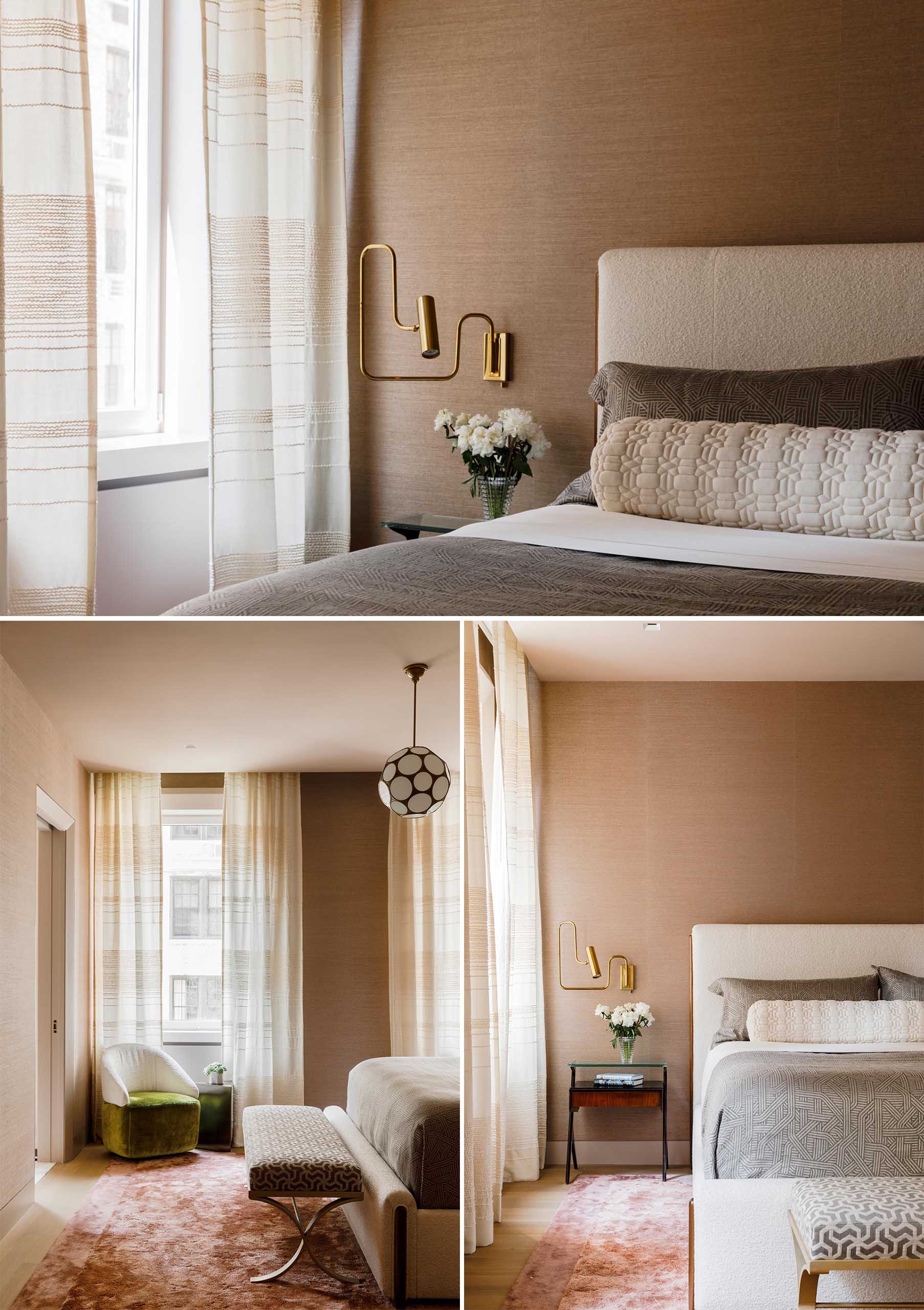 The Guest Bedroom
In the guest bedroom, there's a contemporary color palette with gray walls, white trim, and a deep burnt orange bedspread.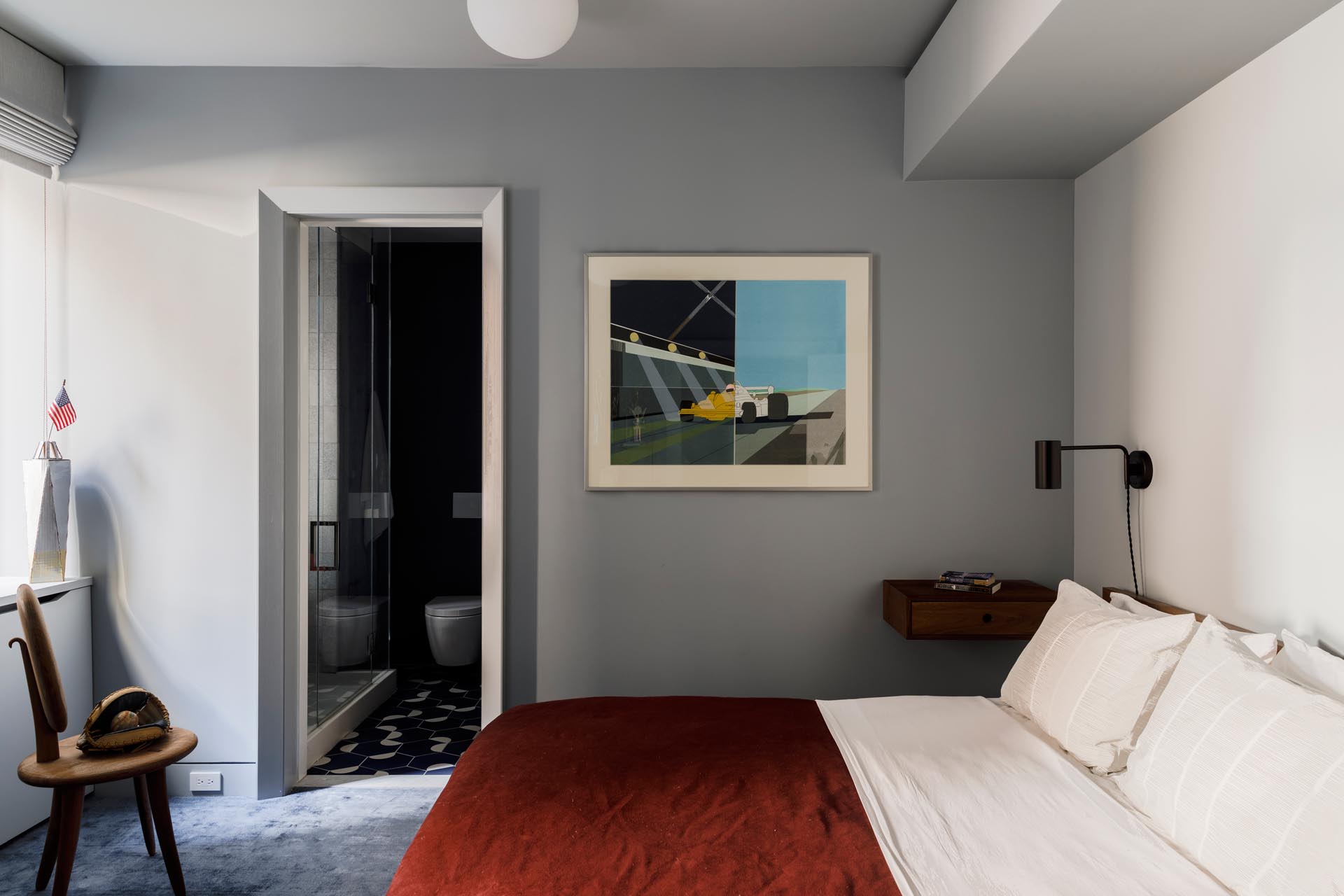 The Kid's Bathroom
In the kid's bathroom, there's a floating wood vanity, while patterned tiles cover the floor and plain square tiles cover the walls.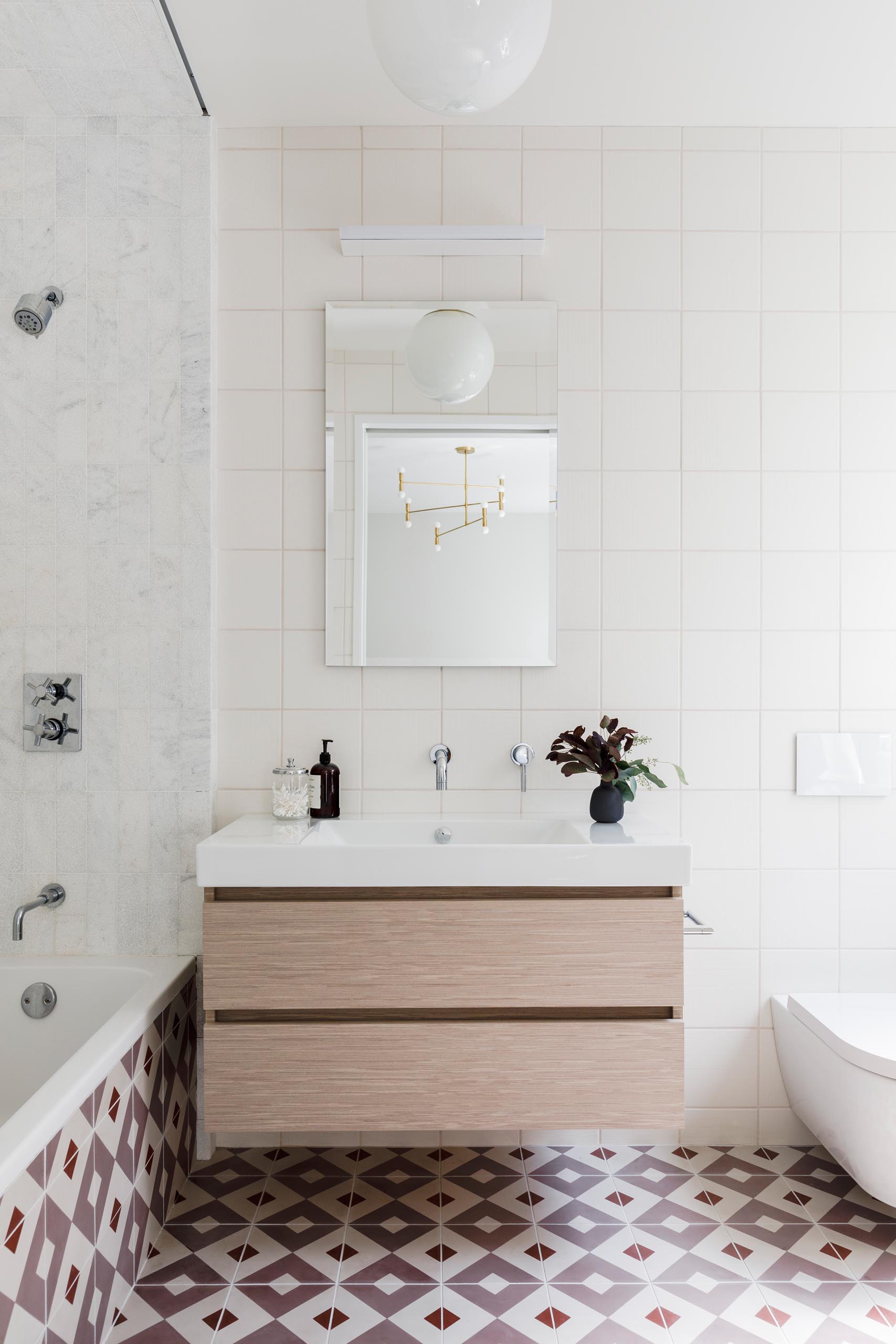 Powder Room
The powder room includes a stone vanity in figural Cassiopeia marble, curved Venetian plaster walls with LED cove lighting, sconces by Lindsey Adelman, a custom bronze mirror by Kin and Company, and a faucet by Vola.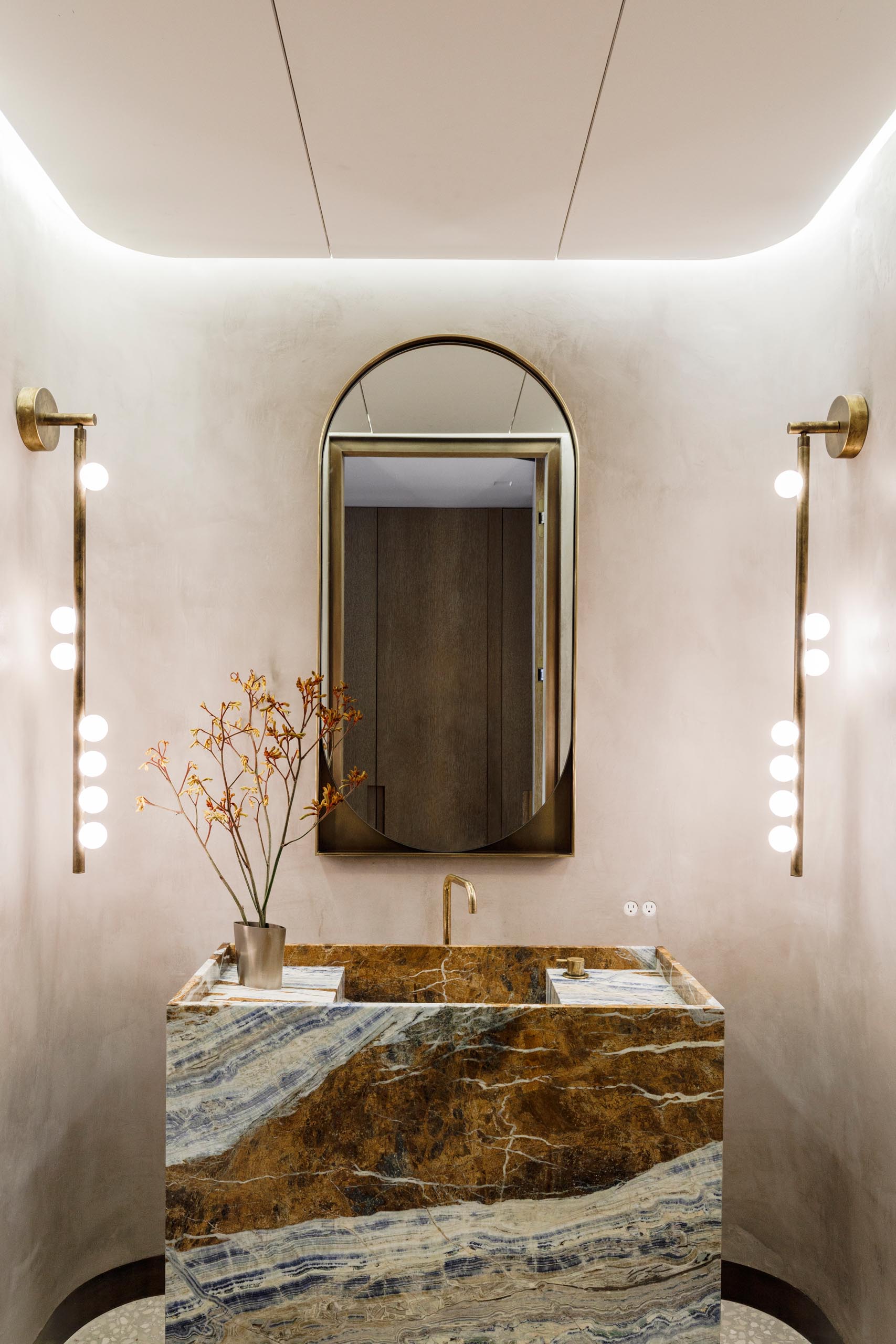 The Mudroom
In the mudroom, there's a floating cabinet and a pegboard wall for storage.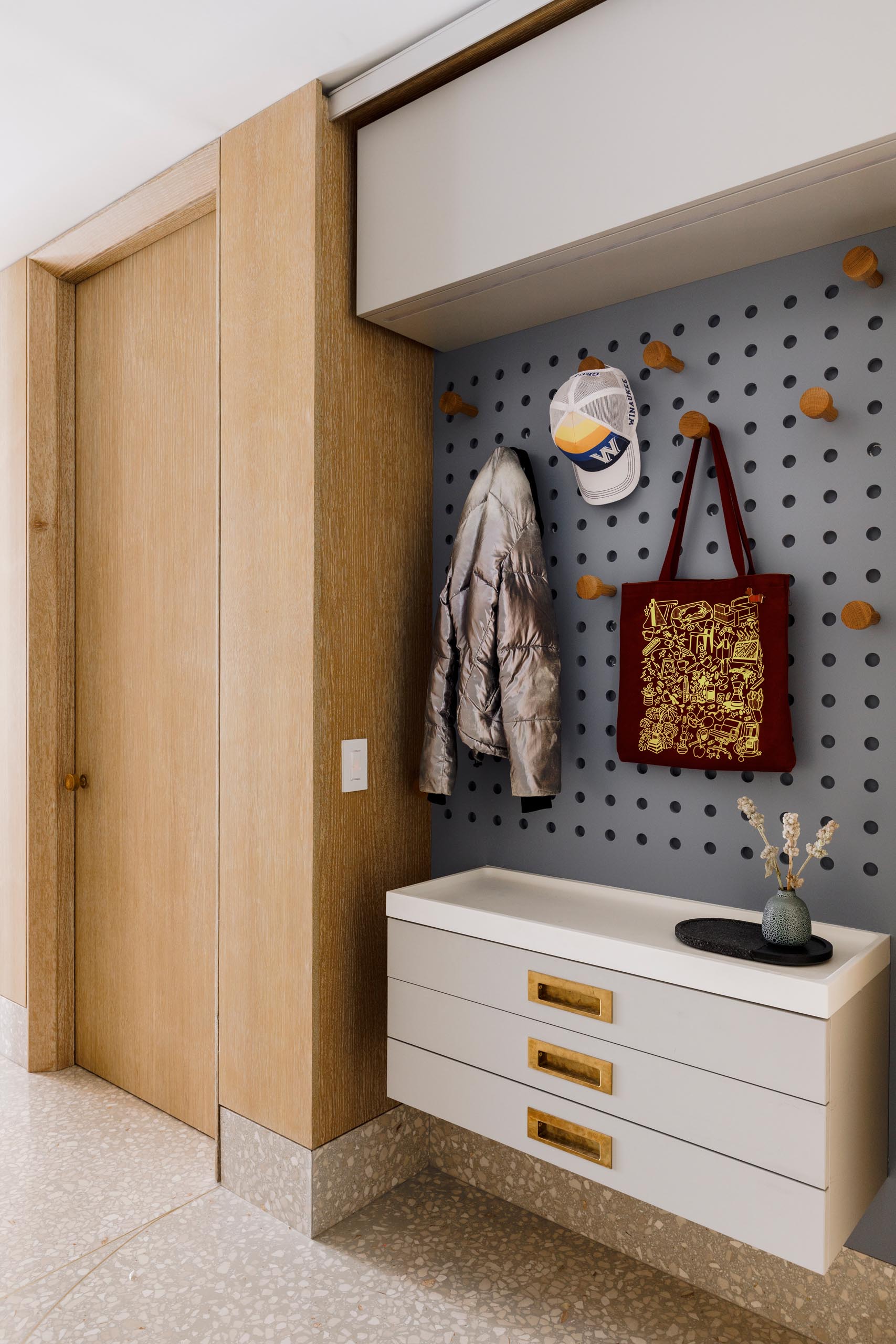 The Floor Plan And Furniture Placement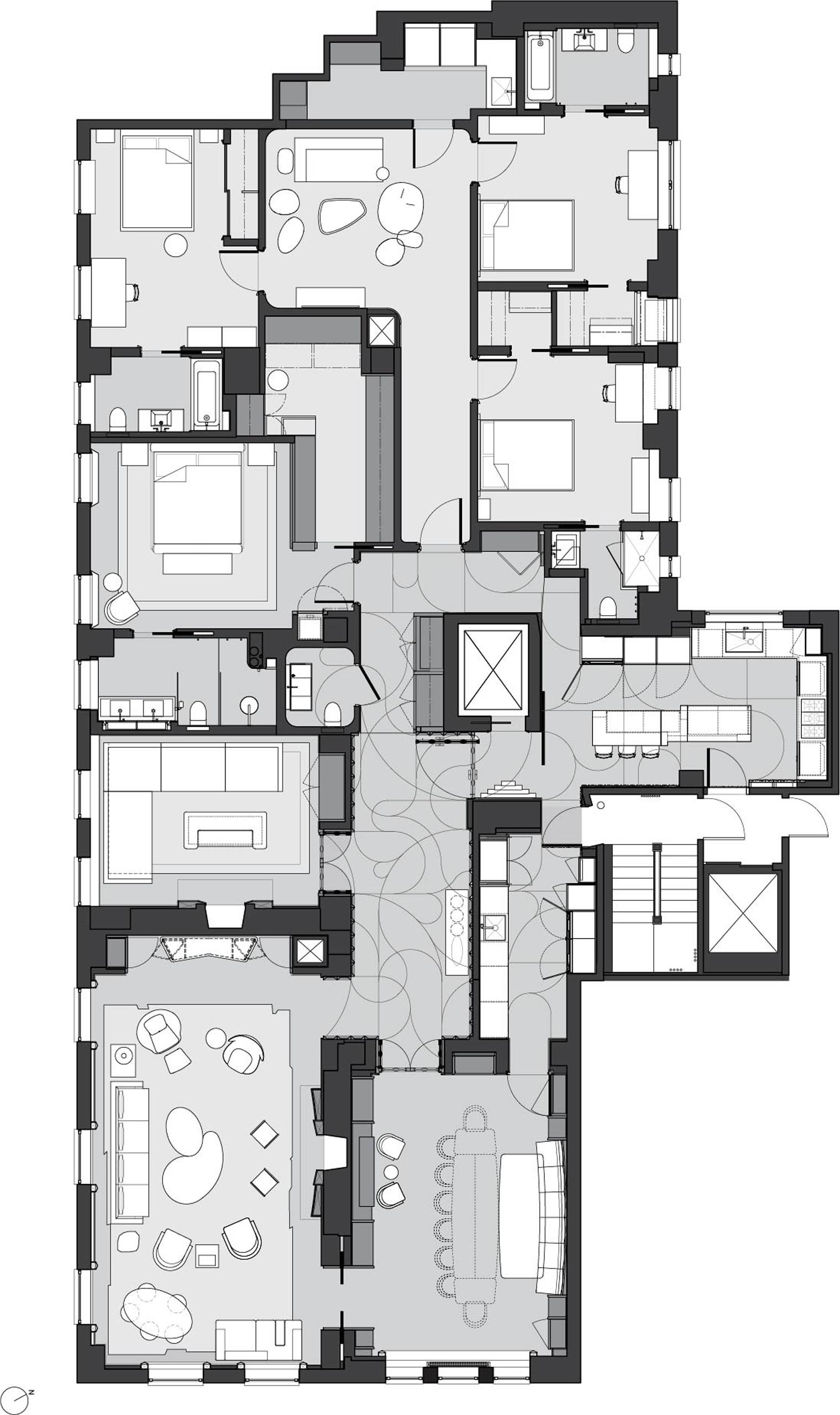 Photography by by Max Burkhalter | Design: Michael K. Chen Architecture (MKCA) | Project team: Natasha Harper, Project Lead, Robinson Strong, Andrew Matia, Braden Caldwell, Justin Snider, Cristina Sonneman, Michael K. Chen | MEP Engineer: ABS Engineering | General Contractor: IA Construction Management