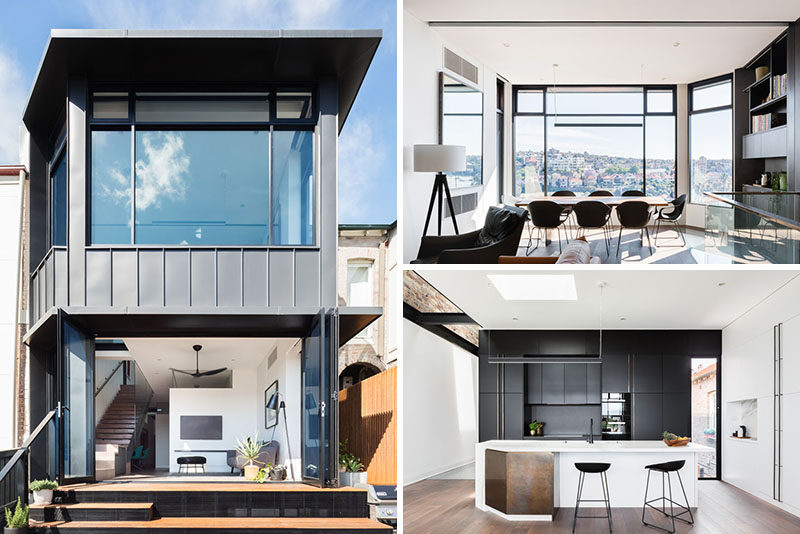 Bijl Architecture have designed a modern extension and interior renovation for a house that's located in Sydney, Australia.
The brief from the clients was to create a home where "in crossing the threshold, the past was to be left behind", and where interconnected yet separate living spaces should be experienced simultaneously.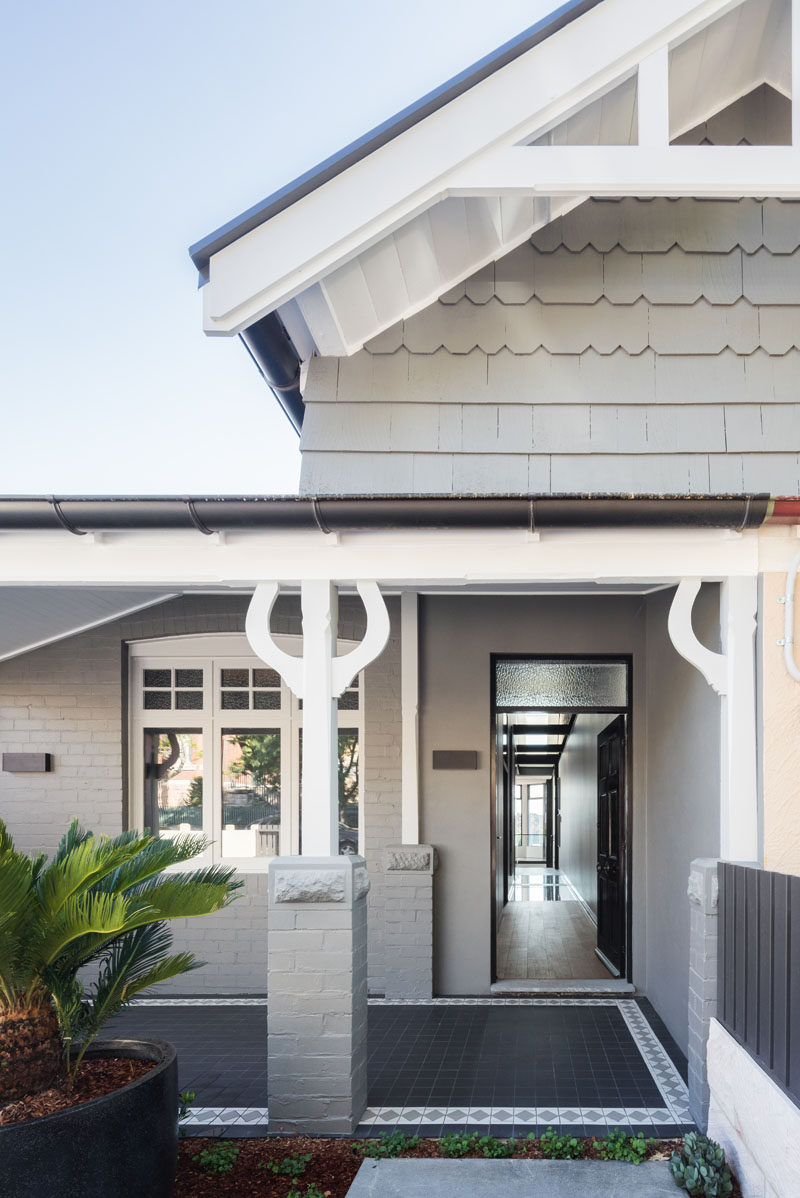 ---
Once inside the home, it quickly becomes apparent that there are modern elements, like the glass elements – skylights, glass flooring, highlight panels and balustrading – that have been used to create an open and bright interior.
---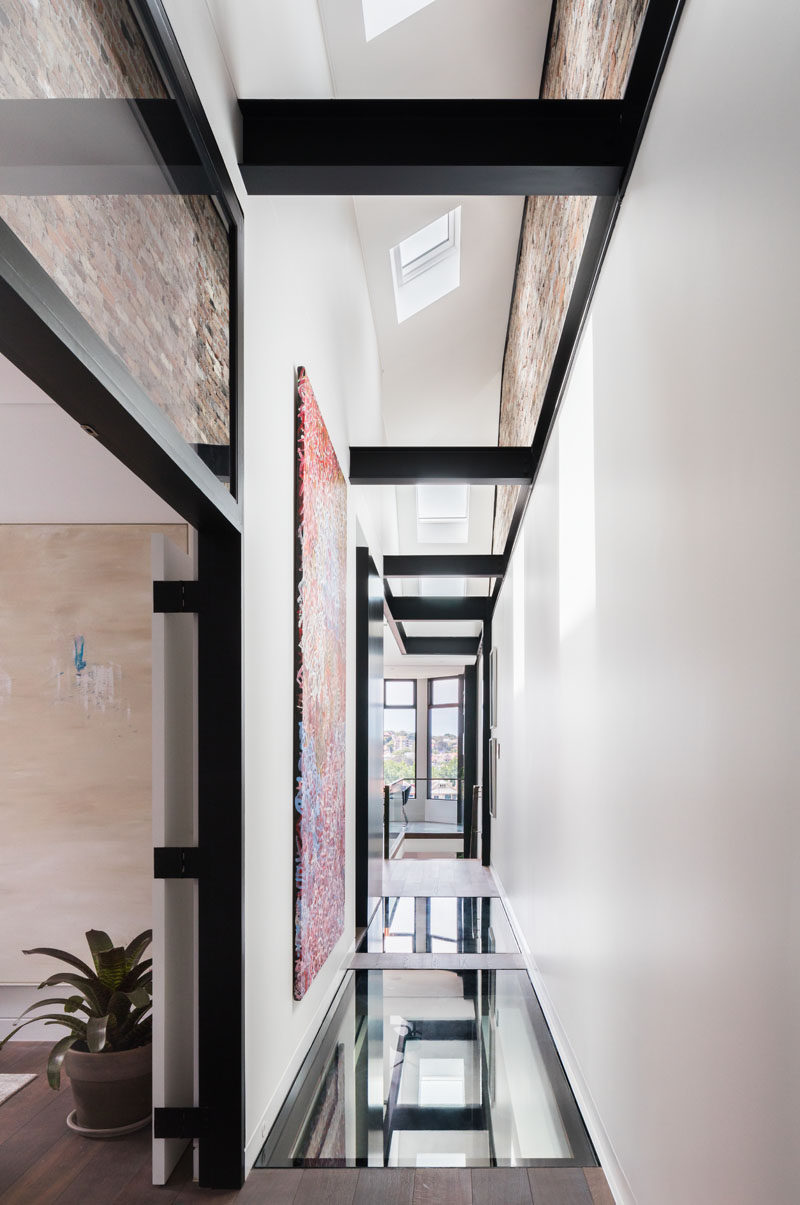 ---
Located off the hallway is the master suite, with its own ensuite bathroom and walk-in closet.
---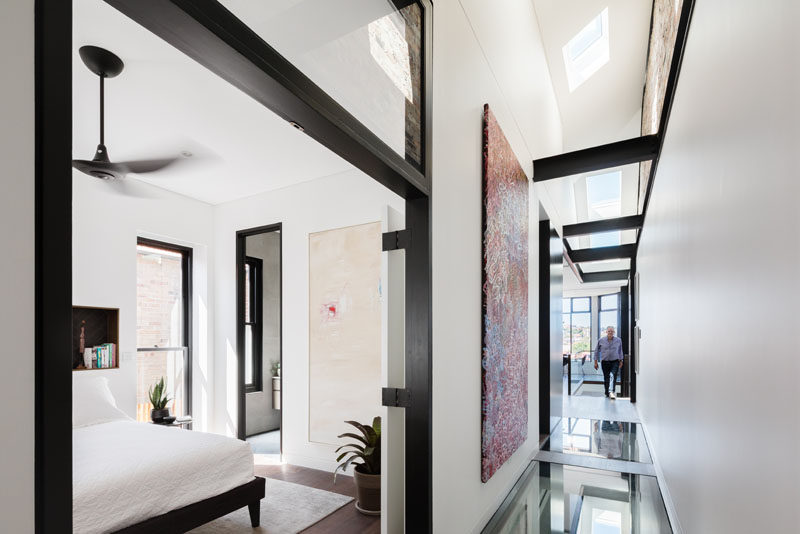 ---
In the ensuite bathroom, there's a dark chevron patterned backsplash and floor, while hidden lighting highlights the mirror.
---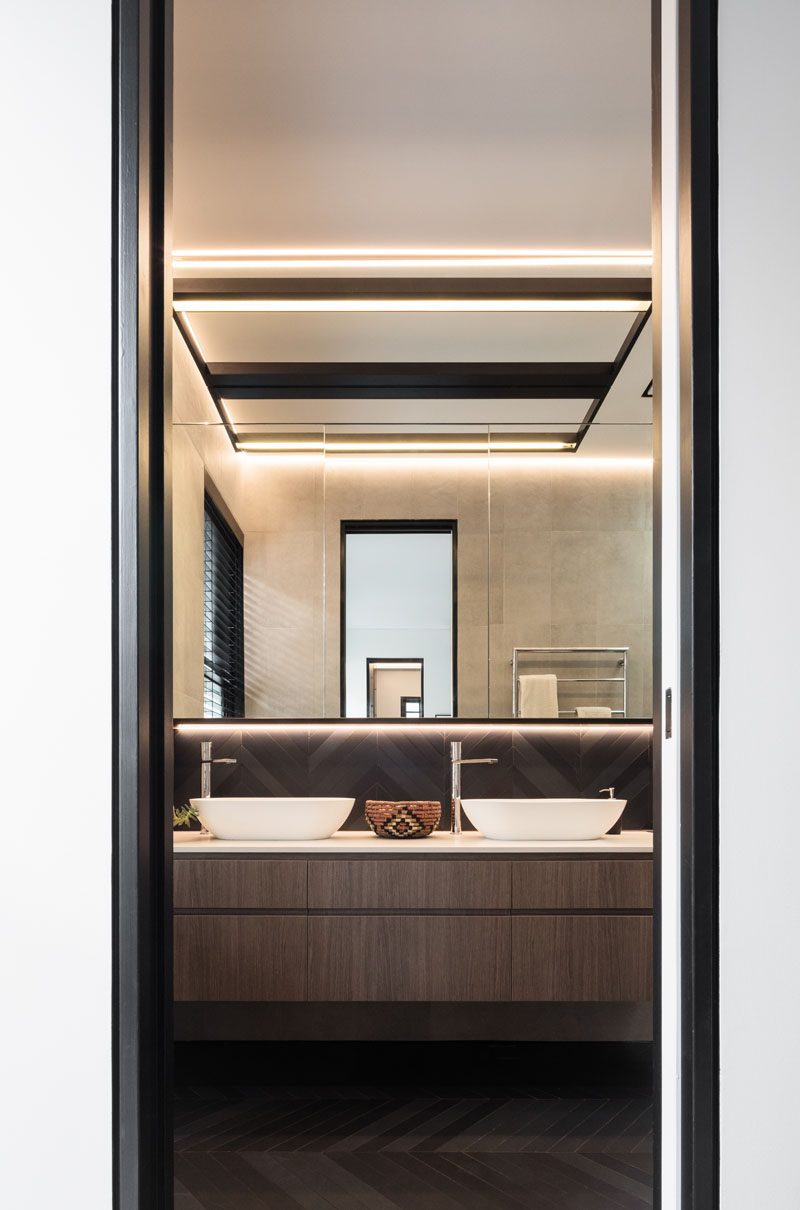 ---
In the walk-in closet, dark cabinetry has been combined with bronze hardware.
---
---
At the end of the hallway, there's the kitchen. Black cabinetry lines the wall, while a white island and a section of white cabinetry help to keep the kitchen bright.
---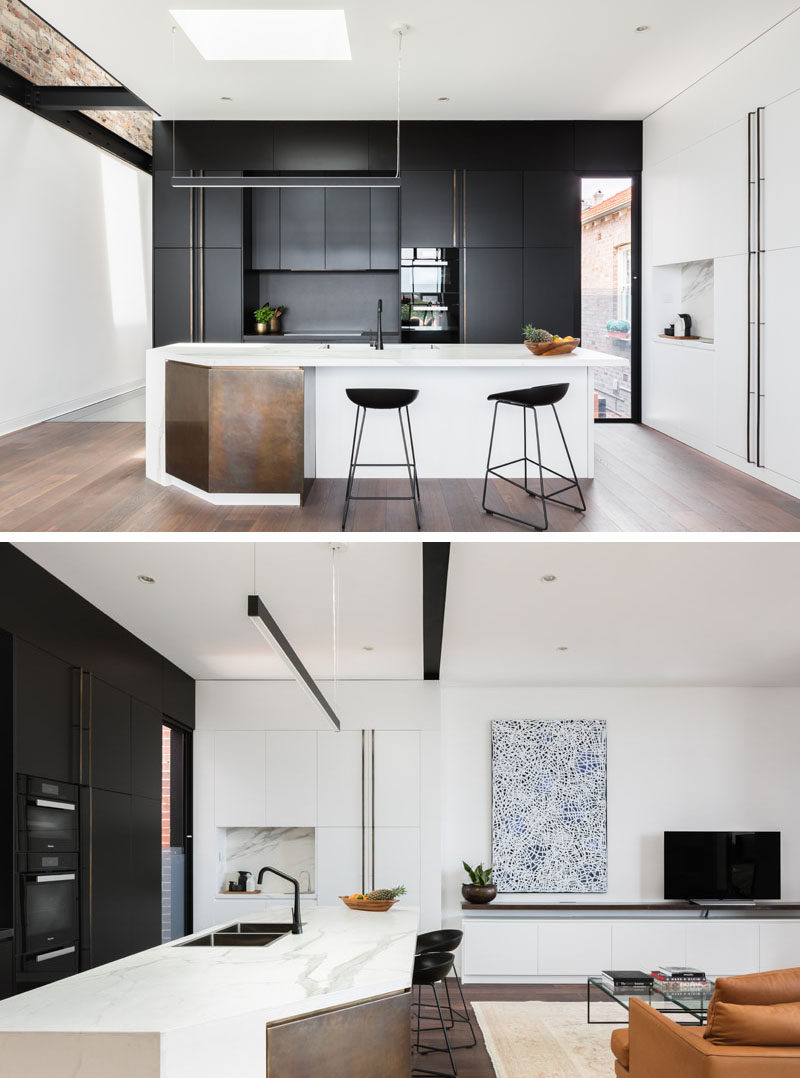 ---
The kitchen opens up to have views of the living room and dining area. Black steel cross beams contrast the bright white walls, while the dining room is positioned to take advantage of the sweeping views.
---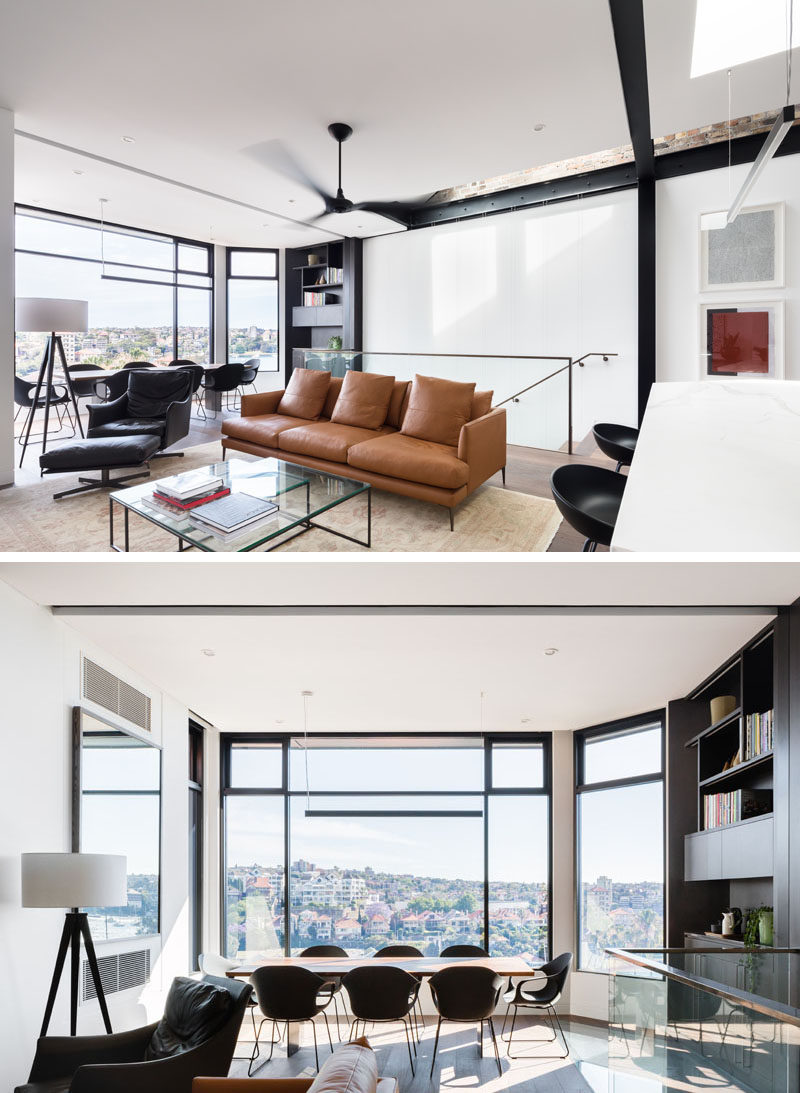 ---
Here's a closer look at the custom designed built-in shelving unit that's featured in the dining area.
---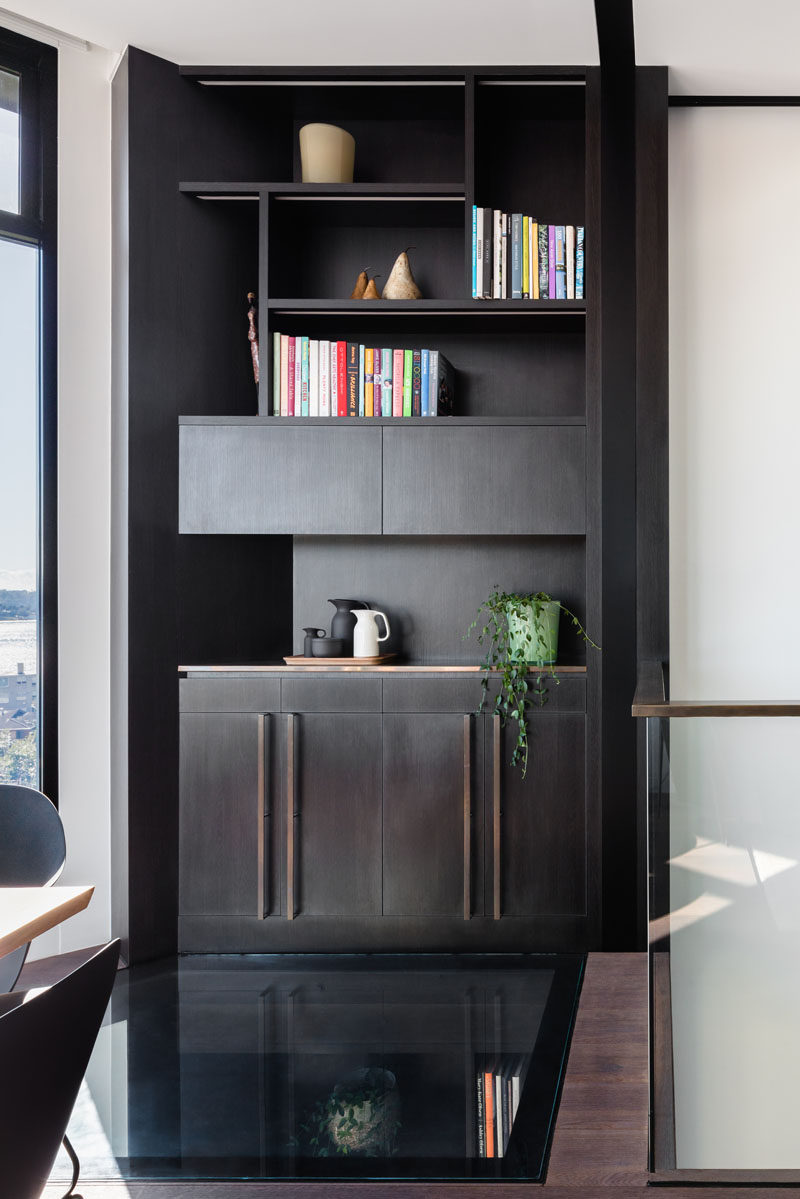 ---
Skylights above the stairs filter natural light through to the lower level of the house.
---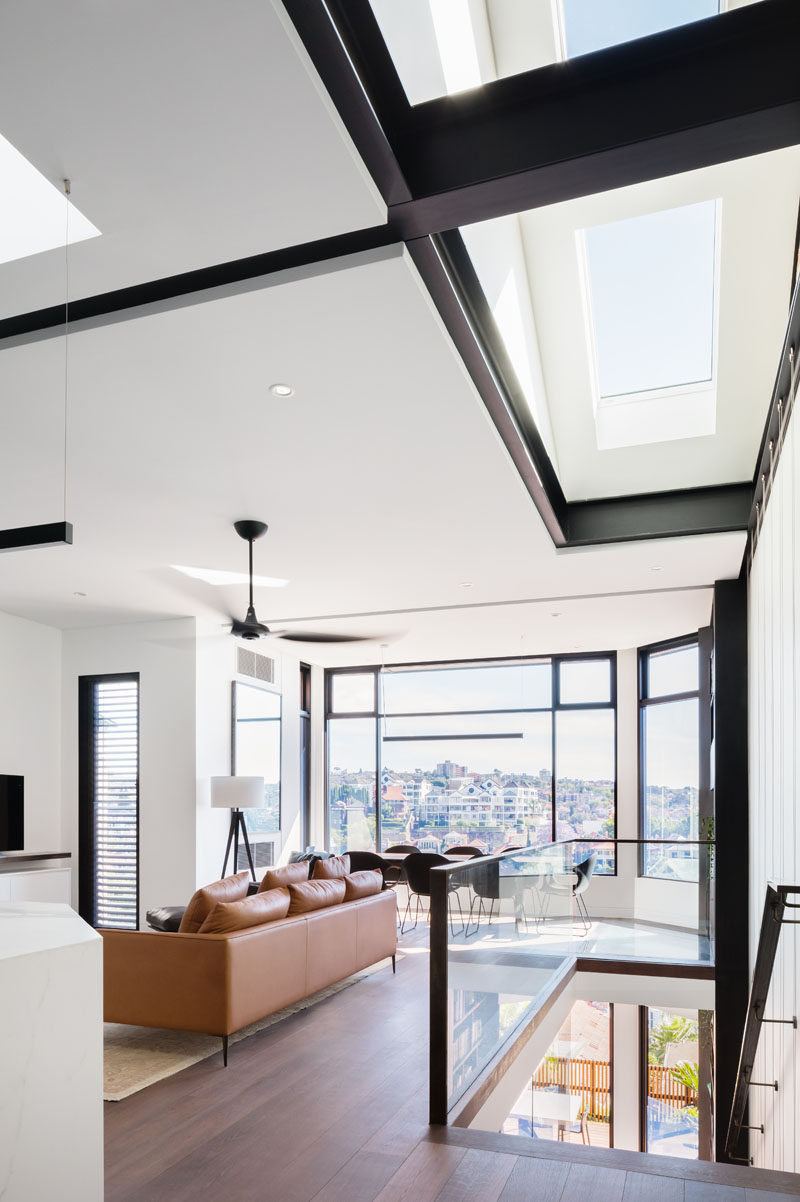 ---
Cantilevering stairs with wood treads and a steel balustrade lead down to the lower level of the home. Underneath the stairs is desk with a wood work surface that's large enough for two people.
---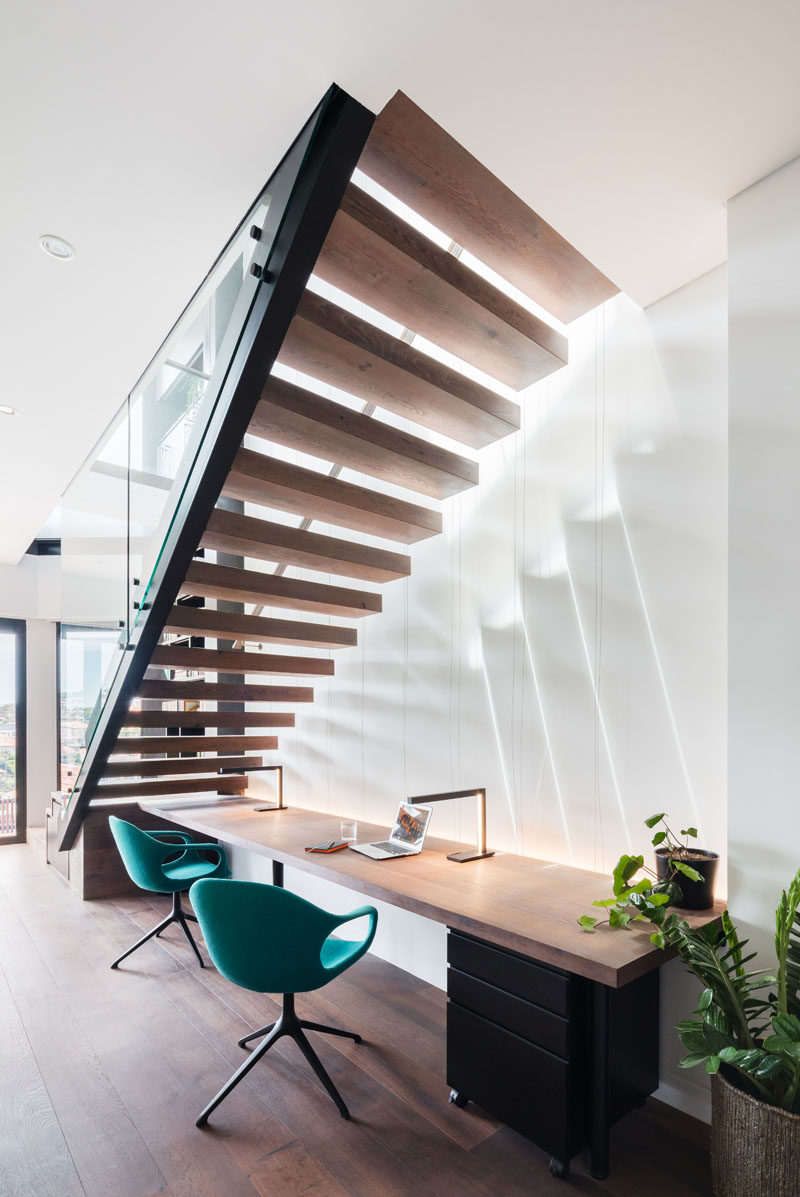 ---
The lower level of the home opens up to a spotted gum wood deck set up for outdoor dining, and positioned to take in the Sydney Harbour view.
---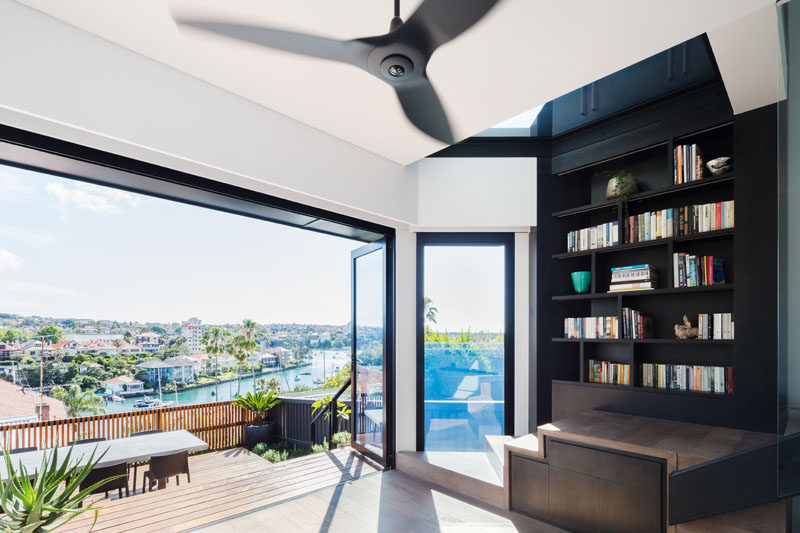 ---
Looking back at the extension, bleacher-style steps extending the study and sitting room, forming a third living space.
---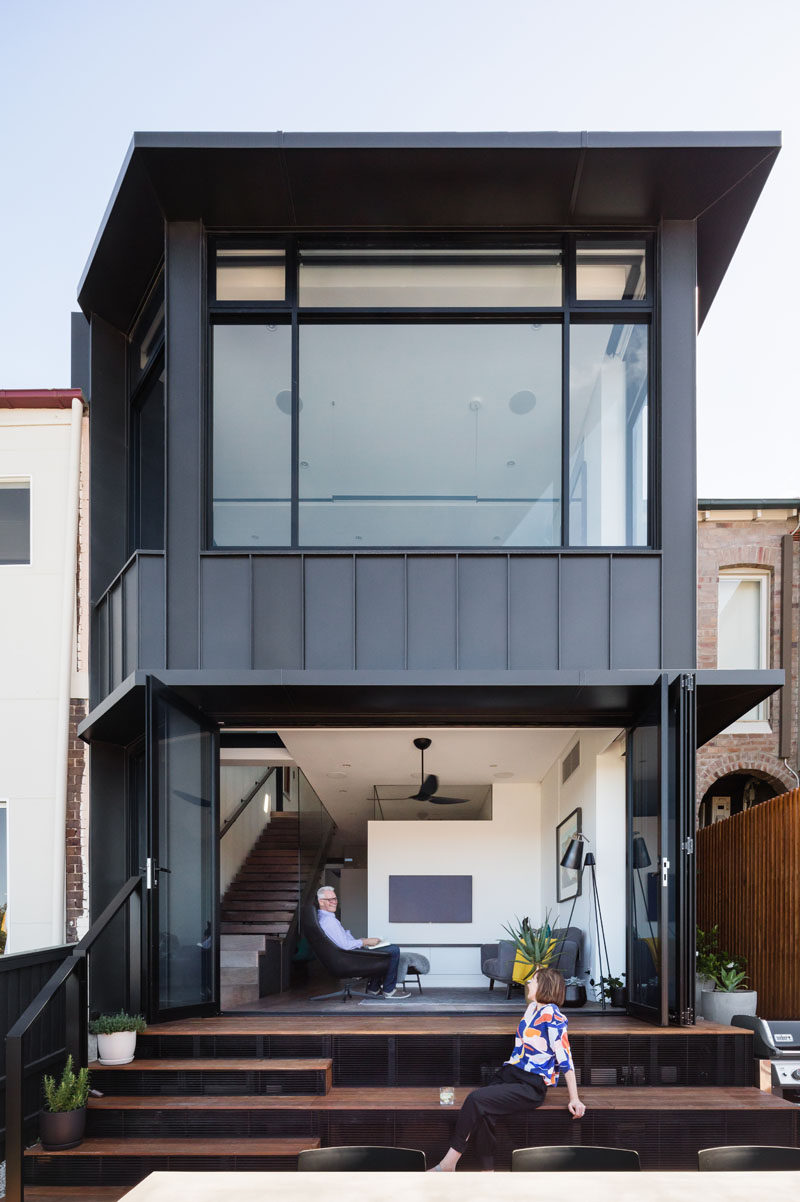 ---
The hallway on the lower level takes advantage of the natural light from the skylights and has views of the ridgeline 39 feet (12m) above.
---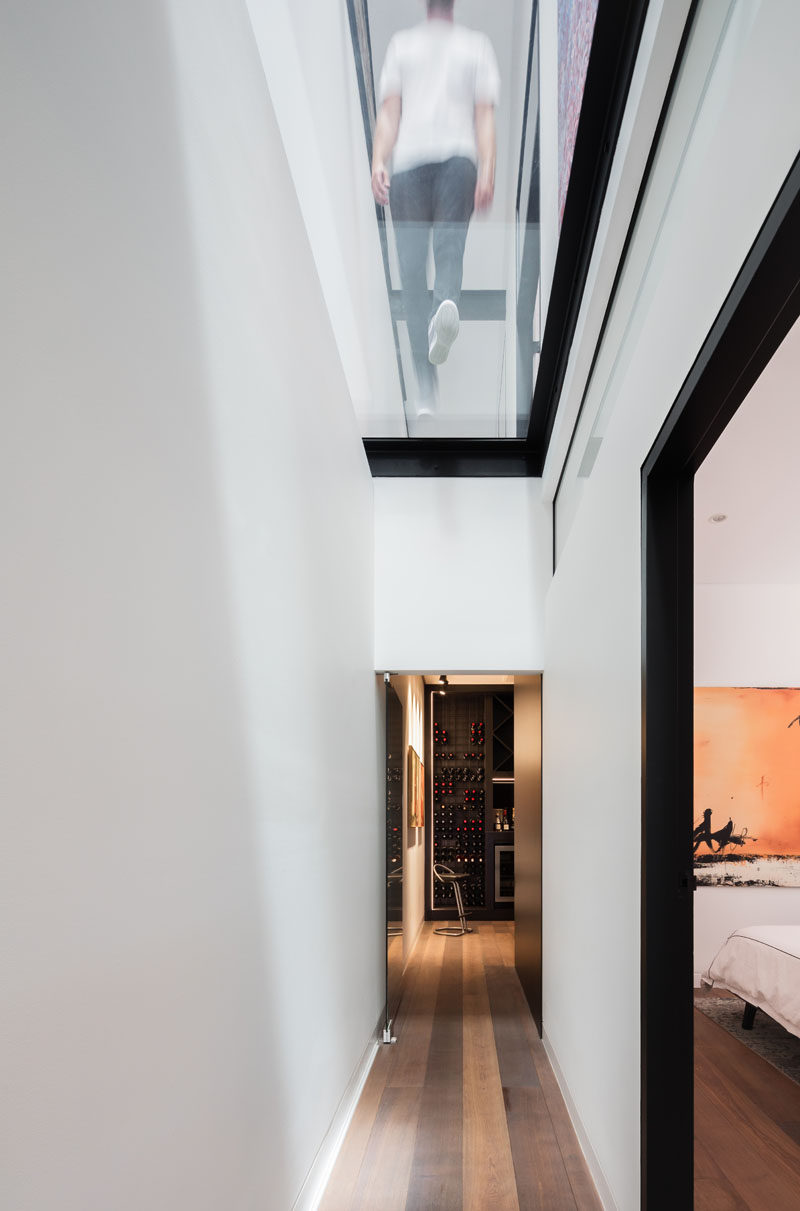 ---
At the end of the hallway is the wine cellar. Dark custom joinery creates plenty of space for storing wine, books and glassware.
---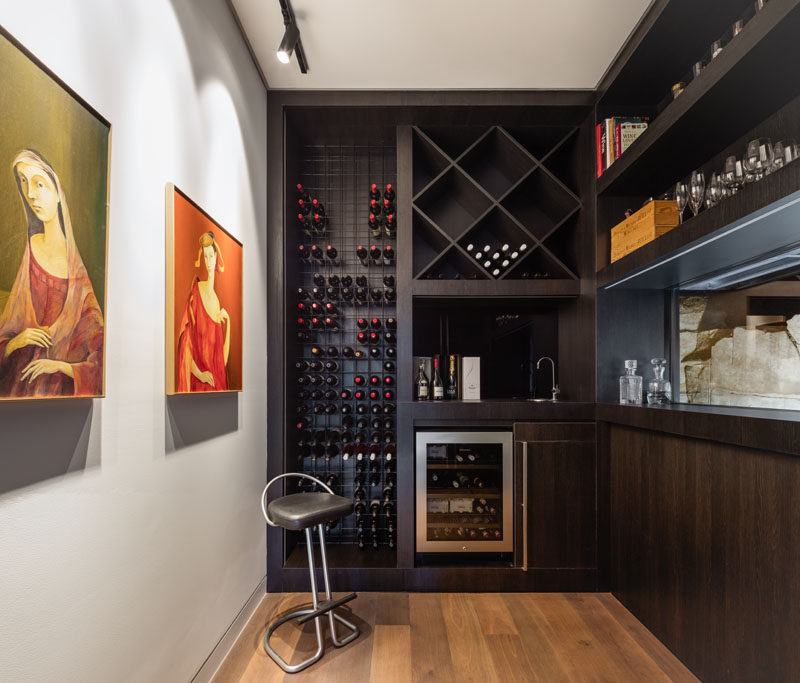 ---
Also on the lower floor of the home are two bedrooms and a bathroom. In the bathroom the same chevron pattern featured in the master ensuite bathroom, has also been used for this bathroom, while a vertical window in the shower looks out to the plants outside. The freestanding bathtub also has a window, however this one is frosted for additional privacy as on the other side of the window is a garden path.
---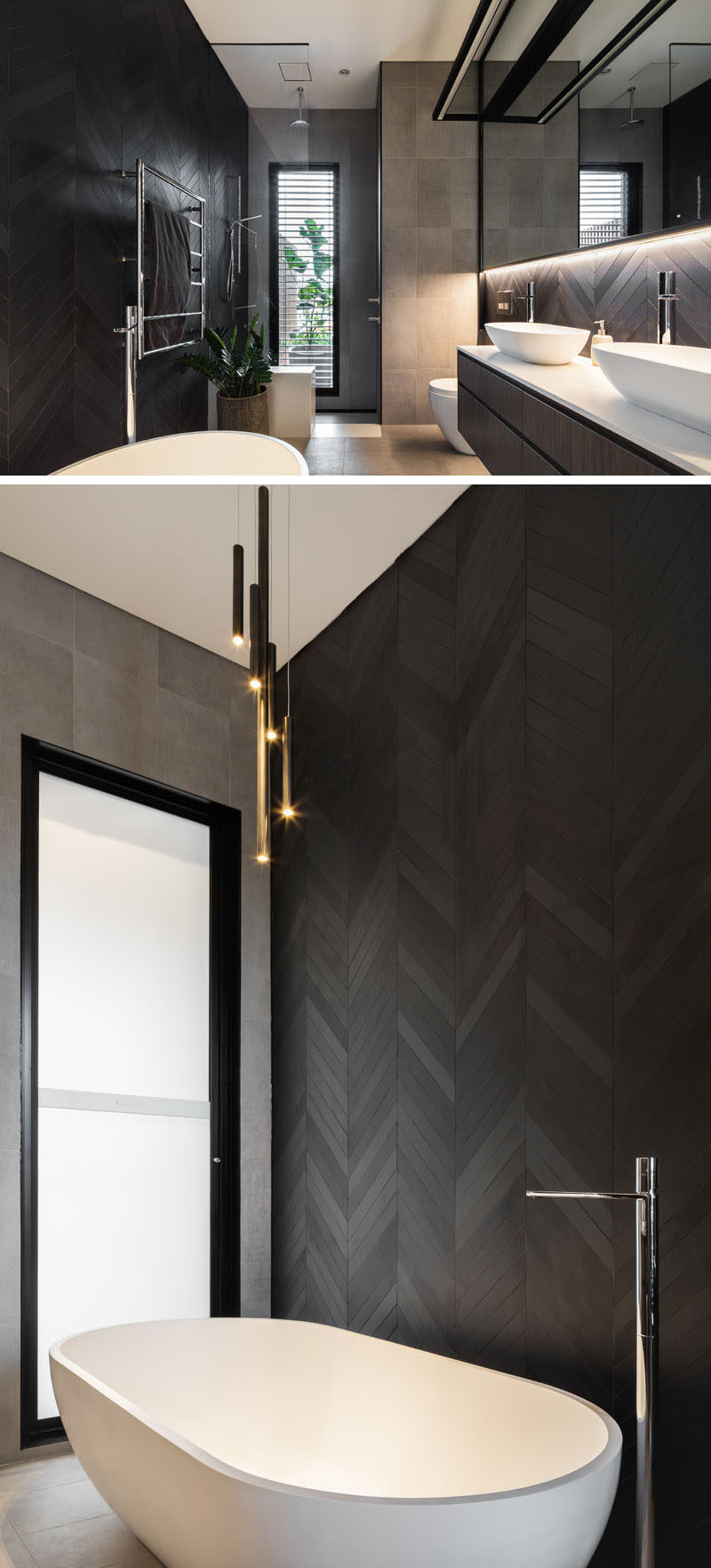 ---