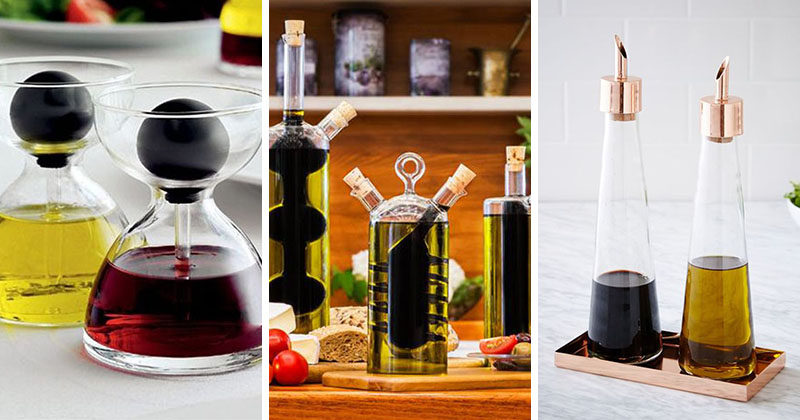 Oil and vinegar dispensers typically sit on the counter in plain view for all to see, so here are 11 oil and vinegar dispensers designs that will make you want to put them on display.
---
1. Two-in-one oil and vinegar dispensers with creative designs make for functional kitchenware that almost double as art.
---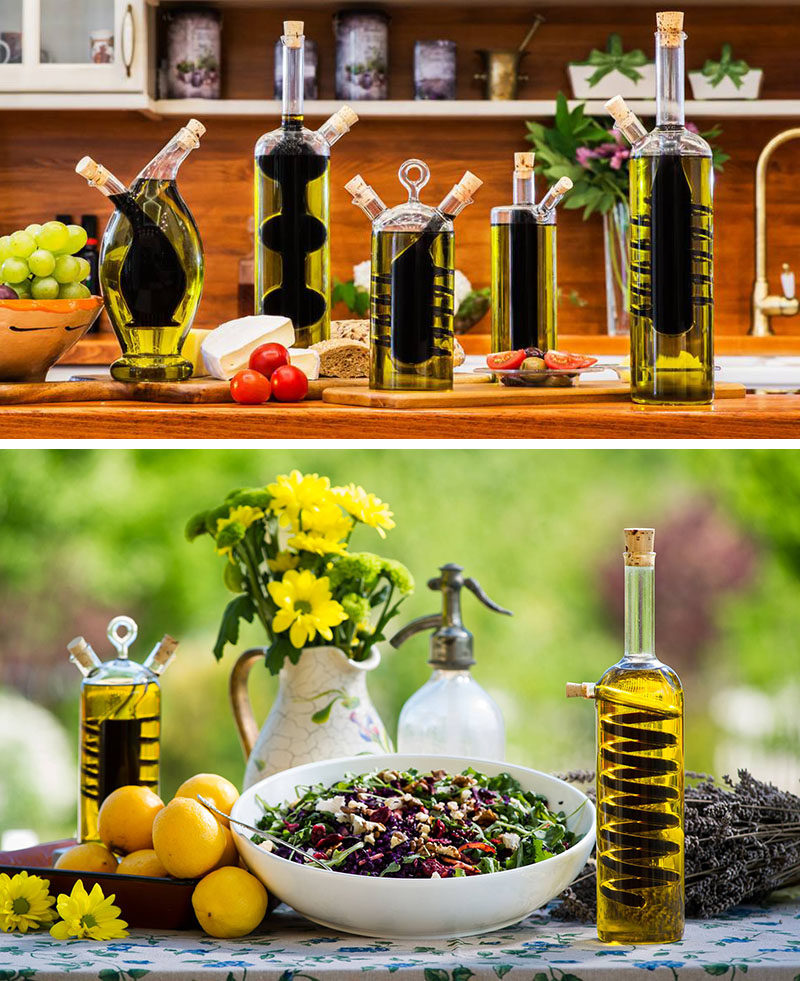 Oil & Vinegar Cruets from nycruets
---
2. Keep your most frequently used oil and vinegar together in one place with this artistic oil and vinegar dispenser.
---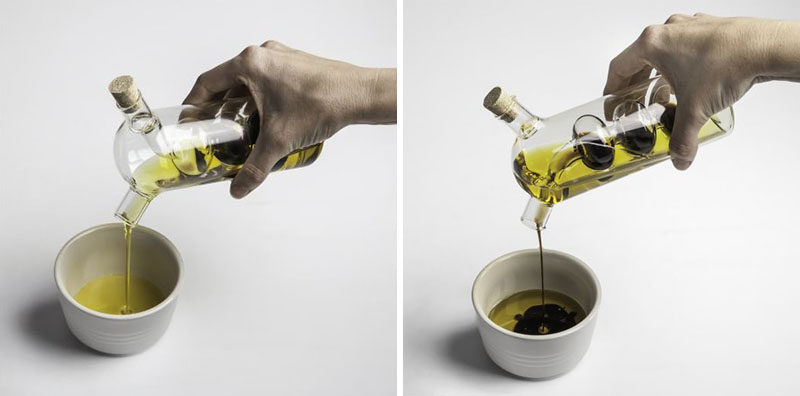 Oil and Vinegar pourer from Humble + Mash on Yuppie Chef
---
3. The copper tray matches the glass and copper dispensers making for an elegant set up right next to your stove.
---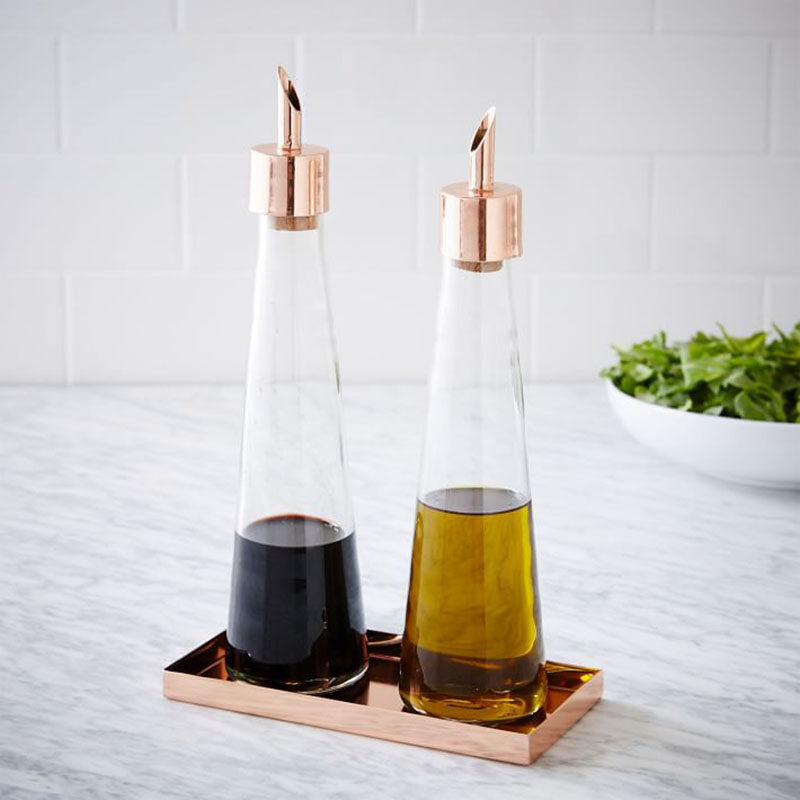 Copper Oil + Vinegar Set from West Elm
---
4. A simple beaker style with an adjustable spout means you'll get the perfect amount of oil every time.
---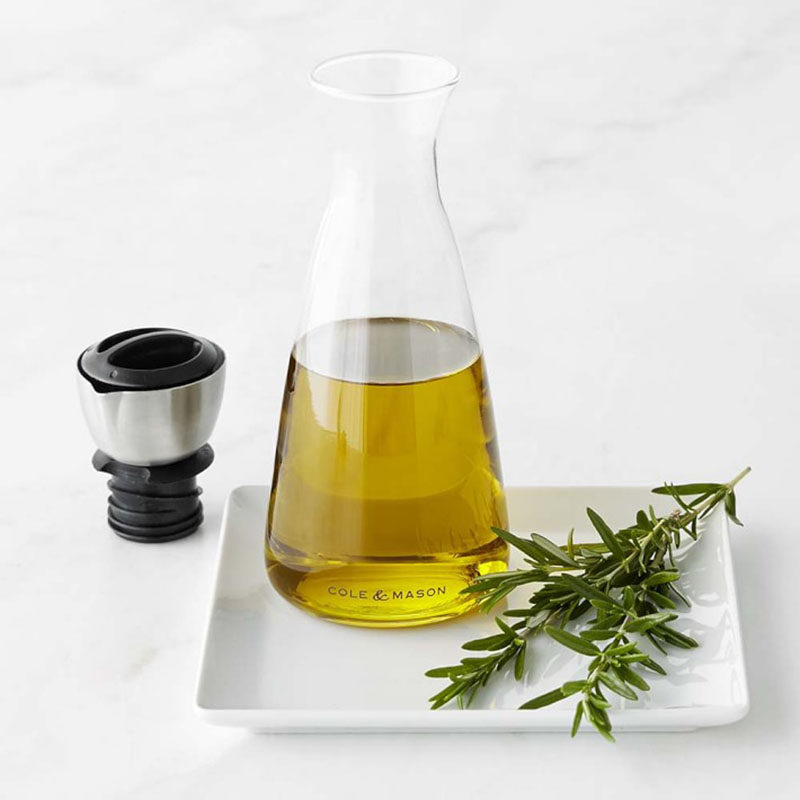 Flow Select Adjustable Oil Pourer from Williams-Sonoma
---
5. These oil and vinegar dispensers sit in a little tray, making it easier to place on your table and not have to worry about potential drip stains on your table cloth.
---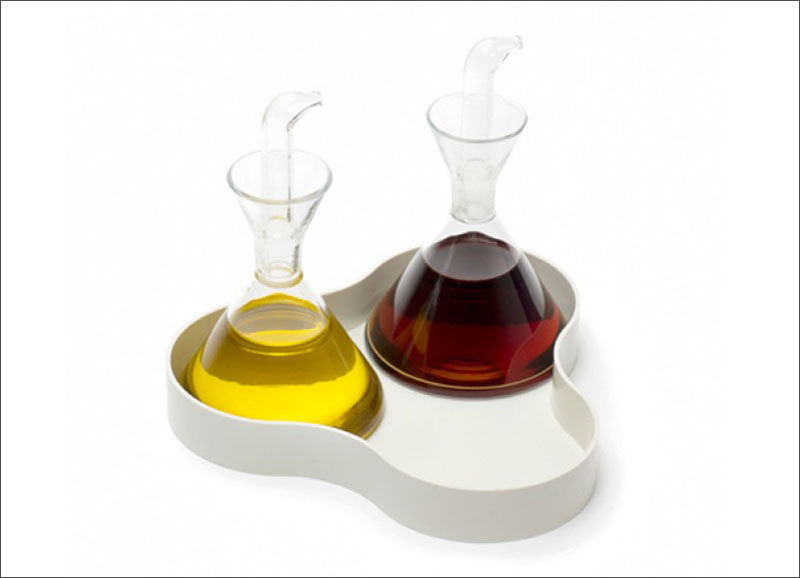 Marquina Oil dispenser designed by Rafael Marquina. Manufactured by Mobles 114.
---
6. Tall oil dispensers like these are perfect for adding herbs and other things to infuse your oil at home and makes the display much nicer to look at.
---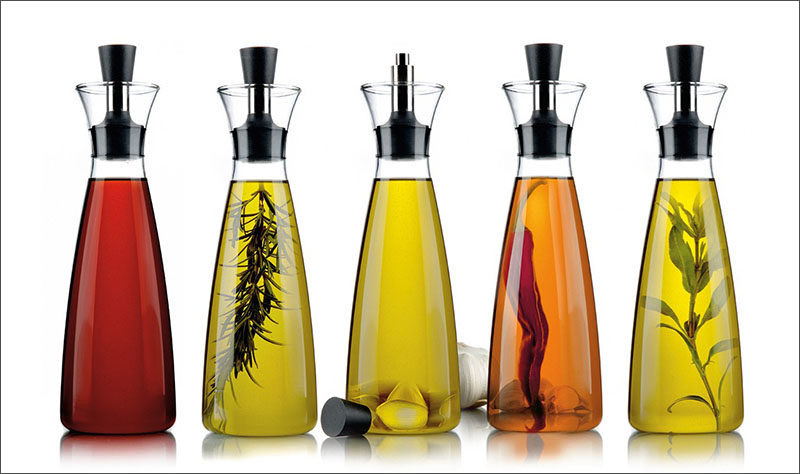 Oil/Vinegar Carafe designed from Eva Solo
---
7. Inject just a little bit of oil into your cooking with these oil holders that use a pipette to dispense the oil.
---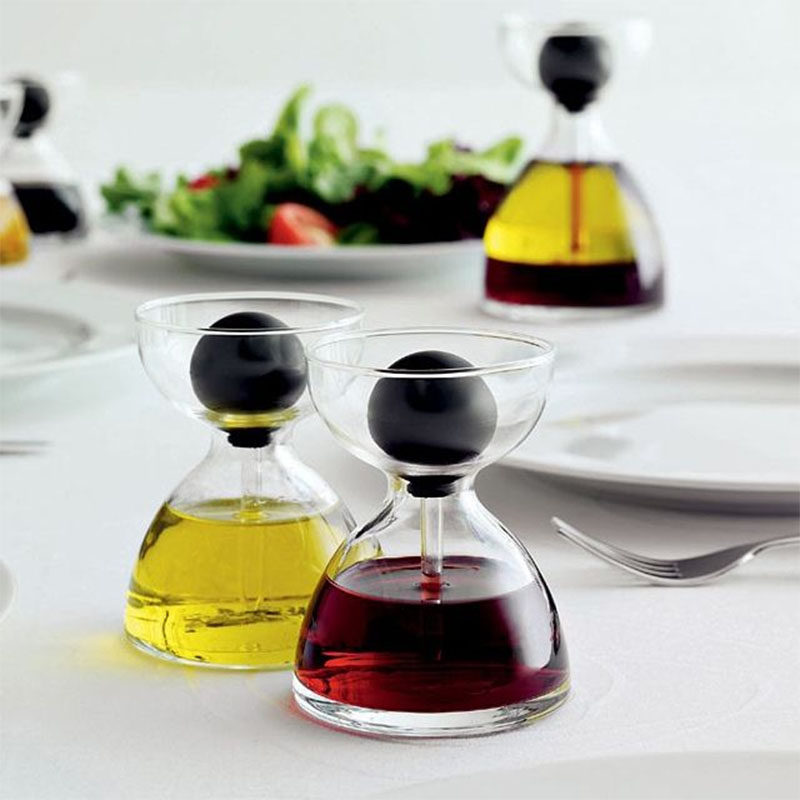 Pipette Glass with Tray from Menu – available through Morlen Sinoway.
---
8. These two dispensers are easy to hold and look nothing like other oil and vinegar dispensers out there.
---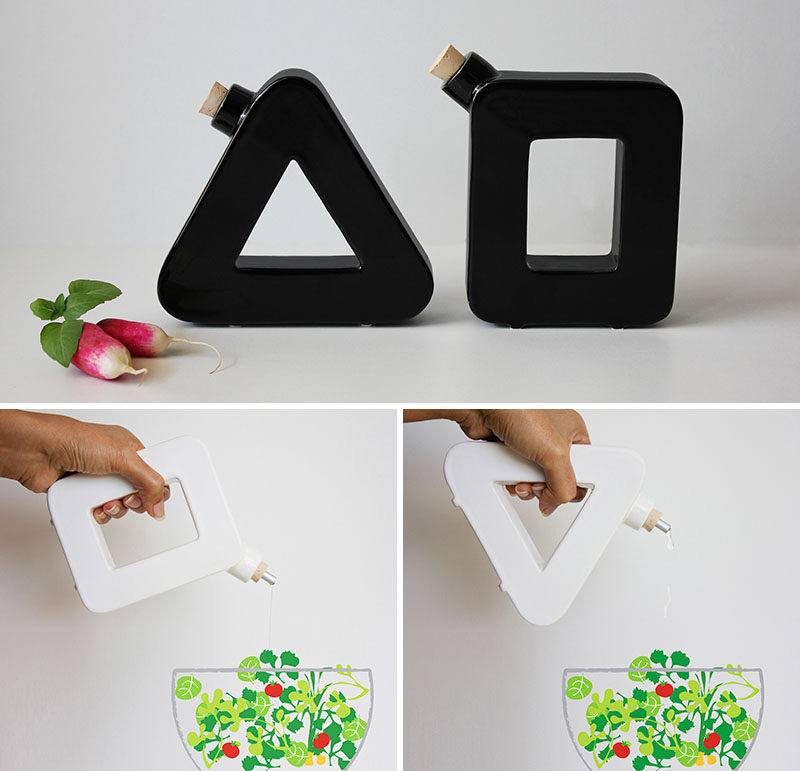 DAN Oil And Vinegar Set designed by Layla Mehdi Pour. Available through Crowdy House.
---
9. This circular oil and vinegar set comes with a little base to help keep it upright and on display.
---
Orbit Oil and Vinegar Set from Uncommon Goods
---
10. White ceramic oil and vinegar cruets make it easy to drizzle just the right amount of oil over salads or onto dishes being prepped.
---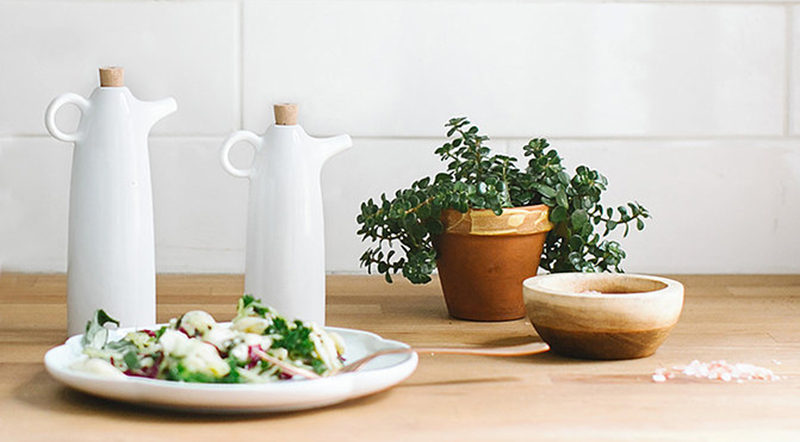 ---
11. This oil dispenser lets you carefully drizzle just a little bit of oil or pour out larger quantities when necessary.
---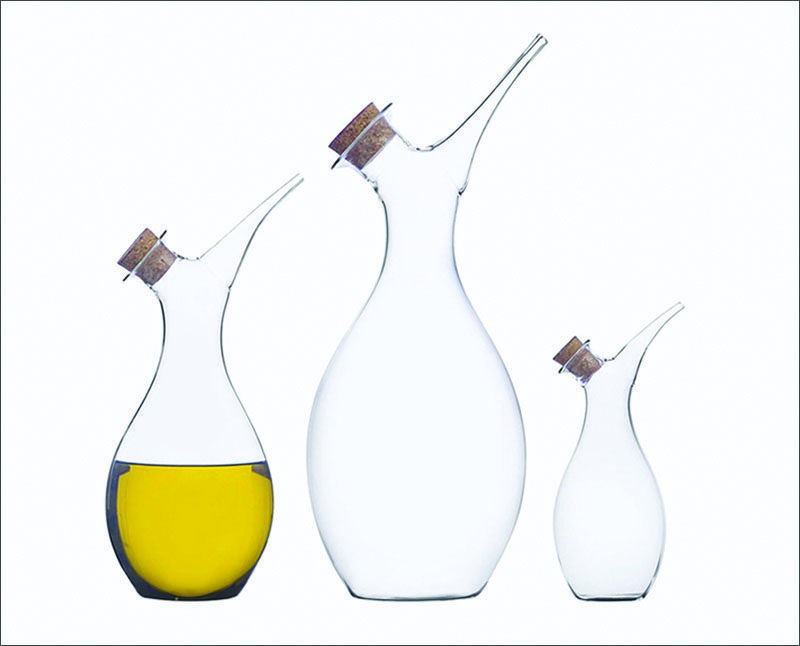 Liquid Sense designed by Otura for ICHENDORF.