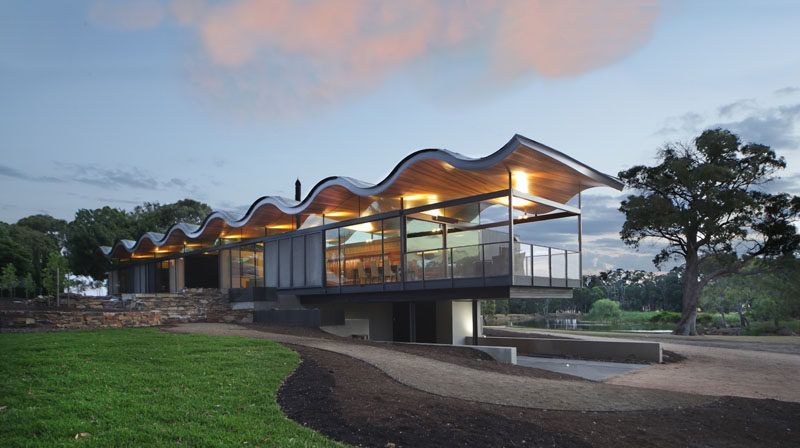 Inspired by the undulating hills of the landscape around the site, Seeley Architects designed this family home in Kyneton, Australia, around the idea of creating connection to the outdoors and fostering a sense of cohabitation with the wildlife in the area.
The roof of the home is the most unique detail, featuring a wavy appearance that almost appears to be floating and was designed to mimic the rolling hills surrounding the home. Stone pathways lead to the entrance, the grassy areas, and around the side of the home, while natural vegetation, like the olive trees, have been left in place to allow and encourage the wildlife to interact with the area.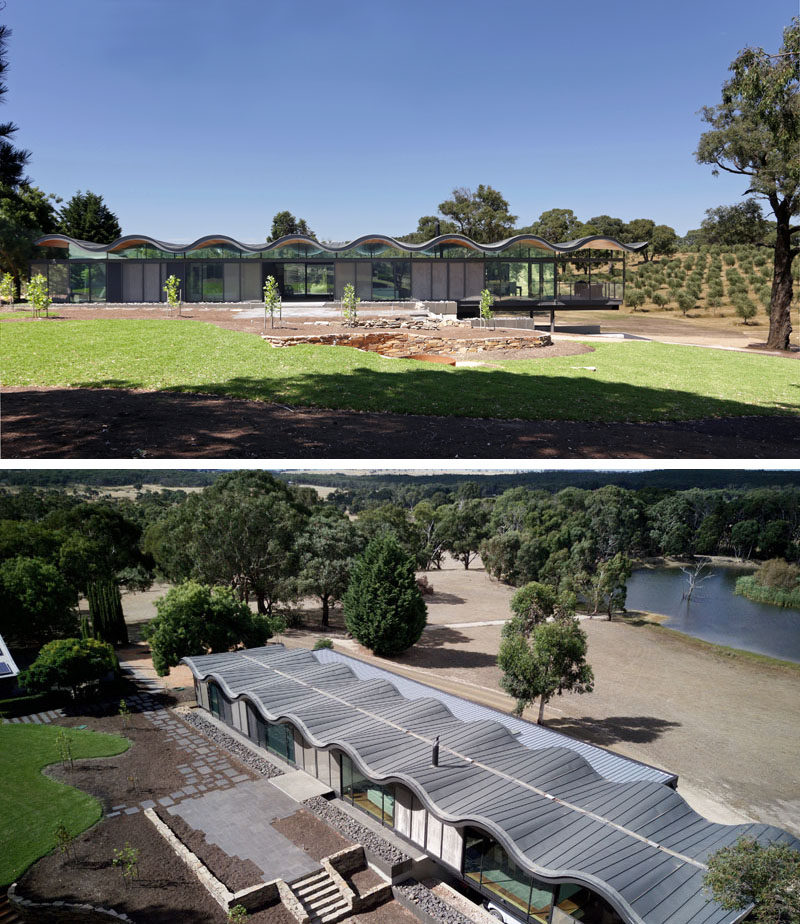 ---
The underside of the wavy roof is made from messmate timber and creates a warmth that can be felt both inside and out. The creative roof design enables the windows to extend further than they normally would, which allows the sky to be seen even when the rest of the windows are covered. The way the roof extends beyond the home also provides shelter from the elements and allows for outdoor entertaining all year long.
---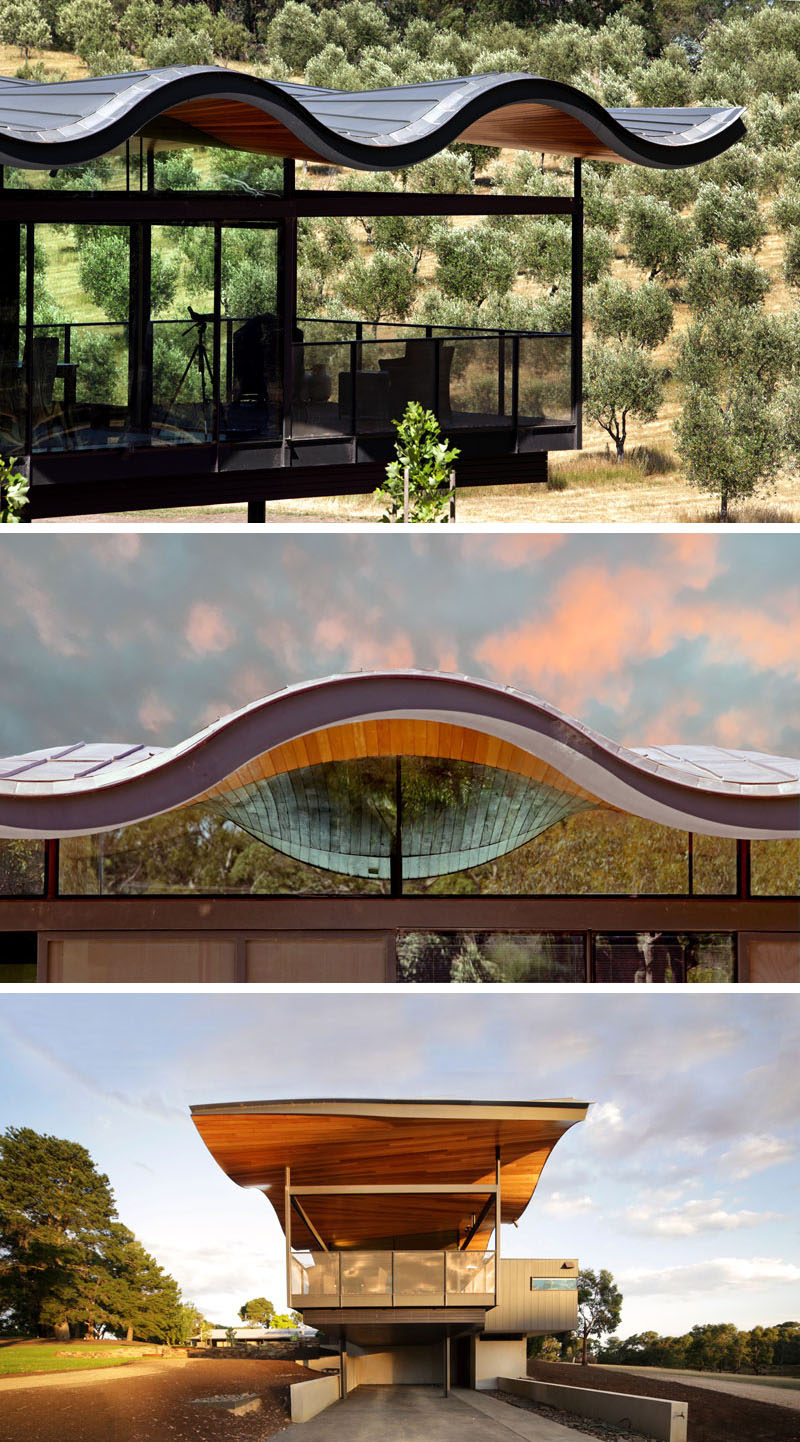 ---
Inside the home, the curves of the wood ceiling appear softened and more subtle but still give the interior a unique feel. The wood floors combined with the wood ceiling and the use of natural materials gives the interior a warm and cozy atmosphere, while the floor to ceiling windows maintain a connection with the outdoors. As you can see here, the living and dining rooms have been combined to create a space that feels open and connected.
---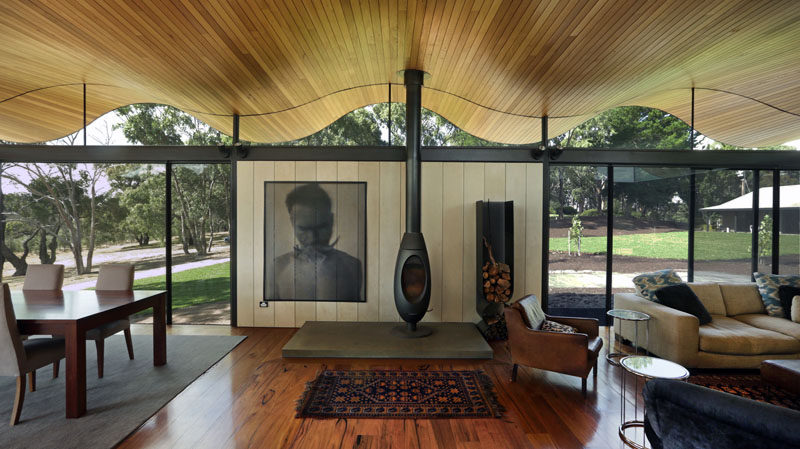 ---
On the opposite side of the living and dining rooms, an artistic wood sliding door creates a screen that partially conceals an art collection confined to a small nook as well as a bar area. From this view you can also see how the side of the house opens up onto a deck that looks out at the rolling hills of the landscape.
---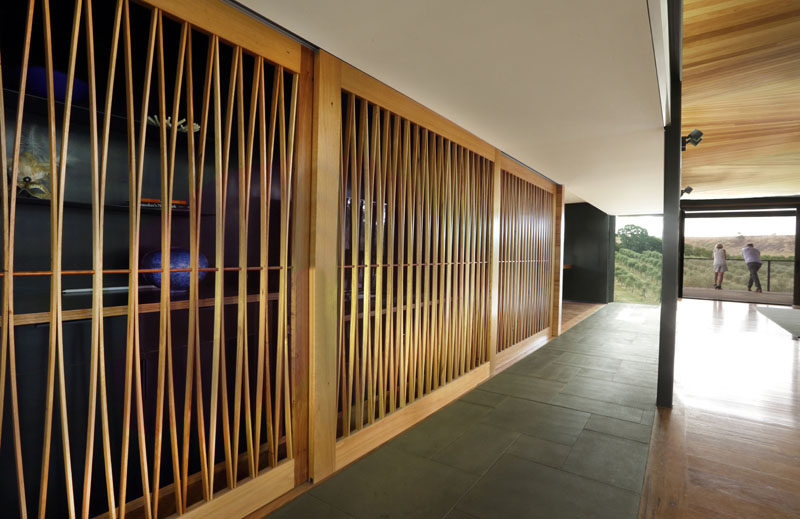 ---
In the wood clad kitchen, an island with artistic doors similar to the ones out in the living area, creates a sense of connection and continuity between the spaces. Black wood cabinets add a modern touch to the room and a letterbox window along the back wall connects the kitchen to the outdoors.
---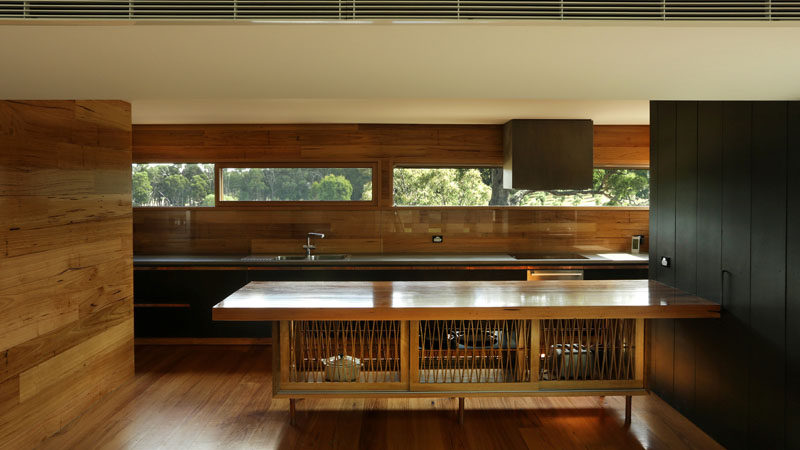 ---
On the other side of the house, the bedrooms have the same softly rolling ceilings and feature large floor-to-ceiling windows and sliding glass doors that leads out into the yard. The wood headboard behind the beds provides built-in side tables, lights, and a shelf that can be used to display anything from photos to flowers to art.
---