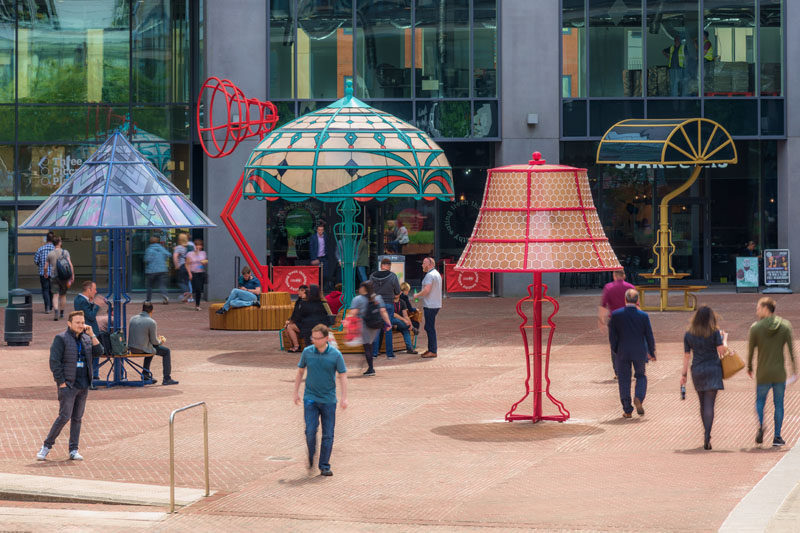 Art and design studio Arcylicize, has created 'The Manchester Lamps', which are five oversized lamps that illuminate the city of Manchester, England.
Ranging from 3.4m to 6m tall, each lamp offers shelter and seating for people and incorporate electric heaters for the winter months.
Each of the five lamps mark a significant local historical innovation, it's time period echoed by the lamps distinctive design style; Art Nouveau, Art Deco, Mid Century, Victorian and Contemporary.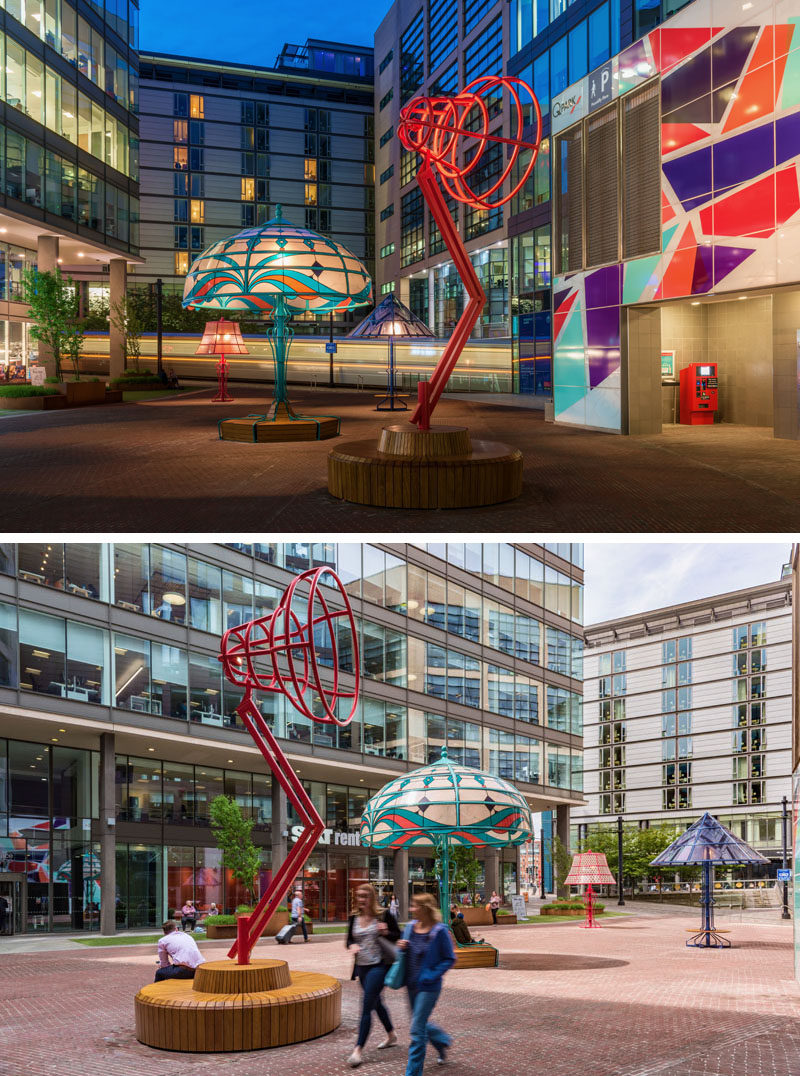 ---
Inspired by the famous Sir Robert Peel quote, 'What Manchester does today, the rest of the world does tomorrow', this public art sculpture honors Manchester's past whilst optimistically looking towards the future.
Here's a look at what each individual lamp represents:
Innovation and Education : 1903 Art Nouveau Tiffany Lamp: pays homage to Manchester's history of education including the city's Chetham Library, which houses the UK's oldest free public reference library. The sculpture's canopy is adorned with open books alongside classical pen nibs and square academic caps.
---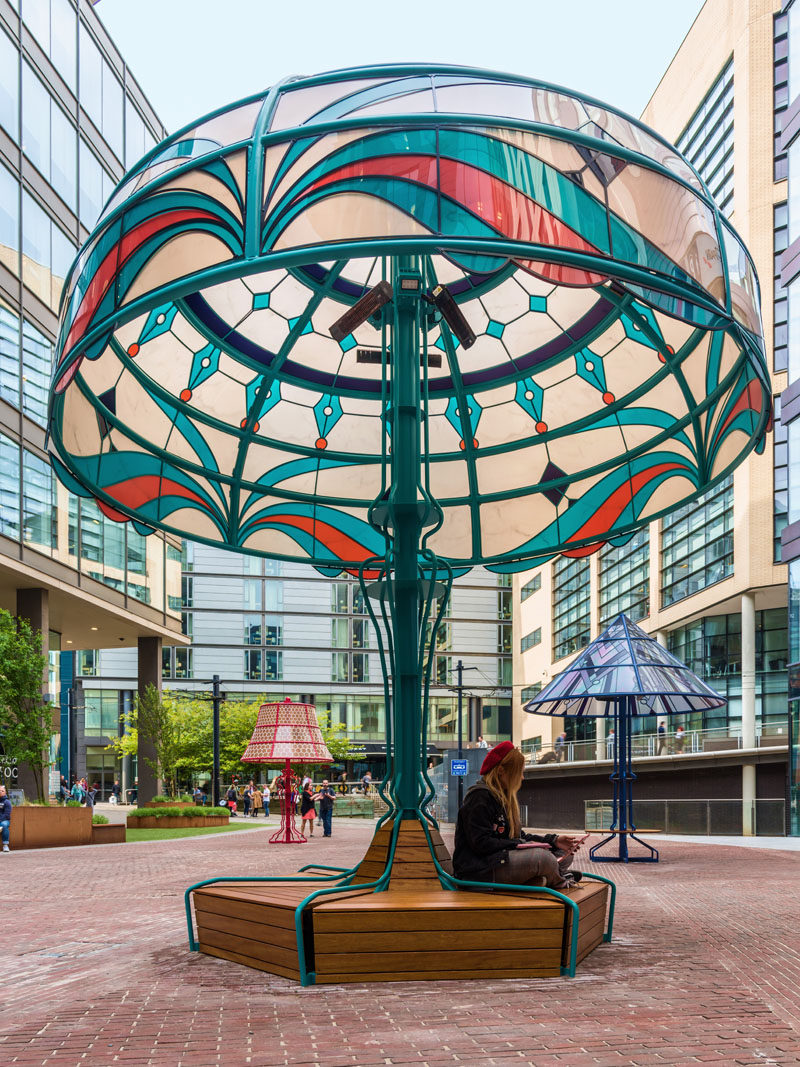 ---
Dedication, perseverance and discovery: 1909 Banker's Desk Lamp: once popularized because of its recognizable green shade, which softens the bulb making it easier to work at night. This lamp represents the dedication of world famous computer pioneer Dr. Alan Turing. The glowing canopy integrates a scrambled code, inspired by the circuit board patterns and the ground breaking Enigma code.
---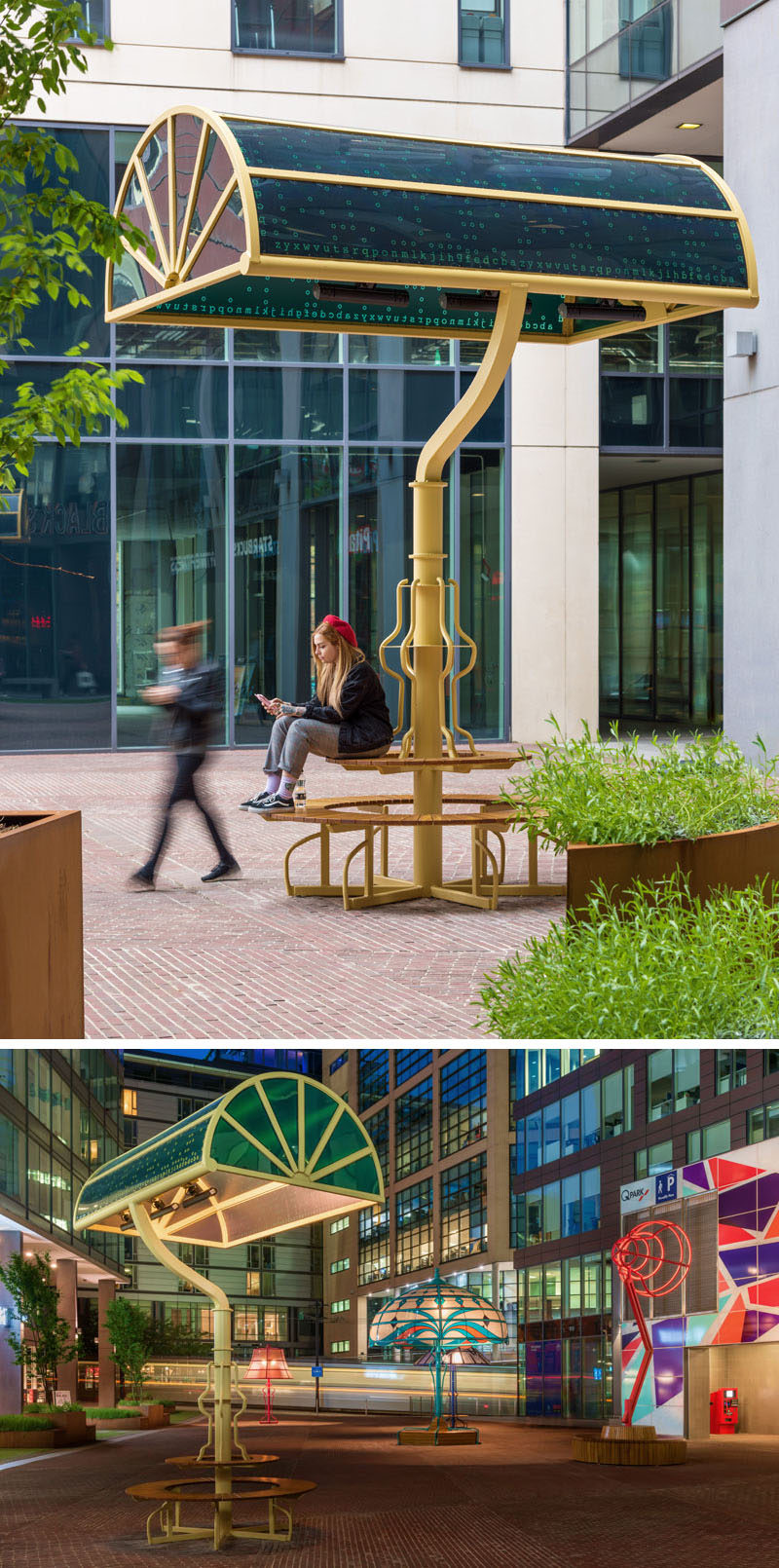 ---
Advances in Science and Physics : 1932 Art Deco Style Lamp: takes inspiration from both the beautiful Art Deco buildings in the city, and the splitting of the first atom which was achieved by research conducted by Ernest Rutherford at Manchester University. This huge global advancement for physics is illustrated in the magnified atoms, which can be spotted within the lampshade's expansive abstract formations.
---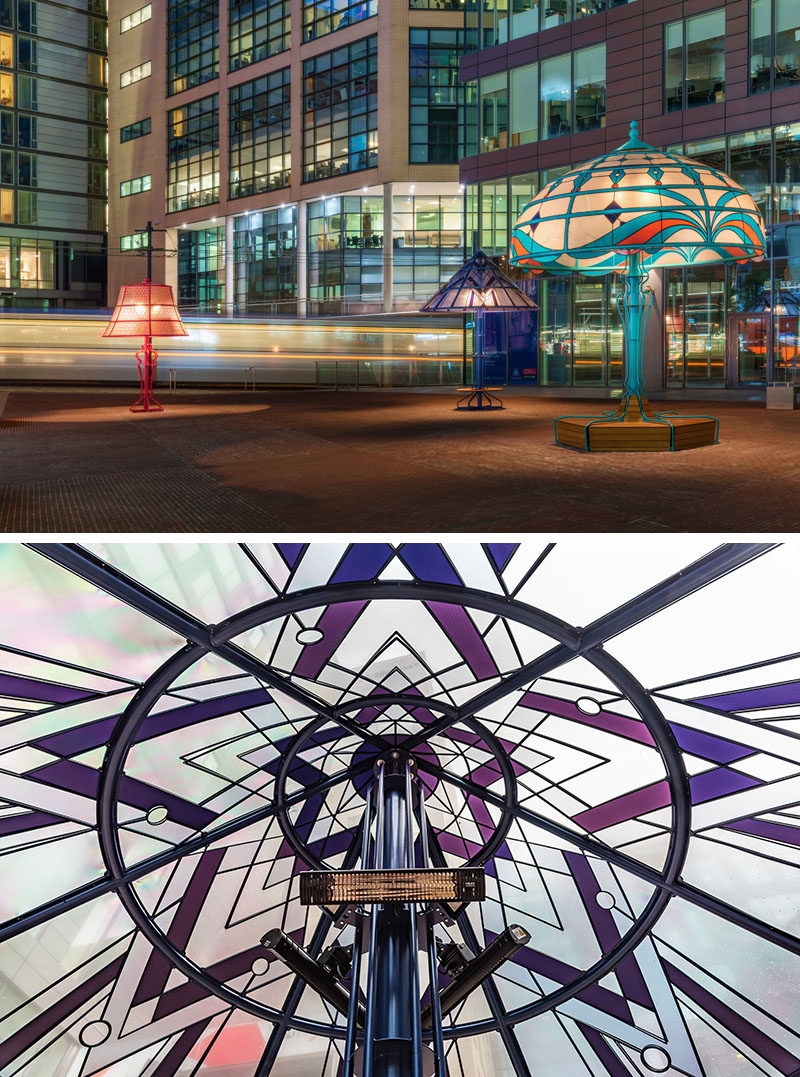 ---
Industrious community : Mid Century Table Lamp circa 1950 : an enlarged version of an everyday 1950's domestic table lamp, which celebrates the hard work of the local people. The city is famous for it's 'busy bee' hard-working past, which is represented by the honeycomb pattern on the lampshade.
---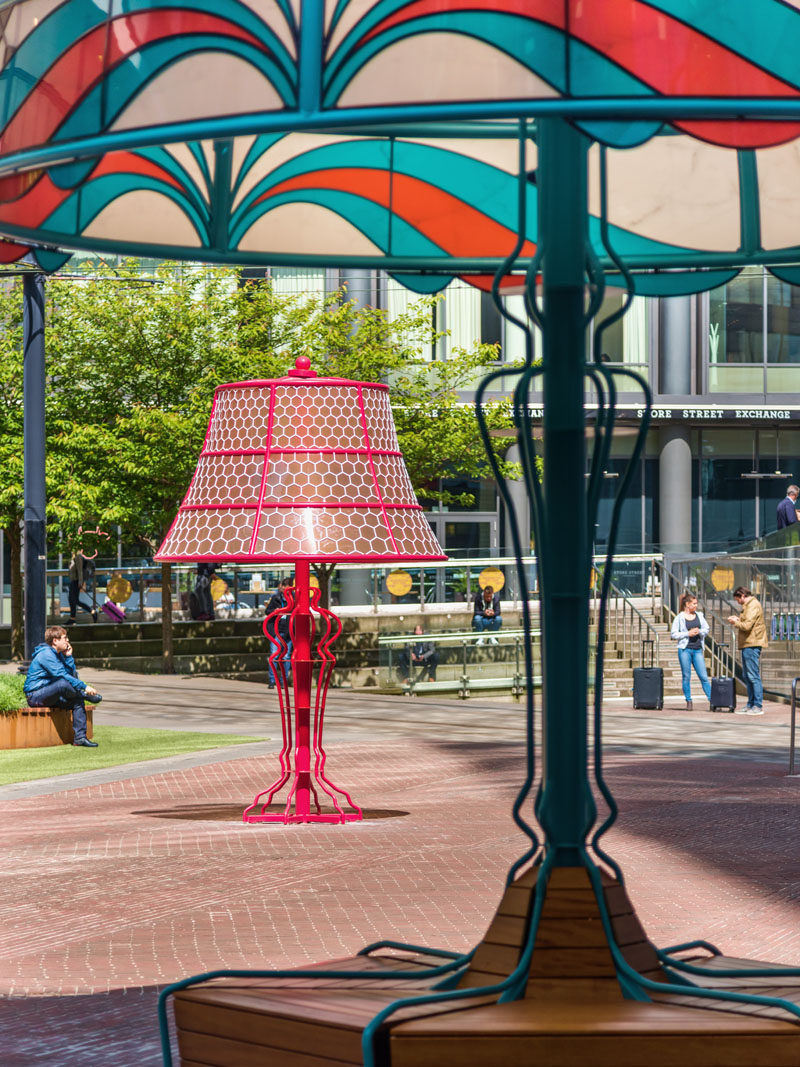 ---
Future, Innovation and Creativity : The Iconic Anglepoise Lamp, which turns upwards projecting a graphic pattern onto the surrounding wall, designed to represent the future and next chapter of the city. It shines a light on future possibilities, not just for the people of Manchester but for the world's community at large. The shafts of angled light playfully interact with the angles of the surrounding architecture and urban environment.
---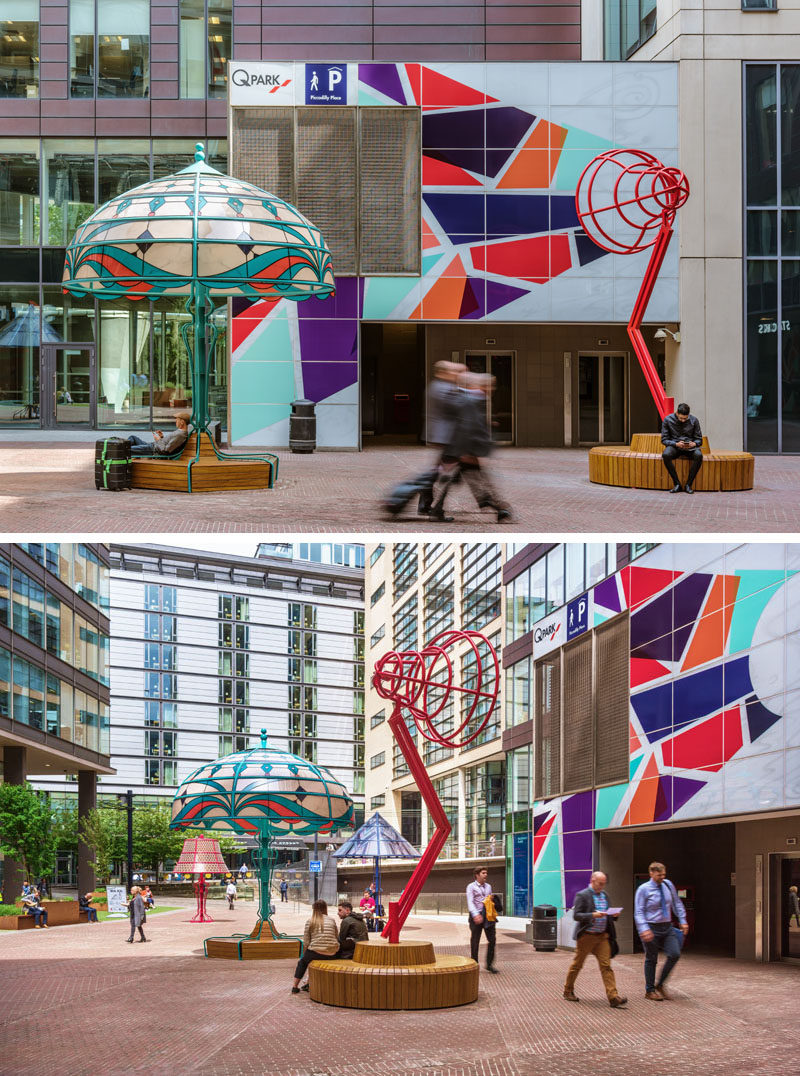 ---