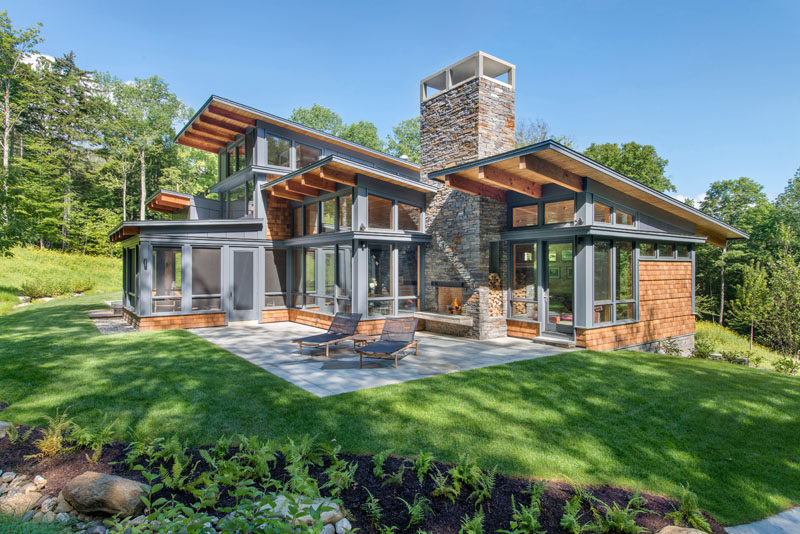 Flavin Architects have designed this contemporary shingle-covered house on a wooded property in Fayston, Vermont.
The house, which is discreetly set back from the road, is split into two sections, the main house on the left, and the guest house and garage on the right. When approaching the house, you are greeted by modern landscaping and can see through to woods behind the house.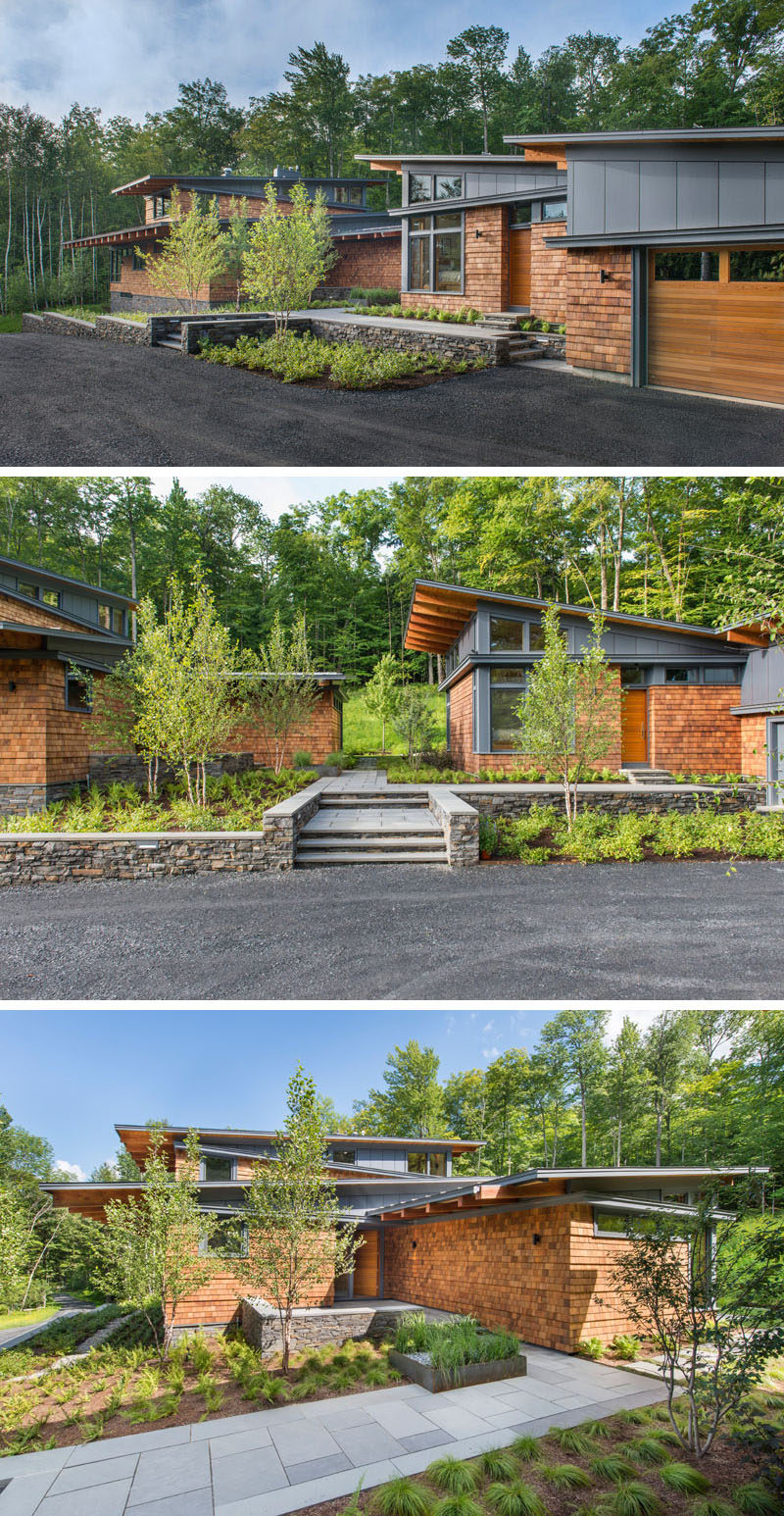 ---
Inside the home the material palette has been kept simple, with concrete floors, fir ceilings, wood and metal beams, and plaster walls.
---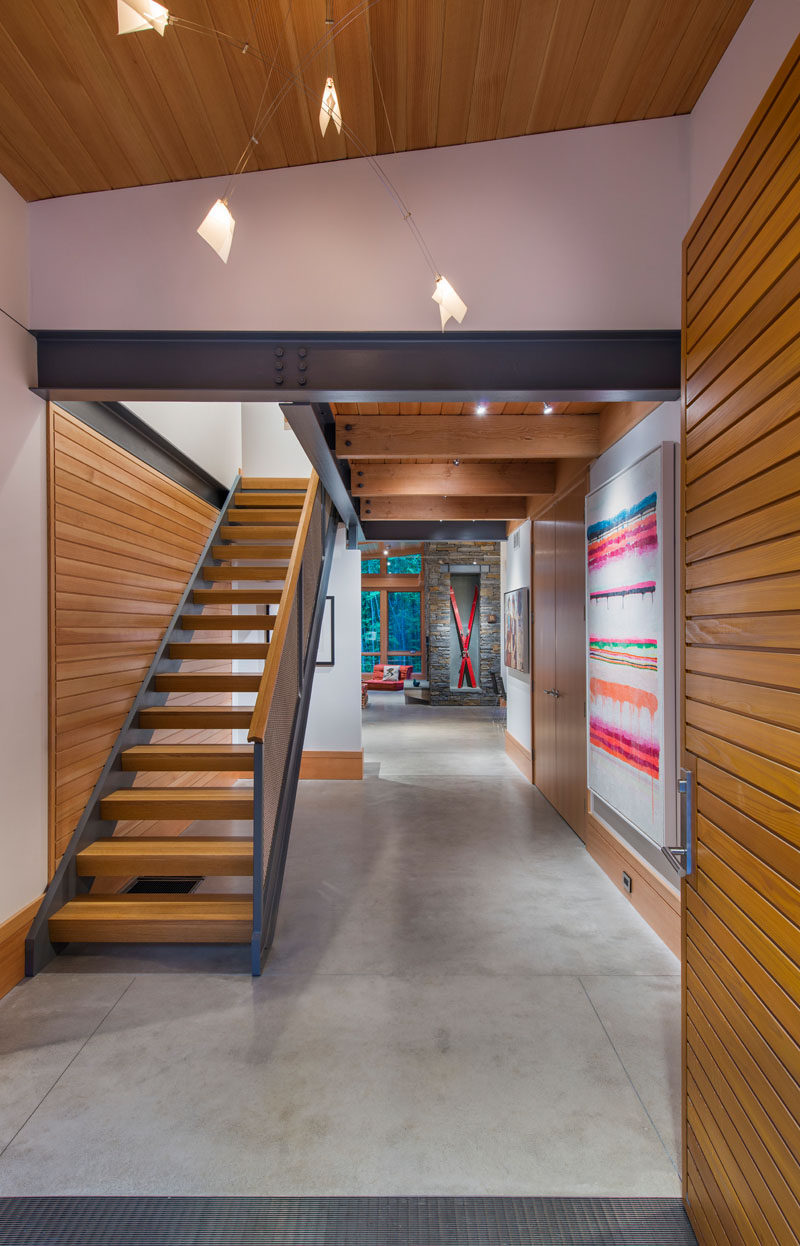 ---
Off to the side of the entryway is a mudroom with elements of corrugated metal, which can be seen throughout the house. Grey cabinets, open shelving and shoe racks make it easy to organize the mudroom.
---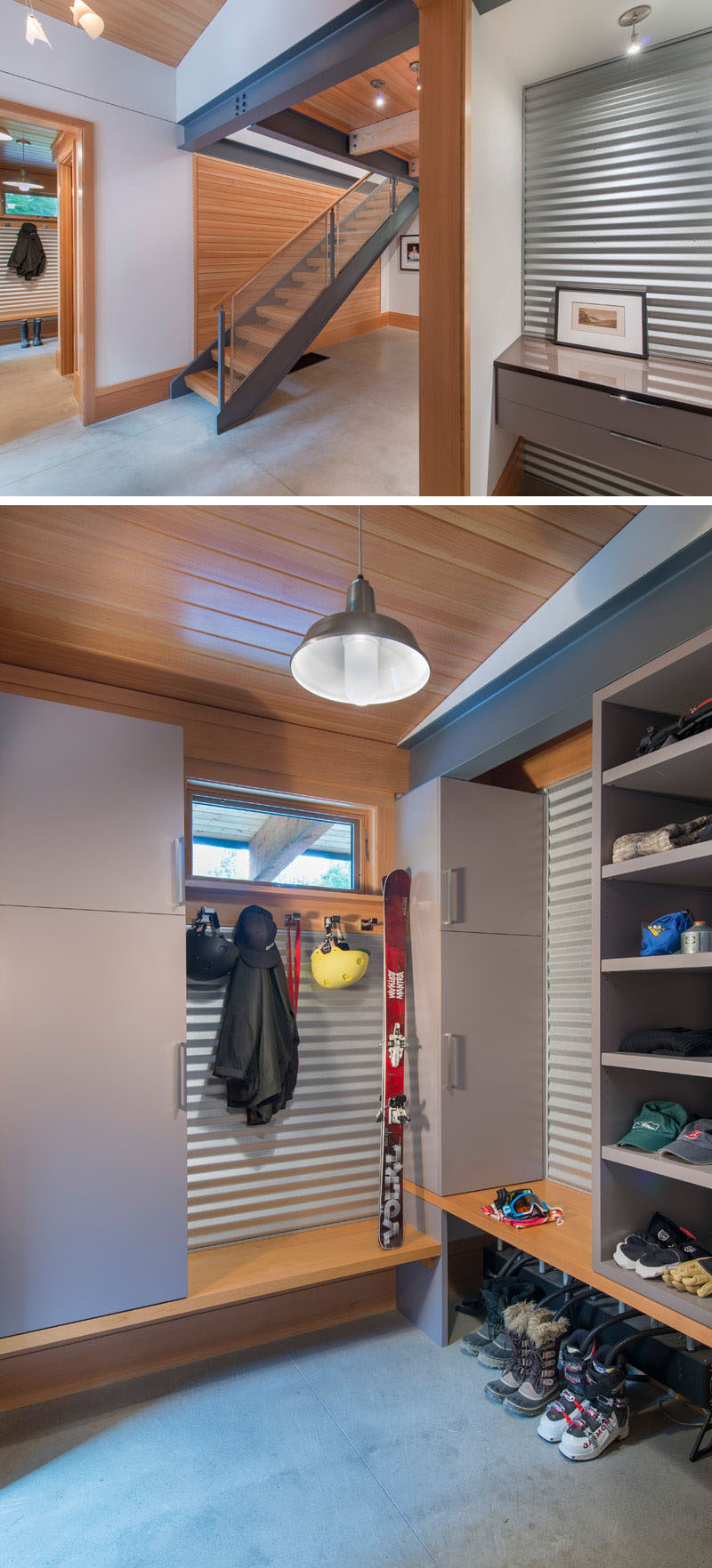 ---
From this angle, you are looking back at the large wood front door. You can also see that the wall on the right, which is part of the kitchen, has been made into a chalkboard wall.
---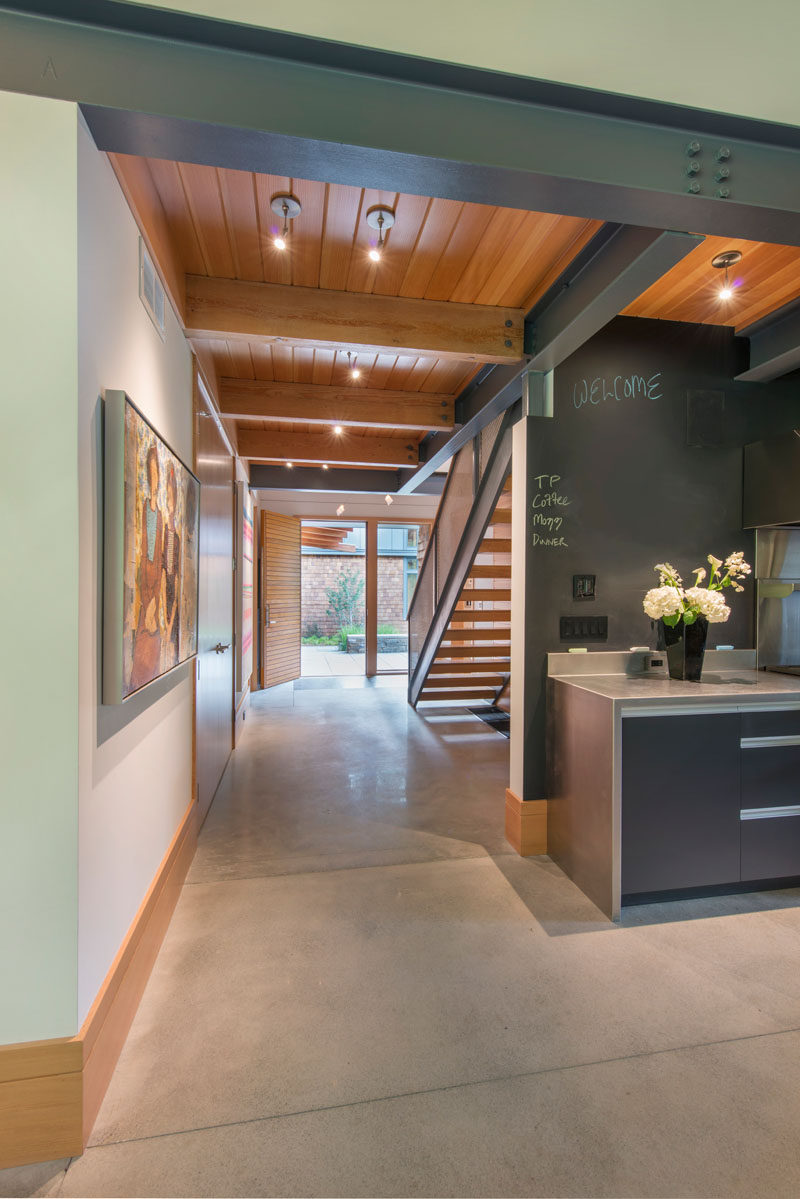 ---
In the living room, bright colored seating and a fireplace with a stone surround creates a relaxing environment. Natural light floods the interior through the numerous windows, some of which have been designed to follow the roof line.
---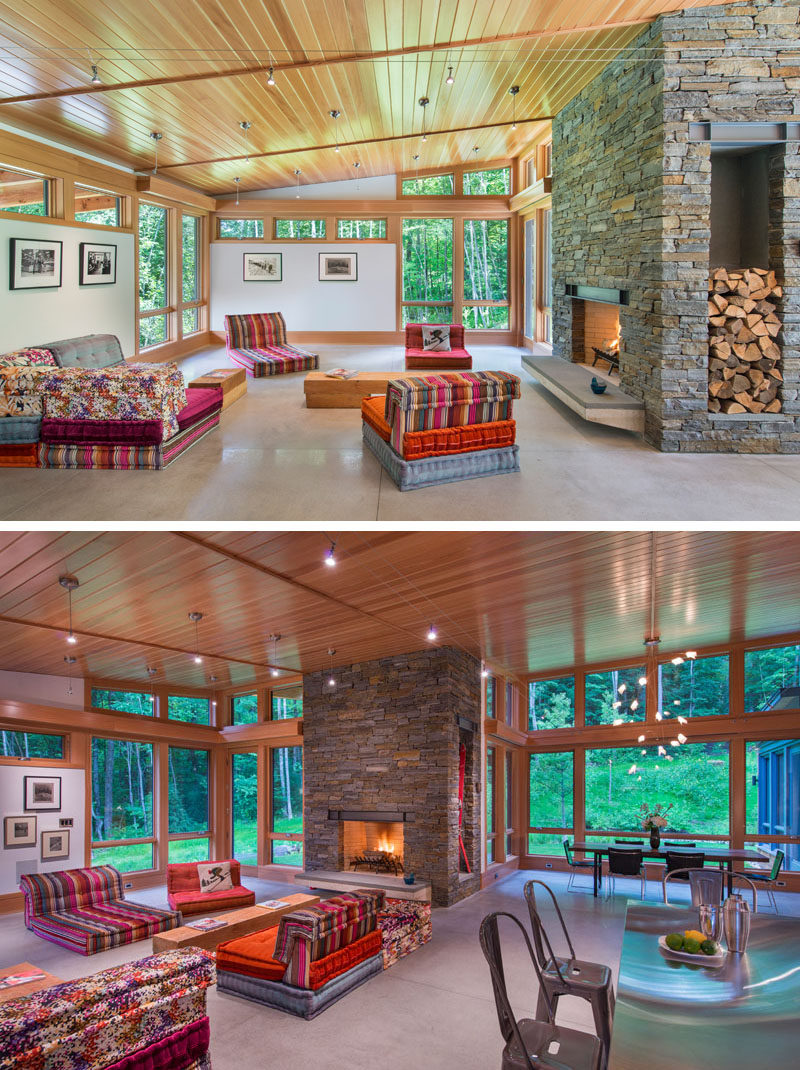 ---
Around the corner from the living room is the dining room, that enjoys views of the backyard through the large picture window.
---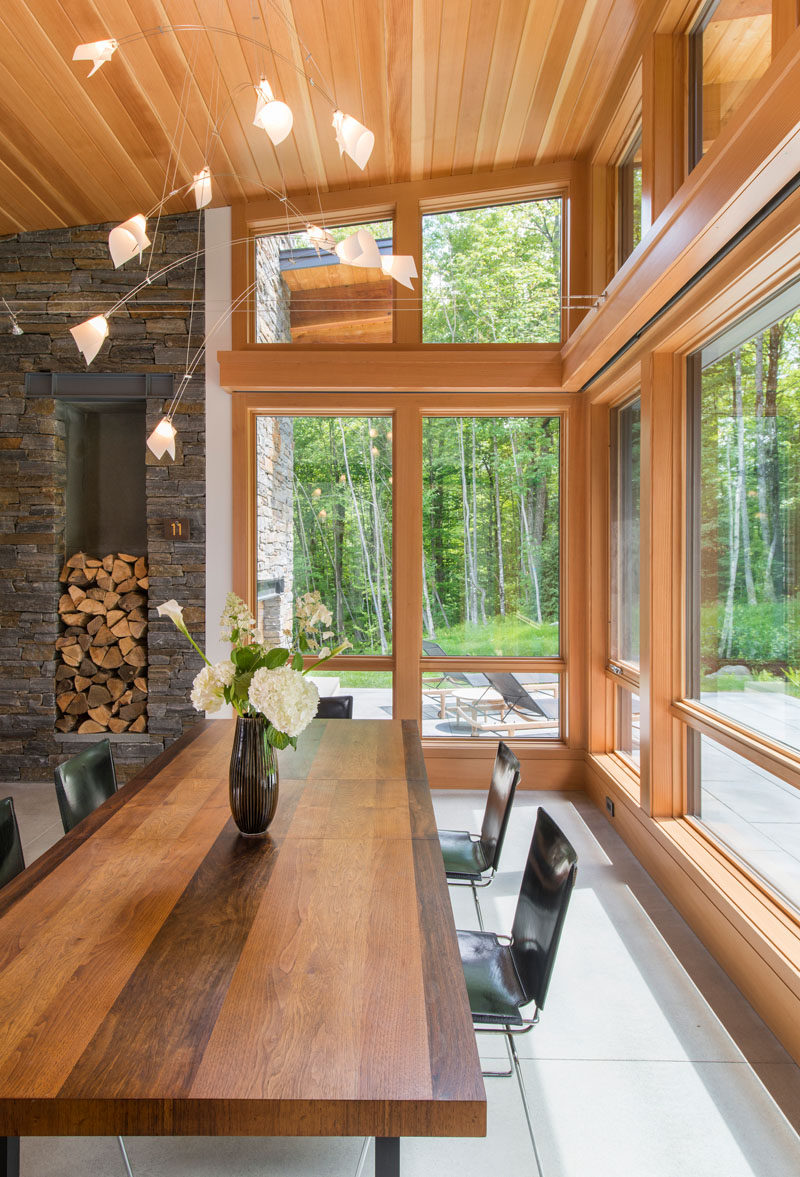 ---
Grey cabinets and the chalkboard wall define the kitchen. A stainless steel movable bar with seats can also double as a kitchen island when needed for extra prep space.
---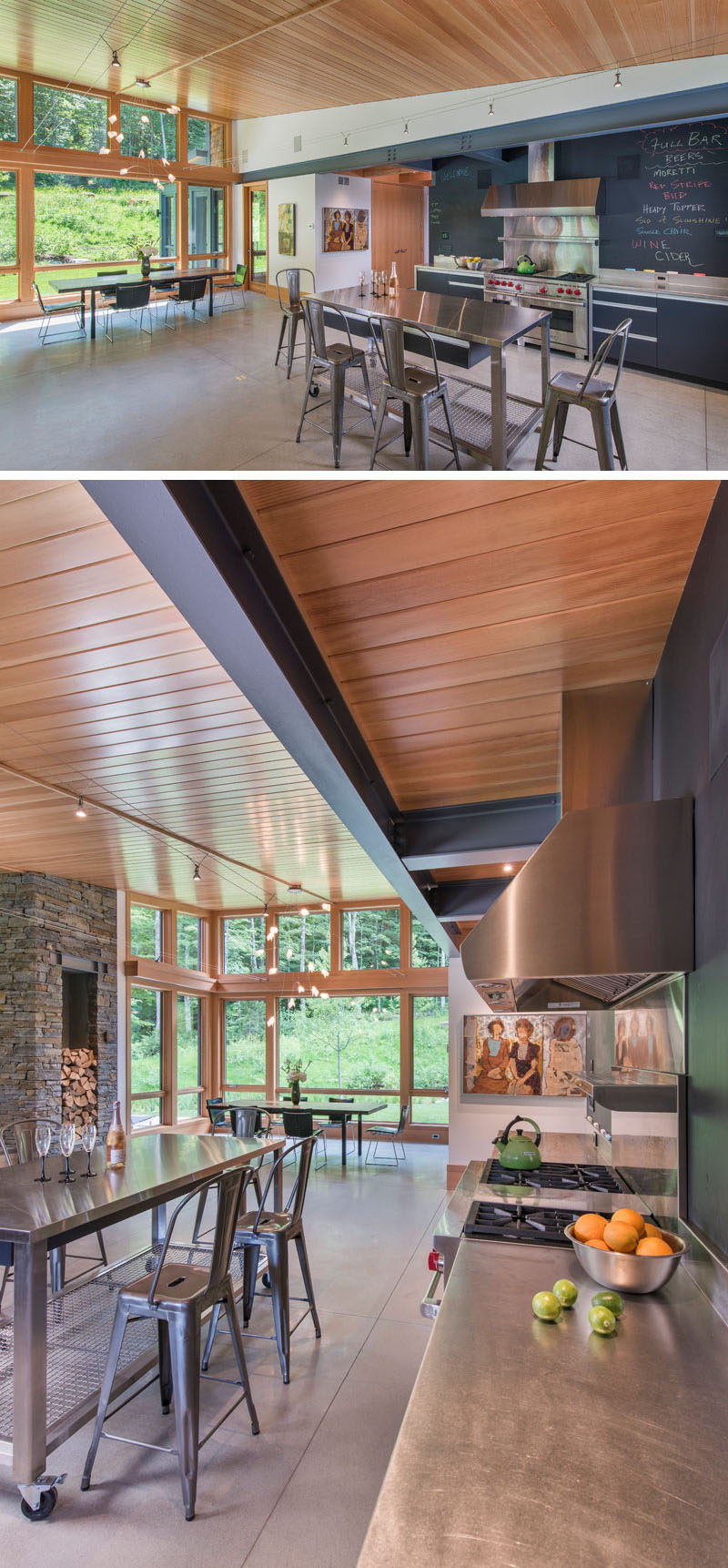 ---
Off to the side of the dining room is a second living space with direct access to the backyard. The shingles used on the exterior of the house have also been used as wall coverings in this room.
---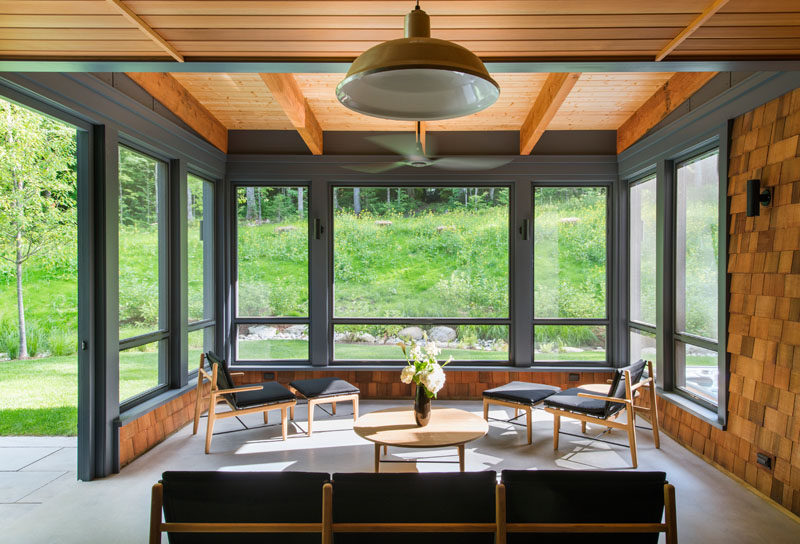 ---
Outside, there's a patio with sun loungers and an outdoor fireplace. From this angle, you can see that the roof is sloped, this was a request of the home owner to make sure that the snow / ice doesn't build up in the winter. The sloped roof also maximizes passive solar heating in the winter, and the generous overhangs protect from summer sun.
---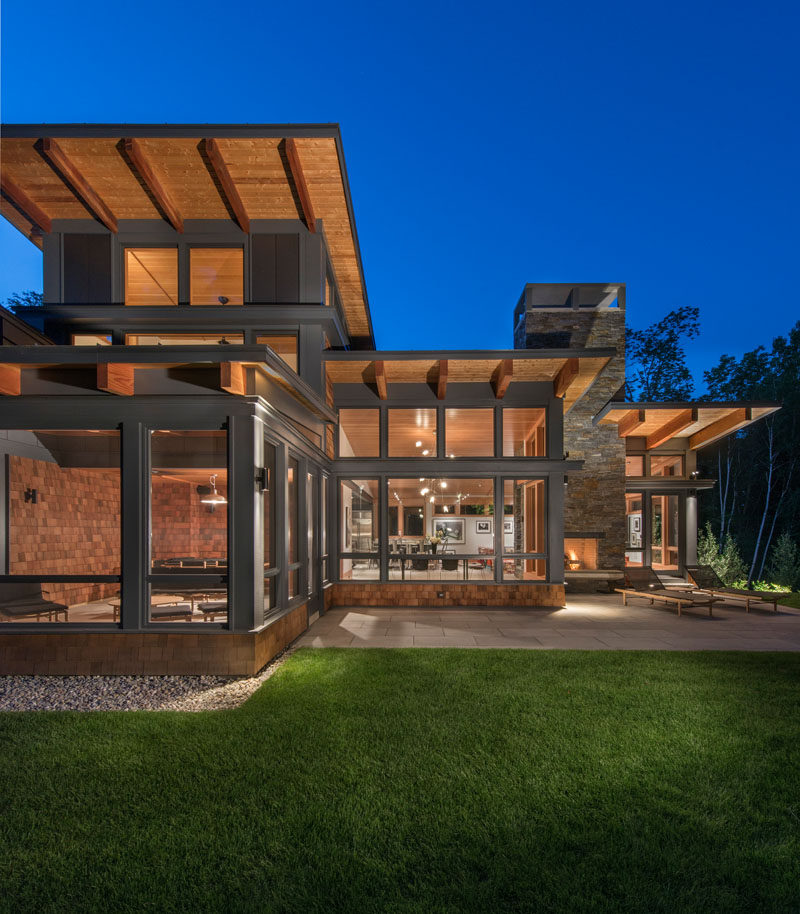 ---
Back inside, there's a yoga studio with high ceilings and views of the trees.
---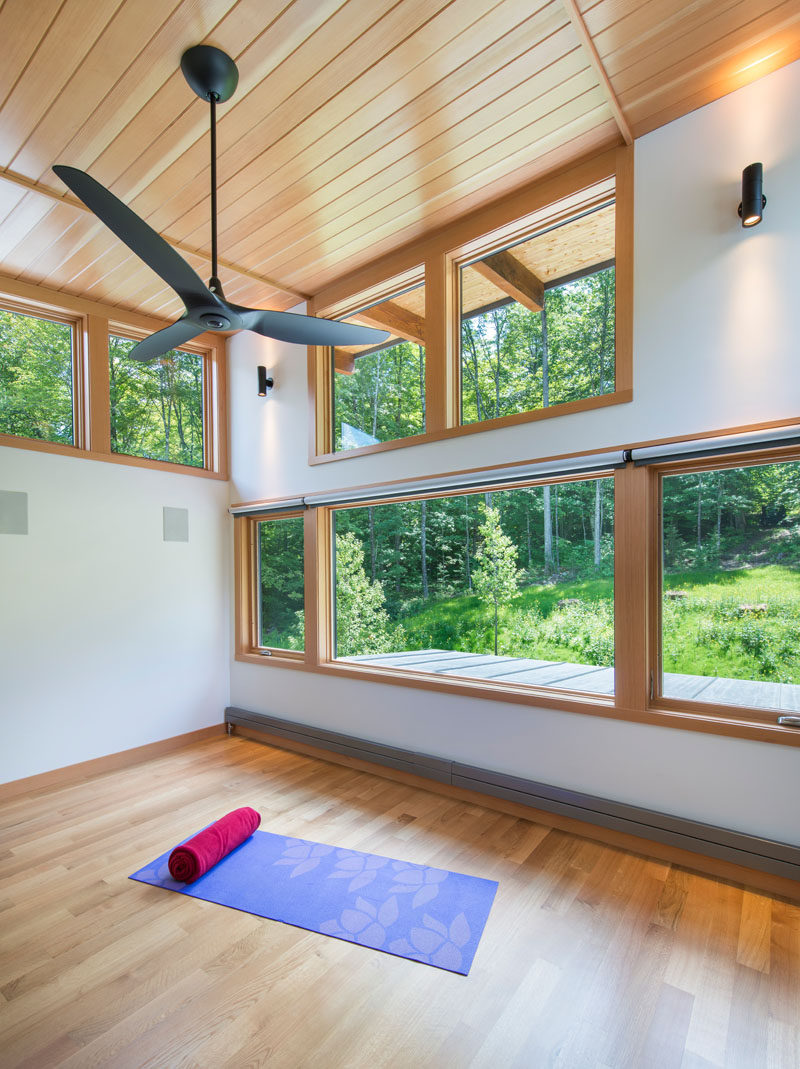 ---
In this bathroom, there's a sunken built-in bathtub and a shower with a frosted glass surround.
---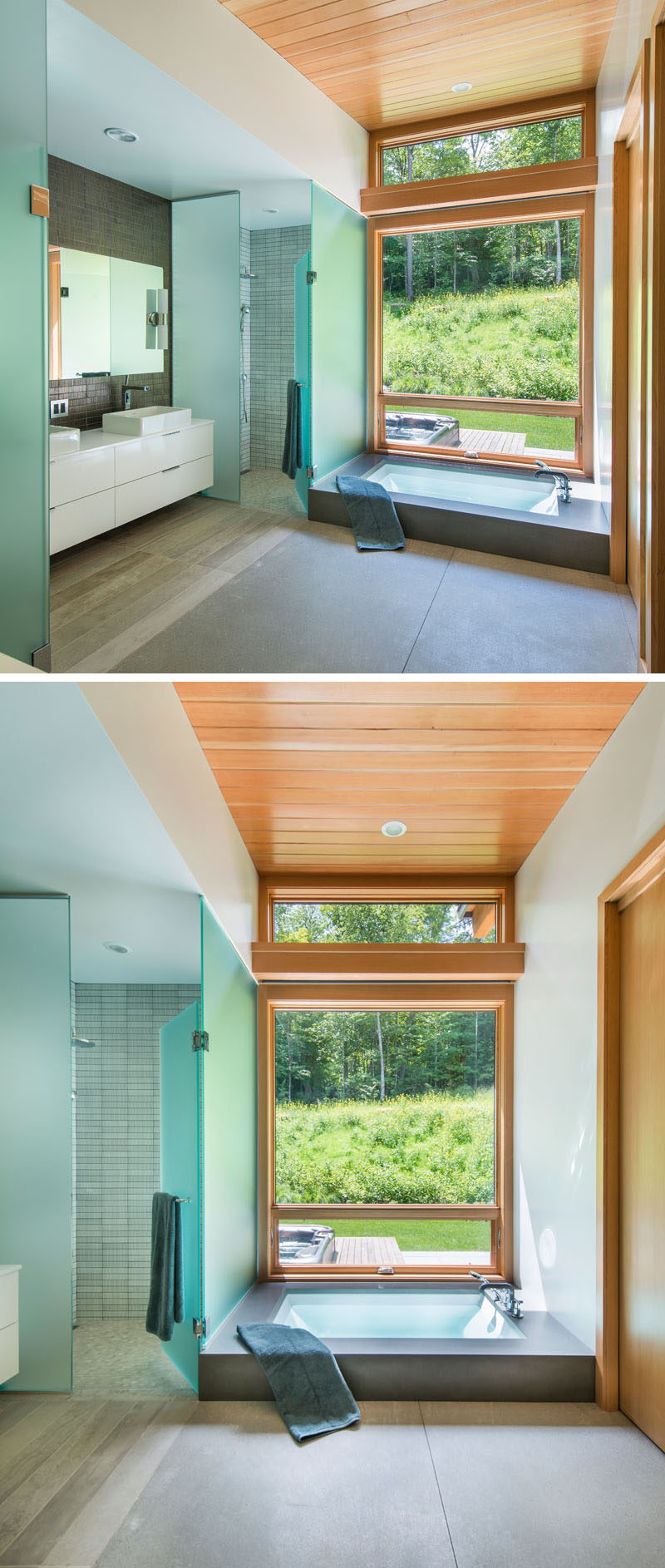 ---
In another bathroom, grey tiles adorn the walls, while a glass shower surround allows the light from the window to travel through to the vanity.
---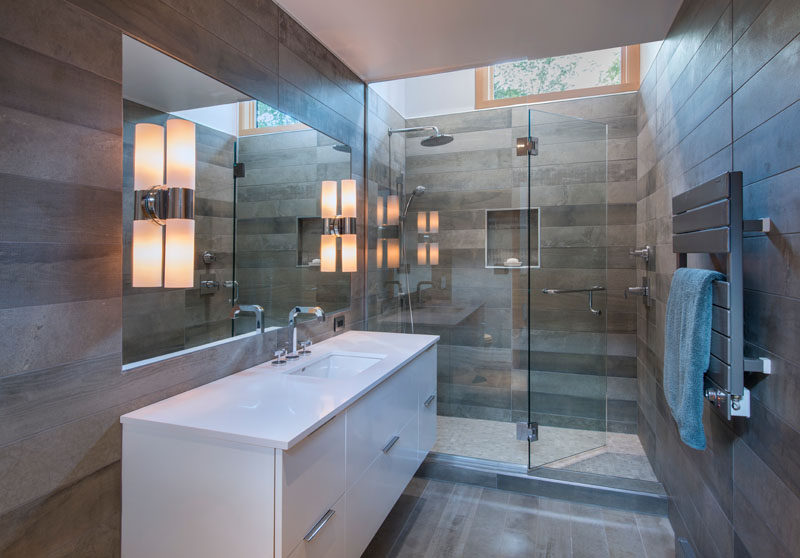 ---
Back outside and at the front of the house, there's a path that leads to the guest house and garage. The water that runs off the roof is guided to a planter, keeping the path dry.
---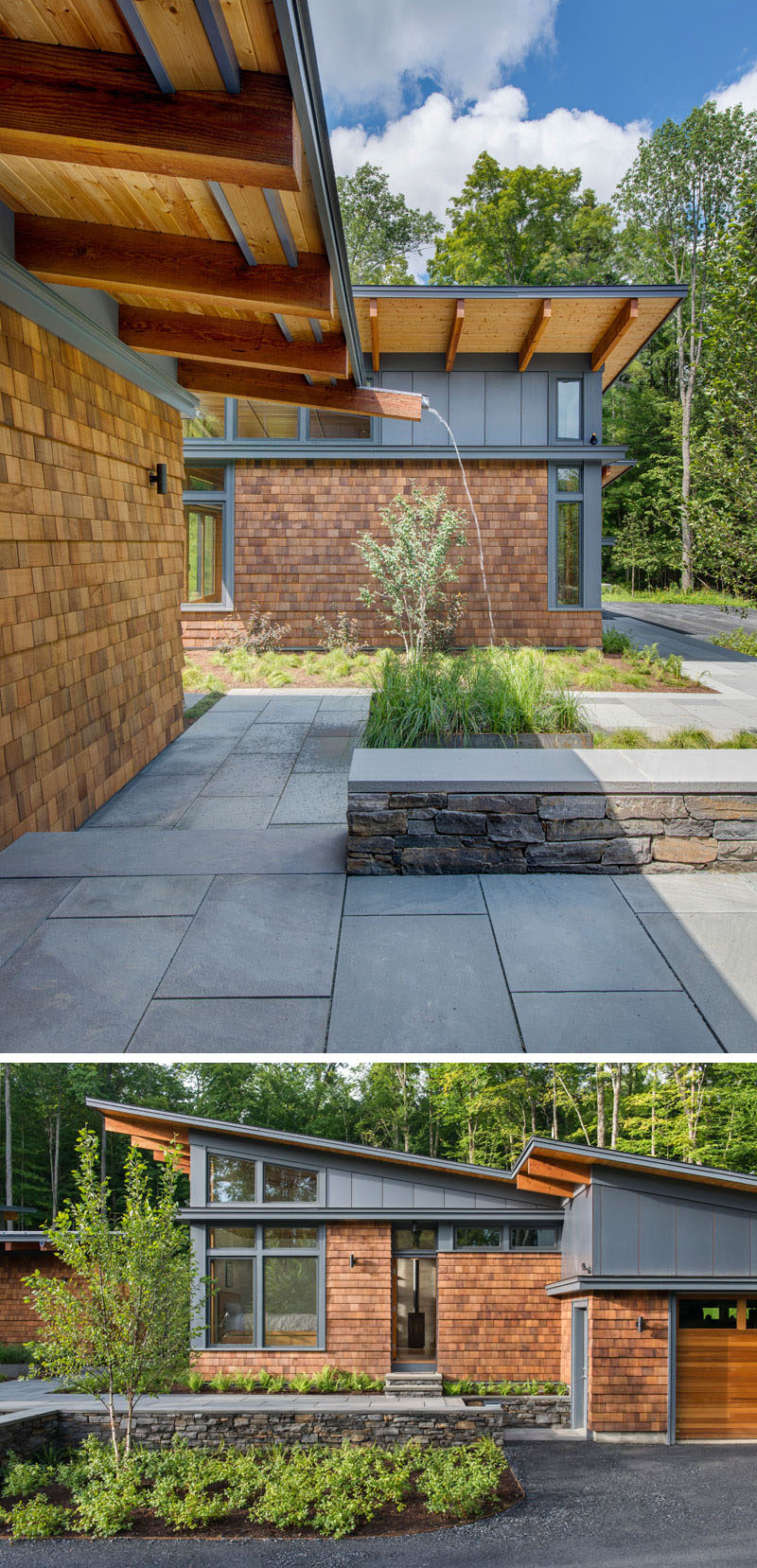 ---
The guest house, follows the same design of the main house, with a sloped roof, plenty of windows and wood shingles. Double doors open up to the backyard, while the garage is situated at the far end.
---