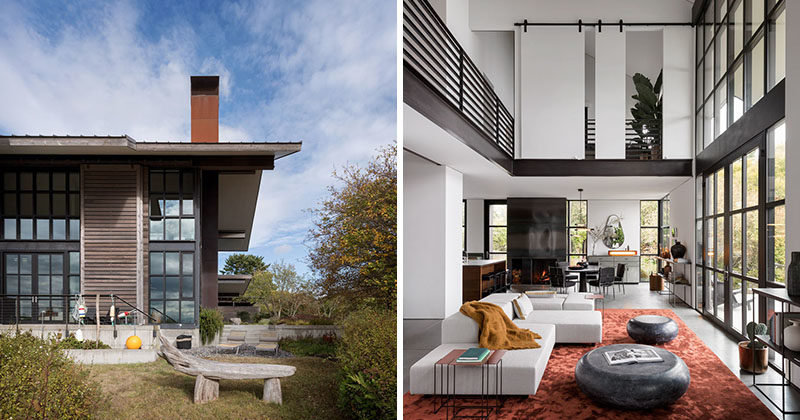 Lauren Geremia, the founder and principal designer of Geremia Design, together with architecture firm Olson Kundig, has completed the False Bay House and Writer's Cabin.
Their client, an active executive, who loves hiking, kayaking, and crabbing, and is an avid host and cook, wanted a home that was comfortable for entertaining and a showcase for his growing art collection.

Nestled in a quiet bay in the San Juan Islands of Washington State, the house features an open plan and floor-to-ceiling windows to maximize the incredible views.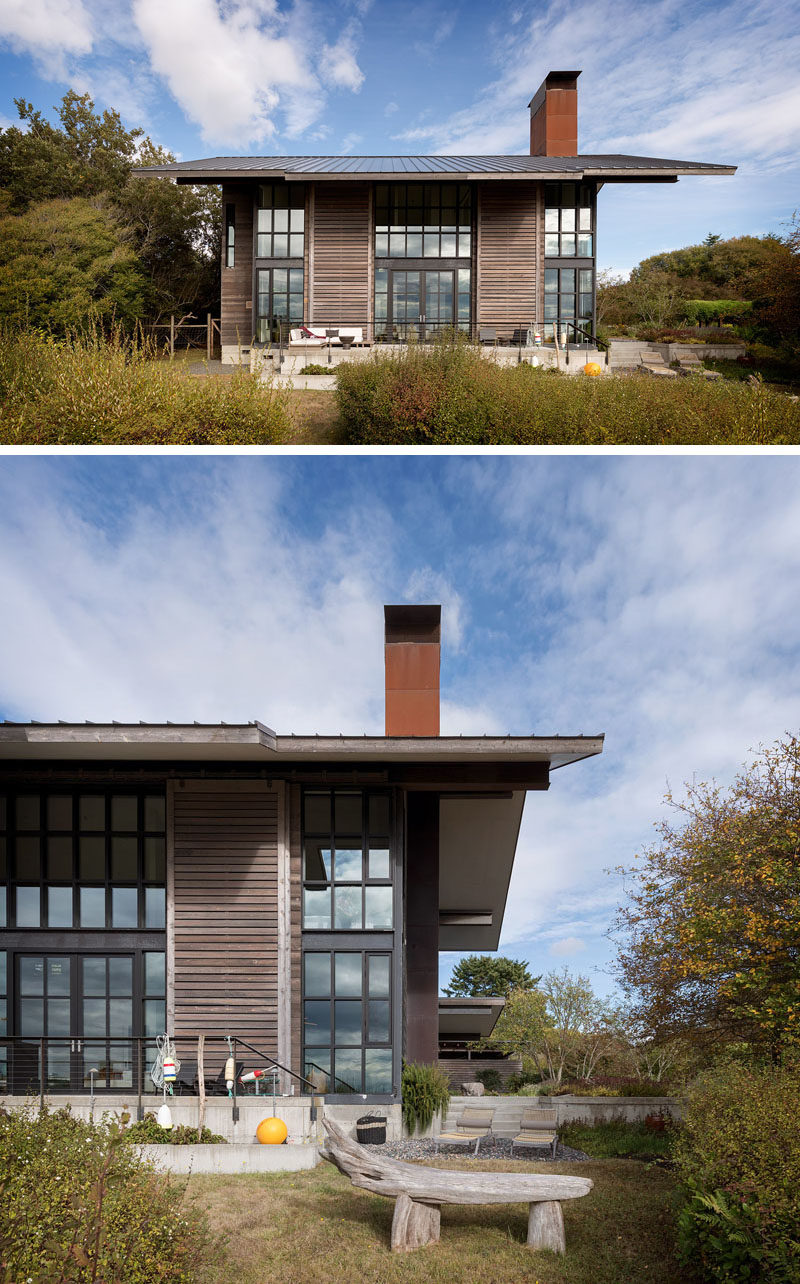 ---
Olson Kundig's architecture and warm palette set the tone for the interior of the home.

The steel front door pivots to reveal a tall hallway that leads to the social areas of the home.
---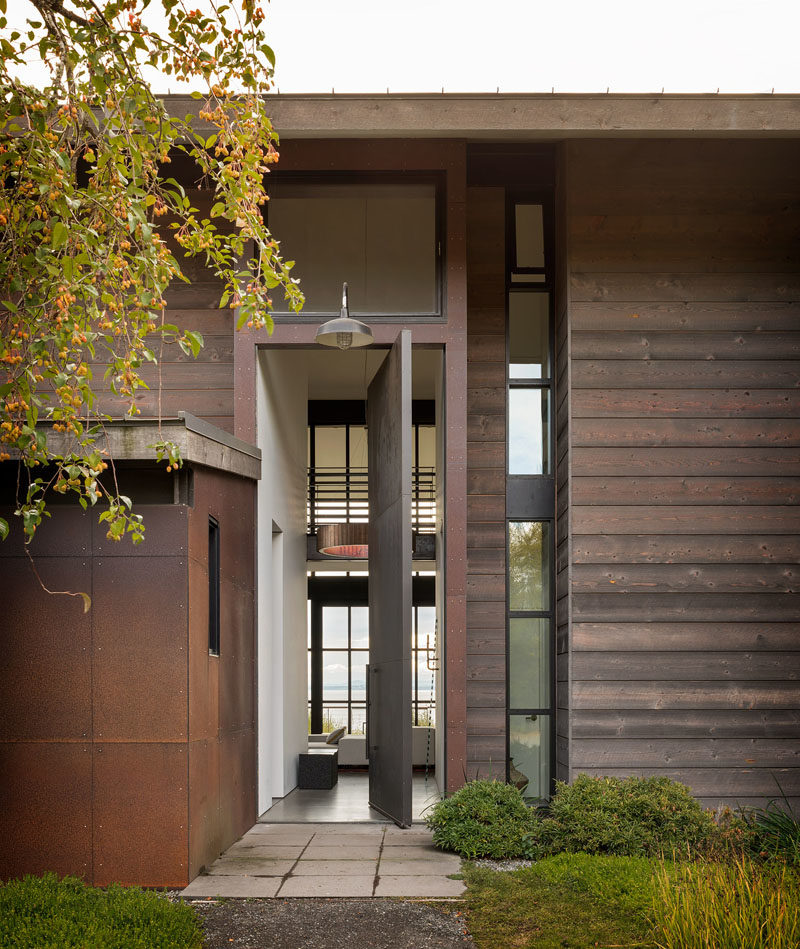 ---
In the hallway, featured pieces are on show, like John Eric Byers' iconic block bench in blackened maple, and a "Seeing Glass" art mirror piece by Sabine Marcelis.
---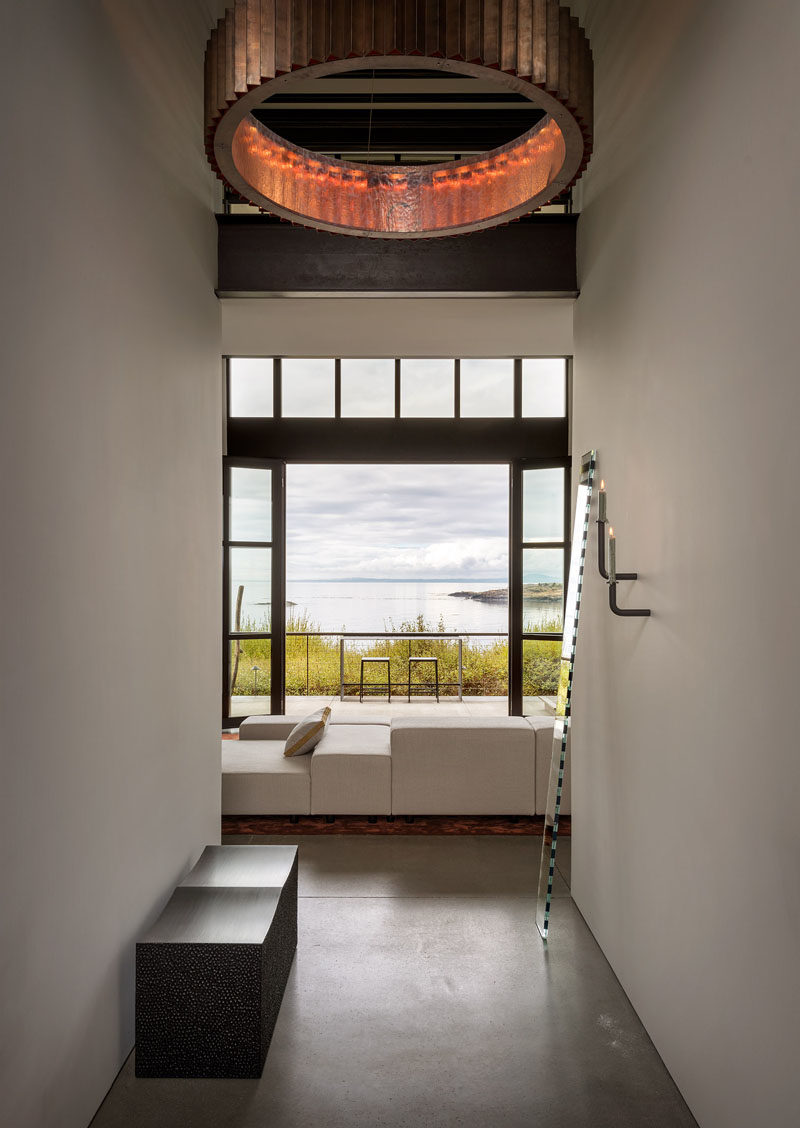 ---
Double height windows in the living room frame the picturesque bay and illuminate the silk Tai Ping rust carpet, while the Laurier Blanc acrylic glass Hekla Side Table & Stool, complement the Taylor Forest club chair, that sits beneath the Amir Zaki waterfall photograph.
---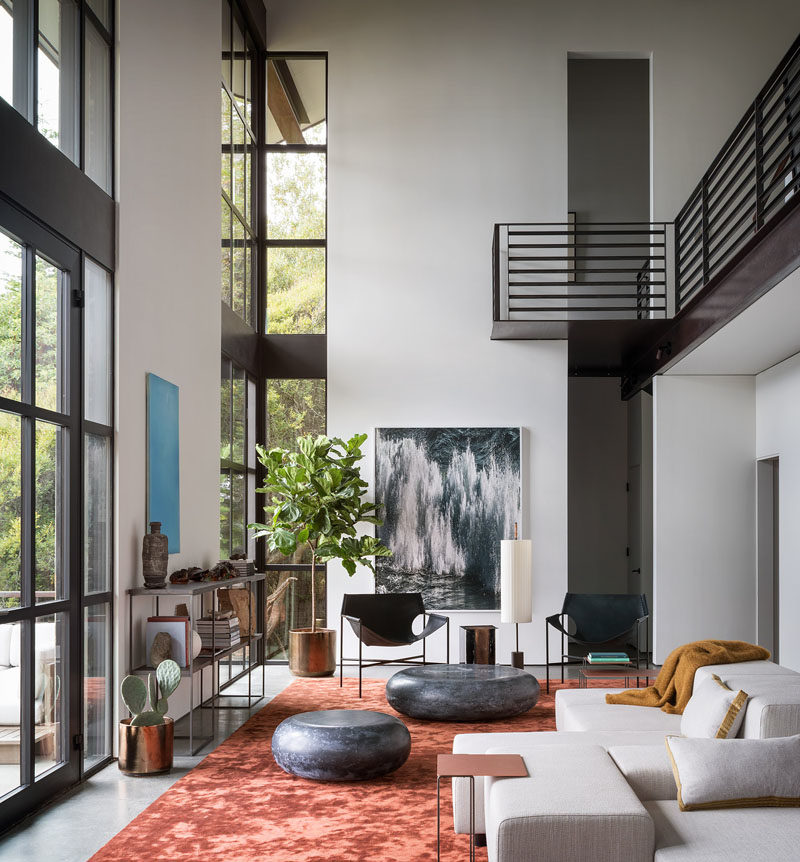 ---
Other furnishings include the Coffee Bean tables by Holly Hunt, and a custom Living Divani sofa. The open shelving credenzas were designed to align with the window mullions.
---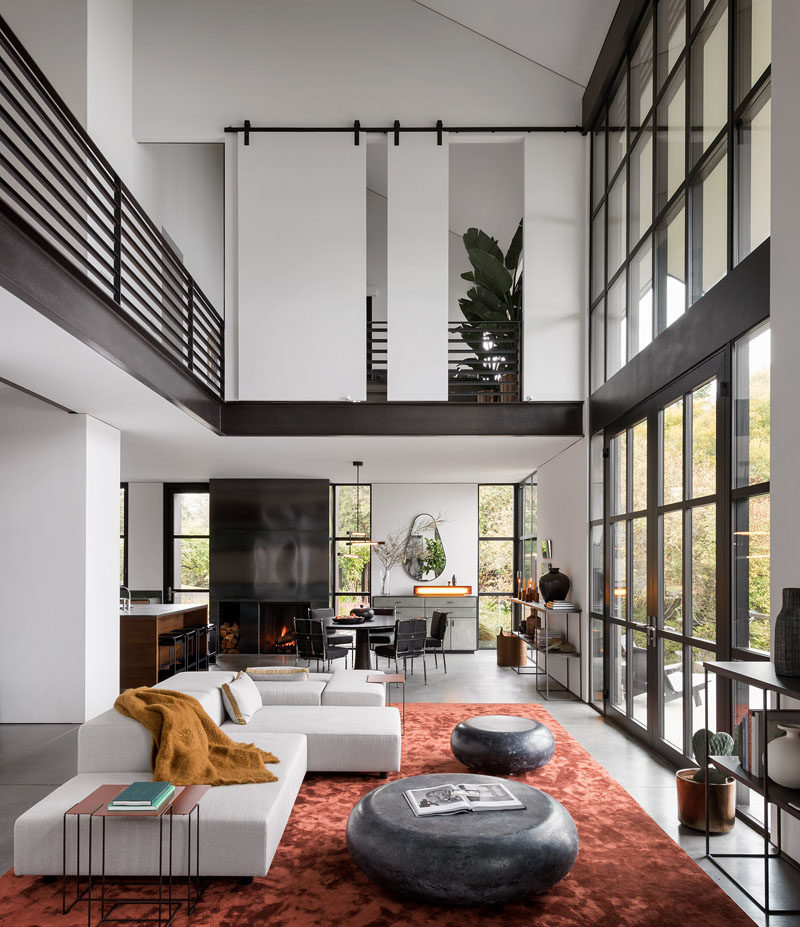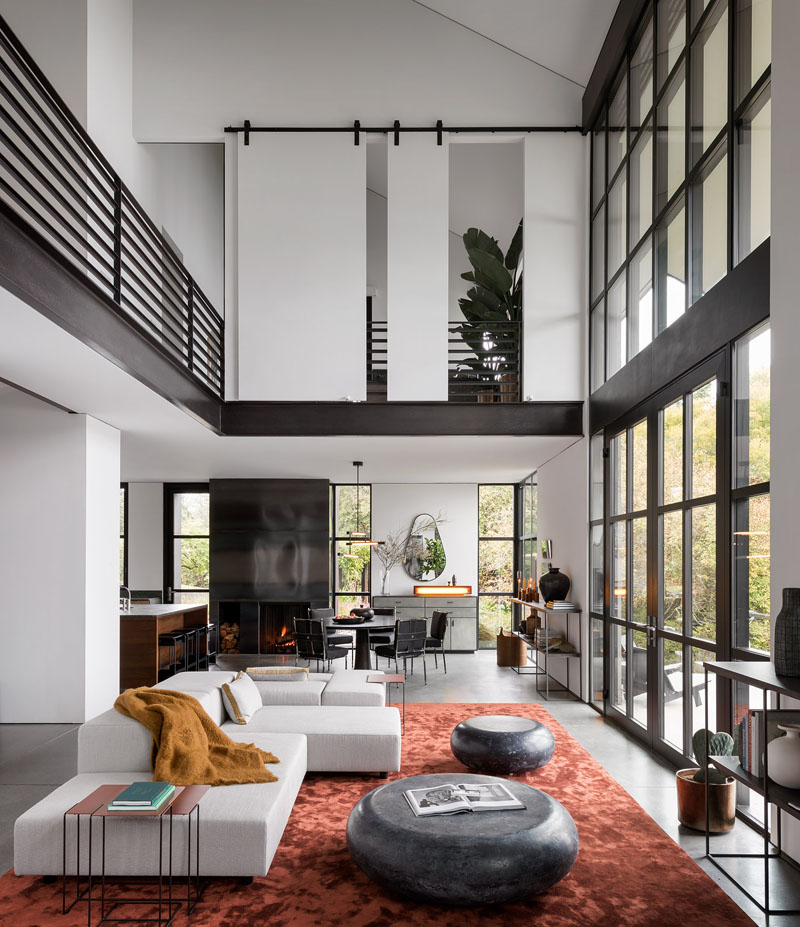 ---
In the dining room, a Wintercheck Factory Light sits atop a credenza by Wüd Furniture. Iron and saddle leather Casamidy chairs surround the Nolan Dining Table by Troscan Design, while the lighting fixture is Mary Wallis's Melbourne 3-Tier Pendant in matte black.
---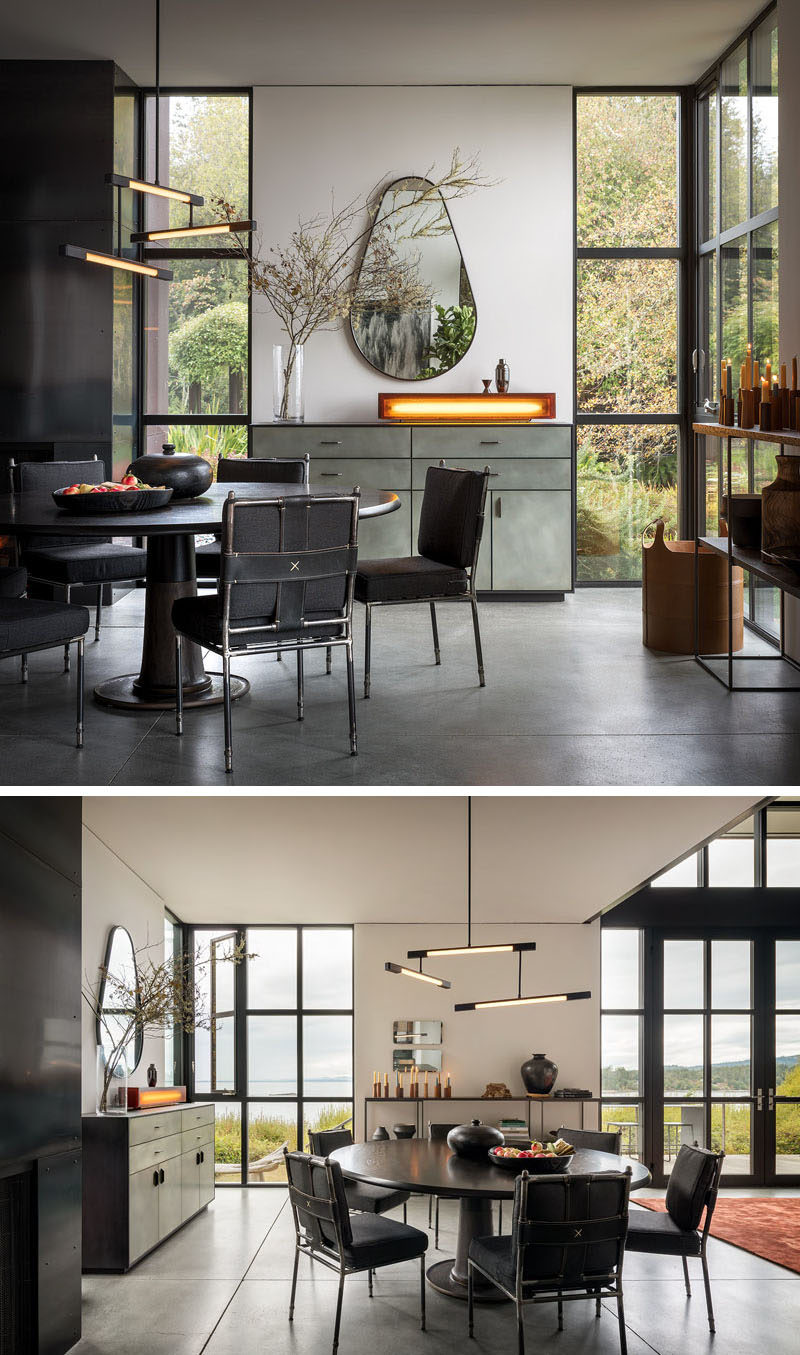 ---
The Olson Kundig-designed kitchen features green soapstone countertops and oak veneer cabinets.
---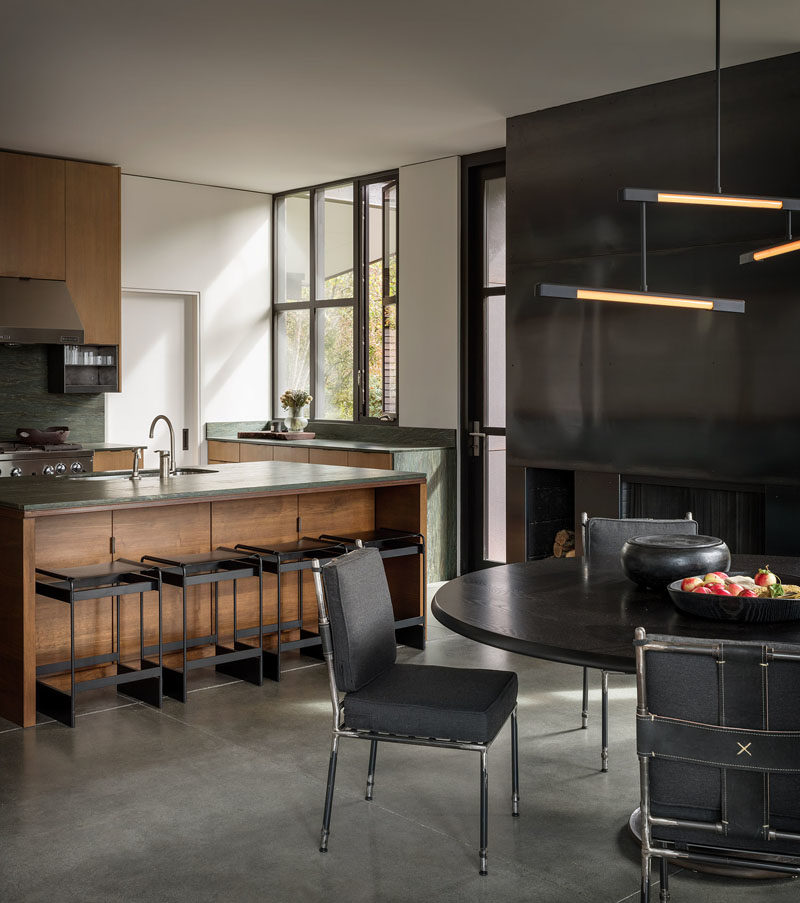 ---
Also on the ground floor of the home is a bedroom with floor-to-ceiling windows in a corner, and a pop of color on the bed in the form of a bolster pillow and a blue throw.
---
---
Stairs by the front door lead to the upper floor of the home, that features a balcony overlooking the living room below.
---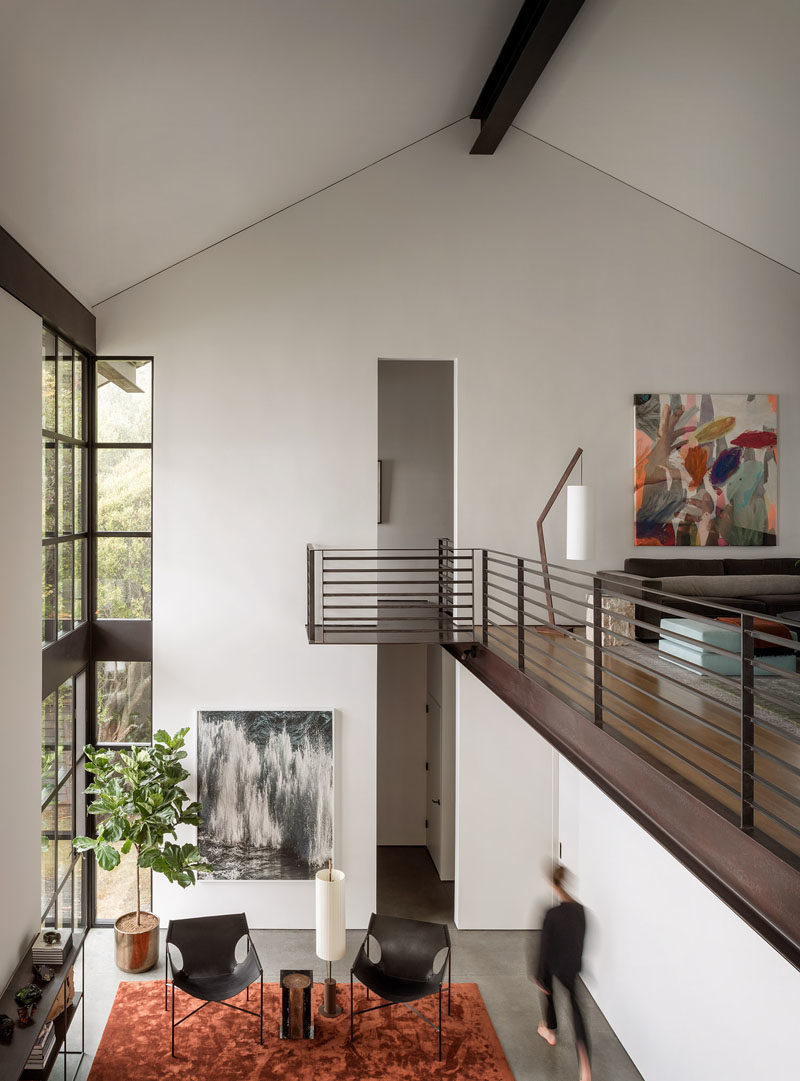 ---
A second smaller living room has a custom-designed shelving unit with a desk hidden within a closet.
---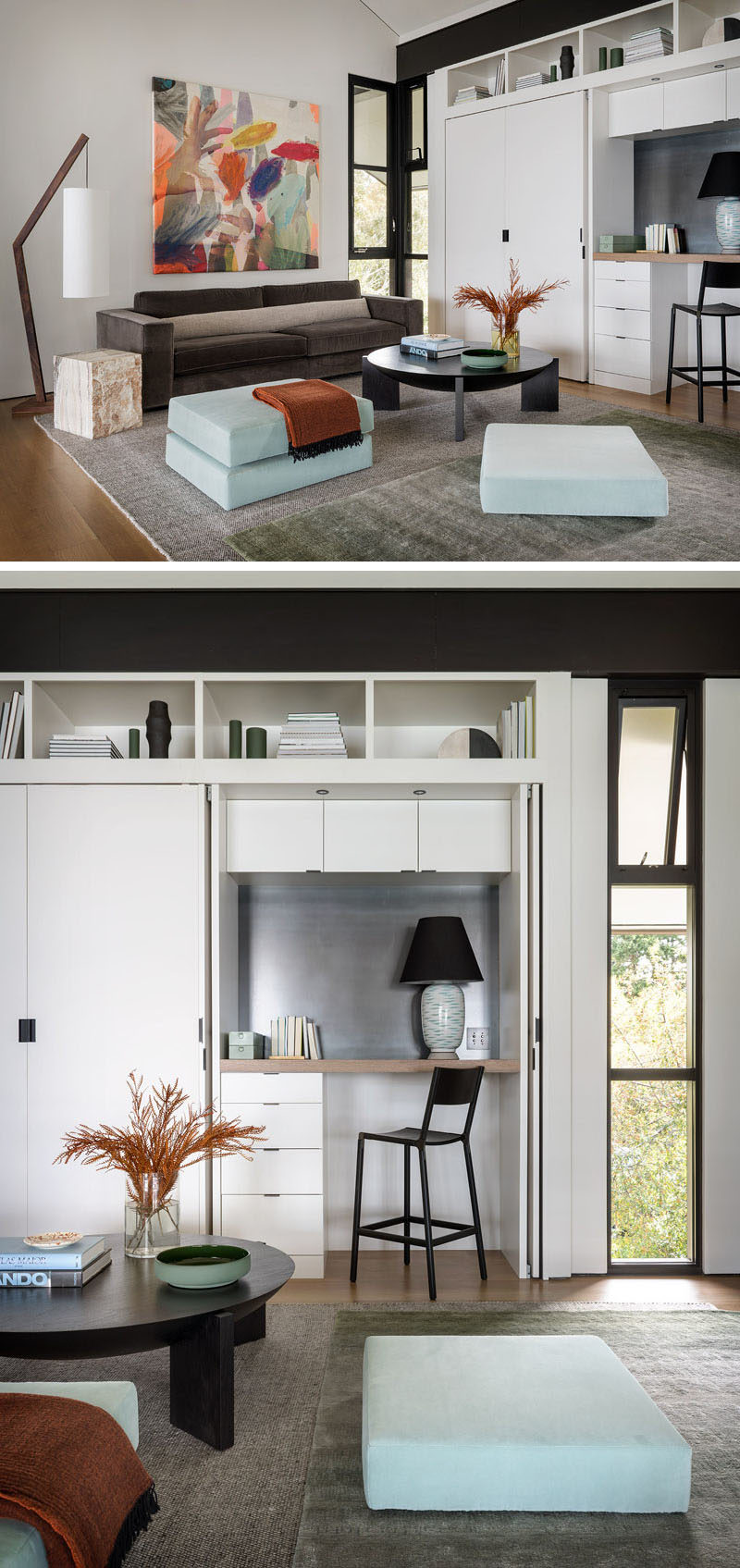 ---
In the master bedroom, a custom leather and steel bed, designed by Geremia in collaboration with fabricator Tod Von Mertens, is complemented by a rolled steel and Thassos marble fireplace.
---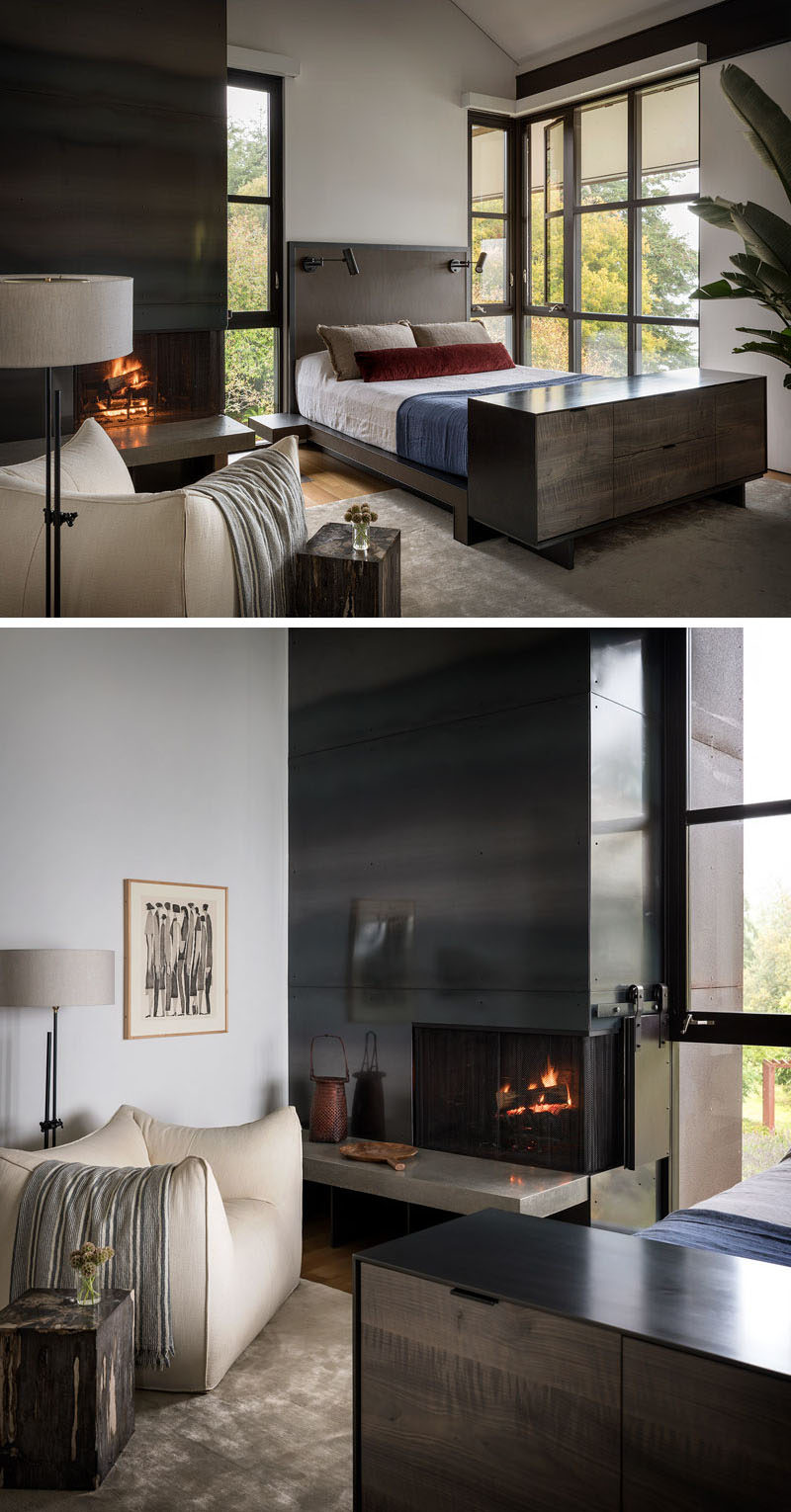 ---
In the master bathroom, a deep soaking tub is positioned to take advantage of the treetop views.
---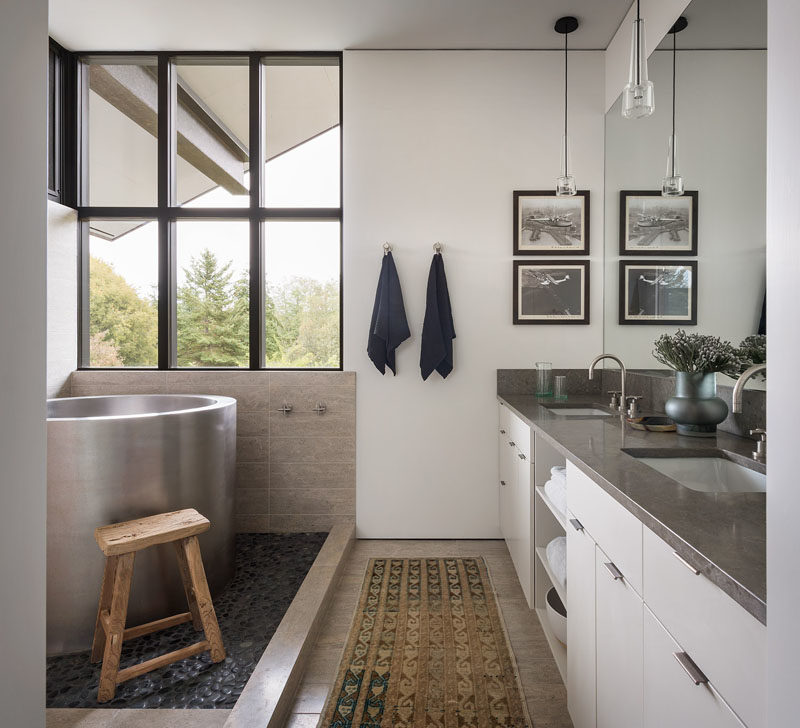 ---
Also on the property is The Writer's Cabin, a 500-square-foot glass guest cabin, that's surrounded by three wooden decks that, through a system of hydraulic winches, wire rope, pivoting sheaves and lead blocks, can be raised to serve as shutters, easily securing the cabin when not in use.
---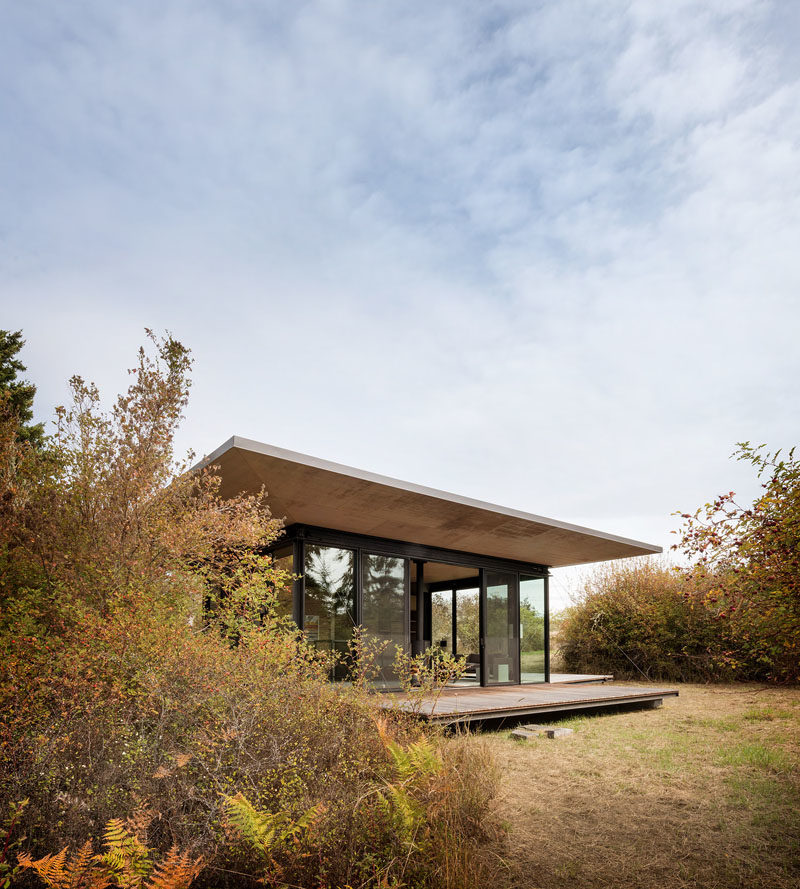 ---
Inside, the guest cabin is furnished with Made in Ratio's sculptural Cowrie Chair, a TRNK Truss Sofa and sculptural side table, and the Rodan Coffee Table by Pinch.
---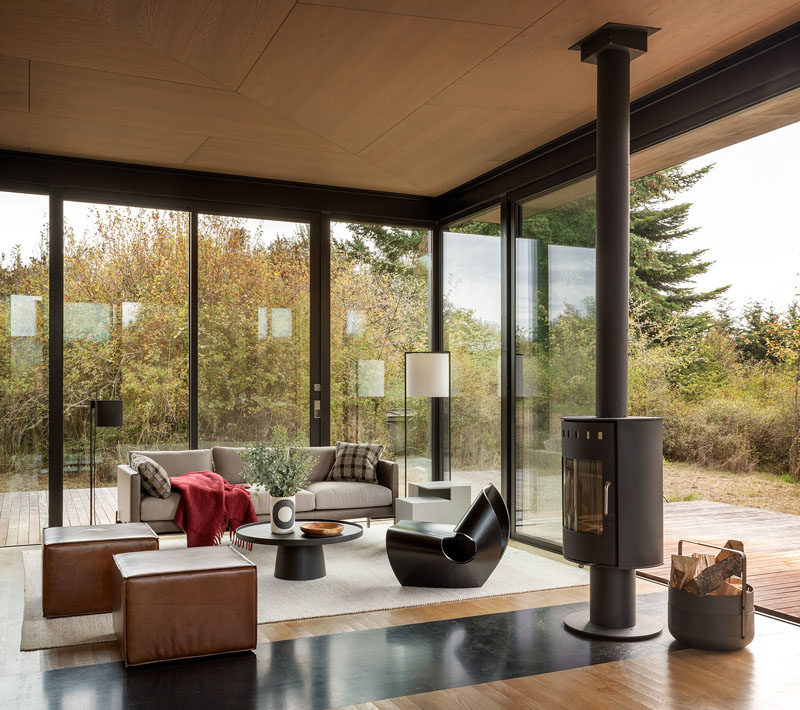 Photography by Aaron Leitz | Architect: Olson Kundig | Interiors: Geremia Design
---
Get the contemporist daily email newsletter – sign up here