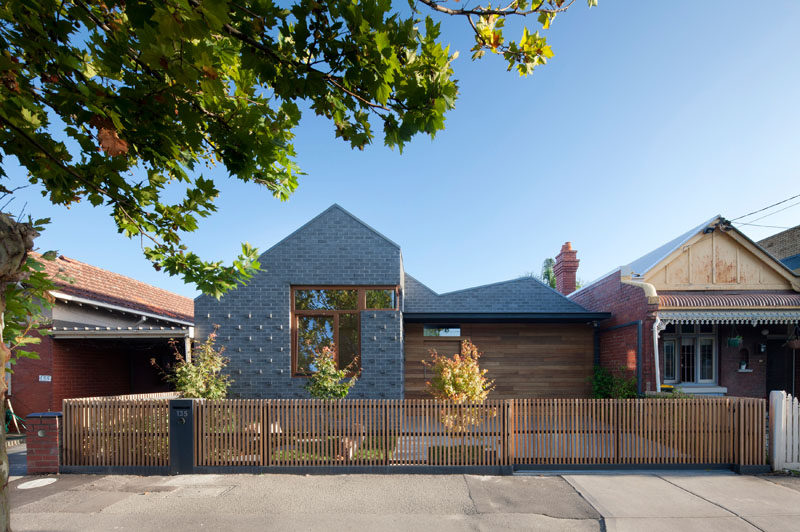 Steffen Welsch Architects have designed a small home in Melbourne, Australia, that consists of five separate rooms designed specifically for living, working, sleeping, dining, and entertaining, as well as four courtyards that serve to both separate and connect the home, depending on the needs of who's home. Let's take a look around.
At the front of the home, a combination of grey brick and wood paneling covers the front exterior. Protruding bricks at the front add texture and depth, while the wood paneling that matches the trims of the windows and the fence adds warmth and a natural look to the home.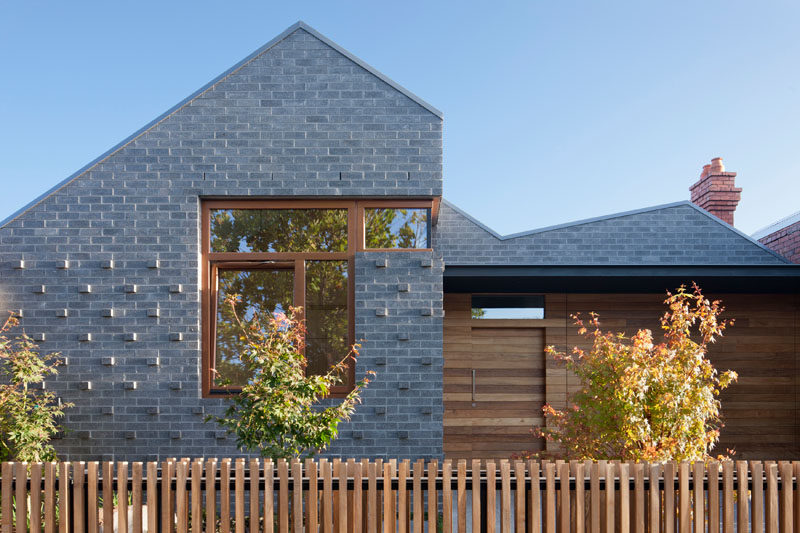 ---
Through the front door, a long hallway lined with art leads to the various rooms or pavilions. White walls and clerestory windows help keep the home feeling airy and naturally bright.
---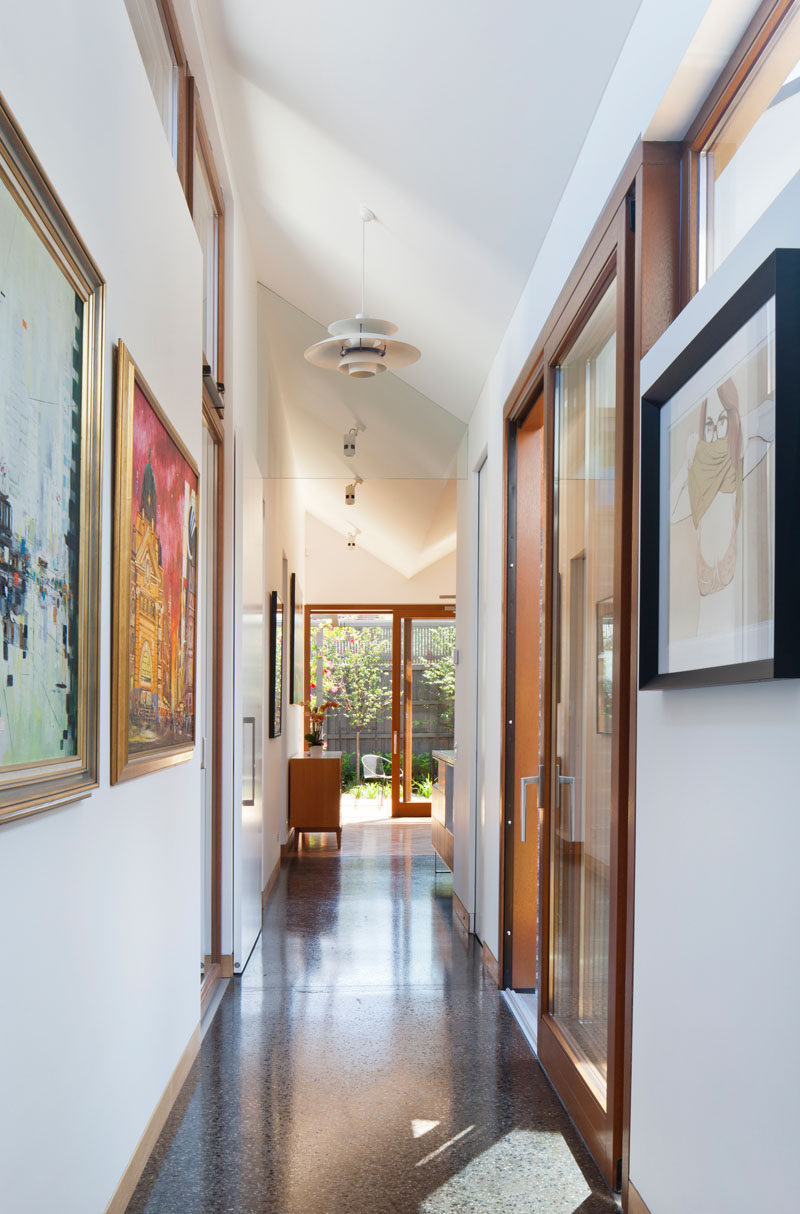 ---
In the first bedroom, light wood paneling lines the wall behind the bed and matches the bed frame and the night stand, creating a unified look, adding warmth, and keeping the room bright.
---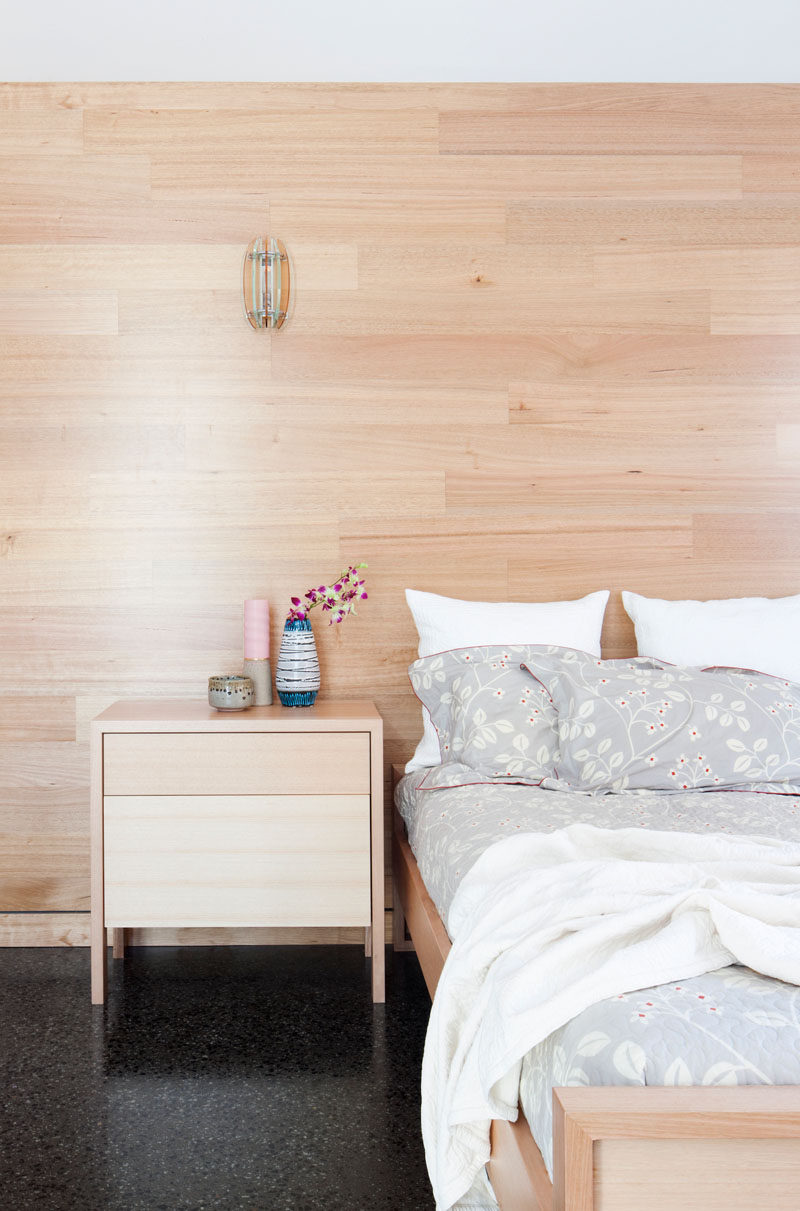 ---
In one of the bathrooms there's bright green flooring and built-in shelving in the shower, and a floor-to-ceiling wood framed door that opens off the shower into the courtyard just outside.
---

---
In another bedroom, again, a wood paneled feature wall behind the bed adds a natural touch to the room and unites the other wood details, like the frame around the sliding glass door. The sliding glass door opens up into a small bright courtyard with a stone path that leads into the library.
---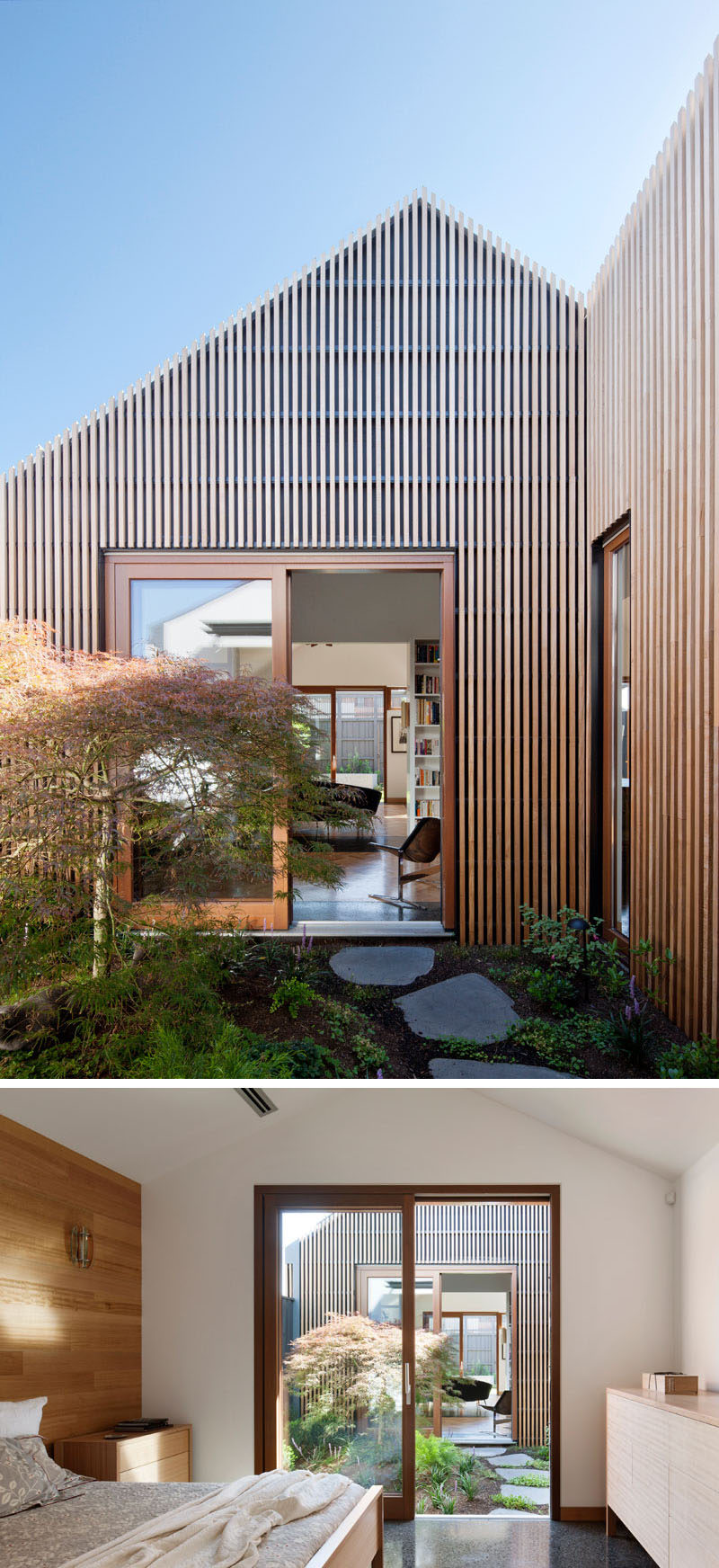 ---
Back in the main hallway, you can see the front door at one end, the wood deck off to the side, and the entrances to the various living and sleeping areas down the hall.
---
---
At the back of the house are the kitchen and dining areas. The same light wood used throughout the rest of the home is found on the kitchen cabinets and island, while an artistic backsplash and a couple of red accents bring a touch of fun and color into the room. From the kitchen you can also see out onto the deck just outside and into the home office on the other side of it.
---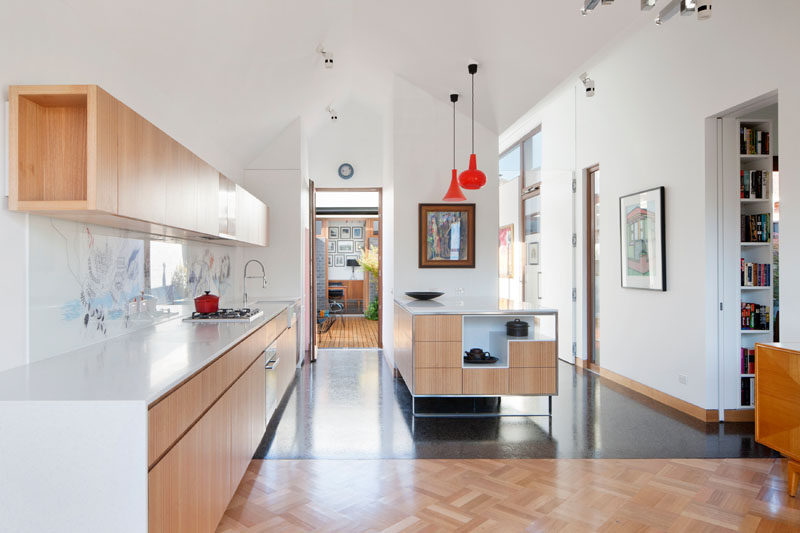 ---
Off the kitchen sits the dining area. A large sliding glass door leads from the dining room onto the outdoor deck at the very back of the home and two open archways lead to the more formal living areas.
---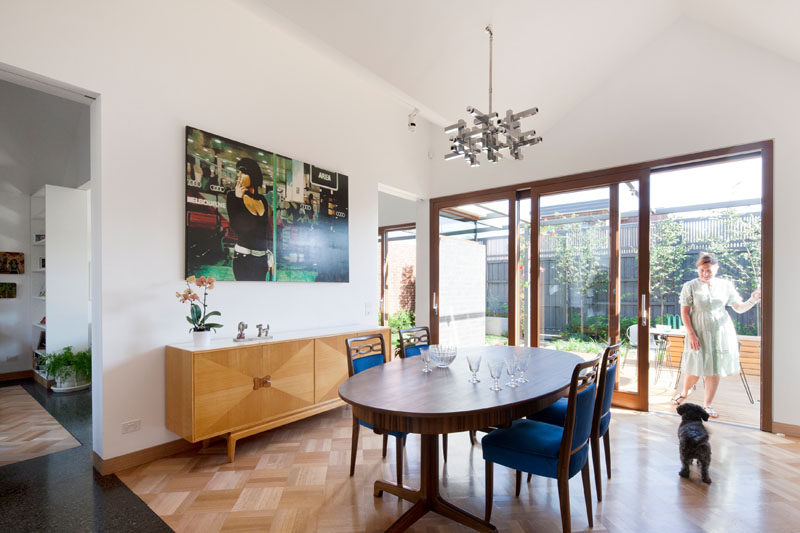 ---
In the backyard, a sunny dining patio sits under a pergola that will one day be covered in plants to provide shelter from the sun. A circular grassy seating area and a small garden on the other side of the yard are just off of the formal living room and provide a more casual spot to sit and enjoy the day.
---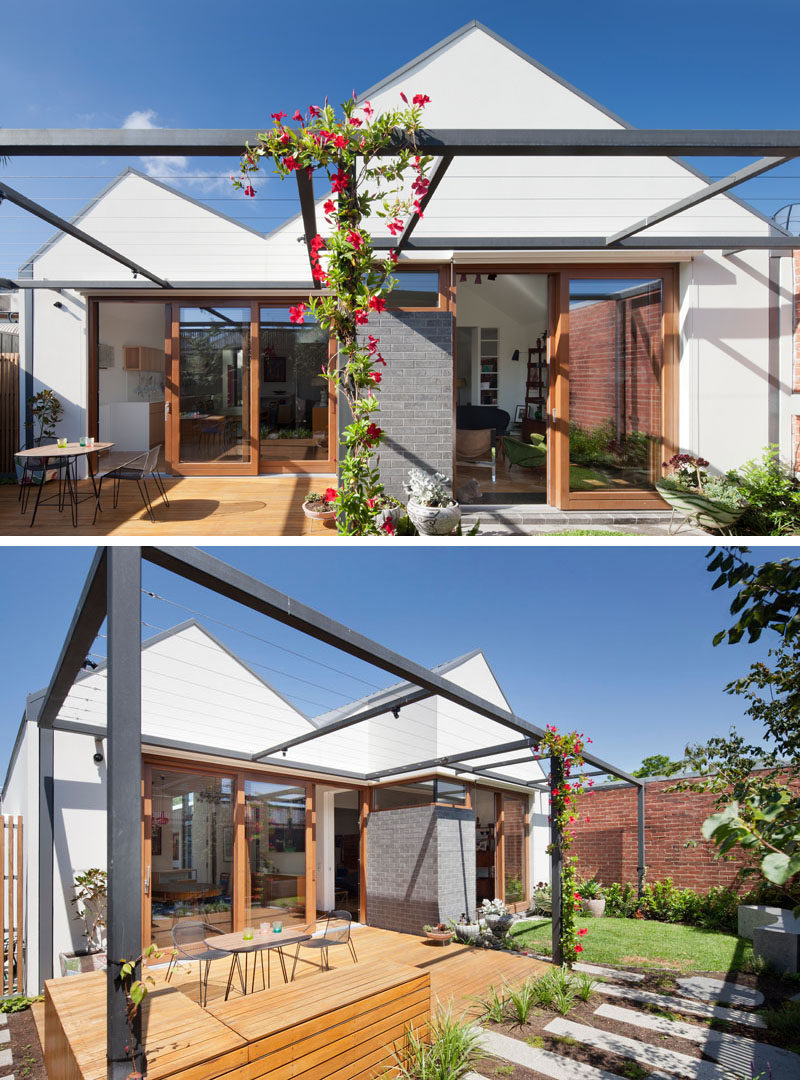 ---
Here's a look at the floor plan that shows the layout of the house.
---