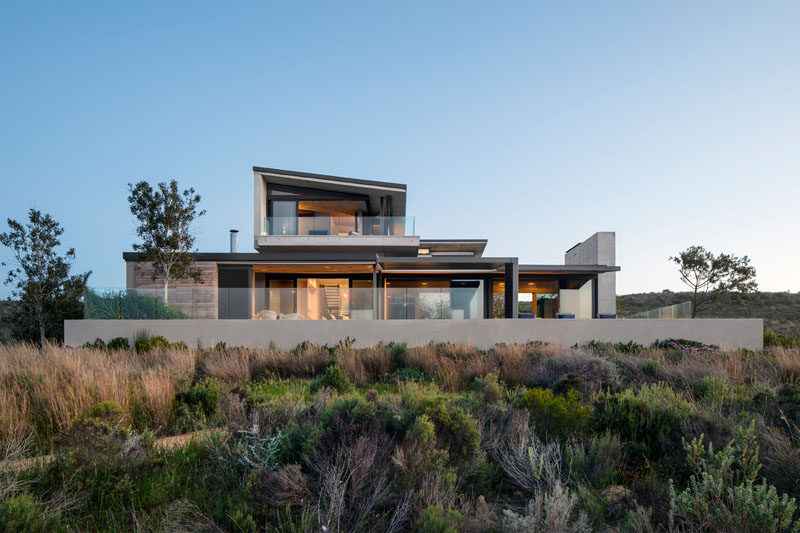 Architecture firm SAOTA in collaboration with interior design firm ARRCC, have recently completed the Benguela Cove residence, a new and modern holiday house in Overberg, South Africa, that has expansive views of a lagoon.
---
Sections of the house are clad in timber, while the roof has been made from corrugated aluminium. The entrance has been designed to be deliberately understated, with a modest canopy sheltering the front door.
---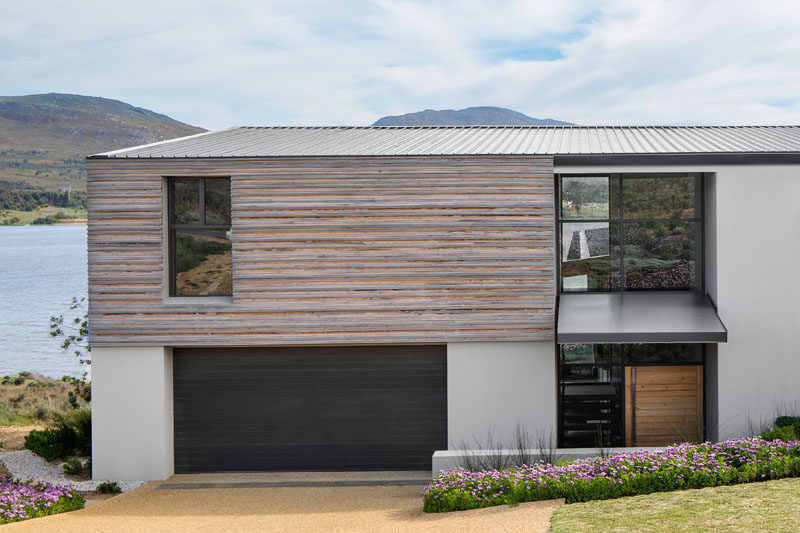 ---
Inside, there's a landing with views of a courtyard, before stepping down into the social areas of the house.
---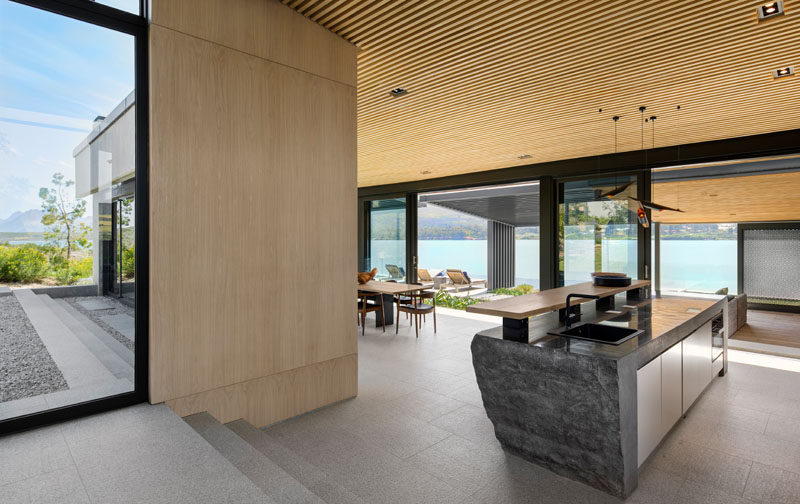 ---
In the kitchen, the kitchen island has been created using rough solid blocks of granite, with a highly polished top that serves as the counter, and contrasts the light wood cabinetry and breakfast bar.
---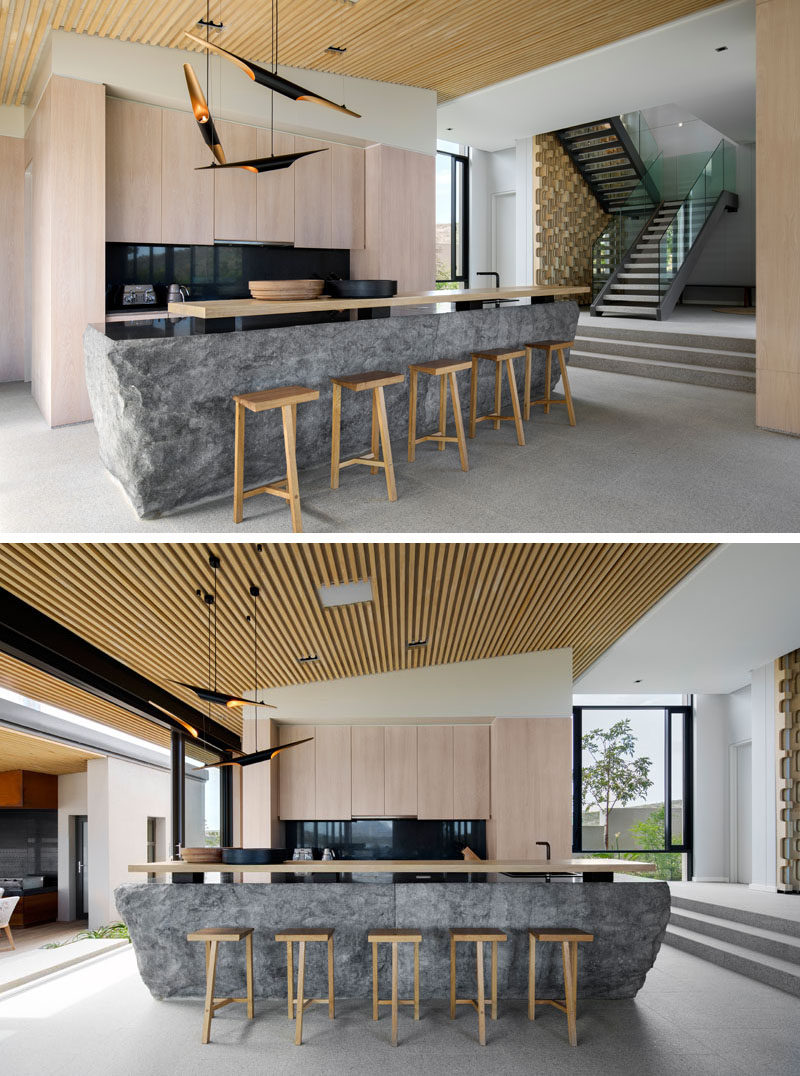 ---
The kitchen looks out over the open-plan dining and lounge areas that open up to outdoor spaces on both sides, while granite covers the floor and wood slats are featured on the ceiling.
---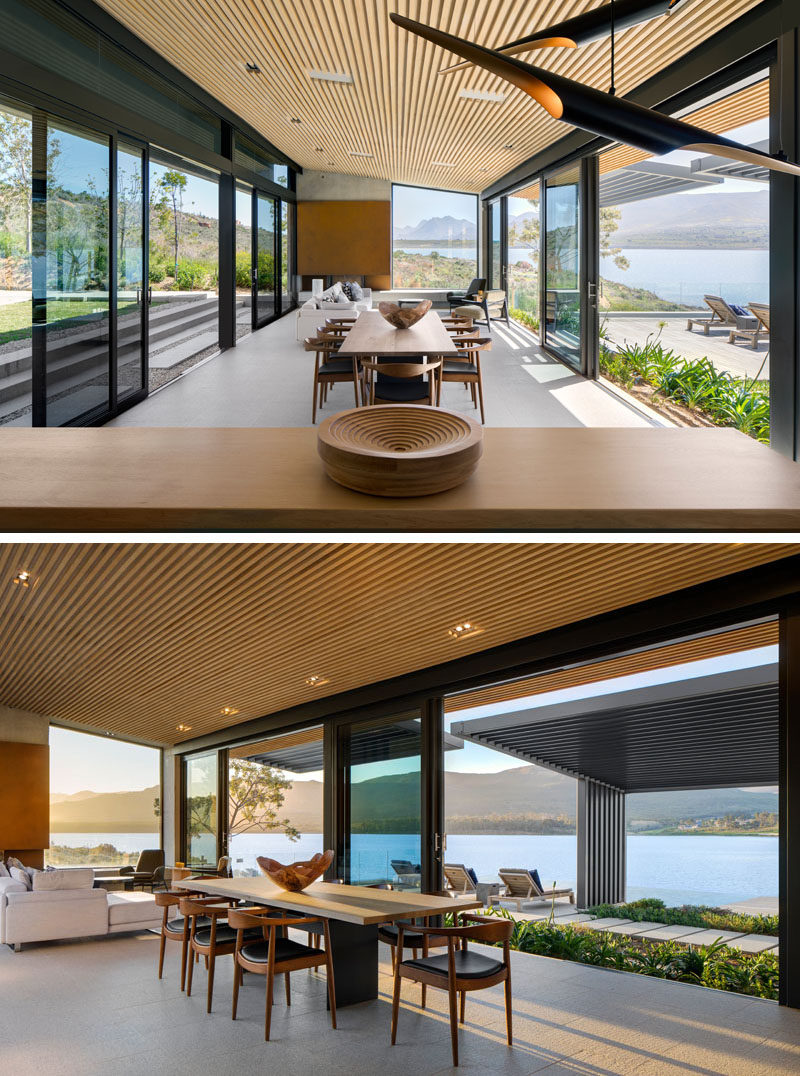 ---
In the living room, a fireplace and picture window are framed in a massive concrete hearth wall, and the flues are clad in carefully pre-weathered steel.
---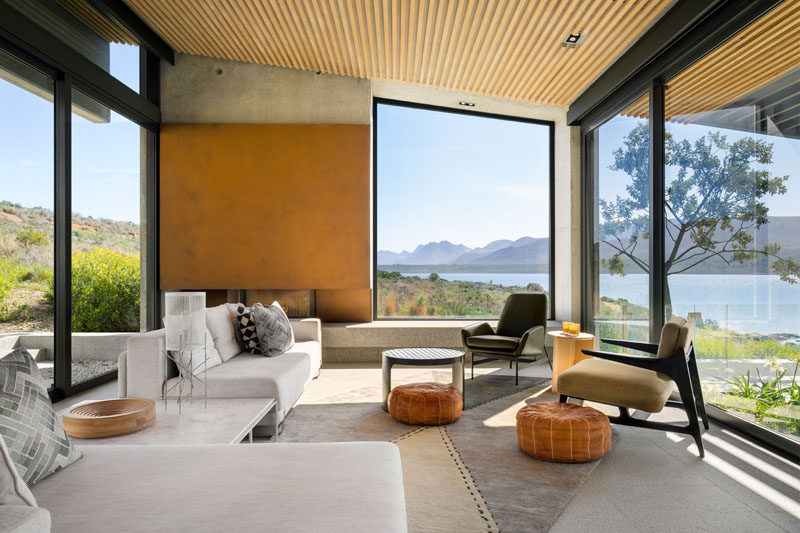 ---
Adjacent to the interior living spaces are outdoor spaces, like a sun deck, lounge and dining / kitchen area, that have been designed for entertaining. Movable screens allow for protection from the elements when needed.
---
---
Back inside and by the front door are stairs with a glass railing, that rise alongside a CNC-cut timber screen.
---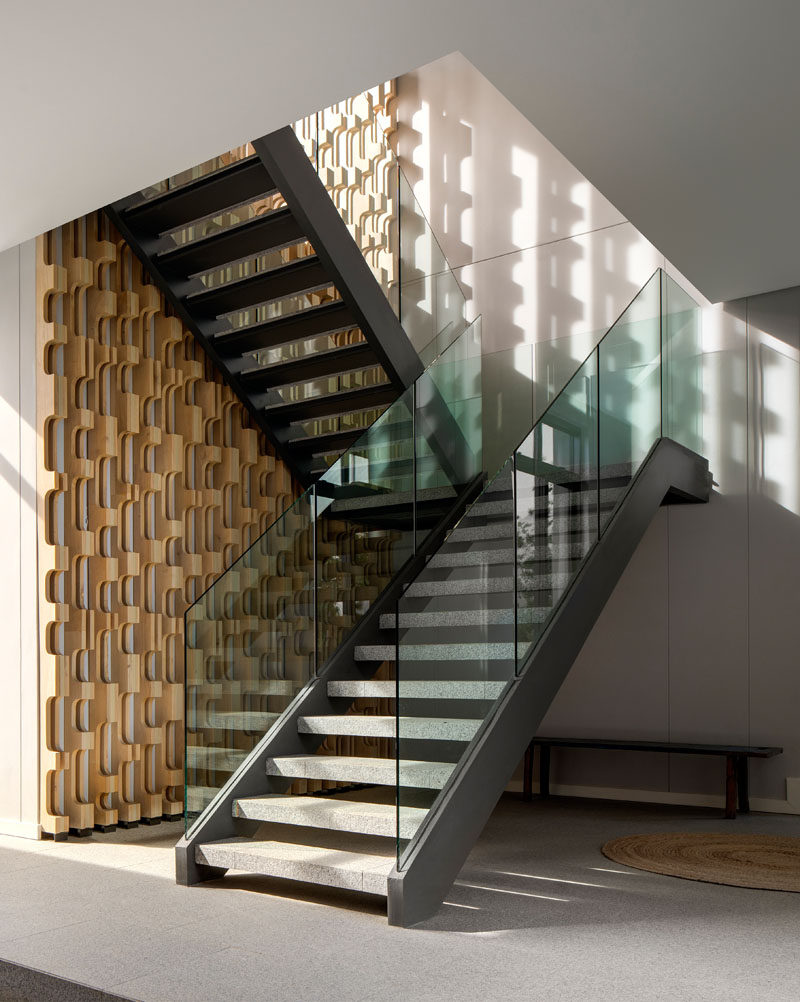 ---
Upstairs and in the master bedroom suite, architectural materials such as concrete and granite have been used, while the bedroom is positioned to have elevated views across the lagoon and to the mountains beyond.
---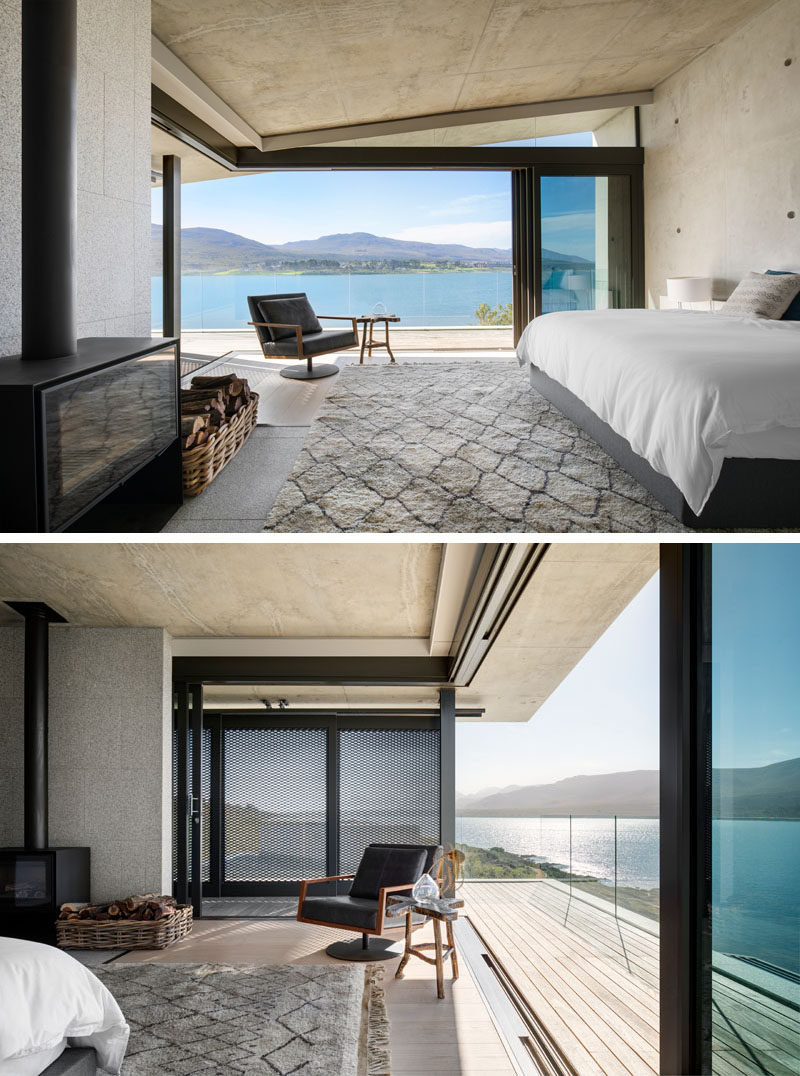 ---
In the bathroom that's open to the bedroom, wood flooring adds warms to the space, while a vertical window provides a glimpse of the view from the bathtub.
---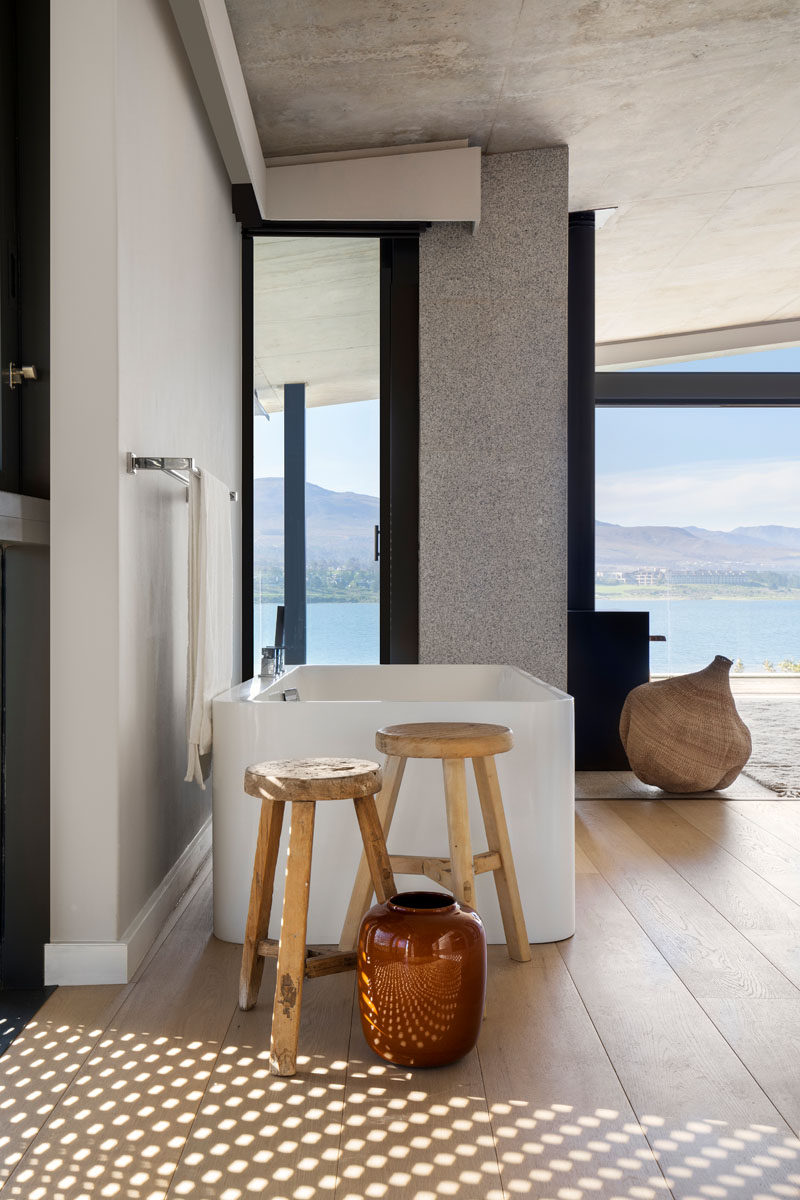 Photography by Adam Letch | Architects: SAOTA | Interior Design: ARRCC – Project Team: Mark Rielly; Sarika Jacobs
---