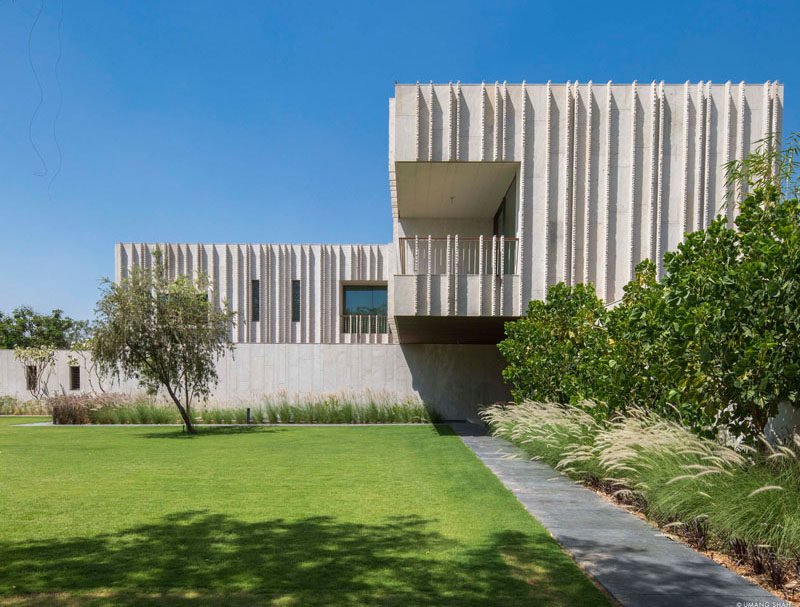 SPASM Design have recently completed a new modern house in Ahmedabad, India, that features an exterior of Dhrangadhra stone, and a simple cross layout.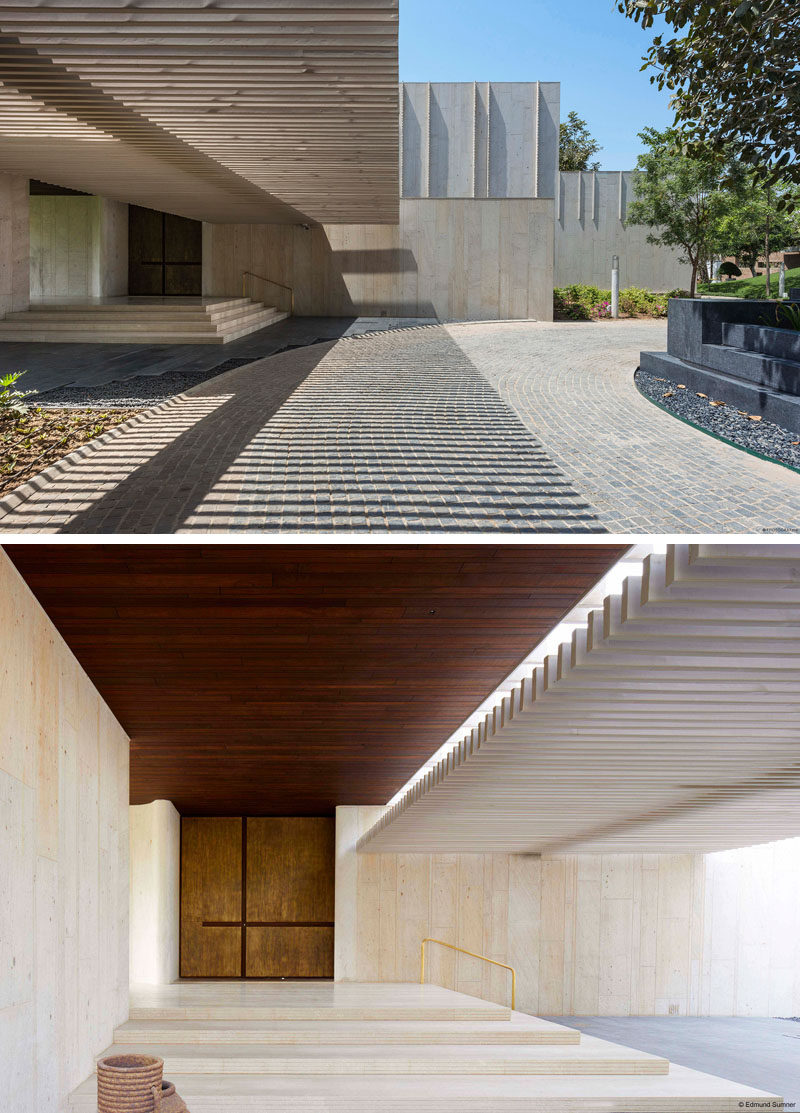 ---
To one side of the front door is a pond water feature that has a simple child-like sculpture of a folded sailboat.
---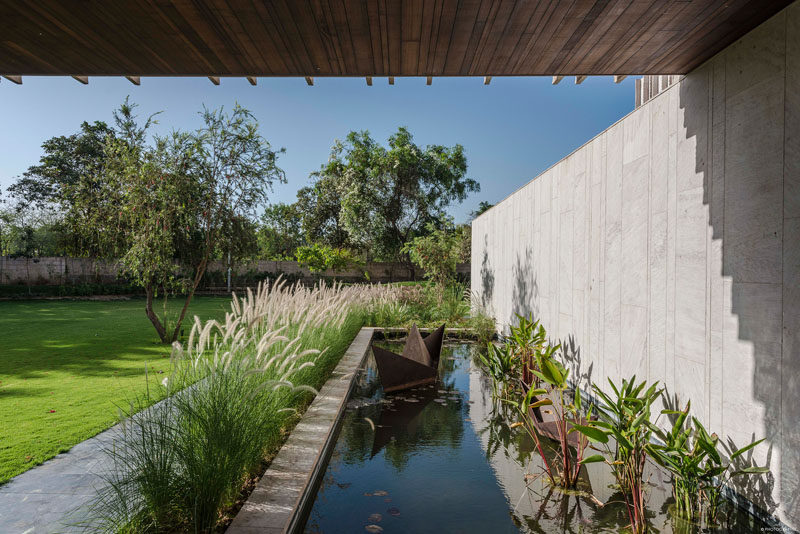 ---
Stepping inside the front door, there's another water feature with a life size sculpture of a pensive monk, made from Beslana stone, that's gingerly poised on the water's surface as if levitating.
---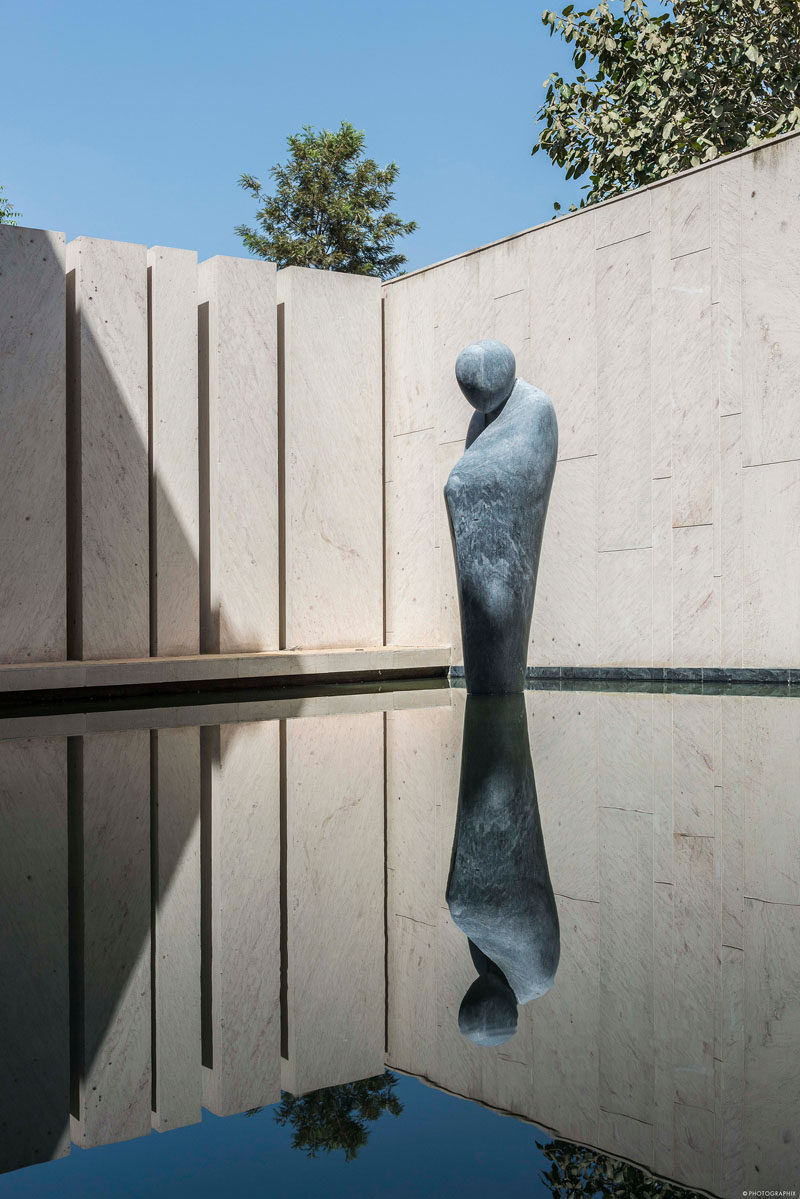 ---
Due to the cross shape of the house, there's multiple courtyards that facilitate the  movement of air throughout the home. The landscaped garden has solid stone stairs that lead to an elevated garden roof.
---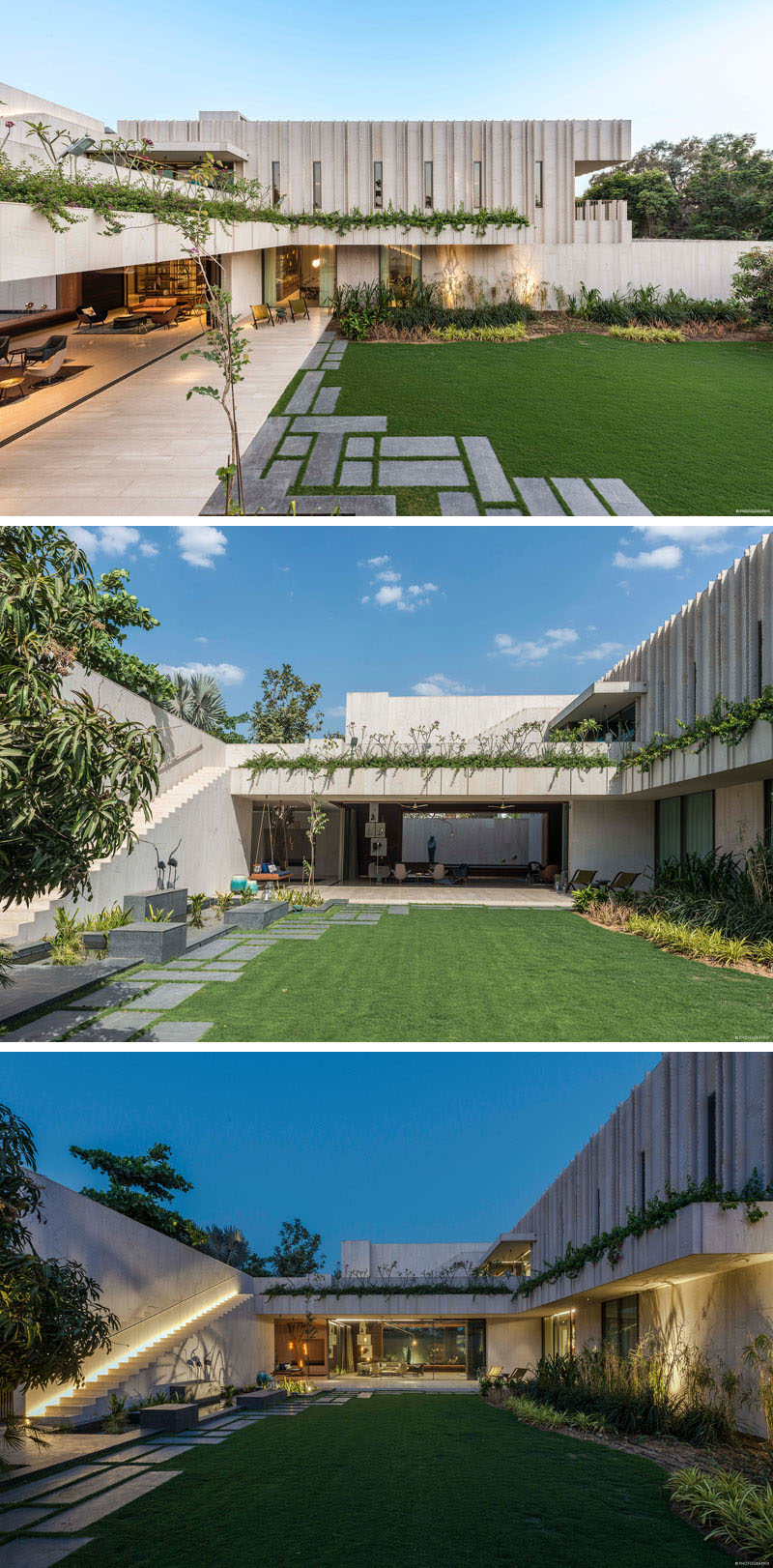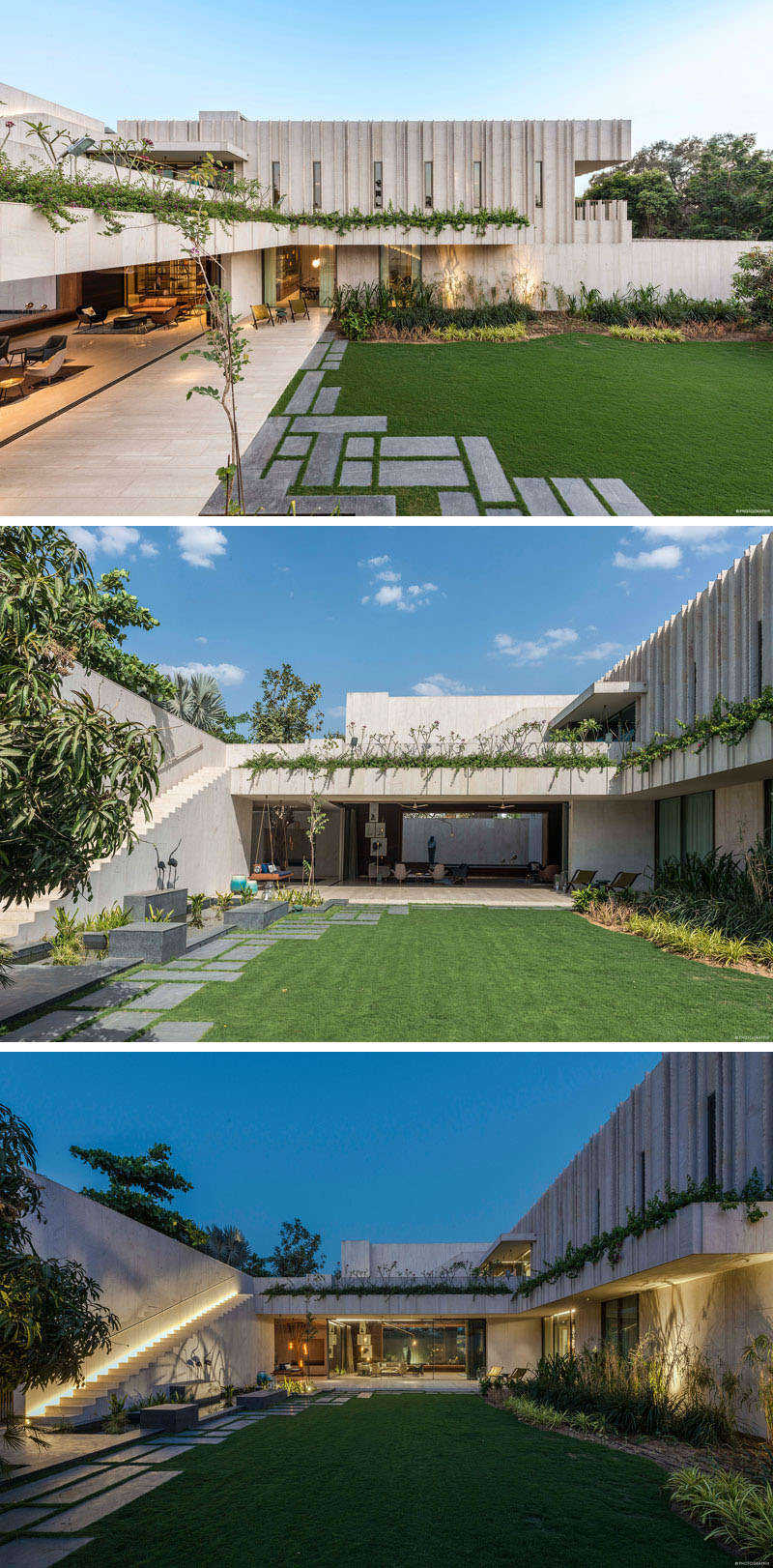 ---
Rough cut stone fins run perpendicular to the building facade, creating changing shadows throughout the day.
---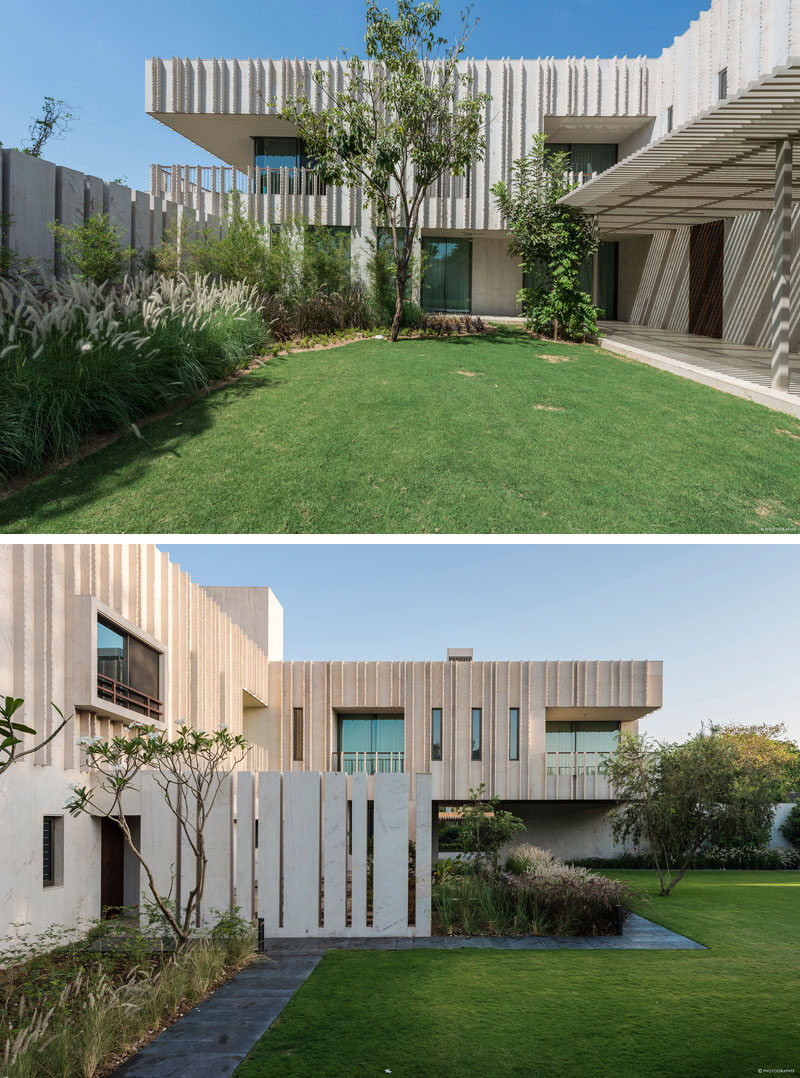 ---
Inside, the living areas of the home have large sliding glass walls that can be opened to create an indoor / outdoor living environment.
---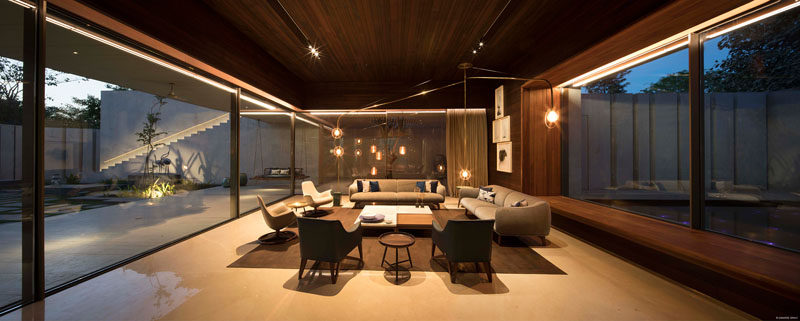 ---
In the dining room, three pendant lights hang above a large dining table, while stone slabs are featured on the wall.
---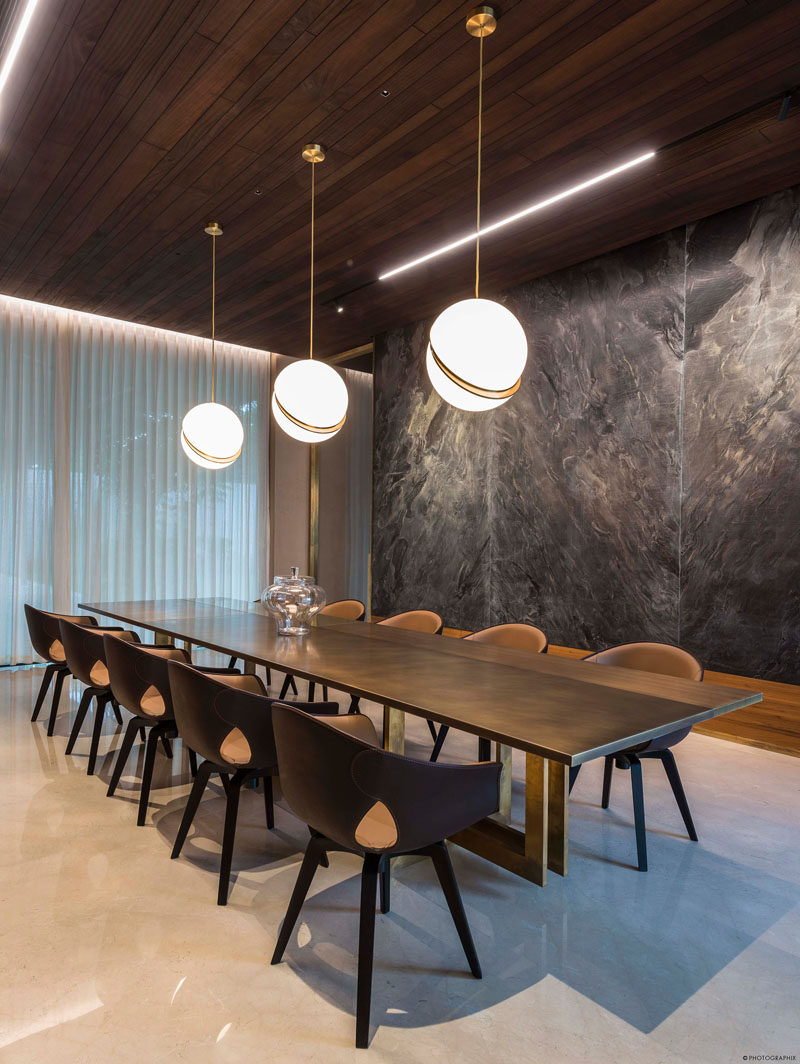 ---
Throughout the house rich dark wood has been paired with rendered lime plaster walls with a stucco-like appearance. Pops of color, like the blue accent wall next to some stairs, add a touch of brightness to the interior.
---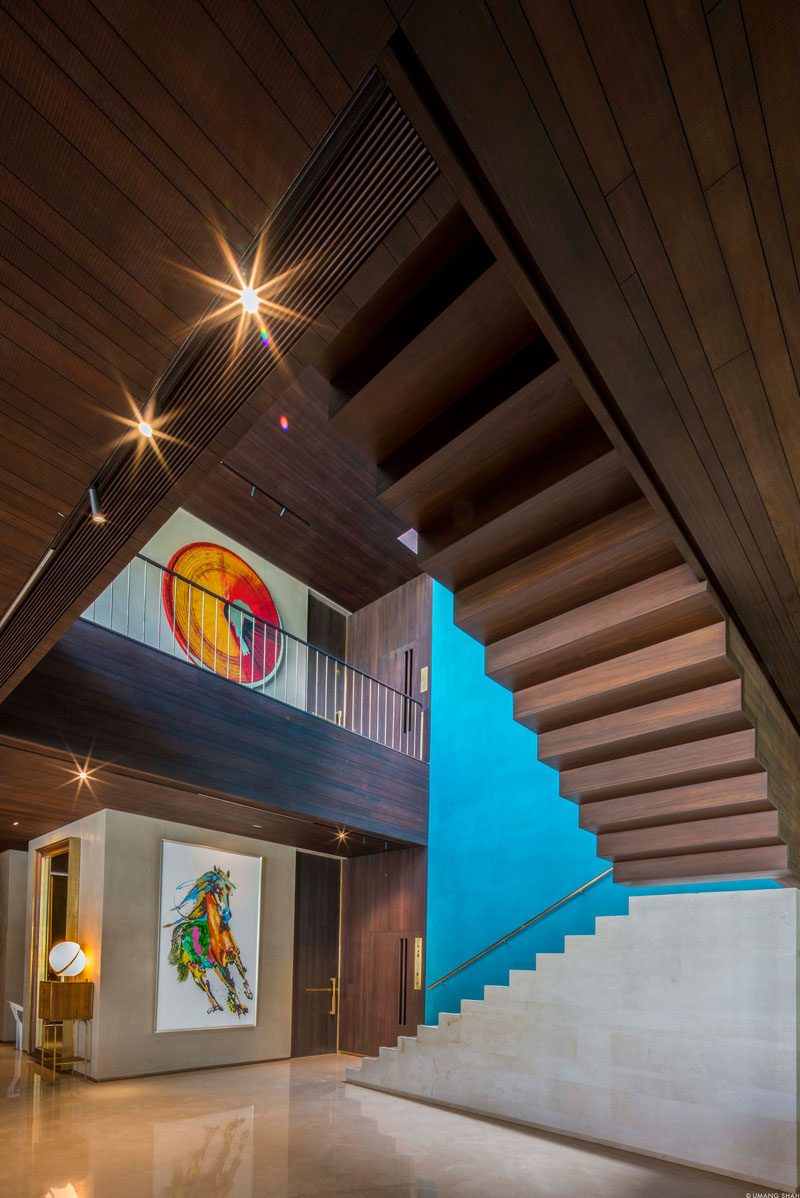 ---
Tucked away under another set of stairs is a small bar area with open shelves and cabinets for storage.
---

---
Here's a closer look at the stone that covers the house. Coming from quarries nearby, the stone has a mottled texture and bone coloration, that ages well. The cellular structure of this sandstone holds intermittent microscopic air gaps, acting as an insulation panel itself.
---
Photography by Edmund Sumner, Umang Shah and Photographix – Sebastian Zachariah & Ira Gosalia | Architect Firm: SPASM | Lead Architects: Sangeeta Merchant, Gauri Satam, Divyesh Kargathra, Vijjisha Kakka, Mansoor Kudalkar and Sanjeev Panjabi | RCC Contractor: Mahir Builtcon | Structural Engineer: Ducon Consultants Pvt. Ltd | Landscape Consultant : Kunal Maniyar | MEP consultant : Vimarsh Plumbing | Project Management Team : Ingit Anand, Kalpesh Shah, Mahendra Shah, Laxman Desai | Carpenter : Krishna Interiors | Interior Civil Contractor : Mortar
---