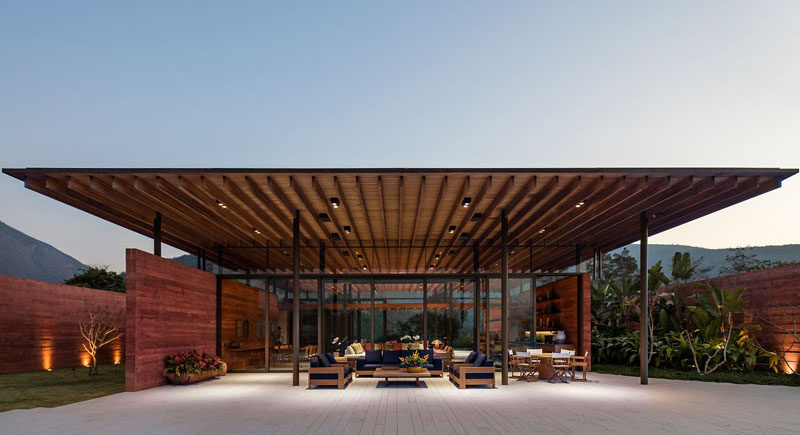 Bernardes Arquitetura have designed Casa Terra, a modern house in Itaipava, Rio de Janeiro, that features walls made of pigmented concrete.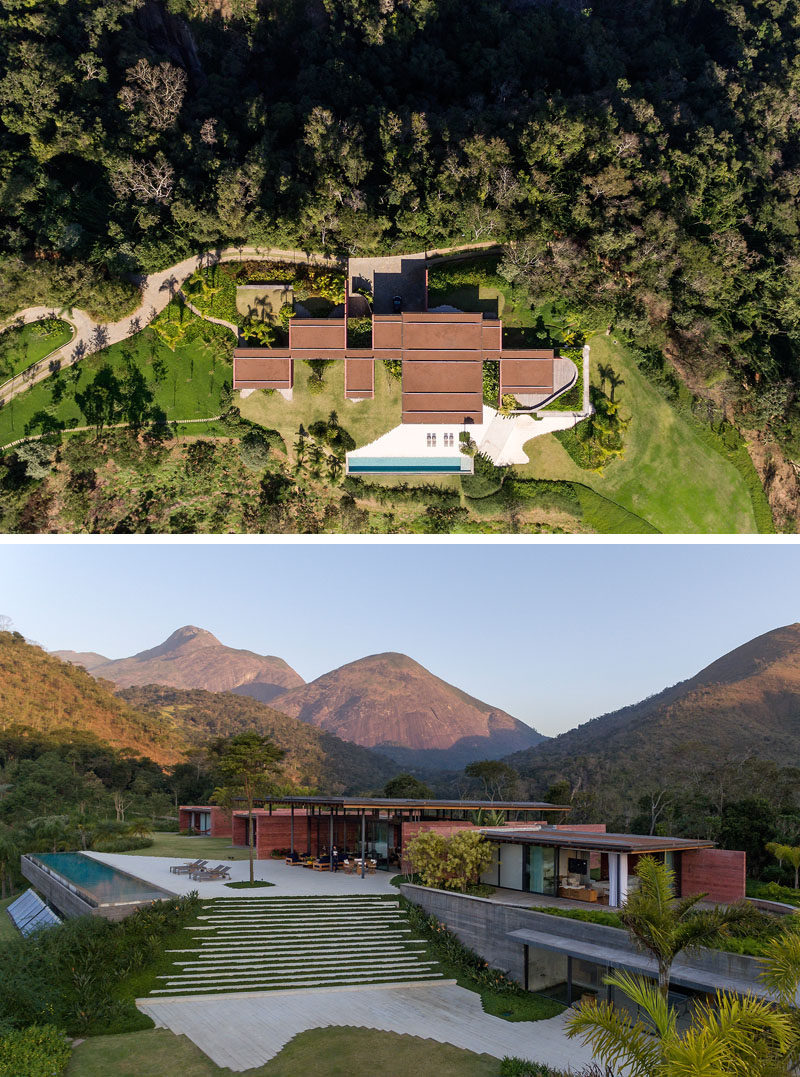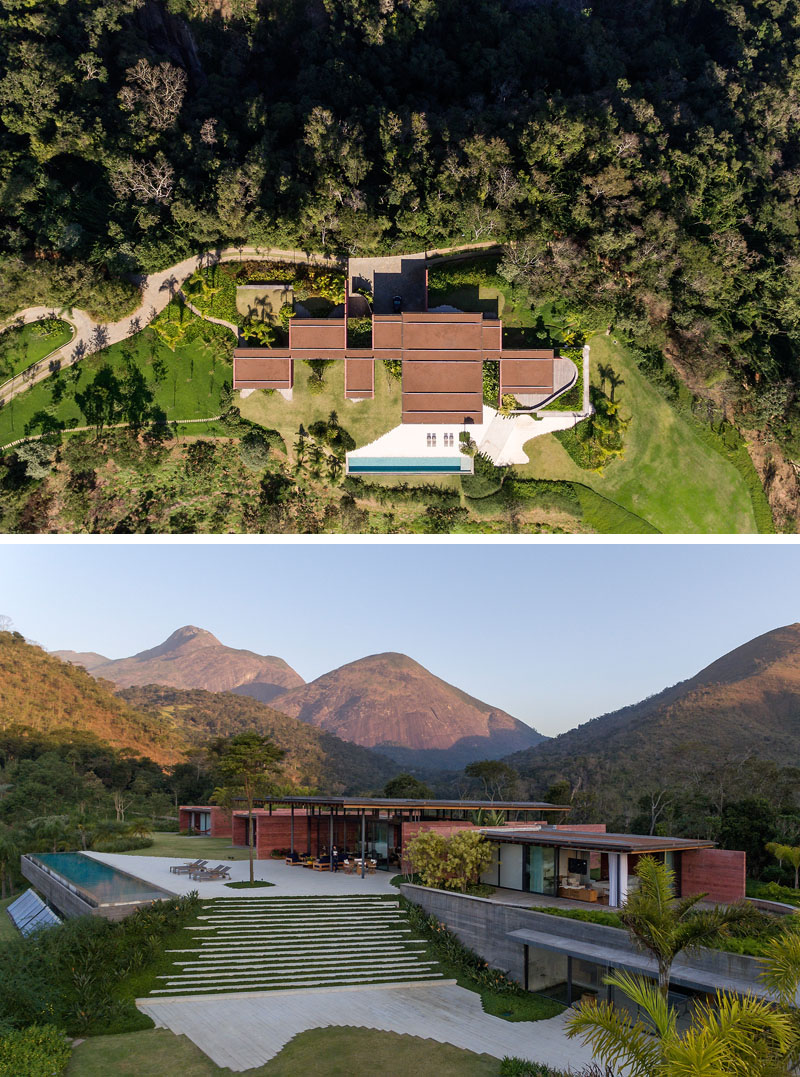 ---
Surrounded by mountains and situated on a sloped lot, the house has landscaping that makes it easy to enjoy the views, including a large patio that meets an infinity edge swimming pool.
---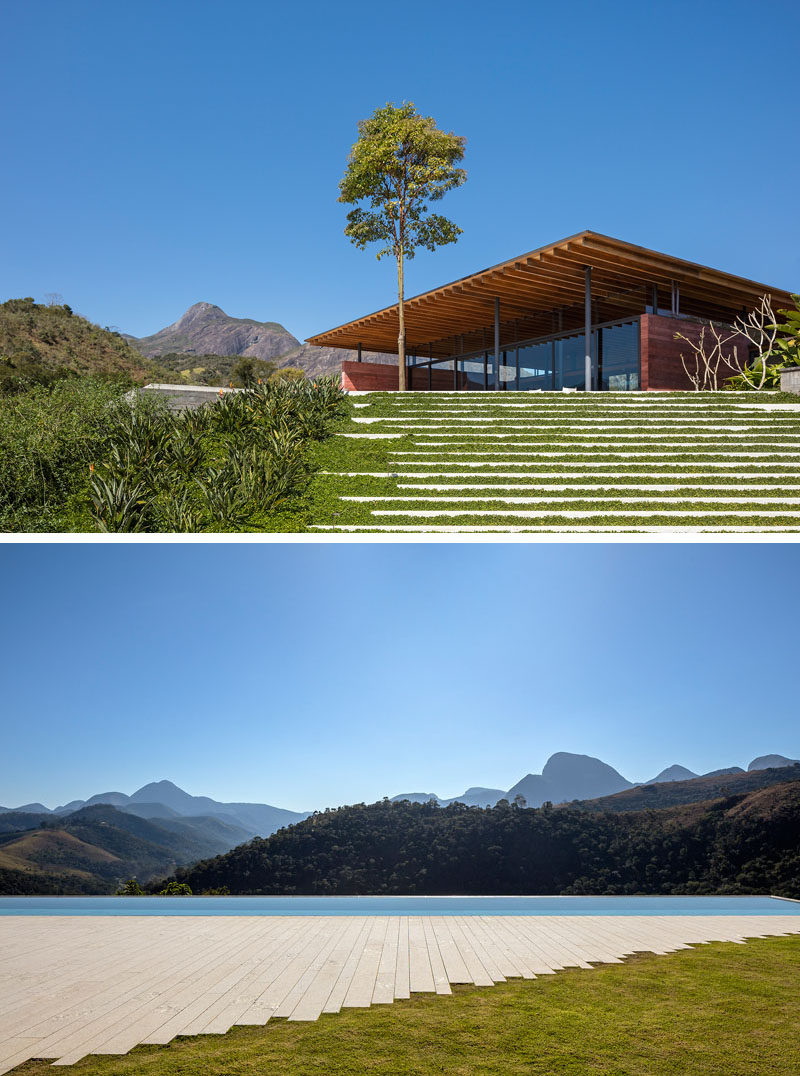 ---
The large wood roof creates a cover for an outdoor seating area, while large windows and sliding glass doors allow the natural light to filter through to the interior of the home.
---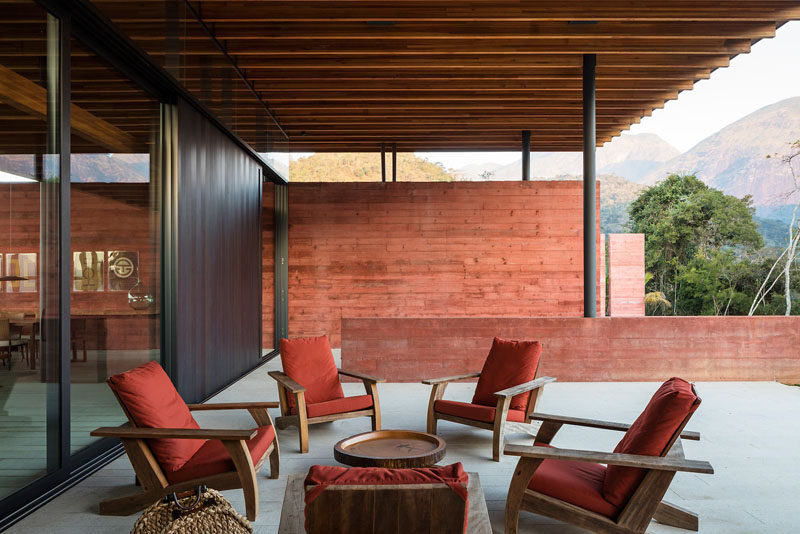 ---
Inside, the pigmented concrete walls create a colorful backdrop for a bar and living room, and the dining room. A long hallway connects the various areas of the home and leads to the bedrooms.
---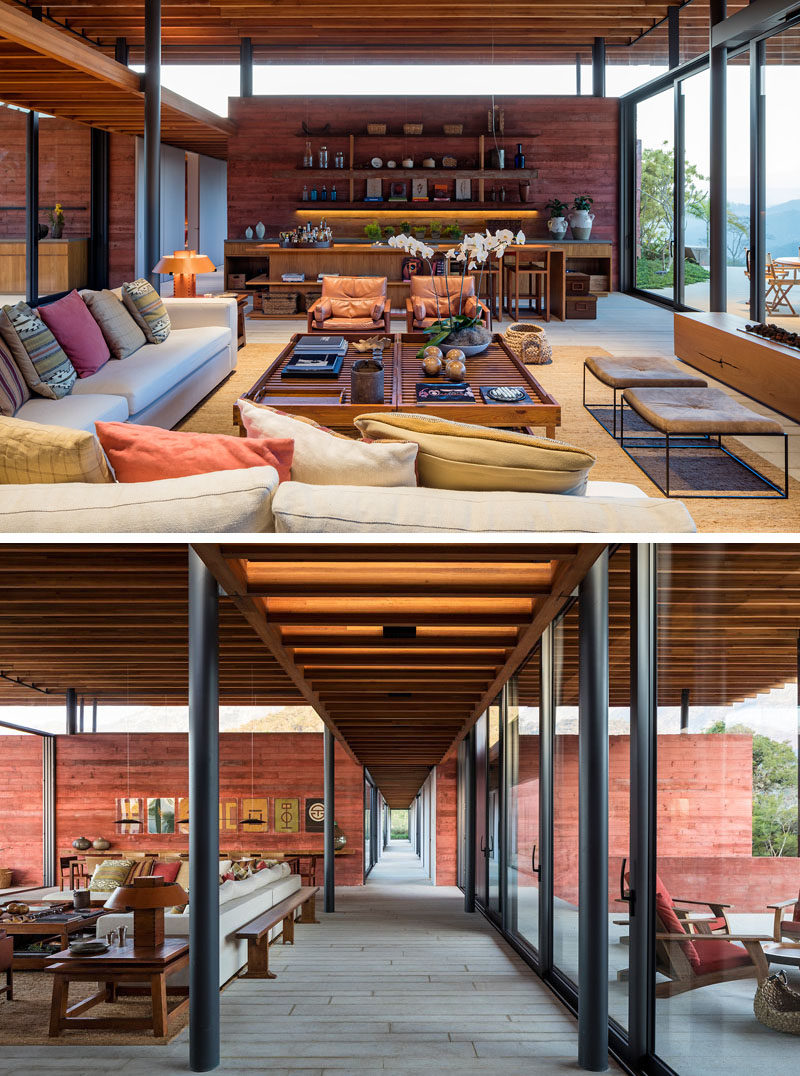 ---
A home office with a couch and work area, extends outwards from the hallway.
---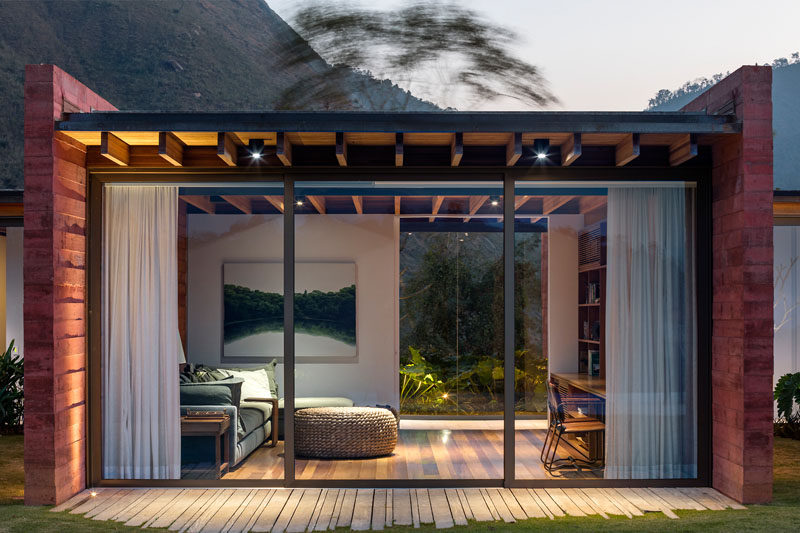 ---
At the end of the hallway are bedrooms that are a mirror of each other. Both have sliding glass doors that open out onto small patio areas.
---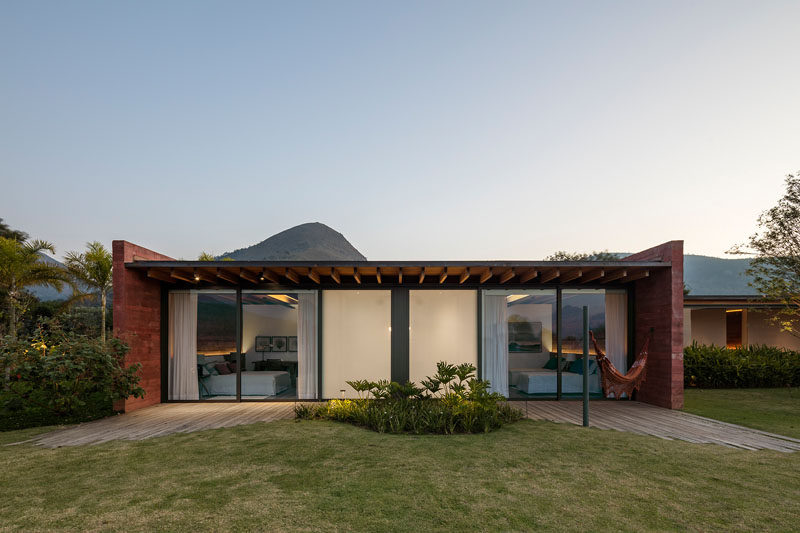 ---
Here's a view of the house that shows off the pigmented concrete, the various protruding 'boxes', and the expansive wood roof that sits above the the main form of the house.
---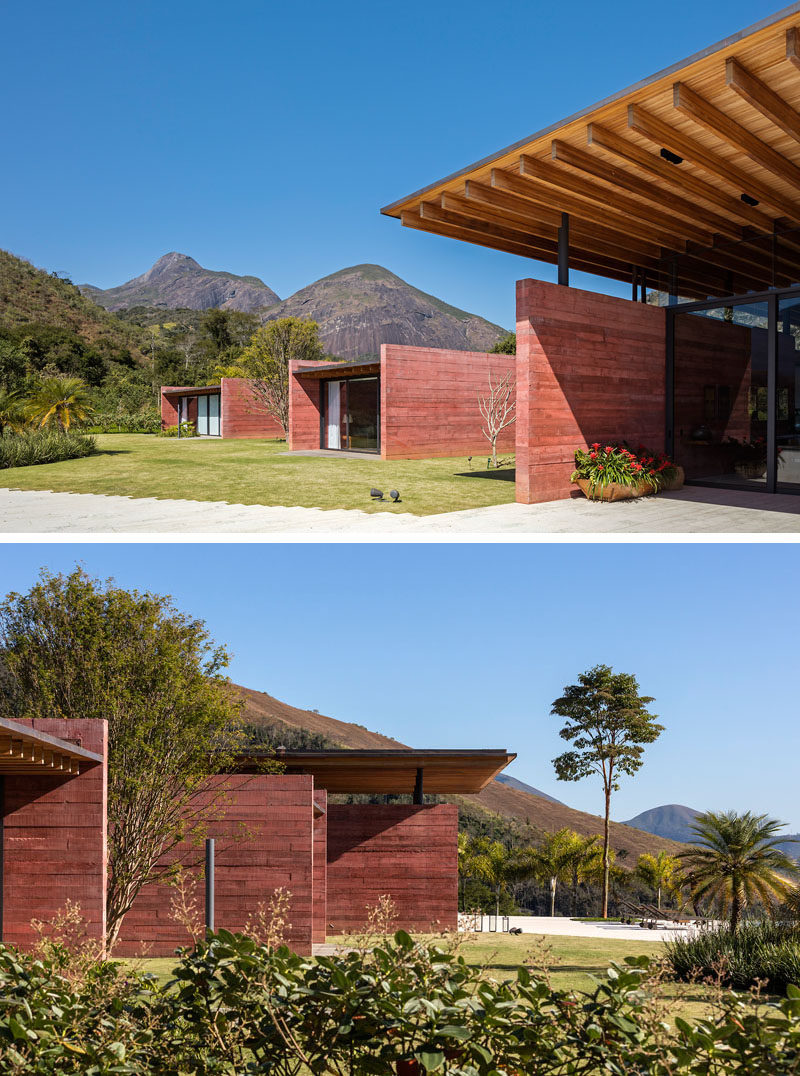 Photography by Leonardo Finotti | Architecture and Interior Design: Bernardes Arquitetura | Team: Thiago Bernardes, Camila Tariki, Francisco Abreu, Fabiana Porto, Daniel Vannucchi, José Miguel Ferreira, Thiago Moretti, Ilana Daylac, Renata Evaristo, Antonia Bernardes, Fernanda Lopes | Landscaping: Daniela Infante | Lighting Design: Studio Iluz and Lightworks (landscape lighting) | Acoustic: Roberto Thompson Motta | Air Conditioning: Argen | Automation: Noise | Construction Company: PH de Aquino | Electrical and Hydraulic Installations: Equilíbrio Planejamento e Projetos | Wood Structural Design: Ita Construtora | Concrete Structural Design: Ycom Engenharia
---