The toe kick space underneath your kitchen drawers is likely not a thing that you think about all that much. But if you're lacking storage space, you may just want to consider this kitchen design trend.
Including a few toe kick drawers around the perimeter of your kitchen is a great way to get more storage space out of a tiny kitchen and creates a sneaky place to hide things you don't necessarily want on show.

---
To give you a couple of ideas as to how you could include a toe kick drawer in your own kitchen, here are a few examples of them in different settings performing different functions.
---
1. Pet Food Station
Putting your pet's food and water bowls into a toe kick drawer makes it easy to feed them at every meal time and keeps the bowls out of the way throughout the rest of the day. You can either place their bowls into the drawer or get fancy and build the bowls right into the drawer.
---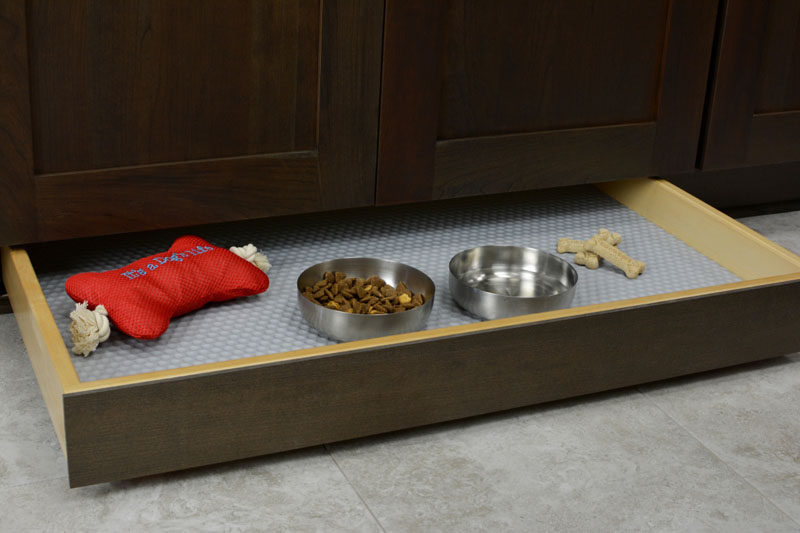 ---
Toe kick food bowls by DeWils
---
2. Kids Art Station
Chances are your kids already park themselves in the kitchen while you're preparing dinner anyway, so why not give them something creative to do while they're there. Putting their art supplies in a toe kick drawer makes it easy for them to get to it whenever they want and lets you keep an eye on them while you make dinner in peace.
---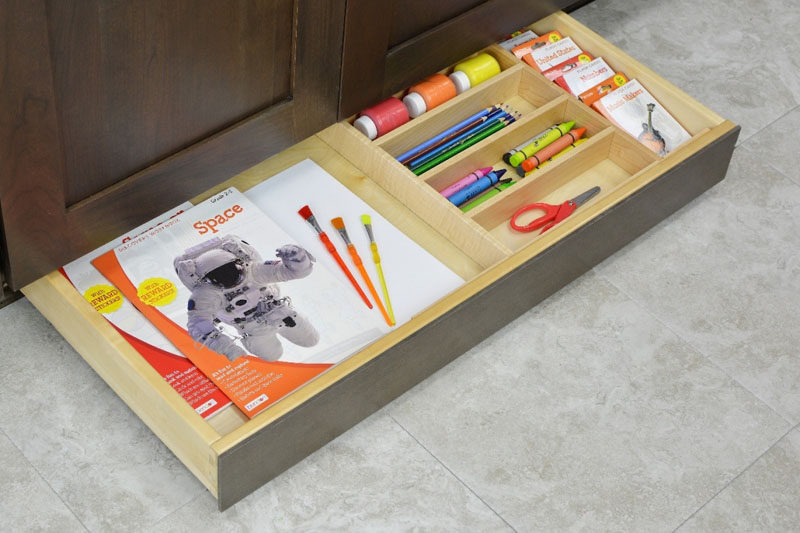 ---
3. Wine Storage
If you don't have the space or enough wine to justify a large wine rack, a toe kick drawer might be all you need. It keeps the wine out of the way but easily accessible, and makes great use of space that would normally just be wasted.
---
Inspiration from Stadshem.
---
---
4. Cooking Essential Storage
Cutting boards, cookie sheets, cake pans, and large serving trays can be hard to find places for in drawers and cabinets that also have to be used to store other things of different sizes. Putting those awkwardly shaped things all in the same place makes them easier to store and keeps them out of the way when you're busy in the kitchen.
---
---