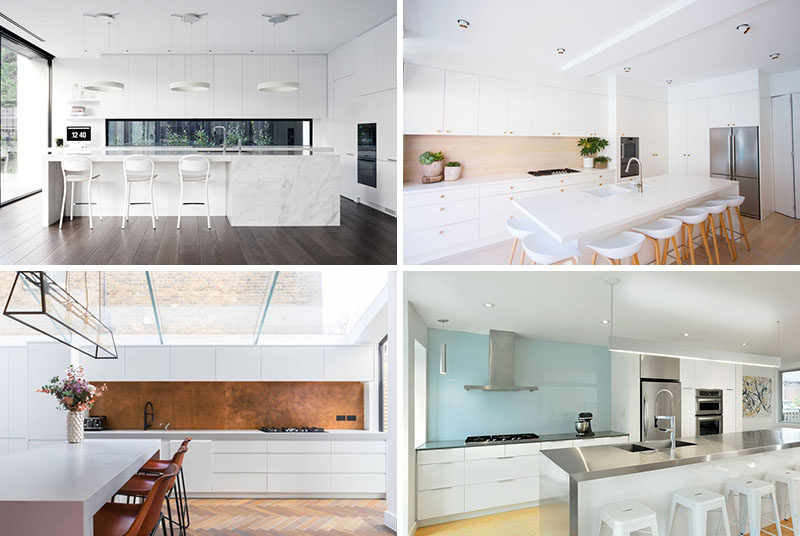 All white kitchens are definitely a trend for a few good reasons. They're a great way to create a bright space, they make the kitchen look extra modern, they encourage you to keep it clean, and they make the kitchen a more inviting place to spend time. A white kitchen also offers you an opportunity to get creative when it comes to a backsplash.
With no restrictions on the colors or materials you can use, you're free to create a backsplash out of nearly anything you like. If you're looking for a place to start, here's a list of 7 ideas you can use to create an awesome backsplash in an all white kitchen.
---
1. Inject A Pop Of Color
Adding a pop of color to an all white kitchen in the form of a colorful backsplash is a great way to make a statement and inject some fun into your space. Whether you go really bold and use a super bright color or keep it toned down with a light colored glass, the color you add to the kitchen will add just a little something extra to your interior.
---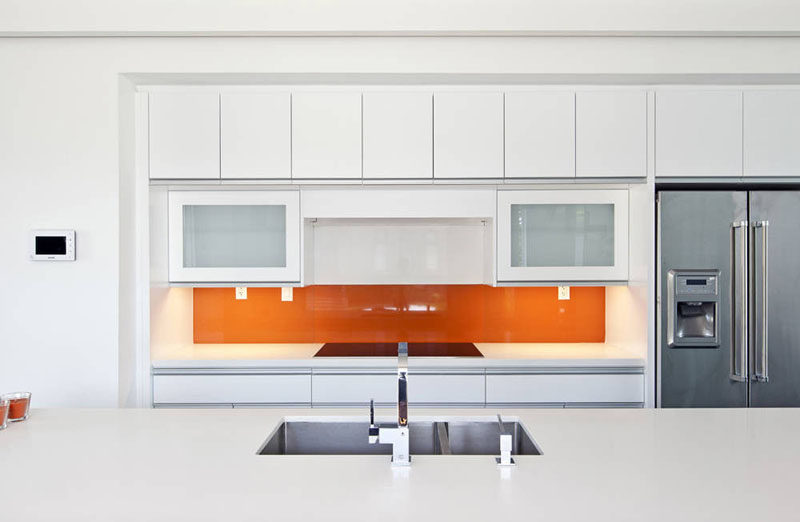 rzlbd designed this house in Ontario, Canada. Photography by BorXu Design.
---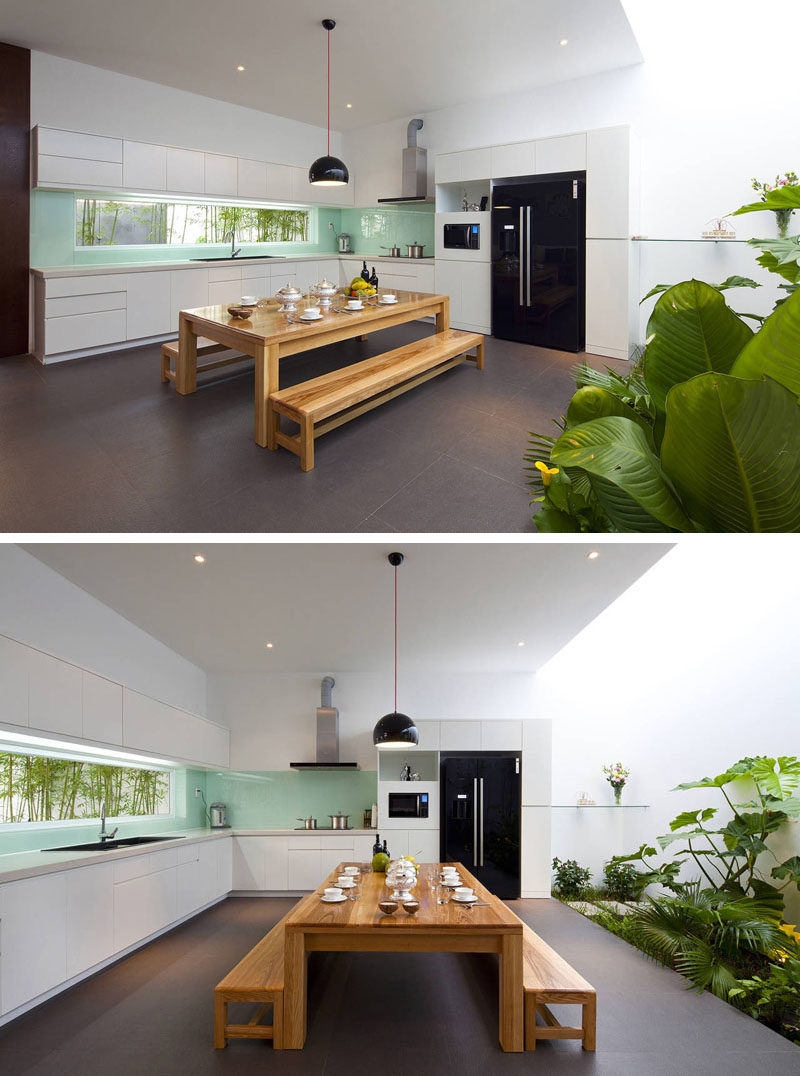 MM++ architects designed this house in Minh City, Vietnam. Photography by Nam Bui.
---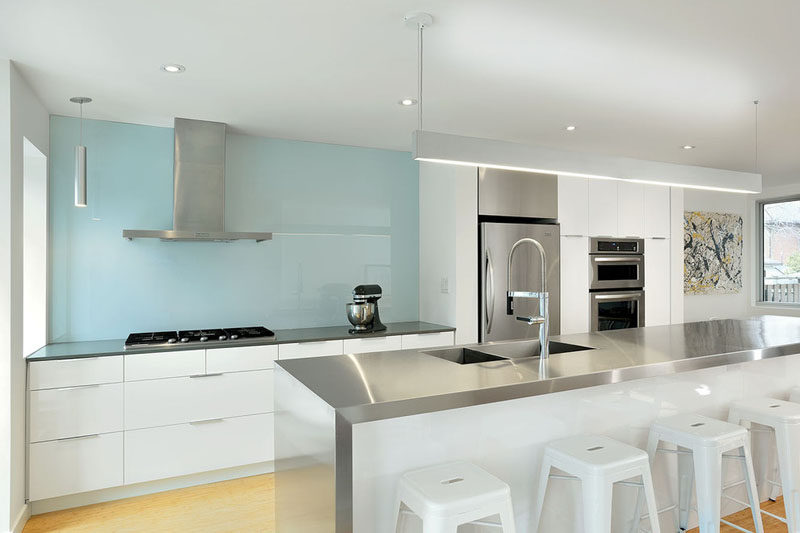 ---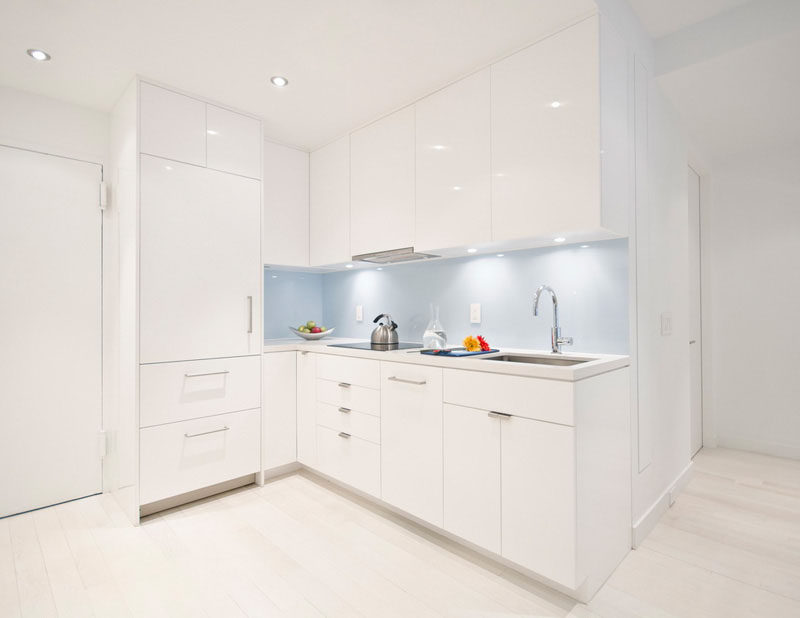 ---
2. Add Sophistication With Stone
For a super sophisticated look, add a stone backsplash to an all white kitchen. It can be a continuation of a stone countertop, compliment a stone island or just stand on it's own but no matter how you make it work, a stone backsplash will take your white kitchen to the next level.
---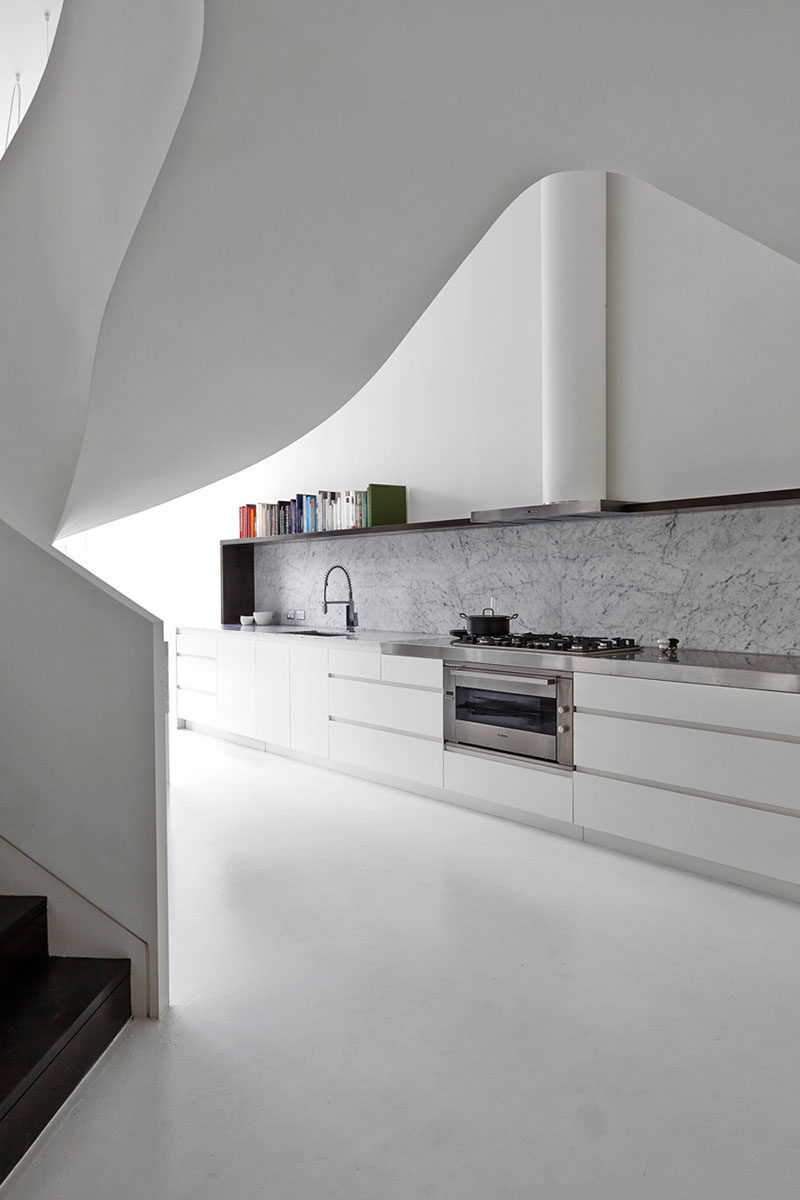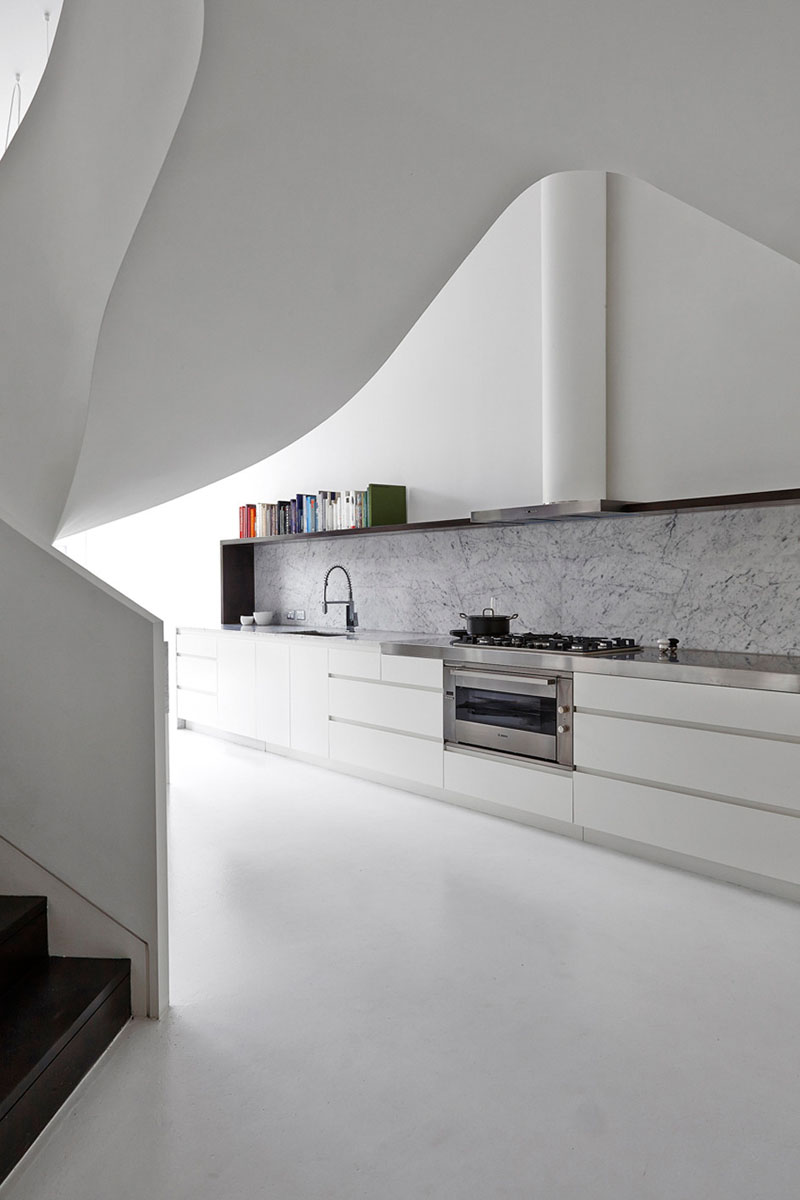 Adrian Amore designed this loft in Melbourne, Australia. Photography by Fraser Marsden.
---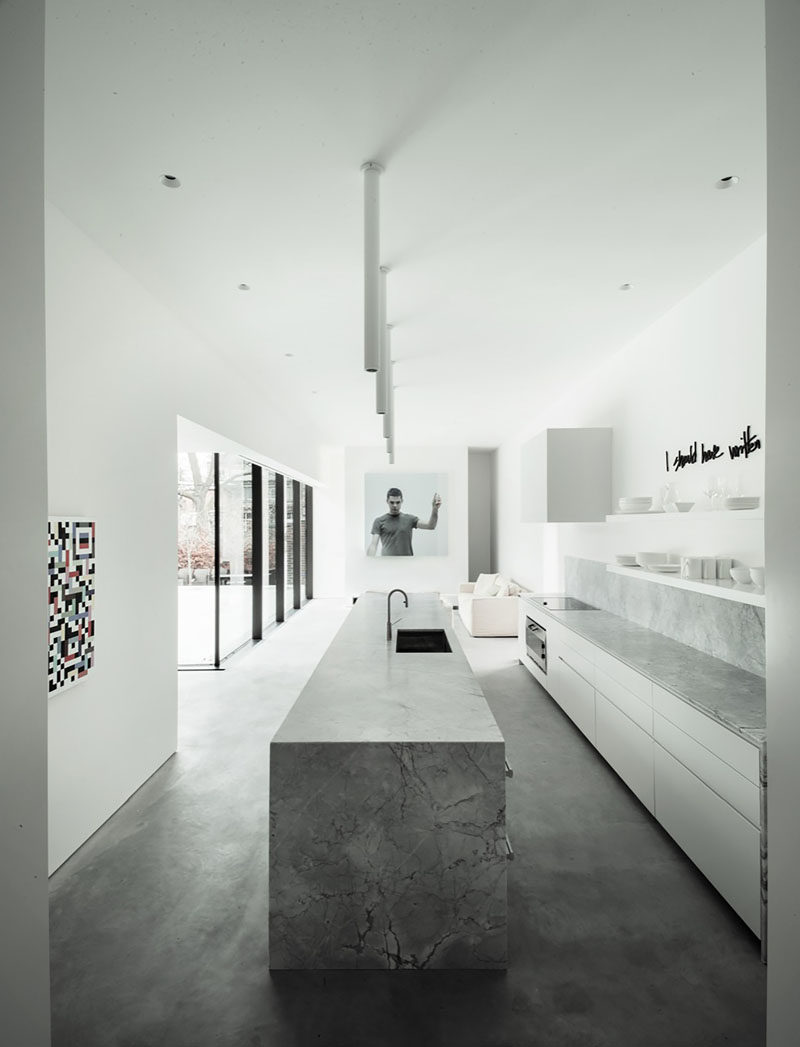 gh3 designed this house in Toronto, Canada. Photography by Raymond Chow.
---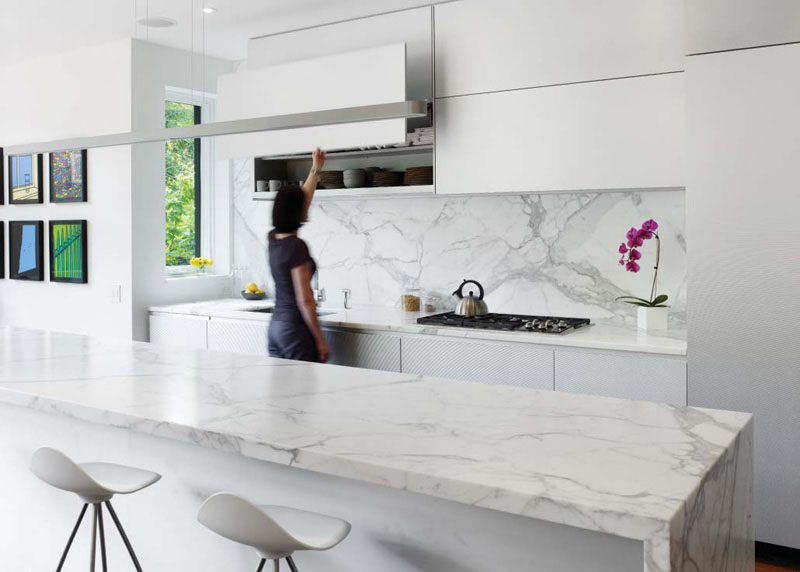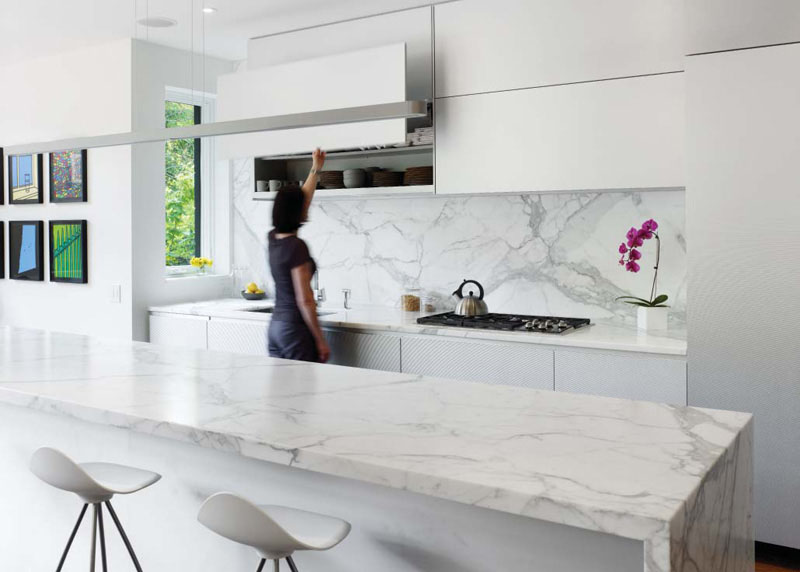 ---
3. Replace A Backsplash With A Window
Using a window in place of a more traditional kitchen backsplash in your white kitchen is a great way to make cooking more fun and makes the bright space that much brighter.
---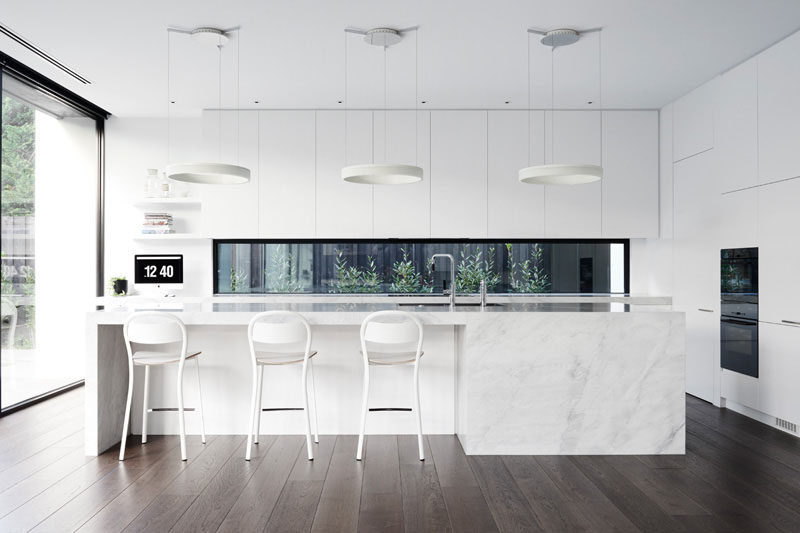 ---
4. Create A Striking Contrast
Create a bit of contrast in your white kitchen with a super dark backsplash. Black tile is an easy way to do this but the look can also be achieved with a dark brushed metal or even a black glass. The contrast between the black and white in the kitchen will create a dramatic look but will still let the white keep the space bright and inviting.
---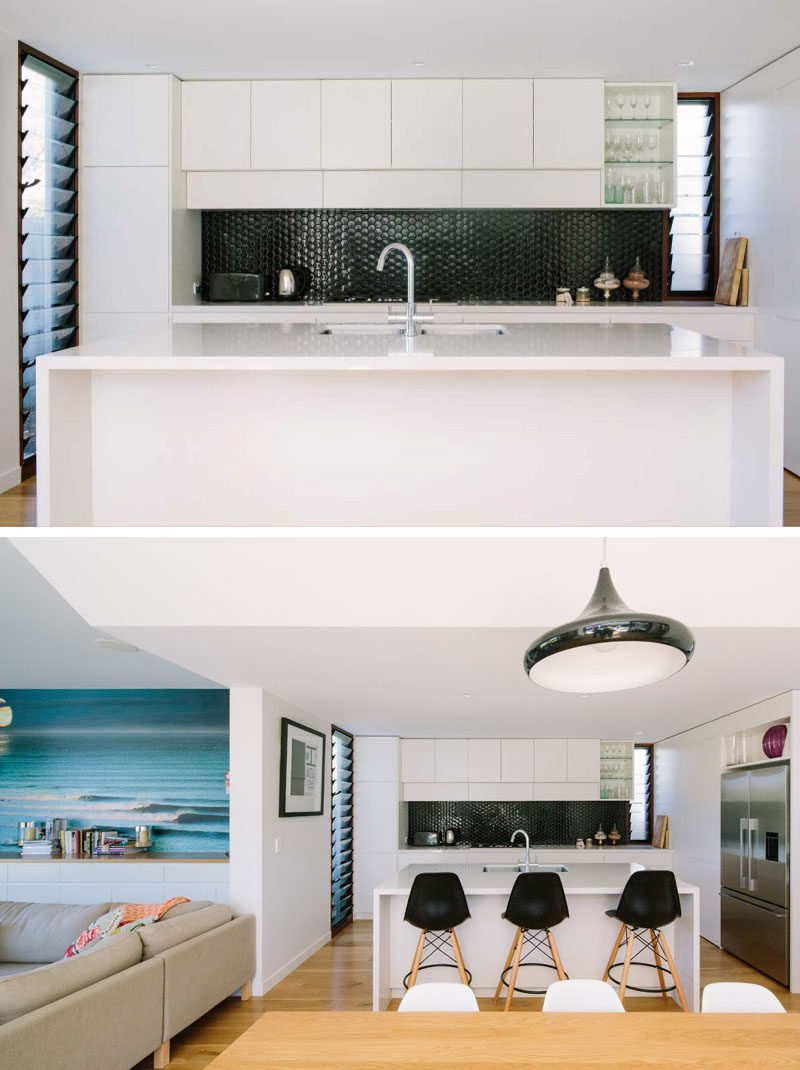 ---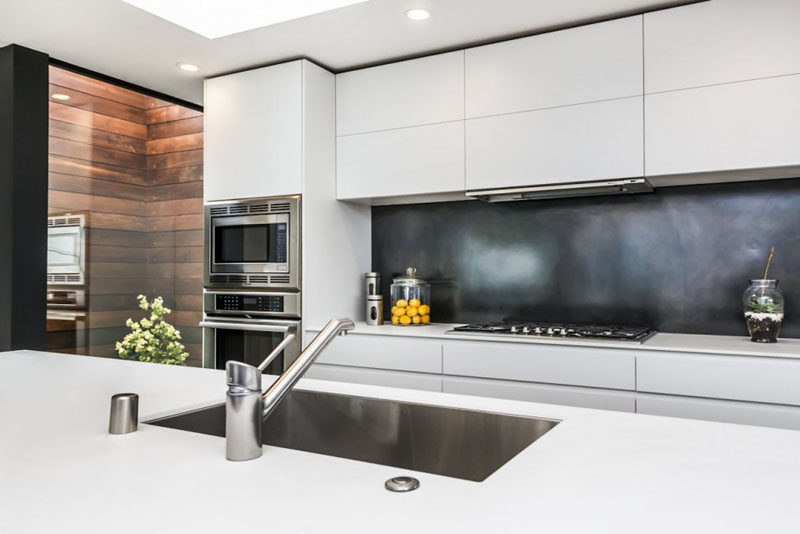 Michael Kramer / Karen Kramer designed this remodel of a kitchen in a 1984 home. Photography by Olga Soboleva.
---
5. Add Texture With White Subway Tiles
If you want to keep the all white look going but want just a bit of texture white subway tiles with a light grout could be a way to achieve the kitchen of your dreams. The tiles are easy to install, easy to clean, and keep your kitchen looking uniformly white and put together.
---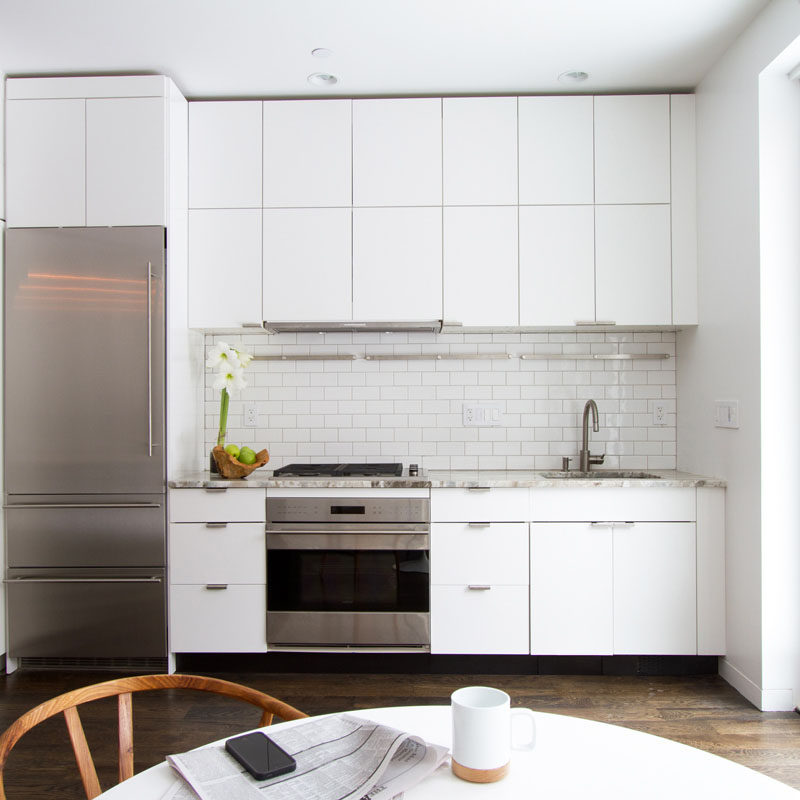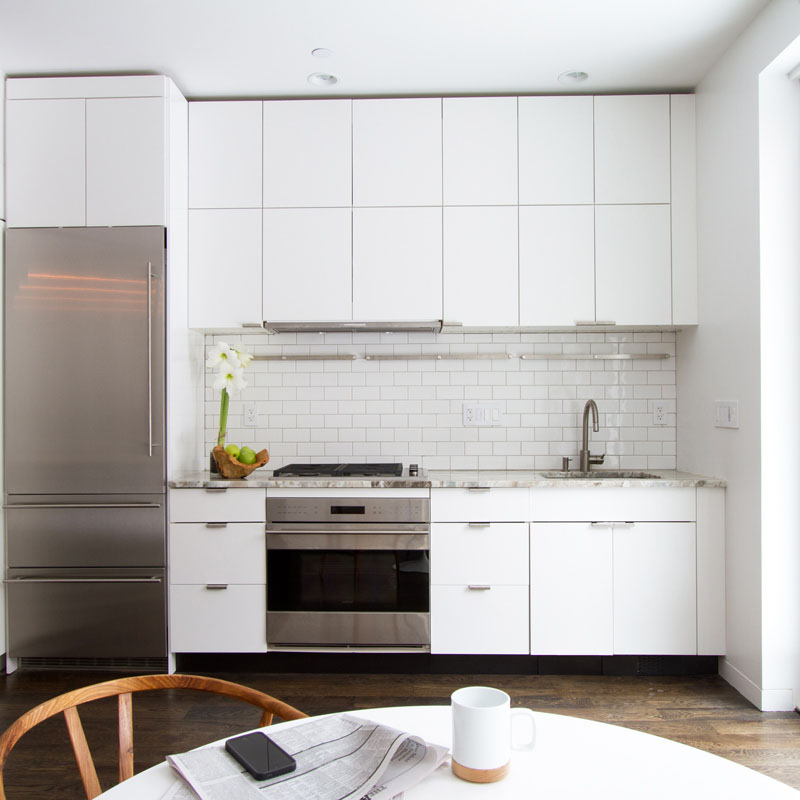 ---
6. Use Marble Tiles For An Elegant Look
Maybe a solid marble backsplash is out of the question, but you can still get the sophistication of marble by using marble tiles. Because marble tiles are available in different shapes and sizes, you have more freedom in terms of the look you can create but you'll while still end up with the clean, modern look created by the white kitchen paired with the elegant marble.
---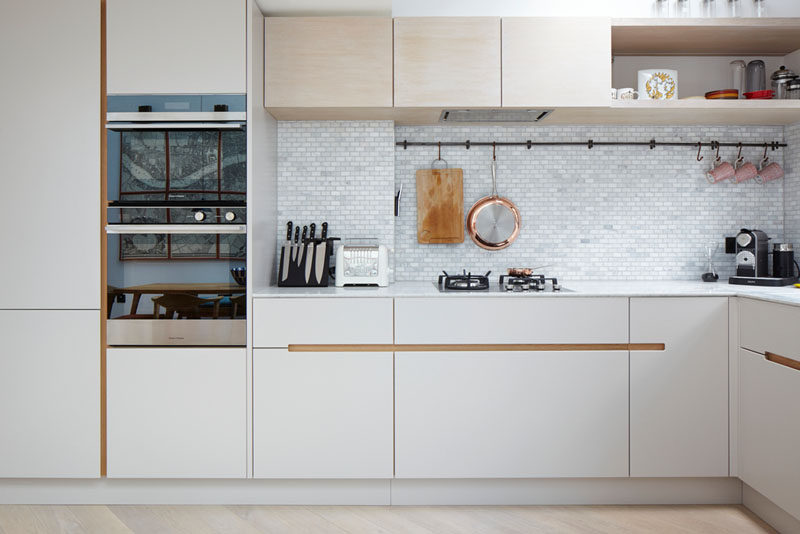 ---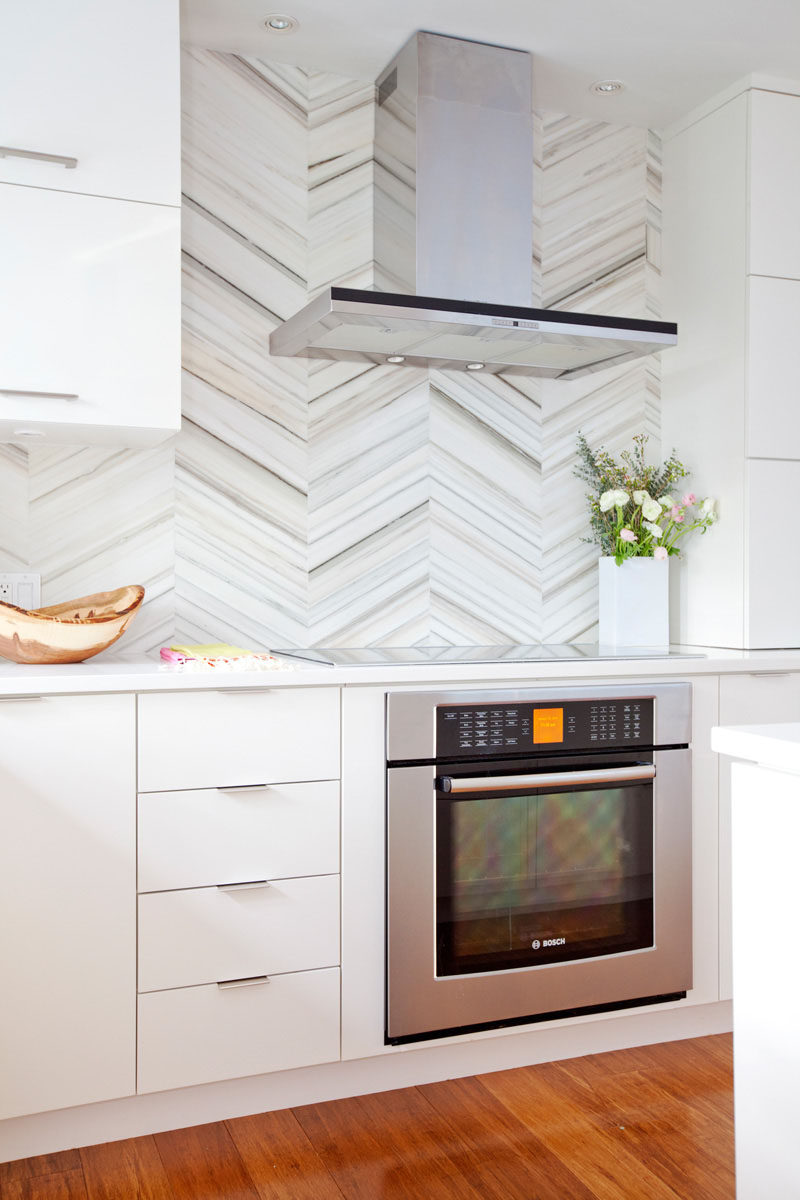 ---
7. Use a metallic material
Add some shine to your white kitchen with a metallic backsplash. It'll add a fun touch to the kitchen and help brighten it up by reflecting the light in the room. From mirrors to metals, you can create the look using any metallic material you like.
---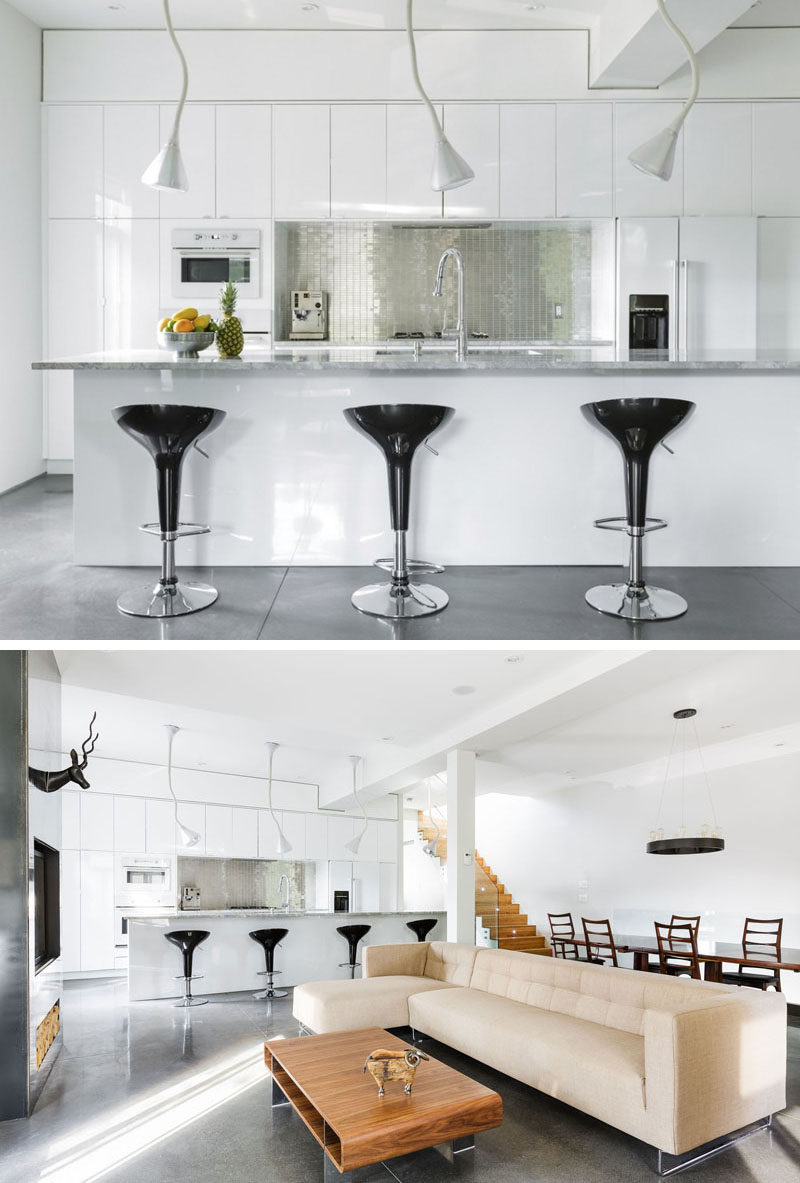 ---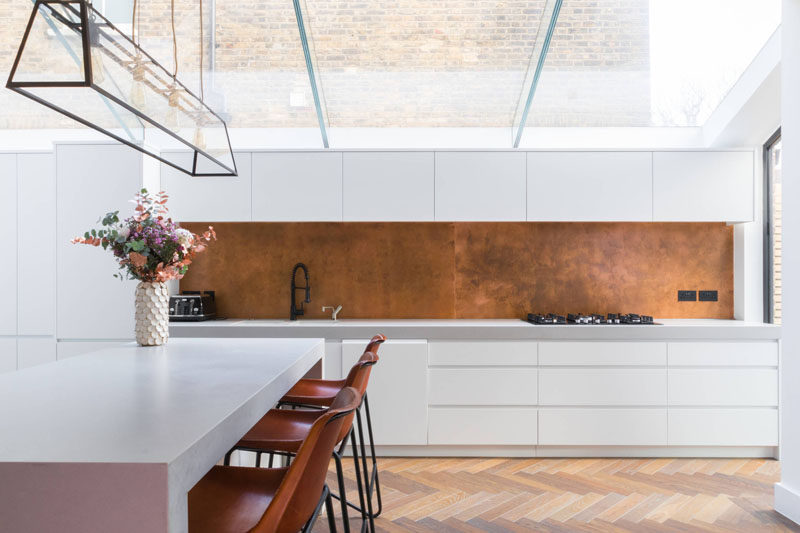 ---
8. Create A Wood Look
While wood isn't the best backsplash material, you can still achieve the wood look using tiles or glass. This is a great way to get the warm benefit of the wood look without having to deal with the maintenance and work that comes along with a real wood backsplash.
---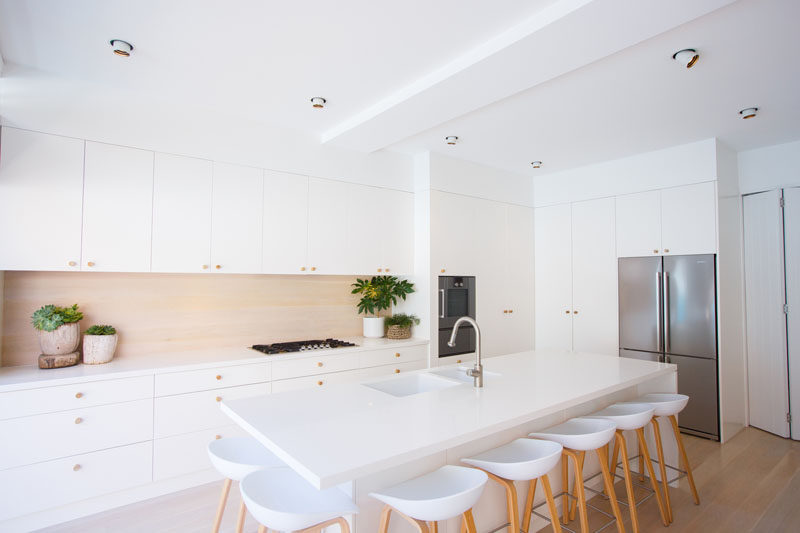 ---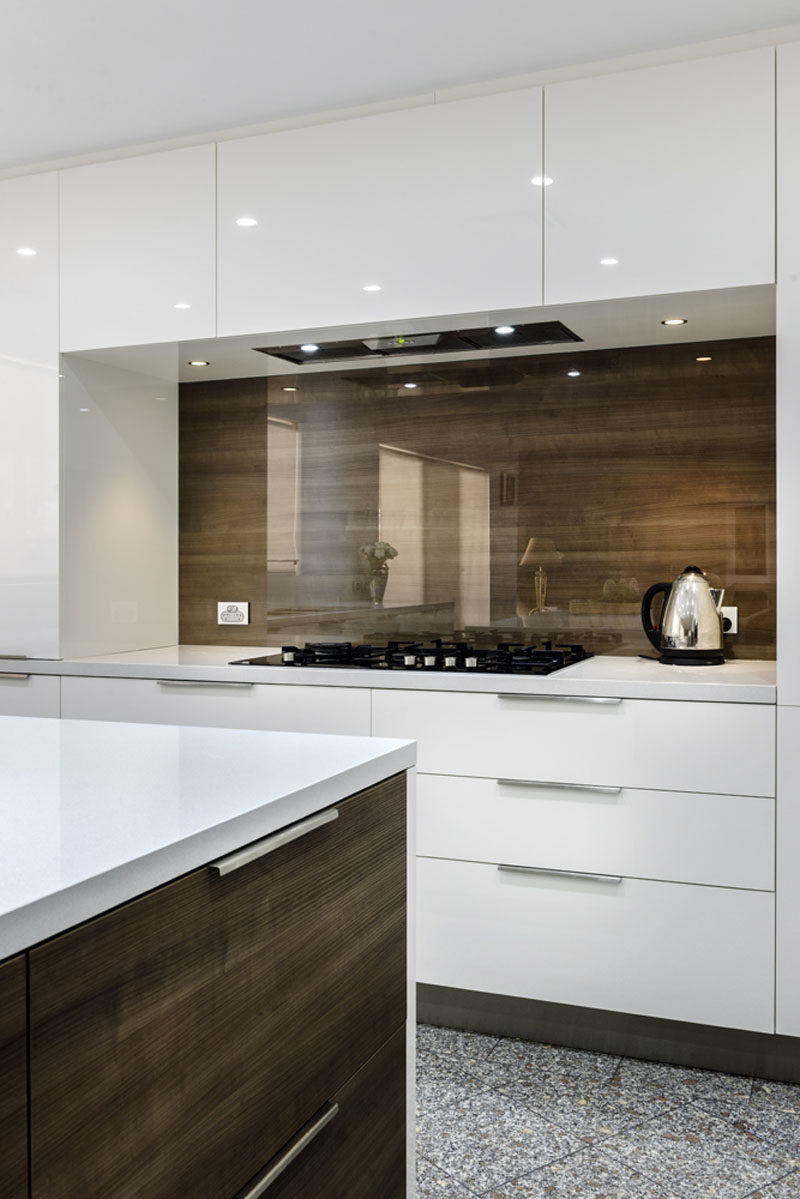 Kia Douglas designed this kitchen for Western Cabinets.
---
9. Leave It White For A Fresh, Clean Look
If the all white look is something you really want to stick with, leave the backsplash white. You'll have a completely unified kitchen that's bright, clean, and sure to stand out from the rest of your home.
---