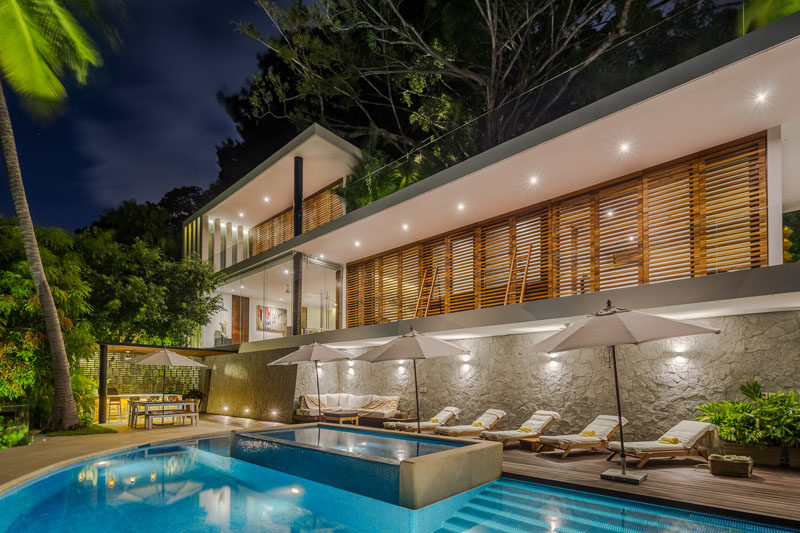 Marco Hagerman of HGR Arquitectos and Diana Arnau have designed the renovation and extension of a house in Acapulco, Mexico, that was originally built in the 60's by Eduardo and Oscar Hagerman.
The house is set on rocky, sloping ground, and is divided into three different areas. The first is the access and parking, where stairs surrounded by lush landscaping lead from the parking area down to the house.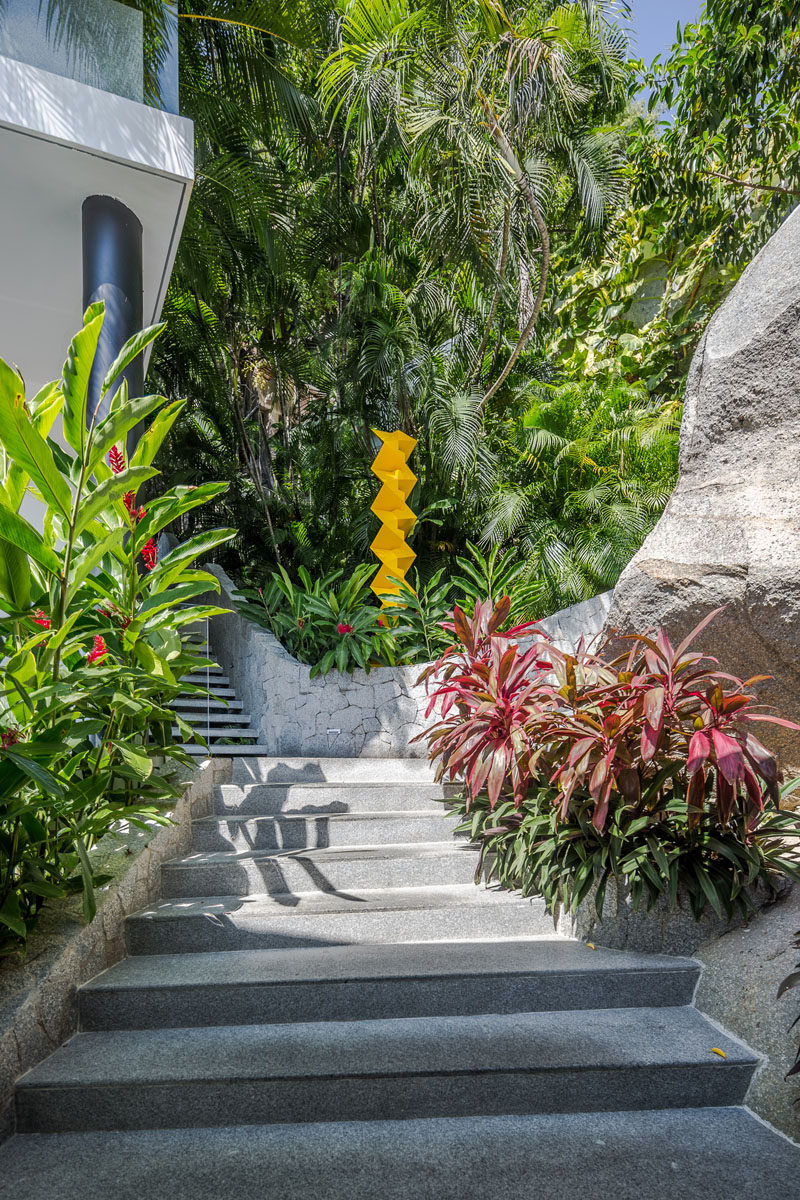 ---
The second area of the house has an open plan living and dining area. Below are two bedrooms that open to a terrace, and hidden from view is a TV room.
---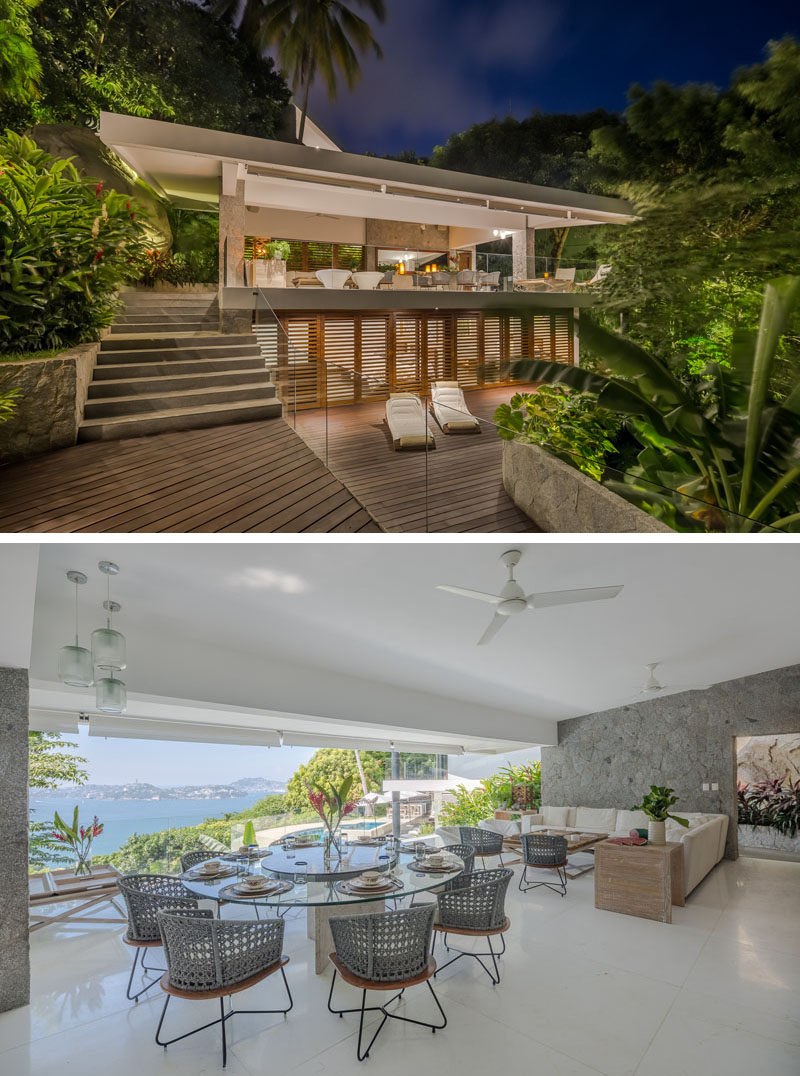 ---
Steps lead from the second area of the home to the third area, where there's a wood deck that runs along a stone wall.
---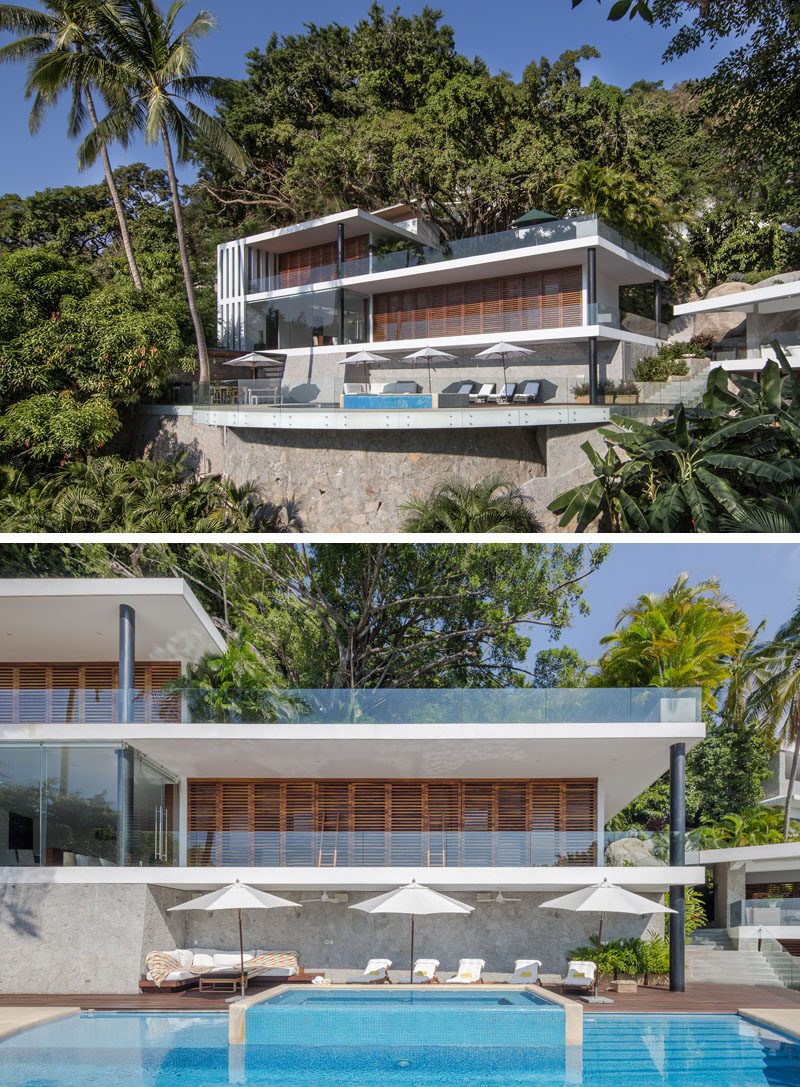 ---
The deck provides a place to relax in the sun, a curved pool looks out to the view, and at the end of the deck is an outdoor kitchen with dining area.
---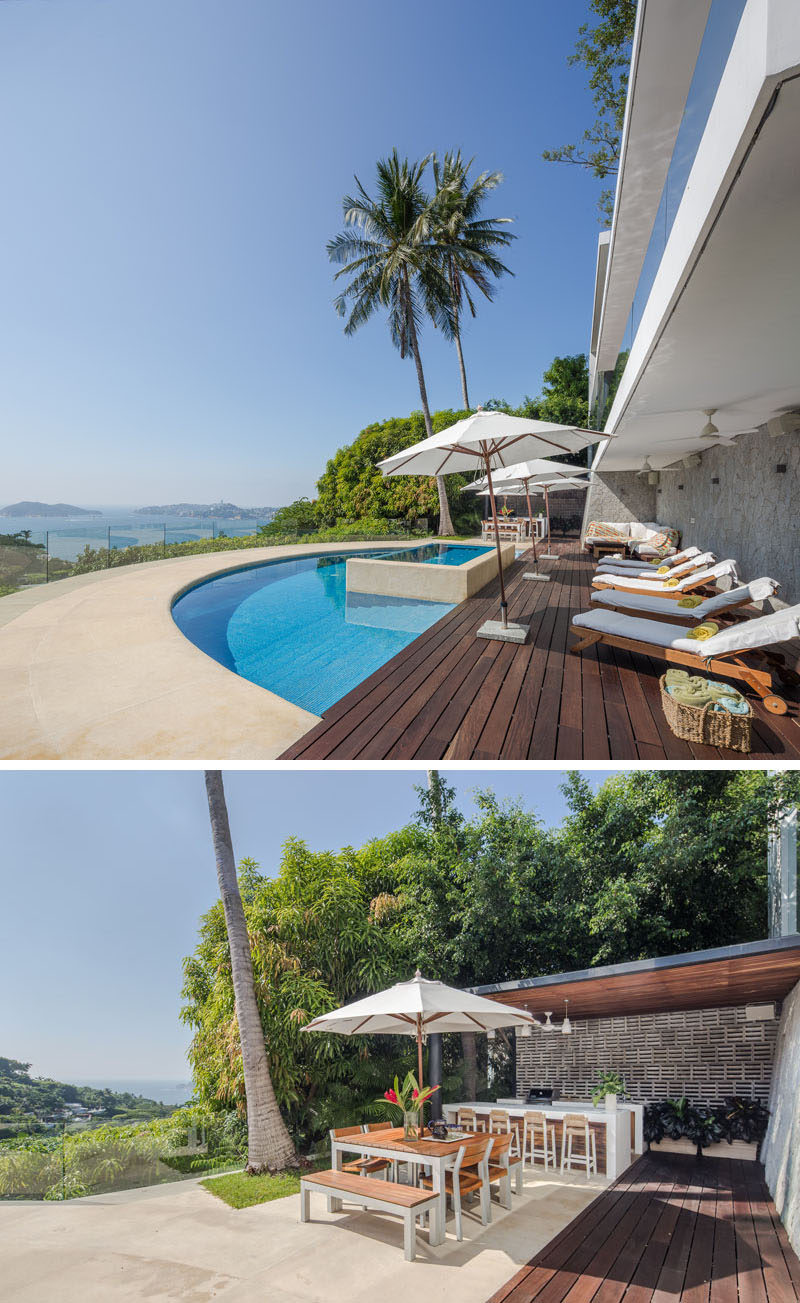 ---
In the area of the home behind the pool, there's an open plan dining and living room, with the living room featuring a couch with wood cabinetry behind it, and floor-to-ceiling windows.
---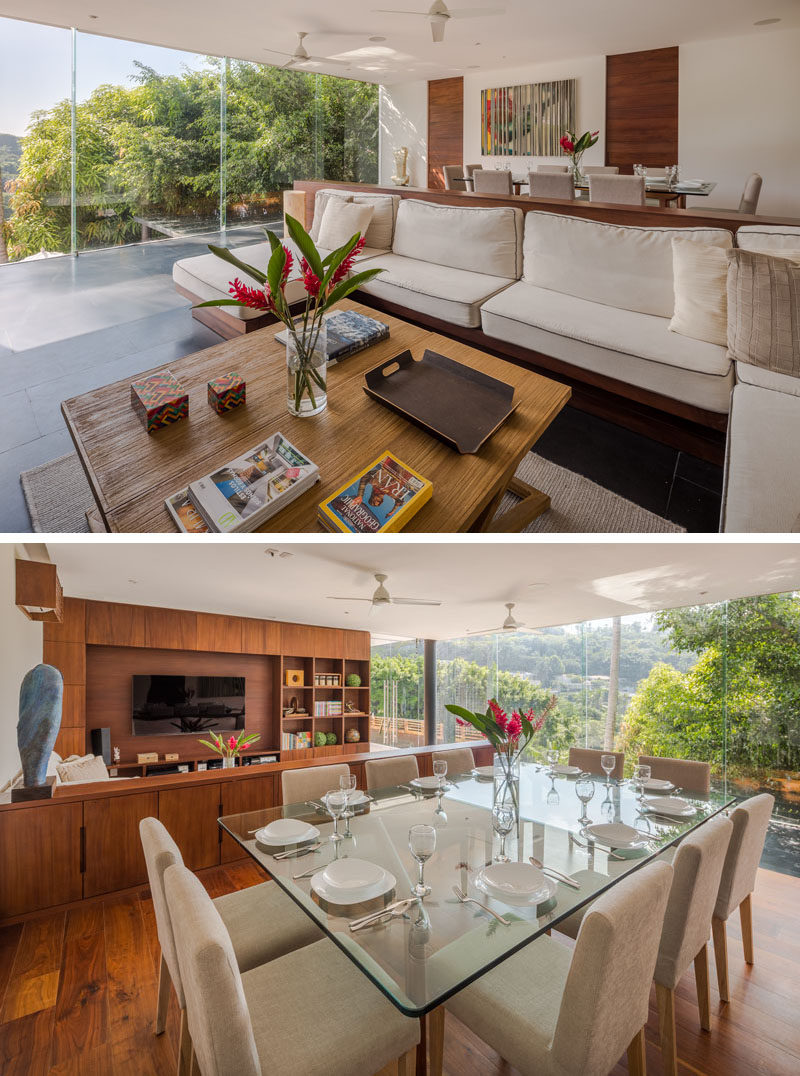 ---
Beside the living room are a couple of bedrooms that are somewhat hidden behind wood shutters off the balcony.
---

---
Located above the living and dining area, and the two bedrooms, is the master bedroom suite. In the master bedroom, the bed, home office and private living room are all raised up onto a wood platform, allowing the various areas of the room to take advantage of the expansive views.
---

---
In the bathroom, floor to ceiling glass separates the shower from the vanity, while narrow vertical windows give a glimpse of the tree view outside.
---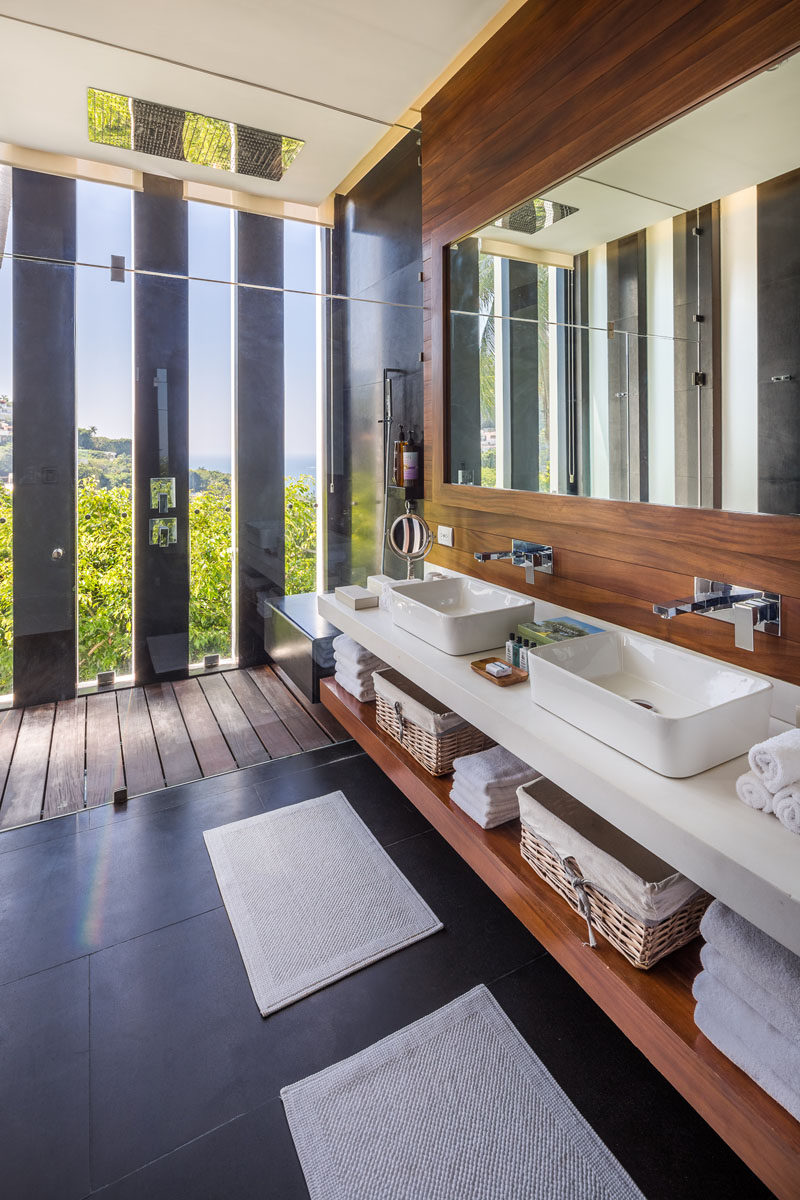 ---
The master bedroom opens up to a large rooftop deck that's set up for alfresco dining, and glass railings make sure that the view is unobstructed.
---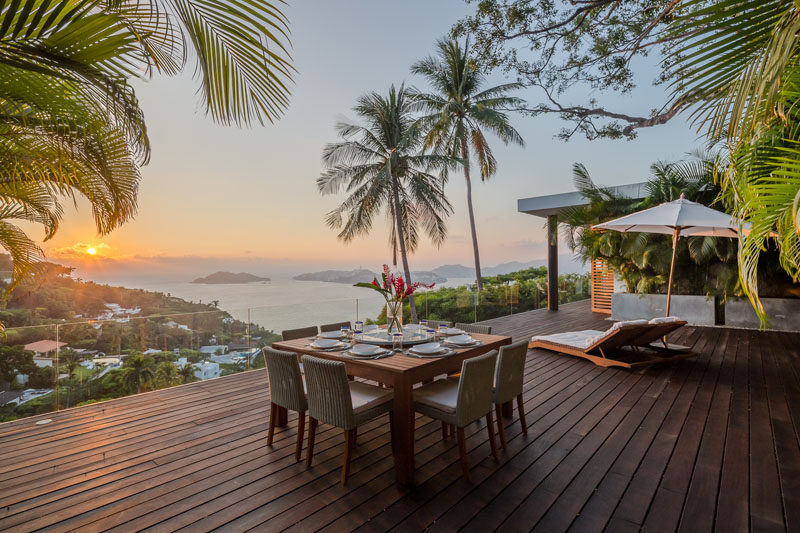 Photography by Diana Arnau | Architects: Marco Hagerman of HGR Arquitectos and Diana Arnau | Construction: Andres Rozada and Juan Rozada | Structural Design: Basam Estructural
---