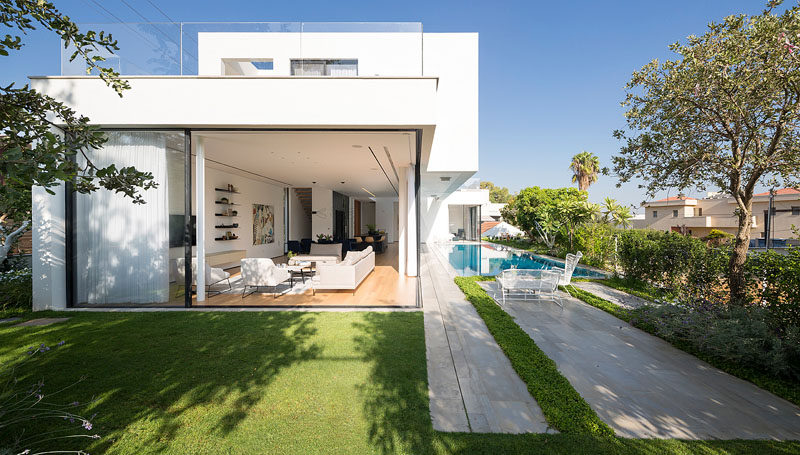 Shachar- Rozenfeld architects have designed this home in Rishon LeZion, Israel, that sits on a narrow trapezoid lot and borders a small public park.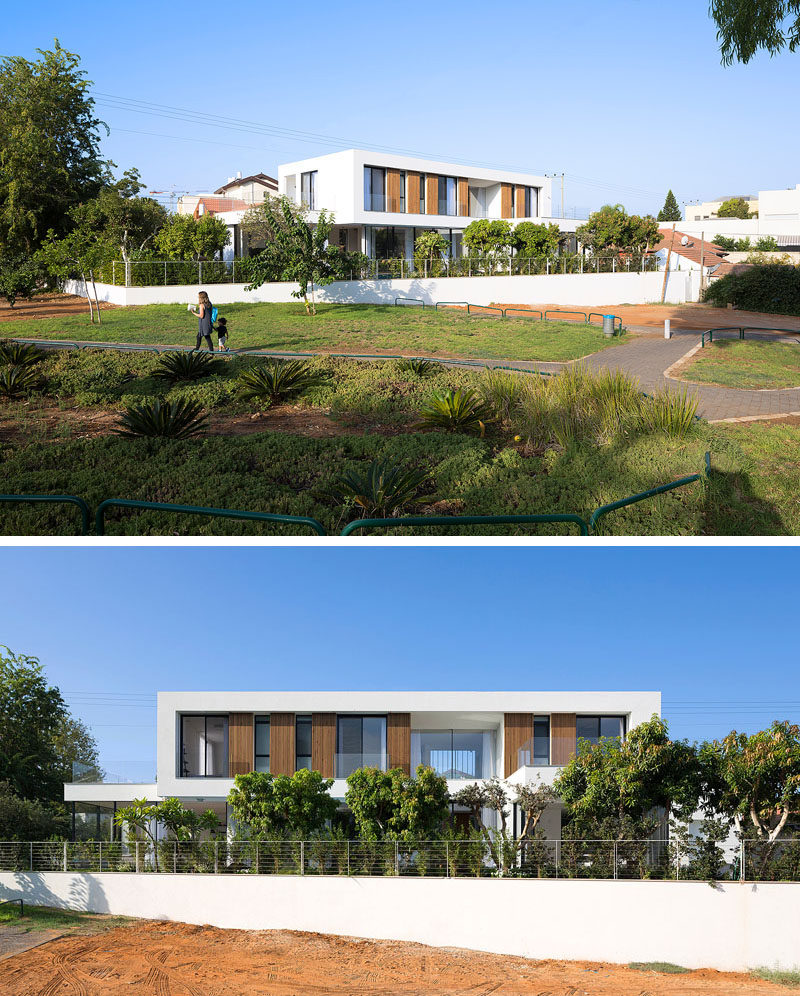 ---
Designed as two separate boxes, one on top of the other, the home has electrical vertical louvers on the top floor that can be easily opened when required.
---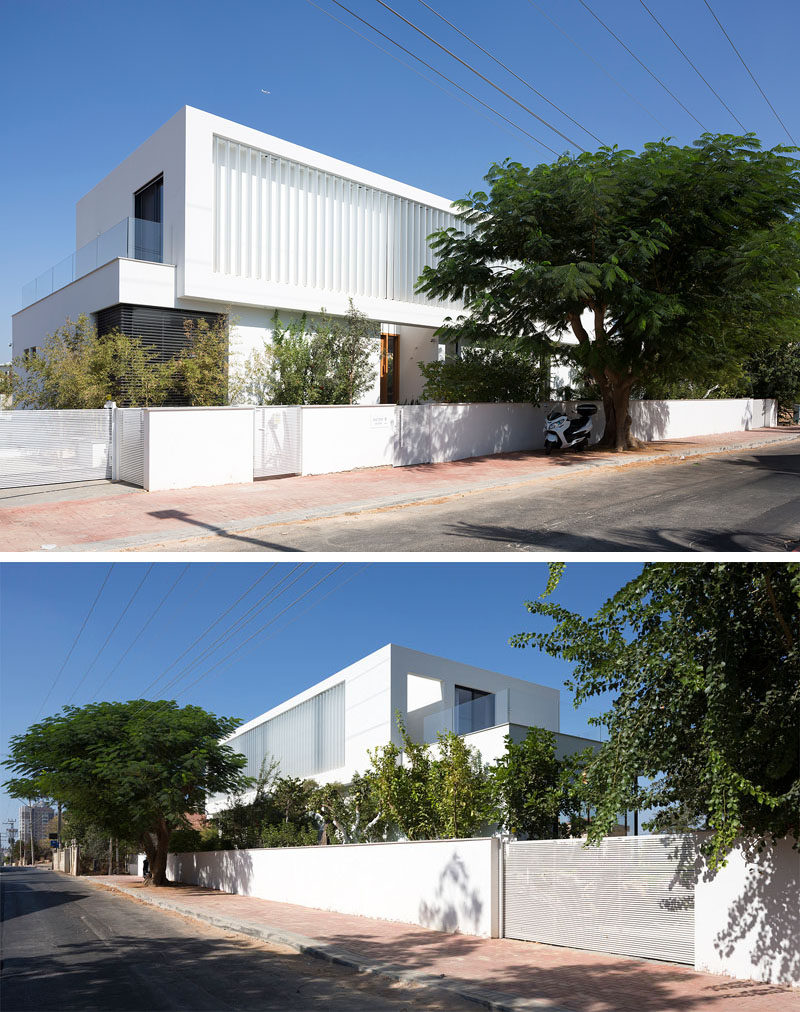 ---
Welcoming you to the house is a wooden pivoting front door that opens to a double-height foyer.
---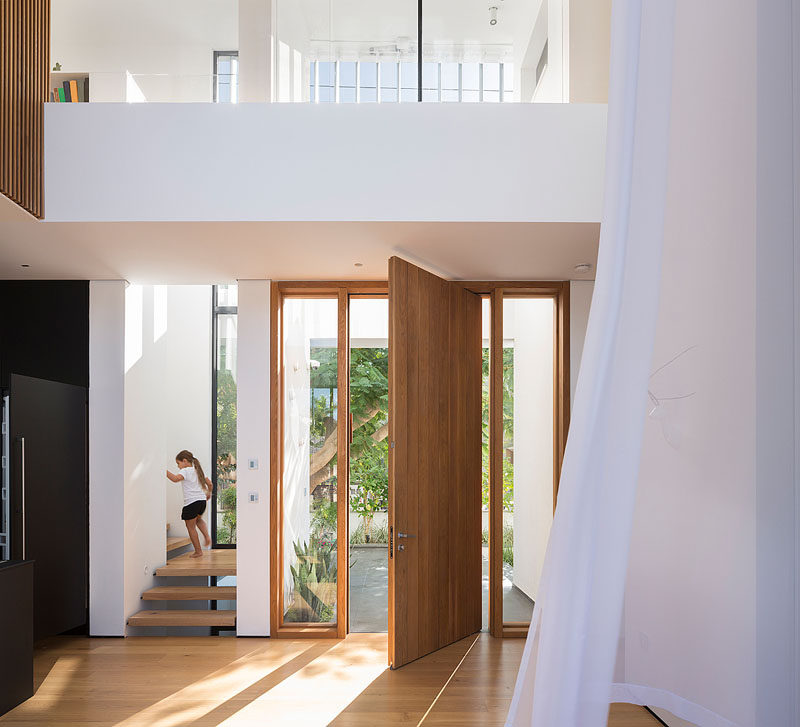 ---
The main living area shares the space with the kitchen and dining room. In the living room there's a glass corner that can be opened to allow for full access to the garden without any obstructions.
---

---
The house has been designed in an "L" shape that wraps around the swimming pool and has views of the park.
---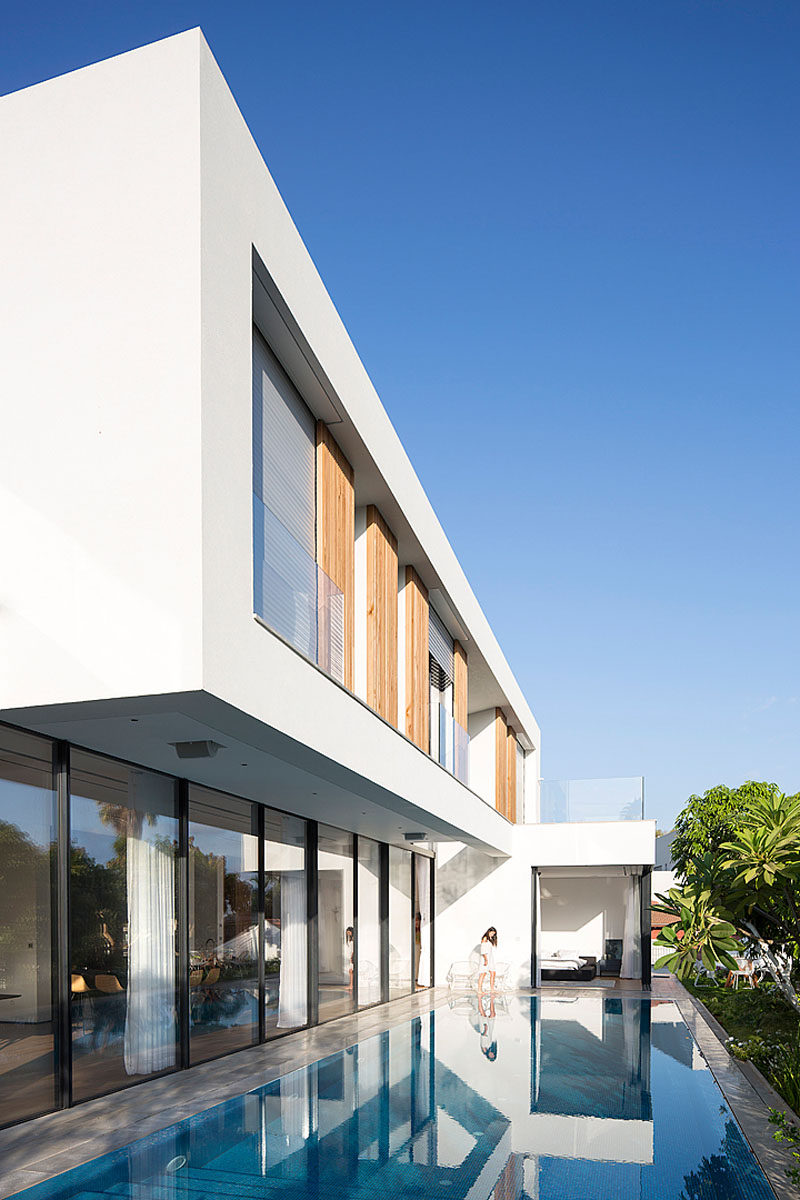 ---
The lower level of the home can be almost completely opened to the backyard and swimming pool, perfect for letting air flow through the house.
---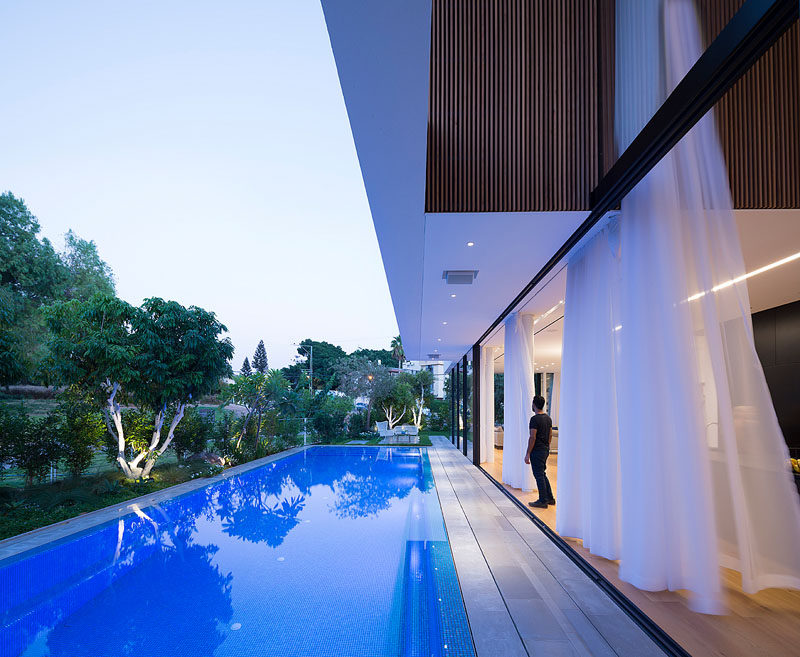 ---
The matte black kitchen is a strong contrast the the rest of the house, where the walls are mostly white. A long island creates plenty of counterspace and acts as a casual dining area, while the wall is home to floor-to-ceiling cabinetry, allowing for plenty of storage.
---

---
Just off the kitchen is the dining area that has a black table to tie into the color palette of the kitchen.
---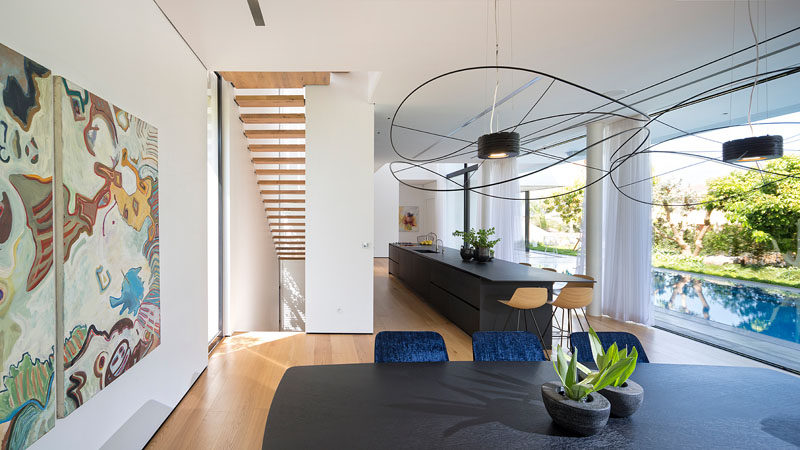 ---
The bedroom, located at one end of the pool, also features a glass corner with sliding glass doors that open up to the swimming pool and small outdoor dining area. Inside, there's a walk-through closet that leads to the ensuite bathroom.
---

---
Next to the bedroom is the foyer with the double-height ceiling that we saw the front door lead into earlier. A section of the upper floor has been covered in cedar and is visible from the exterior of the home.
---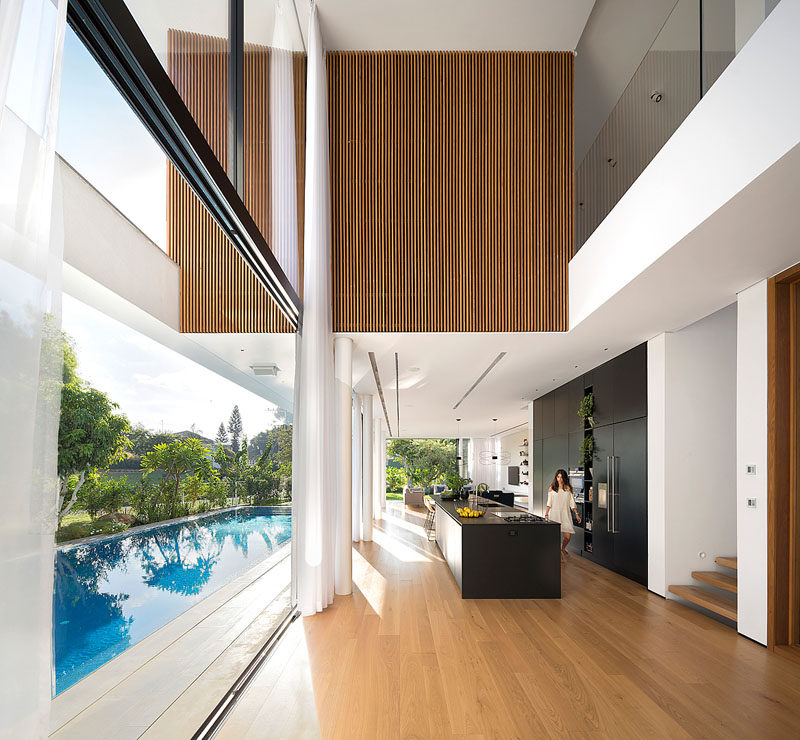 ---
Wooden stairs with black supports lead you to the upper floor of the home.
---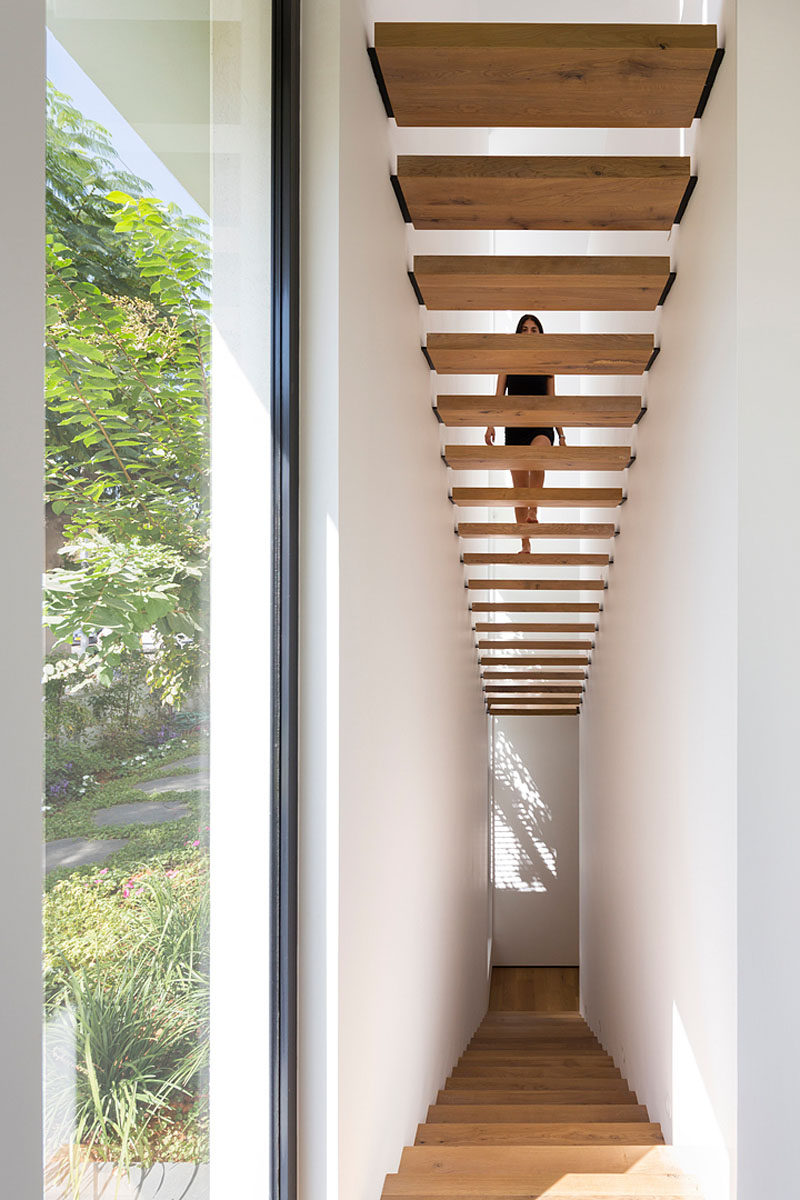 ---
Upstairs there's a bridge that travels across the lobby overlooking the entrance and front door on one side, and the swimming pool on the other.
---