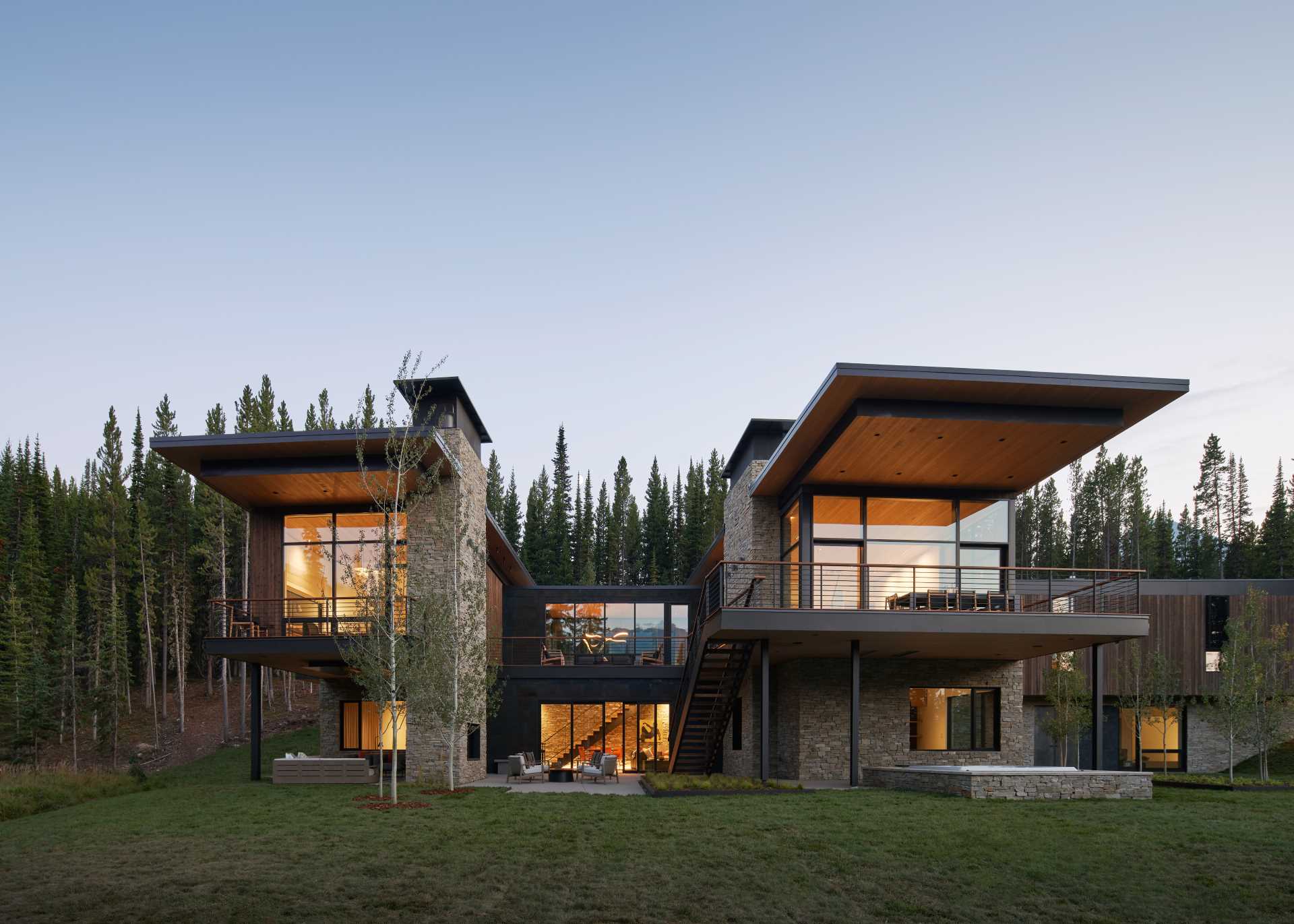 CLB Architects has sent us photos of a mountain retreat they designed in a densely forested area of Big Sky, Montana.
Designed as a launchpad for the homeowners' many outdoor recreation activities, the home is aligned to the edge of a gentle slope.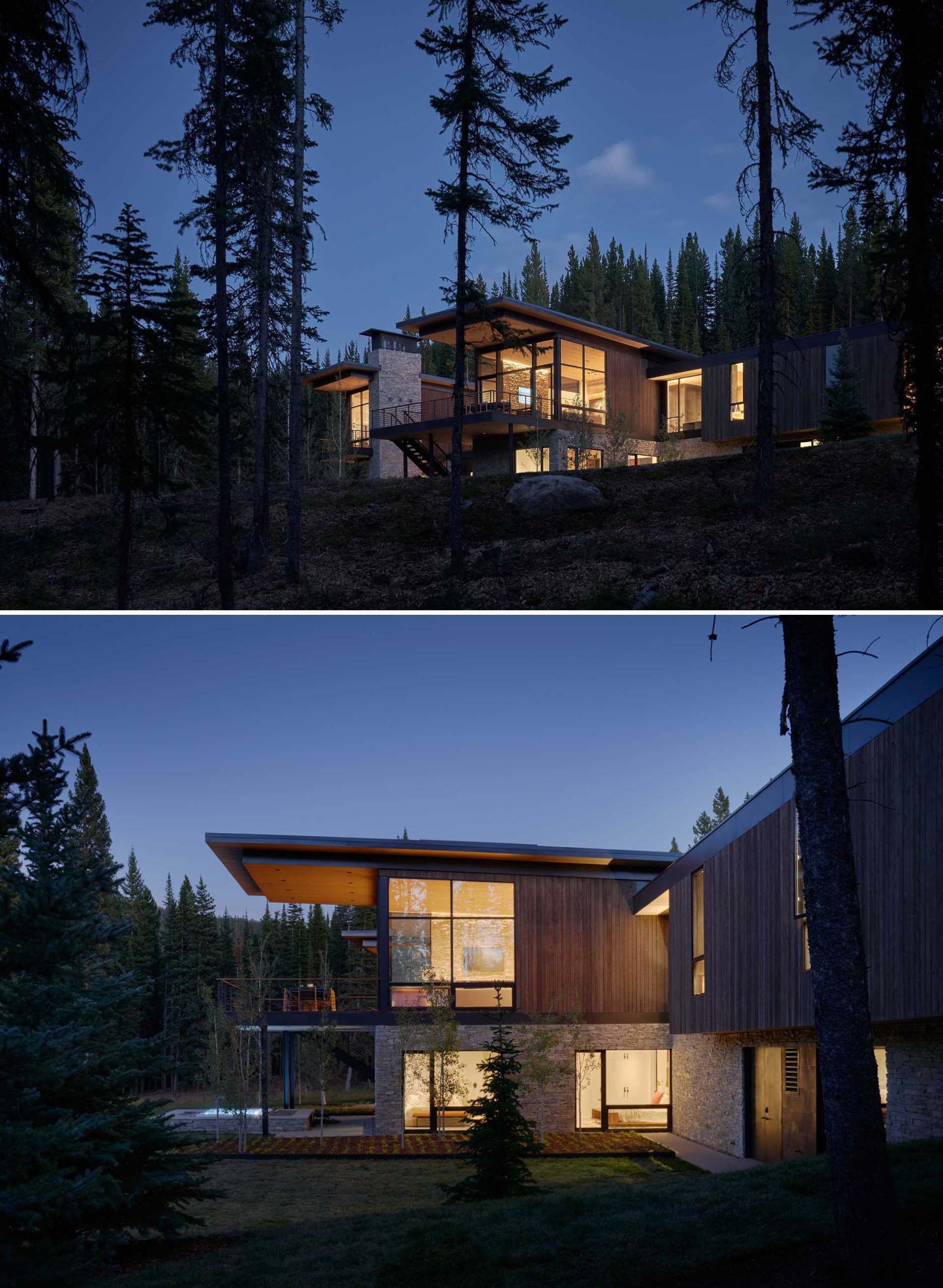 The home has been designed as a long, linear plan punctuated by two wings at either end of the house that reach out into the landscape to capture dramatic views.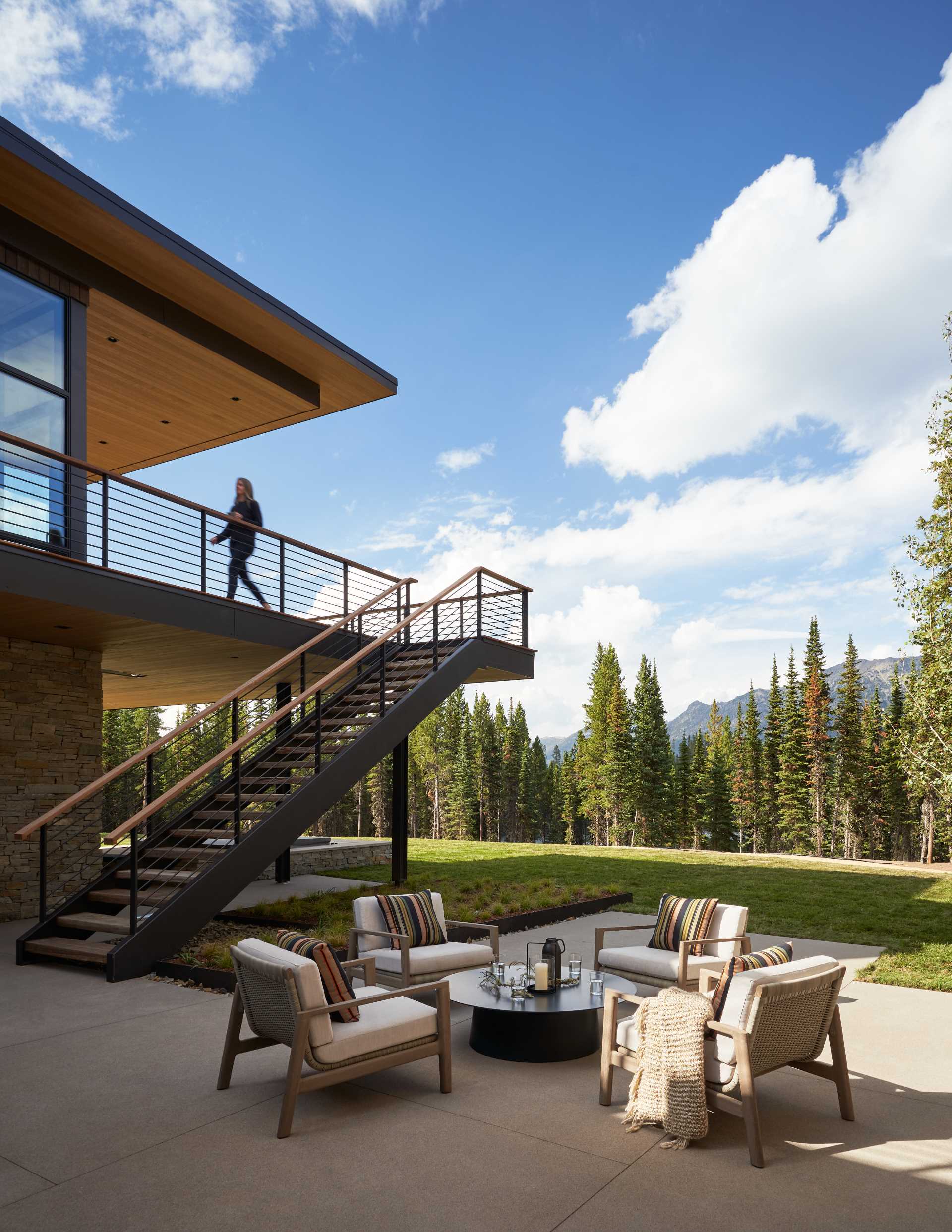 Elevating the social areas of the home, like the kitchen, dining, and living spaces, allows for sweeping, treetop views of Ulery's Lake and the Spanish Peaks.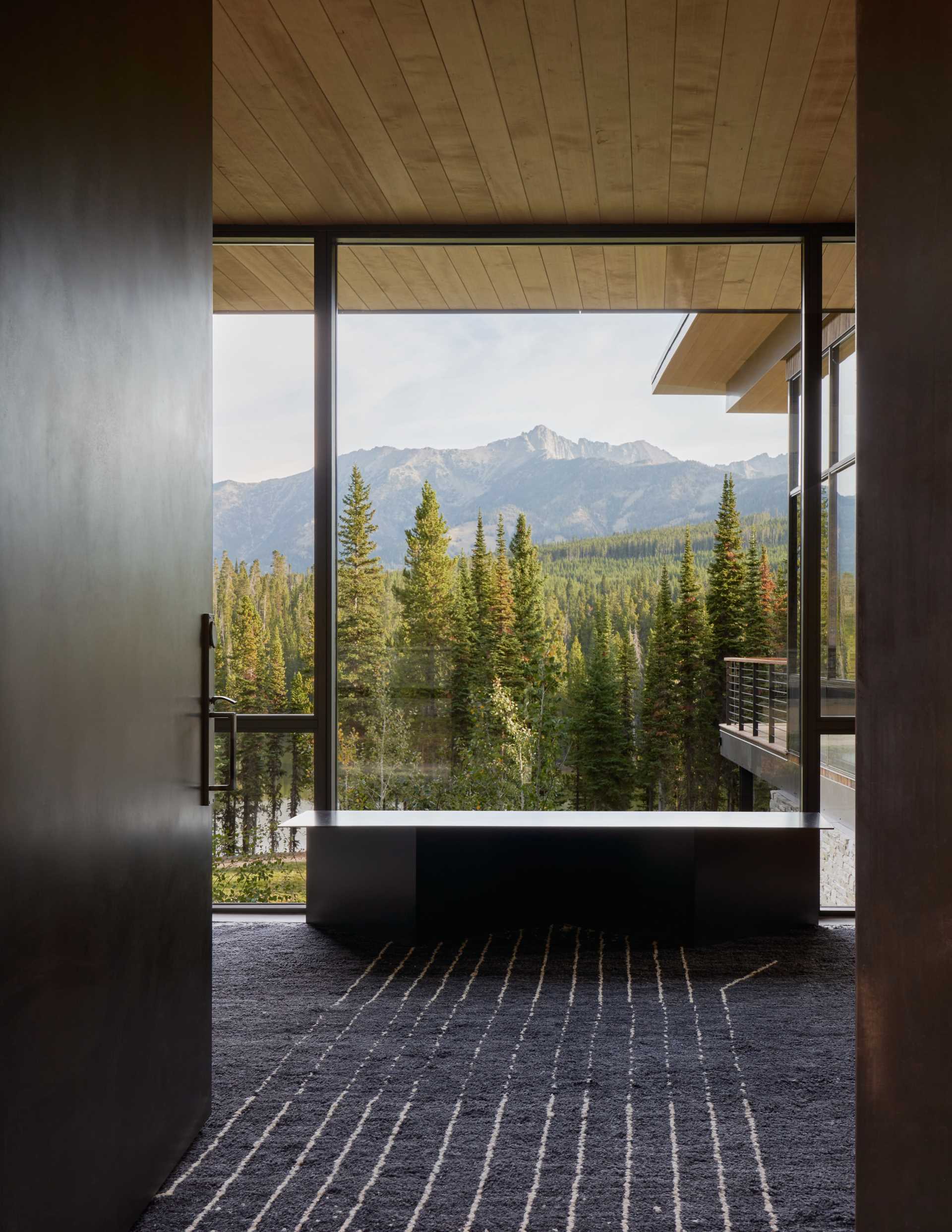 The design emphasizes a link to nature in every room, with indoor entertaining areas directly connecting to outdoor spaces for a free flow of movement from inside to out. Continuous hemlock soffits run from exterior to interior, as seen in the living room.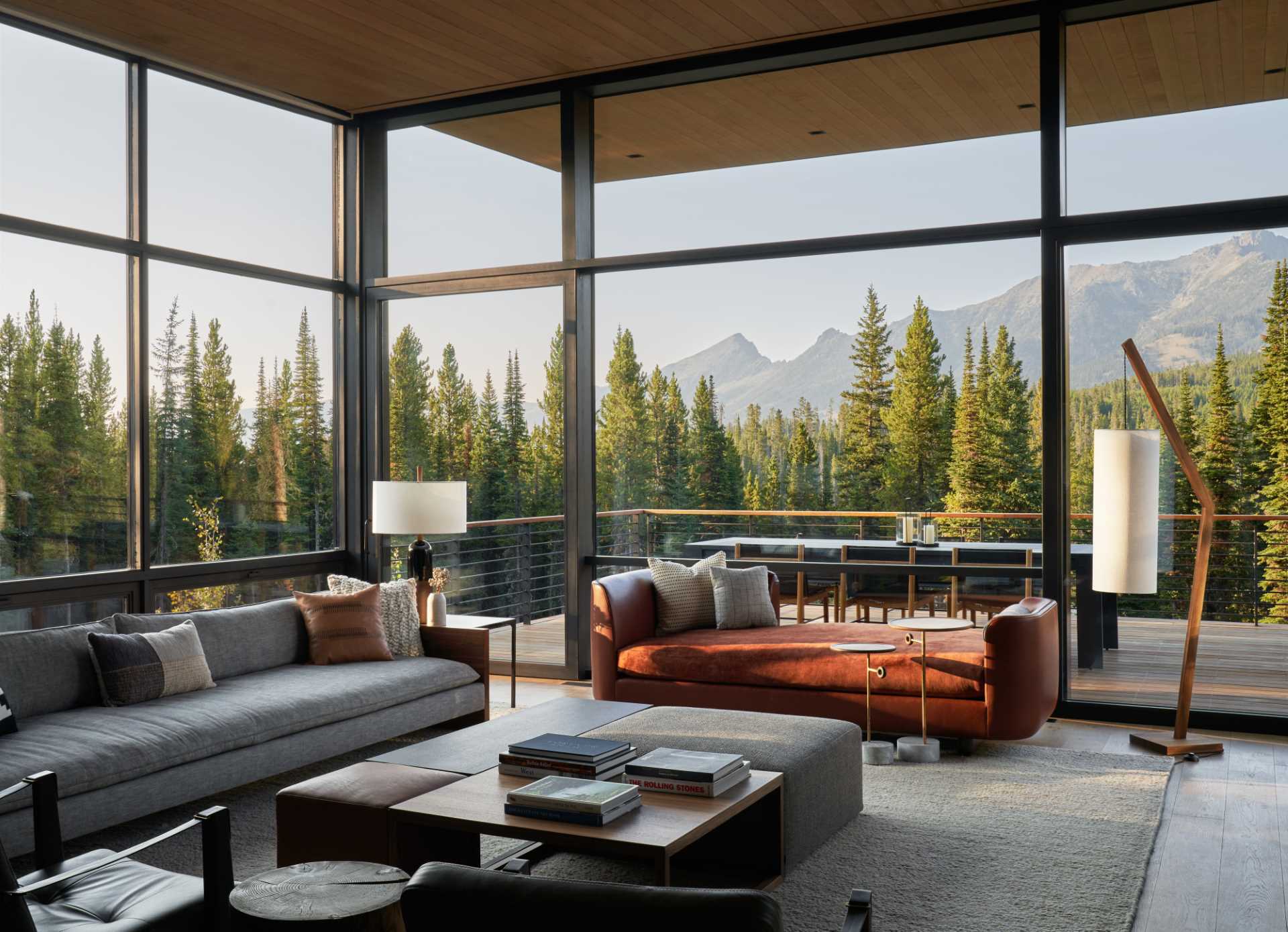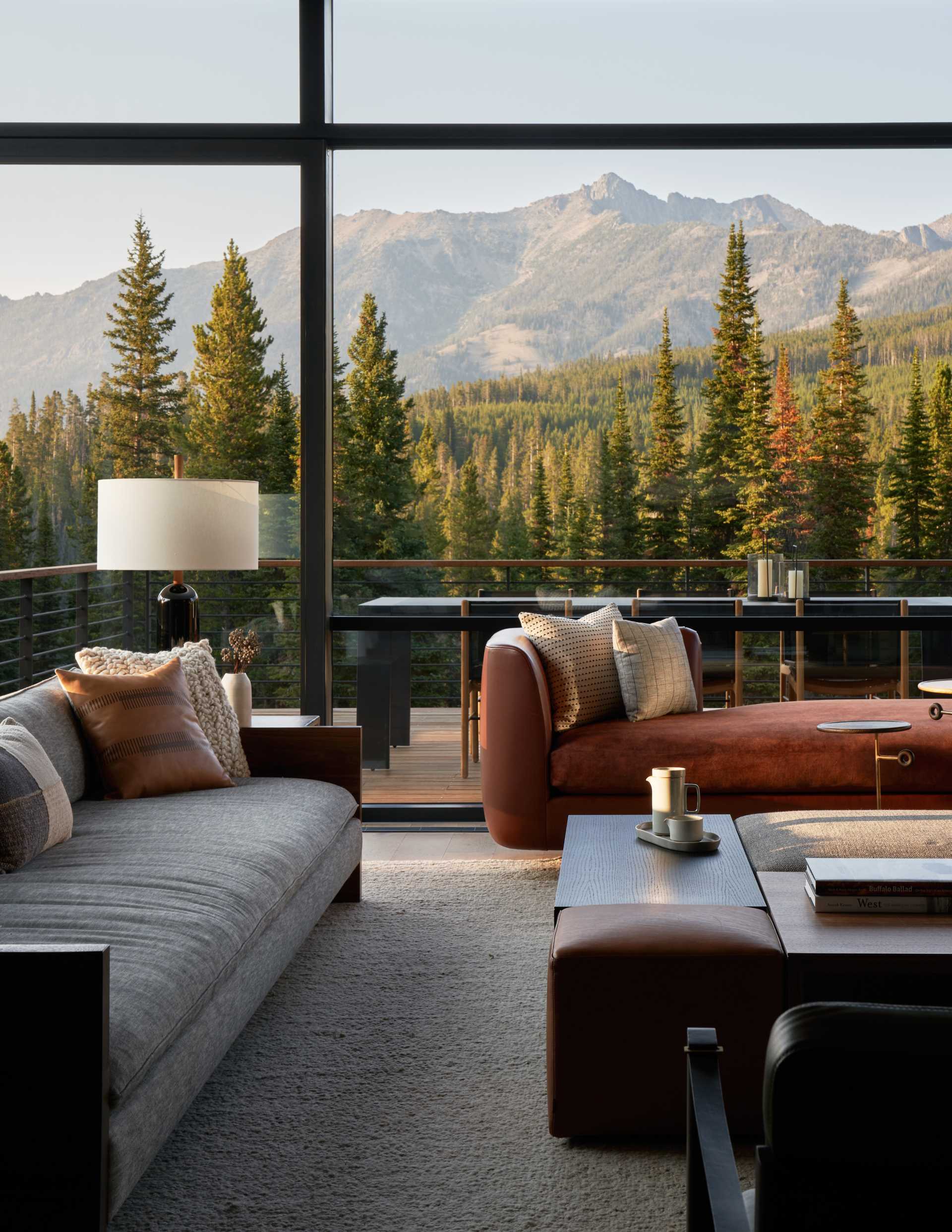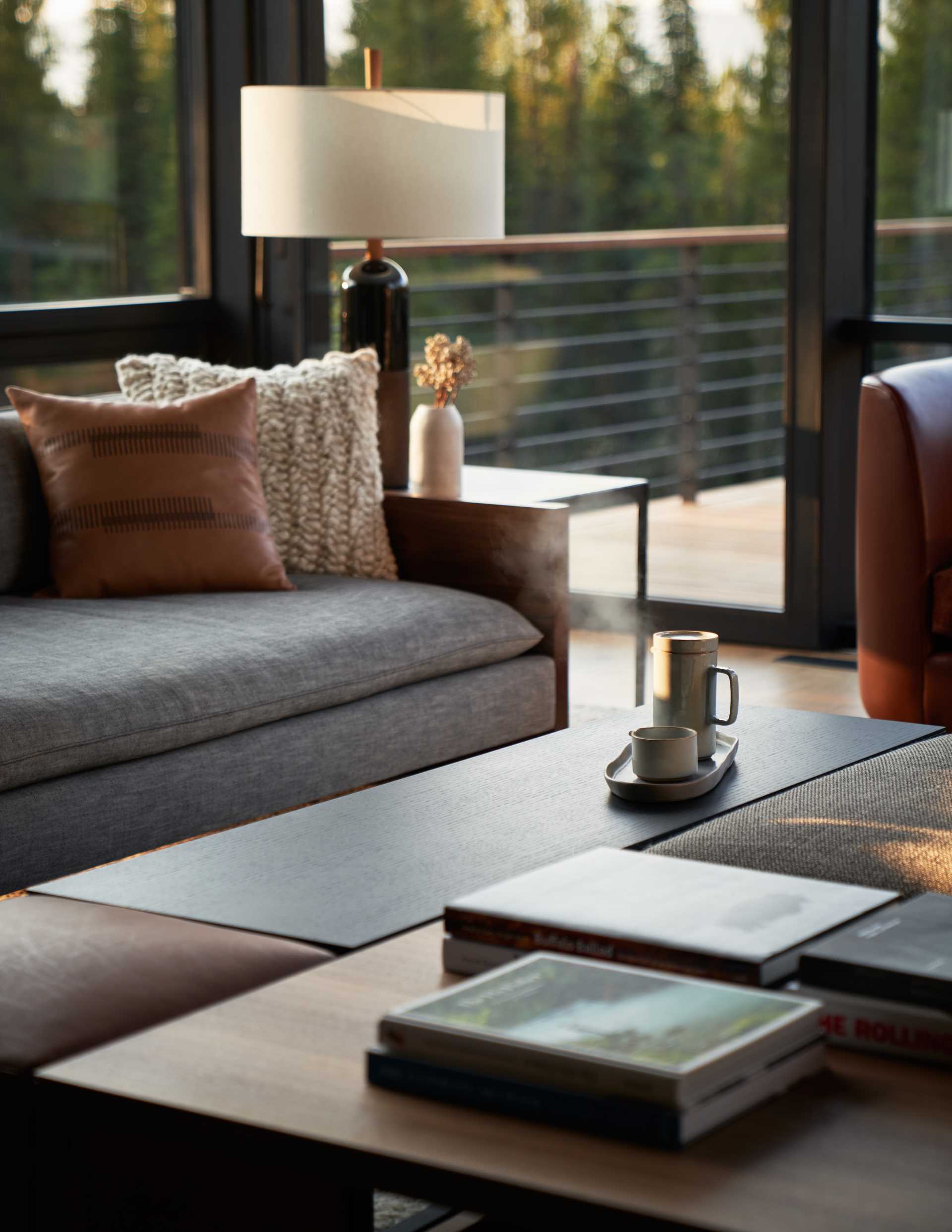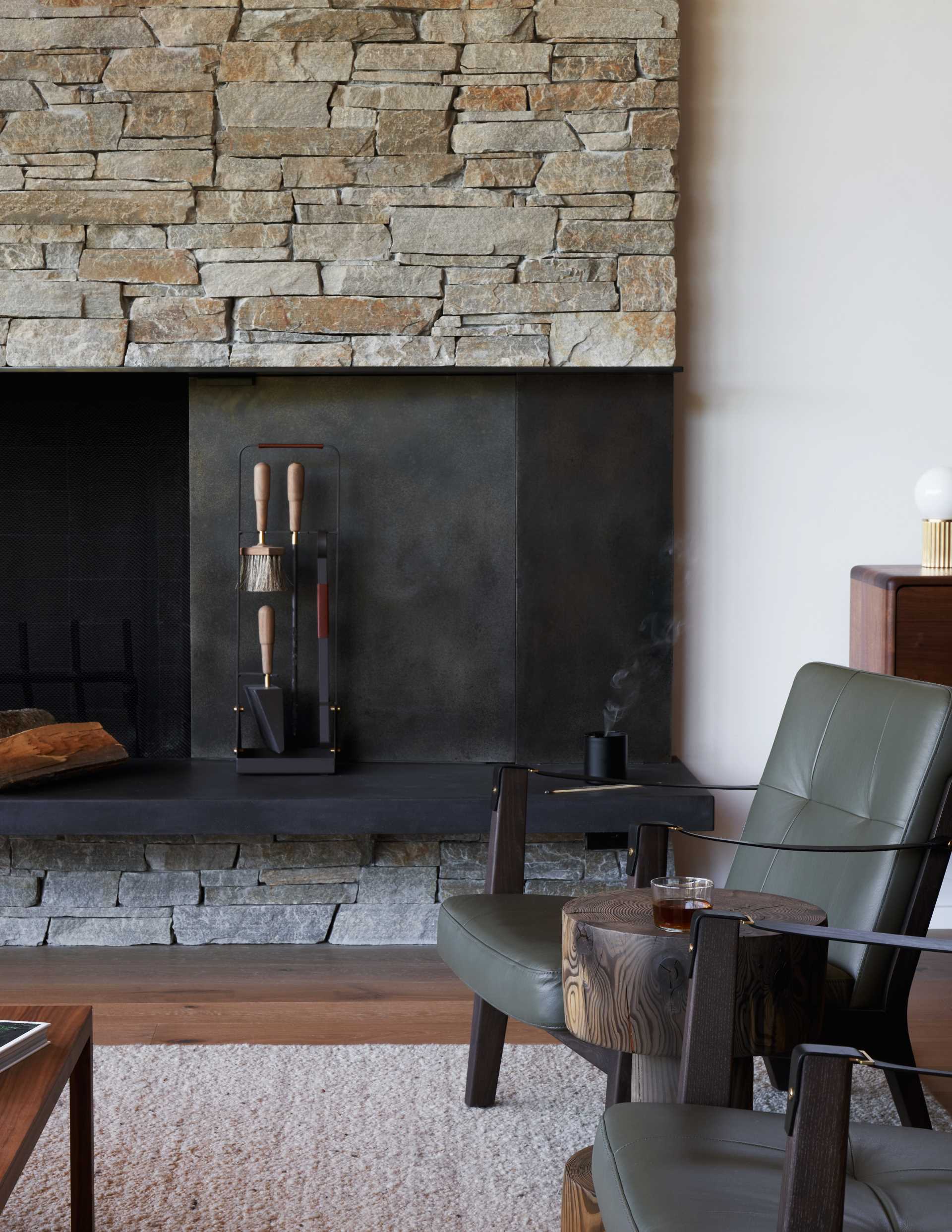 Dry-stacked quartzite stone has been used as accents on both the interior and exterior walls.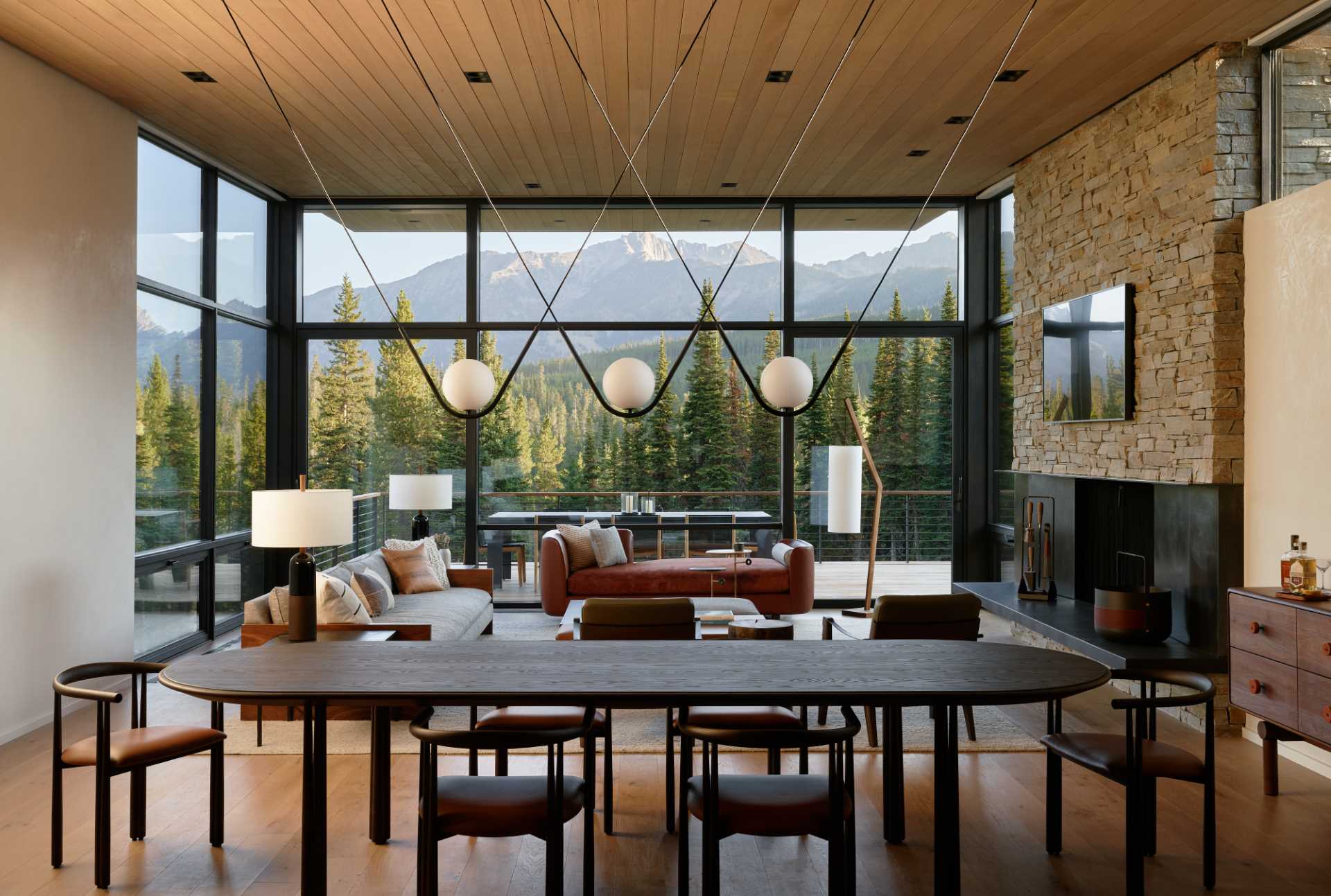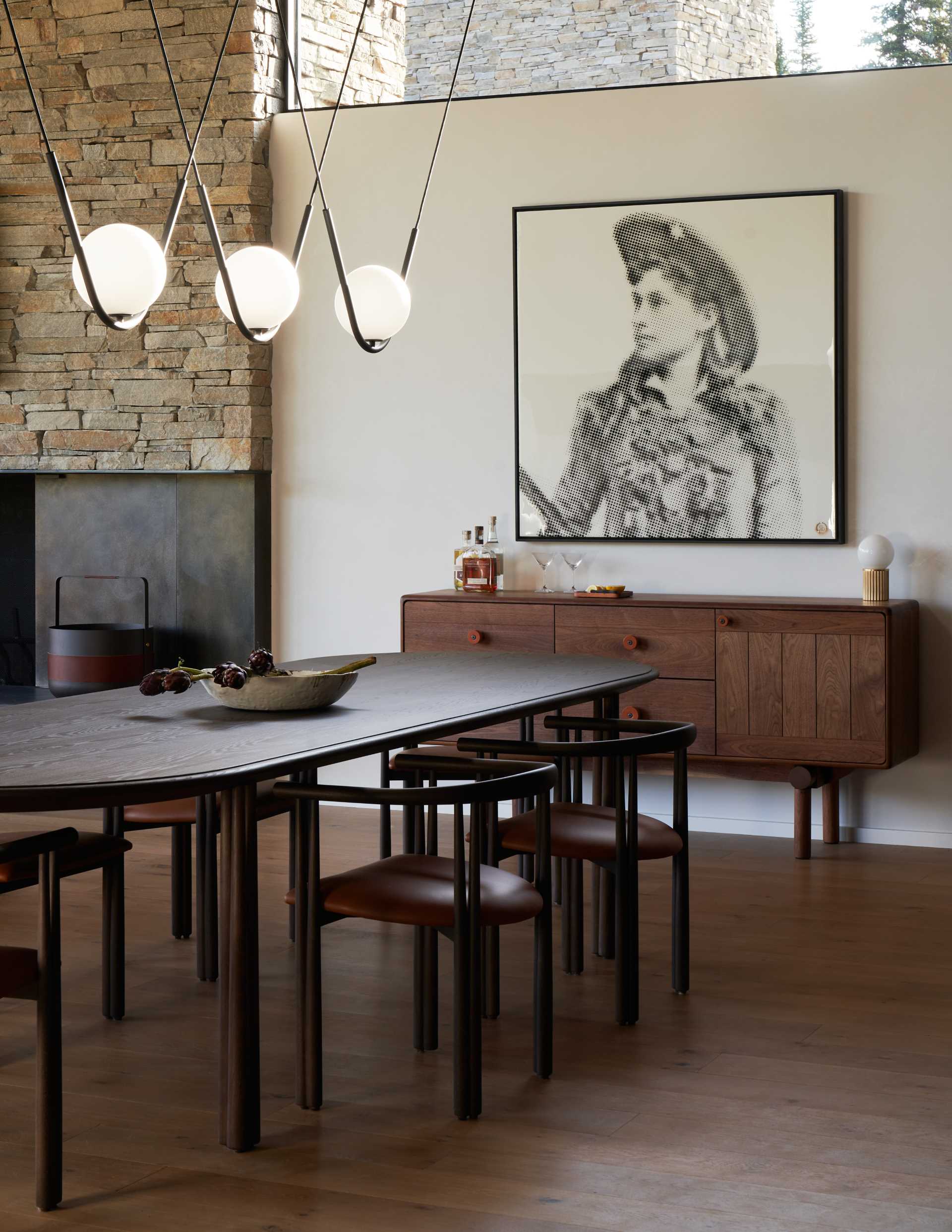 In the kitchen, there are dark walnut cabinets with white countertops.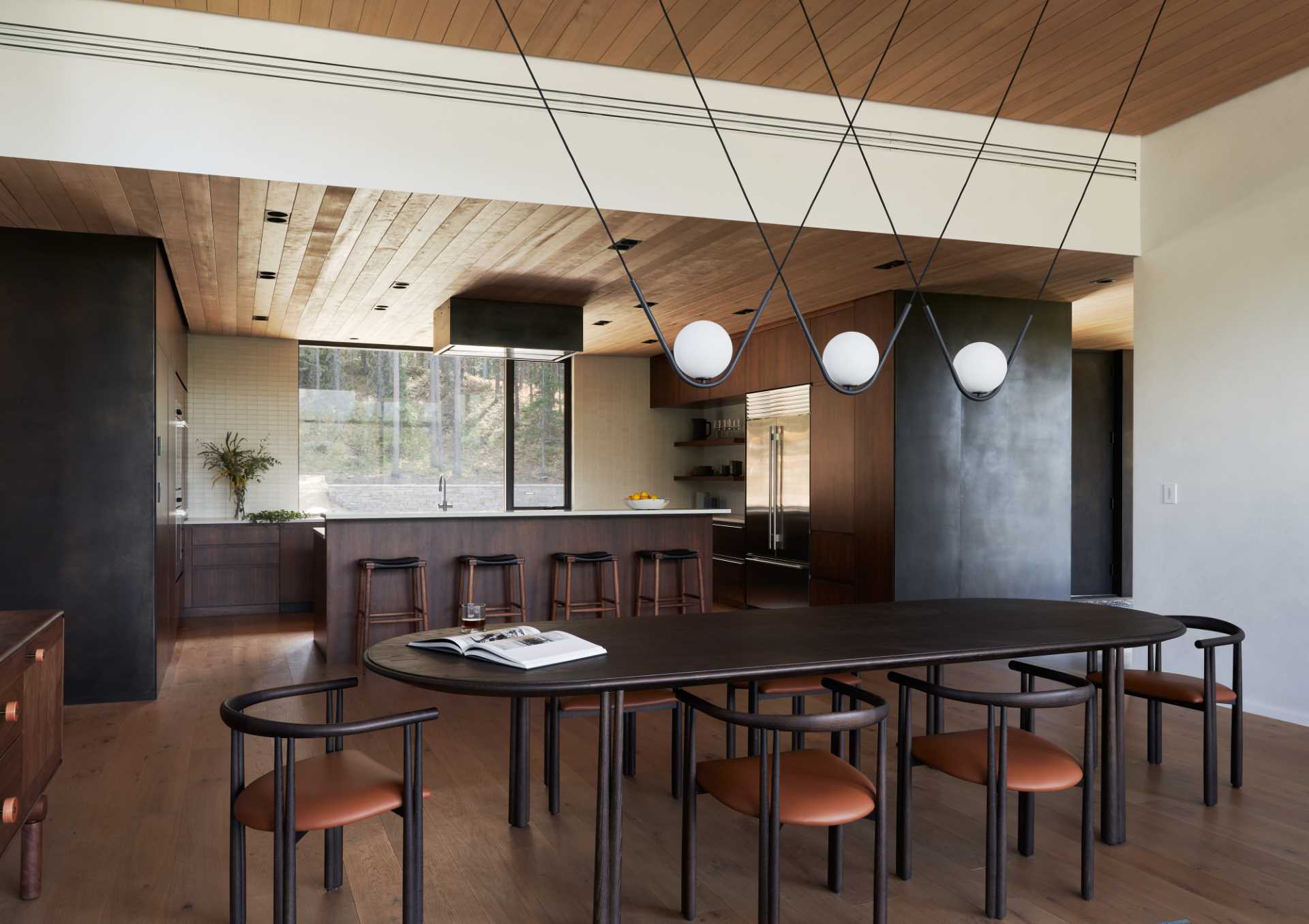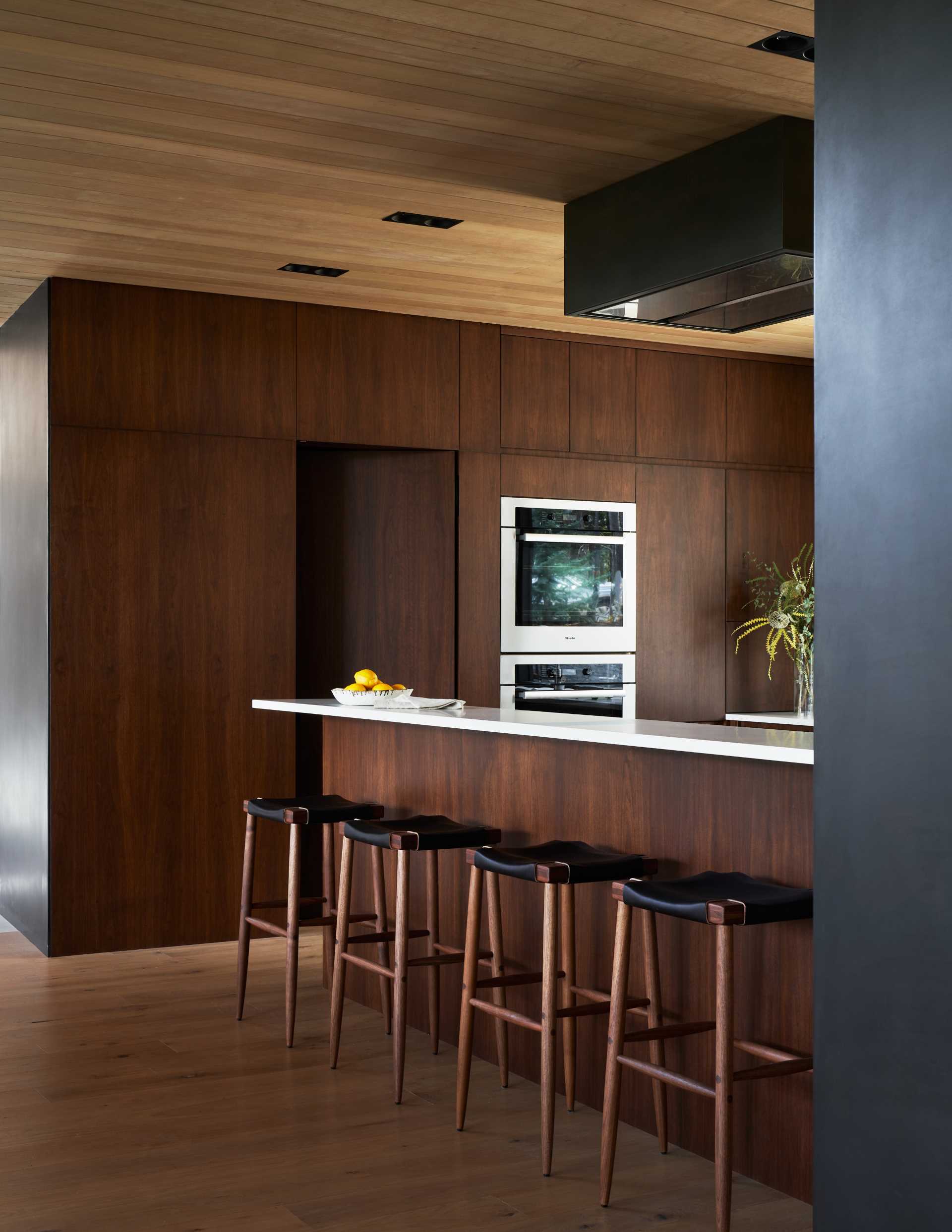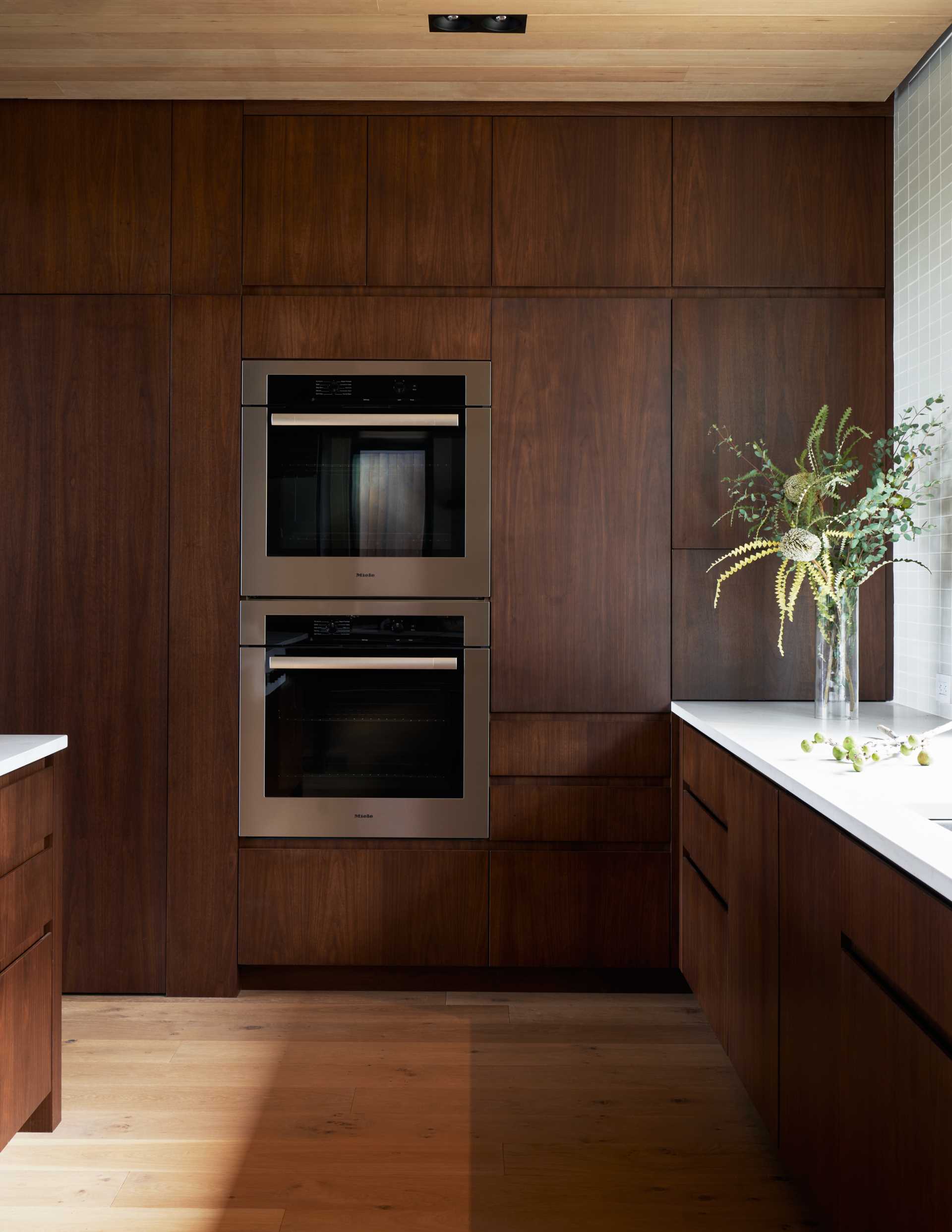 Furnishings help bring the colors and textures of nature inside, with pops of deep reds and oranges, rich leathers, and textural rugs and fabrics conjuring an autumnal landscape palette. A games room and bar is an example of this.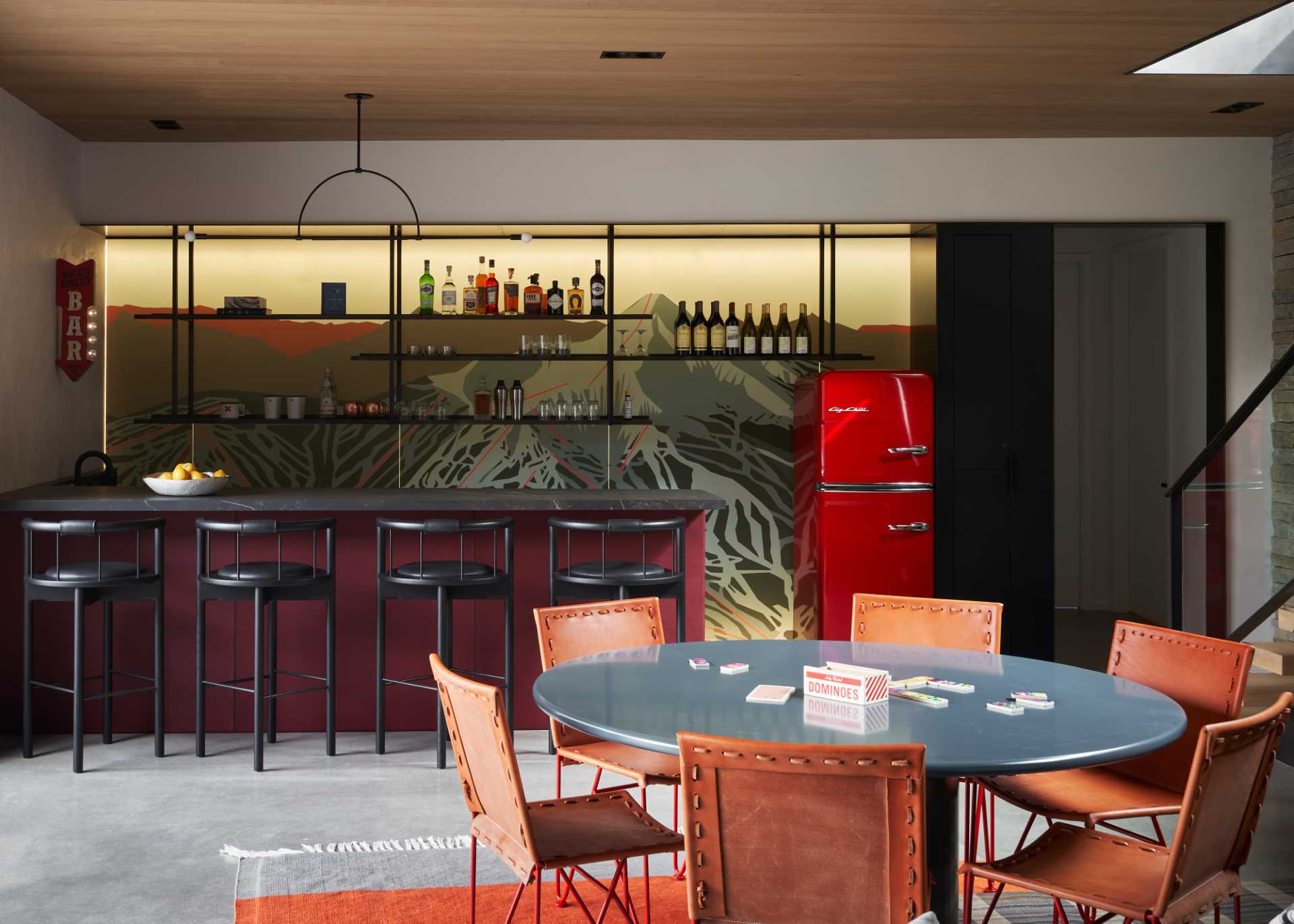 In another lounge room, dark walls and furniture create a dramatic look.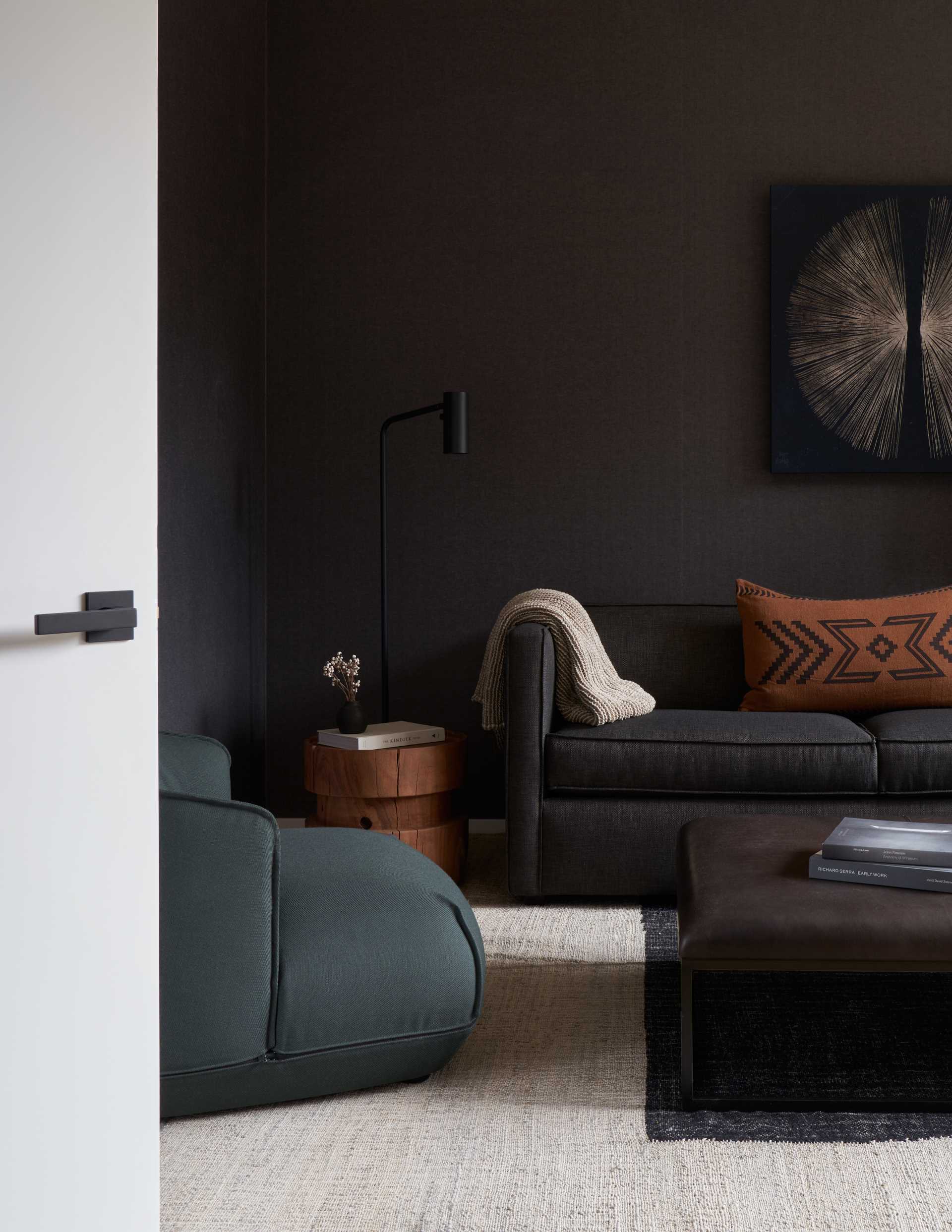 A wall of cabinetry with leather pulls includes a floating desk and matching shelves.
A double-sided glass corridor on the upper level connects various areas of the home, creating a transparent zone in the home's core and inviting the outside in.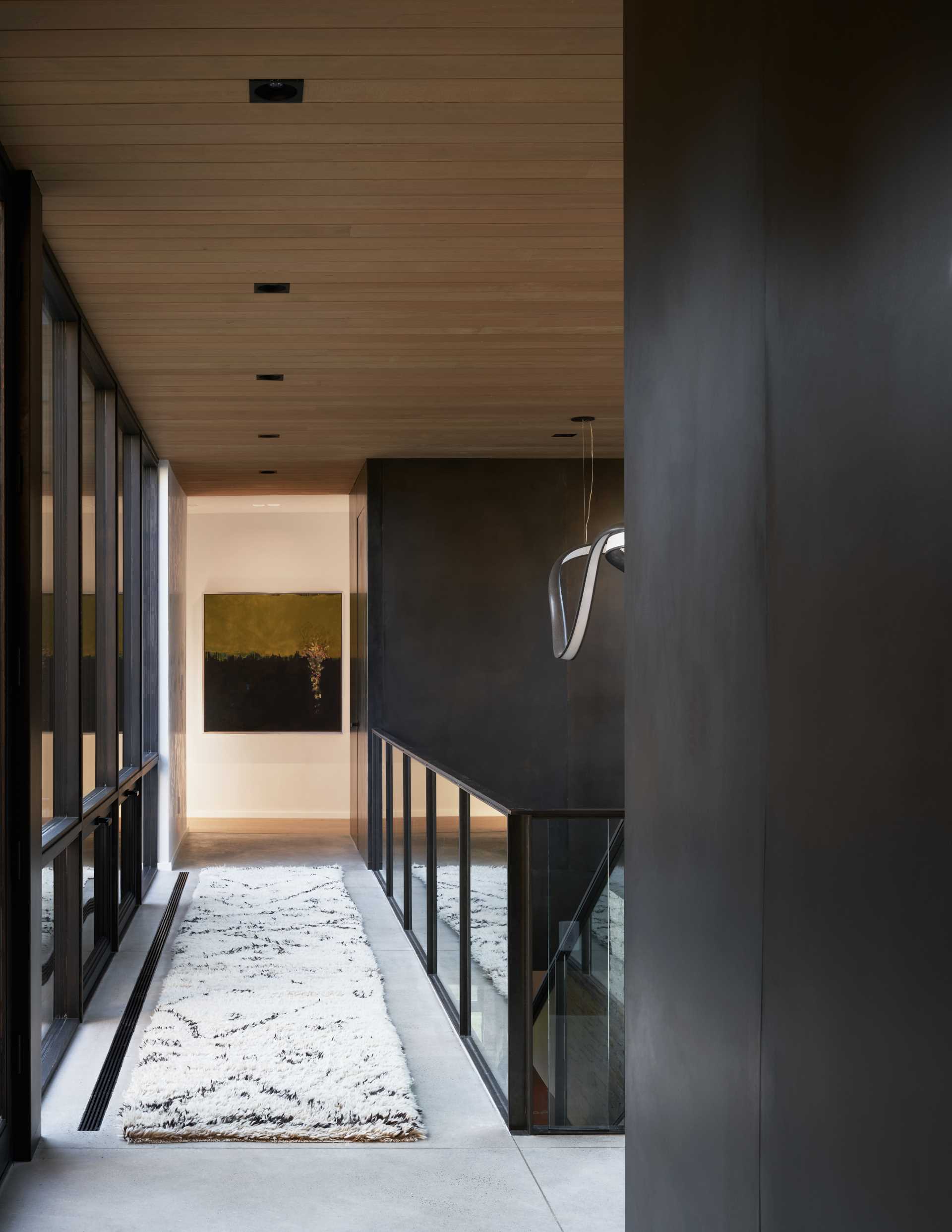 Another hallway includes a variety of artwork.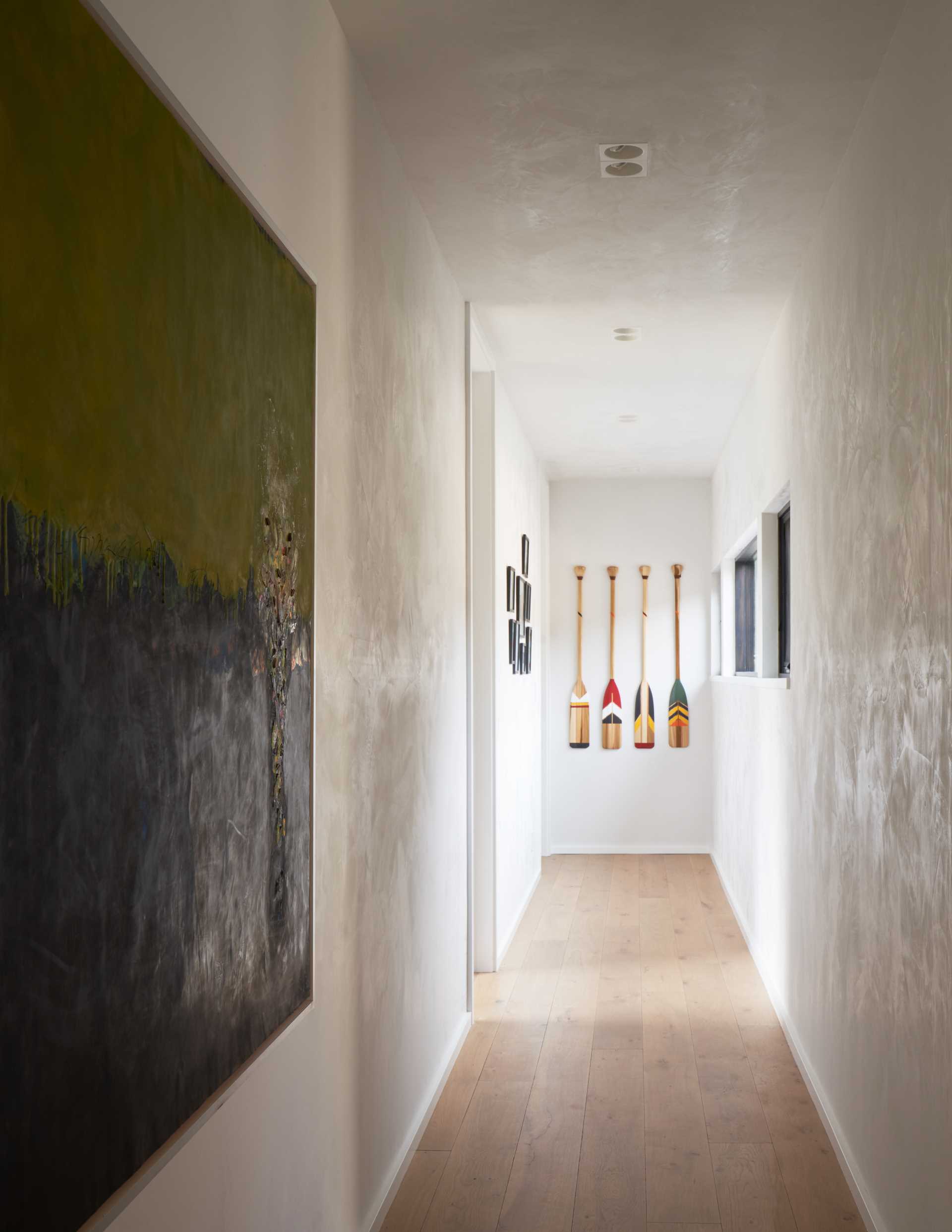 Modestly-sized bedrooms on the lower level of the home encourage family members to congregate in the main living areas.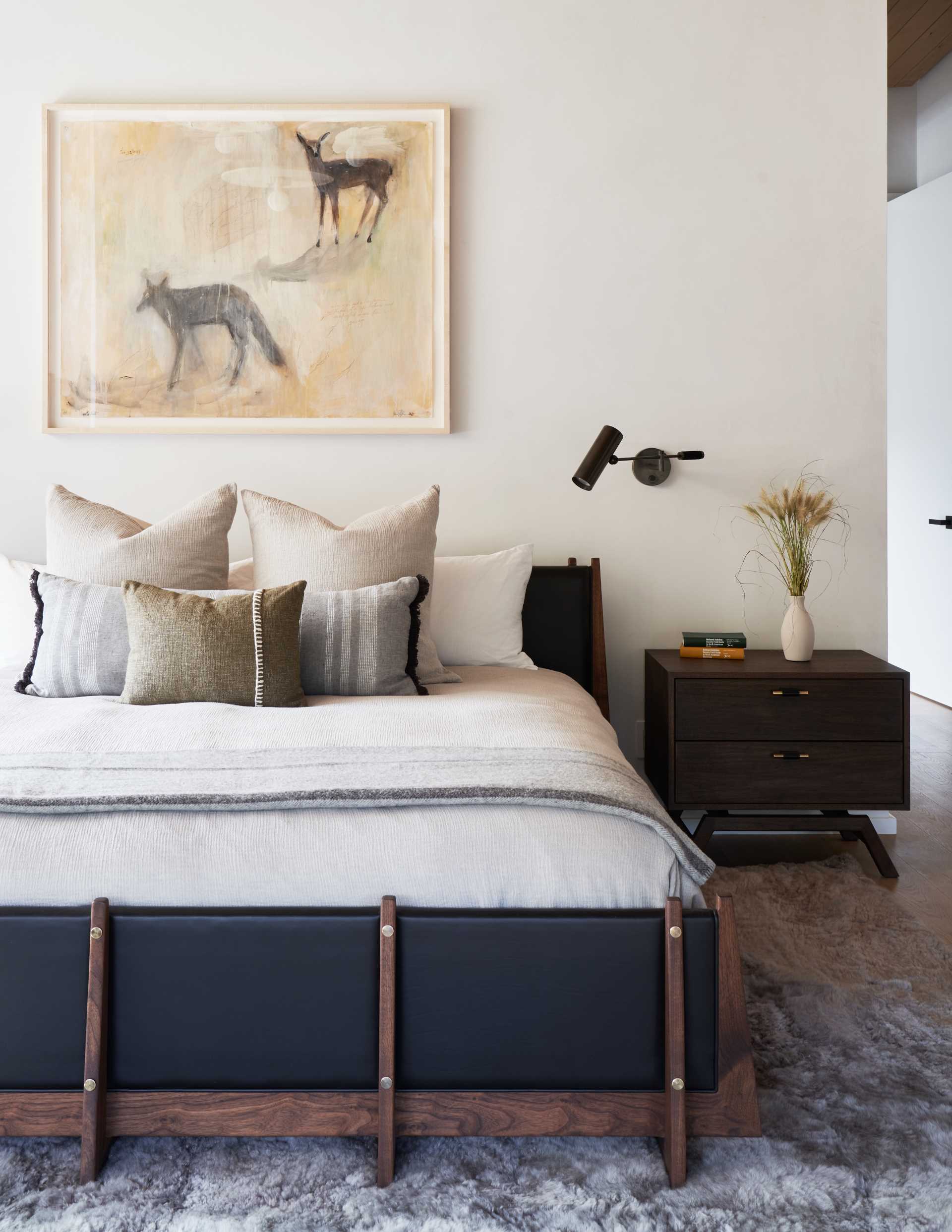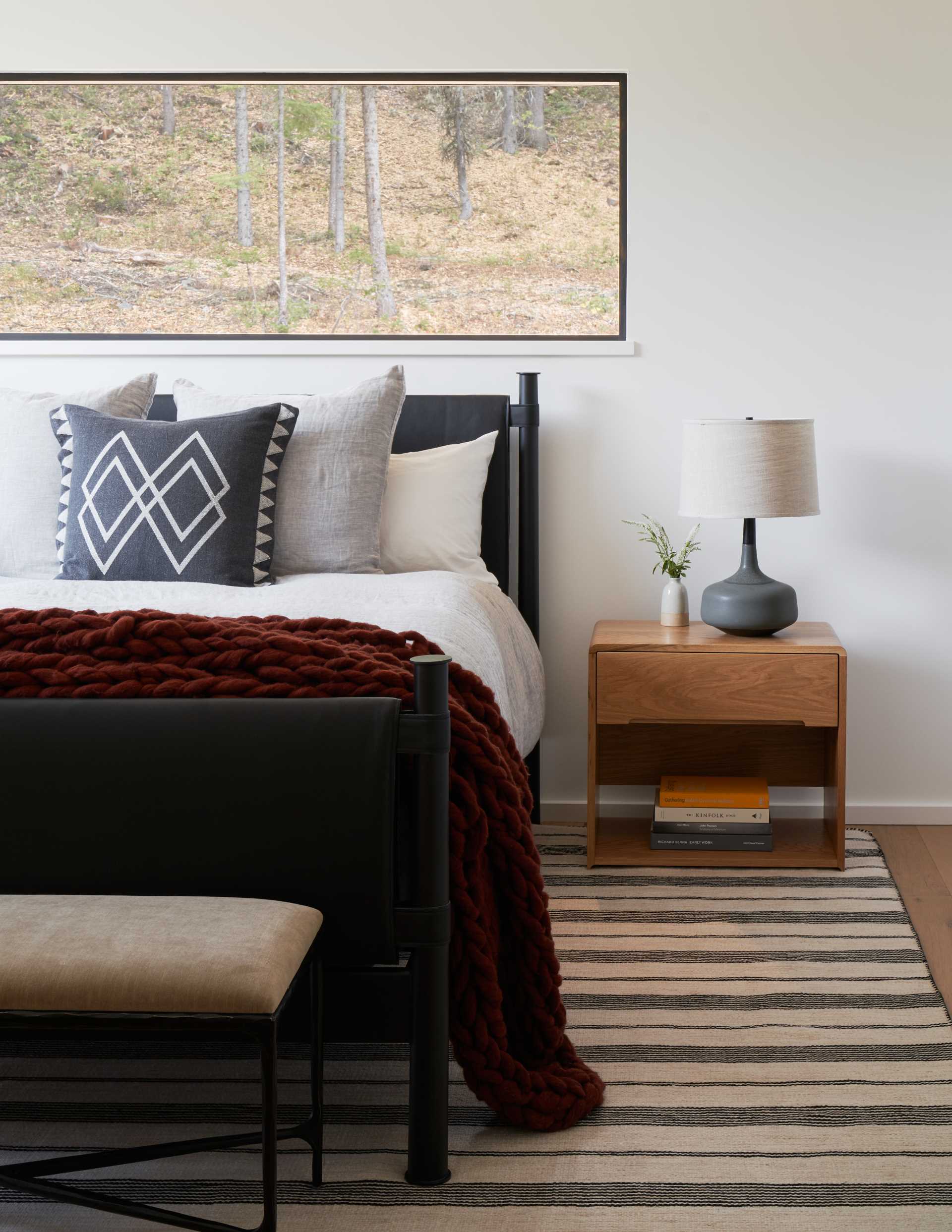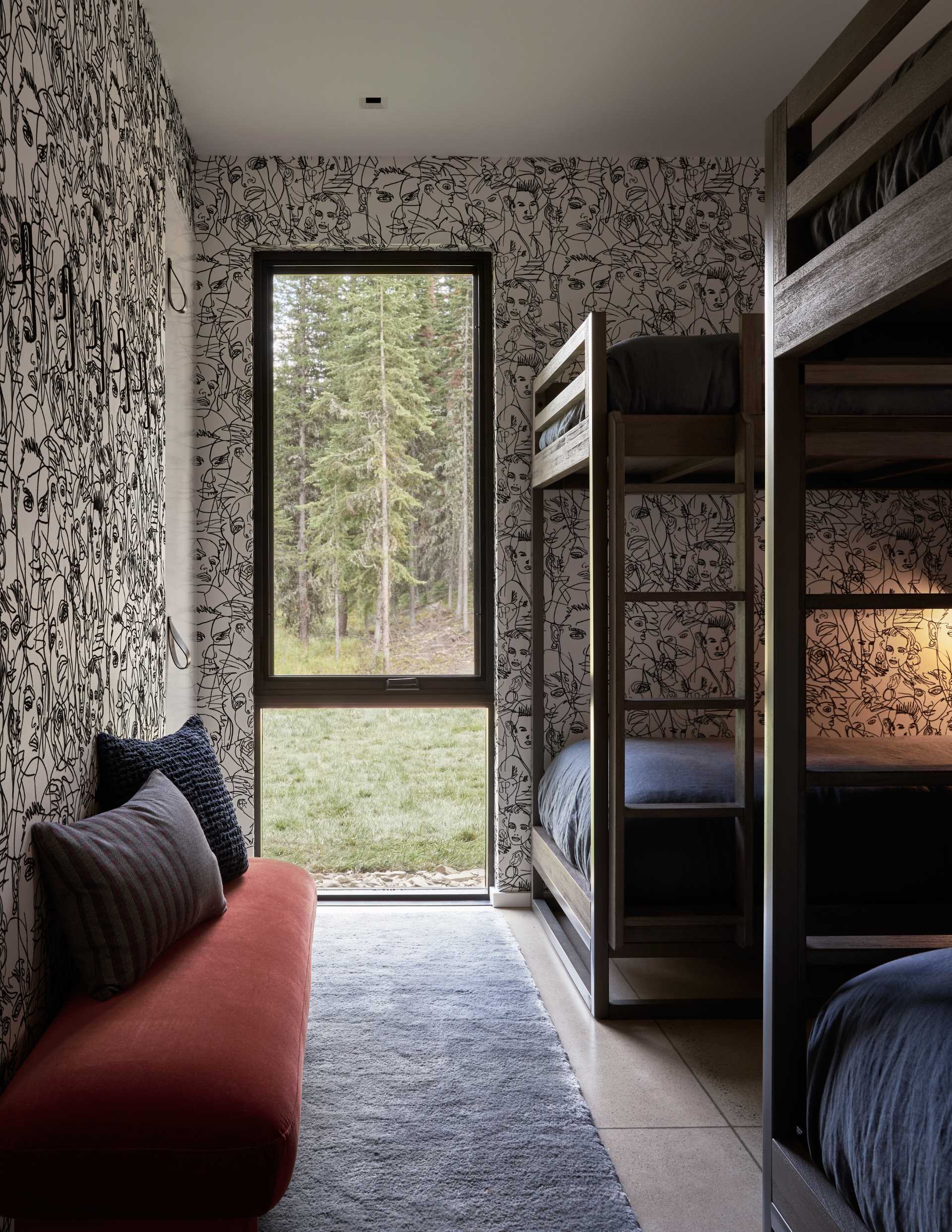 In one of the bathrooms, long rectangular grey tiles have been installed in a horizontal layout on the wall, while unique pendant lights fill the corner of the room.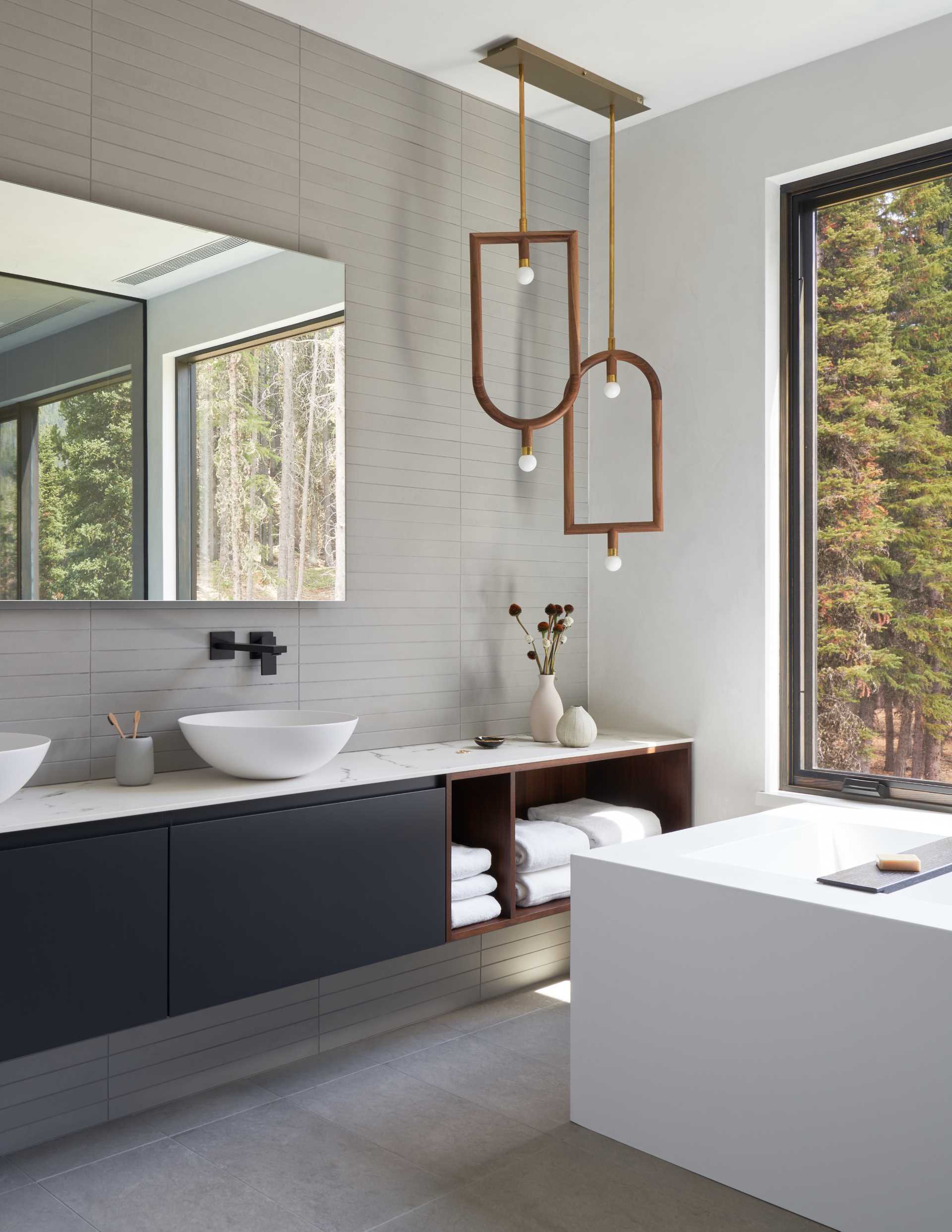 In another bathroom, dark tiled walls have been paired with a wood vanity, a light countertop, and vertical lighting.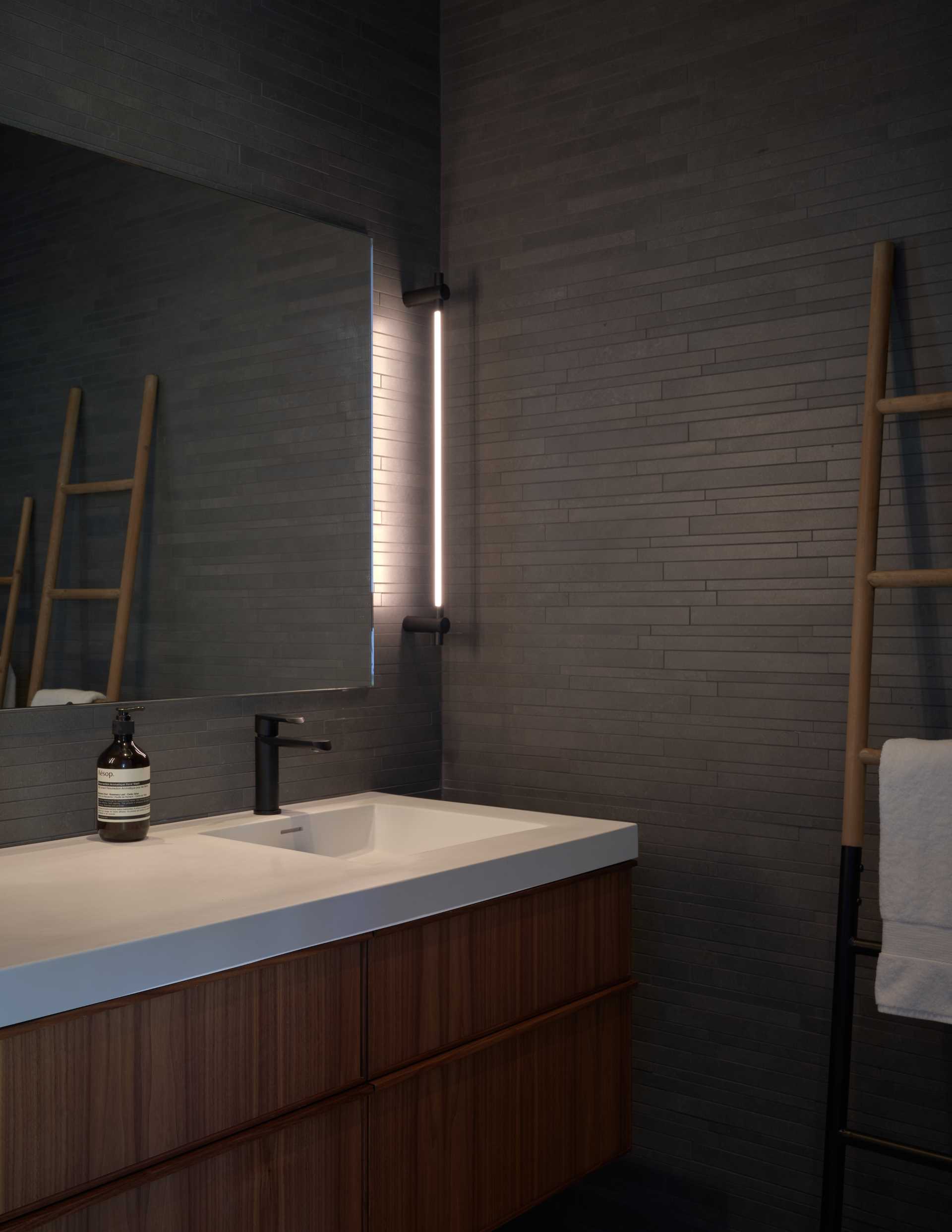 Photography by Kevin Scott | Architecture and Interior Design: CLB Architects (Design Team: Architecture: Kevin Burke, Sam Ankeny, Mark McPhie / Interior Design: Sarah Kennedy, Maria James, Libby Erker, Sydney Millyard) | Builder: Highline Partners | Landscape: Field Studio | Structural: KL&A | Lighting: Helius