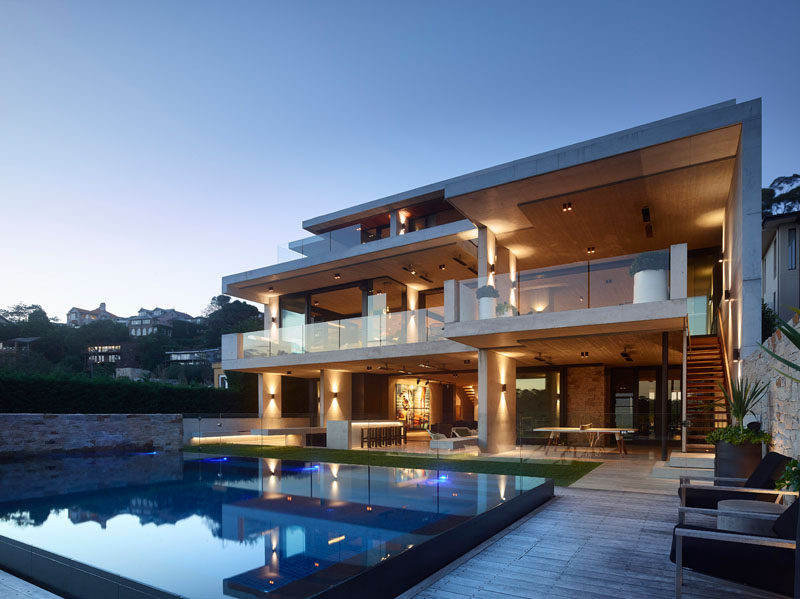 Shaun Lockyer Architects have designed a multi-level house in Sydney, Australia, that's perched overlooking the harbor below.
Inspired by 'Brazilian Modern', the home features a combination of materials such as concrete, stone, timber, and steel.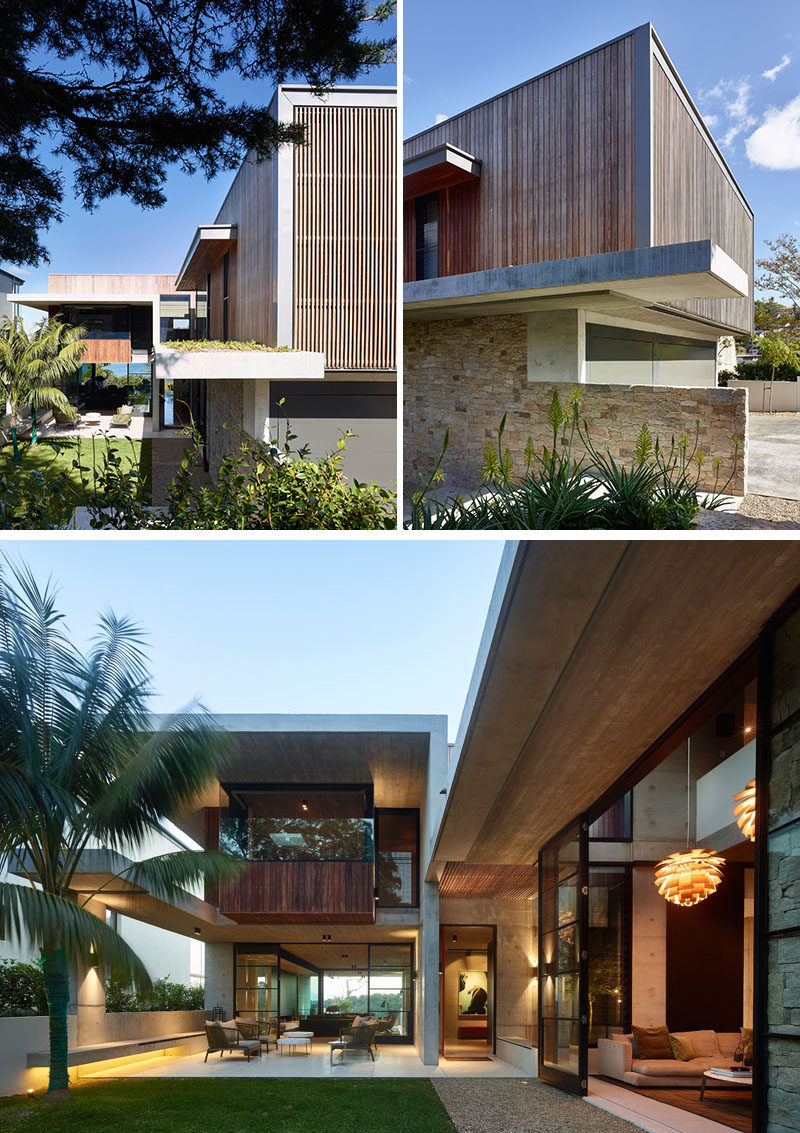 ---
Upon entering the home, there's a simple red upholstered bench that sits below a highlighted piece of artwork.
---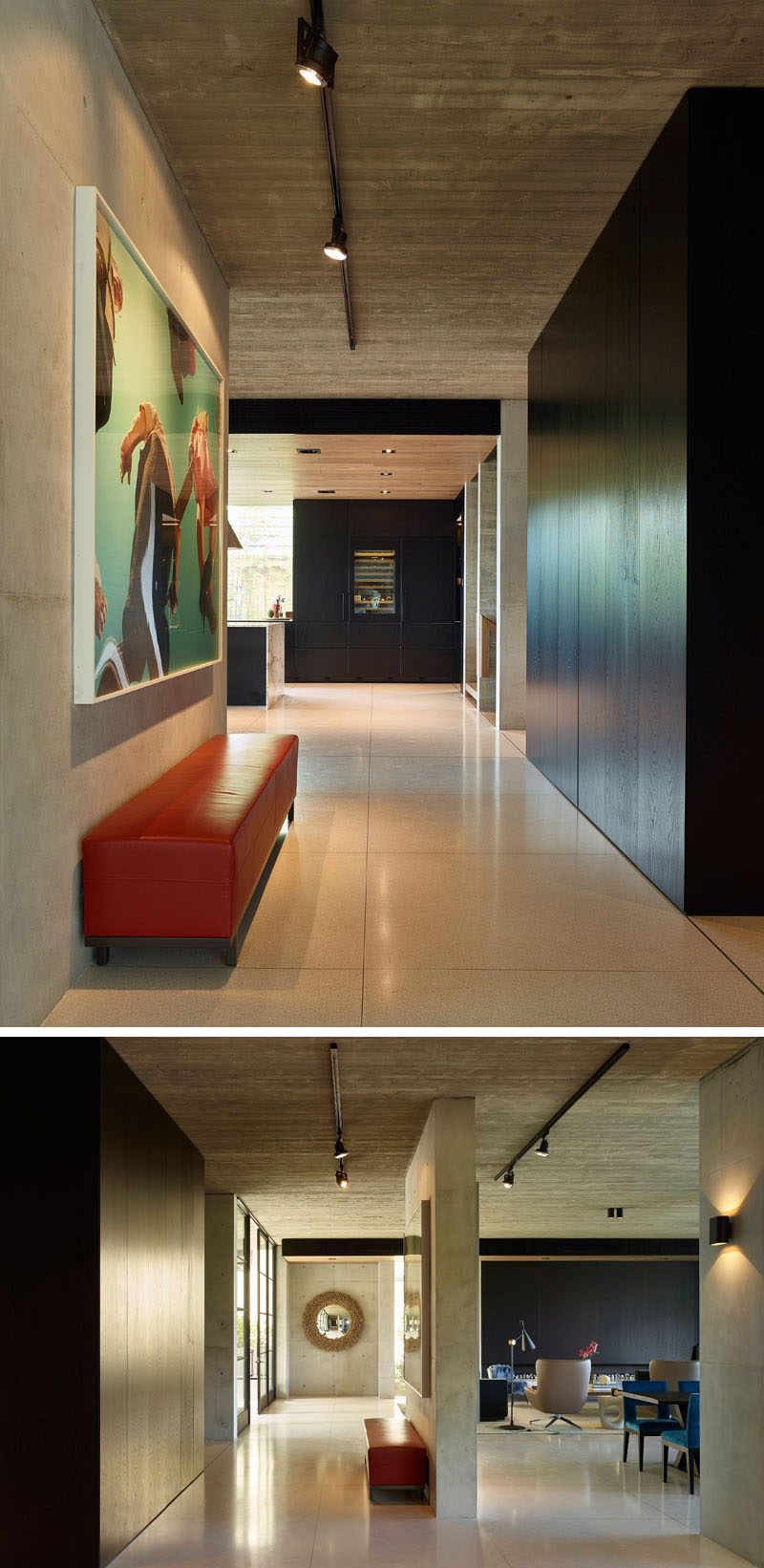 ---
Off to the side of the entryway is a small hallway with a built-in desk area, and a casual living room that opens to the front garden.
---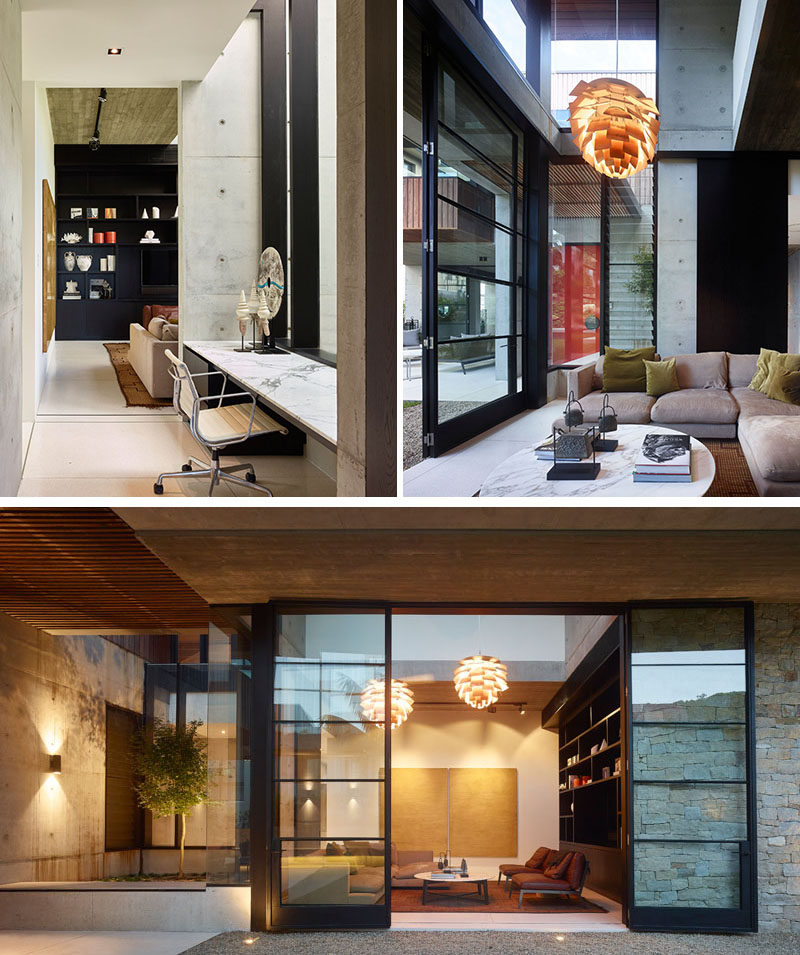 ---
In the main social areas of the house, there's the more formal living room, with a long fireplace and comfortable seating that surrounds a coffee table.
---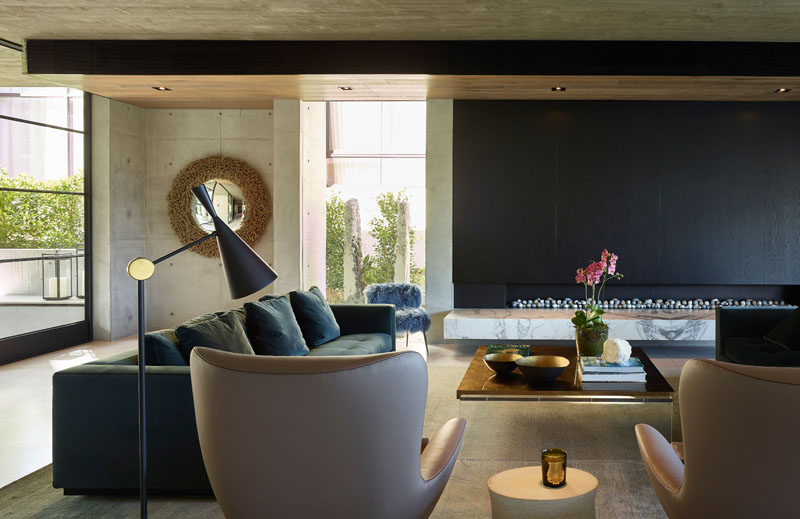 ---
Behind the living room is the dining room. A pair of chandeliers hang above the large dining table, while a sideboard provides separation from the kitchen.
---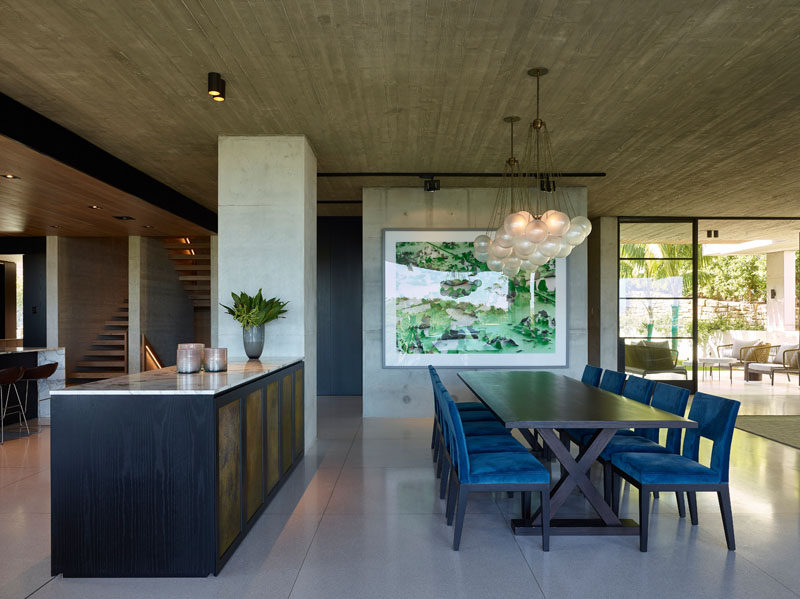 ---
In the kitchen, dark wood cabinetry contrasts the light floor and ceiling, while a large picture window provides ample natural light.
---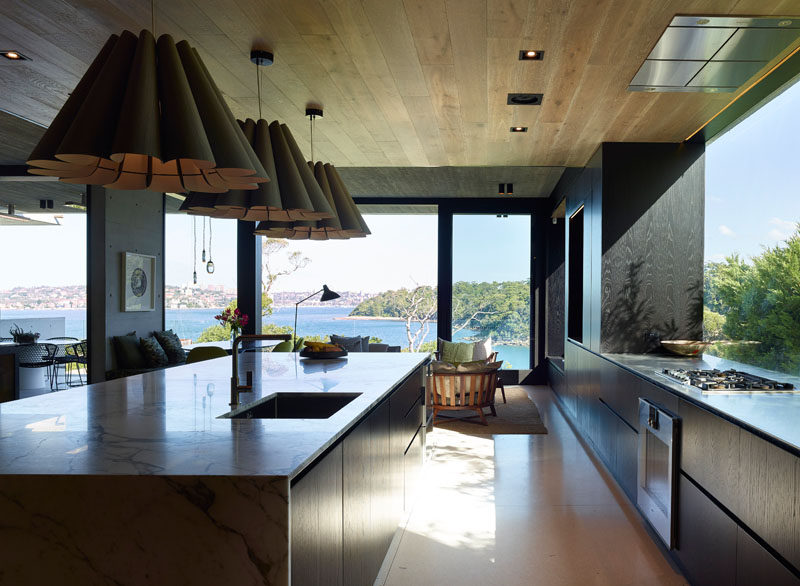 ---
At the end of the kitchen is a casual dining area with a circular dining table.
---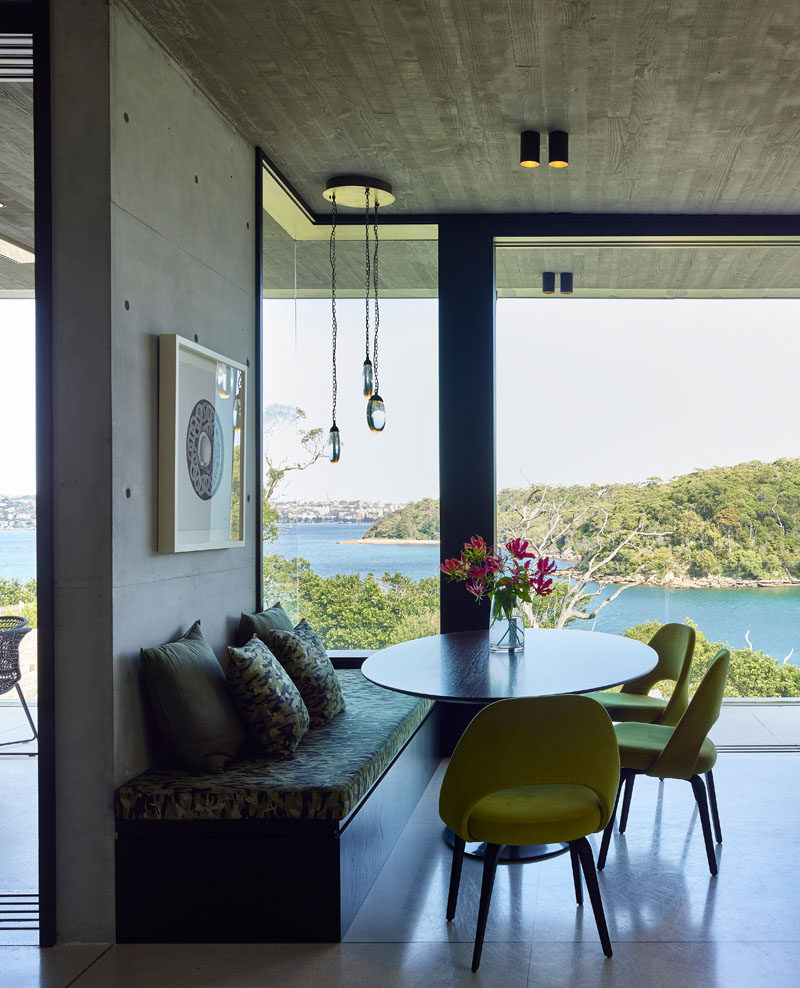 ---
The open plan living and dining area opens up to a balcony, creating an indoor/outdoor living environment.
---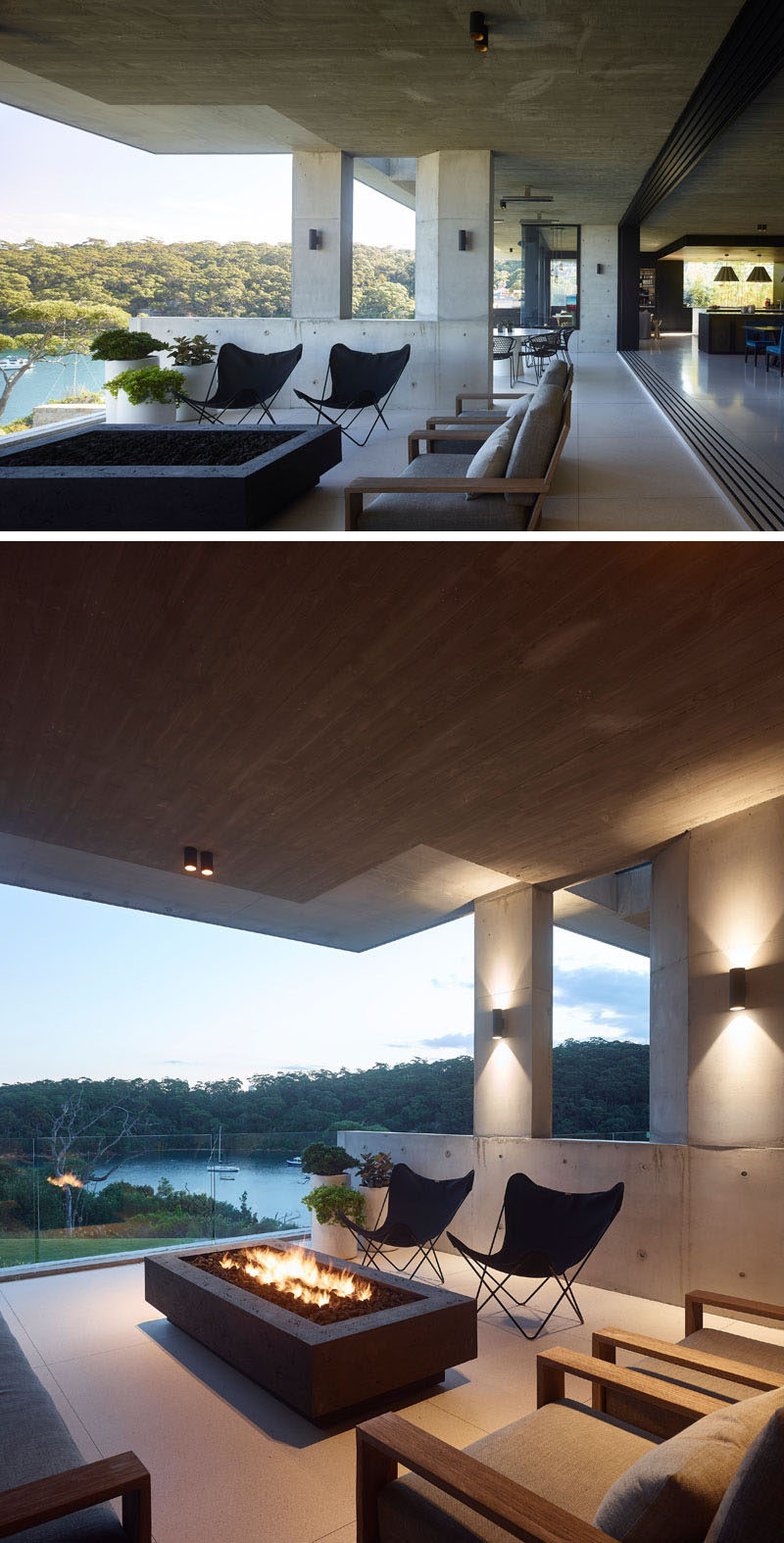 ---
Wood stairs with a matching wood handrail connect the various floors of the home. At night, hidden lighting can be turned on to highlight the handrail, while board-formed concrete provides an interesting wall texture.
---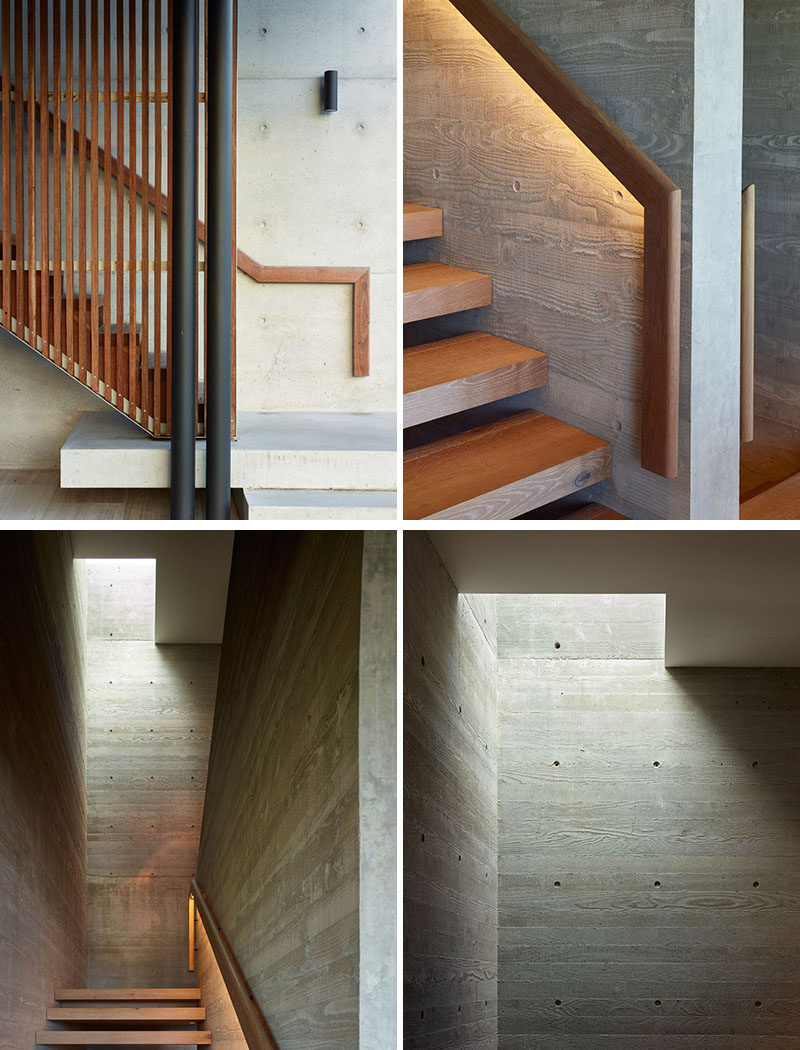 ---
In the master bedroom, the headboard provides separation from the dressing area, and allows the bed to be positioned in the middle of the room to take advantage of the views.
---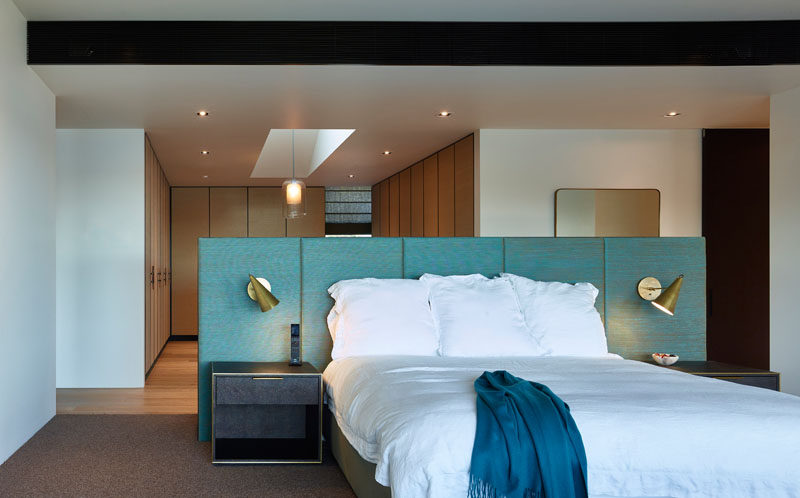 ---
The dressing room features floor-to-ceiling cabinets with a central dark wood dresser.
---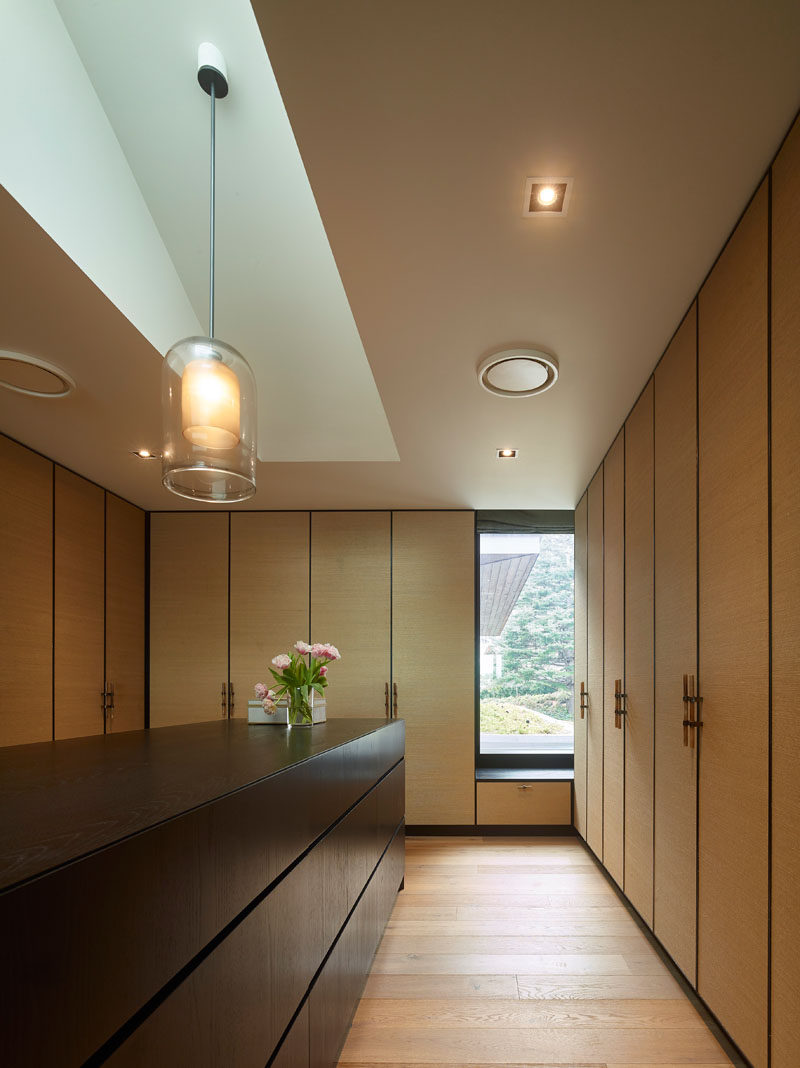 ---
In the master bathroom, there's a dual sink vanity that runs the length of the wall, while a freestanding bathtub is raised up onto a platform to take advantage of the views. Blinds can be lowered when privacy is needed.
---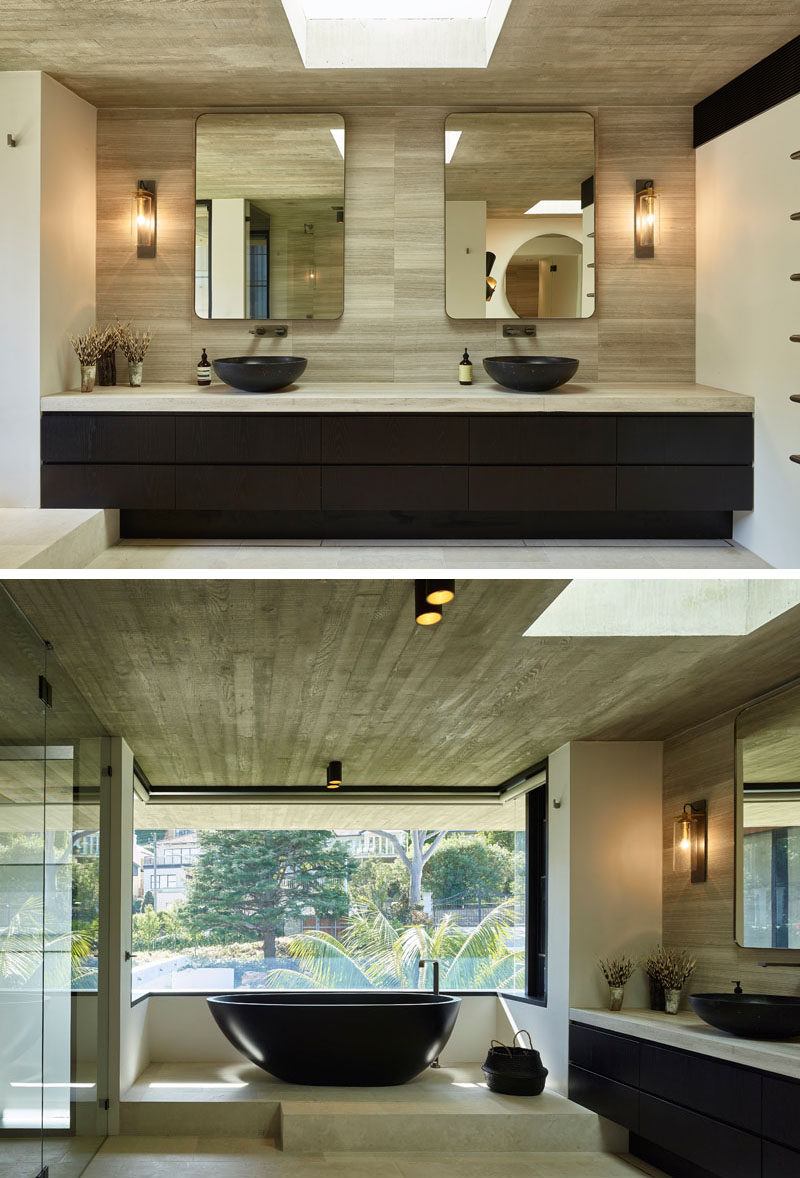 ---
In another bedroom, a concrete wall has been paired with white smooth walls for a modern appearance.
---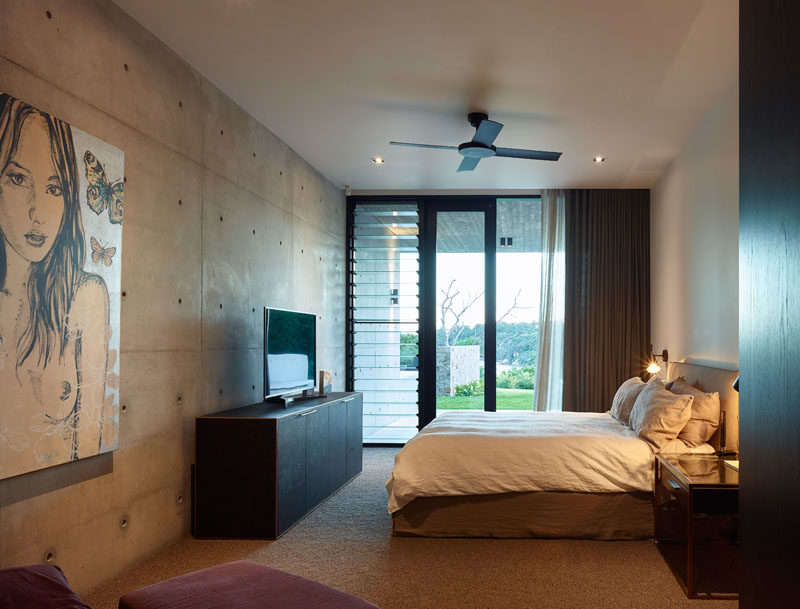 ---
On the lowest floor of the house, there's a dedicated wine cellar with a table and plenty of storage.
---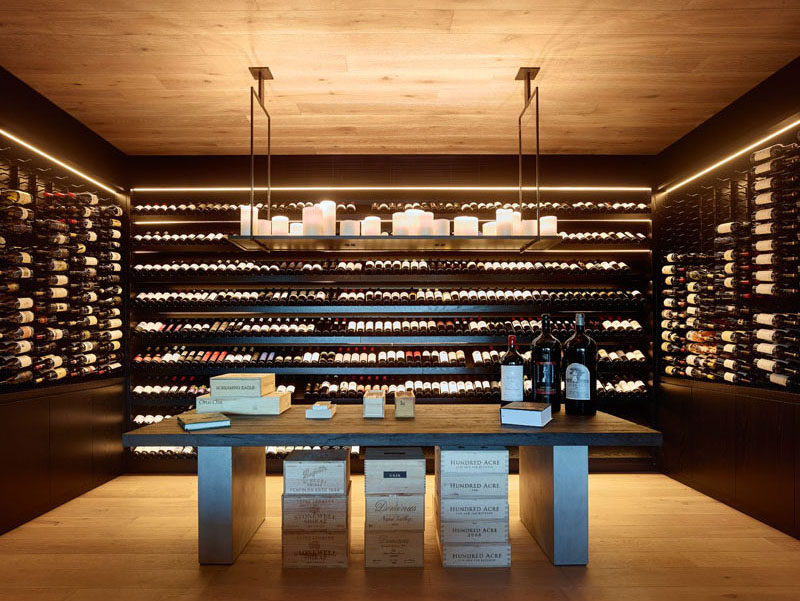 ---
The wine cellar is located off a living room that features a large comfortable couch, while artwork covers the wall, and a yellow accent wall with hidden lighting helps to brighten the space.
---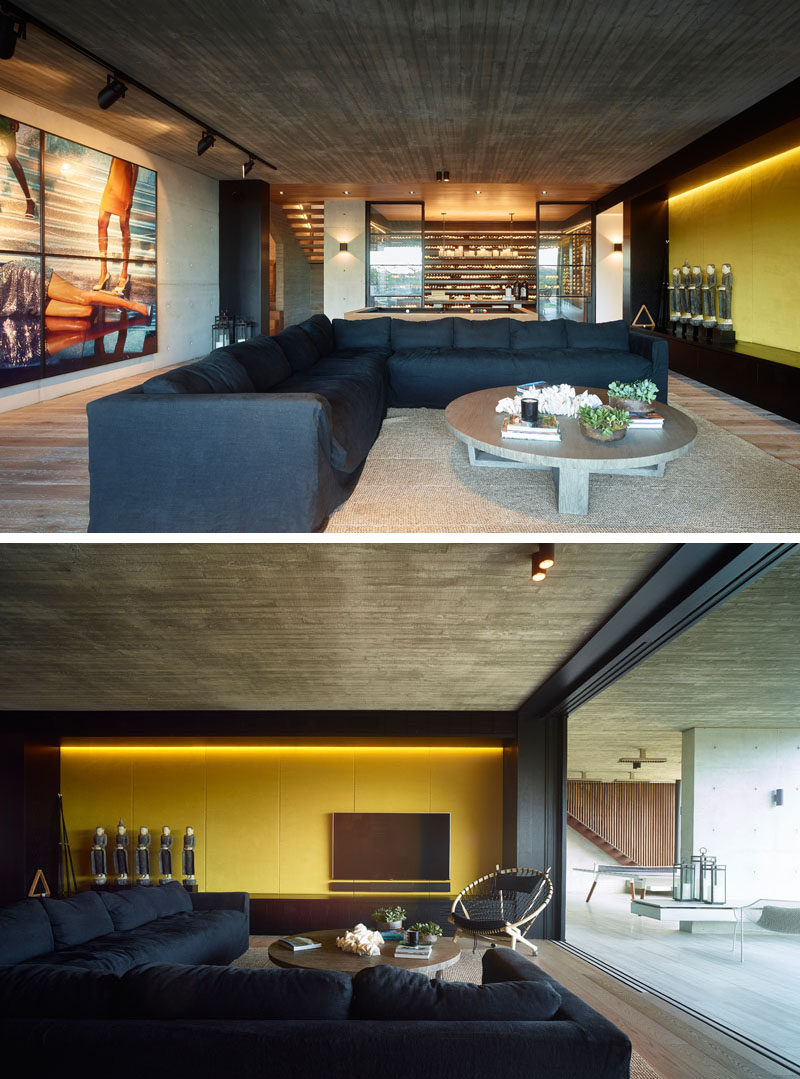 ---
The lowest level of the home opens up to a covered patio area and the backyard that features a swimming pool.
---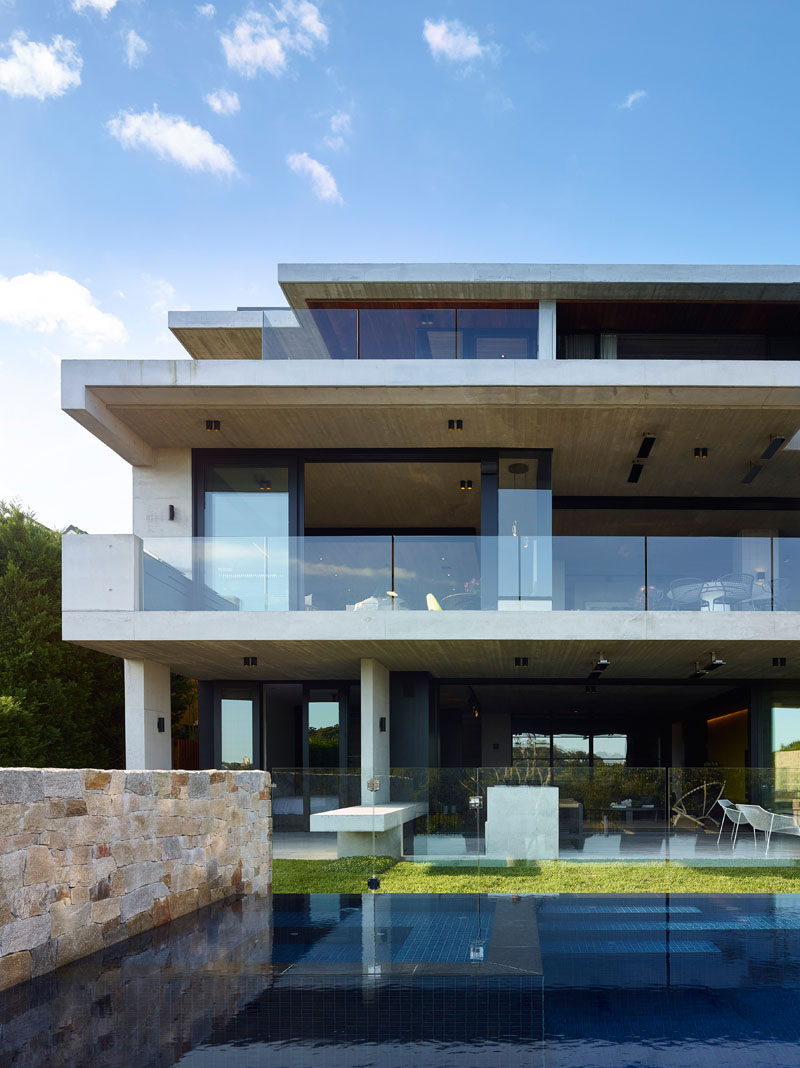 ---