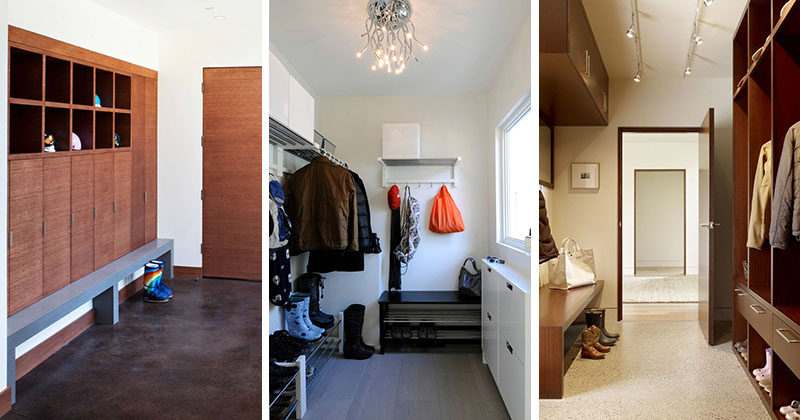 Mudrooms are one of the best rooms you can have in your home when you find yourself with dirty boots or wet clothes. They provide a space to clean your boots, dry bulky clothes, or store outerwear. To inspire your own mudroom, here are 8 modern examples.
---
1. This mudroom (or winter sport storage space) is perfectly designed with light wood cabinets, racks and hooks. A wood bench makes it easy to take off boots, and upper storage spaces with wire baskets keep things organized.
---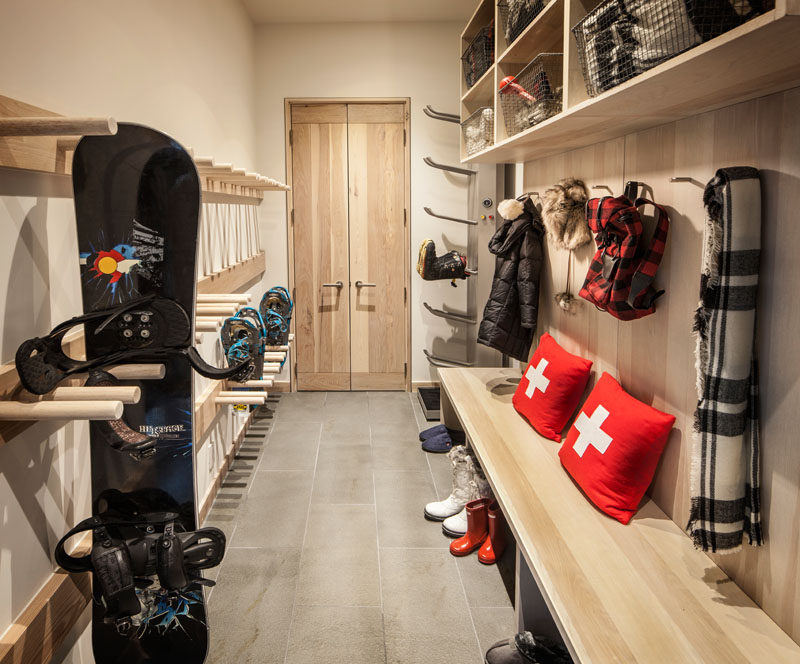 Bohlin Cywinski Jackson designed this townhome in Lake Tahoe, California. Photography by Jeff Dow.
---
2. This minimalist white mud room in a renovated stable has just the essentials – a few wall hooks, a chair to make it easier to put on your shoes, and a broom for wiping up messes tracked in from outside. There's also a closet for storing coats, and a single pendant light and provides enough lighting in the room to keep it bright.
---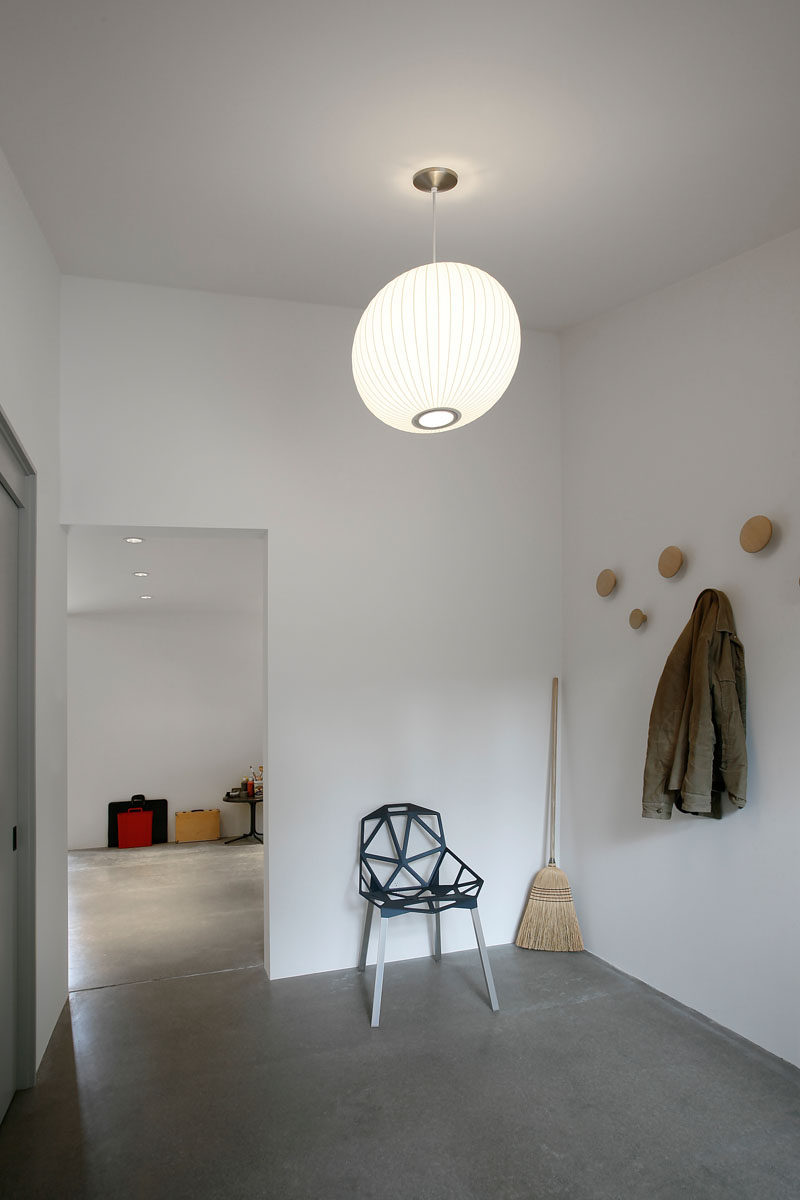 ---
3. The large window in this modern mudroom lets in plenty of light that's reflected off the white walls. Tiny wall hooks create an area to hang your jacket, while a dark wood drying rack sits on one wall, and under the window a bench with open storage cubbies creates a spot for putting on your shoes.
---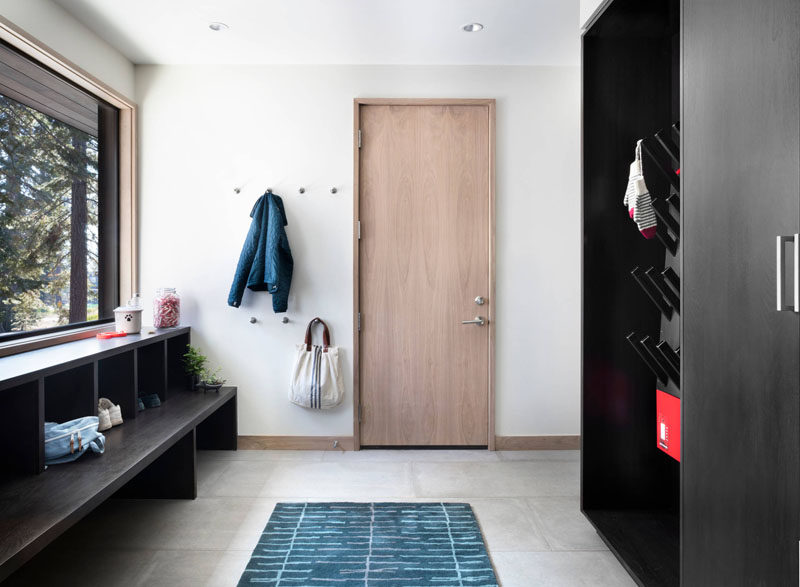 ---
4. Open storage closets made with drawers and shoe cubbies keep the family organized in this small modern mudroom. On the opposite wall is a built-in wood bench, and hanging above it is a mirror with small hooks and additional wall-mounted storage cabinets.
---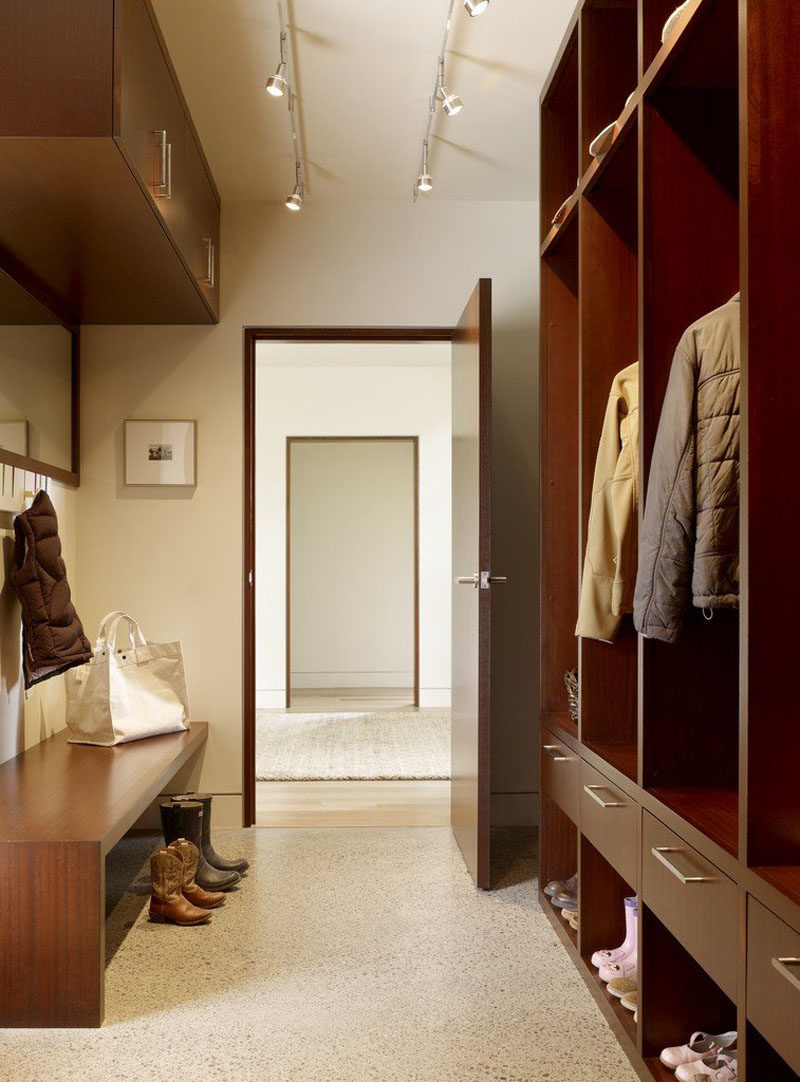 Carney Logan Burke Architects designed this modern house in Wyoming. Photography by Matthew Millman.
---
5. In this mostly white modern mudroom, there's plenty of shoe storage in the form of shoe racks, while above them are spaces to hang coats. Thin wall mounted cabinets under the window give each family member a place to store bits and pieces, and white cubes and metal bins on top of the hanging racks create extra storage space. A little shelf is home to containers of snacks and pens, and a magnet boards lets family members leave notes for each other.
---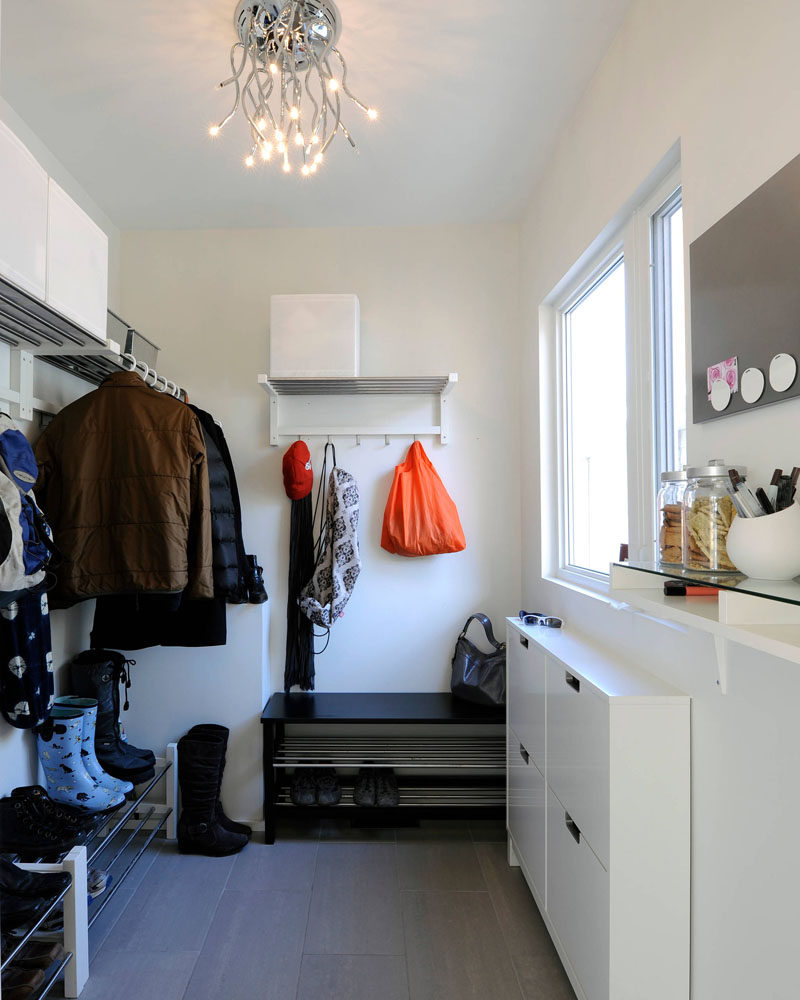 ---
6. This modern mudroom filled with light wood, has plenty of wall hooks for bags, hats and scarves, and a drying mat positioned near the heater helps dry wet shoes. A central island creates a storage space in the form of drawers, and a wood stool gives you a place to put your shoes on.
---
---
7. In this wood and white modern mudroom with concrete floors, built-in cabinets and lockers provide storage and organization for each family member, and multiple long concrete benches make it easy to put your shoes on. A wall of windows keeps the room bright, and a light feature hangs from the partial double-height ceiling.
---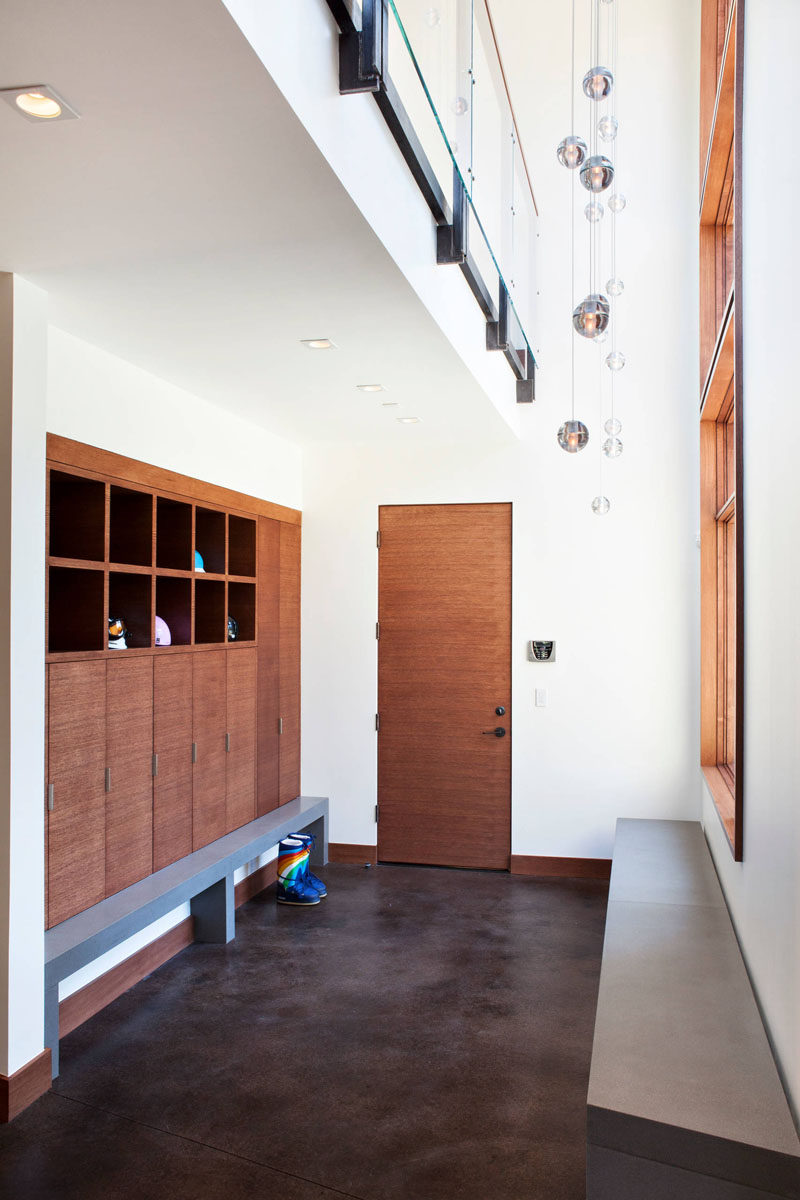 Concreteworks designed this home near Lake Tahoe in California.
---
8. In this modern mudroom, large overstuffed light brown leather pillows cushion the built-in bench with storage, while black cabinets with leather drawer pulls provide plenty of storage and organization opportunities. For hanging hats and bags, there's a simple light wood wall mounted coat rack.
---