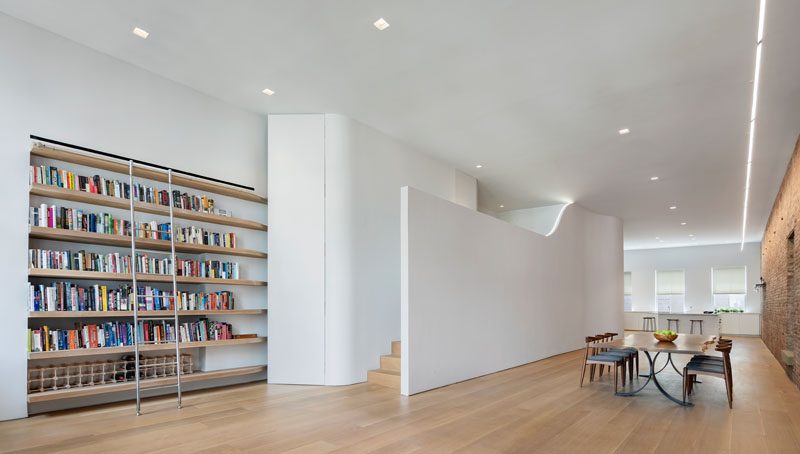 Julian King Architect has designed the modern and minimalist renovation of an apartment in New York that's located inside an old warehouse that was originally built in 1872.


The long open loft was gutted and renovated to remove the clutter while preserving what makes a classic Soho loft a loft. Here's what the loft looked like before…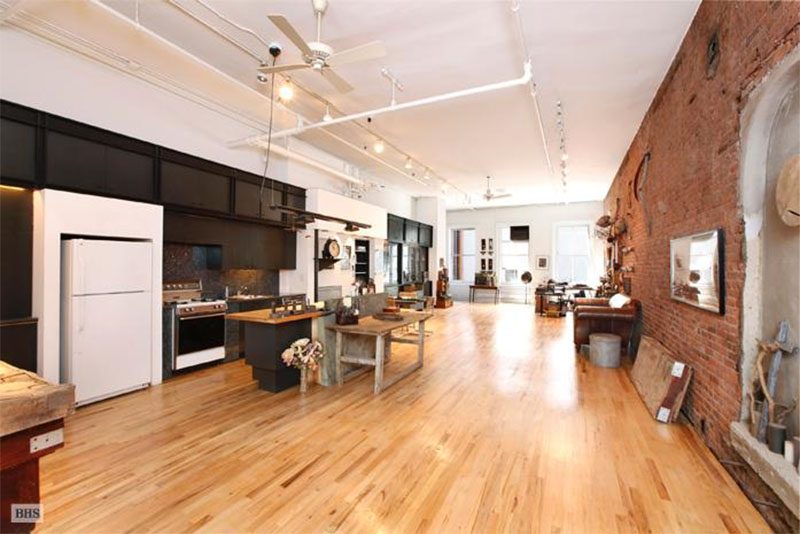 ---
An old existing metal door to the stairs was cleaned and re-used, showing a glimpse of the past.
---
Photography by Julian King Architect
---
A private elevator entrance opens to a foyer with a solid wood bench that's been designed to fit into a curved wall.
---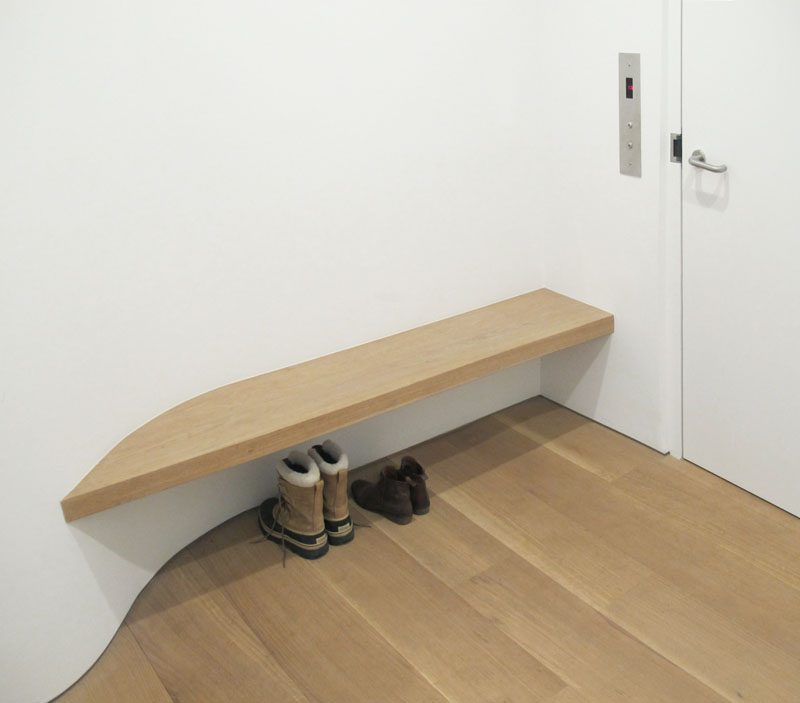 Photography by Julian King Architect
---
The new kitchen takes full advantage of the morning light, with planters set on each side of a custom height faucet that rises from behind the stone counter. Appliances and functions have all been concealed, while flush mounted hobs are set into the counter of the island, which features a pop-up downdraft vent that disappears when not in use.
The white kitchen island also features a custom millwork panel that conceals a wine cooler, while wood drawers store wine bottles at room temperature. On the wall, a minimalist black shelf has been made from a steel beam.
---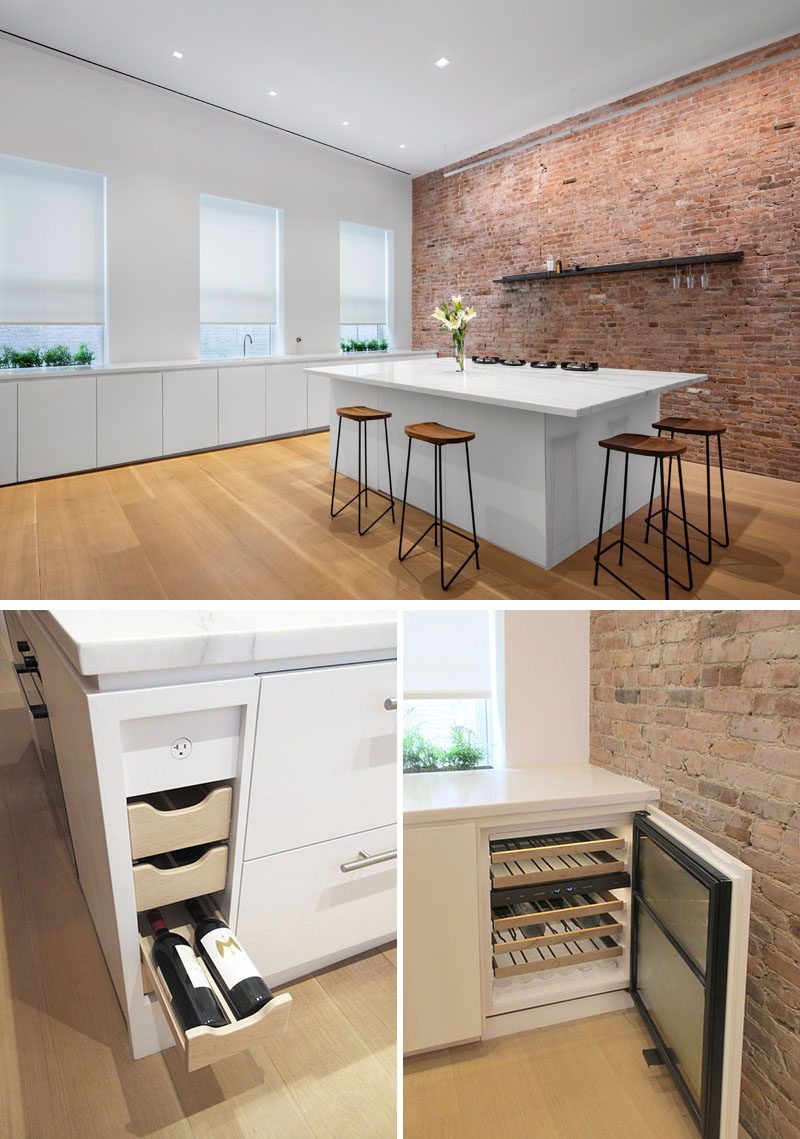 Photography by Michael Moran Studio (top image), and Julian King Architect (bottom images)
---
The old brick wall runs the full length of the apartment, while on the opposite wall, a curved wall hides the bathroom behind a 13-foot tall custom sand-blasted pivot door.
---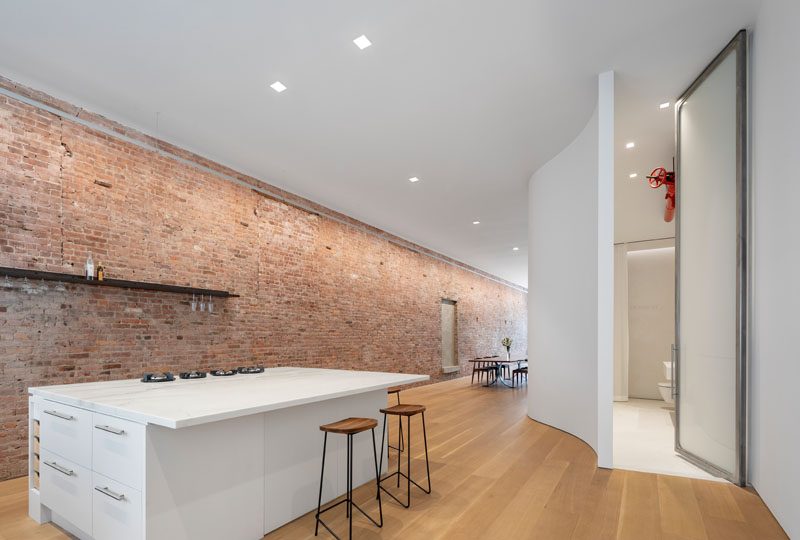 ---
The bathroom includes ten foot long floor slabs of pale porcelain tile, white Imperial Danby stone for a cantilevered sink, and waterproof plaster walls. The old sprinkler main valve adds a bright pop of color to the white interior, while concealed rollers enable a large mirrored door to slide smoothly to the side, revealing a large cabinet with a soft LED light.
---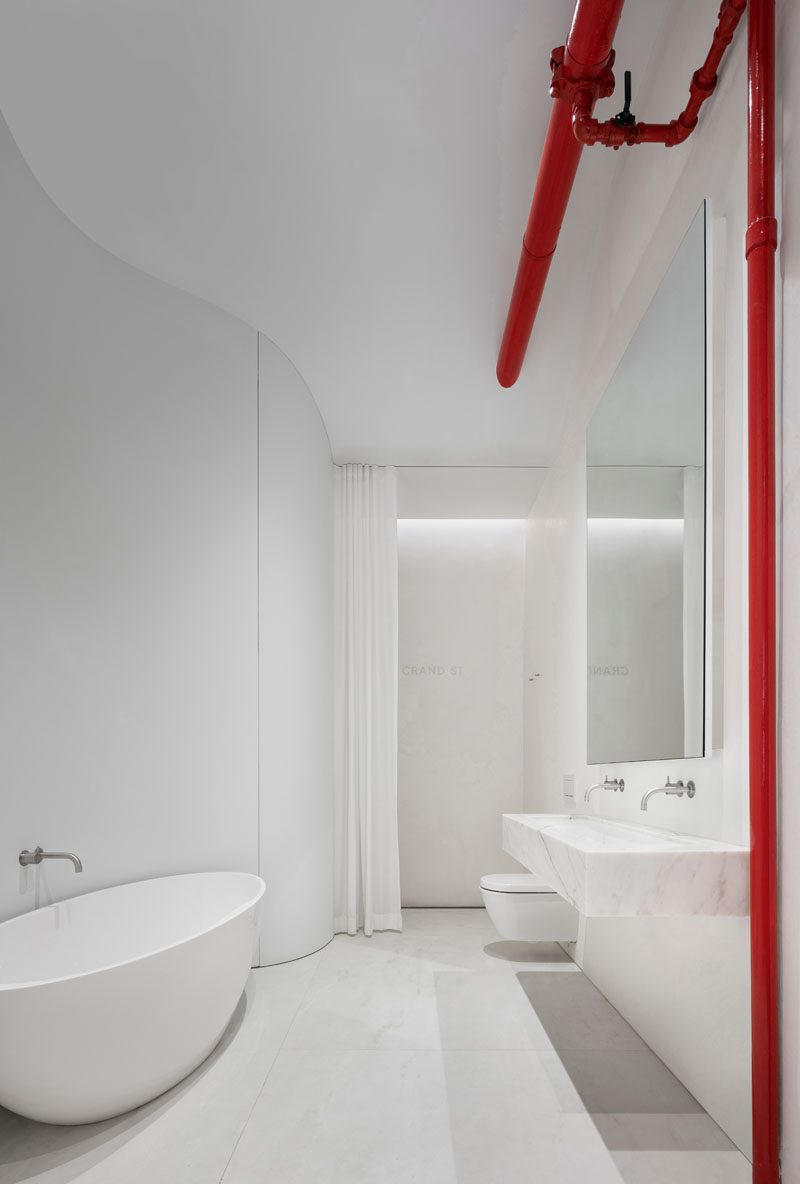 ---
At the other end of the loft, there's a wall of solid oak library shelves near some stairs that lead up to a mezzanine that features an LED Light that lines the open wall.
---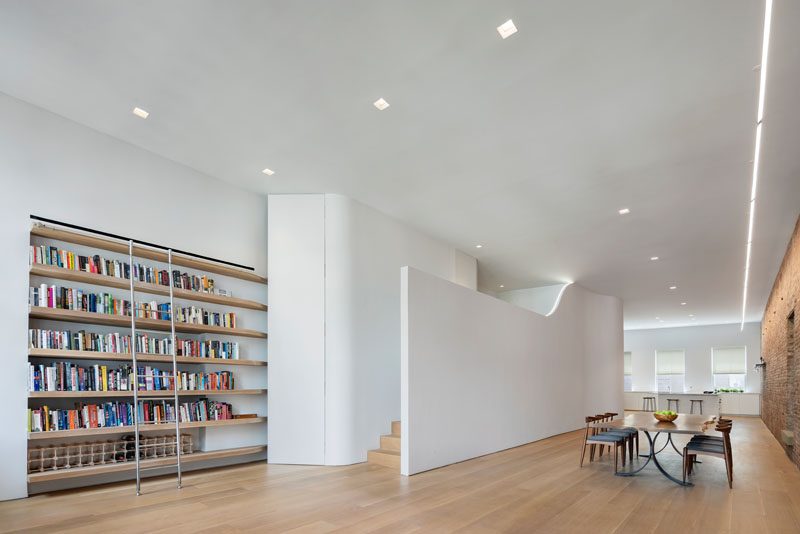 ---
A custom stainless steel telescoping ladder and curving track follow the curving solid oak shelves and allow the ladder to be rolled out of sight behind a full height flush door to the laundry, storage, and mechanical room beneath the mezzanine.
---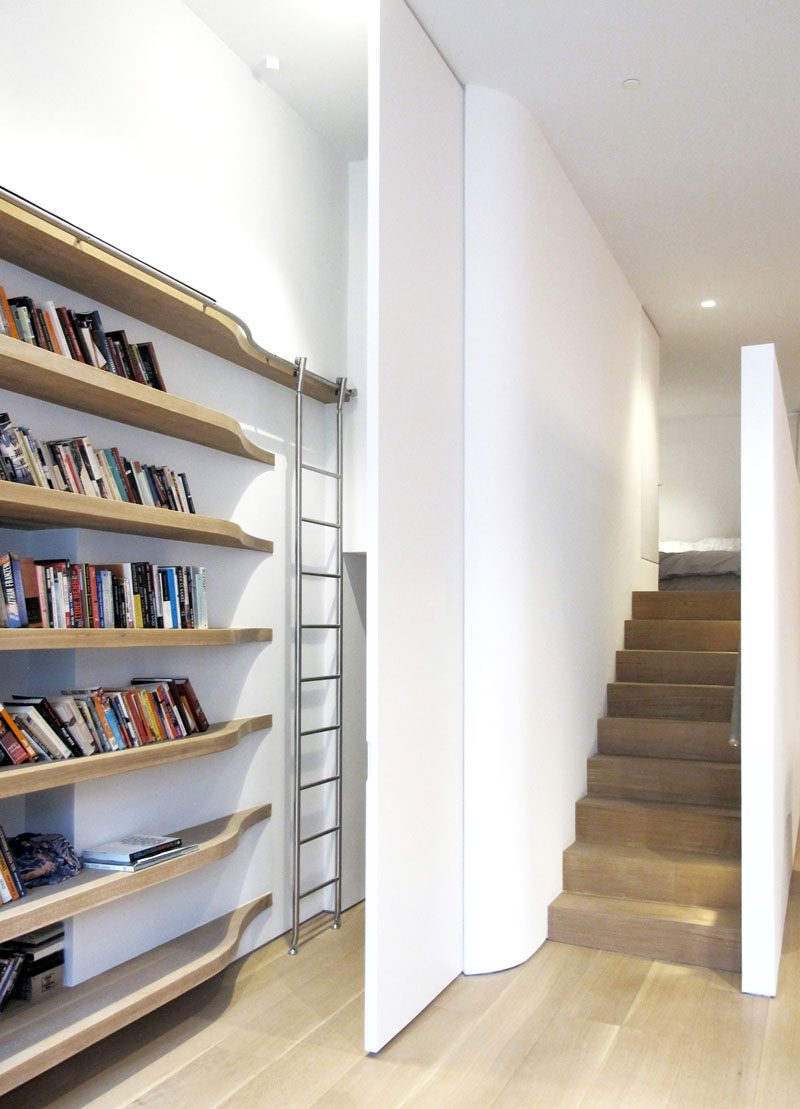 Photography by Julian King Architect
---
The mezzanine is home to a king-size bed, that has a small shelving niche and acts as a bedside table.
---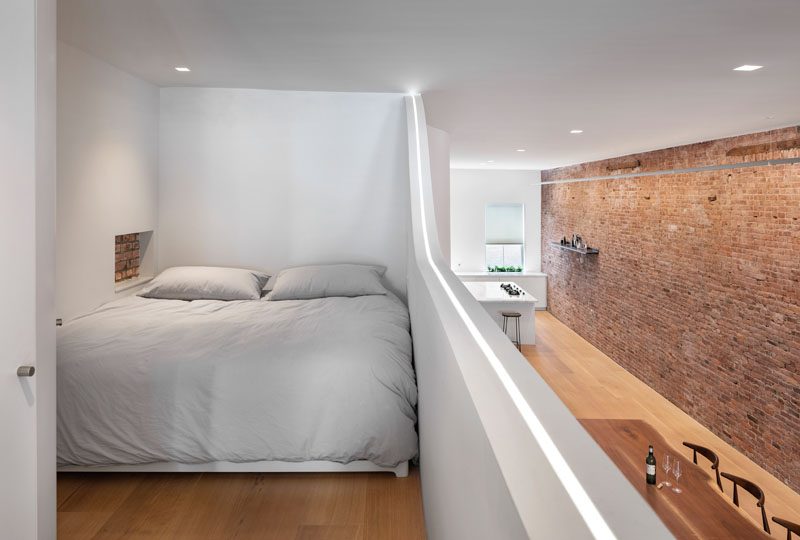 ---
The loft also includes an area with a series of flush pivot doors, combined with Hafele folding door panels and a modern murphy bed, that transform a hallway into a study or guest bedroom, that can be configured into its own studio apartment complete with private entrance when required.
---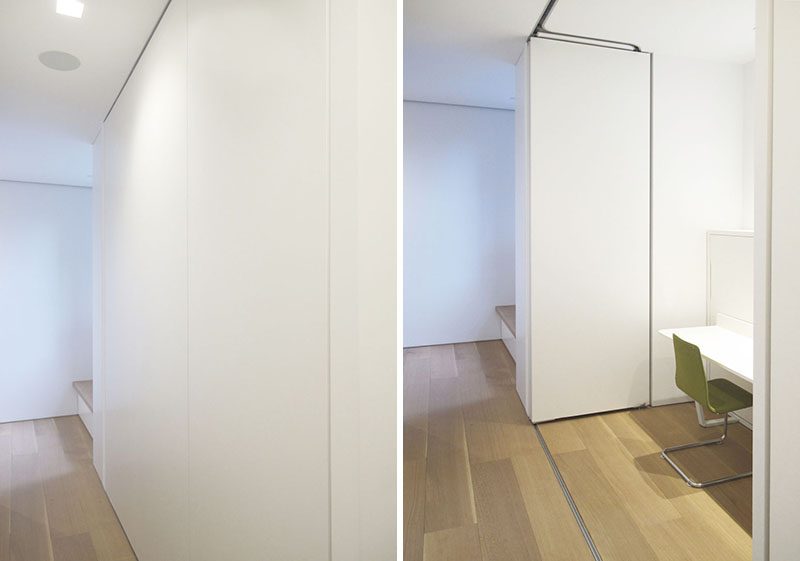 Photography by Julian King Architect