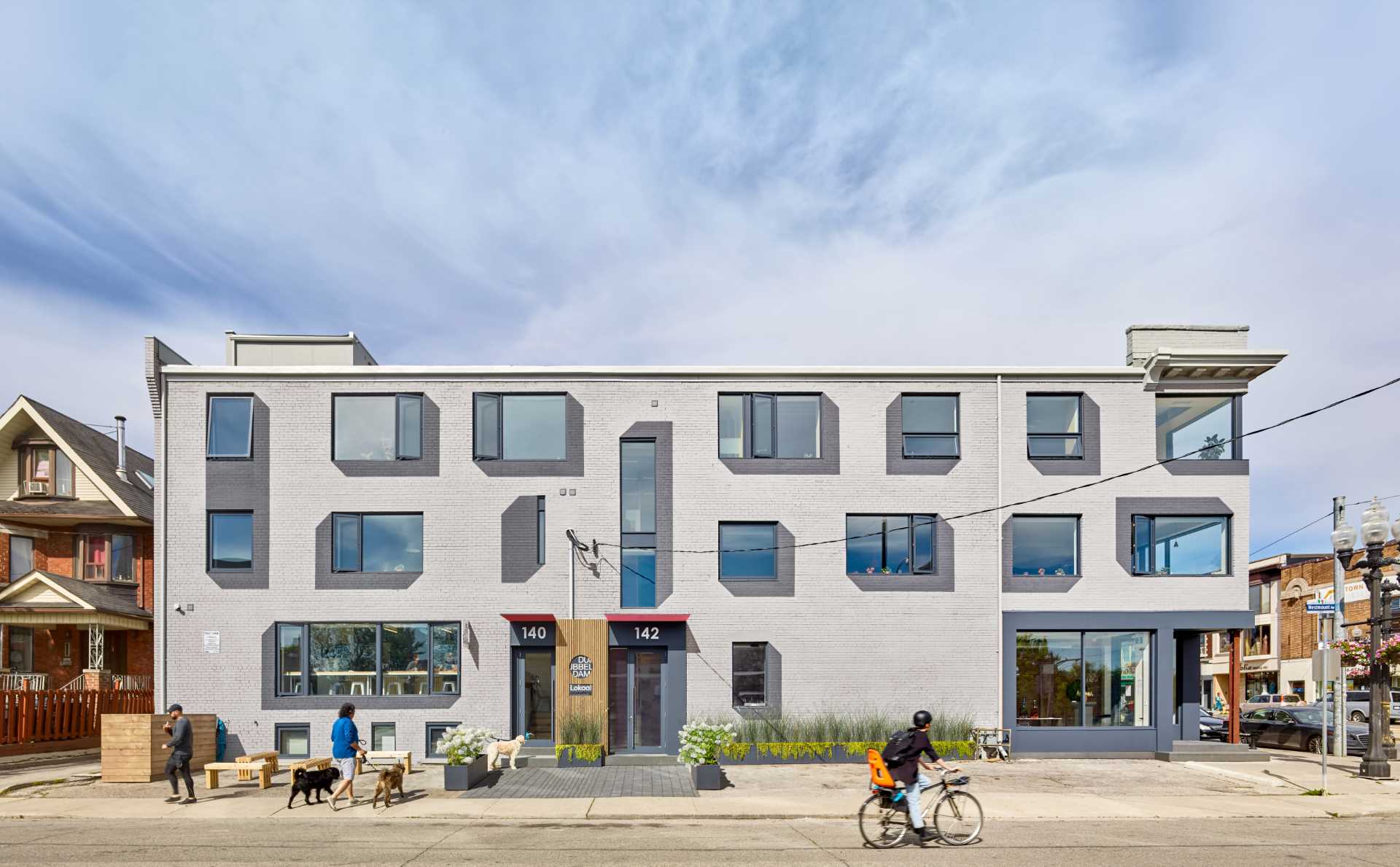 Dubbeldam Architecture + Design has unveiled its own new office that's located within a century-old, three-storey brick building in Toronto's Corso Italia neighborhood.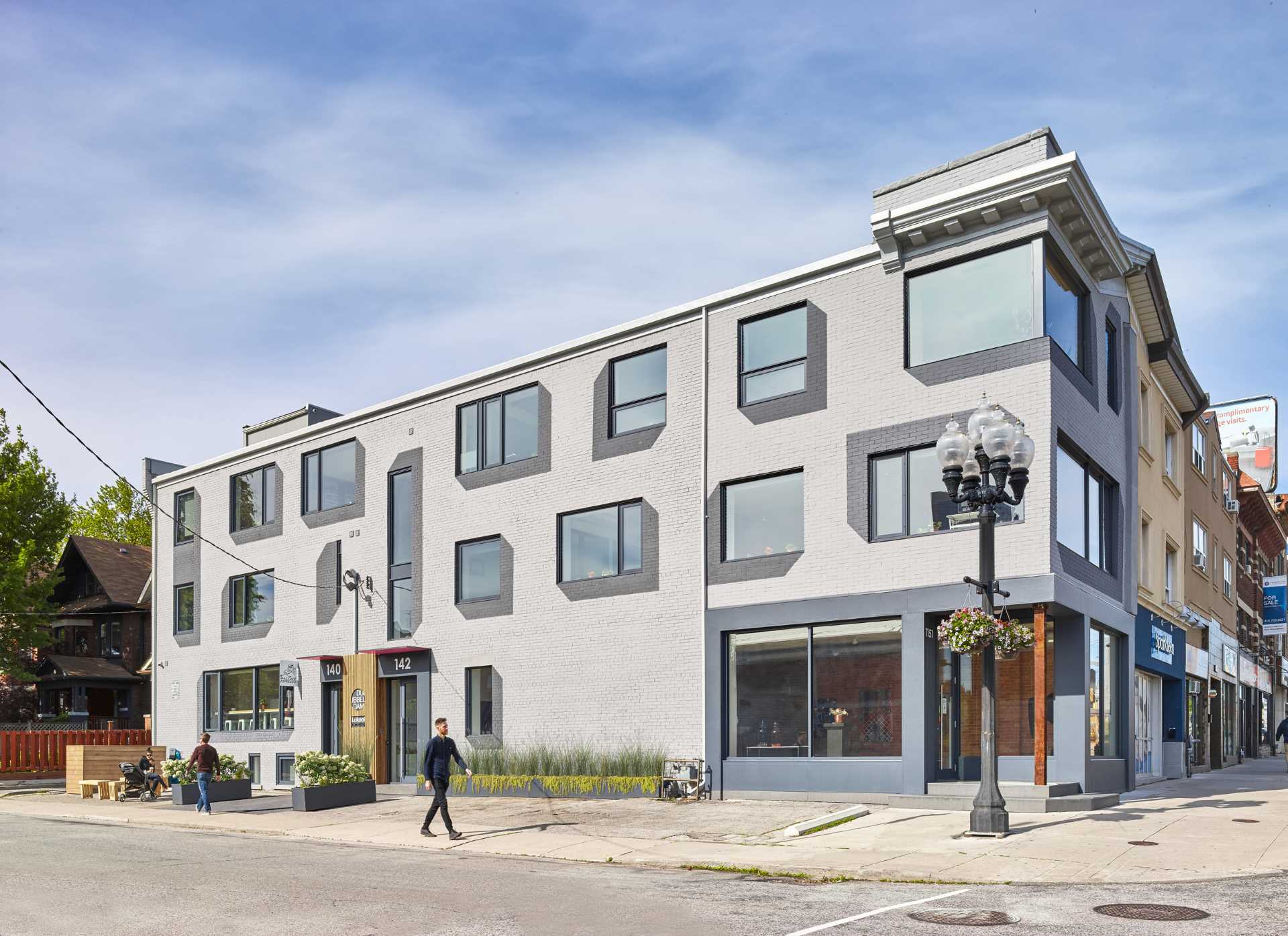 A unique design feature not often seen on the exterior of a building, are the painted drop shadows surrounding the windows.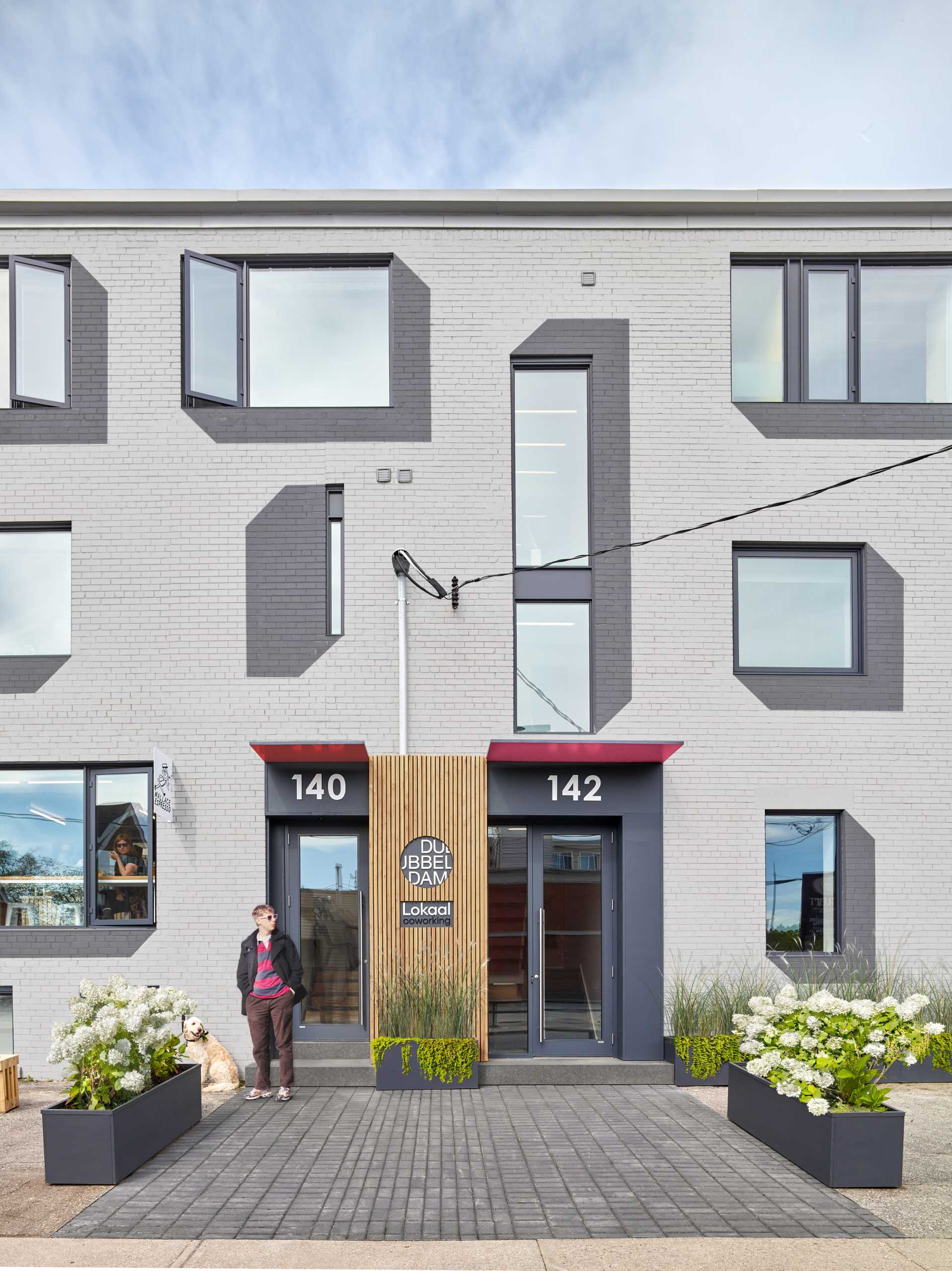 These drop shadows, which also stand out at night, create a three-dimensional illusion for people passing by.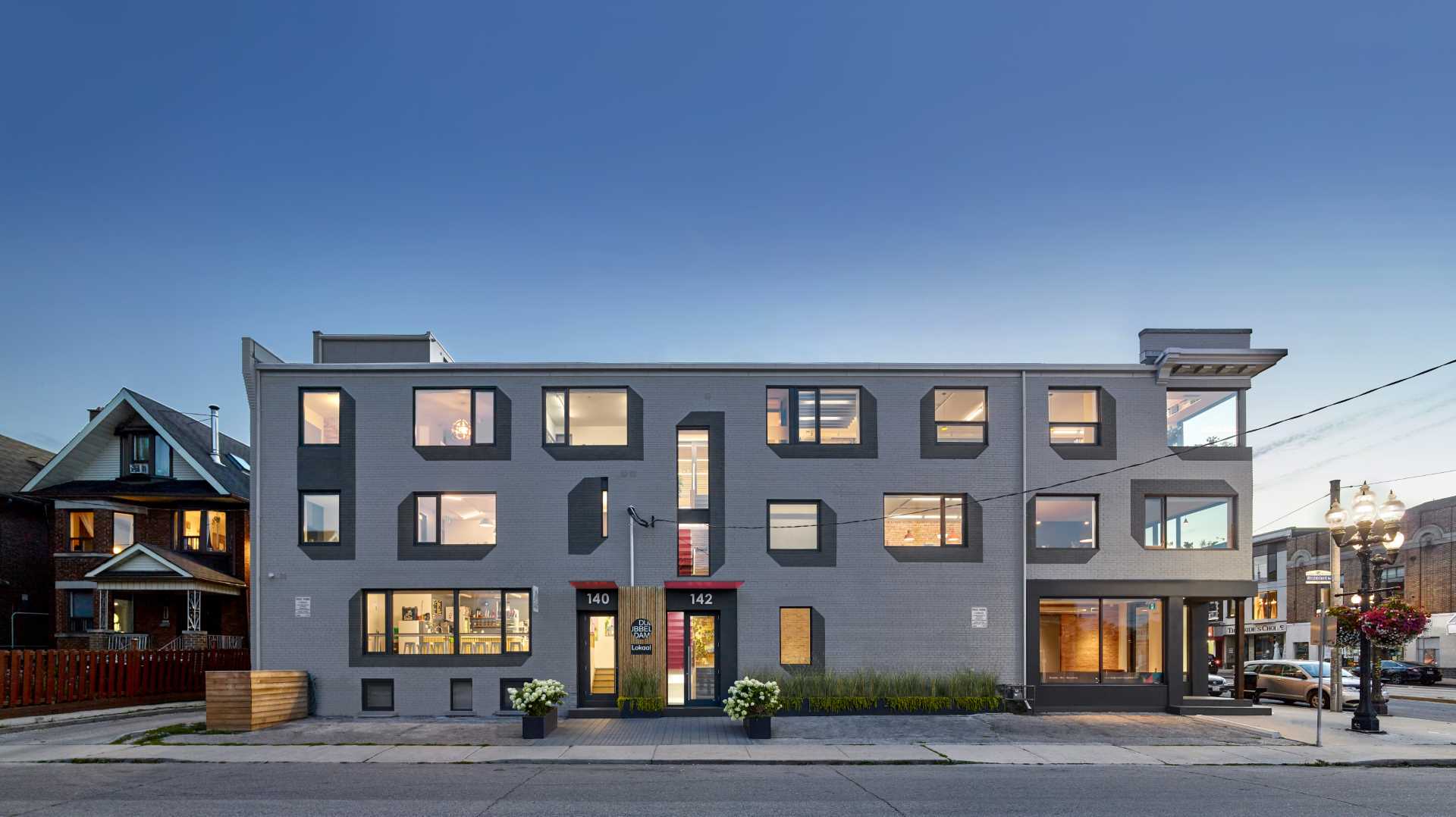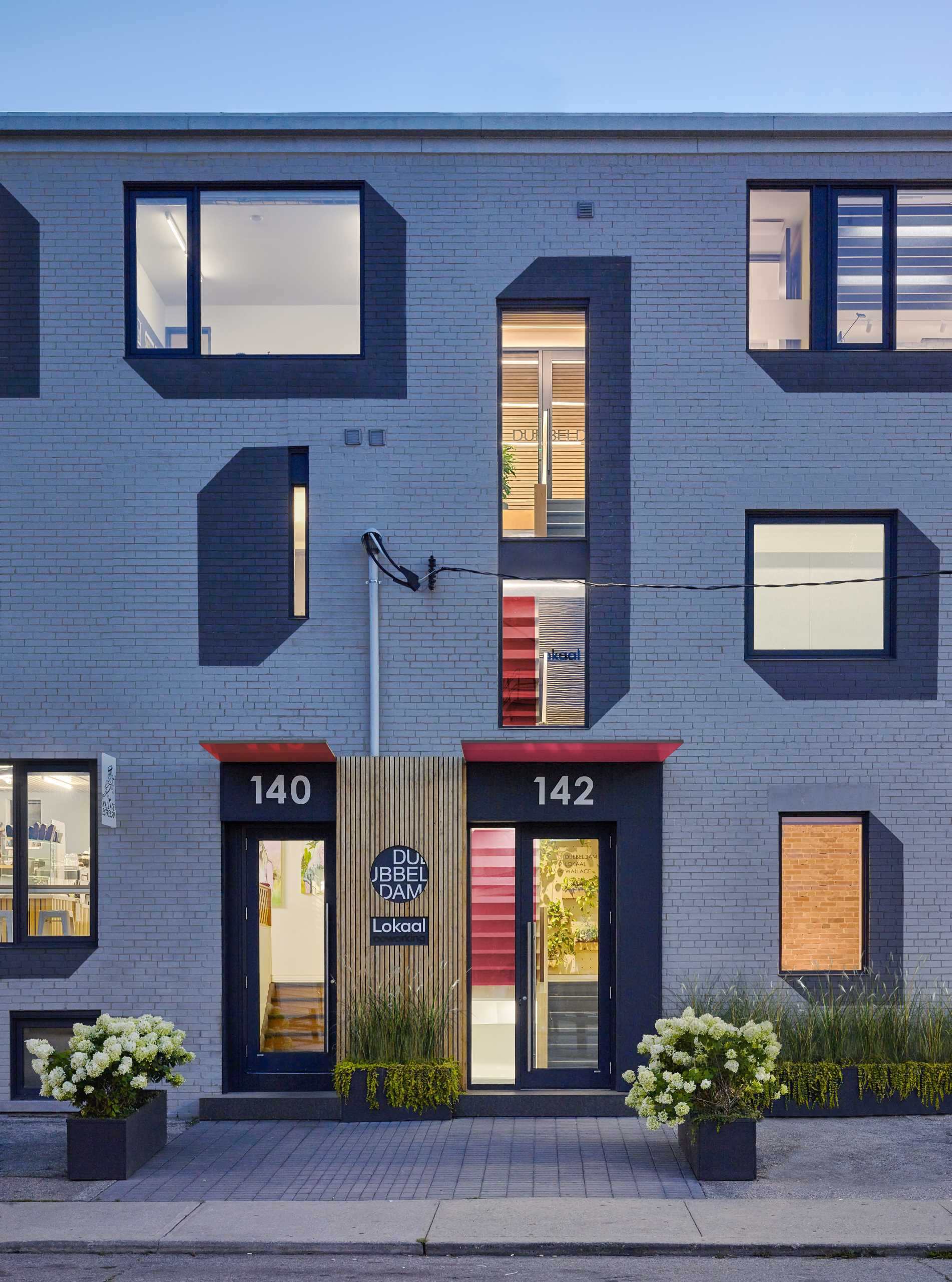 On the ground floor, a marketing agency is joined by an indie coffee shop to form the critical retail anchor that not only serves the building's inhabitants, but the surrounding community as well, while the raised basement, a residential unit provides a much-needed opportunity for rental accommodation.
Stepping inside the building, there are views of the angular Baltic birch staircase.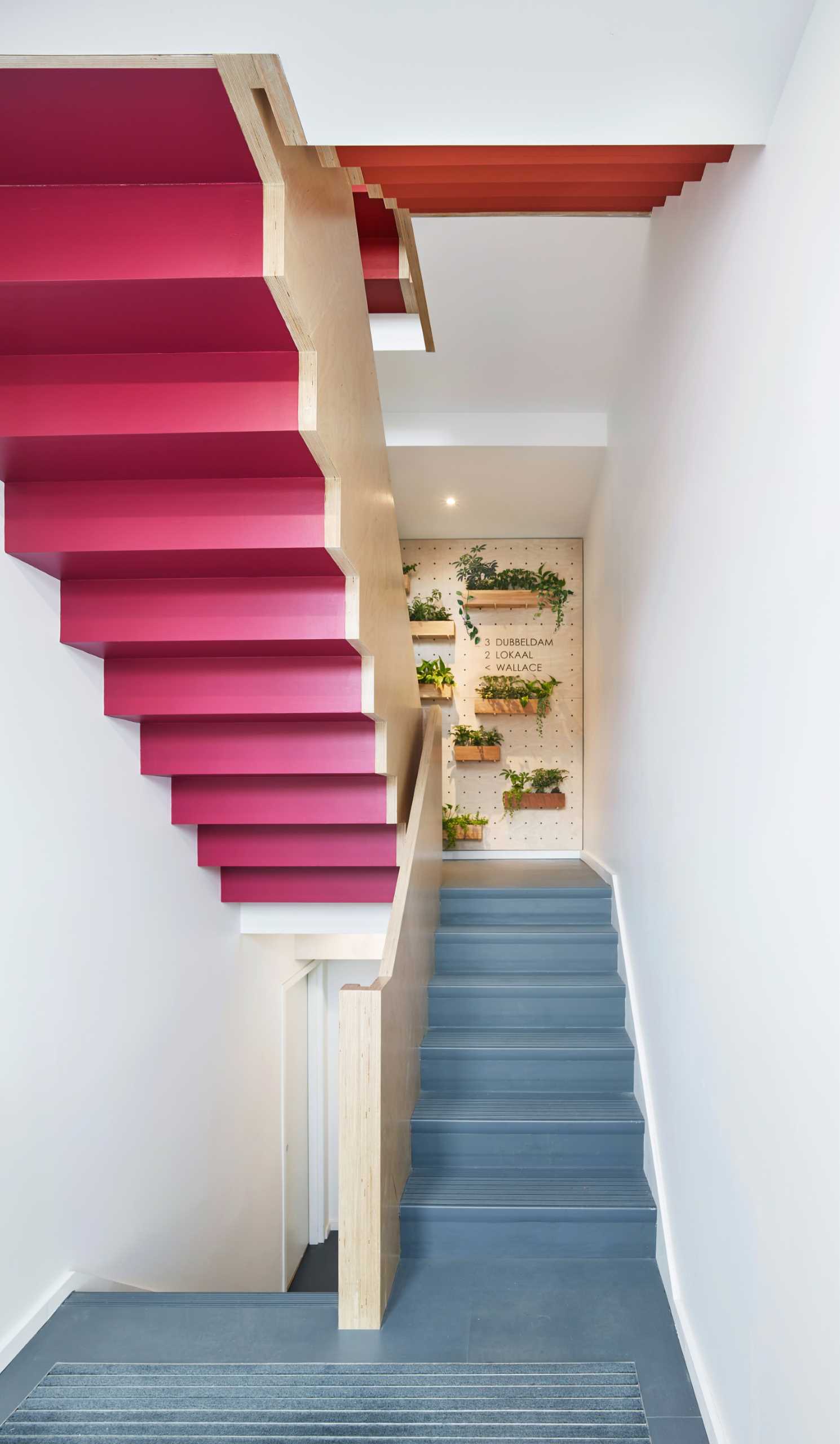 A gradient of reddish hues provides a colorful journey to the building's upper floors, transforming an economic material and setting the tone for the building's interior character.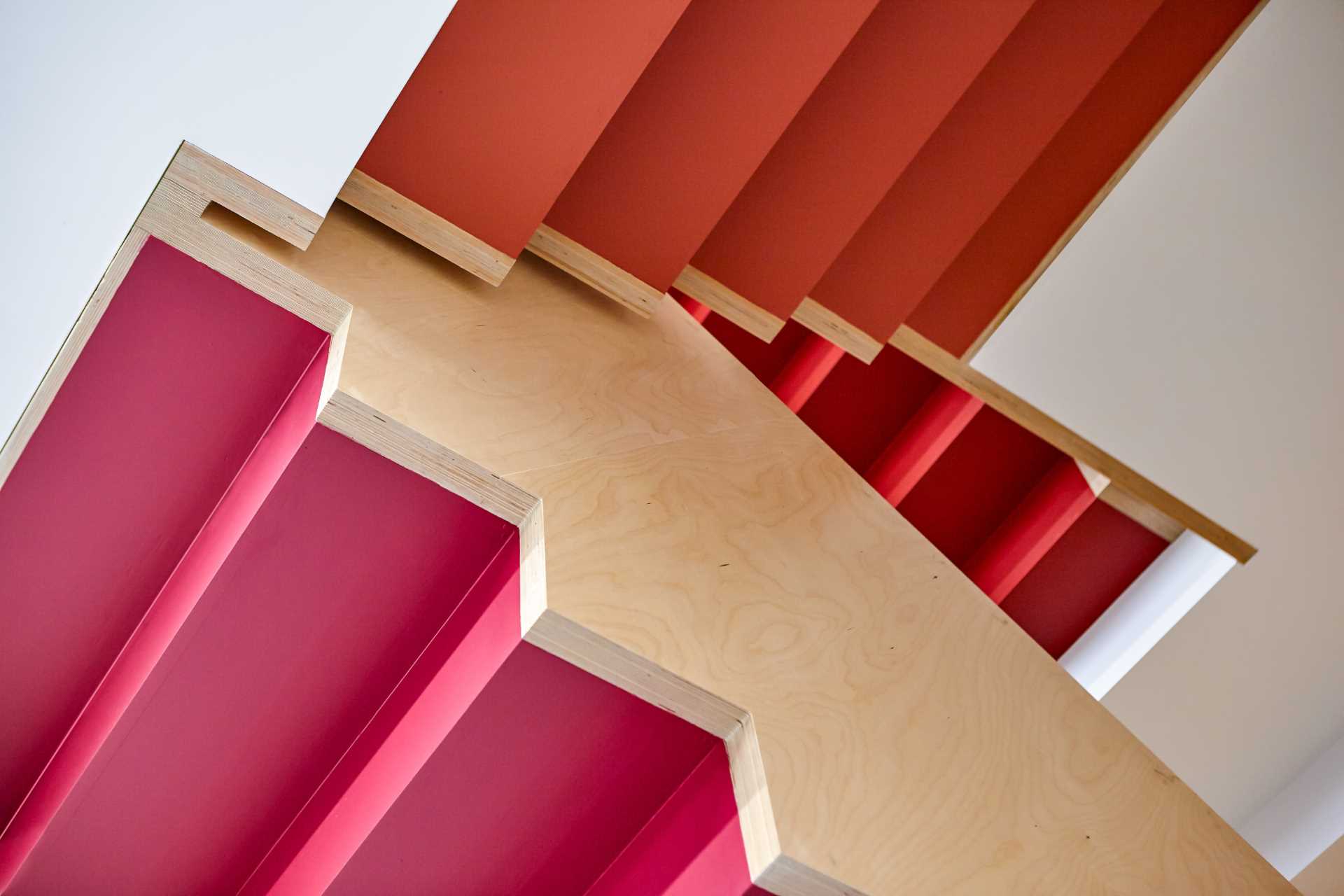 A custom Baltic birch pegboard panel on the first-floor landing not only provides a director for the businesses in the building but also doubles as a thriving green wall populated with lush plants in fragrant cedar boxes.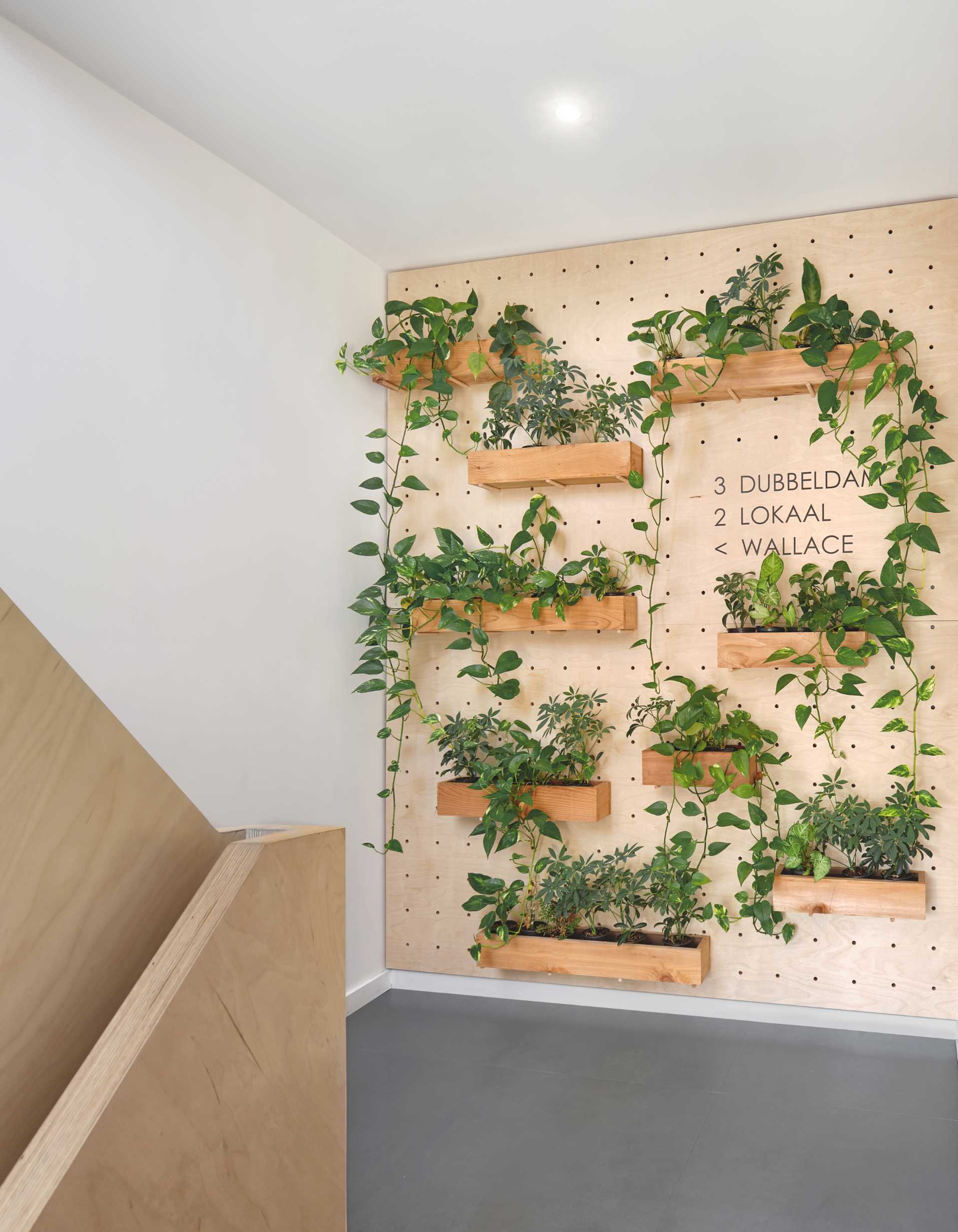 To strengthen a community purpose within the building, principal Heather Dubbeldam and her partner Kevin McIntosh established Lokaal, a collegial and inclusive co-working space for creatives on the second floor.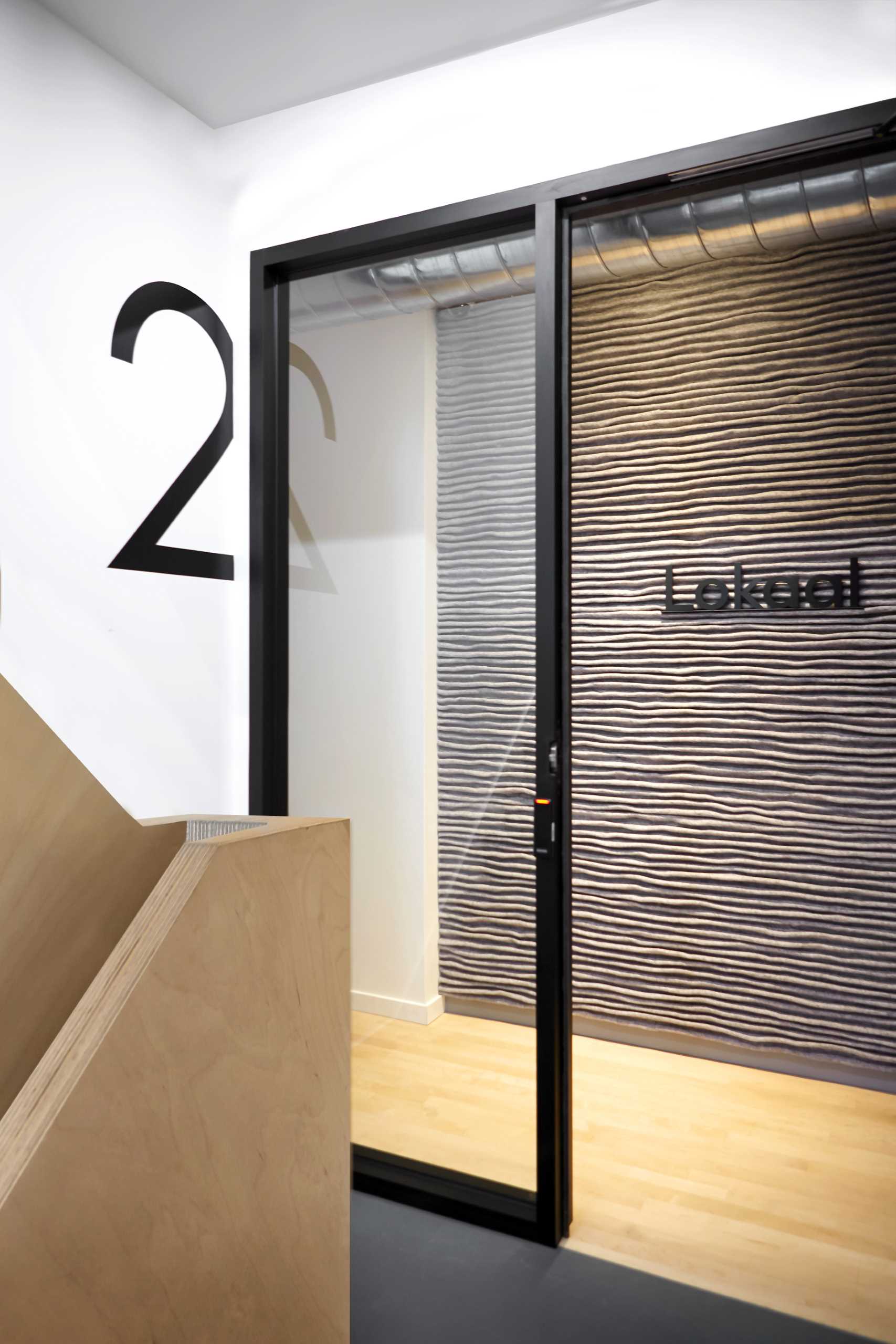 A pleated felt wall by local artist Kathryn Walter of Felt Studio provides a unique welcome to the creative space. Lokaal's interior combines the building's original features, such as the existing red brick walls, with a distinctive Scandinavian aesthetic.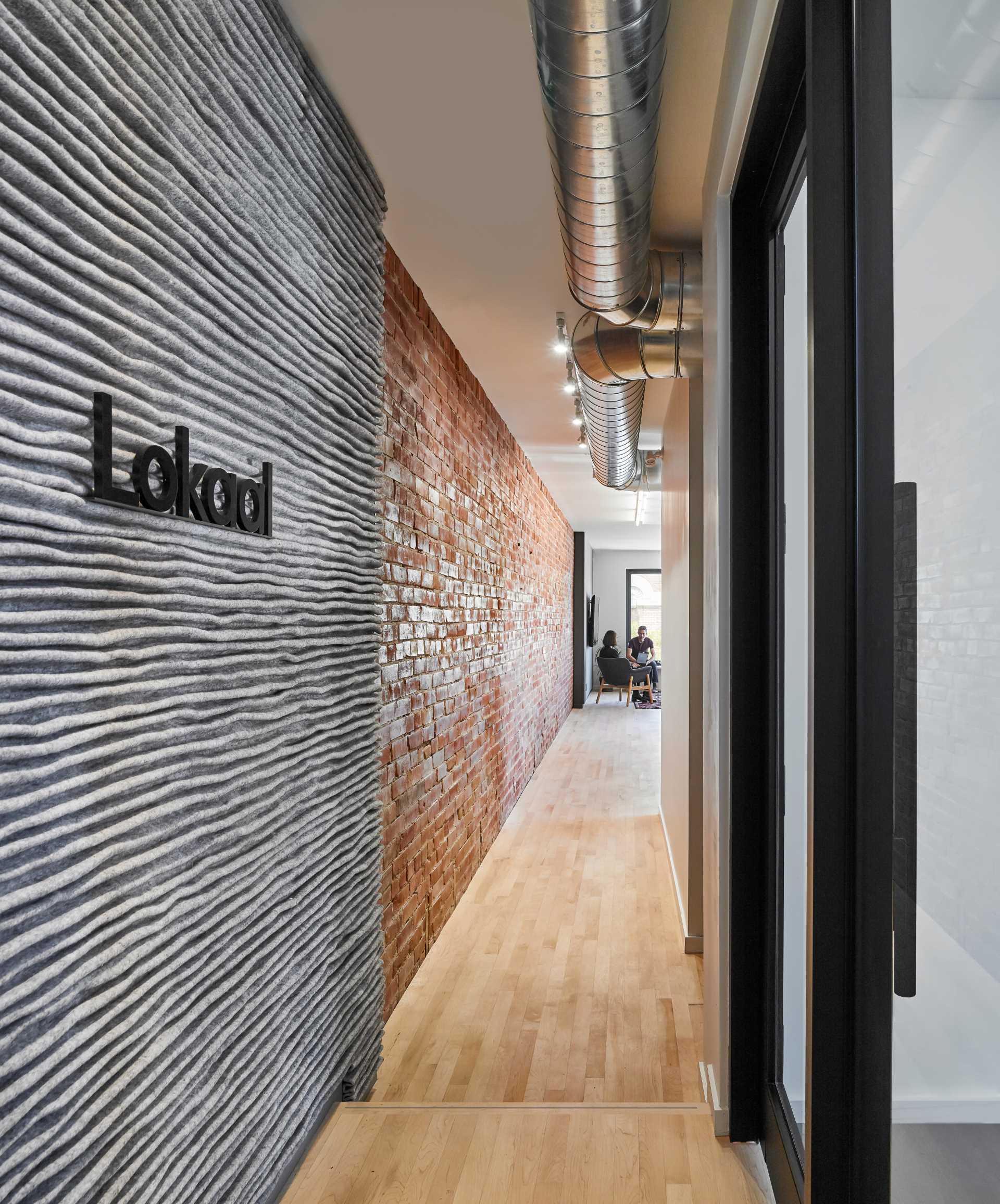 While the crisp white walls and charcoal grey door frames and partitions introduce a bolder graphic quality to the building's interior, brightly colored light fixtures introduce a degree of playfulness to the Lokaal workspace.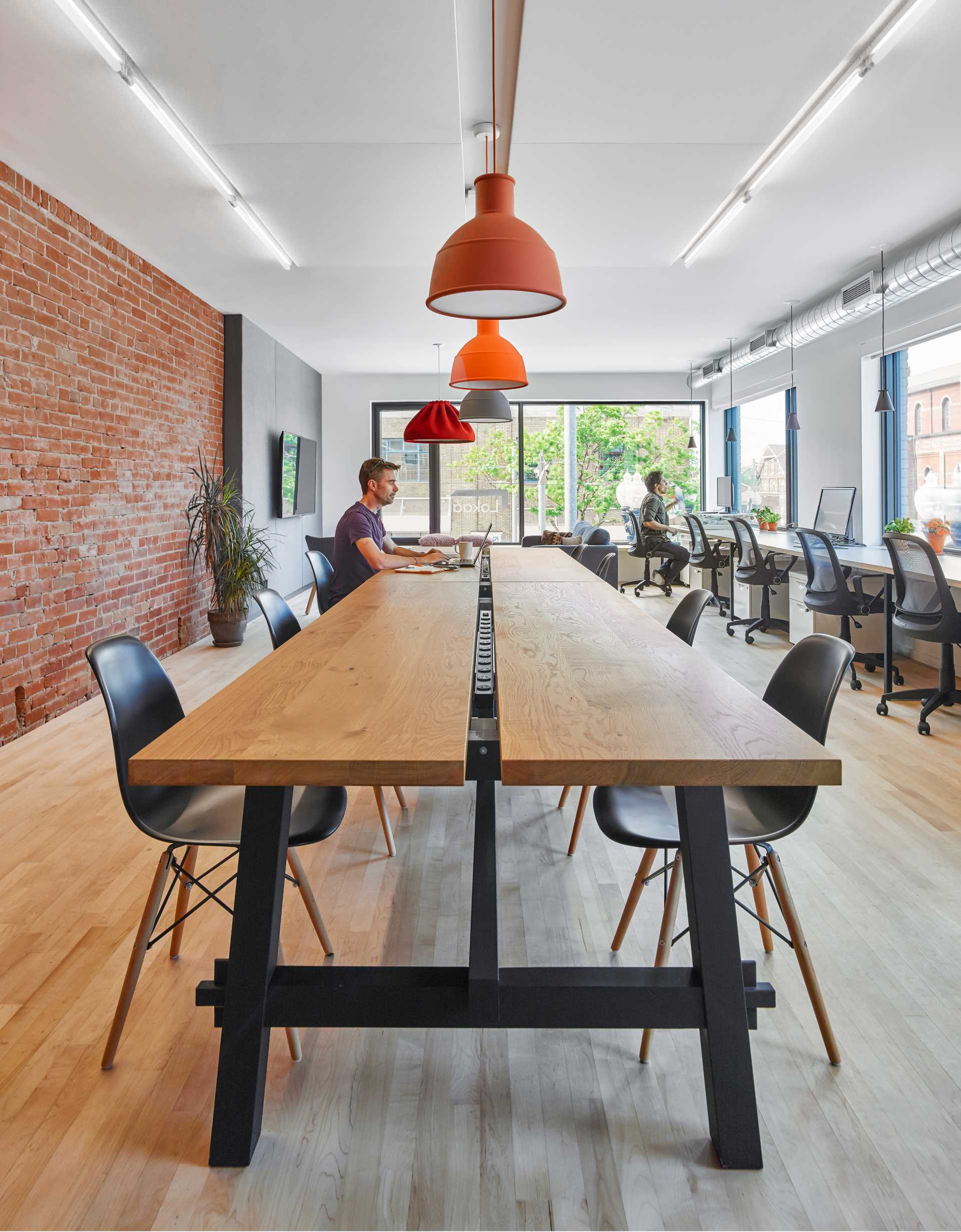 The chalkboard wall in Lokaal's collaboration space allows members to leave messages or brainstorm ideas away from a computer screen.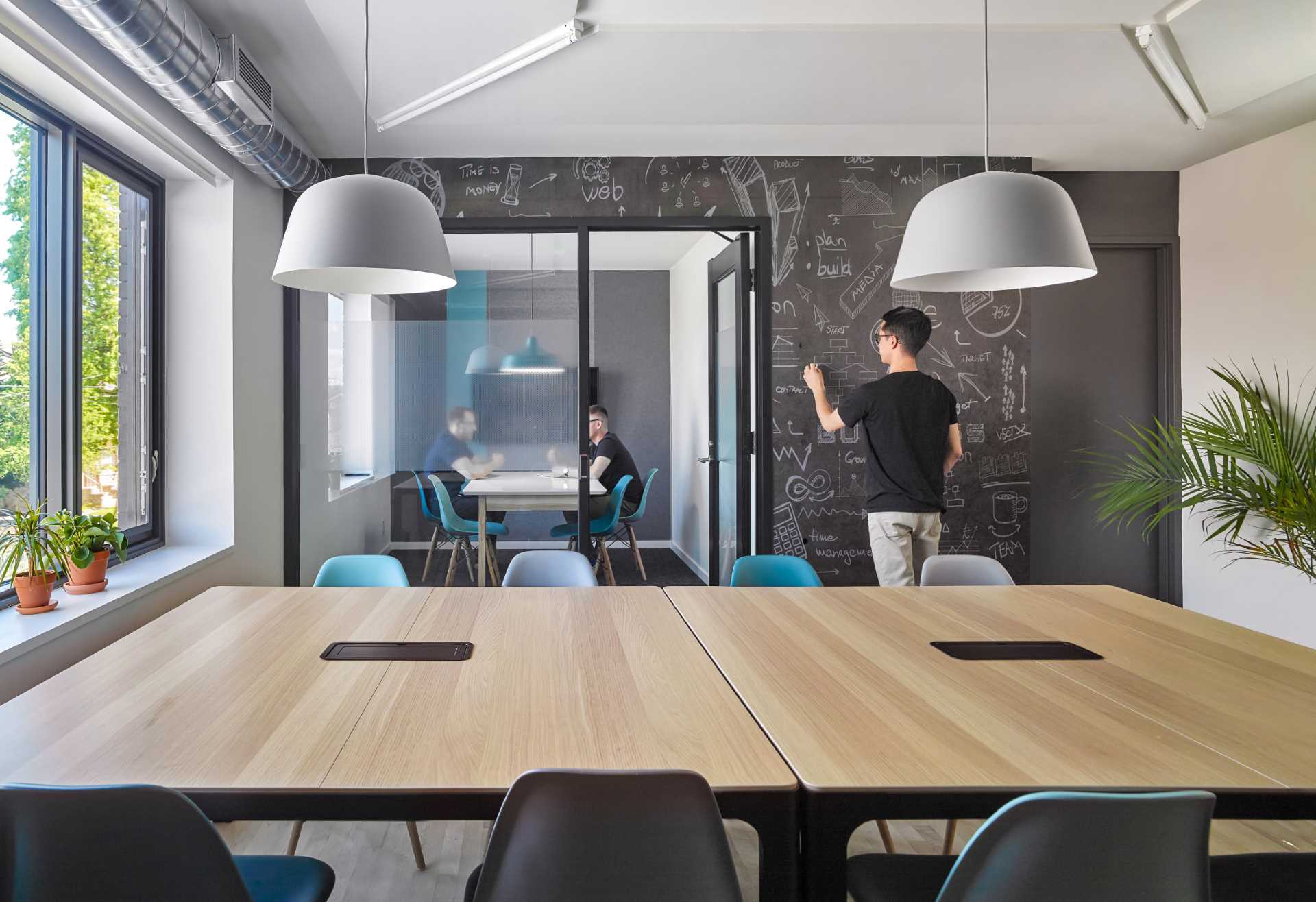 The central staircase thematically connects all floors in the building with Baltic birch slats and graphic floor numbers that lead to Dubbeldam's top-floor studio.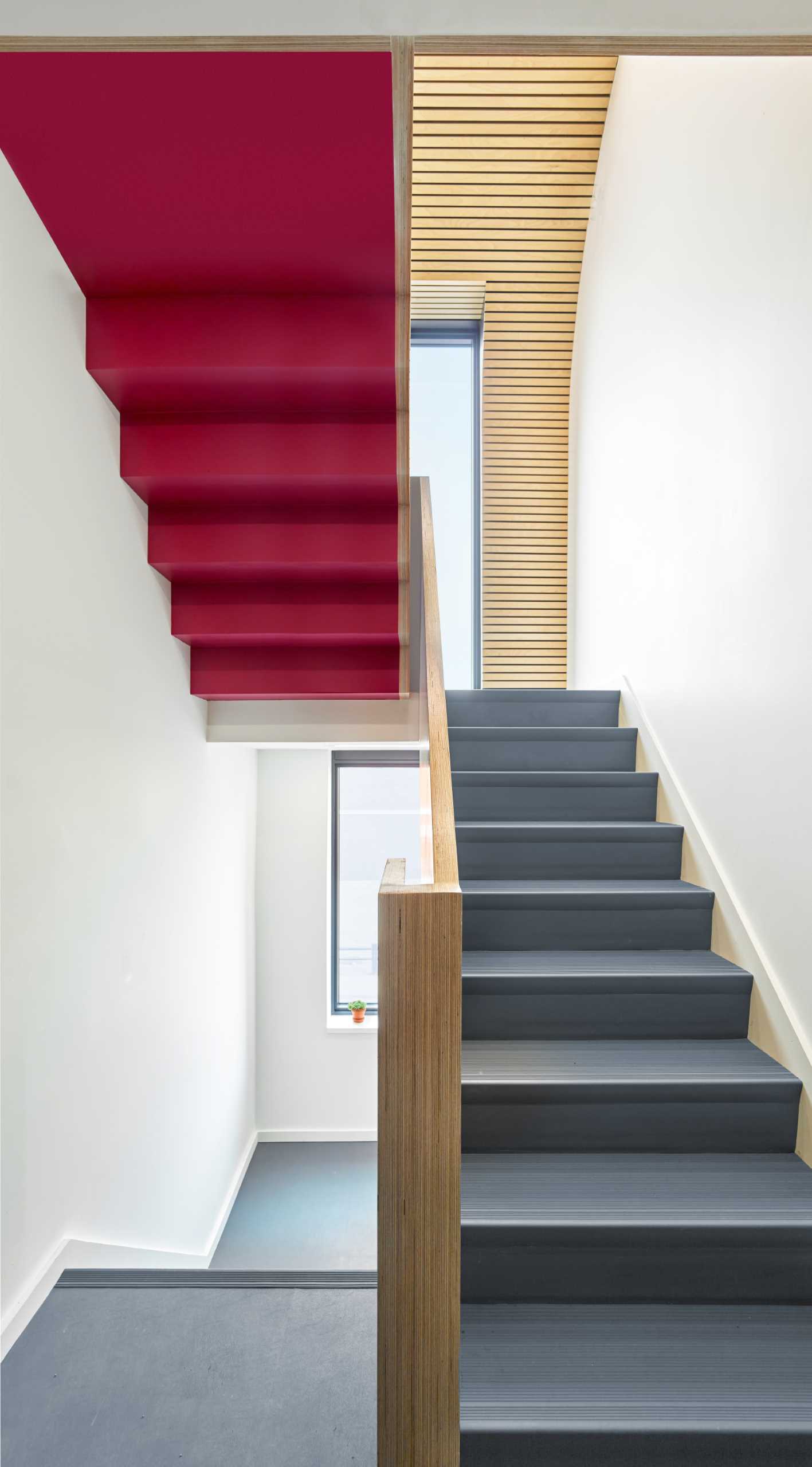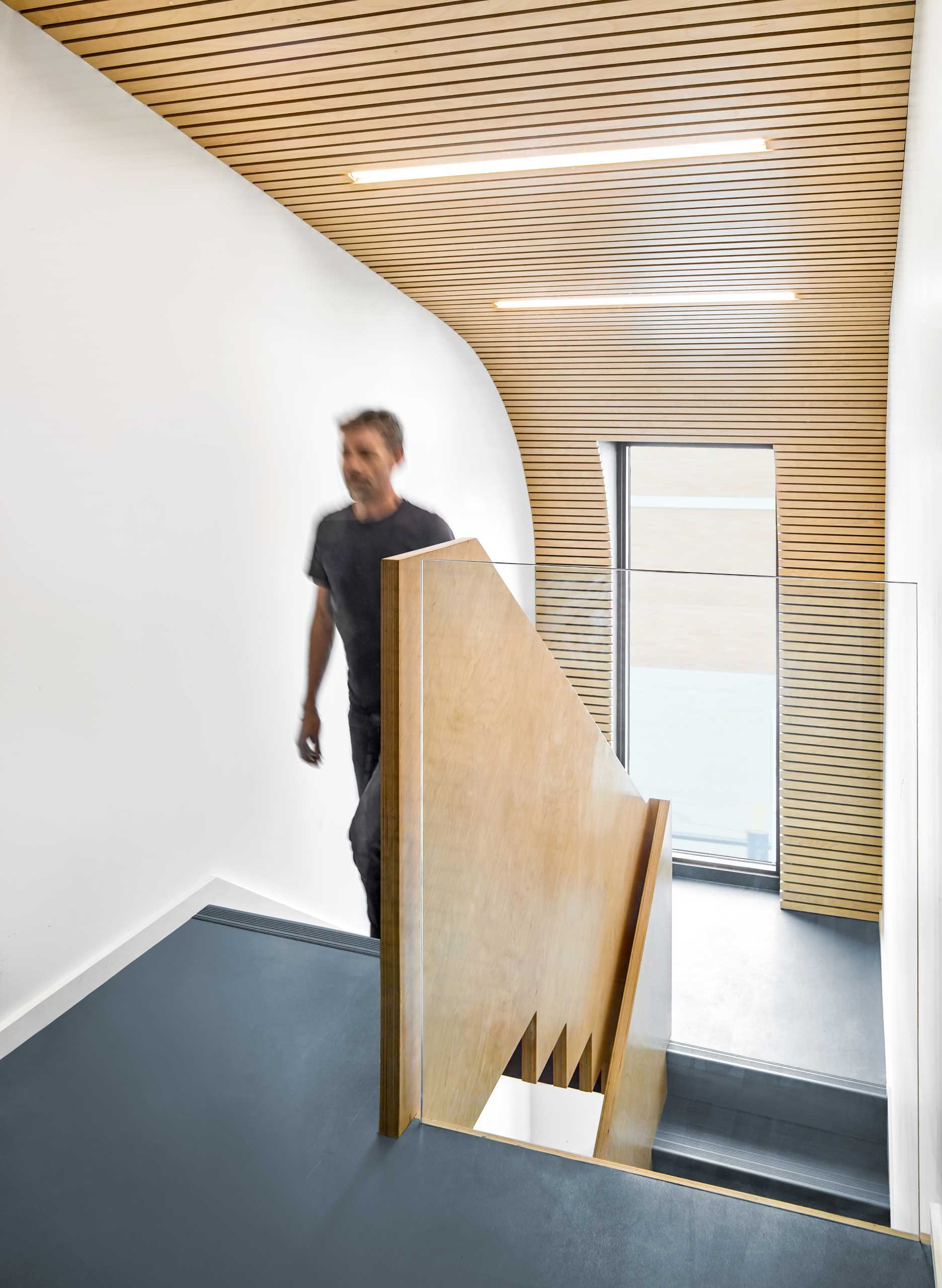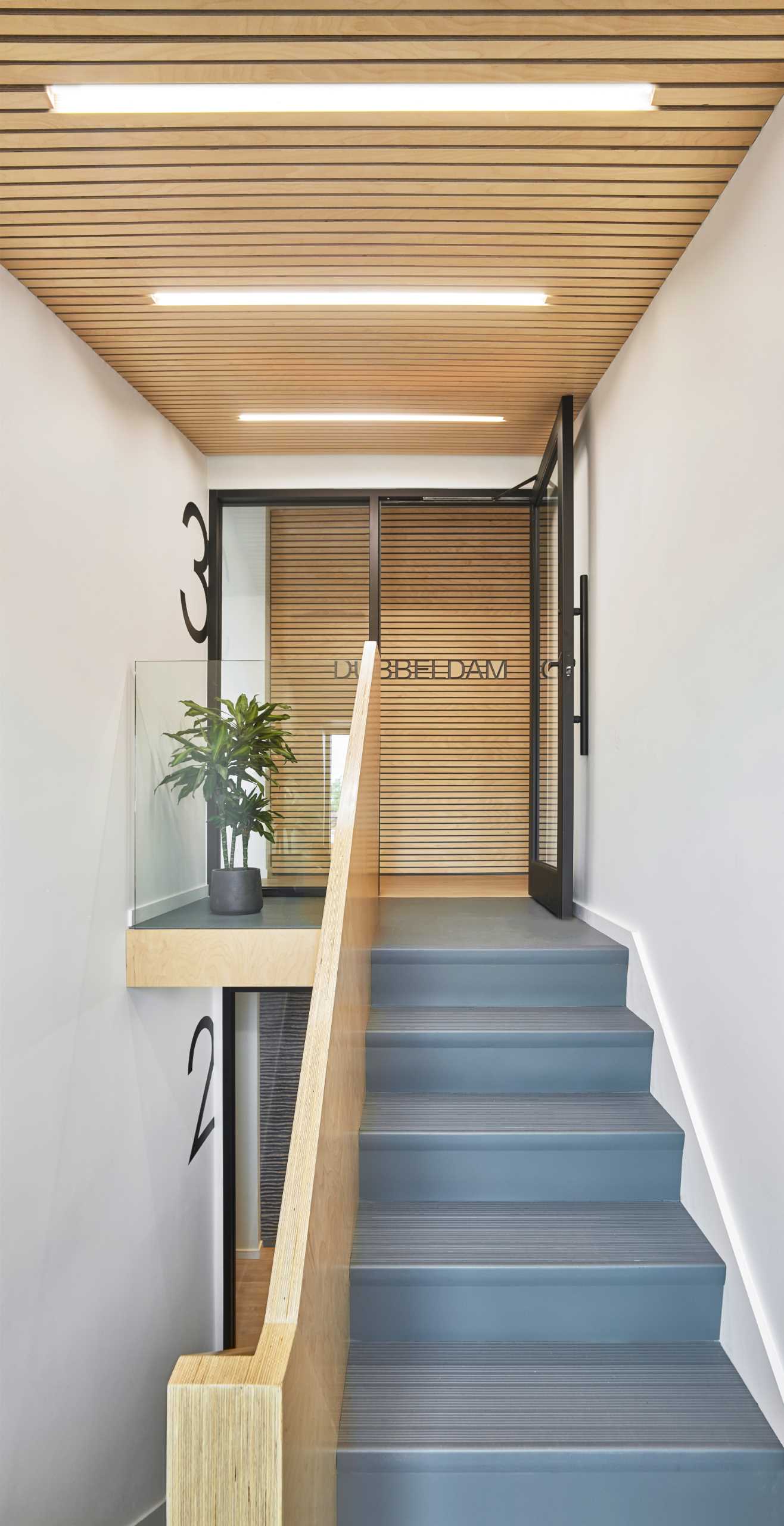 The wood slat design continues through to the Dubbeldam studio, where a white Corian waterfall panel greets visitors with an inscribed "hello" at the reception desk.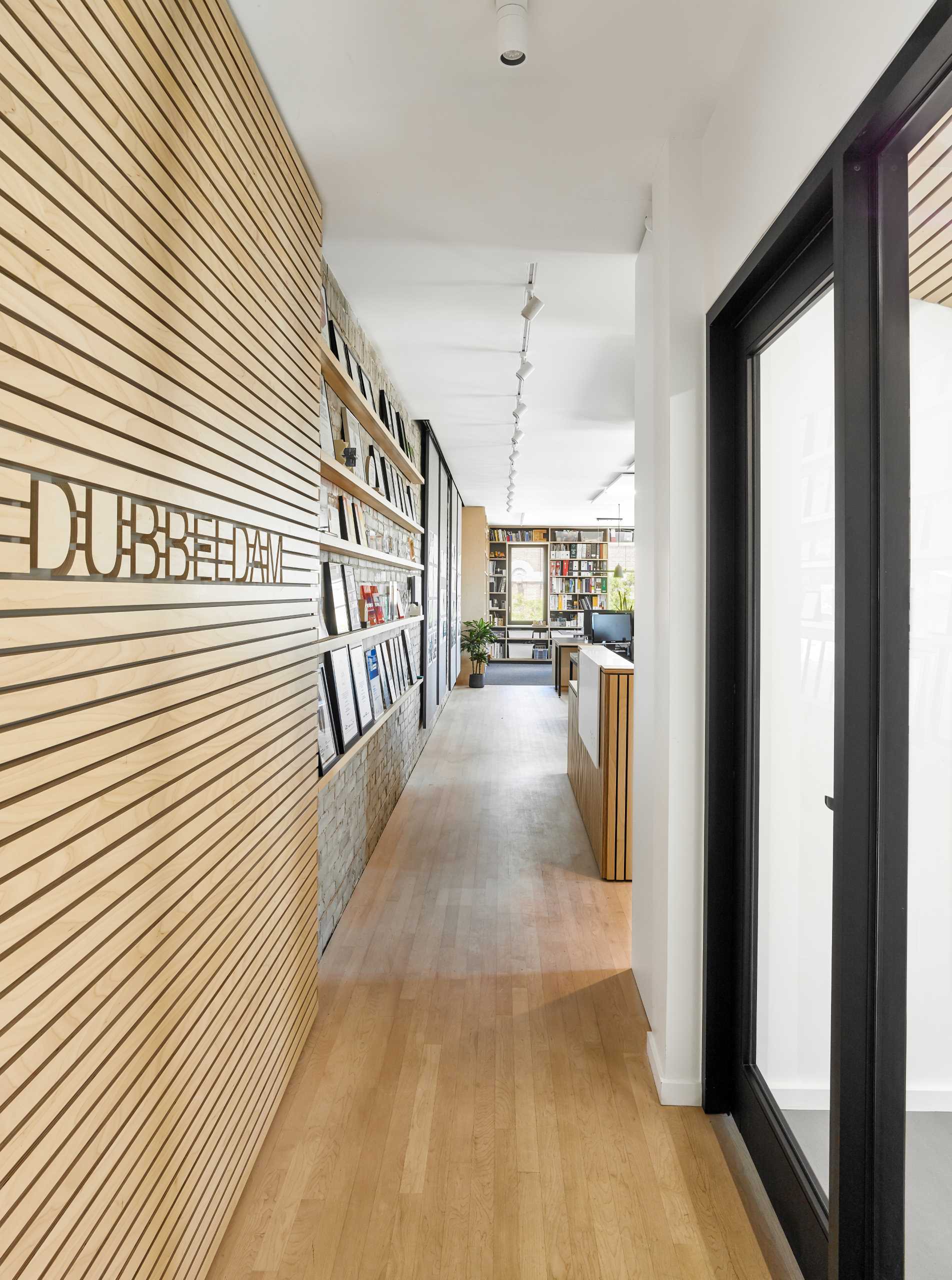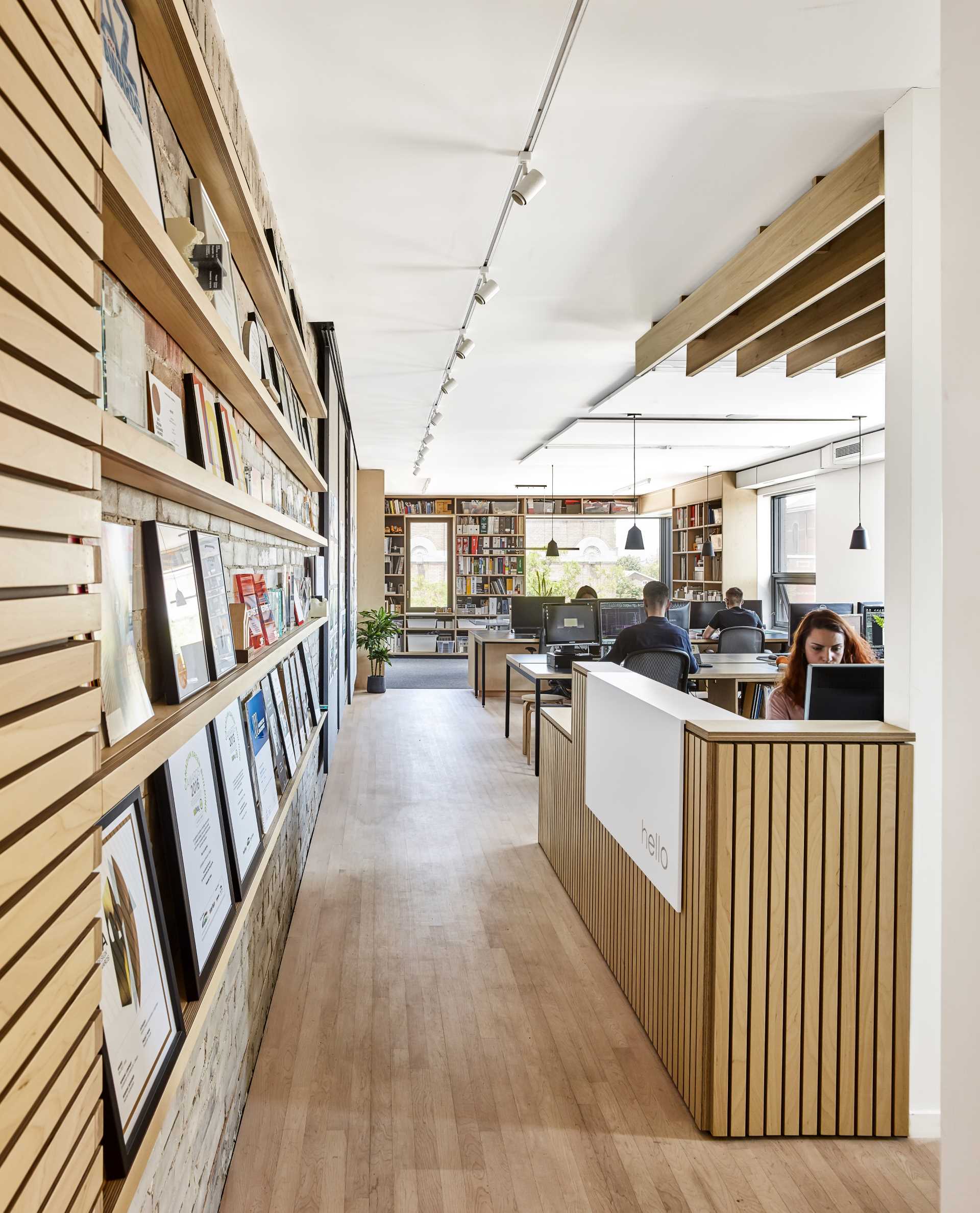 The grey wall and ceiling-mounted eco-felt panels provide acoustical benefits.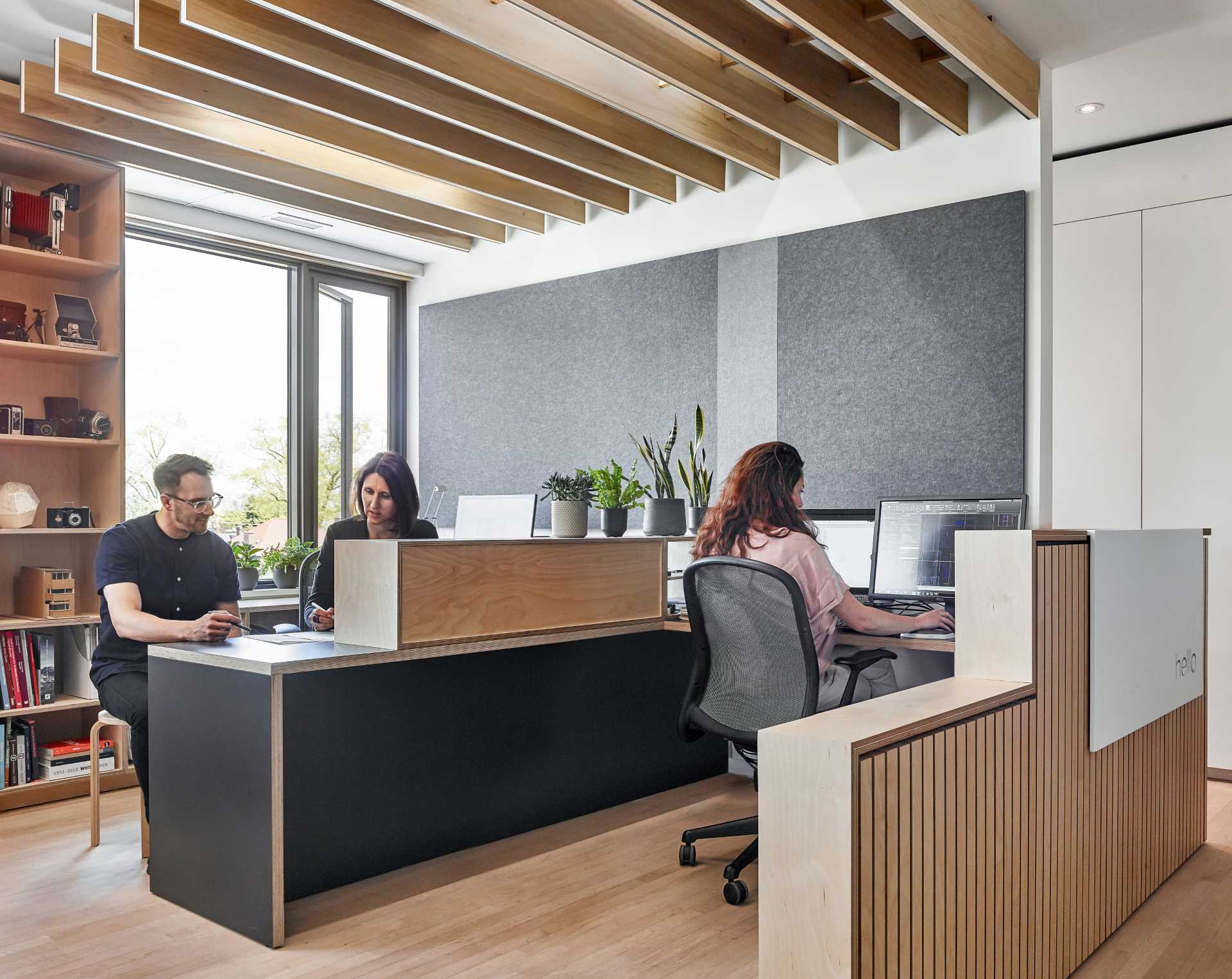 The work of local designers and fabricators was incorporated into the project as much as possible and can be seen in the light fixtures, furniture, workstations, and textiles.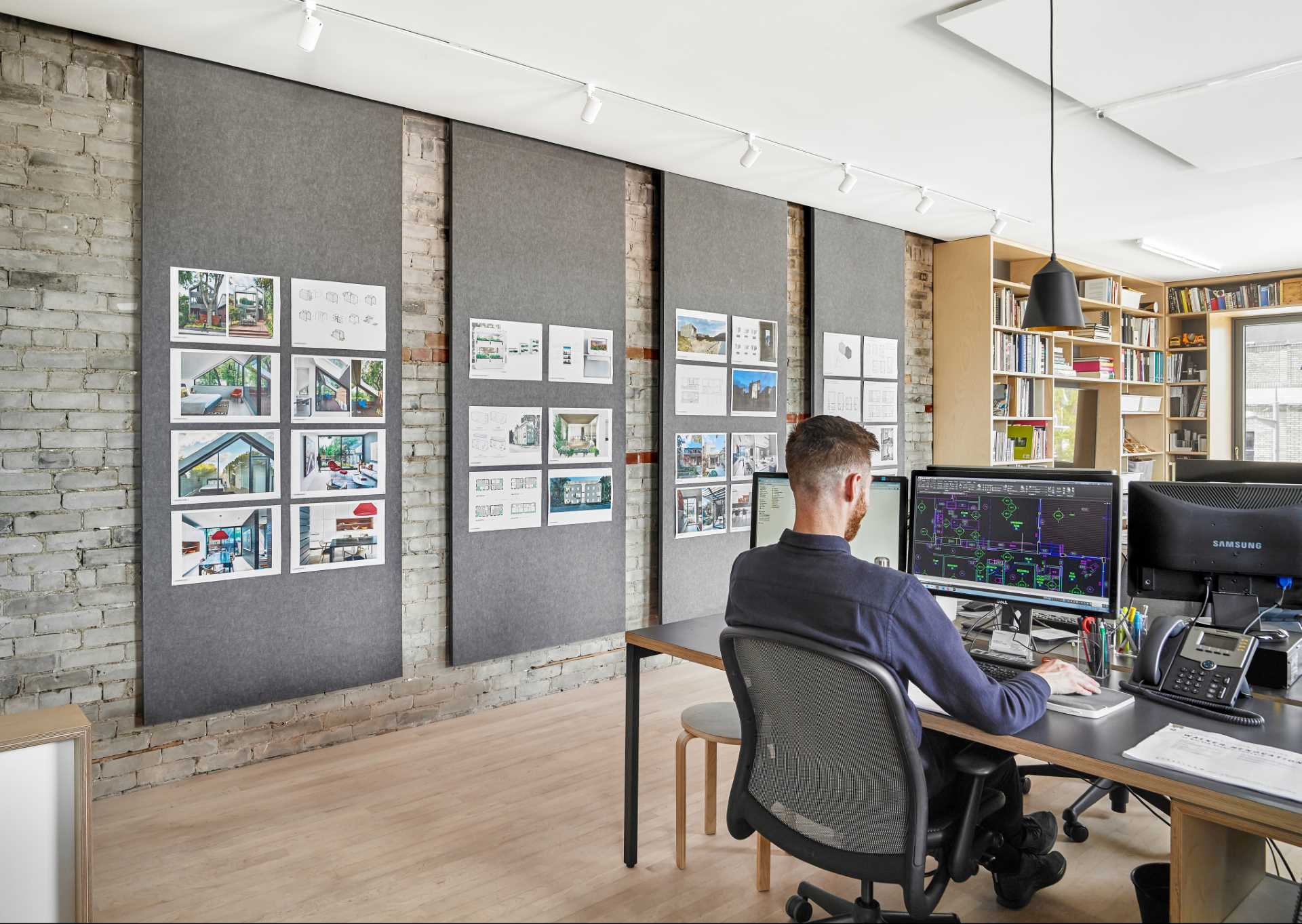 The open workspace also includes natural light and passive ventilation offered by the many operable windows, while open shelving provides much-needed storage space.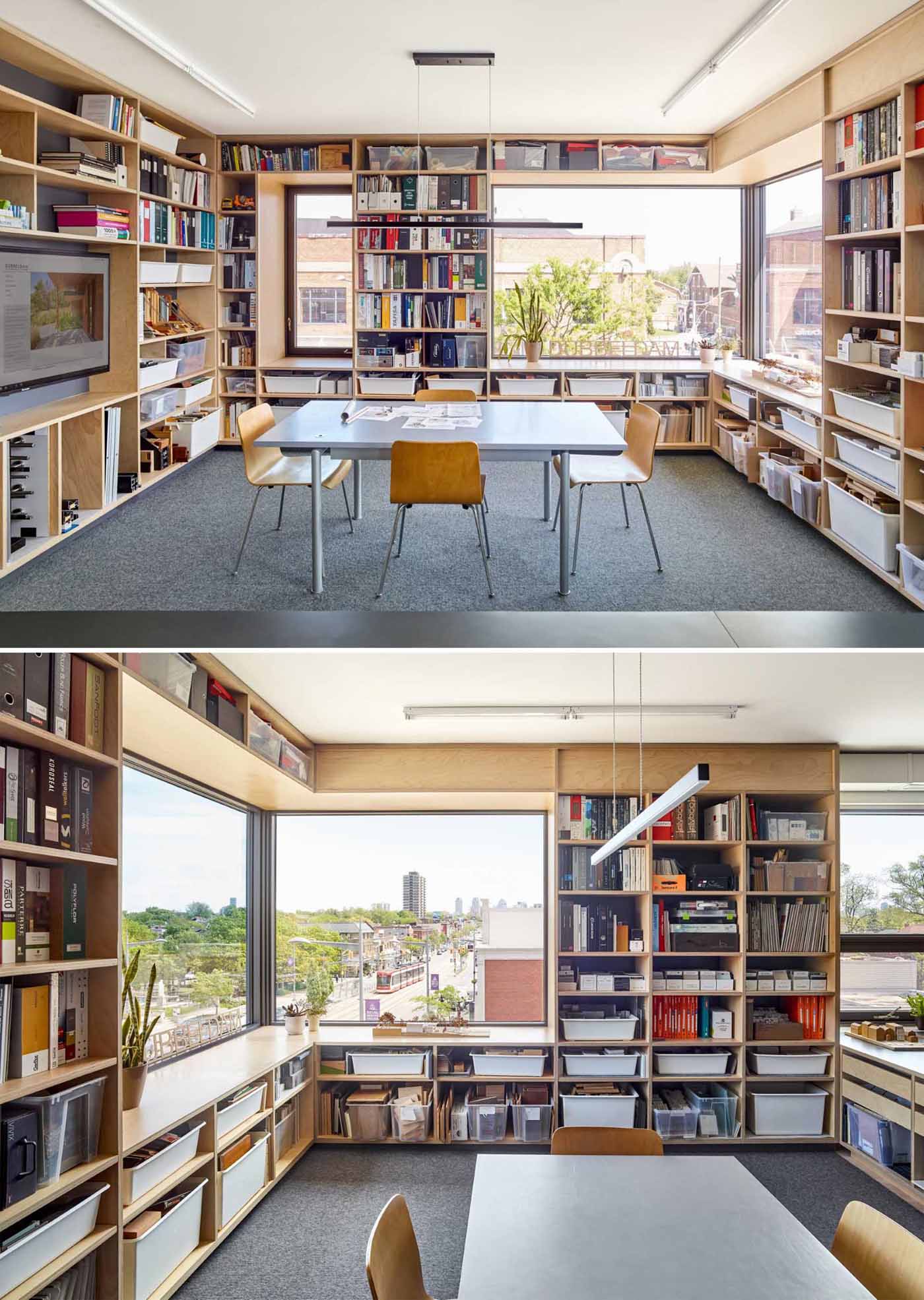 A hallway connects the work area with a kitchen at the other end of the office.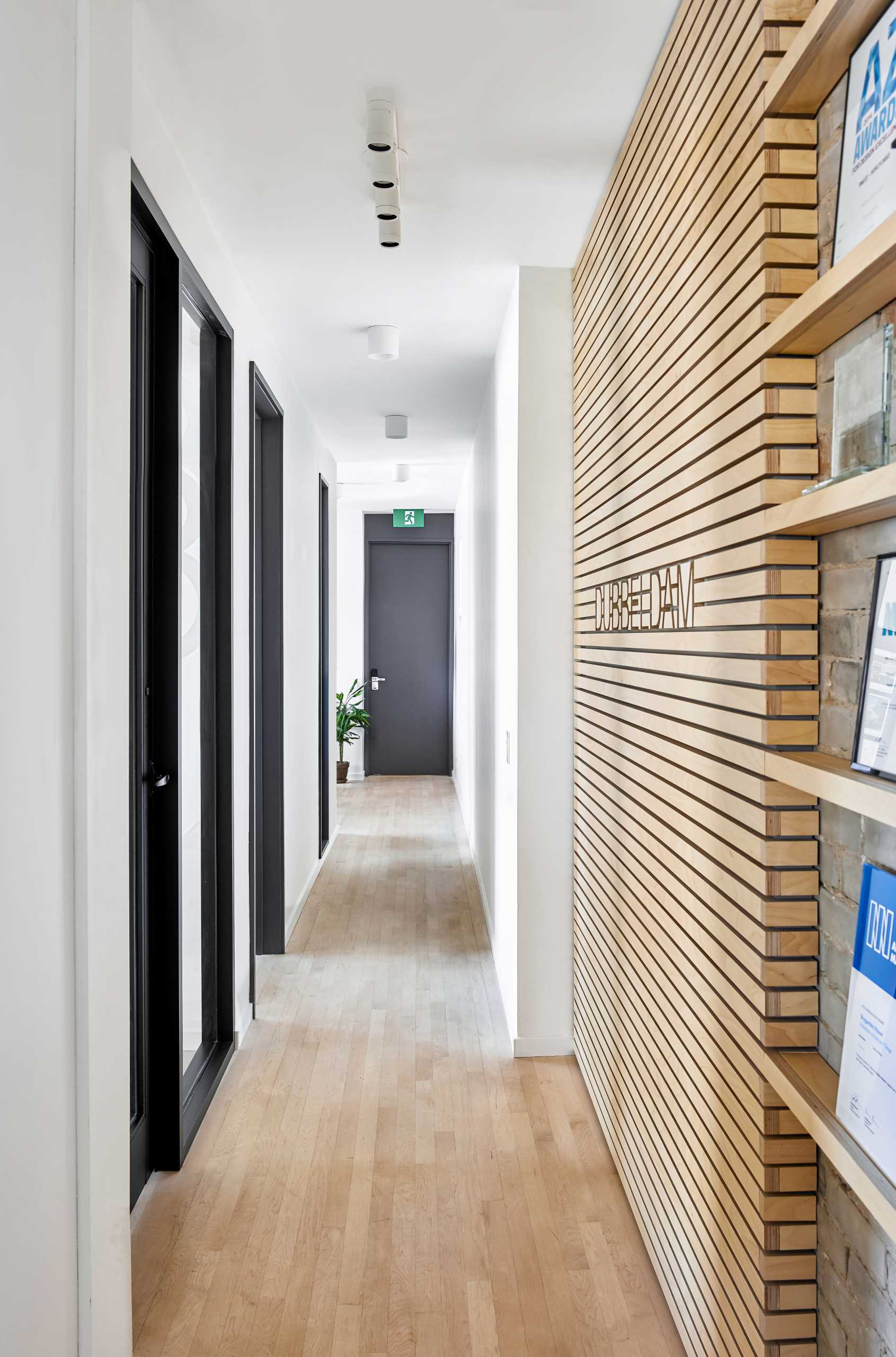 The matte black cabinets in the kitchen provide a backdrop for team lunches and group meetings.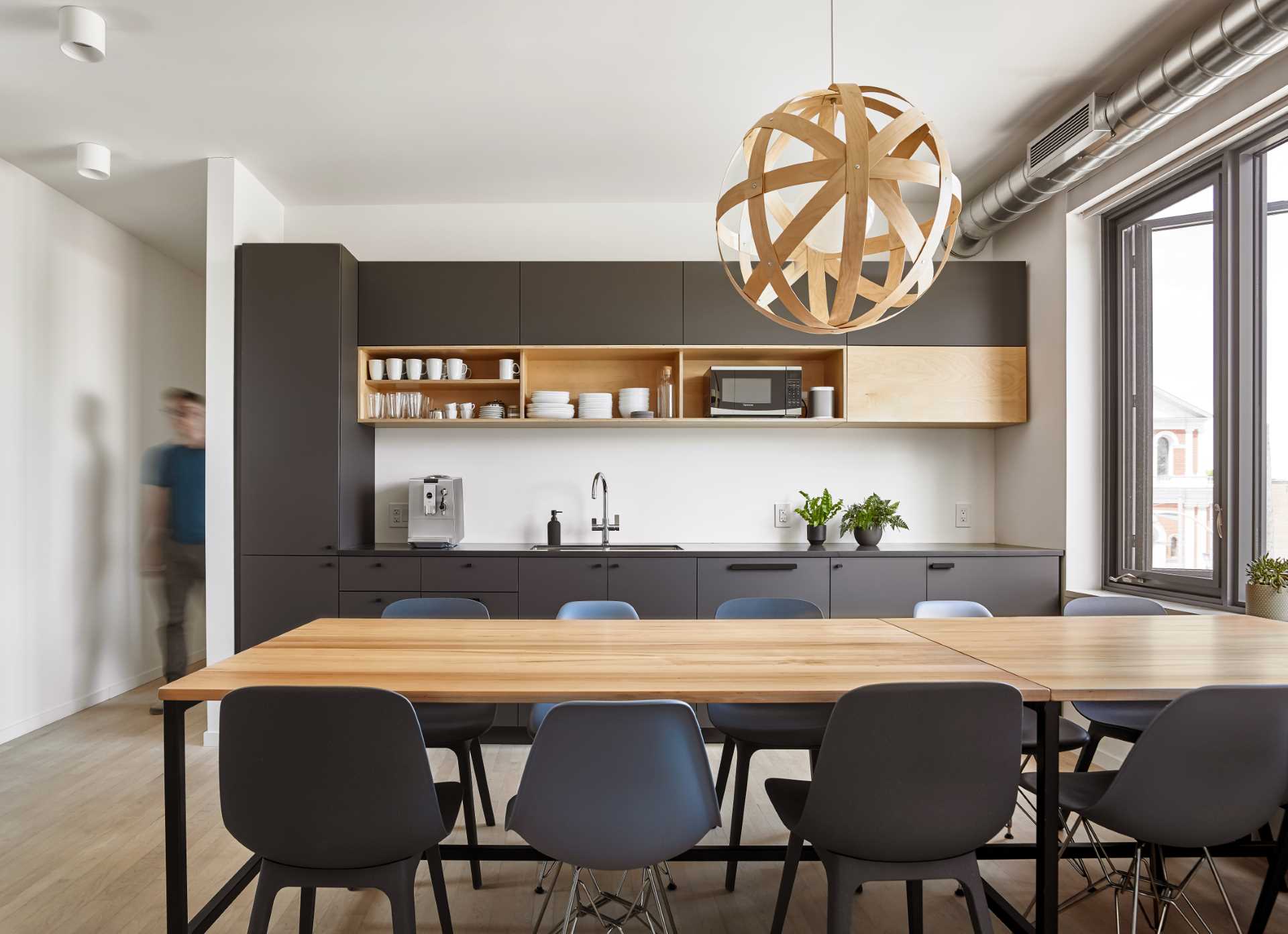 Photography by Scott Norsworthy | Architecture/Interior Design: Dubbeldam Architecture + Design | Project Team: Heather Dubbeldam, Scott Sampson, Andrew Snow, Joseph Villahermosa, Gigi Presentey, Kelsey Wilkinson, Kevin McIntosh | Contractor: DDF Contracting Ltd. | Consultants: Blackwell, Contact Engineering (Structural), Quasar (M&E)